January 10, 2017
R. We write our own life story –
Is it a victory
Is it a tragedy
We have a free will!
In God is life!
Jesus is the Light of the World –
Jesus is the Light of Life –
We can choose darkness to
light and write our
story as a rival to God's will.
Blind men – rejecting God!
God gives us a sharing in His life
in baptism –
We are the sons of God!
We are on trial here –
We must prove our love for
God to go to heaven –
Heaven is a reward –
The fallen angels rebelled against God –
they will go to hell eternally –
God promised a Redeemer after
Adam & Eve sinned –
God prepared the world for
the coming of Christ –
Genesis 3: 15
I shall put enmity
between you and the woman,
and between your offspring and hers;
it will bruise your head
and you will strike its heel.'
R. The Word was made flesh –
Jesus is our Redeemer

Genesis 28: 14
Your descendants will be as plentiful as the dust on the ground; you will spread out to west and east, to north and south, and all clans on earth will bless themselves by you and your descendants.
R. Was made to Abraham –
Was made to Isaac
Was made to Jacob
2 Kings 7: 12-14
The king got up while it was still dark and said to his officers, 'I can tell you what the Aramaeans have done to us. They know we are starving, so they have left the camp to hide in the open country. "They will come out of the city," they think, "we shall catch them alive and get into the city."' One of his officers replied, 'Five of the surviving horses still left us had better be taken -- they would die in any case like all the rest. Let us send them and see.' So they took two chariot teams and the king sent them after the Aramaean army, saying, 'Go and see.'
R. From Abraham to David –
We see Adam –
We know Jesus is the new Adam
We see Abraham & Noah, Moses,
Joseph, Jacob, Isaac
Sacrifice and reparation for sin –
God is holy and we are to live
to honor Him and love Him
and to adore Him and
reverence Him –
We are to live to not offend Him by
wrong doing and sin.
We are to live to put God first in
our lives –
The Ten Commandments given to Moses.
The sin of Adam and Eve we know –
as long as Adam and Eve did the Father's
will and obeyed God –
they remained in the Garden
of Paradise –
When Adam and Eve disobeyed they
were cast from the Garden of
Paradise –
Jesus Christ is the promised Redeemer –
Jesus – God made Man – our
Savior –
The priests of old offered sacrifice –
We are to be sorry for our
sins –
The angel Gabriel appeared to Mary.

Luke 1: 28, 32, 35, 38
He went in and said to her, 'Rejoice, you who enjoy God's favour! The Lord is with you.'

He will be great and will be called Son of the Most High. The Lord God will give him the throne of his ancestor David;

The angel answered, 'The Holy Spirit will come upon you, and the power of the Most High will cover you with its shadow. And so the child will be holy and will be called Son of God.

Mary said, 'You see before you the Lord's servant, let it happen to me as you have said.' And the angel left her.
R. Mary always did the will of God.
Mary, the perfect handmaid of
the Lord.
Adam was disobedient and
prideful to God –
Only God could repay the malice
for Adam's terrible sin –
We owe God reparation for our
sins –
Mary said this at Fatima –
at the heart of the
Fatima message is
reparation for sin.
Excerpt from Response to God's Love by Fr. Edward Carter, S.J.
... In reference to Christianity, God himself is the ultimate mystery. Radically, God is completely other and transcendent, hidden from man in his inner life, unless he chooses to reveal himself. Let us briefly look at this inner life of God.

The Father, in a perfect act of self-expression, in a perfect act of knowing, generates his son. The Son, the Word, is, then, the immanent expression of God's fullness, the reflection of the Father. Likewise, from all eternity, the Father and the Son bring forth the Holy Spirit in a perfect act of loving.

At the destined moment in human history, God's self-expression, the Word, immersed himself into man's world. God's inner self-expression now had also become God's outer self-expression. Consequently, the mystery of God becomes the mystery of Christ. In Christ, God tells us about himself, about his inner life, about his plan of creation and redemption. He tells us how Father, Son, and Holy Spirit desire to dwell within us in the most intimate fashion, how they wish to share with us their own life through grace. All this he has accomplished and does accomplish through Christ.
end of excerpt
R. Jesus was made flesh –
Jesus the Son of God –
Jesus came our Redeemer –
Jesus paid for our sins –
The Mass is the Sacrifice of
Calvary, sacramentally
made present.
Jesus is a Divine Person with
two natures –
a human nature and a Divine nature.
God loves us so much, Jesus
came and took flesh –
Jesus, the Second Person
of the Blessed Trinity –
Jesus deserves all respect and love,
honor and devotion in the
Eucharist –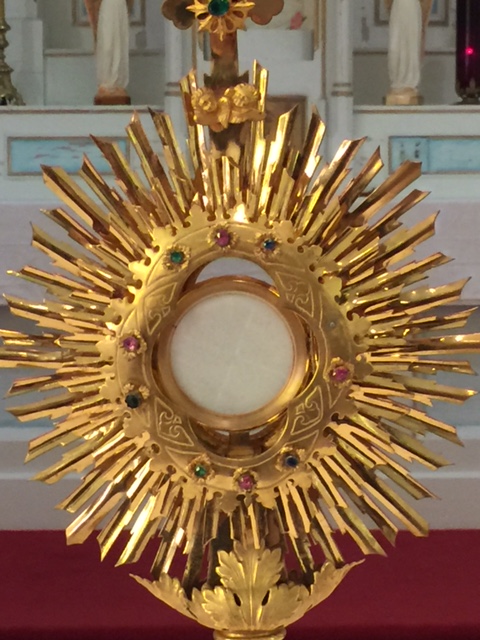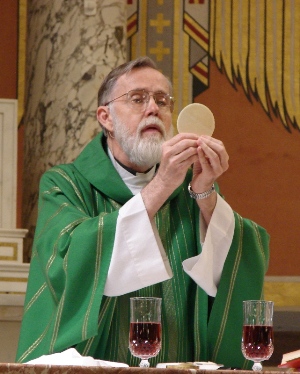 R. God loves us this much –
Jesus is our Redeemer.
Christ came to teach us –
God gives us the Mass,
Jesus remains with us
in the Blessed Sacrament –
We are all sinners –
We need redemption –
Jesus obeyed His Father's
will to His death
on the cross –
We are to go to Mass
and be so thankful to God,
to ask God to help us in
the Mass. The Mass is to
atone for sin, to petition
God for help, to give
God great love from our
hearts.
God loves us so much.
We meditate on this great
mystery of God's love
for us –
The Incarnation is a
mystery –
God is worthy of all our love.
Jesus took on flesh –
Jesus walked the earth –
Jesus, the Son of God –
Jesus remains with us
in the Eucharist today.
John 10: 11-15

I am the good shepherd:
the good shepherd lays down his life
for his sheep.
The hired man,
since he is not the shepherd
and the sheep do not belong to him,
abandons the sheep
as soon as he sees a wolf coming,
and runs away,
and then the wolf attacks
and scatters the sheep;
he runs away
because he is only a hired man
and has no concern for the sheep.
I am the good shepherd;
I know my own
and my own know me,
just as the Father knows me
and I know the Father;
and I lay down my life for my sheep.
R. Love is giving gratitude
Love is sacrifice –
Love is giving!!
We are commanded to love God
and love others –
Look at the price Jesus
paid to teach us this lesson!
In baptism God gives us
a sharing in Divine life!
We are to die to the devil
and his evil – to the
corruptions of the flesh,
our wounded human nature
and grow in holiness –
to be holy, more and more
in the image of Jesus!
We must see the lessons Jesus
paid such a price for of
love and sacrifice – we
see God calls us to love and
obedience to the Father's will –
We see God calls us to holiness
and to grow in the image and
likeness of God.
We must be humble
and obedient and loving
to God and neighbor. We do
not give into our unruly will,
but live to do God's will, like
Mary, perfect handmaid of the Lord.
It is our duty and we are
so privileged to go to Mass!
We are so privileged to go to
the Eucharist –
We are to be so grateful –
full of gratitude to God.
God gives Himself to us and
comes inside of us.
God fills us more and more
abundantly with
His life in us –
Sing: I Love You Jesus!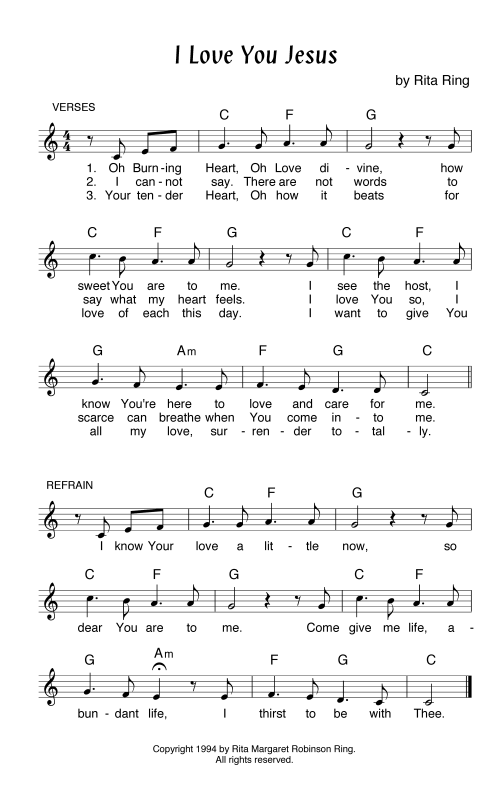 Today's Readings
Hebrews 2: 5-12
It was not under angels that he put the world to come, about which we are speaking. Someone witnesses to this somewhere with the words: What are human beings that you spare a thought for them, a child of Adam that you care for him? For a short while you have made him less than the angels; you have crowned him with glory and honour, put all things under his feet. For in putting all things under him he made no exceptions. At present, it is true, we are not able to see that all things are under him, but we do see Jesus, who was for a short while made less than the angels, now crowned with glory and honour because he submitted to death; so that by God's grace his experience of death should benefit all humanity. It was fitting that God, for whom and through whom everything exists, should, in bringing many sons to glory, make perfect through suffering the leader of their salvation. For consecrator and consecrated are all of the same stock; that is why he is not ashamed to call them brothers in the text: I shall proclaim your name to my brothers, praise you in full assembly; or in the text:
Psalm 8: 2, 5-9

even through the mouths of children, or of babes in arms,
you make him a fortress, firm against your foes,
to subdue the enemy and the rebel.

Yet you have made him little less than a god,
you have crowned him with glory and beauty,
made him lord of the works of your hands,
put all things under his feet,

sheep and cattle, all of them,
and even the wild beasts,
birds in the sky, fish in the sea,
when he makes his way across the ocean.

Yahweh our Lord,
how majestic your name throughout the world!
Alleluia
1 Thessalonians 2: 13
Another reason why we continually thank God for you is that as soon as you heard the word that we brought you as God's message, you welcomed it for what it really is, not the word of any human being, but God's word, a power that is working among you believers.
Mark 1: 21-28
They went as far as Capernaum, and at once on the Sabbath he went into the synagogue and began to teach. And his teaching made a deep impression on them because, unlike the scribes, he taught them with authority.

And at once in their synagogue there was a man with an unclean spirit, and he shouted, 'What do you want with us, Jesus of Nazareth? Have you come to destroy us? I know who you are: the Holy One of God.' But Jesus rebuked it saying, 'Be quiet! Come out of him!' And the unclean spirit threw the man into convulsions and with a loud cry went out of him. The people were so astonished that they started asking one another what it all meant, saying, 'Here is a teaching that is new, and with authority behind it: he gives orders even to unclean spirits and they obey him.' And his reputation at once spread everywhere, through all the surrounding Galilean countryside.
R. There is joy in giving to others,
giving to God –
We are most like God when
we give love –
God is love – in Him is
no darkness
The incarnation shows us
pure love –
God loves us so much –
this is the message of
every Blue Book –
The devil is hate, selfishness,
he wants men to give
into the deadly sins
of anger and jealousy,
envy, pride, slothfulness,
gluttony and lust!
God is infinite Goodness
Jesus came and taught us –
only an enemy would
reject the teaching God
gives us of His Divine
Love –
The devil is hate!
Priestly Newsletter Book II - September/October 1997
In all this Mary offers an example. Selfishness was totally foreign to her. She did not belong to herself. She belonged to God. She was not closed in upon herself. She was completely open to God. When God spoke, she listened. When God pointed the way, she followed. She realized that life is not a process a person masters by carefully mapping out one's own self-conceived plans of conquest, but a mystery to be gradually experienced by being open to God's personal and loving guidance.

Selfishness, then, did not close Mary off from God's call. Neither did fear. God asked her to assume a tremendous responsibility. He asked her to be the Mother of Jesus. Mary did not engage in a process of false humility and say that such a great role was above her. She did not say that she did not have the proper qualifications for this awesome mission. Briefly, she did not waste time looking at herself, making pleas that she was not worthy, telling the angel he had better go look for someone else. No, Mary did not look at herself. Her gaze was absorbed in God. She fully realized that whatever God asked of her, His grace would accomplish. She fully realized that although she herself had to cooperate, this work was much more God's than hers.

Mary's words, then, truly sum up what is the authentic Christian response at any point of life, in any kind of situation: "I am the handmaid of the Lord," said Mary, "let what you have said be done to me".
R. Happiness is found in giving –
Happiness is found in serving –
Happiness is in God
Being what God wants us
to be –
more and more in His
image and likeness!
We are to give ourselves –
give our free will to
do God's will – surrender
ourselves to His Plan for
us to be holy, likened to Him.
Given October 29, 2016
R. Please spread blessed holy water
(You can also mix Jesus and Mary water
with your blessed Holy Water if you have it.)
in your yard, around your house,
in the state you live in.
And ask God to bless your state
Ask God to bless the United States
Pray all prayers through the intercession of
Our Lady of CLEAR – WATER.
Ask the Lady of CLEAR - WATER
to help with the blessed water.
Mary has appeared to me for 22 years,
in Ohio and Florida.