Prayer for Grace for our Country
Dear Father united to Jesus in the Holy Sacrifice of the Mass, the Sacrifice of Calvary sacramentally made present, celebrated around the world, in the Holy Spirit. We offer up all we do united to the Mass. We unite in one mind and one heart as members of the mystical body of Christ, with Christ our head in the pure and holy Hearts of Jesus and Mary, through the powerful intercession of Mary with all the angels and saints and souls in purgatory, and we beg for the saving grace, for our country, the United States. Please help us. We further pray for unity to always do the will of God in love. We spread the Blood of Jesus on the leaders and people of the United States and cast the devil into hell. We consecrate our country to the Sacred Heart and Immaculate Heart and all our dioceses, and beg for an outpouring of the Holy Spirit. God help us. We pray for our families, the priests, the Church and the world. In the Name of Jesus please hear us, we pray. We pray for our old president as he leaves office and our new president as he takes office.
January 4, 2017
Colossians 1: 15-20
He is the image of the unseen God,
the first–born of all creation,
for in him were created all things
in heaven and on earth:
everything visible
and everything invisible,
thrones, ruling forces,
sovereignties, powers—
all things were created through him
and for him.
He exists before all things
and in him all things hold together,
and he is the Head of the Body,
that is, the Church.

He is the Beginning,
the first–born from the dead,
so that he should be supreme in every way;
because God wanted all fullness
to be found in him
and through him
to reconcile all things to him,
everything in heaven
and everything on earth,
by making peace through his death
on the cross.
R. The Father's Will for us –
God created us to be in friendship
with Him and to live in community.
God gave us our freedom to choose
to serve Him as He desires us to
serve Him, but man in his pride
can, with his free will, refuse
to obey God's will for us and listen
to satan who wants man to use
his free will to oppose God and
choose independence from what
God wants us to do.
Man can, with his free will,
oppose God. We can see a person who
is prideful treat others with
rivalry to try to be above them.
A person who is prideful can develop
vices so immediately they are trying
to start rivalry with their
brother where they spend a
lifetime of effort trying to be
up and in control, seek power
and independence and put others
under them. They can spend a
life-time disrespecting authority
and treating authority as a rival –
rather than recognizing God
operates in structure – He
admonishes, He teaches, He
disciplines and helps men
in their pursuit of happiness
through just authority and
structure. A person can spend
a life-time praying for God's help
and refuse to obey those over
them in the way God is
instructing them and sending
them help.
Pride is what was Eve's
problem in the Garden –
she wanted to be equal to God and
she disobeyed God.
God works in order, God
works in structure – God
corrects through just authority
and teaches men, many times
through those over them.
A person suffering from abuse
in childhood and not healed
from this can majorly reject anyone
over them – afraid they will be
held down and therefore if
given a position of authority
themselves – use their position
of authority to act-out their
unhealed issues – avoiding
order and bringing disorder
because they want "no-part"
of ever being under anyone
because they need healing.
God has put us here to grow
in relationships with God and
others. When a person refuses
to work out of place, in
disorder, refuses correction
and direction – they are
operating from their own
wounded ways to control and
'clog up the works' – bring down
the house for their unhealed
anger, pride, abuse, rivalry,
pessimism.
God is the one we are to model
ourselves after – not be forced
through disordered power to
live under a person who
operates in desolation, disorder,
anger, because of past
abuse that needs healing.
Operating under God's will in
love brings growth, brings
unity, not brute independence
because of fear of authority –
fear of abandonment, fear of
loss of power, fear of being
out of control and other fears.
A person operating against
God's power brings a breach
in his relationship with
God and with others.
God loves us despite our
sins and wants us to seek
healing, seek His will, seek
His forgiveness and mercy.
We see the Garden of Eden
as long as they obeyed the Father's
will, they remained in Paradise,
when they disobeyed the Father's will
they were cast from paradise.
Because of disobedience to the
Father's will DISORDER
entered the world and we see
the tragic consequences of
Adam and Eve disobeying the
Father's will.
We see disharmony among men
because of disobedience to
the Father's will. When we
refuse what the Father wants
and refuse to recognize the
heavenly Father's gifts we
see the division that occurs
between brothers and sisters,
brothers and brothers, and sisters
and sisters.
We know the parable of
the prodigal son. We know
how God loves us and wants
us to seek reconciliation and
make reparation for our sins.
We know how God wants to grant
us mercy when we make a
firm purpose of amendment
and confess our sins and try
to restore the relationship
by asking for forgiveness from
God.
Sin hurts our relationship
with God and others. Disorder,
disobedience against authority
hurts our own advancement
to be instructed and taught by God.
The devil wants isolation,
independence, division and
enslavement to him. The devil
wants men to act in desolation –
put anger above God's will
and operate giving into pride
and anger, division, disharmony
disobedience.
God wants us to seek forgiveness
and seek to be reconciled in our
relationship with Him. God
does not want us to make division
with our brothers because
of anger a rule for acting.
Jesus paid a big price in
His passion and death –
teaching us about forgiveness
and reconciliation and love
for us.
Jesus wants us to have peace
in loving forgiveness in our
hearts.
Jesus said
"Peace be with you"
Jesus showed them His
glorified wounds.
Wounds need to heal - so we
can operate as God wants –
so we can operate with
God using us as His instruments
of love and unity. God wants
us to help in the work of
redemption.
God sends us into the world –
He commissions us in baptism
to go out and spread the Good News –
not be locked in a locked heart
punishing others because of
our gapping, unhealed,
angry wounds!
We need peace - in our
hearts, peace in our relationships.
We need peace in the world –
not people mastering in
division, independence,
anger because they are
wounded inside, acting-out
their unhealed relationships
on innocent others.
Peace comes in order. When
a person disobeys authority
there is disorder – NOT PEACE.
When a person operates in
disrespect and injustice
to their neighbor there is
abuse and not peace!
God puts order into creation –
Order must be respected. A
man must know his place –
under God, under authority
and respect authority.
If men live according to the
Father's plan, according to
the order the Father has
established – there would be
peace in the world.
We must live according to
God's order and authority God
wants – to have peace!
We will have peace if we
live according to God's will
in love –
We can endure great
suffering and still be at peace –
October 10, 1993

Learn to Be Christlike

Jesus: I want you present to others, loving and spreading My word. Child, it is pride to think you never get uptight. You must, in humility, accept your shortcomings and learn from them. How can you become closer to Me at every moment? How can you act more as I want you to? How can you become more holy? Strive to be holy as I am holy. Strive to act like Me in your stress. I died on the cross in perfect peace. You can have peace always if you stay fixed on Me and trusting in Me.

Every hard occasion is indeed a blessing to learn how I would act. If you do that which is so hard, it is divine. If you do that which you tend to do, but it makes you ashamed, that is human. Run and do not get weary. Fly on eagles' wings. Trust at every moment in the hardest battle when you are tired and under pressure. That is when you get the most grace. I know what the world would do. Do not be like this world, be like Me. Do that which is the hardest. That is whence the most grace and learning come.

How can I teach you My ways? I teach in trials. These are lessons you need to learn. Like taking a test, you can pass or fail. See that you do as I would do and it is passing the hardest test. It is the school of being most like Christ. Will you get a good grade on your test or will you go the easy way, the worldly way, crumble under duress and then crawl on your knees to Me, bowed down and asking for My forgiveness.

The way to Me is a hard way, but the rewards are great. All roads that lead to Me are paved with happiness, joy and peace. Other roads lead to misery and destruction. The way to Me is hard. It is turning the other cheek, it is smiling to those who are unloving and mean. It is being as I am, ready to do the holy thing at any time. What test have you been given today and how is your grade? Have you learned a valuable teaching from Me or are you upset with yourself for giving up a golden opportunity to be saintly? The world tells you to do to your brother before he does to you. Oh children, this is not My way. I stood and was silent when they persecuted Me. Oh little babies, the way of the world leads to hate, unrest, destruction. My ways are golden. They lead to peace, love and unity. I love you all so. Come to Me and I will give you My ways. My ways are hard, but the rewards are golden!

I love you.
end of excerpt
R. The Shepherds of Christ is to help
bring this peace - through
living the Consecration
to the Hearts of Jesus and Mary.
Excerpt from The Spirituality of Fatima and Medjugorje
by Fr. Edward J. Carter, S.J.
July 13, 1917
But in the end, my Immaculate Heart will triumph, the Holy Father will consecrate Russia to me, Russia will be converted, and a certain period of peace will be granted to the world. (13)


13. For background material on Fatima, I am particularly indebted to Our Lady of Fatima's Peace Plan from Heaven (Rockford: TAN Books and Publishers, Inc., 1983).
R. God intends us to promote
the order He wants – not oppose
it by doing what we want,
refusing correction, refusing
direction and disobeying order,
authority and God's will.
If there is disorder it is
because people are challenging
and arguing and disobeying
the authority God wants.
There is not peace in DISORDER!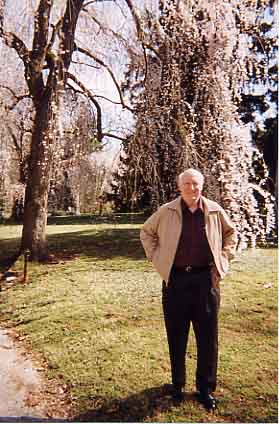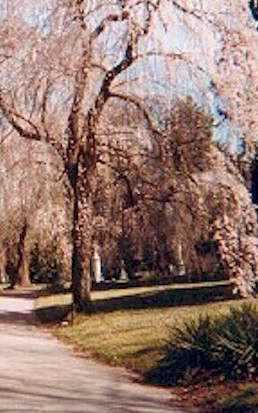 Excerpt from Priestly Newsletter 1998 - ISSUE FOUR

Shortly before he was to die from cancer, Joseph Cardinal Bernardin left us these inspiring words about peace: "It is the first day of November, and fall is giving way to winter. Soon the trees will lose the vibrant colors of their leaves and snow will cover the ground. The earth will shut down, and people will race to and from their destinations bundled up for warmth. Chicago winters are harsh. It is a time of dying.

"But we know that spring will soon come with all its new life and wonder.

"It is quite clear that I will not be alive in the spring. But I will soon experience new life in a different way...

"What I would like to leave behind is a simple prayer that each of you may find what I have found—God's special gift to us all: the gift of peace. When we are at peace, we find the freedom to be most fully who we are, even in the worst of times. We let go of what is non-essential and embrace what is essential. We empty ourselves so that God may more fully work within us. And we become instruments in the hands of the Lord."
3
---
Notes:
3. Joseph Cardinal Bernardin, The Gift of Peace, Loyola University Press, pp. 151-153.
R. Our will must be brought
into God's will to have peace.
We must place our will and
our life in God's hands. Surrender
to God.
We must learn to trust God.
If I want to develop my friendship
with God, I need to trust Him.
It is when I am weak, I am
strong in God.
2 Corinthians 12: 9-10
but he has answered me, 'My grace is enough for you: for power is at full stretch in weakness.' It is, then, about my weaknesses that I am happiest of all to boast, so that the power of Christ may rest upon me; and that is why I am glad of weaknesses, insults, constraints, persecutions and distress for Christ's sake. For it is when I am weak that I am strong.
R. God is Divine! I have
to put aside my will and
trust God!
Right reasoning is important
in any decision – basing my
actions on anger, rage,
jealousy, pride, envy is
operating in desolation –
How can I expect to win
and have peace when I
make my god my anger
and I cannot discipline my
raging anger, pride, isolation
independence. How can I
operate wisely in resentment,
pessimism, dishonesty.
Others are not perfect and
we are not also. We need
help – we need God's help,
we need to face our imperfections
and inordinate attachments
to be free.
We pray for God's grace
to handle problems. We
pray to the Holy Spirit for greater
virtues and the gifts of the Holy Spirit.
We must give our self-will
to God. We must want to
surrender to Him and do so.
We must turn our lives to
doing God's will - not our will.
When I hurt others to hurt
them in anger and meanness –
I hurt myself!

From a Lenten Homily, March 24, 2000
Live in the Moment
Today's Gospel in its story certainly points ahead to Jesus in His Passion and death. And as we read passages such as this during the Lenten season, we are reminded once again that the Church in her Liturgy of the Word gives us an opportunity to undergo a purification, an ever deepening cleansing of ourselves so that we may be a more fit instrument for receiving the great graces which are to be given to us at the time of the Resurrection memorial on Easter. And so all in all, Lent is a time of purification to prepare us for ever-greater gifts of the Lord. It's a time of self-discipline, a time to renew our efforts to be self-disciplined in the service of the Lord. Self-discipline is an aspect of purification. And I suggest that one of the most difficult acts of self-discipline in the spiritual journey is to concentrate on the present moment. We have a very strong tendency to disregard the importance of the present moment by focusing in a wrong way on the past or in a wrong way on the future. There are proper occasions for thinking of the past and the future. For example, we have to learn from the past and we have to prepare for the future, but our great emphasis has to be upon the present. There is a Latin axiom which says, age quod agis, age quod agis, which means: do what you are doing, concentrate on the present. And of course we are familiar with that term in the history of spirituality: the sacrament of the present moment. And so the discipline of Lent certainly encourages us to include in a deeper self-discipline a greater determination to get as much as we can out of the present moment. People with a terminal illness have an opportunity as they prepare for death for increased prayer, contrition, love of God. However, some are taken very, very quickly. But for those who have the opportunity of knowing with some certainty the time of their death, I'm sure as they look back on their lives, they are saddened by the many times they did not use time and opportunities for the service of the Lord properly, and are overjoyed at those times in which they did use the present opportunity properly. A great means we have of living in the present properly is a greater focus upon our Lord. For if I have that awareness of the fact I am united with Jesus here and now, why should I be concerned so much about the future or the past? Yes, a great help in living in the present and deriving all the good we can from it for ourselves and others is an ever greater focus upon Jesus, because the more I focus upon Jesus and the more I live with Him in the present moment, the more I am satisfied with the present moment. And so let us in our Lenten activity resolve to grow in that self-discipline - which is very difficult at times - to really live in the presence with the fullness of our being as much as is possible, with the help of God's grace. Now is the day of salvation. Now is the day of salvation.

end of Father Carter's homily
Song: Live This Day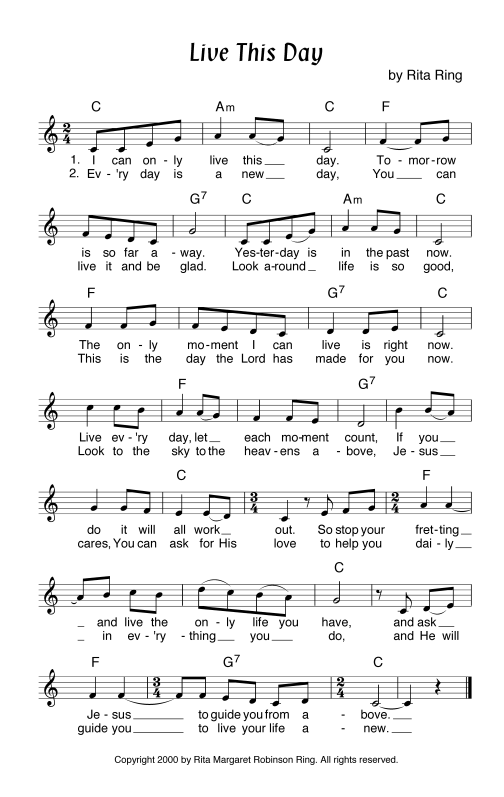 Song: Why Do We Hurt the Ones we Love
Song: I Am a God of Justice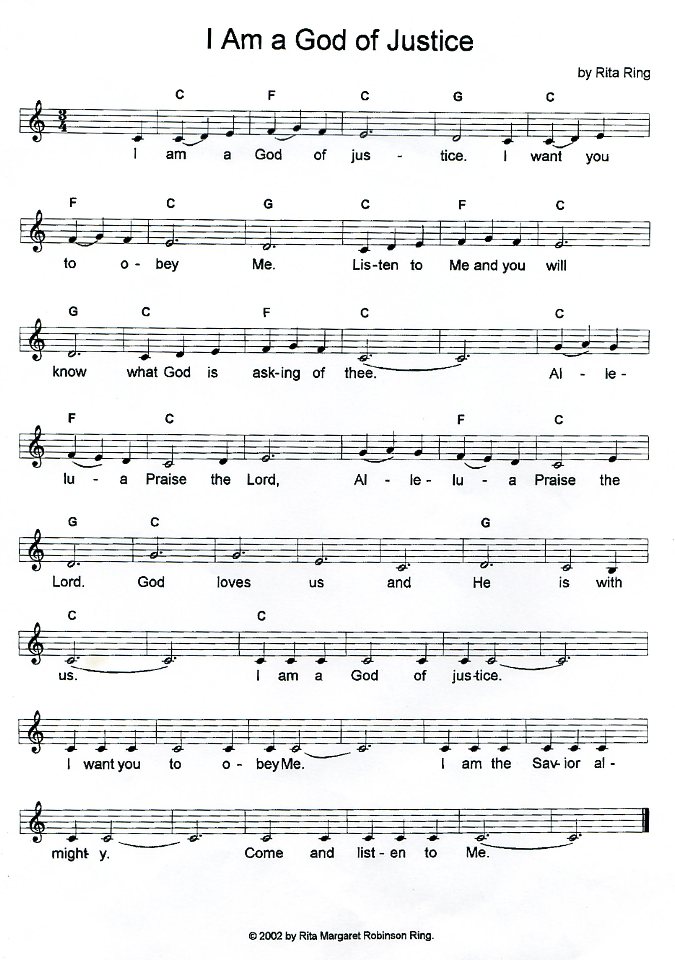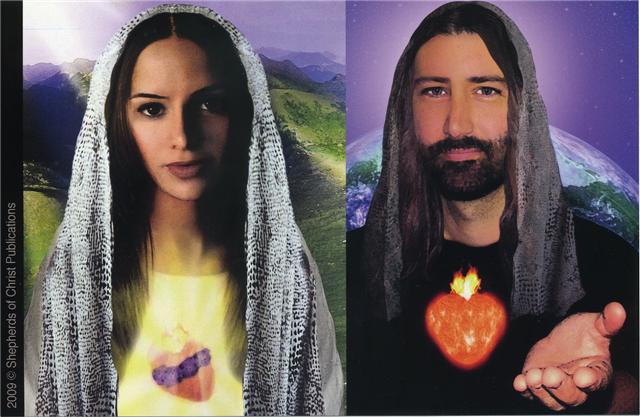 Act of consecration to the Sacred Heart of Jesus


and the Immaculate Heart of Mary
Lord Jesus, Chief Shepherd of the flock, I consecrate myself to Your most Sacred Heart. From Your pierced Heart the Church was born, the Church You have called me, as a member of Shepherds of Christ Associates, to serve in a most special way. You reveal Your Heart as a symbol of Your love in all its aspects, including Your most special love for me, whom You have chosen as Your companion in this most important work. Help me to always love You in return. Help me to give myself entirely to You. Help me always to pour out my life in love of God and neighbor! Heart of Jesus, I place my trust in You!
Dear Blessed Virgin Mary, I consecrate myself to your maternal and Immaculate Heart, this Heart which is symbol of your life of love. You are the Mother of my Savior. You are also my Mother. You love me with a most special love as a member of Shepherds of Christ Associates, a movement created by your Son as a powerful instrument for the renewal of the Church and the world. In a return of love, I give myself entirely to your motherly love and protection. You followed Jesus perfectly. You are His first and perfect disciple. Teach me to imitate you in the putting on of Christ. Be my motherly intercessor so that, through your Immaculate Heart, I may be guided to an ever closer union with the pierced Heart of Jesus, Chief Shepherd of the flock.
R. Live to serve God –
Devotion to the Sacred Heart of Jesus –
Devotion to God!
Leaders are servants
God has called to help His
will to be implemented. A
leader works for God. God
is the authority -- a leader
is to serve God.
We are here in this life to
serve Him by doing His will
in love and putting Him
first in our lives and loving
God and loving others as ourselves.
An attitude of gratitude!
How much effort goes into a
person that refuses to show
any enthusiasm and be glum
and disapproving of why God
wanted a community to exist.
How much energy goes into
resentment, anger, holding
out, manipulating – when
a person can go straight
to what God is calling
them to do and
just do it –
without all the baggage
they put to just do a
job they were called to do with
love and enthusiasm for
God who created us.
God wants and deserves our
best behavior – our love –
our desire to give Him
our whole heart, our
whole soul, our whole
being IN LOVE. I can
color with taintedness all
my actions by negativity
and resentment from
survival tactics I learned
from my childhood or
past life. We don't
need survival tactics of
a dysfunctional home –
when we have moved on and
are not living in these
sad situations.
God calls us to serve
Him and live in love
with our brothers. People
who wronged us may be
long gone and we make
enemies of those in our
present life – acting-out
with innocent others the
bad behavior patterns
we may have needed as
children or adults living
in dysfunctional homes.
We are to serve God with our
whole heart, our whole
soul, our whole being
IN LOVE and
Love our neighbor as
ourselves!
We need to open our heart
to change – to grow in love –
to grow in the image and
likeness of God. We need
to bring the light of Christ
into our life and love
God with our whole heart
and see Christ in our brother.
We need to develop relationships
with others that are not like
dysfunctional relationships
of our past life, but
relationships of honesty and
fairness, of love, of peace,
of justice, of respect and
of order, not keep acting-out
old unfinished, unhealed
relationships that we
operate in patterned, predictable
behavior that are destructive.
We need relationships where
we grow in trust and love
with God and others.
God must be first in
our lives! Anger and bitterness
from the past must never
be my motive of operation
for why I act or treat others
in negativity and meanness.
First to thine own self
be true.
Dear God grant Your
grace to us to live our
lives to build Your Kingdom
of God of love. To do Your will
in love, that all our
actions are for Your honor
and glory and to live
to prepare for our true
home eternally in heaven,
that is our goal of our
actions –
Matthew 22: 36-40

'Master, which is the greatest commandment of the Law?' Jesus said to him, 'You must love the Lord your God with all your heart, with all your soul, and with all your mind. This is the greatest and the first commandment. The second resembles it: You must love your neighbour as yourself. On these two commandments hang the whole Law, and the Prophets too.'
The Ten Commandments
1. I, the Lord, am your God. You shall not have other gods besides me.
2. You shall not take the name of the Lord, your God, in vain.
3. Remember to keep holy the Sabbath day.
4. Honor your father and your mother.
5. You shall not kill.
6. You shall not commit adultery.
7. You shall not steal.
8. You shall not bear false witness against your neighbor.
9. You shall not covet your neighbor's wife.
10. You shall not covet anything that belongs to your neighbor.
Priestly Newsletter Book II - September/October 1997
In all this Mary offers an example. Selfishness was totally foreign to her. She did not belong to herself. She belonged to God. She was not closed in upon herself. She was completely open to God. When God spoke, she listened. When God pointed the way, she followed. She realized that life is not a process a person masters by carefully mapping out one's own self-conceived plans of conquest, but a mystery to be gradually experienced by being open to God's personal and loving guidance.

Selfishness, then, did not close Mary off from God's call. Neither did fear. God asked her to assume a tremendous responsibility. He asked her to be the Mother of Jesus. Mary did not engage in a process of false humility and say that such a great role was above her. She did not say that she did not have the proper qualifications for this awesome mission. Briefly, she did not waste time looking at herself, making pleas that she was not worthy, telling the angel he had better go look for someone else. No, Mary did not look at herself. Her gaze was absorbed in God. She fully realized that whatever God asked of her, His grace would accomplish. She fully realized that although she herself had to cooperate, this work was much more God's than hers.

Mary's words, then, truly sum up what is the authentic Christian response at any point of life, in any kind of situation: "I am the handmaid of the Lord," said Mary, "let what you have said be done to me".
end of excerpt
Sing: Hail Mary
Sing: Glory Be
Song: Why Do We Hurt the Ones We Love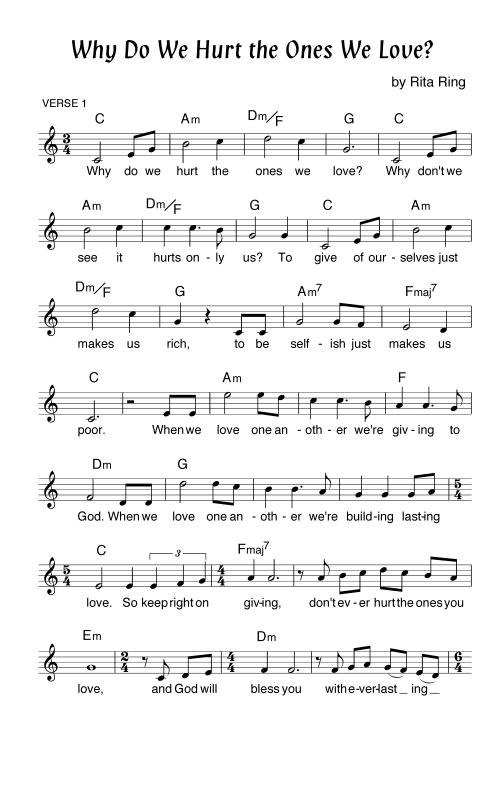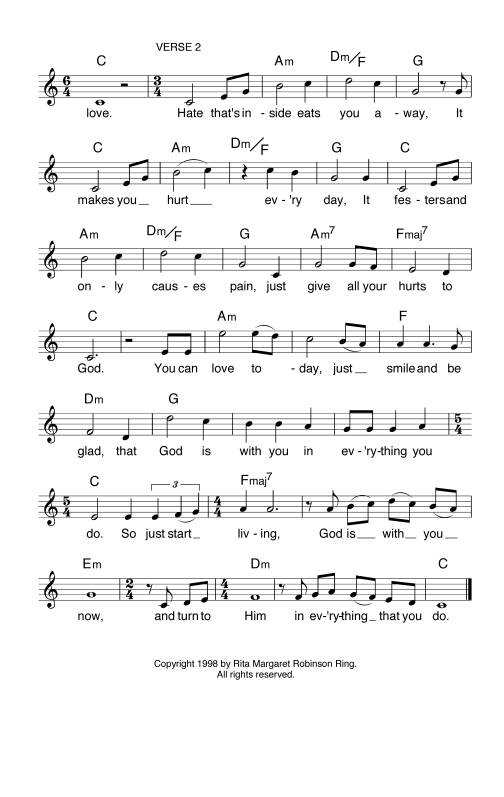 R. God is love and
in Him is
no darkness –
We must grow in
love and trusting
God
We are here to
prepare for
eternity in heaven –
loving and doing
God's will here
below.
God has the Plan
We are to follow it –
Do it and
quit acting against
His Plan –
Given
October 29, 2016
R. Please spread blessed holy water
(You can also mix Jesus and Mary water
with your blessed Holy Water if you have it.)
in your yard, around your house,
in the state you live in.
And ask God to bless your state
Ask God to bless the United States
Pray all prayers through the intercession of
Our Lady of CLEAR – WATER.
Ask the Lady of CLEAR - WATER
to help with the blessed water.
Mary has appeared to me for 22 years,
in Ohio and Florida.