January 5, 2017

January 5, 1997

R. On January 5, 1997, I was wakened by Our Lord and He was mumbling as He was around my bed as He did on October 8, 1997, when He delivered the "Seedless, Barren, No Fruit on the Vine" message.

I heard Him and He repeated the words over and over again. I had a copy of the all-night message on the floor, I jumped from the bed and began to write around the message, for it was the only paper available and He was speaking very plainly and direct. I wrote this message in the margins of the paper. He kept repeating "BABY, BARE BABY, LAID BARE".

Jesus: Open yourself, Oh Jerusalem, your time is come you will be a light to the people in darkness, many will walk whence you come and the earth will be shakened and the light will come across a dark sky and enlighten their minds.

Oh stiff-necked people, you are so stiff in your ways, let the spirit envelope you and lead you on your way.

A country of stiffs, a people of planning and prodding, of deliberating and wondering—you lack faith, Jerusalem, you lack faith in God.

Oh walk naked into the cold night, you are cold in your hearts and naked in your clothing—I cloth you with glory, I light your face with light, but you turn your cheeks to the darkness and stay stiff-necked in your hearts. Oh cold and dark hearts, reach for the light that you may know the glory that awaits the sinners and enlightens their minds.

end of excerpt
January 5, 1995
See the Big Picture
Jesus: My dear child,

I want you to see the big picture. My messages are not for two or three. My messages are for all souls. Souls are at stake. You contain the mighty medicine to draw men's hearts back to My burning love. I am Jesus. Put everything aside and focus only on Me talking to you.

The world is hurting. Men's hearts are so cold. They do not see beyond themselves. They do not see that God is with them this day. Little one, you were created to know, love and serve God. God must be first in your life. Many in your country have denied the existence of God. The batting of an eye, the dropping of a pin, and your life is over.

See with the eyes of God. See with the vision of God. God is eternal, God sees time as one. You do not see because you do not pray for grace.

You see with limited vision .You think with a human mind. You use a human mind to judge the things of God. I am Jesus Christ, the Son of God. I came to this world to lead all men to heaven. I come to you this day. Do you think God comes to talk to a few? I came to lead all souls to everlasting happiness.

Pray for vision. I see not a little town, I see all men, yet, I love each soul so uniquely. You do not understand the mind of God. You do not see as I see. I ask you to give My love to all. You see a few and love a few. You are one body, all men are your brothers. I came to give My Life to all men.

You must pray for vision and grace to do the will of the Father. My plan is unfolding and it depends on you. One person fixed on the love of God can radiate such might and power.

You cannot light the city without My power. My power I pour out to you in the Eucharist. My power I pour out to you when you sit in front of My tabernacle. You cannot do it without My might, My power. I am the Power, I am your All. You see yourself as controlling so many things and being so strong. Your power comes from Me. To do the work I am calling you to, you must have the might of God. You see yourself with a little area and a little job. I am calling you to love all. I am calling you to radiate love. I am calling you to light up the world with My love. I am calling you to make a difference in the lives of so many souls. Your love given through Me will change so many hearts.

Pray to the Spirit to transform your hearts to be more and more like Mine. Go to Mary and unite with Our Hearts. The more you unite to Our Hearts, the more the Spirit pours out His grace to transform your hearts. You do not ask for that life I want to give you. My Life, My grace, My vision, I pour out to you in the Eucharist. Oh, children, you are so blind. I speak to you, your Mother comes and appears and you see only in front of your face.

I come to you this day to deliver this message. Open your hearts to My love. Come to Me at Mass and in Communion with this open heart to receive divine love and divine life. Sit in front of Me in the tabernacle. I beg you. Times are coming when the things you hold onto so tightly will wither in front of your faces.

You are one body in Christ. See the big picture. See the world. See heaven. See all souls living and dead. See the Church as one. See, My children. You in your ways hold onto such little things. You see only in front of your faces.

I call, I knock, My Mother appears and calls each of you here this day. You are soldiers in My army to lead souls to My love. I need strong soldiers. I am fortifying you with My Body and Blood. I give to you this day in the Eucharist. You will radiate with the love of God when you turn your hearts to the Eucharist. I am present no less than the day I hung on the cross. You look for little signs and Jesus Christ, the Son of God, is here. I am here in My Divinity and Humanity in the Eucharist as present as the day I died on the cross, as the day I walked on Calvary, as the day I was born in Bethlehem. I wait in the tabernacle to fortify you with your supplies to spread My love. You do not see because you do not come for your supplies.

Please take Me seriously. Time is short. You need to turn to My Eucharistic Heart. Come to this Center and pray. Come to My tabernacle. Attend Mass and Communion.

Be with Me after Communion. How eagerly I wait to be with you. Pray the rosary with the meditations I have given you. Be there in the lives of Jesus and Mary as you pray the rosary. Pray to the Spirit. All day pray to the Spirit to fill you with the fire of His love. Pray all day for Him to transform you more and more into My image. Pray all day to be soldiers in My army spreading My love to this world. I call you this day. Will you answer Me?

Messenger: On January 5, 1995, the Father spoke in front of the altar at Our Lady of the Holy Spirit Center. This altar, I believe, was in Holy Cross Monastery.

end of January 5, 1995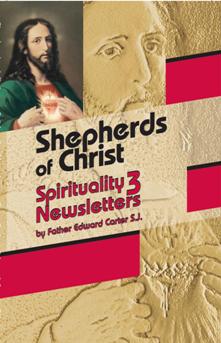 Excerpt from the Priestly Newsletter 2000 - #2
Henri de Lubac states: "The Church is a mysterious extension in time of the Trinity, not only preparing us for the life of unity but bringing about even now our participation in it. She comes from and is full of the Trinity. She is for us – in a favourite phrase of Bossuet – 'Jesus Christ … communicated'. She is 'the Incarnation continued.' She is, as Dietrick Bonhoeffer used to say, 'the presence of Christ on earth' –- she speaks with 'the authority of Christ living and present in her.'… St. Paul applies to her this same word 'mystery' which he had first used of Christ. She is after all, the spouse of Christ and his body."
10
Let us, then, reflect upon the Church as a reflection of the Trinity, the Church as Body of Christ, the Church as Spouse of Christ.
The Christian community is a reflection of the ultimate and absolute community – namely, the Trinity. In a special way, we are privileged to give witness to Trinitarian life, a life of divine intimacy, a life of divine knowing and loving.
Grace, or the Christ-life, is a created participation in Trinitarian life. This Christ-life, consequently, calls us to a special existence of knowing and loving. Christian faith and love, which are created participations in the Trinity's knowing and loving, allow us to know and love God in a special manner. Faith and love also give us a new capacity to relate to both our fellow Christians and to all others..
Because the life of the Trinity is person-centered, so must the life of the Church be person-centered. For many years, it seems, we were not sufficiently person-conscious. However, the theology that has emanated from Vatican II is helping to rectify this situation. In the pre-Vatican II Church, structures in the Church were at times treated by some as if they were ends in themselves rather than as means of serving the persons in the Church. Slowly but surely, structures in the Church are being renewed so that they might better serve their true purpose, which is to aid in the ongoing spiritual development of her members – leading them closer to the Father, through and with Christ, in the Holy Spirit.
The Church, in turn, develops when those who make up that community develop as authentic Christians. Just as each divine Person contributes perfectly to the community life of the Trinity according to the Self-Gift of the fullness of His personhood, so each Christian contributes to the community life of the Church in proportion to the degree of his or her gift of self, according to the degree of his or her personal holiness.
Authentic interpersonal relationships help to develop community. The Trinitarian community is a community of profound relationships. Because the Church reflects Trinitarian community, her members are intended to have relationships, not only with the Persons of the Trinity, but likewise with others. Authentic interpersonal relationships not only unite in a deeper knowledge and love the persons directly involved, they also make a person more capable of loving others more deeply, and, therefore, more capable of deepening the bonds of total community. If a person is growing in the capacity to love his or her friends, for example, that person is concurrently growing in the capacity to also love all others – both those who are members of the Church and those who are not.
The fact that the Church is here on earth a reflection of the Trinitarian Community easily leads us to reflect upon the Church as the Body of Christ, since this name given to the Church also emphasizes the communitarian aspect of the Church. St. Paul tells us: For as with the human body which is a unity although it has many parts – all the parts of the body, though many, still making up one single body – so it is with Christ. We were baptised into one body in a single Spirit, Jews as well as Greeks, slaves as well as free men, and we were all given the same Spirit to drink. And indeed the body consists not of one member but of many. If the foot were to say, 'I am not a hand and so I do not belong to the body', it does not belong to the body any the less for that. Or if the ear were to say, 'I am not an eye, and so I do not belong to the body', that would not stop its belonging to the body. If the whole body were just an eye, how would there be any hearing? If the whole body were hearing, how would there be any smelling?
Now Christ's body is yourselves, each of you with a part to play in the whole. And those whom God has appointed in the Church are, first apostles, secondly prophets, thirdly teachers; after them, miraculous powers, then gifts of healing, helpful acts, guidance, various kinds of tongues. Are all of them apostles? Or all prophets? Or all teachers? Or all miracle-workers? Do all have the gifts of healing? Do all of them speak in tongues and all interpret them? (1 Cor 12:12-17; 27-30).
The concept of the Church as Body of Christ certainly emphasizes the sense of corporateness that should permeate the consciousness of the Church's members. We depend upon each other. We each have a very important contribution to make to the life of the Church. We must think in terms of both what is good for the entire Church and, through this Church, what is good for the total human community. Even when we disagree among ourselves, we do so not because we want to glory in having the upper hand, but because we believe that to disagree here and now is necessary so that the truth might better emerge for the good of the community. St. Paul speaks to us about this sense of corporateness: So if in Christ there is anything that will move you, any incentive in love, any fellowship in the Spirit, any warmth or sympathy – I appeal to you, make my joy complete by being of a single mind, one in love, one in heart and one in mind. Nothing is to be done out of jealousy or vanity; instead, out of humility of mind everyone should give preference to others, everyone pursuing not selfish interests but those of others. Make your own the mind of Christ Jesus. (Phil 2:1-5)
Finally, we reflect upon the Church as Spouse of Christ. Fr. Joseph Murphy, S.J., tells us: "John Paul II always quotes the rich doctrinal and patristic traditions of the Church which refer to Christ as the Spouse of the Church and the Spouse of souls, given to both in the Eucharistic mystery. For him the key to understanding the sacramentality of marriage, not to mention the nature of humanity, is the spousal love of Christ for the Church demonstrated in Ephesians 5. Christ is the Head of the Church as Savior of His Body. The Church is exactly that Body which receives from Him all that through which it becomes and is His Body. As Head and Savior of the Church He is also Bridegroom of His Bride…"
11
Here is a prayer for intimacy with the Lamb, the Bridegroom of the Soul: "O Lamb of God, Who take away the sins of the world, come and act on my soul most intimately. I surrender myself, as I ask for the grace to let go, to just be as I exist in You and You act most intimately on my soul. You are the Initiator. I am the soul waiting Your favors as You act in me. I love You. I adore You. I worship You. Come and possess my soul with Your divine Grace, as I experience You most intimately."
10. Henri de Lubac, S. J., The Church: Paradox and Mystery, translated by James R. Dunne, Alba House, p. 24.
11. The Thought of Pope John Paul II: A Collection of Essays and Studies, John M. McDermott, S. J., Editor, Editrice Pontificia Universita Gregoriana, p. 135
Sing: One Bread, One Body
Sing: Church of God
Sing: Out of Darkness

Excerpt from the Priestly Newsletter 2000 - #2
At the Last Supper, on the night He was betrayed, our Saviour instituted the Eucharistic Sacrifice of His Body and Blood. He did this in order to perpetuate the sacrifice of the Cross throughout the centuries until He should come again, and so to entrust to His beloved spouse, the Church, a memorial of His death and resurrection: a sacrament of love, a sign of unity, a bond of charity, a paschal banquet in which Christ is consumed, the mind is filled with grace, and a pledge of future glory is given to us. (Vatican II, Constitution on the Sacred Liturgy, No. 17) 13

The Church, therefore, earnestly desires that Christ's faithful, when present at this mystery of faith, should not be there as strangers or silent spectators. On the contrary, through a proper appreciation of the rites and prayers they should participate knowingly, devoutly, and actively. They should be instructed by God's word and be refreshed at the table of the Lord's body; they should give thanks to God; by offering the Immaculate Victim, not only through the hands of the priest, but also with him, they should learn to offer themselves too. Through Christ the Mediator, they should be drawn day by day into ever closer union with God and with each other, so that finally God may be all in all. (Constitution on the Sacred Liturgy, No. 48) 14

Through the Eucharistic Sacrifice Christ the Lord desired to set before us in a very special way this remarkable union whereby we are united one with another and with our divine Head, a union that no word of praise can ever sufficiently express. For in this sacrifice the sacred ministers act not only as the representative of our Saviour, but as the representative of the whole Mystical Body and of each one of the faithful. Again, in this act of sacrifice, the faithful of Christ, united by the common bond of devotion and prayer, offer to the eternal Father through the hands of the priest, whose prayer alone has made it present on the altar, the Immaculate Lamb, the most acceptable victim of praise and propitiation for the Church's universal need. Moreover, just as the divine Redeemer, while dying on the Cross, offered Himself to the eternal Father as Head of the whole human race, so now, 'in this clean oblation' He not only offers Himself as Head of the Church to His heavenly Father but in Himself His mystical members as well. He embraces them all, yes, even the weaker and more ailing members, with the deepest love of His Heart. (Pope Pius XII, Mystici Corporis AAS. XXXV, 232-233) 15

The Sacrifice of Calvary is sacramentally made present in the Mass. When we pray the Morning Offering Prayer, united to the Holy Sacrifice of the Mass, we act as Intercessors, pleading to God that great graces be released all day through our prayerful actions as we act in love according to the Father's will. Whether we are eating, taking care of a sick parent, enjoying time spent with a friend, working at our job, we can help bring down great graces for the world.

When we pray the Morning Offering Prayer we offer our lives to the Father, through Christ, in the Holy Spirit, with the prayerful assistance of Mary, our Mother. Let us pray together united in our hearts in the Holy Sacrifice of the Mass. There follows a Morning Offering Prayer.

"My dear Father, I offer You this day all my prayers, works, joys, and sufferings in union with Jesus in the Holy Sacrifice of the Mass, in the Holy Spirit.

"I unite with our Mother, Mary, all the angels and saints, and all the souls in purgatory to pray to the Father for myself, for each member of my family, for my friends, for all the people throughout the world, for all the souls in purgatory, and for all other intentions of the Sacred Heart.

"I love You, Jesus, and I give You my heart. I love you, Mary, and I give you my heart. Amen." 16

St. John Vianney, the Curé of Ars, offers us these consoling words: "If we really loved God, we should make it our joy and happiness to come and spend a few moments before the tabernacle to adore him, and ask him for the grace of forgiveness –- Oh! how sweet and consoling are moments spent with the God of goodness. Are you in sorrow? Come and cast yourself at his feet and you will feel quite consoled. Are you despised by the world. Come here and you will find a good friend whose faithfulness will never fail you. Are you tempted? It is here that you will find strong and terrible weapons to vanquish your enemies –- Are you oppressed by poverty? Come and find a God infinitely rich… You who are reconciled with him, beg for the precious gift of perseverance. Oh! Tell him that if you are to offend him again, you would rather die. Would you begin to taste the joy of the saints? Come here and you will know the happy beginnings of it." 17
13. The Documents of Vatican II, "Constitution on the Sacred Liturgy," America Press edition, No. 17.
14. Ibid., No. 48.
15. Pope Pius XII, Encyclical Letter, Mystici Corporis, AAS, XXXV, pp. 232-233.
16. Rita Ring, Rosary Meditations for Parents and Children, Shepherds of Christ Ministries, p. 189
17. Saint John Vianney, "Sermons for Holy Thursday", in Eucharistic Meditations, editor Sr. Mary Benvenuta, O. P., translated by Abbé H. Convert, as in Adoration, compiled by Daniel Guernsey, Ignatius Press, p. 96.
Prayer for Grace for our Country
Dear Father united to Jesus in the Holy Sacrifice of the Mass, the Sacrifice of Calvary sacramentally made present, celebrated around the world, in the Holy Spirit. We offer up all we do united to the Mass. We unite in one mind and one heart as members of the mystical body of Christ, with Christ our head in the pure and holy Hearts of Jesus and Mary, through the powerful intercession of Mary with all the angels and saints and souls in purgatory, and we beg for the saving grace, for our country, the United States. Please help us. We further pray for unity to always do the will of God in love. We spread the Blood of Jesus on the leaders and people of the United States and cast the devil into hell. We consecrate our country to the Sacred Heart and Immaculate Heart and all our dioceses, and beg for an outpouring of the Holy Spirit. God help us. We pray for our families, the priests, the Church and the world. In the Name of Jesus please hear us, we pray. We pray for our old president as he leaves office and our new president as he takes office.
Morning Offering
My dear Father, I offer You this day all my prayers, works, joys and sufferings, my every breath, my every heartbeat, my every thought, all my actions, in union with Jesus in the Holy Sacrifice of the Mass throughout the world, in the Holy Spirit. I pray the Holy Spirit is with me every second today, enlightening me to do the Will of the Father and filling me with the fire of God's love.

I ask Jesus and Mary to be one in me in all that I do and I unite with all the angels and saints and souls in purgatory to pray continually to the Father for these intercessions, in this prayer, for this day.

For myself, I pray for grace-abundant grace, to know and love God more and more and to follow the Will of the Father. I pray to the Holy Spirit to transform me in the heart of Mary to be more and more like Jesus. I pray that I can forever dwell in the Hearts of Jesus and Mary. I pray for conversion of all those I hold dear who need conversion. I pray for each member of my family that they will be filled with Your abundant grace to grow in their knowledge and love of God.

I pray for all my friends that they will receive abundant grace to carry out the great plan of the Father, that they will grow forever closer to Jesus' Heart through Mary's heart, that we will all be led by the Holy Spirit to do His work, that we will, together, carry out the plan of the Father as He intends us to, to spread the love of the Sacred Heart of Jesus and Mary's heart to this world.

Jesus, I pray for myself so the Holy Spirit descends upon me and opens my heart to Your love so I will grow more and more deeply in union with You. I pray that I do not worry what other people think but try always to please the Father and do His Will. I pray that I may help lead many to Your burning love.

I pray for the following people in particular that they will be filled with the Spirit and grow deeply in their union with You, that they will receive abundant graces to know, love and serve You more. (Include special friends by name...)

I pray for priests the world over, for the success of the Priestly Newsletter, the Chapters and for the finances needed for the Newsletter. I pray for the circulation of the Blue Book messages, rosary meditations and tapes. I pray for all those involved in the publication of these messages.

I pray that You will shower Your abundant graces onto the priests reading the Newsletter the people reading and hearing the Blue Book messages and rosary meditations and all of Fr. Carter's publications.

We pray for the intentions we hold deep within our hearts, for our families and friends, for those requesting our prayers. We pray for children the world over and for the souls in purgatory. We ask God to shower His abundant grace on us and the members of our Shepherds of Christ Chapter so that we may grow more and more in our knowledge and love of God.

We consecrate ourselves to the Hearts of Jesus and Mary. We pray for Father Carter, for Father Smith, for Rita Ring, and for John Weickert, for all leaders and helpers in the Shepherds of Christ Movement, for Shepherds of Christ Ministries, and Our Lady of Light Ministry. We pray for all those who are working in these ministries.

We bind ourselves and our children and our friends to the Immaculate Heart of Mary. We place the precious blood of Jesus on ourselves, and all we touch, so that we will be protected from the evil one. We pray to St. Michael to cast the devil into hell.

We love You, God, we love You, we love You. We beg that we may receive the grace to love You more and more deeply. We adore You, we praise You, our beloved Father, Son, and Holy Spirit.
Sing: A Priest is a Gift from God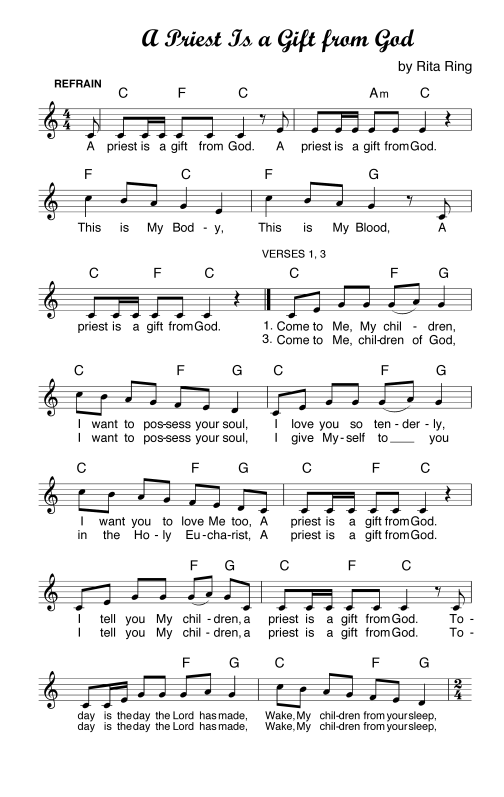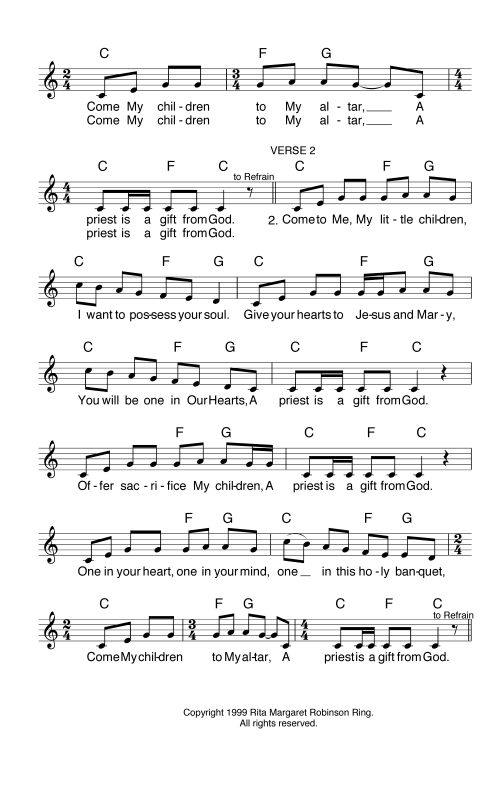 Excerpt from the Priestly Newsletter 2000 - #2

In one of his Holy Thursday letters to priests, Pope John Paul II says: "Attempts to make the priest more like the laity are damaging to the Church. This does not mean in any way that the priest can remain remote from the human concerns of the laity: he must be very near to them, as John Mary Vianney was, but as a priest, always in a perspective which is that of their salvation and of the progress of the Kingdom of God. He is the witness and dispenser of a life other than earthly life. It is essential to the Church that the identity of the priest be safeguarded, with its vertical dimension. The life and personality of the Curé of Ars are a particularly enlightening and vigorous illustration of this…

"Saint John Mary Vianney did not content himself with the ritual carrying out of the activities of his ministry. It was his heart and his life which he sought to conform to Christ.

"Prayer was the soul of his life: silent and contemplative prayer, generally in his church at the foot of the tabernacle. Through Christ, his soul opened to the three divine Persons, to whom he would entrust 'his poor soul' in his last will and testament. 'He kept a constant union with God in the middle of an extremely busy life.' And he did not neglect the office or the rosary. He turned spontaneously to the Virgin." 18

18. Pope John Paul II, Holy Thursday, Letters to My Brother Priests, edited by James P. Socias, Scepter Publications and Midwestern Theological Forum, p. 148.
Sing: Of the Father's Love Begotten

Excerpt from the Priestly Newsletter 2000 - #2
...Our becoming, our growth, is rooted in God's will for us. He has made us for continual growth, for continual development. This process of growth depends upon our relationship with God. The Father, out of His great love for us, is always inviting us to a deeper union with Him, through Christ, and in the Holy Spirit.

In the depths of our heart we know we want this deeper union with God, and yet at times we are frightened at the prospect. We can be tempted to avoid coming closer to God for fear of what His love may ask of us. This is a critical point in the relationship. Many apparently draw back at this juncture, deciding that the closeness of deep love is too demanding. In our relationship with God – unlike what can happen in a relationship with a human person who possesses a wounded nature because of sin – we can be assured that becoming closer to Him will not end in any kind of disappointment. God will never be unreasonable in His demands. Growing, or becoming, through a closer love-union with Him will result in a greater happiness. Our quest for happiness will be more and more satisfied – not without some pain, because our growth does involve suffering. But whether the suffering be now slight, now moderately severe, or even at times seemingly almost unbearable, we know in the depths of our heart we have to want deeper union with God if we truly want to continue to grow, to continue to become. Growth in happiness means developing the union of love with God. And if this means that suffering is one element of that process, then a voice deep within us, rising from the depths of the authentic self, whispers to us that we should be willing to bear with the pain involved – for the sake of a deeper life, a greater becoming, a greater love.

Although our process of growing or becoming is rooted in our relationship with God, this relationship does not stand alone. According to God's will, our union with Him involves also other relationships. God calls us to the gift of self in relationships with others. He also wants us to be properly related to material creation.

We grow or become, then, through a going out in love to God, to others, to material creation. Much of this becoming is according to a more or less established and predictable pattern. But sometimes God surprises us. Sometimes He asks us to become in a way we ourselves would not have considered. God does not always act according to the more ordinary and predictable ways. He is an infinitely wise God, and His holy wisdom is perfectly capable of leading us along paths previously unknown to us. Whatever the case may be, His ways – if we follow them – always lead us to greater growth, to greater becoming, to greater happiness.
Here are words of Therese of Lisieux, saint and doctor of the Church: "O Jesus! why can't I tell all little souls how unspeakable is Your condescension? I feel that if You found a soul weaker and littler than mine –- You would be pleased to grant it still greater favors, provided it abandoned itself with total confidence to your Infinite Mercy." 22

Jesus calls us to surrender. He wants us to let go, to relate to persons, places, and things only according to His will. He wants us to renounce those things which prevent a closer union with Him. If we do this, we will experience the joy of being free, the joy of being deeply united to Him, the joy of being deeply possessed by Him.

Jesus sustains us. Others move in and out of our lives, some betray us, some become indifferent to us. Jesus is our Rock, the One we can always depend on, the One Who always loves us with an unfathomable love: Jesus Christ is the same today as he was yesterday and as he will be for ever. (Heb 13:8)

Sometimes we are tempted to think our efforts are rather useless. We must resist the temptations. The battle is hard, and the path at times seems to be all uphill. We have to pray for the light to realize that our efforts put forth for God are not in vain. When we are united to Jesus, our efforts are having a great effect in the work of the Kingdom. Let us keep our candles burning. Let us keep our focus on Jesus, and not worry about results. Our lives spent in Jesus' service please Him greatly, and they produce great good, although so much of this good can be hidden from our eyes.
22. Story of a Soul, The Autobiography of St. Therese of Lisieux, ICS Publications, p. 200.
excerpt from November 4, 2001 message
Jesus speaks: To those who pray My prayers I
promise the following special
graces:
- A deeper understanding of the
Divine Mysteries through fervent
recitation of the litanies.

- I promise a deeper love in your heart
for your God and a deeper love
for your fellowmen.

- Those who pray the prayers fervently
will experience a deep union
in My Heart and My Mother's heart,
they will be given special insights
into My unfathomable love for men
and experience a thirsting within
themselves to want to help souls
through intercessory prayer and sacrifices.

- They will have a deeper love of the Mass
through this deeper consecration.
[consecration to Their Hearts]

- They will know Me more intimately.

- They will want to live their lives to
help save souls.

- They will have a deeper love for the priests shepherds.
- They will have a deeper love and dedication
to the Church. (I founded)

- They will want peace on the earth.
- They will want peace in their own hearts.

- You will experience a fearlessness the more
you pray the Holy Spirit Novena prayers
given to you.

- As you meditate on the scriptures you will
understand more fully the plan of
the Father to lead the souls into the
great Reign of My Sacred Heart.

- You and all who pray the Holy Spirit Novena
and the Shepherds of Christ Prayers will be
united in a deep oneness with each other
and the souls of the earth.

- The more you pray these prayers (both sets)
you will live in the truth as you
dwell in Our Hearts.

- You will be given gifts of the Holy Spirit.

- You and your family will be protected by
My Precious Blood and your families
will receive special protection
against satan from fervent recitation
of the prayers. (the Holy Spirit Novena
and the Shepherds of Christ Prayers)

- I promise to take you and the members of
your family in a special way
into My Sacred Heart. I will lavish
you in the fires of My love.

- The priests and the people of the Church and the world
will receive special graces from the fervent
recitation of these prayers. (both sets)

- I will unite My people in a deeper love
from the graces granted from
fervent recitation of these prayers.

- I give these prayers from My image site
in Florida.
I appear there daily as the Sacred Heart.
Some see Me, some do not, but there
is a special presence there.
My Mother appears there for her children.

- In the five years of her apparitions many
souls who have come have been
given special graces of conversion.
Many have been given grace to lead
them into a deeper love union with
God and the Blessed Virgin.

- The image site in Florida has touched
the world.

- I outpour great grace to those who come
to the site.

- There are tremendous graces of healing
granted to all who come.

- People who come rarely leave unchanged.
- The grace granted works in their lives and in
their hearts, long after they have gone.

- A reminder of their visit only need be given
and they experience a memory of
that moment.
I ask you to circulate the prayers I have
given, the Shepherds of Christ Prayers
and the Holy Spirit Novena prayers.
end of November 4, 2001 message
Given
October 29, 2016
R. Please spread blessed holy water
(You can also mix Jesus and Mary water
with your blessed Holy Water if you have it.)
in your yard, around your house,
in the state you live in.
And ask God to bless your state
Ask God to bless the United States
Pray all prayers through the intercession of
Our Lady of CLEAR – WATER.
Ask the Lady of CLEAR - WATER
to help with the blessed water.
Mary has appeared to me for 22 years,
in Ohio and Florida.