Prayer for Grace for our Country
Dear Father united to Jesus in the Holy Sacrifice of the Mass, the Sacrifice of Calvary sacramentally made present, celebrated around the world, in the Holy Spirit. We offer up all we do united to the Mass. We unite in one mind and one heart as members of the mystical body of Christ, with Christ our head in the pure and holy Hearts of Jesus and Mary, through the powerful intercession of Mary with all the angels and saints and souls in purgatory, and we beg for the saving grace, for our country, the United States. Please help us. We further pray for unity to always do the will of God in love. We spread the Blood of Jesus on the leaders and people of the United States and cast the devil into hell. We consecrate our country to the Sacred Heart and Immaculate Heart and all our dioceses, and beg for an outpouring of the Holy Spirit. God help us. We pray for our families, the priests, the Church and the world. In the Name of Jesus please hear us, we pray. We pray for our new president as he takes office. We pray that we are united as one nation under God to work together in love as God wants.

October 17, 2017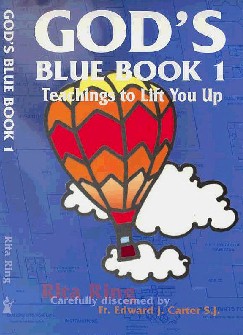 Do My Work

October 17, 1993

Jesus: I come and you open the doors of your heart. I enter and you are made whole. Your hungry soul thirsts for only that which I can give. Open the gates. Let Me enter and wash you with My Blood. My Blood is the Blood of salvation. Nothing in this world can compare to My Blood. It is there for you, it cleans you, it feeds you. It is your all. Come and be nourished by Me. I have all you need.

Your time is not your time. I loan it to you. I loan you your time to do My work. This is your day, but it is My day to work in you. You are doing as you ought. You feel tired and worn out and you wonder why. My work is work. It is not a puffy little job. It is a big job. It is the most important thing you do. You keep doing My work and then wonder why you are exhausted. My work is hard. It is struggling up a hill in a world that has lost its way. People are closed. The world is pulling you everyplace but to Me and then you wonder why the exhaustion. You pray many hours a day and talk many more trying to sell My wares. It is hard work. People reject you. They are closed. They are not of Me. They are all busy with their stupid earthly lives. I sit and watch and they are so blind. What good does it do a man to run down a road if it is the wrong one. Hold tight, My little flower. You are doing My work and it is tedious. It is hard work. It is the best work to do. Do not wear yourself out talking on the phone. Plant My seeds and be on your way. Others must do their own seeking of Me. You only lead them to the water. You do not have to stand around and see if they will drink or not and prompt them to do so. They must read My messages and come to Me for their feeding.

You do not feed your brothers all their food. You plant the seeds. They come to Me and they are fed by Me. Hold tight to all you are doing. It is hard, hard work. I am giving you strength. Each day is a day's work, indeed. No one but I knows how much work you do in a day. You have touched a lot of hearts in one day. Be glad as each day unfolds. Be glad I am using you as My instrument to reach many. Know that this is work. You should be tired at the end of the day. I am your God and I love you, My little one. I play the organ at Mass with you. I love the music. I love people to sing. It is of great comfort to Me and My mother for all the singing. Keep singing and playing. It is so soothing to our hurt hearts. I love to hear My children sing. I love you all so much!

Keep spreading My word and doing My work. You feel tired because it is indeed work, but I will supply you with extra energy and blessings for all you do. I need you to do this work for Me. You always bounce back and go full steam ahead. That is Me! All of a sudden you are refreshed and wonder what happened. The spirit is willing but the flesh is weak, but I have all the power. The very hairs of your head are numbered. I give you strength when you are doing My work. Oh, how I love you. I am pleased with your work. Your weariness is worth it. I will give you a bath in My love and you will go and feel like flying. I am your love, little, one. Thank you.

end of October 17, 1993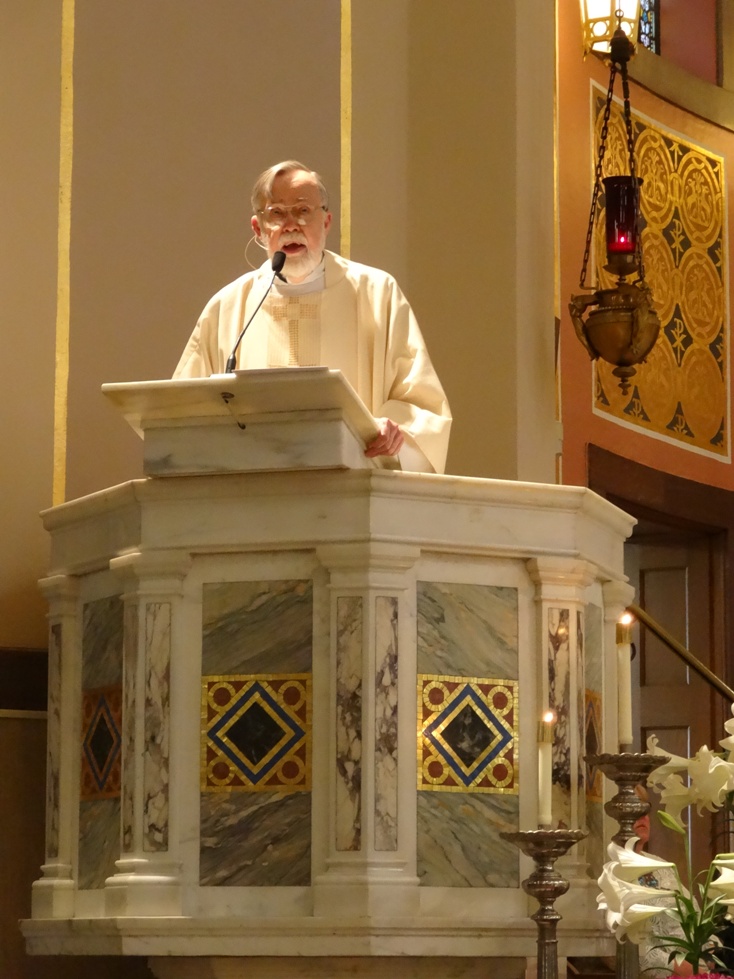 2nd Sunday of Advent
Baruch 5: 1-9
Jerusalem, take off your dress of sorrow
and distress,
put on the beauty of God's glory
for evermore,
wrap the cloak of God's saving justice
around you,
put the diadem of the Eternal One's glory
on your head,
for God means to show your splendour
to every nation under heaven,
and the name God gives you
for evermore will be,
'Peace–through–Justice,
and Glory–through–Devotion'.
Arise, Jerusalem, stand on the heights
and turn your eyes to the east:
see your children reassembled
from west and east
at the Holy One's command,
rejoicing because God has remembered.
Though they left you on foot
driven by enemies,
now God brings them back to you,
carried gloriously, like a royal throne.
For God has decreed the flattening
of each high mountain,
of the everlasting hills,
the filling of the valleys
to make the ground level
so that Israel can walk safely
in God's glory.
And the forests and every fragrant tree
will provide shade
for Israel, at God's command;
for God will guide Israel in joy
by the light of his glory,
with the mercy and saving justice
which come from him.
Philippians 1: 4-6, 8-11
and every time I pray for you all, I always pray with joy for your partnership in the gospel from the very first day up to the present. I am quite confident that the One who began a good work in you will go on completing it until the Day of Jesus Christ comes.
For God will testify for me how much I long for you all with the warm longing of Christ Jesus; it is my prayer that your love for one another may grow more and more with the knowledge and complete understanding that will help you to come to true discernment, so that you will be innocent and free of any trace of guilt when the Day of Christ comes, entirely filled with the fruits of uprightness through Jesus Christ, for the glory and praise of God.
Luke 3: 1-6
In the fifteenth year of Tiberius Caesar's reign, when Pontius Pilate was governor of Judaea, Herod tetrarch of Galilee, his brother Philip tetrarch of the territories of Ituraea and Trachonitis, Lysanias tetrarch of Abilene, and while the high-priesthood was held by Annas and Caiaphas, the word of God came to John the son of Zechariah, in the desert. He went through the whole Jordan area proclaiming a baptism of repentance for the forgiveness of sins, as it is written in the book of the sayings of Isaiah the prophet:

A voice of one that cries in the desert:
Prepare a way for the Lord,
make his paths straight!
Let every valley be filled in,
every mountain and hill be levelled,
winding ways be straightened
and rough roads made smooth,
and all humanity
will see the salvation of God.
2nd Sunday of Advent

December 6, 2015
INTRODUCTION: Baruch 5, 1-9; Philippians 1, 4-6.8-11; Lk. 3, 1-6; When we hear today's first reading, the psalm response, and the gospel, we need to hold in our mind the Babylonian exile. In 587 BC the Babylonians destroyed Jerusalem, the Temple, and enslaved thousands of Jews and took them as exiles to Babylon, 700 miles away (which is Iraq today). Try walking that 700 miles through mountains and desert. Baruch (our first reading) promises God would bring his people home. Just remember this is poetry so you will find his description of the return is greatly exaggerated (such as being lifted high as on royal thrones, and the mountains being leveled down). The psalm refrain is a song of rejoicing after the exile has ended – some 50 years later. 500 years after the exile we are in the era of Jesus and John the Baptist. In our gospel today, John the Baptist borrows Isaiah's description of the return from exile, also in poetic language, and applied Isaiah's words to his own ministry. John was a voice in the desert calling all people to prepare themselves for the salvation God was about to make known to all flesh.

HOMILY: Our gospel ends by saying "all flesh shall see the salvation of God." There are about 7.3 billion people in the world today. The population increases at a rate of 200,000 people a day. How is God going to accomplish that "all flesh shall see the salvation of God?" We can see God at work through John the Baptist who had the job of revealing God's saving love until he was martyred by Herod Antipas. John and Jesus had worked together for a time, then when John was gone, Jesus, with great compassion and miraculous powers, continued the mission of the Baptist calling people to repentance. When Jesus eventually returned to his Father in heaven, he commissioned his apostles to continue on with his mission to save the world. The Apostles passed that mission on to others (such as St. Nicholas whose feast is today). Through millions of other Apostles and evangelists, the saving work of God continues even to this very day and will continue on until all God's work is done, a work that we share. The Church continues to call people to repentance and to prepare their hearts for the salvation of God. For example, our Holy Father, Pope Francis, declared a Jubilee Year of Mercy, which begins this Tuesday. Pope Francis calls mercy "the bridge that connects God and God's people, opening our hearts to the hope of being loved forever despite our sinfulness. It is the ultimate and supreme act by which God comes to meet us." Misericordiae Vultus 1-3 We will soon be celebrating God's coming to meet us 2000 years ago, which is an event most worthy of celebration. He will come to meet us at the end of time to gather his faithful ones into his kingdom. He comes to meet us in our everyday lives day after day, in our prayers and in our work, in our joys and even in our crosses. As we prepare to celebrate with love and joy his coming 2000 years ago, let us seek through prayer or reading or doing good works to meet him with greater love each day. In this way you will be a part of God's work by which it may eventually happen that "all flesh shall see the salvation of God." Amen.
R. Deliver us from bondage.
A message of hope.
Peace & Justice will reign –
John the Baptist – WORKED
John the Baptist said – "REPENT"
Jesus worked –
Jesus commissioned His Apostles
to go out and do His work –
The Church calls people to repent
and prepare their hearts for God.
God is merciful – we must ask
for His forgiveness and mercy –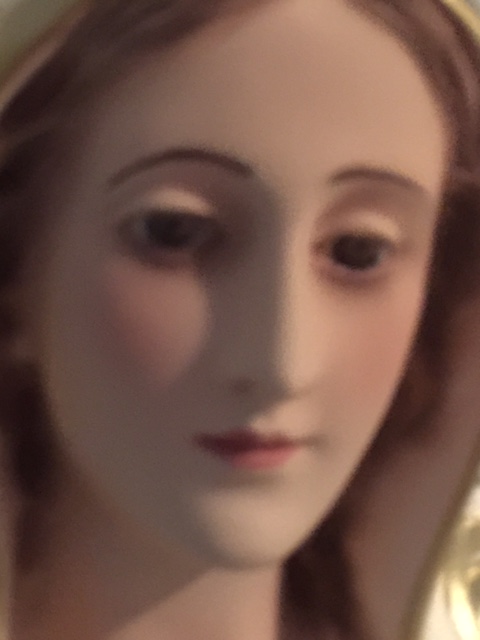 R. Mary is the Perfect Handmaid of the Lord –
Handmaids are to bring Jesus – as they
live the Christ-life in their lives –
Servants are to show Jesus in their lives.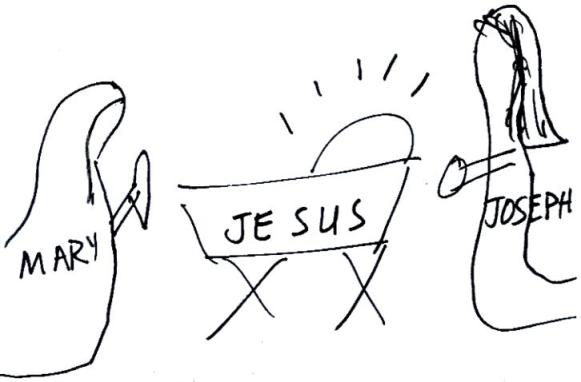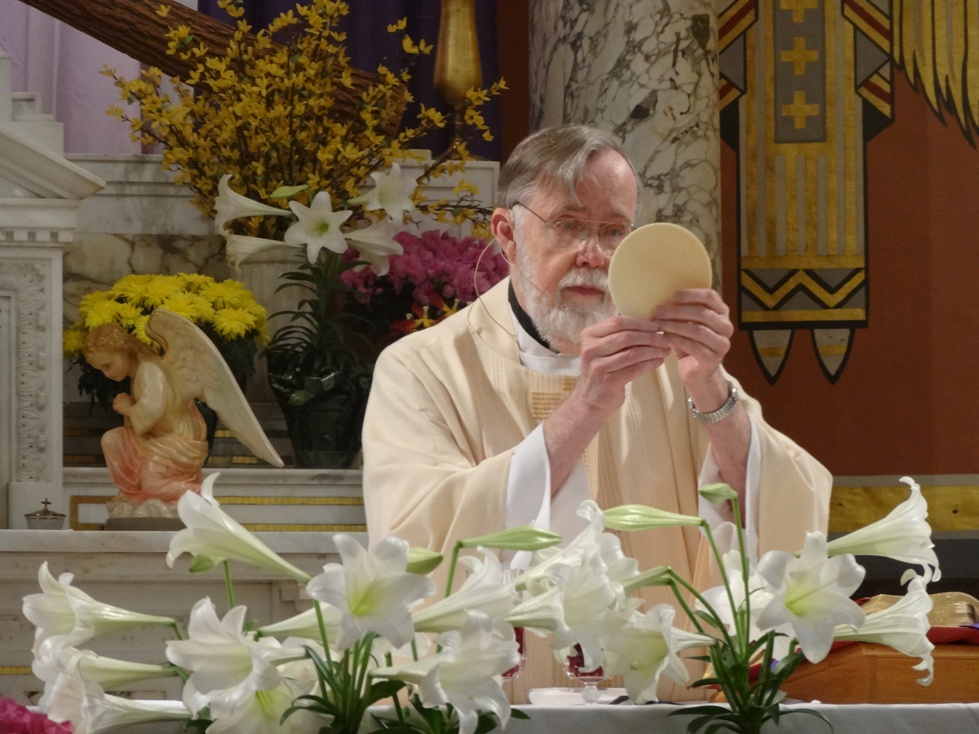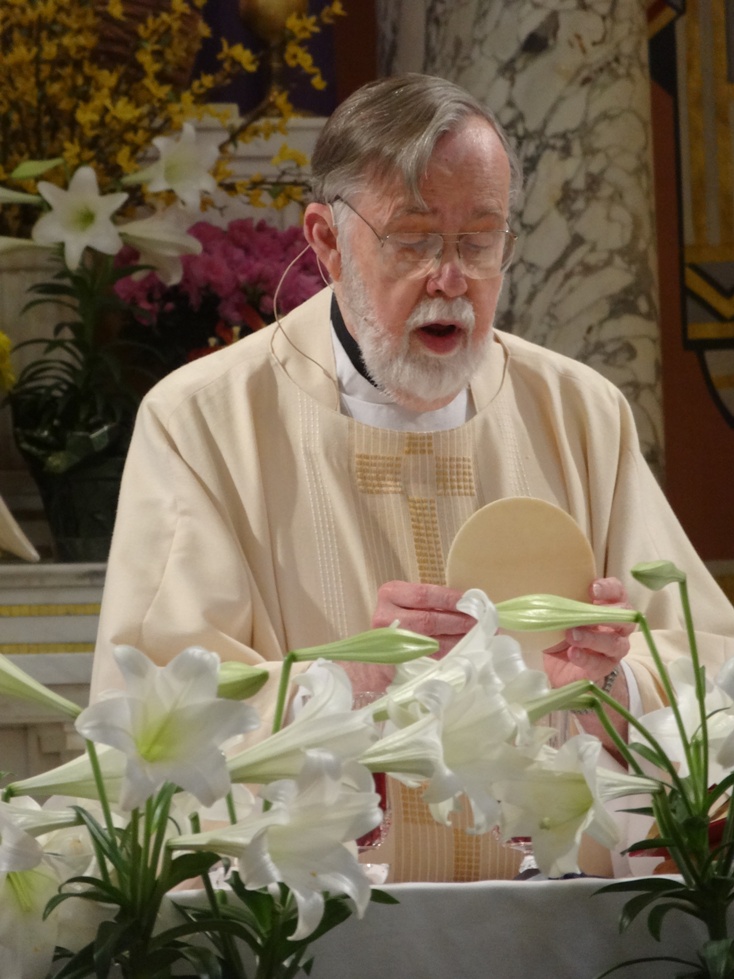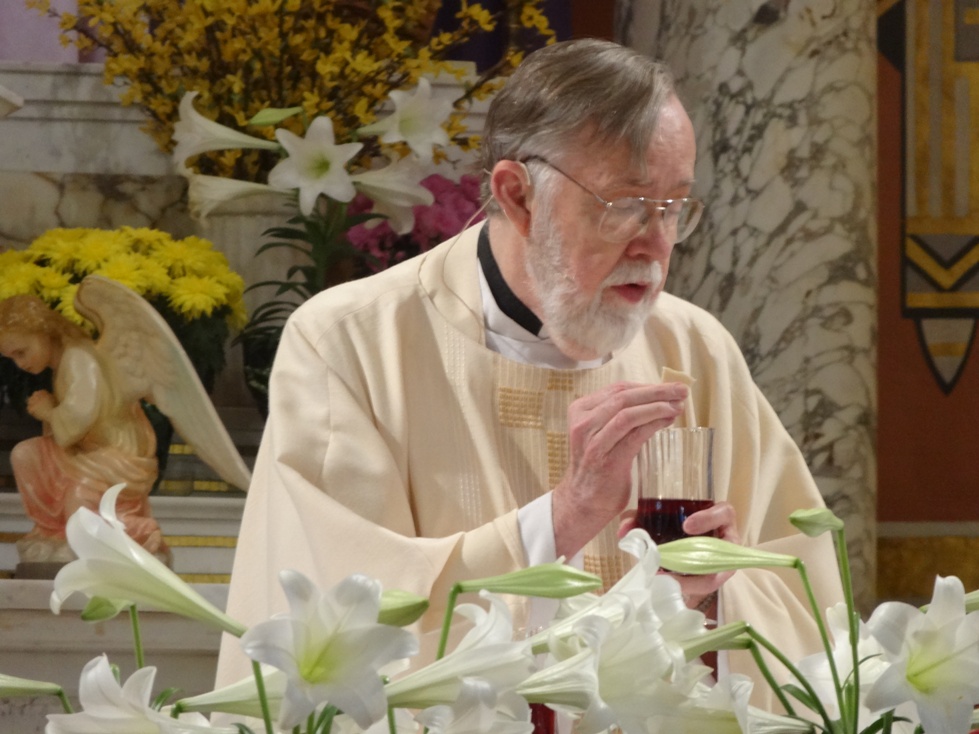 Fourth Sunday of Advent
Micah 5: 1-4
But you (Bethlehem) Ephrathah,
the least of the clans of Judah,
from you will come for me
a future ruler of Israel
whose origins go back to the distant past,
to the days of old.
Hence Yahweh will abandon them
only until she who is in labour gives birth,
and then those who survive of his race
will be reunited to the Israelites.
He will take his stand
and he will shepherd them
with the power of Yahweh,
with the majesty of the name of his God,
and they will be secure,
for his greatness will extend
henceforth to the most distant parts
of the country.

He himself will be peace!
Hebrews 10: 5-10
You wanted no sacrifice or cereal offering,
but you gave me a body.
You took no pleasure in burnt offering'
or sacrifice for sin;
then I said, 'Here I am, I am coming,'
in the scroll of the book it is written of me,
to do your will, God.

He says first You did not want what the Law lays down as the things to be offered, that is: the sacrifices, the cereal offerings, the burnt offerings and the sacrifices for sin, and you took no pleasure in them; and then he says: Here I am! I am coming to do your will. He is abolishing the first sort to establish the second. And this will was for us to be made holy by the offering of the body of Jesus Christ made once and for all.
Luke 1: 39-45
Mary set out at that time and went as quickly as she could into the hill country to a town in Judah. She went into Zechariah's house and greeted Elizabeth. Now it happened that as soon as Elizabeth heard Mary's greeting, the child leapt in her womb and Elizabeth was filled with the Holy Spirit. She gave a loud cry and said, 'Of all women you are the most blessed, and blessed is the fruit of your womb. Why should I be honoured with a visit from the mother of my Lord? Look, the moment your greeting reached my ears, the child in my womb leapt for joy. Yes, blessed is she who believed that the promise made her by the Lord would be fulfilled.' Yes, blessed is she who believed that the promise made her by the Lord would be fulfilled.'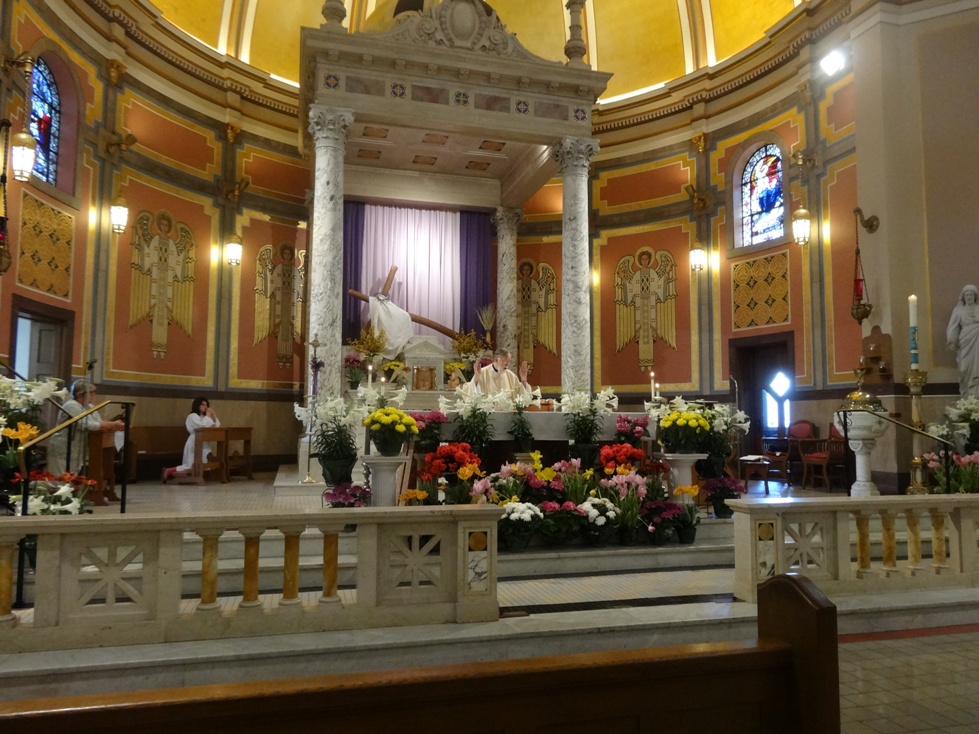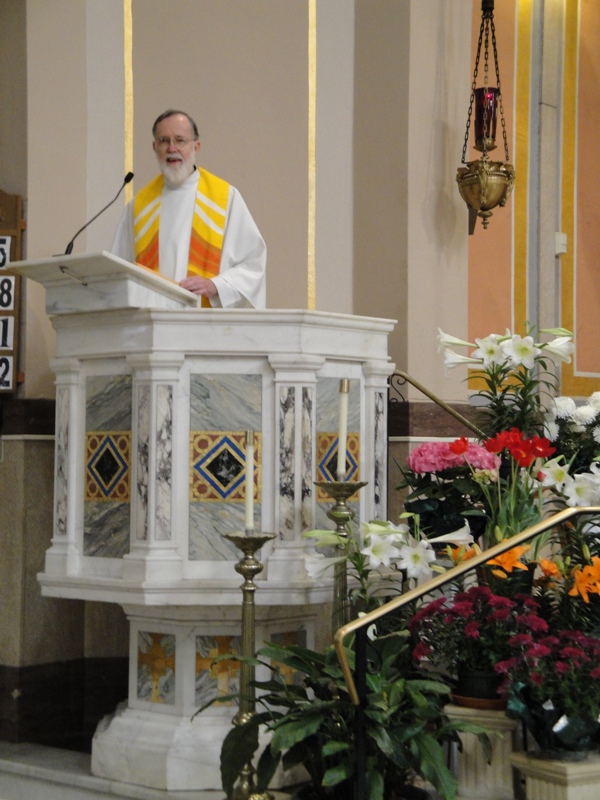 Fourth Sunday of Advent
December 20, 2015
INTRODUCTION:
Micah 5, 1-4a; Hebrews 10, 5-10; Luke 1, 39-45 Today's first reading goes back 700 years before Christ. The Assyrians were attacking Jerusalem. The prophet Micah was speaking words of hope to God's people during this siege. Micah promised salvation would come, and it would come from a savior whose origin was out of an unimportant little village just seven miles south of Jerusalem named Bethlehem. 300 years before, Bethlehem was the birthplace of King David. Notice how their savior was described - his greatness would reach to the ends of the earth. When the Magi came to Jerusalem looking for the newborn king of the Jews, 700 years later, this was the Scripture passage that guided them to where Jesus was. It is an amazing prophecy and an amazing way in which God fulfilled it!

HOMILY: In Advent we hear a lot about John the Baptist. That makes sense since Advent is a time to prepare for the celebration of Christ's birth, and God gave John the Baptist the mission to prepare the way of the Lord. Now that we are celebrating the last Sunday of Advent, our gospel tells us about some events that immediately preceded Jesus' birth. The gospel of Matthew is featured in liturgical year A, Mark in liturgical year B and Luke in liturgical year C. In year A, Matthew tells us about St. Joseph's dilemma when he finds out Mary is going to have a baby. In year B we hear the story of the Annunciation when the angel appears to Mary and asks her to be the mother of our Lord. This year, year C, we are told about Mary going to visit her cousin Elizabeth to share her happy news with Elizabeth and to help her older cousin for a few months until Elizabeth's baby arrives.

Elizabeth received a prophetic gift upon hearing Mary's voice and she was filled with the Holy Spirit. She knew, without being told, that Mary was to be the mother of the long-awaited Lord and Messiah of God's people. Her whole being was filled with joy. Mary too was filled with joy because the first words she spoke after greeting Elizabeth were: "my soul proclaims the greatness of the Lord, and my spirit rejoices in God my savior…" These words are the beginning of the prayer we call the Magnificat, a prayer that those who say Vespers (Evening Prayer) say every day. Luke's gospel is often called the gospel of joy because it is a theme that continues to run through the entire gospel.

Whenever I say the rosary and meditate on the Joyful mystery of the Visitation in saying the rosary, I am impressed with Mary's humility. Here she was, chosen by God to be the mother of

the long- awaited Savior of God's people, the one promised to succeed King David 1000 years earlier. The one whose greatness would reach to the end of the earth and whose reign would be forever. Not only would he be Savior of the Jewish people, he would be Savior of the whole world. Here is Mary, having been told all of this, visiting her cousin to help her. She could have spent all her time sitting around thinking how important she was; instead she reached out to share her joy with her cousin and to help her because Elizabeth was much older and she would need her help. Mary's son would later teach his disciples this same lesson about service when he said "whoever wishes to be great among you will be your servant; whoever wishes to be first among you will be the slave of all." (Mk. 10,43-44).

As we meditate on Mary's visit to her cousin, I pray that all your visits with relatives and friends this Christmas season be joyful; may you know Christ to be among you as you come together; may you deepen your friendship with those you visit; and may your travels be safe. Amen.

R. Jesus is the Messiah.

Song: A Song from Jesus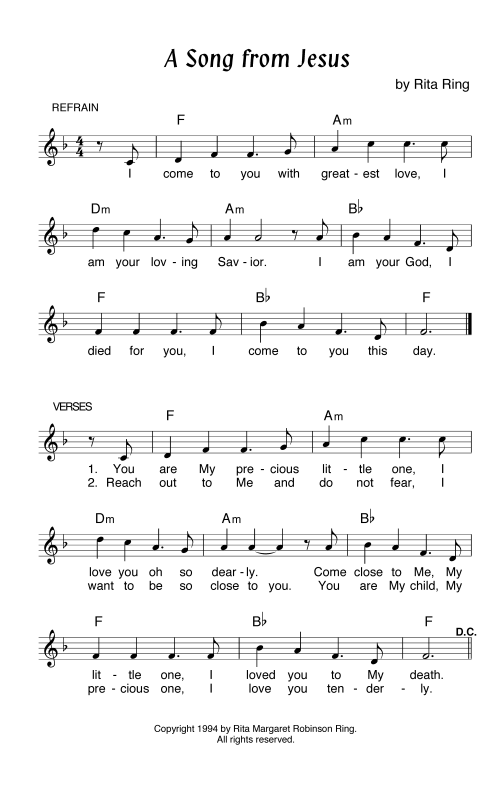 R. Matthew, Mark, Luke and John
wrote the 4 Gospels.
Gospel means "Good News."
The Gospels are the Good News about Jesus.
We pray that all our visits with
friends will be about
loving and friendship –
welcoming people to know about
Jesus at our centers.
Jesus is a gift –
Open our hearts – let Him in –
Joy is in Jesus –
Pride, selfishness, makes a barrier.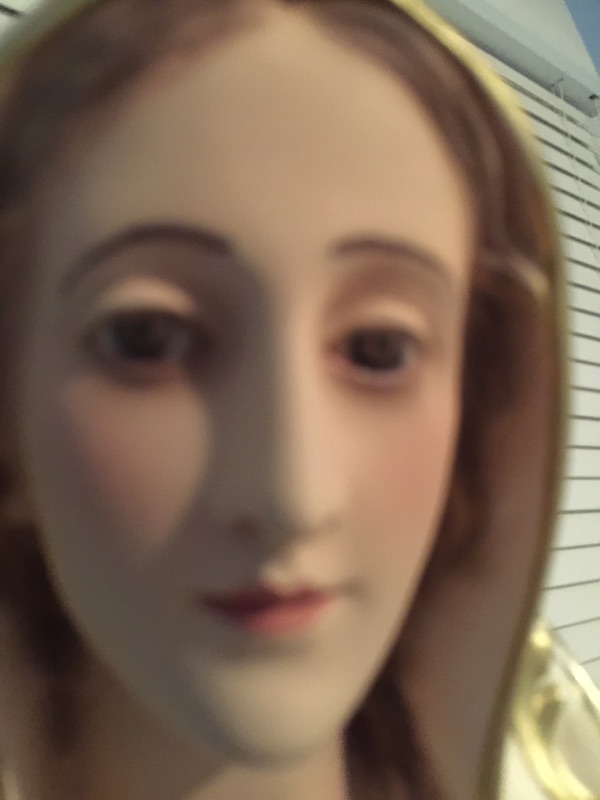 R. Humble – be raised up.
Luke 1: 46-55
And Mary said:

My soul proclaims
the greatness of the Lord
and my spirit rejoices
in God my Saviour;
because he has looked upon
the humiliation of his servant.
Yes, from now onwards
all generations will call me blessed,
for the Almighty
has done great things for me.
Holy is his name,
and his faithful love extends age after age
to those who fear him.
He has used the power of his arm,
he has routed the arrogant of heart.
He has pulled down princes
from their thrones
and raised high the lowly.
He has filled the starving with good things,
sent the rich away empty.
He has come to the help
of Israel his servant,
mindful of his faithful love
—according to the promise
he made to our ancestors—
of his mercy to Abraham
and to his descendants for ever.
R. We are called to be gifts to one another
and to the world –
Bring Jesus to others –
We pray for greater FAITH
HOPE &
LOVE –
We TRUST GOD
We want PEACE

Feast Today
St. Ignatius of Antioch – May 15, 35 AD to July 6, 108 AD
He was a convert –
Martyr
Luke 12: 1-7
...And he began to speak, first of all to his disciples. 'Be on your guard against the yeast of the Pharisees—their hypocrisy. Everything now covered up will be uncovered, and everything now hidden will be made clear. For this reason, whatever you have said in the dark will be heard in the daylight, and what you have whispered in hidden places will be proclaimed from the housetops. 'To you my friends I say: Do not be afraid of those who kill the body and after that can do no more. I will tell you whom to fear: fear him who, after he has killed, has the power to cast into hell. Yes, I tell you, he is the one to fear. Can you not buy five sparrows for two pennies? And yet not one is forgotten in God's sight. Why, every hair on your head has been counted. There is no need to be afraid: you are worth more than many sparrows.
R. He is one of the great bishops of
the early Church –
"Be faithful to God, obey your
superiors."
Ignatius was put to death
He met the lions –
He willingly was put to death
and asked it not be stopped.
He willingly gave His blood
to the beasts for the
sake of Christ!
Ignatius worked for unity and
order in the Church –
He refused to deny Jesus Christ –
He preached the love of Jesus –
Jesus strengthened Him –
Given
October 29, 2016
R. Please spread blessed holy water
(You can also mix Jesus and Mary water
with your blessed Holy Water if you have it.)
in your yard, around your house,
in the state you live in.
And ask God to bless your state
Ask God to bless the United States
Pray all prayers through the intercession of
Our Lady of CLEAR – WATER.
Ask the Lady of CLEAR - WATER
to help with the blessed water.
Mary has appeared to me for 22 years,
in Ohio and Florida.