Prayer for Grace for our Country
Dear Father united to Jesus in the Holy Sacrifice of the Mass, the Sacrifice of Calvary sacramentally made present, celebrated around the world, in the Holy Spirit. We offer up all we do united to the Mass. We unite in one mind and one heart as members of the mystical body of Christ, with Christ our head in the pure and holy Hearts of Jesus and Mary, through the powerful intercession of Mary with all the angels and saints and souls in purgatory, and we beg for the saving grace, for our country, the United States. Please help us. We further pray for unity to always do the will of God in love. We spread the Blood of Jesus on the leaders and people of the United States and cast the devil into hell. We consecrate our country to the Sacred Heart and Immaculate Heart and all our dioceses, and beg for an outpouring of the Holy Spirit. God help us. We pray for our families, the priests, the Church and the world. In the Name of Jesus please hear us, we pray. We pray for our new president as he takes office. We pray that we are united as one nation under God to work together in love as God wants.

November 10, 2017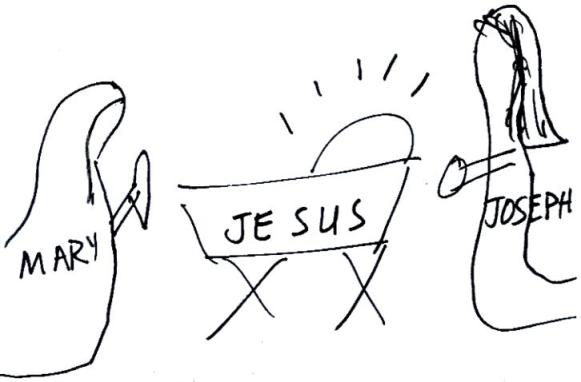 Excerpt of Father Carter's Talk
February 18, 2000
...I think all of you here at China give a great witness to life of Jesus, Mary and Joseph at Nazareth and to the birthplace of Jesus in Bethlehem. Your life is so simple. It is so hidden and yet like the life of Jesus at Nazareth, it is meant to be redemptive. His life certainly was redemptive those first 33 years of His existence. And I think I said in a homily to you some months ago, that if we had it to plan we certainly would have arranged, I'm sure all of us, Jesus' life here on earth differently. I don't think in the depths of our heart if we're honest with ourselves, if the Father says, "you map out the way you think Jesus, My Son, should live here below in the time allotted," who of us, who of us would have had Him hidden away for 10/11ths of that mortal life span. We would have given much more time to His public life. And here Jesus under the Father teaches us a great lesson—that we share in His redemptive efforts proportionate to the depth of our love and as that life of love is supported by faith and hope so Jesus takes the most humble places and He takes the most simple living people and He uses those simple places and those simple people to accomplish great things. So glory in your existence here at China, in its hiddenness and ask for the faith to realize more and more the great good you are doing for the Movement and the Church and the world.

...And so your life here at China is in such great imitation of Jesus, Mary and Joseph at Nazareth and such great saints as St. Therese of Lisieux, those saints who lived such a hidden existence. And so first of all I thank you for persevering in this life. I think I have some more than ordinary insight into the greatness you are contributing towards the Movement and the Church and the world. So I thank you very profusely and I also highly encourage you to persevere in this life and to pray for the grace to get a deepened insight into just how great your life is here at China for the cause of Christ....

So in summary, thank you for persevering in your life here. Secondly, pray for a deepened insight into the greatness of your life here, what it means for the Church, the Movement and the world. And thirdly, pray for a great sense of joy for the vocation, the calling Jesus has given you, at least at this time of your life, to your life here in China.

end of Father Carter's Talk
R. A man is prone by his disposition to think thoughts
that can help him live a positive life or a negative
life. Habits are like channels in a man such that
he will go to the same way of acting because it
has become a habit.
The virtues are good habits. A man that is
living abundantly filled by grace will see
more and more through the eyes of God. God is
light and in Him is no darkness When one
is growing in the theological virtues
of faith, hope and love – one is growing in
unity and light and likeness to God.
God is love. Can we not say of a man that
he is loving? A man finds the source of love in
God. But a man will act lovingly the more he is
filled with the presence of God, the more he has
seen through the eyes of God, the more he
has chosen love in his heart. To see others
as God's creatures and to see others as God wants
us to see them in love brings unity, harmony,
acceptance of others and the gifts all have to
contribute to the building of the Kingdom of God.
God created each person uniquely with special talents
and man is called to work together in the
building of the Kingdom of God.
Use Your Talents

October 3, 1993 Chicago Marian Conference 11:30 a.m.

Jesus: I am your Savior, Son of the Living God. I come to you that you might have life, not as the world gives you life, but My life which is life eternal. I carved you from My special carving and made you little less than an angel. I love you and cherish all the moments when you, My special child, come to sit with Me. I wait here and I hope you will choose to come, but I never force you. Your will is totally free and I give it to you because of My love and the will of the Father. I inform you in numerous ways. You do not have to guess and wonder. Come be with Me in this silence and all you need to know will be told to you. Your life is unfolding as a beautiful rose. Each petal falls and you plant My odors about as I so desire. I make your life full and sure as you trust in Me. No need for worrying, My little flower. My ways give you freedom if you listen to your heart. I am a personal God and you know Me as giving you fullness and life. You know there is some magnetism to Me and the way you crave to be part of Me. This is the work of the one, true God Who created you with a thirst that can only be quenched by Me. All roads that lead to Me give you fullness, worth, peace and joy, not as the world thinks, but as you yourself know true peace and joy. When I really touch you, you do not remain the same. I shed My Blood for you that you will have the life only I can give. What friend in this world would die for you? You, My child, were worth My dying for. I came that you will have life eternal and the gift I give is My Precious Blood for your sins. Come to Me in trouble and when you are bowed down. Come to Me in joy. Come to Me every day that you live and I will give you all you need. Seek to know Me more and more. Knowledge of Me, being with Me, are the only way to perfect peace. They lead to eternal life.

I have a divine plan for you. I created you with special gifts and talents to be used to do My work. They are not for your own self-promotion. You, My child, are nothing except as I created you. Why try to promote yourself? It is none of your own doing. I gave you the talents you are using. You had nothing to do with it. These talents were given to you to do My work. To use these talents to make yourself feel better than your brother is indeed a sin. You must realize they are loaned to you to work for Me. As you give someone a car, or loan them a place to stay, I loan you your talents to use to work for Me. If you do not work for Me and use them to make yourself better than your brother, you are offending Me. Likewise, if I give you talents and you do not use them because you think you are not as good as your brother, you are not being thankful to Me for My gifts to you. You are not using My gifts and that offends Me greatly. Each person was created by Me to do My work. Each person has all he needs to do My work. To be envious of others is fruitless. They have their job. You have yours. You are not supposed to do their work. That is why you were not given their talents.

Do your own work. Don't be envious of your brothers. Don't hide your talents. You did not earn them. I gave you your talents. You must sing because I will it. Others must do as I will them to do. It displeases Me to give you a gift and watch you hide it and make light of it. I give the gift. You must use all your gifts. They were given to you to do My work. Your brother has his gifts. Be grateful for your brother and he should be for you. You are all chosen by Me for a special mission. You know what to do. It feels right. I plant little seeds in your heart and all you do that is for you in the end feels right. You are not to be doing your brother's work or he yours. Talk to Me that you might know just what your work is and do it.

Do not hide your talents. Praise your God Who gave you these talents. Embrace and use them. This is not pride. This is My plan. I love you. I give to each of you, My precious children, as a mother who buys special Christmas gifts for each child. To buy gifts all the same for all your children is not to respect their specialness, their individuality.

Oh, I love you, little ones, so much. Please come to Me. I am so good and I wait to be with you and share My love with you. Come now. This is your top priority. All else will work when you come to Me first. I love you. You are My chosen children. Come and be filled and I make your loads light and I fill you with the Spirit of Salvation.

All roads that lead to Me are the right roads. Praise Me for I am good and I love you, little dear ones.
end of excerpt
R. I like the vision I used to have about a
piece of bread being carried off by ants.
Ants stick together and work together.
I was watching a TV show on turtles and
sharks and the balance of life in the
ocean. How the turtles try to find safety from
being eaten by the sharks. But God does have
a plan and there is a battle going on to
sustain life. There is such beauty, such
precision, such depth of what goes on in
the balance of life in the ocean.
God created man and He commands him to
love Him, first, to love Him with His whole heart,
his whole soul and his whole being and to
love His neighbor as himself.
The rule God gives us is love. God is love
and He created us in His image and likeness
and He wants us to be with Him in eternal
love in heaven.
God shows us that the sin of Adam and
Eve offended Him, it was a sin against
Divinity – Sin offends God.
So Jesus came to this earth to pay for this sin
against God – Jesus is our Savior. God is
Almighty, God is a Supreme Being – When
we sin, we offend God.
To be forgiven for our sins we must be
sorry for our sins and tell God we are
sorry. We must tell Him we do not want
to commit that sin again and have
sorrow for the sin we committed against
God.
Mortal sin is very serious, but God will
forgive a contrite sinner with the proper
way he seeks forgiveness. We have the
sacrament of confession and mortal sins
can be forgiven by a contrite sinner going
to confession.
The deadly sins are bad habits a person
commits. These sins are pride, anger,
jealousy, envy, slothfulness, lust and
gluttony. These sins become habits.
Fr. Joe spoke of anger he said when we
start to get angry at our brothers we can
pray for help and ask for a grace to be
as God wants us to be.
Anger can be a very bad habit. A
person can live in a state of anger and
put on a show for someone that comes
into a house, a room, a Church and as
soon as someone leaves, go back to
projecting ugly anger on others – giving the
silent treatment, punishing through jobs
that need to get done and not doing them
on purpose to punish –
not to mention the attitude of ugly hatred
one has decided others or one other
deserves because they have allowed themselves
to live in a state of anger – projected on others.
Fr. Joe said that many times people who
were abused, emotionally, physically,
sexually hold onto and actually nurse
the anger. Holding out what needs to
be done and is according to God's will
for them in their state of life –
A person can use the silent treatment on others
to stop needed work. Silently they decide they
can "stonewall" the situation because they
are not in control and they want control.
The only thing that matters to them is themselves
and their anger, so they "stonewall" any
kind of possibility of anyone interacting
with them.
They punish by trying to stop everything around
them and this stonewalling for them is
under their power and control – they have
no intentions of stopping. They use this power
of theirs to control something that is precious
and needed for communication with others.
Bishop Sheen says not doing the will of
God is a choice and a decision.
An abusive person does so for power
and control over another person – a victim.
It can be mind-games, it can be punishment
with malice of intent to destroy and take
down what is needed because they want it
stopped. It can be financial abuse where they
want things to fail so they can abuse and have
control financially.
A person who is a controlling and power
seeking abuser uses whatever tactics they
can use to control and coerce another
individual. These tactics can be
mind-games, holding out, etc.
The bottom line is they want power and
control for power sake over others and
they use tactics to manipulate and get
it.
There is a pleasure for such a person
to be over others and watch another or
others squirm under them.
These cycles of abuse can become so
engrained in the person using them and the
victims they choose. There is always a
climate of fear involved.
The tactics used can be economic abuse,
isolation, the silent treatment, holding out
what is needed for normal living, bullying,
mind games.
Some personalities want these games
and this control –
God intends us to build the Kingdom of God. To
bring together men in unity for a common bond
and purpose – united as members of the
mystical body of Christ – praying in Him –
and relying on His power.
God tells us to go out and spread the
Good News, for a person who loves the
'beloved' wants unity and they go out to
meet them.
God calls us to a vocation and it is a
calling for us to serve Him and others and
to give love to God and others this way.
There was great opposition to Jesus. The
biggest crime we see is that they crucified
the Son of God. The hostility toward Jesus
grew and grew – they rejected Jesus
and His message of love and forgiveness.
They gathered and decided Jesus would be
put to death.
Today we see this same rejection of Jesus.
Where Jesus commands us to love others –
because what we do to others, we do to Him –
we see such hatred towards ones' brothers
in anger and jealousy, in envy and
pride (seeking dominance for dominance
sake).
Jesus told me He calls a man to his
vocation and it is a calling from Him and
the man doesn't come and set up the
rules as he wants to control and manipulate
and rule others.
Jesus tells us to be like little children
of the heavenly Father – God is first,
God is over and we are under God. God is
the Creator – we are the creatures.
God has a plan – we are to follow
His plan for working together in our
vocations and building the Kingdom of God.

Matthew 11: 25

At that time Jesus exclaimed, 'I bless you, Father, Lord of heaven and earth, for hiding these things from the learned and the clever and revealing them to little children.
R. Jesus says that more than blood relationships
is what matters in the family. It is doing
the will of God.

Matthew 12: 48-50
But to the man who told him this Jesus replied, 'Who is my mother? Who are my brothers?' And stretching out his hand towards his disciples he said, 'Here are my mother and my brothers. Anyone who does the will of my Father in heaven is my brother and sister and mother.'
R. Jesus spoke in parables because their
hearts were hardened against clear teaching –
Jesus teaches us in these parables the
mysteries of the Kingdom.
A disciple is a learner. They are not
disciples if they think they know it all
and quit learning – we will learn as
disciples about God and His plan until
the day we die. We are here to put God
first and build the Kingdom of God. To work
in love with our brothers – doing the will of God.

Matthew 13: 46-50
when he finds one of great value he goes and sells everything he owns and buys it.
'Again, the kingdom of Heaven is like a dragnet that is cast in the sea and brings in a haul of all kinds of fish. When it is full, the fishermen bring it ashore; then, sitting down, they collect the good ones in baskets and throw away those that are no use. This is how it will be at the end of time: the angels will appear and separate the wicked from the upright, to throw them into the blazing furnace, where there will be weeping and grinding of teeth.
Matthew 13: 33-37
He told them another parable, 'The kingdom of Heaven is like the yeast a woman took and mixed in with three measures of flour till it was leavened all through.'

In all this Jesus spoke to the crowds in parables; indeed, he would never speak to them except in parables. This was to fulfil what was spoken by the prophet:

I will speak to you in parables,
unfold what has been hidden
since the foundation of the world.
Then, leaving the crowds, he went to the house; and his disciples came to him and said, 'Explain to us the parable about the darnel in the field.' He said in reply, 'The sower of the good seed is the Son of man.
Matthew 13: 35
This was to fulfil what was spoken by the prophet:

I will speak to you in parables,
unfold what has been hidden
since the foundation of the world.
Matthew 13: 44-49
'The kingdom of Heaven is like treasure hidden in a field which someone has found; he hides it again, goes off in his joy, sells everything he owns and buys the field.

'Again, the kingdom of Heaven is like a merchant looking for fine pearls; when he finds one of great value he goes and sells everything he owns and buys it.
'Again, the kingdom of Heaven is like a dragnet that is cast in the sea and brings in a haul of all kinds of fish. When it is full, the fishermen bring it ashore; then, sitting down, they collect the good ones in baskets and throw away those that are no use. This is how it will be at the end of time: the angels will appear and separate the wicked from the upright,
Matthew 16: 21
From then onwards Jesus began to make it clear to his disciples that he was destined to go to Jerusalem and suffer grievously at the hands of the elders and chief priests and scribes and to be put to death and to be raised up on the third day.
Given
October 29, 2016
R. Please spread blessed holy water
(You can also mix Jesus and Mary water
with your blessed Holy Water if you have it.)
in your yard, around your house,
in the state you live in.
And ask God to bless your state
Ask God to bless the United States
Pray all prayers through the intercession of
Our Lady of CLEAR – WATER.
Ask the Lady of CLEAR - WATER
to help with the blessed water.
Mary has appeared to me for 22 years,
in Ohio and Florida.