Prayer for Grace for our Country
Dear Father united to Jesus in the Holy Sacrifice of the Mass, the Sacrifice of Calvary sacramentally made present, celebrated around the world, in the Holy Spirit. We offer up all we do united to the Mass. We unite in one mind and one heart as members of the mystical body of Christ, with Christ our head in the pure and holy Hearts of Jesus and Mary, through the powerful intercession of Mary with all the angels and saints and souls in purgatory, and we beg for the saving grace, for our country, the United States. Please help us. We further pray for unity to always do the will of God in love. We spread the Blood of Jesus on the leaders and people of the United States and cast the devil into hell. We consecrate our country to the Sacred Heart and Immaculate Heart and all our dioceses, and beg for an outpouring of the Holy Spirit. God help us. We pray for our families, the priests, the Church and the world. In the Name of Jesus please hear us, we pray. We pray for our new president as he takes office. We pray that we are united as one nation under God to work together in love as God wants.

November 13, 2017
R. Beauty – to see as God wants us
to see.
Dear God –
Help us to choose those
things in our lives that
lift us up.
Help us to open our hearts
to love. A person can be in
such a habit of being
stand-offish and shutting
down around others for
fear they may get hurt.
God has put people in our lives
to be united with – to love – to
trust – to learn from in relationships.
How can anyone learn about
union and love – if they are
in a community, but use
survival tactics they learned
from long ago to isolate, close-down,
and act as if someone hurt
them when they have not done
anything to them at all.
Defenses a person has
taught themselves to use to
isolate and close-down for
fear someone may hurt them –
or they may have to work with
others is blocking living.
Living means we live
vibrantly in the moment –
seeing what God wants us
to see and doing what God
wants of us.
We must see reality as it
really is – not react in our
behavior of pre-conceived ideas
of how to act in our behavior
because we want to be isolated
or in control of others.
What is happening on the 13th –
God wants us to sing, to pray
together – to learn to grow
intimately with Him – to unite –
to show love and honor and
praise to God.

From a Lenten Homily, March 24, 2000
Live in the Moment
Today's Gospel in its story certainly points ahead to Jesus in His Passion and death. And as we read passages such as this during the Lenten season, we are reminded once again that the Church in her Liturgy of the Word gives us an opportunity to undergo a purification, an ever deepening cleansing of ourselves so that we may be a more fit instrument for receiving the great graces which are to be given to us at the time of the Resurrection memorial on Easter. And so all in all, Lent is a time of purification to prepare us for ever-greater gifts of the Lord. It's a time of self-discipline, a time to renew our efforts to be self-disciplined in the service of the Lord. Self-discipline is an aspect of purification. And I suggest that one of the most difficult acts of self-discipline in the spiritual journey is to concentrate on the present moment. We have a very strong tendency to disregard the importance of the present moment by focusing in a wrong way on the past or in a wrong way on the future. There are proper occasions for thinking of the past and the future. For example, we have to learn from the past and we have to prepare for the future, but our great emphasis has to be upon the present. There is a Latin axiom which says, age quod agis, age quod agis, which means: do what you are doing, concentrate on the present. And of course we are familiar with that term in the history of spirituality: the sacrament of the present moment. And so the discipline of Lent certainly encourages us to include in a deeper self-discipline a greater determination to get as much as we can out of the present moment. People with a terminal illness have an opportunity as they prepare for death for increased prayer, contrition, love of God. However, some are taken very, very quickly. But for those who have the opportunity of knowing with some certainty the time of their death, I'm sure as they look back on their lives, they are saddened by the many times they did not use time and opportunities for the service of the Lord properly, and are overjoyed at those times in which they did use the present opportunity properly. A great means we have of living in the present properly is a greater focus upon our Lord. For if I have that awareness of the fact I am united with Jesus here and now, why should I be concerned so much about the future or the past? Yes, a great help in living in the present and deriving all the good we can from it for ourselves and others is an ever greater focus upon Jesus, because the more I focus upon Jesus and the more I live with Him in the present moment, the more I am satisfied with the present moment. And so let us in our Lenten activity resolve to grow in that self-discipline - which is very difficult at times - to really live in the presence with the fullness of our being as much as is possible, with the help of God's grace. Now is the day of salvation. Now is the day of salvation.

end of Father Carter's homily
Song: Live This Day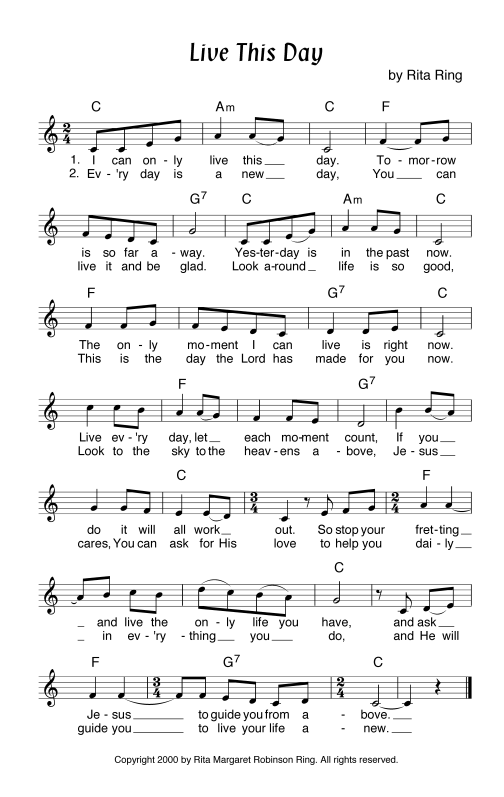 Song: Why do we Hurt the Ones We Love?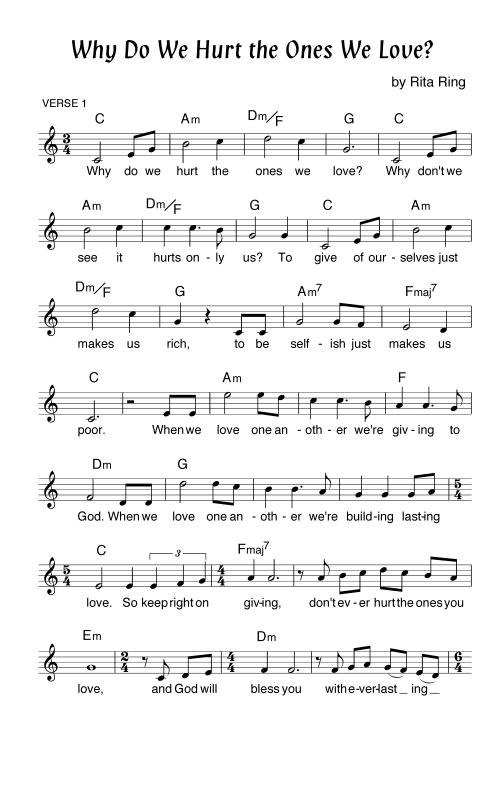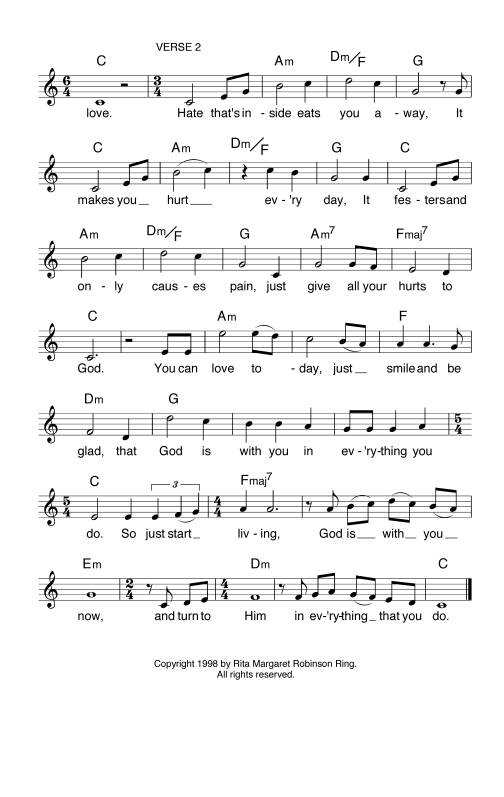 Excerpt of Father Carter's Talk
February 18, 2000
...I think all of you here at China give a great witness to life of Jesus, Mary and Joseph at Nazareth and to the birthplace of Jesus in Bethlehem. Your life is so simple. It is so hidden and yet like the life of Jesus at Nazareth, it is meant to be redemptive. His life certainly was redemptive those first 33 years of His existence. And I think I said in a homily to you some months ago, that if we had it to plan we certainly would have arranged, I'm sure all of us, Jesus' life here on earth differently. I don't think in the depths of our heart if we're honest with ourselves, if the Father says, "you map out the way you think Jesus, My Son, should live here below in the time allotted," who of us, who of us would have had Him hidden away for 10/11ths of that mortal life span. We would have given much more time to His public life. And here Jesus under the Father teaches us a great lesson—that we share in His redemptive efforts proportionate to the depth of our love and as that life of love is supported by faith and hope so Jesus takes the most humble places and He takes the most simple living people and He uses those simple places and those simple people to accomplish great things. So glory in your existence here at China, in its hiddenness and ask for the faith to realize more and more the great good you are doing for the Movement and the Church and the world.

...And so your life here at China is in such great imitation of Jesus, Mary and Joseph at Nazareth and such great saints as St. Therese of Lisieux, those saints who lived such a hidden existence. And so first of all I thank you for persevering in this life. I think I have some more than ordinary insight into the greatness you are contributing towards the Movement and the Church and the world. So I thank you very profusely and I also highly encourage you to persevere in this life and to pray for the grace to get a deepened insight into just how great your life is here at China for the cause of Christ....

So in summary, thank you for persevering in your life here. Secondly, pray for a deepened insight into the greatness of your life here, what it means for the Church, the Movement and the world. And thirdly, pray for a great sense of joy for the vocation, the calling Jesus has given you, at least at this time of your life, to your life here in China.

end of Father Carter's Talk
Song: China Song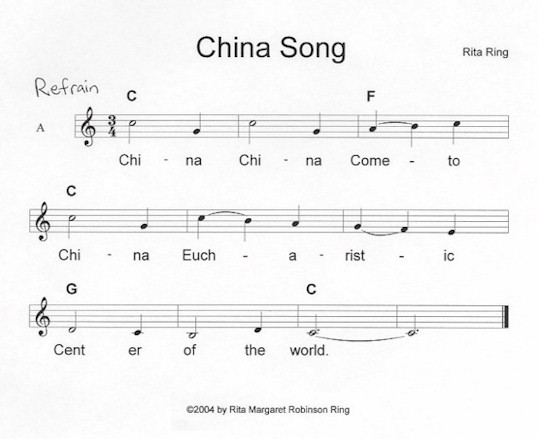 R. God wants us to be holy.
We have to pray for this grace
to help us be holy.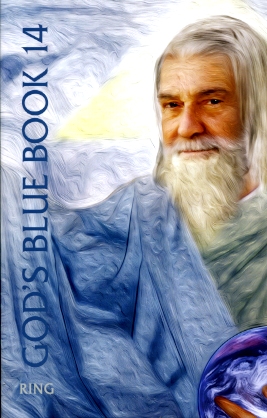 Our Father
Our Father, Who art in heaven, hallowed be Thy name. Thy Kingdom come, Thy will be done on earth as it is in heaven. Give us this day our daily bread and forgive us our trespasses as we forgive those who trespass against us. And lead us not into temptation, but deliver us from evil. Amen.
R. We are Christians when we are
following Jesus. God gives
us baptism.
Christians are to be Christ-like,
follow Jesus.
We are called by Jesus to pray –
we see He prayed to His
Father. We are called by God
to have an intimate relationship
with God.
The Father, Son and Holy Spirit dwell
in our graced, baptized soul. We are to
do good works and to love
God and others.
We need to form a good
conscience according to the
commands of God. When we
sin we must ask for forgiveness
and mercy. God gives us the
sacrament of confession –
St. Ignatius gives us the First Principle
and Foundation in the Spiritual Exercises.
From The Spiritual Exercises of St. Ignatius, by Louis J. Puhl, S.J. p.12
23. FIRST PRINCIPLE AND FOUNDATION
Man is created to praise, reverence and serve God
our Lord, and by this means to save his soul.
R. Jesus remain truly present in His
Divinity and humanity in the
Eucharist. We are called to adore
the Blessed Sacrament. We are called
to worship God with great love.
God gives us the 10 Commandments
to live by. These commandments
are given to us to know
how we are to act – they
lead to happiness in our lives –
they are God's laws for us.
Mary is Mother at our side.
Mary is our model.
2 Peter 1: 3-7

The generosity of God

By his divine power, he has lavished on us all the things we need for life and for true devotion, through the knowledge of him who has called us by his own glory and goodness. Through these, the greatest and priceless promises have been lavished on us, that through them you should share the divine nature and escape the corruption rife in the world through disordered passion. With this in view, do your utmost to support your faith with goodness, goodness with understanding, understanding with self–control, self–control with perseverance, perseverance with devotion, devotion with kindness to the brothers, and kindness to the brothers with love.
R. We can be vibrantly alive in
Jesus. We can be so filled with
love for God and others that
our whole life is lived deeper
and deeper in God.
God is life – to be alive
more and more we must live
deeply in God.
We see the beauty in people –
in God's creation. We are
surrounded by beauty God has
given to us. We hear the music
in our lives. We know love
in our lives. We know love
in our hearts – unity with
others – trusting others –
working with those God intended
us to work with.
God gave us hearts to love,
to trust. If a person decides
they will play a safe game and
never love or trust anyone –
they will never love. Love
is giving oneself to God and
to others to promote the good
of the other. We must really
love a lot to be truly alive –
A person should live their life
in joy – if they believe God
has called them to their vocation,
they are working to bring out the
joy and purpose God wants in
their lives. They are living in
God's will and loving God and
others in their heart.
If a person is to grow in
love they will have individuals
in their lives that they care deeply
about. If they are living God's
will for them in love they are
committed in love to their vocation.
Every day is a day to celebrate
life. Fr. Carter's class he taught
for 30 years was Christian Life and Celebration.
We have a goal to our actions –
the goal is eternal happiness.
We thank God for His gifts to
us and we celebrate life –
we live in love with others.
Love is giving. Life is to
learn to be more and more Christ-like.
God wants us to be instruments
in the world, where people
know love and life and joy from
us because He loves and operates
in us.
The love of God radiates like
ripples on a pond when a man
is truly living to be more and
more as Christ wants of him
in the world.
We live the life of death / resurrection
in our lives. We discipline
our thoughts and accept the crosses
we have to carry – because
the cross leads to new life.
Mary asked for conversion at
Fatima – that means men
need to die to their ways – not
likened to Jesus and rise to new
life in Him.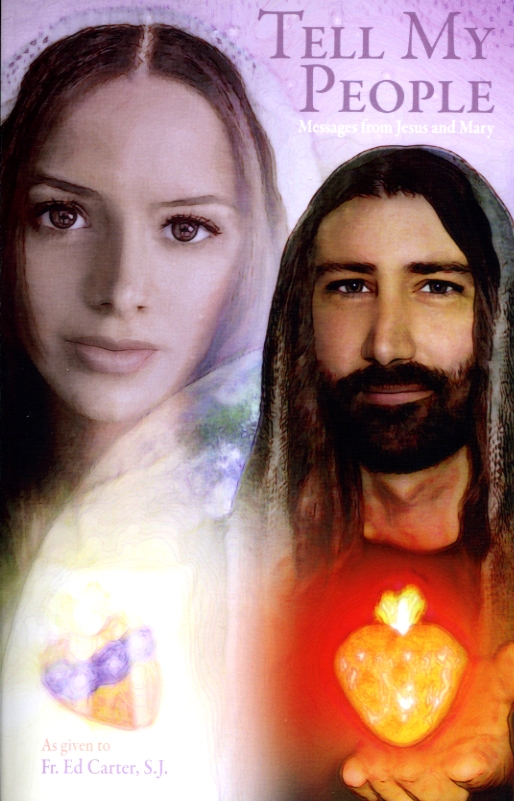 From Tell My People
by Fr. Edward J. Carter, S.J.
"What I say to you in the dark, tell in the day-
light; what you hear in whispers, proclaim
from the housetops." (Matthew 10:27)

Jesus Has Come to Give Us Life
Jesus: "This is the day celebrating My Resurrection (Easter). The day of newness of life. I am Lord and Master. I am the Way, the Truth, and the Life. Tell My people to come to Me if they wish to experience life in abundance. I want to give all an ever greater share in the life of My Resurrection. Without Me you cannot be happy, nor have peace, nor have real joy. Tell My people to surrender to Me more and more. The more they do so, the more they will experience My love, wisdom, power, peace, joy, happiness, mercy, and goodness. Within My Heart My people will find these riches. I am Lord and Master! Please listen to My words."
Reflection: Through His life, death, and resurrection, Jesus has come to give us life, and to give us this life in abundance.
When we were baptized, we were incorporated into Christ and His Church. When we were baptized, we received the life of sanctifying grace. This life is a created sharing in the life of the Trinity. Truly, we are called to live a God-like existence according to the teaching and example of Jesus! It is our duty and our privilege to develop our life of grace—our Christ-life—through our participation in the Mass, through the reception of the sacraments, through prayer, and through all other good works. Indeed, we are called to love God and neighbor more and more.
What a glorious life has been given to us! In a spirit of thanksgiving, and together with Mary our Mother, let us always strive to know Christ more intimately, to love Him more ardently, and to follow Him more closely, so that He will always bring us to a closer union with the Father in the unity of the Holy Spirit.
Prayer: Father, we are profoundly grateful for the life You have given to us through Jesus and in the Holy Spirit. Through the constant intercession of Mary our Mother, we ask for the grace to always be Your worthy sons and daughters.
end of excerpt
R. People alive are always
ready to grow - to be more
deeply united to God – they seek
this growth –
Here is a message Jesus
gave Fr. Carter.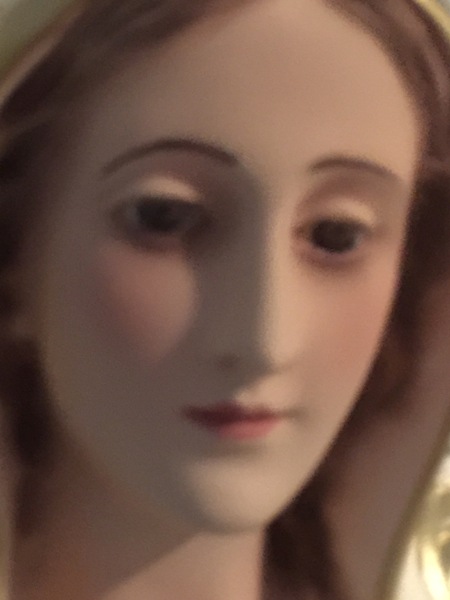 From Tell My People by Fr. Edward J. Carter, S.J.
The Holy Spirit
Jesus: "My beloved friend, tell My people to pray daily to the Holy Spirit. They are to pray for an increase in His gifts. My people must realize that the Holy Spirit comes to transform them. The Spirit desires to transform you more and more according to My image. Those who are docile to His touch become increasingly shaped in My likeness. He performs this marvel within Mary's Immaculate Heart. The more one dwells in My Mother's Heart, the more active are the workings of the Spirit. The Spirit leads Mary to place you within My own Heart. In both Our Hearts, then, your transformation continues. The more you are formed after My own Heart, the more I lead you to the bosom of My Father. Tell My people all this. Tell them to pray daily for a greater appreciation of these wondrous gifts. I am Lord and Master. All who come to My Heart will be on fire to receive the gifts of the Spirit in ever greater measure! I love and bless My people!"

Reflection: The Holy Spirit is given to us to fashion us ever more according to the likeness of Jesus. And the more we are like Jesus, the more Jesus leads us to the Father. Do we, each day, pray to the Holy Spirit to be more open to His transforming influence? Do we strive each day to grow in union with Mary? The greater our union with our Mother, the spouse of the Holy Spirit, the greater is the transforming action of the Holy Spirit within us.
end of excerpt
R. We need to sing the Song from
Jesus. We need to sing the songs
of joy in this world.
Song: A Song from Jesus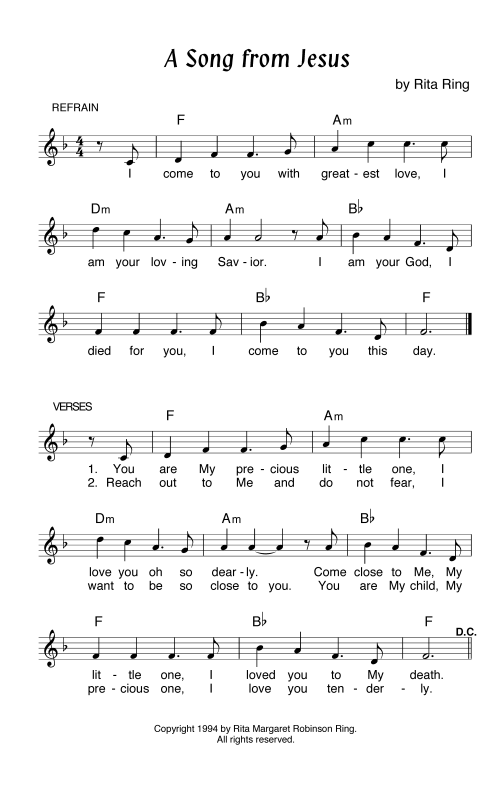 R. We must seek to know
and love ourselves – Not
wear a mask – not give into
unwanted pity-pots –
We see the good and bad things
in ourselves and work to be
more like Jesus.
We see others through the
eyes of love, as creatures of
God, as our brothers – We
see others with dignity –
not as enemies, not in
competition –
We celebrate their doing
God's will in love.
We see ourselves as uniquely
created by God and wonderfully made.
We live to be what we are.
We don't wear masks of deception.
We don't play games.
We seek the truth – Seek
to live in the truth – We
authentically love our
brothers. We don't need
the constant approval
of others to think we are okay.
We don't cling to inordinate
attachments for power
over others for the sake of power
and domination.
We want to belong to a group.
We see ourselves united to
others and it helps us be
fuller and have greater
life. The body of Christ is
a community. The family is
a community. The Trinity is
a community.
We live in a community
and we live openly with
others. We are united to our
family, the Church, the human race.
Isolation is diminishing
when a person is part of a
unit and they fail to act
united, punish to be divided,
do not live united as they
need to be.
Isolation as a leader can
close down the house. Such
selfish isolation in an
institution is destructive
to any growth –
Our mission in the Shepherds of
Christ is to be united in one mind and
one heart as the Shepherds of Christ
family. We develop homes, places of
love and warmth, we welcome
others.
We want to enjoy and love
life, to see the beauty of
life - to work together for
the building of the Kingdom –
Love is in the heart.
We are loving in our
being – not just working
with no heart and no union –
People who live vibrantly
Believe – They have great
faith and commitment –
enthusiasm, loyalty for
what they do.
Given
October 29, 2016
R. Please spread blessed holy water
(You can also mix Jesus and Mary water
with your blessed Holy Water if you have it.)
in your yard, around your house,
in the state you live in.
And ask God to bless your state
Ask God to bless the United States
Pray all prayers through the intercession of
Our Lady of CLEAR – WATER.
Ask the Lady of CLEAR - WATER
to help with the blessed water.
Mary has appeared to me for 22 years,
in Ohio and Florida.