Prayer for Grace for our Country
Dear Father united to Jesus in the Holy Sacrifice of the Mass, the Sacrifice of Calvary sacramentally made present, celebrated around the world, in the Holy Spirit. We offer up all we do united to the Mass. We unite in one mind and one heart as members of the mystical body of Christ, with Christ our head in the pure and holy Hearts of Jesus and Mary, through the powerful intercession of Mary with all the angels and saints and souls in purgatory, and we beg for the saving grace, for our country, the United States. Please help us. We further pray for unity to always do the will of God in love. We spread the Blood of Jesus on the leaders and people of the United States and cast the devil into hell. We consecrate our country to the Sacred Heart and Immaculate Heart and all our dioceses, and beg for an outpouring of the Holy Spirit. God help us. We pray for our families, the priests, the Church and the world. In the Name of Jesus please hear us, we pray. We pray for our new president as he takes office. We pray that we are united as one nation under God to work together in love as God wants.

November 14, 2017
R. Jesus tells the Apostles how He will suffer
and die. They did not understand this. Peter
protests and Peter is rebuked by Jesus.
Jesus says it how it is. He says Peter has
little faith. From Jesus' prospective as God
Jesus said it how it was and they needed
to listen to Him for they also would suffer
the cross.
In the prophesy of Simeon – Simeon
told Mary of the sufferings to come when
Jesus was just a little baby and Simeon
told Mary a sword will pierce her heart.
But Jesus tells us He is always with us
no matter what happens.
I remember my mom having cancer and
dying when I was five years old. It was
hard to have that happen, but God sent us
a wonderful step-mother and then when I
was the age my mom was when she died, I
was given a friend like Fr. Carter and Mary
began appearing to me.
We never understand the ways of the Lord or the
Plan of the Father like God does. We are learners and
we know in living it is death / resurrection.
We must listen and stay close to God to endure
the sufferings.
Jesus knew He was going to go through the
bitter passion – He told them a third time –
it was how it was to be and Jesus knowing
this must have been great suffering
for Him and suffering for Mary to know
what she did know from the Prophesy of Simeon.
It is very hard for a mom to know their son
would suffer.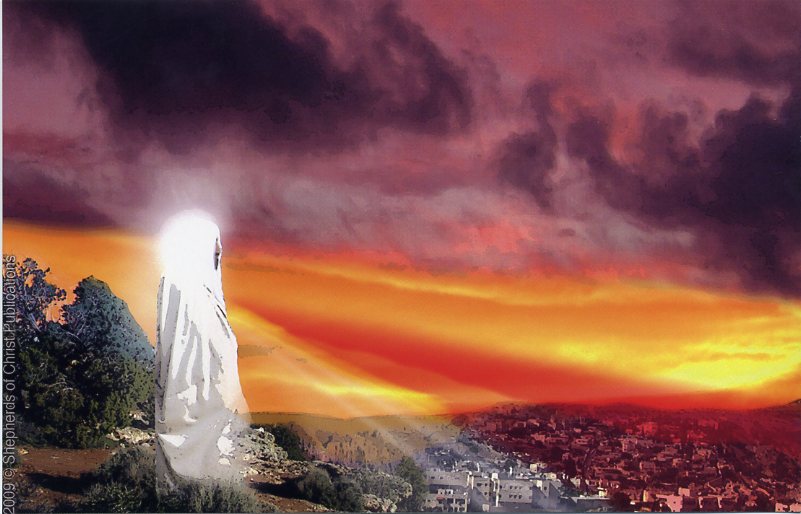 R. Jesus lamented over Jerusalem. Instead
of listening to Jesus they had different ideas
many times.
Jesus told them how it was and some
rejected and opposed Him. Jesus said how
the scribes and Pharisees were and that
brought opposition against Him.
In Matthew 24: 1-25 and 46 Jesus predicts the
destruction of the temple and His final coming.
Matthew 24: 1-2
Jesus left the Temple, and as he was going away his disciples came up to draw his attention to the Temple buildings. He said to them in reply, 'You see all these? In truth I tell you, not a single stone here will be left on another: everything will be pulled down.'
R. I had suffered with losing my voice before
I began really getting the writings and meeting
Fr. Carter. I couldn't breathe, it got so I had to quit
all my jobs to do this and before that happened
January 27, 1992 Jesus said
"There will not be a stone left on a stone"
I was falling asleep as I wrote this and the
pen went down the page and then I lost
my voice and had to quit teaching, my singing
and all the things I was doing and He began
giving me these writings.
January 27, 1992

Jesus: My child listen to My voice, heed My
direction, days are coming when there will
not be a stone left on a stone, but you
have nothing to fear, trust in me and know
I am your God and I will watch out after
you. I love you, you are My child. Go to
bed.

I love you
Jesus

R. This was the message I fell asleep at the end.
end of excerpt
R. Do you realize how much Jesus uses stone
in the scriptures – referring to hardened hearts
as hearts of stone – the stone the builders rejected -
Jesus says "your hearts are hearts of stone and
your bodies are numb"
Stone is used a lot in scriptures – in the
resurrection the stone is moved from the tomb.
In the wedding of Cana – they are stone water
jars filled with water that are changed to wine.
Remember the stone the builders rejected has
become the corner stone –
Matthew 4: 1-4

Then Jesus was led by the Spirit out into the desert to be put to the test by the devil. He fasted for forty days and forty nights, after which he was hungry, and the tester came and said to him, 'If you are Son of God, tell these stones to turn into loaves.' But he replied, 'Scripture says:

Human beings live not on bread alone
but on every word
that comes from the mouth of God.'
April 1, 2008 excerpt
This is a quote from St. Thomas' writings.
Goal of human life
In Aquinas's thought, the goal of human existence is union and eternal fellowship with God. Specifically, this goal is achieved through the beatific vision, an event in which a person experiences perfect, unending happiness by comprehending the very essence of God. This vision, which occurs after death, is a gift from God given to those who have experienced salvation and redemption through Christ while living on earth.
This ultimate goal carries implications for one's present life on earth. Aquinas stated that an individual's will must be ordered toward right things, such as charity, peace, and holiness. He sees this as the way to happiness. Aquinas orders his treatment of the moral life around the idea of happiness. The relationship between will and goal is antecedent in nature "because rectitude of the will consists in being duly ordered to the last end [that is, the beatific vision]." Those who truly seek to understand and see God will necessarily love what God loves. Such love requires morality and bears fruit in everyday human choices.

Peter Kreeft, Summa of the Summa (San Francisco: Ignatius Press, 1990), pp. 74-77, 86-87, 97-99, 105, 111-112. Kreeft, p. 383 Kreeft, p. 383

If one talks and another won't listen — there is
no communication.
Mary appeared at Fatima to deliver an important message.
Our Lady appeared at Clearwater to give the message
about spreading the Consecration, Prayer Chapters,
Priestly Newsletter, Blue Books.
end of excerpt
R. Do we want Jesus to deliver a different
message when we reject His message
like a stone –
In the Daily Message Jesus refers to stones.
In the scriptures Jesus refers to stones.
The stone which the builders rejected has
become the corner stone.

Excerpt April 1, 2008
John 17: 21-23

May they all be one,
just as, Father, you are in me
and I am in you,
so that they also may be in us,
so that the world may believe
it was you who sent me.
I have given them the glory
you gave to me,
that they may be one as we are one.
With me in them and you in me,
may they be so perfected in unity
that the world will recognise
that it was you who sent me
and that you have loved them
as you have loved me.
The Trinity is the most perfect community.
By the Blessed Trinity we mean one and the same
God in three Divine Persons.
In Eternity we are to be wrapped in the embrace of the
Trinity — the goal of our lives is the
beatific vision.
People who are wounded may want to hurt others
by misuse of power, creating division
with others for the sake of acting out
their own wounded division felt inside
of them —
To please God we are to work in accord.
The men beat the Son of God at the pillar —
How can men hurt others like that —
In life if one man hurts another enough and
imposes this hurt on them, the man
hurt can find another to try to control and
work out what is being done to him that
bleeds inside him — but this is darkness —
It's acting for the devil!!
Beating Jesus at the pillar
Beating the Son of God — came from men filled
with hatred that wanted to tie up Jesus,
beat Him — tear His flesh, laugh —
spit on Him
These men had hatred inside — They acted according —
to their wounded human nature
Talk about a wounded human nature —
Well man gets wounded by other men
Does he go to Jesus to heal and help others who
are wounded
Or does he lie to hide his wounds and keep
acting them out on innocent others — trying to get power
over others so he really can inflict
punishment on them while he is
in control —
He lost his power here and is hurt
He seeks power to hurt another — Projection
An eye for an eye and a tooth for a tooth is
one against one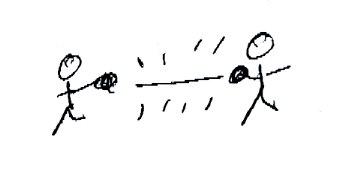 In a man wounded and unable to get back at the
source who wounded them — it is basically
an 'eye for an eye', but using a surrogate
other they can inflict their wounds on an innocent other —
"I was wounded" the man says —
"I have lost power —
I will control another and impose my
unfinished business on them —
now I am in control"
Power lost —
Power gained —
Jesus was beaten at the pillar
Jesus came in pure love to pay for our sins —
Jesus wasn't fighting back one-on-one
Jesus wasn't projecting His pain on others
to make them suffer like was done to Him.
Jesus shows us pure love.
Projection — punishing another for unhealed
wounds, happens especially in people who
have had trauma and want that unfinished
business resolved, but the unfinished
business and its truth they have buried
and they act out their hatred and anger
on others they seek to have power
over and make suffer — hoping their
pain will go away —
But this may be done unconsciously —
they really think the new person is
deserving of combat — division —
but it is projection —
they have the hidden hate —
It is buried under the traumatic wound —
they hid and they hurt they want to make others hurt
they provoke sometimes to get others to cry.
"I'm right."
"You deserve it."
Jesus was the scapegoat.
The Son of God —
The men were full of hatred — It was inside of them
They wanted to hurt someone for their hatred
They beat Jesus — God-made-man
The devil works in this using people old unfinished wounds
as doors in which he enters — Some try to
punish others for their hidden rage from being
hurt and after repeated events doing this to a
partner — they have the sickness to point
a finger at the other's emotions —
Trying to work up another to fury for hidden pain is wrong —
they may say "look at you"
words that they have used in the past over and over again
they failed to even recognize.
Christ was whipped for our sins.
The important thing to see here —
is projection
All of us were wounded
All of us may do things to others that we
do not realize from past experiences
But unless the person with the big trauma
and unfinished business gets over his
pride — he will keep trying to hurt others
and himself like the men who
whipped Jesus —
the innocent Lamb led to the slaughter
Jesus did this for our sins
Jesus paid the price for our sins
We are to look at ourselves and see we are
imperfect — we have hurt others —
whether intentionally or unintentionally —
because of ignorance or people who —
wounded us, but to be pure like Jesus —
We must act in truth —
We recognize that we are sinners and
want to build God's Kingdom —
not prove we have a superior
'face' of perfection —
In the end we face the all knowing God —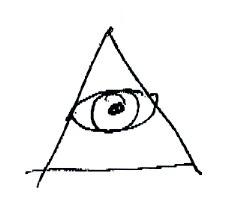 . . .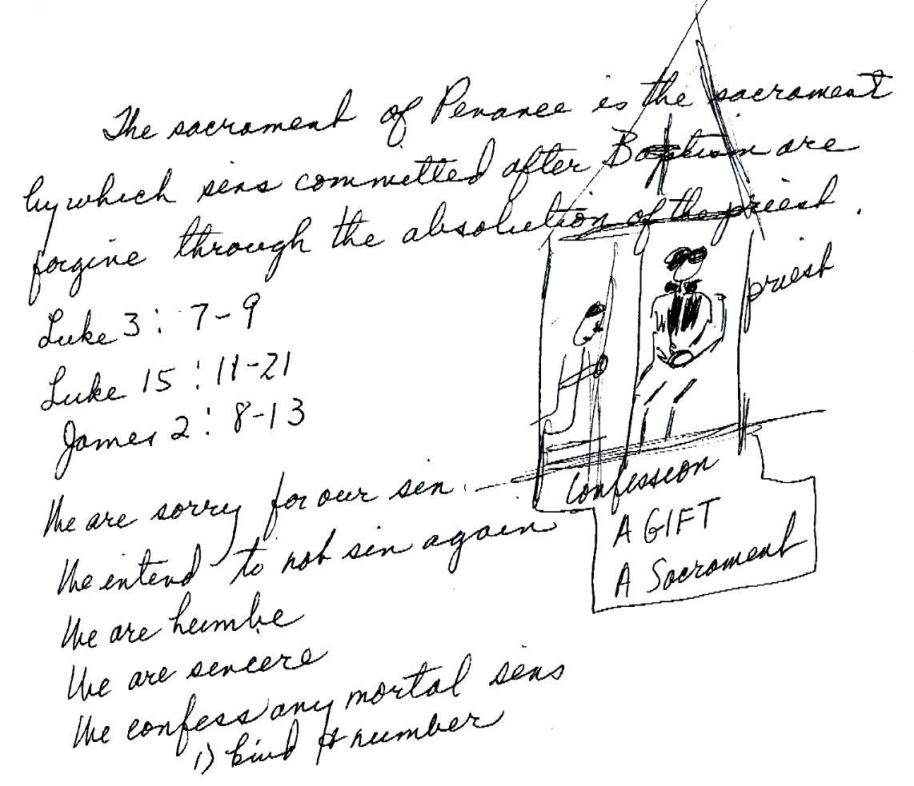 Luke 3: 7-9
He said, therefore, to the crowds who came to be baptised by him, 'Brood of vipers, who warned you to flee from the coming retribution? Produce fruit in keeping with repentance, and do not start telling yourselves, "We have Abraham as our father," because, I tell you, God can raise children for Abraham from these stones. Yes, even now the axe is being laid to the root of the trees, so that any tree failing to produce good fruit will be cut down and thrown on the fire.'
. . .
Genesis 1: 27-28
. God created man in the image of himself,
in the image of God he created him,
male and female he created them.

God blessed them, saying to them, 'Be fruitful, multiply, fill the earth and subdue it. Be masters of the fish of the sea, the birds of heaven and all the living creatures that move on earth.'
Paradise — Before the sin of Adam and Eve

1) Sanctifying grace
2) Great Knowledge
3) Self-Control
4) Never-Suffer
5) Never-Die
6) Happiness

Garden of Eden
The Fall of Man
Genesis 3: 1-7
Now, the snake was the most subtle of all the wild animals that Yahweh God had made. It asked the woman, 'Did God really say you were not to eat from any of the trees in the garden?' The woman answered the snake, 'We may eat the fruit of the trees in the garden. But of the fruit of the tree in the middle of the garden God said, "You must not eat it, nor touch it, under pain of death." ' Then the snake said to the woman, 'No! You will not die! God knows in fact that the day you eat it your eyes will be opened and you will be like gods, knowing good from evil.' The woman saw that the tree was good to eat and pleasing to the eye, and that it was enticing for the wisdom that it could give. So she took some of its fruit and ate it. She also gave some to her husband who was with her, and he ate it. Then the eyes of both of them were opened and they realised that they were naked. So they sewed fig-leaves together to make themselves loin-cloths.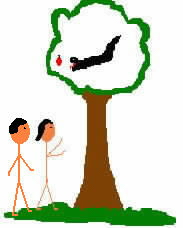 end of April 1, 2008
Matthew 28: l6-20
Meanwhile the eleven disciples set out for Galilee, to the mountain where Jesus had arranged to meet them. When they saw him they fell down before him, though some hesitated. Jesus came up and spoke to them. He said, 'All authority in heaven and on earth has been given to me. Go, therefore, make disciples of all nations; baptise them in the name of the Father and of the Son and of the Holy Spirit, and teach them to observe all the commands I gave you. And look, I am with you always; yes, to the end of time.'
Jesus: My power chipping at the stone
I shall remove the heart of stone from
your bodies and give you a new heart
Jesus: You have bars enclosed in your stone or
brick houses
January 27, 1992
I CAN NEVER LIVE THE
MOMENTS OF THIS DAY
AGAIN
WHEN I GO TO BED
TODAY IS GONE FOREVER
I MUST CHOOSE TO TREASURE
EACH MOMENT BECAUSE
IT IS THE ONLY
MOMENT I HAVE AND
IT ONLY LASTS ONE MOMENT.
end of excerpt
Excerpt from September 21, 2009
When I started writing the Blue
Books, Jesus took my voice away —
I was a teacher in college — an
organist at Church — a singer
in the seminary choir — I wanted
to do God's will because I was
getting messages — I prayed and
prayed and He took my voice away —
this was January, 1992 I got a message
there would not be a stone left
on a stone and as I wrote it —
I was falling asleep so the pen
went down the paper like
this It was like the next day the voice
issue started and I taught 4 — 3 hour
classes at the University of Cincinnati and
Xavier — 12 hours a week —
I sang in the seminary choir for
years —
I was an organist and choir director
in a small church
and a mother
Jesus took my voice away —
I cried it was so awful —
I begged —
I have worked my whole life
for this —
how can I do this with
no voice —
I quit my jobs — then my voice returned
I prayed so much
I turned my will over to God
I surrendered —
end of excerpt

R. When Jesus gave me the
Blue Books He said
"Feed the hungry"
Our soul is hungering and
thirsting
Daniel 2: 31-45
'You have had a vision, Your Majesty; this is what you saw: a statue, a great statue of extreme brightness, stood before you, terrible to see. The head of this statue was of fine gold, its chest and arms were of silver, its belly and thighs of bronze, its legs of iron, its feet part iron, part clay. While you were gazing, a stone broke away, untouched by any hand, and struck the statue, struck its feet of iron and clay and shattered them. Then, iron and clay, bronze, silver and gold, all broke into pieces as fine as chaff on the threshing-floor in summer. The wind blew them away, leaving not a trace behind. And the stone that had struck the statue grew into a great mountain, filling the whole world. This was the dream; we shall now explain to the king what it means.

'You, Your Majesty, king of kings, to whom the God of heaven has given sovereignty, power, strength and honour – human beings, wild animals, birds of the air, wherever they live, he has entrusted to your rule, making you king of them all – you are the golden head. And, after you, another kingdom will rise, not as great as yours, and then a third, of bronze, which will rule the whole world. There will be a fourth kingdom, hard as iron, as iron that pulverises and crushes all. Like iron that breaks everything to pieces, it will crush and break all the earlier kingdoms. The feet you saw, part earthenware, part iron, are a kingdom which will be split in two, but which will retain something of the strength of iron, just as you saw the iron and the clay of the earthenware mixed together. The feet were part iron, part potter's clay: the kingdom will be partly strong and partly brittle. And just as you saw the iron and the clay of the earthenware mixed together, so the two will be mixed together in human seed; but they will not hold together any more than iron will blend with clay. In the days of those kings, the God of heaven will set up a kingdom which will never be destroyed, and this kingdom will not pass into the hands of another race: it will shatter and absorb all the previous kingdoms and itself last for ever – just as you saw a stone, untouched by hand, break away from the mountain and reduce iron, bronze, earthenware, silver and gold to powder. The Great God has shown the king what is to take place. The dream is true, the interpretation exact.'
R. Lazarus had a stone outside of
his tomb –
Jesus said to remove the stone –
Put a stone on a
dead man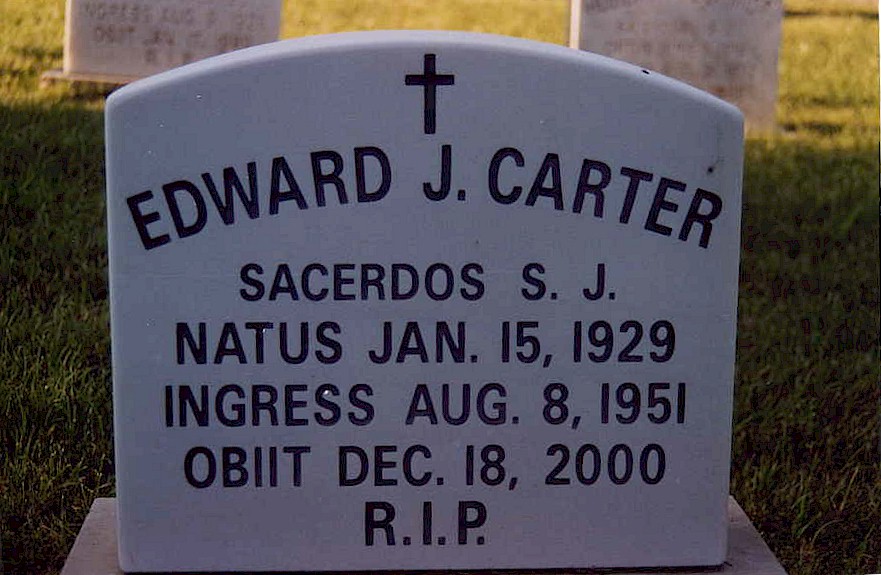 Given
October 29, 2016
R. Please spread blessed holy water
(You can also mix Jesus and Mary water
with your blessed Holy Water if you have it.)
in your yard, around your house,
in the state you live in.
And ask God to bless your state
Ask God to bless the United States
Pray all prayers through the intercession of
Our Lady of CLEAR – WATER.
Ask the Lady of CLEAR - WATER
to help with the blessed water.
Mary has appeared to me for 22 years,
in Ohio and Florida.