Prayer for Grace for our Country
Dear Father united to Jesus in the Holy Sacrifice of the Mass, the Sacrifice of Calvary sacramentally made present, celebrated around the world, in the Holy Spirit. We offer up all we do united to the Mass. We unite in one mind and one heart as members of the mystical body of Christ, with Christ our head in the pure and holy Hearts of Jesus and Mary, through the powerful intercession of Mary with all the angels and saints and souls in purgatory, and we beg for the saving grace, for our country, the United States. Please help us. We further pray for unity to always do the will of God in love. We spread the Blood of Jesus on the leaders and people of the United States and cast the devil into hell. We consecrate our country to the Sacred Heart and Immaculate Heart and all our dioceses, and beg for an outpouring of the Holy Spirit. God help us. We pray for our families, the priests, the Church and the world. In the Name of Jesus please hear us, we pray. We pray for our new president as he takes office. We pray that we are united as one nation under God to work together in love as God wants.

November 18, 2017
23 Years Ago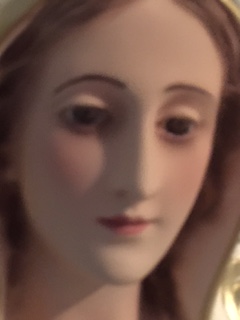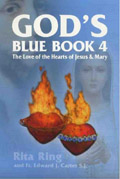 July 28, 1994

Study His Passion

R. Think of how we ponder and look at our wounds. Oh, a splinter in my finger! Look what they did to our Savior during the scourging: raw flesh, unexamined. Such harsh treatment to our Savior God! Does my brother hurt my feelings with a word? What a baby I am to hold on to it forever and months later to still be harboring the hurt!

Christ showed us the way, He was brutally beaten and not a whimper. He was led away, His head and eyes cast low, His crown of thorns penetrating His head, with the trickling of blood surrounding His face and head. He went as the innocent lamb, led to the slaughter. He showed us the way to accept our crosses. He carried His, even when He fell under it. He did not throw it back or try to relieve Himself, He collapsed under it, still holding on.

How do I carry my cross? Do I complain and try to alleviate the pain by giving it to you, do I try to get out of it completely, or do I realize that He is allowing me to experience this and accept it as He did?

He left with each of us the story of His passion. It is in meditating on this I learn about my beloved Master, and how to be more like Him. Study His passion and death. No one gave Him bandages for His wounds. I am receiving the fruits for meditating on His wounds. One wound, what a story, what a lesson for my life: He was battered from head to toe, not to mention the mental suffering, the heartache. So much to meditate on, to learn more about my precious lover. This is His love given for us, each wound graciously accepted out of such love for me.

No little love does He have that He, my precious Savior, my most ardent lover, suffered every wound, every slander, every heartache, everything done to Him to His death on the cross for love of ME!

How does He love me? He loves me this way: He loves me in His aching shoulder. He loves me as He carried His cross. He loves me so much He carried the cross until He literally collapsed under its weight. His love is undying. His love is enduring. His love is the love of God, beyond all human comprehension. His love is. He showed us during His life and resurrection His undying love. His life, given for love of me!
Sing: Mary Did You Know?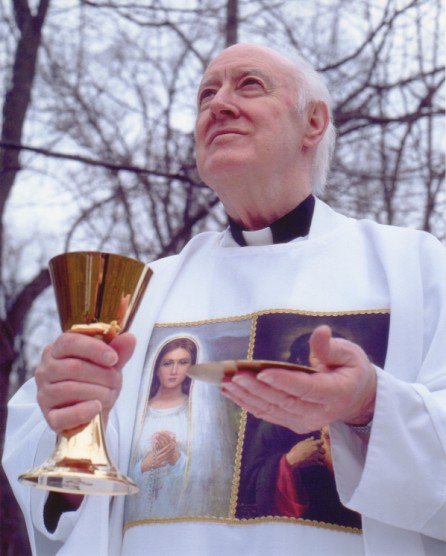 Through Him, With Him, In Him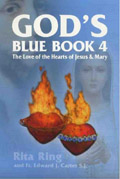 September 24, 1994

Trust Me

To Father Carter and Rita

Jesus: I call you to be united and working together in intimacy. This will help My work be done, as you grow in greater oneness - as you work as one mind and one heart with the same plan I give you. The devil will try to divide you, he will plant thoughts of division in your mind. Trust Me. You are both to lead one another to greater intimacy with Me through My Mother's most tender heart. Your support for one another is crucial to the deeds you must both accomplish. I am leading you both, separately, and jointly, to accomplish My task, to promote devotion to My Heart through My Mother's Heart.

Your support and love of each other is important for this endeavor. Your love of God: Father, Son and Holy Spirit will grow as you trust one another and open up to the experiences you are having, growing in your relationship with Me. Each person will help the other see the whole picture you need to do this work. Hold not back your experiences with Me. Tell one another your intimate experiences with God. You will both grow in your relationship with Me as you share your experiences with Me. You will lead so many to My Most Sacred Heart. Trust one another and do not give into any promptings of Satan to divide you. Come to My Heart and rest forever there. I am your most loving Jesus, through My Mother's tender heart you will accomplish this task and lead so many to My Heart.

I love you so much. I am the Sacred Heart of Jesus. You are My apostles. I will lead you to such intense union with Me, the Father and Holy Spirit. I love you so much.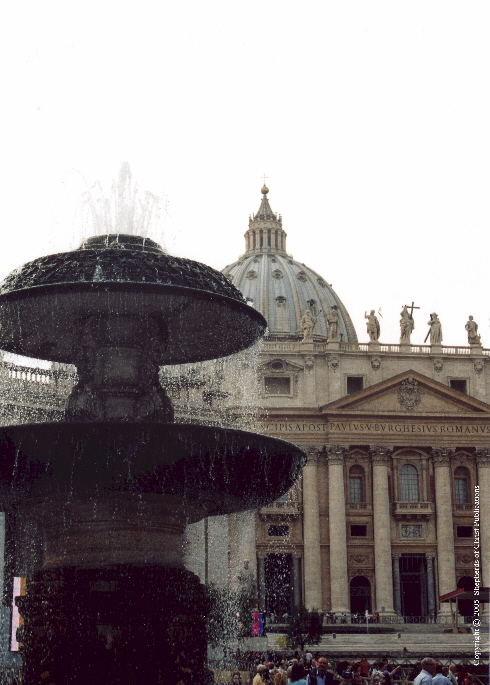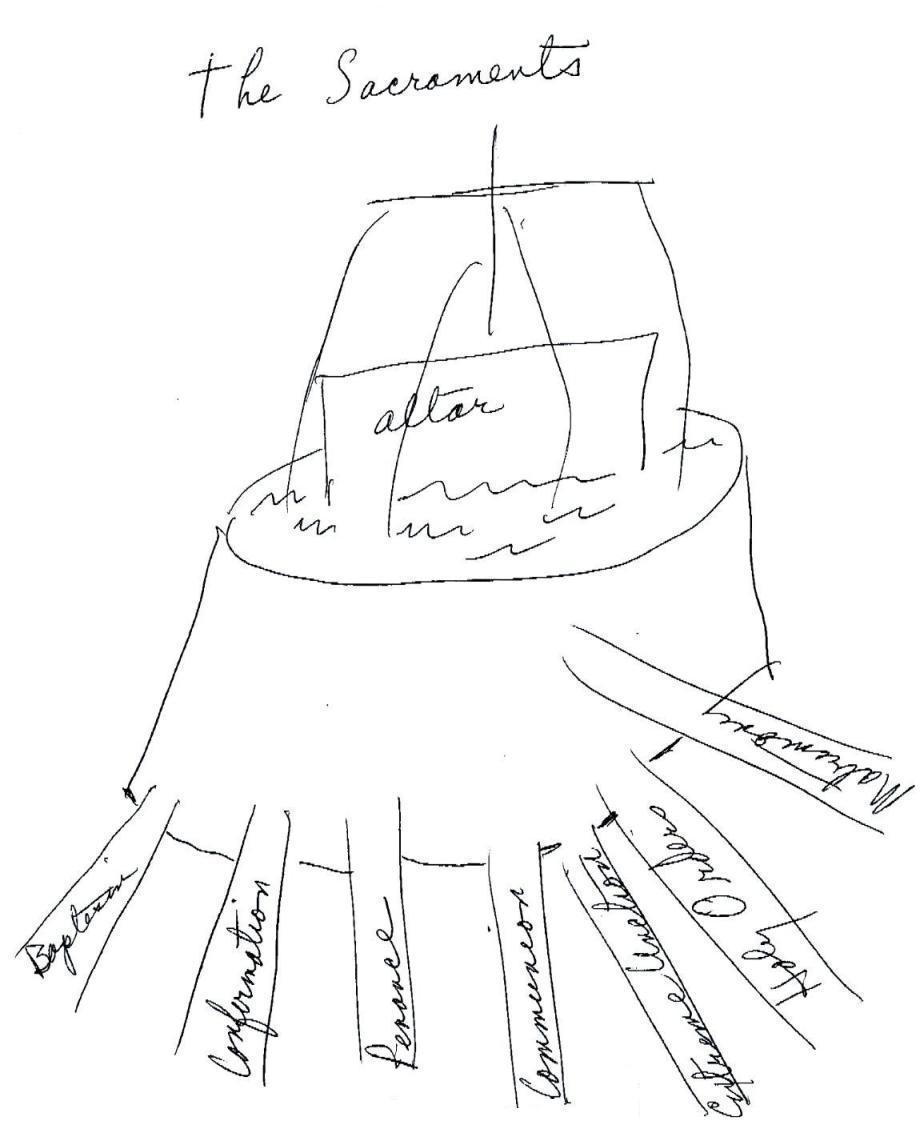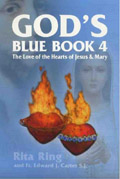 September 24, 1994

Grace

R. Our Catholic Church is One, Holy, Catholic and Apostolic instituted by Christ to give grace. Sanctifying grace is a sharing in His life, life is in Him. It is freely given to us by God out of His great love for us. We have a human nature. God gives His grace.

God gives us grace in His goodness. We have a free will to accept it or reject God's grace. God can give us special graces to help us avoid sin.

His grace is released in the sacraments. Man is happy when he is following God's will and in a state of grace. If we are to be happy we must follow the will of the Father.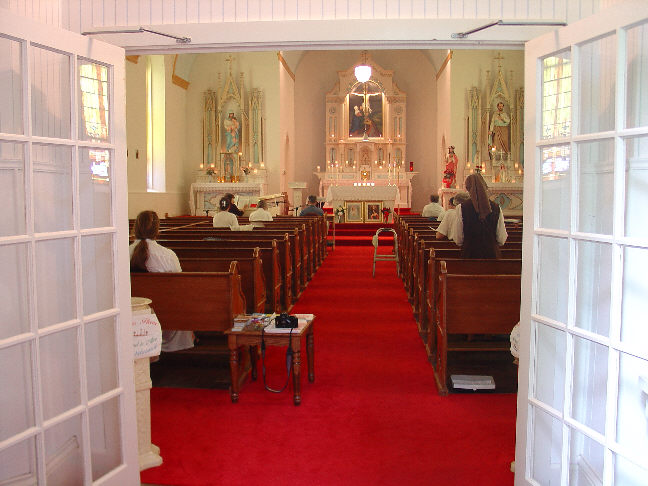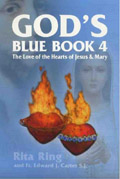 July 7, 1994 - After Communion
Feel Wrapped In the Love of Mother and Son (excerpt)
Jesus: ...Take time to be with Me. Focus on letting go of all distractions and giving them to Me. Trust Me, little baby. Be as the little baby who gives his cares to his loving mother. Give your cares to Me and be free. Then come to Mass and Communion. Such union, such intimacy. Oh, you need time alone, not just in body but time alone in your heart and your mind with Me. No distractions in your heart.

Pray to let go. Let there be total surrender, trust, consecration to the Sacred Heart and Immaculate Heart of Mary. We will be united in Our Hearts. Oh, how I truly love you, My beloved ones. To My death, I loved you ... what more can I say?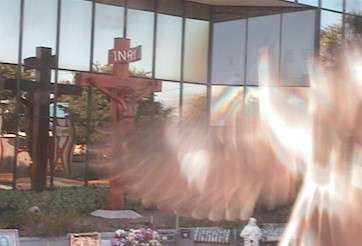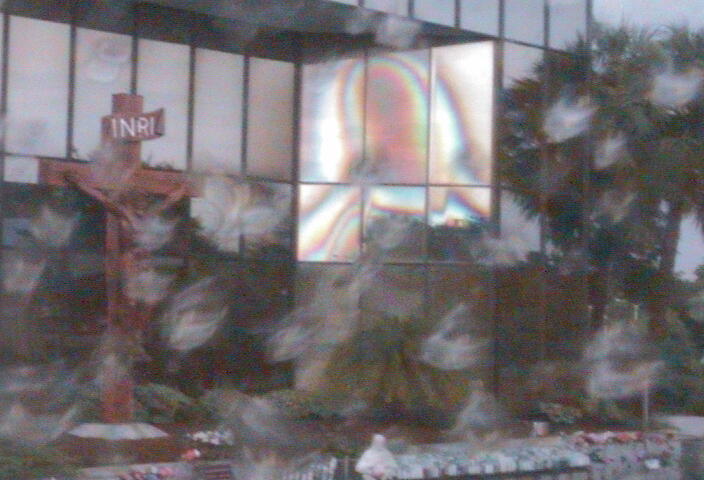 Say Holy Spirit Novena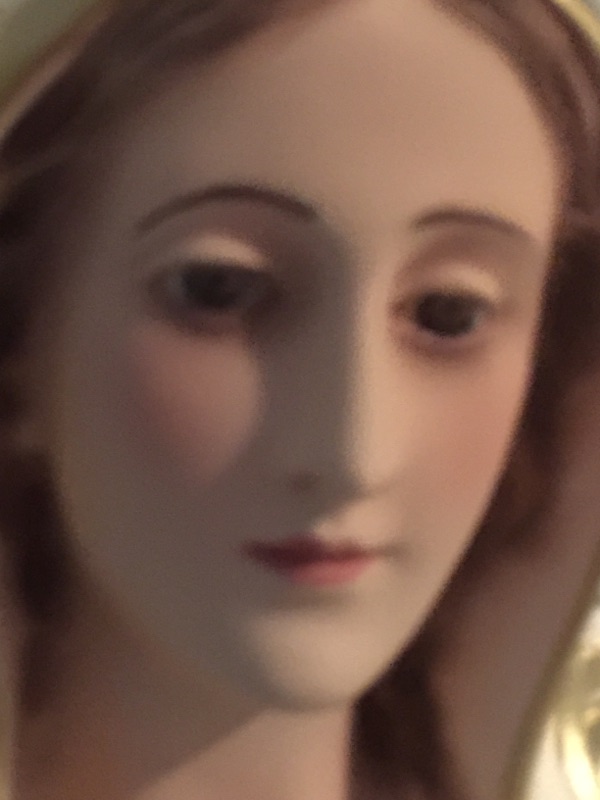 Given November 16, 2017

R. Life is too precious to wear yourself
out being mad.
We hold onto love in our hearts.
Love is real. It's giving.
We can act in doom and despair
if we choose.
Beauty is within.
The devil tries to take people out one
by one. His program is to destroy,
tear down. The devil comes in fury.
He is relentless. He goes for the
heart with his lies and hatred. Selfish
days can lead to empty pain.
God made us to love, to give.
Jesus calls a person in their vocation
to love them and love others.
Why have a melancholy heart or
empty heart when we can be filled
with God's love and give love.
God called us as members of the
body of Christ to work together
with Christ our head.
We need to hold onto love in this
very troubled world. Love gives.
Love doesn't stop giving, for selfish,
'suck the life out of others', days.
Love before God is accountable to
God and a person is sorry for not loving
when he was called by God to love.
Babies cry in the cradle and expect
to be picked up.
We are to go out and give love.
God commands this.
We are to give love doing the will
of our heavenly Father.
God the Father: I created you in the
image and likeness of Jesus.
I am love.
R. The world needs our prayers right now.
This is our calling, to love and pray now.

| | | | | | |
| --- | --- | --- | --- | --- | --- |
| English | Español | Français | Português | Italiano | Polska |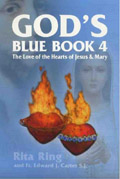 September 2, 1994

I Give Myself to Jesus

R. I find such comfort in the cross. No matter what is going on, I give myself to Jesus at the foot of His cross. I know Mary is always at my side.

Jesus: This is My love for you, it is not words, it is action from the heart. I gave the last beat of My Heart for love of you. I love you with the most enduring love. To My death on the cross, I loved you.

Stand beneath My cross, see Me hanging, see My bodily position, to My death I hung in such agony for you! My blood was spent, My flesh was given, and I cried out My last cry, it is finished! I am your Savior.

I am the true bread come from heaven. I give you Myself in the Mass. I give you My Body. I give you My Blood. Oh, child, My life I give to you with such everlasting love. Let your hearts be forever filled with joy. Come to My Mass. You are the favored ones, to be offering such a sacrifice! Praise your beloved God in heaven, He loves you so much, oh you are so favored!

R. I love Him so much. I know more and more His great love for me and I count myself so honored to be in His presence before the Blessed Sacrament. He is truly with me here, my beloved Savior, my most precious Jesus, my Beloved.

Words seem so weak anymore to describe this. My heart knows, my soul is on fire with His love, my soul thirsts and longs for more and more. I crave Him so. I want more time alone with Him, but I have a family and other things the Father wills me to do. These are most precious moments in my life, when I am at Mass, when I receive Him in Communion. Such precious moments. I do not know how to describe them in words.

My soul is yearning and longing for more and more each day. I cannot be satisfied. Words are not enough. My heart knows so well what my pen cannot say. I love Him so much, to the point of tears, to always be closer, united, and want more to fill my hungry soul. I love You, Jesus, with such an intense love. I love God and thirst after Him.

This is the Father's will for me. This is what He wants for me now. To do His will is my striving with much love. I love Him so much, my beloved Father, my most beautiful Spirit. Who am I to be so favored?
Song: A Song from Jesus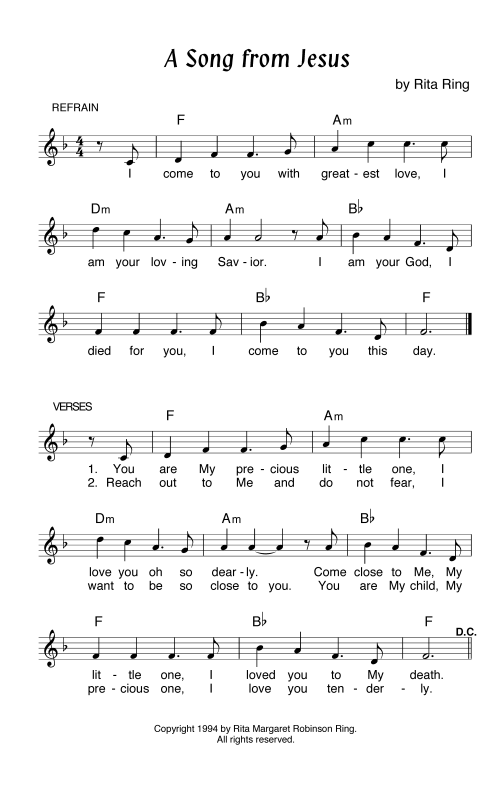 Song: See the Eyes that Look at Mary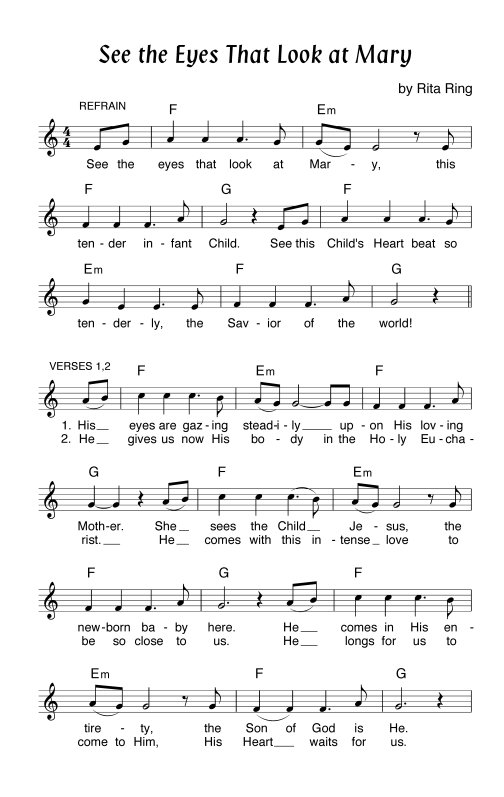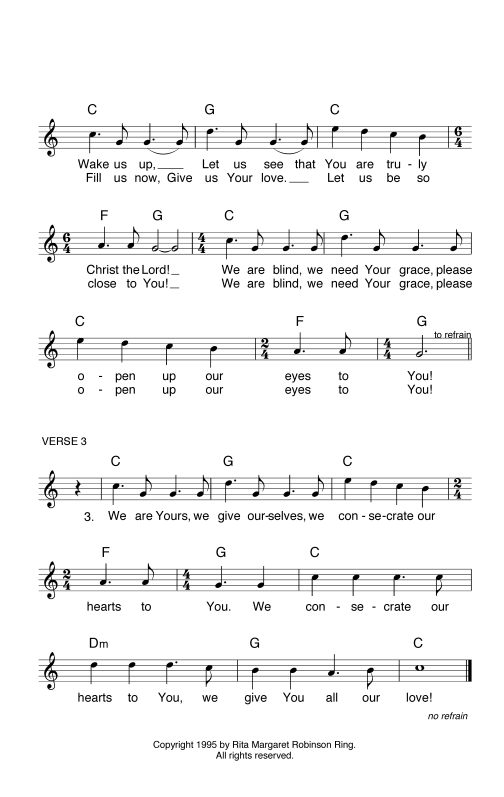 Given
October 29, 2016
R. Please spread blessed holy water
(You can also mix Jesus and Mary water
with your blessed Holy Water if you have it.)
in your yard, around your house,
in the state you live in.
And ask God to bless your state
Ask God to bless the United States
Pray all prayers through the intercession of
Our Lady of CLEAR – WATER.
Ask the Lady of CLEAR - WATER
to help with the blessed water.
Mary has appeared to me for 22 years,
in Ohio and Florida.