Pray for Fr. Mike, Dan, Jimmy, Mary
R. We were created in the image and likeness of
God – we will do what we see others do. Children
learn by watching those taking care of them –
I had a dream a mother was smoking and I
was shocked when her little child, about 4 was
smoking a cigarette behind her.
Jesus gives us His Word to teach us about
Himself. If children are subjected to lies and
cheating they think it's okay, mom and dad
do it.
A leader in any firm should create an
atmosphere of unity and good work ethics –
a good employee if asked to do a job does
all they can to serve the person they work
for.
Likewise our lives are to know, love
and serve God – this is why we were
created.
God intends us to be witnesses and
leader and parents have a special
requirement to be witnesses before
others.
God commands us to love Him and
love our neighbor as ourselves. God is
our boss – God is the one we will
answer to –
We see the humility of Jesus, the Son
of God, to come a baby in the womb
of Mary. We see how Mary and Joseph
served God in raising Jesus.
We know wherever we are at work or home
we are to make an atmosphere of unity and
care and follow the rules set down for
us.
God showed us with Adam and Eve
when they disobeyed, it was such an
offense against God – all of us, except
Mary, have original sin when we are
born because we are
ancestors of Adam and Eve. Adam and Eve
were thrown from the Garden of Paradise.
Baptism takes away original sin, but we
have tendencies toward the deadly sins.
We are to prepare in Advent. Jesus came
a helpless little baby in a stable – we
see such humility, we see sacrifice,
we see the hiddenness of God –
Humility is truth – We don't put on a
mask and wear the mask of pride –
if we need to change old plumbing because
it doesn't work – we do it –
We are to have hearts, likened to Jesus, the
Son of God, who in humility took flesh and
came into the world in love to save us.
His focus was always to help us to get
to heaven – Jesus perfectly served the
will of God in love –
Mary perfectly served the will of God
in love –
St. Joseph was the servant that God chose
for the foster-father of Jesus –
He did his job in love –
We should see in the nativity story –
humility and love –
We unite to the truth of Jesus –
Christ came to be our Savior – to
bring salvation to all –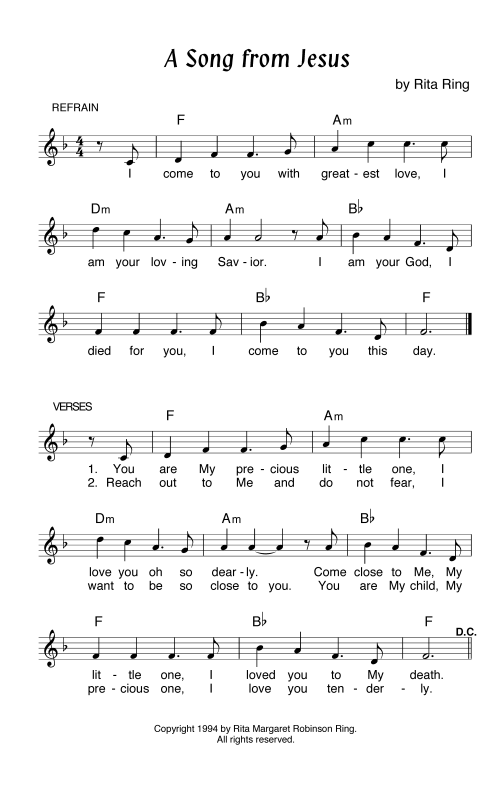 Song: Give me Your Heart oh Jesus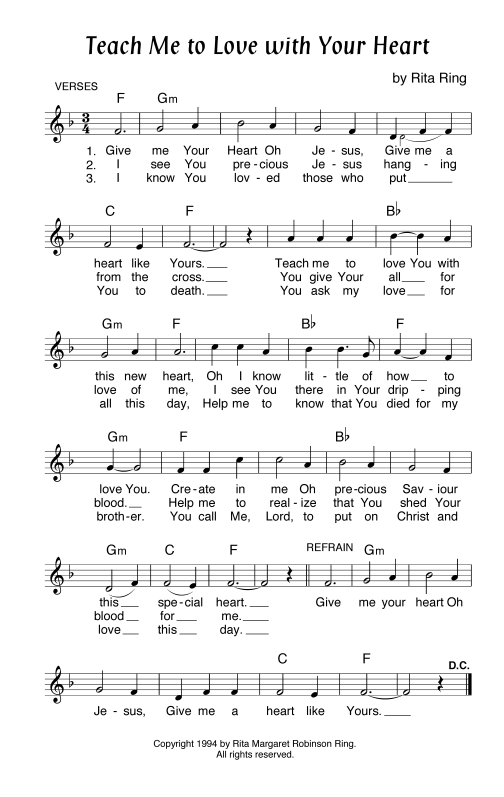 R. When we are free – really free – we are
not attached to inordinate attachments –
So if I want to focus on the job,
God has given me – like St. Joseph
and Mary –
I pray to be freed of my sins –
being enslaved to pride, anger,
jealousy, envy, slothfulness,
lust and gluttony is not
being free –
God please help us to be free to serve
and love You as we should –
We see in the first reading today –
the dream of Isaiah to be led out
of captivity –
Sinners must seek to be led
and set free of the captivity,
bondage of sin –
Isaiah 35: 1-10
Let the desert and the dry lands
be glad,
let the wasteland rejoice and bloom;
like the asphodel, let it burst into flower,
let it rejoice and sing for joy.
The glory of Lebanon is bestowed on it,
the splendour of Carmel and Sharon;
then they will see the glory of Yahweh,
the splendour of our God.
Strengthen all weary hands,
steady all trembling knees
and say to the faint–hearted,
'Be strong! Do not be afraid.
Here is your God,
vengeance is coming,
divine retribution;
he is coming to save you.'
Then the eyes of the blind will be opened,
the ears of the deaf unsealed,
then the lame will leap like a deer
and the tongue of the dumb sing for joy;
for water will gush in the desert
and streams in the wastelands,
the parched ground will become a marsh
and the thirsty land springs of water;
the lairs where the jackals used to live
will become plots of reed and papyrus.

And through it will run a road for them
and a highway
which will be called the Sacred Way;
the unclean will not be allowed to use it;
He will be the one to use this road,
the fool will not stray along it.
No lion will be there,
no ferocious beast set foot on it,
nothing of the sort be found;
it will be used by the redeemed.
For those whom Yahweh has ransomed
will return,
they will come to Zion shouting for joy,
their heads crowned with joy unending;
rejoicing and gladness will escort them
and sorrow and sighing will take flight.
R. When a soul is led out of darkness –
there is light and peace and joy –
happiness –
led out of the desert of sin –
the bondage of darkness –
the willful spirit of rebellion to
offend God –
The highway to heaven is built on
love and unity – obedience to
the Commandments, the laws of God –
respect for authority –
love in our hearts –
this is the highway to God.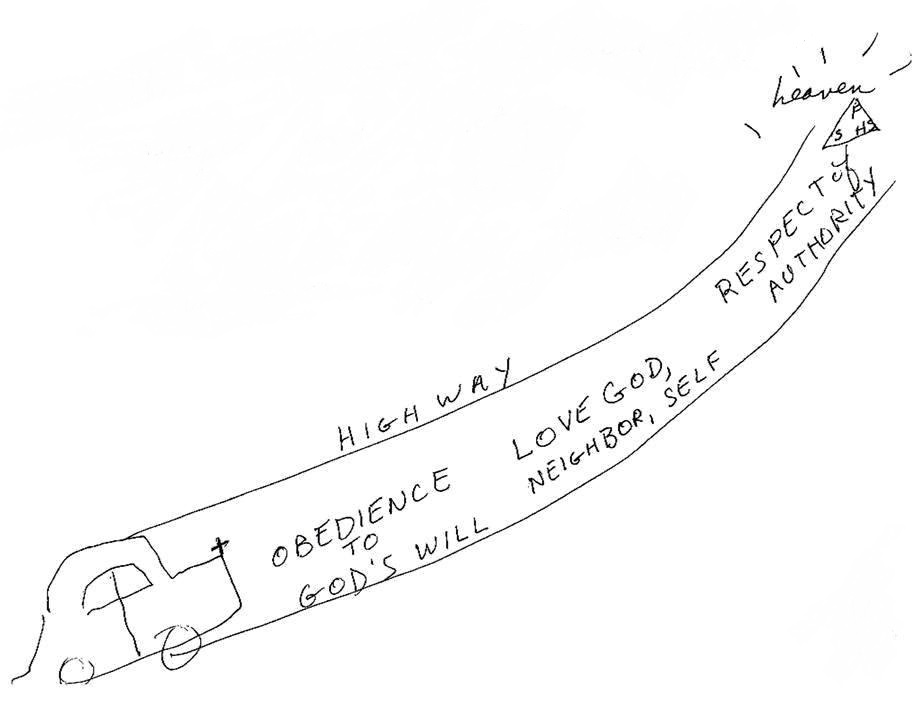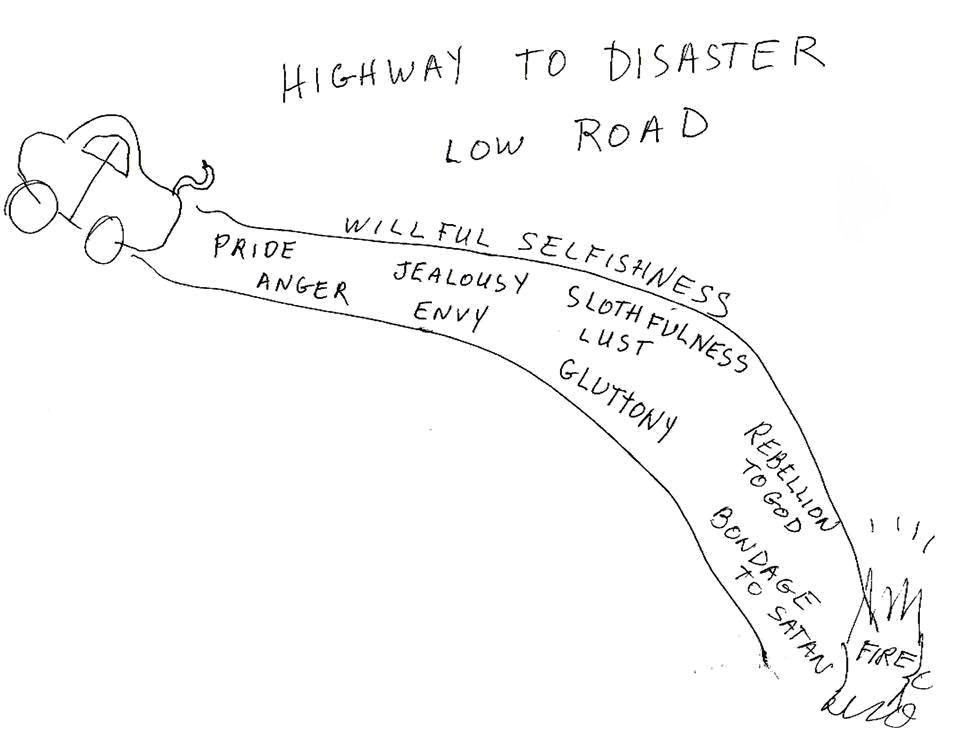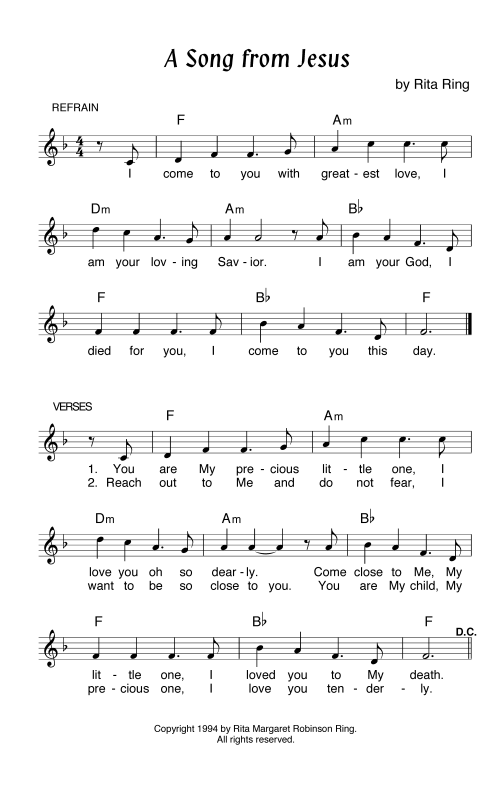 Psalm 85: 9-14

His saving help is near for those who fear him,
his glory will dwell in our land.

Faithful Love and Loyalty join together,
Saving Justice and Peace embrace.
Loyalty will spring up from the earth,
and Justice will lean down from heaven.

Yahweh will himself give prosperity,
and our soil will yield its harvest.
Justice will walk before him,
treading out a path
R. In the Gospel Luke 5: 17-25
The Lord healed the paralyzed man –
The Lord forgave his sins –
The Lord restored his health –
The Lord brings joy to the
sinner who comes for
forgiveness and asks for
His mercy.
Deliverance from bondage –
Christmas is the birth of Jesus –
Jesus is our Savior –
We see the return of the Israelites
from the Captivity of Babylon –
Highway to Jerusalem –
the Good Shepherd leads His flock –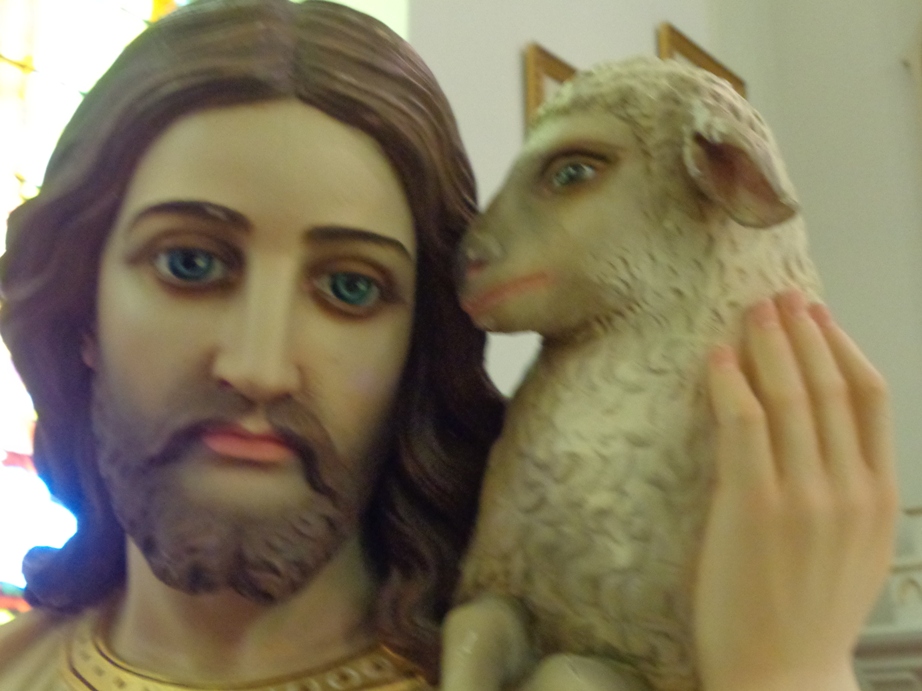 July 31, 1994
Words of Jesus to Members of
Shepherds of Christ Associates:

"My beloved priest-companion, I intend to use the priestly newsletter, Shepherds of Christ, and the movement, Shepherds of Christ Associates, in a powerful way for the renewal of My Church and the world.

"I will use the newsletter and the chapters of Shepherds of Christ Associates as a powerful instrument for spreading devotion to My Heart and My Mother's Heart.

"I am calling many to become members of Shepherds of Christ Associates. To all of them I will give great blessings. I will use them as instruments to help bring about the triumph of the Immaculate Heart and the reign of My Sacred Heart. I will give great graces to the members of Shepherds of Christ Associates. I will call them to be deeply united to My Heart and to Mary's Heart as I lead them ever closer to My Father in the Holy Spirit."

- Message from Jesus to Father Edward J. Carter, S.J., Founder, as given on July 31, 1994,
feast of Saint Ignatius Loyola, Founder of the Society of Jesus (The Jesuits)
Apostles of the Eucharistic Heart of Jesus

My dear fellow Associate Members,

Jesus is calling special apostles to join a new division of the Shepherds of Christ Movement. Here is a message from Jesus given to Father Carter:

My beloved priest-companion, I am requesting that a new prayer movement be started under the direction of Shepherds of Christ Ministries. I am asking for volunteers who are willing to pray before the Blessed Sacrament for one hour, twice-weekly. Members of the Shepherds of Christ prayer chapters, as well as others, are to be invited to join this movement.

These apostles are to pray for the intentions I am giving you. For part of the hour they are to use the prayers of the Shepherds of Christ Associates Handbook. They may spend the rest of the hour as they so choose.

I will use this new prayer movement within My Shepherds of Christ Ministries in a powerful way to help in the renewal of My Church and the world. I will give great graces to those who join this movement. The name, Apostles of the Eucharistic Heart of Jesus, is to be given to this movement.

I am inviting My beloved Rita Ring to be coordinator for this activity.

I pour out the great love of My Sacred Heart to all. I am Jesus, Chief Shepherd of the flock.

This is indeed a special calling for us to unite in one heart with His Eucharistic Heart and pray for the following intentions:

1. For the spread of the devotion to the Hearts of Jesus and Mary culminating in the reign of the Sacred Heart and the triumph of the Immaculate Heart.
2. For the Pope.
3. For all bishops of the world.
4. For all priests.
5. For all sisters and brothers in the religious life.
6. For all members of the Shepherds of Christ Movement, and for the spread of this movement to the world.
7. For all members of the Catholic Church.
8. For all members of the human family.
9. For all souls in purgatory.

end of Apostles of the Eucharistic Heart message
R. The Shepherd leads the sheep.
John 10: 11 - 15
I am the good shepherd:
the good shepherd lays down his life
for his sheep.
The hired man,
since he is not the shepherd
and the sheep do not belong to him,
abandons the sheep
as soon as he sees a wolf coming,
and runs away,
and then the wolf attacks
and scatters the sheep;
he runs away
because he is only a hired man
and has no concern for the sheep.
I am the good shepherd;
I know my own
and my own know me,
just as the Father knows me
and I know the Father;
and I lay down my life for my sheep.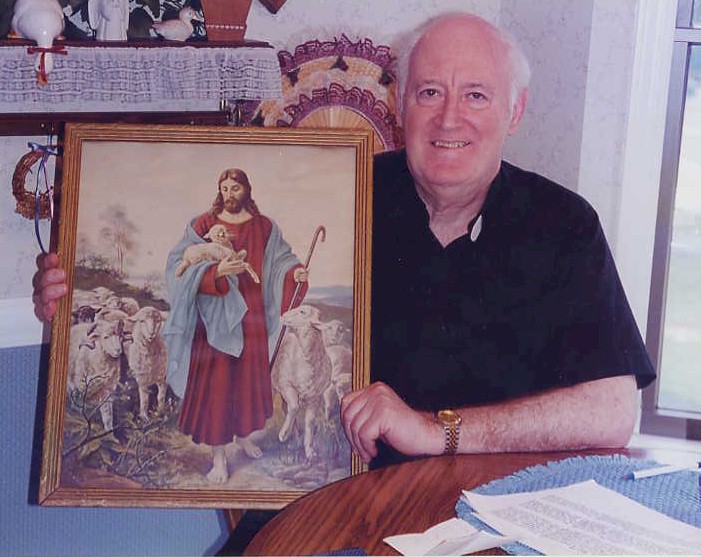 R. Salvation is Good News!!

Isaiah 40: 1-11

'Console my people, console them,'
says your God.
'Speak to the heart of Jerusalem
and cry to her
that her period of service is ended,
that her guilt has been atoned for,
that, from the hand of Yahweh,
she has received
double punishment for all her sins.'

A voice cries, 'Prepare in the desert
a way for Yahweh.
Make a straight highway for our God
across the wastelands.
Let every valley be filled in,
every mountain and hill be levelled,
every cliff become a plateau,
every escarpment a plain;
then the glory of Yahweh will be revealed
and all humanity will see it together,
for the mouth of Yahweh has spoken.'

A voice said, 'Cry aloud!' and I said,
'What shall I cry?'
-'All humanity is grass
and all its beauty like the wild flower's.
The grass withers, the flower fades
when the breath of Yahweh blows on them.
(The grass is surely the people.)
The grass withers, the flower fades,
but the word of our God remains for ever.'

Go up on a high mountain,
messenger of Zion.
Shout as loud as you can,
messenger of Jerusalem!
Shout fearlessly,
say to the towns of Judah,
'Here is your God.'

Here is Lord Yahweh coming with power,
his arm maintains his authority,
his reward is with him
and his prize precedes him.
He is like a shepherd feeding his flock,
gathering lambs in his arms,
holding them against his breast
and leading to their rest the mother ewes.
Sing: Oh Come Oh Come Emmanuel
'Tell me. Suppose a man has a hundred sheep and one of them strays; will he not leave the ninety–nine on the hillside and go in search of the stray? In truth I tell you, if he finds it, it gives him more joy than do the ninety–nine that did not stray at all. Similarly, it is never the will of your Father in heaven that one of these little ones should be lost.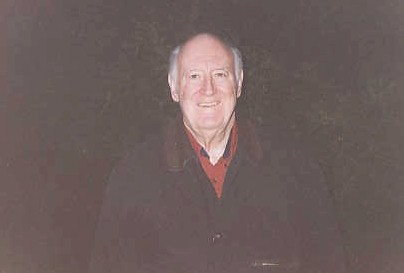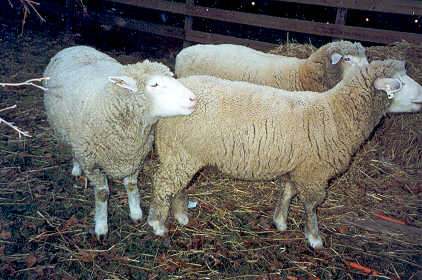 Sing: Proclaim the Joyful Message
Sing: Prepare in the Wilderness a Highway for Our Lord

Prayer for Union with Jesus
Come to me, Lord, and possess my soul. Come into my heart and permeate my soul. Help me to sit in silence with You and let You work in my heart.

I am Yours to possess. I am Yours to use. I want to be selfless and only exist in You. Help me to spoon out all that is me and be an empty vessel ready to be filled by You. Help me to die to myself and live only for You. Use me as You will. Let me never draw my attention back to myself. I only want to operate as You do, dwelling within me.

I am Yours, Lord. I want to have my life in You. I want to do the will of the Father. Give me the strength to put aside the world and let You operate my very being. Help me to act as You desire. Strengthen me against the distractions of the devil to take me from Your work.

When I worry, I have taken my focus off of You and placed it on myself. Help me not to give in to the promptings of others to change what in my heart You are making very clear to me. I worship You, I adore You and I love You. Come and dwell in me now.

-God's Blue Book, January 17, 1994
R. Life for eternity in heaven is being possessed
by God in the beatific vision –
Being wrapped in the presence of
God: Father, Son and Holy Spirit. An eternity of love –
which we were created for.
Nothing here can ever satisfy us –
God created us for the fullness of
life in eternity in heaven.
When I was three my mom had
just lost a baby, then developed
cancer and died when I was five –
I called her my saint Alice – after
she died we really started praying
with 5 children and mom gone and
my dad became very nervous, but
was deeply growing in that cross
in deeper relationship with God.
Suffering, when done properly,
can bring us to new life. Life
is depth. Life for me as a child
grew in reflecting a lot dealing
with mom's death –
We spent lots of time walking
to Church and I made my first
communion – mom was gone and
my dad so nervous he didn't go,
but from going to Church and all
of us knowing mom, who was very
holy, was in heaven, I felt connected
to God from an early age –
We went to Mass every day and went
to communion. Every one in the
school (800 children) could go to Mass
and receive communion daily if
they wanted to – We had 3 priests
full time at the parish.
I tell all this for several reasons:
1) going to daily communion, praying
daily as a family helps to bring
down tremendous grace – even in
suffering, even in trials, even
when we are learning to love God
and others more –
So much grace from Mass and
before the Blessed Sacrament.
I was a child – my brother was
in the seminary when I was in early grade
school – It was an honor to go
and watch Mt. St. Mary's Seminary –
which is now Our Lady of the Holy
Spirit Center FULL of men
studying to be priests.
They prayed vespers for hours,
which was long for a little child
in grade school and it was
hundreds of young men praying
and singing in the chapel where
Mary later appeared to me when I
was in my late forties.
I loved going there because Mary
appeared and I received songs and
messages in the chapel where
Mary appeared and Fr. Carter was
there many, many nights with my
two children as we began the
Shepherds of Christ Prayers –
Providence – we have to realize
God has a plan for our lives to help
souls go to heaven. Blue Book II, Fr. Carter
said was on surrender, I lived it –
Jesus taught me and wants to teach
others through the messages in
the Book. Fr. Carter lived by the
Blue Books and helped me get
them out because he said the
Blue Books were as much mine
as his.
Fr. Carter told me in 1994
Jesus wanted the Servants and
Handmaids of the Good Shepherd.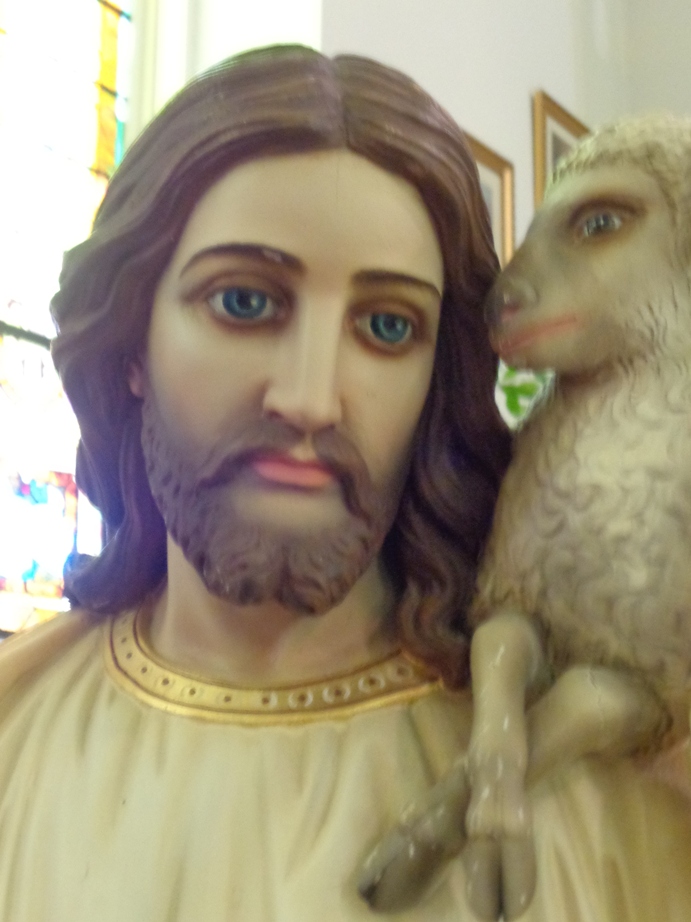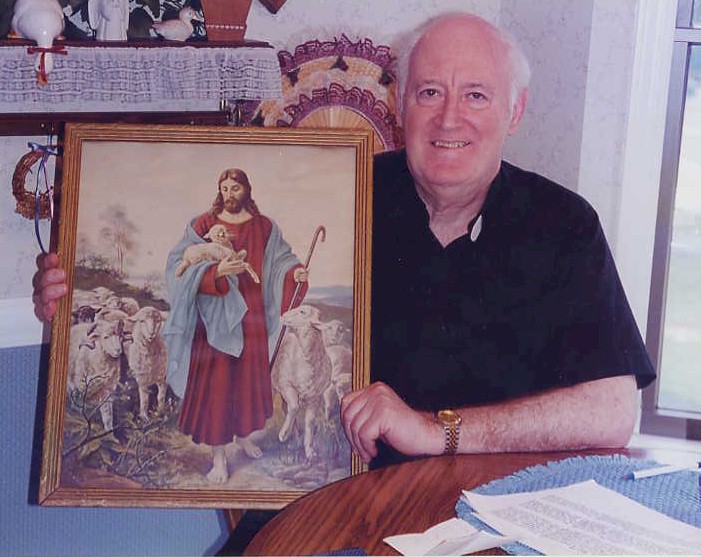 R. Fr. Carter obeyed Jesus, he judged
what he did by moving ahead
despite problems satan tried
to stir up.
On Lucia's birthday March 22, 1994
the whole corner of the Holy Spirit
Center fell off in minutes.
Like cutting a cake a whole
wing just went down –
Jesus said they were not listening –
Jesus said before this they were
bumping into the building –
The morning the corner fell off
Jesus told me I would be sitting
on a chair, don't be afraid,
and I would hear the biggest
boom I ever heard and the floor
would shake and men would
run around in a circle, but
don't be afraid, Jesus said.
After lots of struggle to do the
prayer meetings and rosaries –
Our Lady appeared in Clearwater –
looking like Our Lady of Guadalupe.
On December 17, 1991 Jesus said: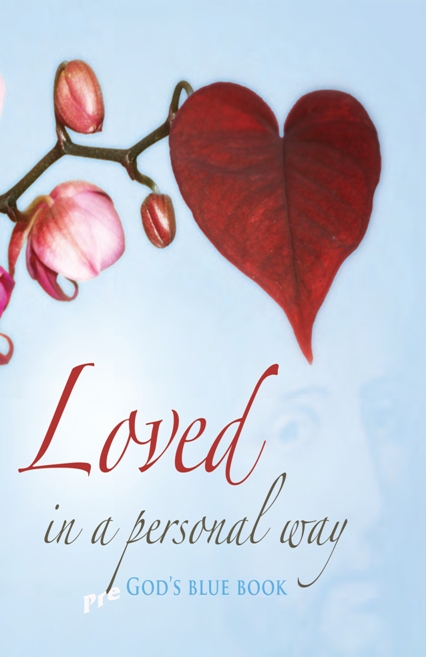 December 17, 1991
R. On December 17, 1991, I saw a vision of Jesus' Heart on fire after communion. He said – I didn't know how this Heart would lead people to His Sacred Heart.
R. The Red Rosary book with rainbow
left the publisher December 17, 1996
and Mary appeared in Clearwater
December 17, 1996.

shipped from the printers
December 17, 1996

Mary appeared
December 17, 1996
R. Jesus lived a hidden, quiet life
for 30 years –
Jesus came to this earth –
We are to see that sight at
Christmas and see the angels
giving glory to God.
We are to see that Jesus came
to bring peace to men of
good will –
Jesus came to bring peace
to men –
Jesus lived a quiet life –
Look at the stable at Bethlehem.
Mary is the Queen of Peace –
God has entrusted the Peace
of the world to her –
This is what God wants of
us, peace as we rest in
Him in our hearts --
Peace to understand and
recognize His blessings
to us –
The angels sang
"Peace on earth, Good
will to men"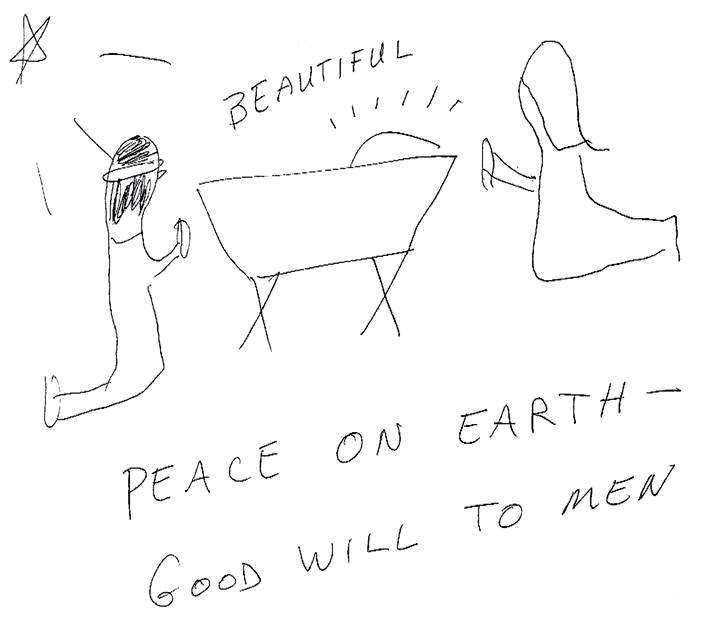 Sing: Angels we have Heard on high –
Sing: Hark the Herald Angels Sing –
Jesus said to the
Apostles after the
Resurrection
"Peace be with you"
The Church gives us peace –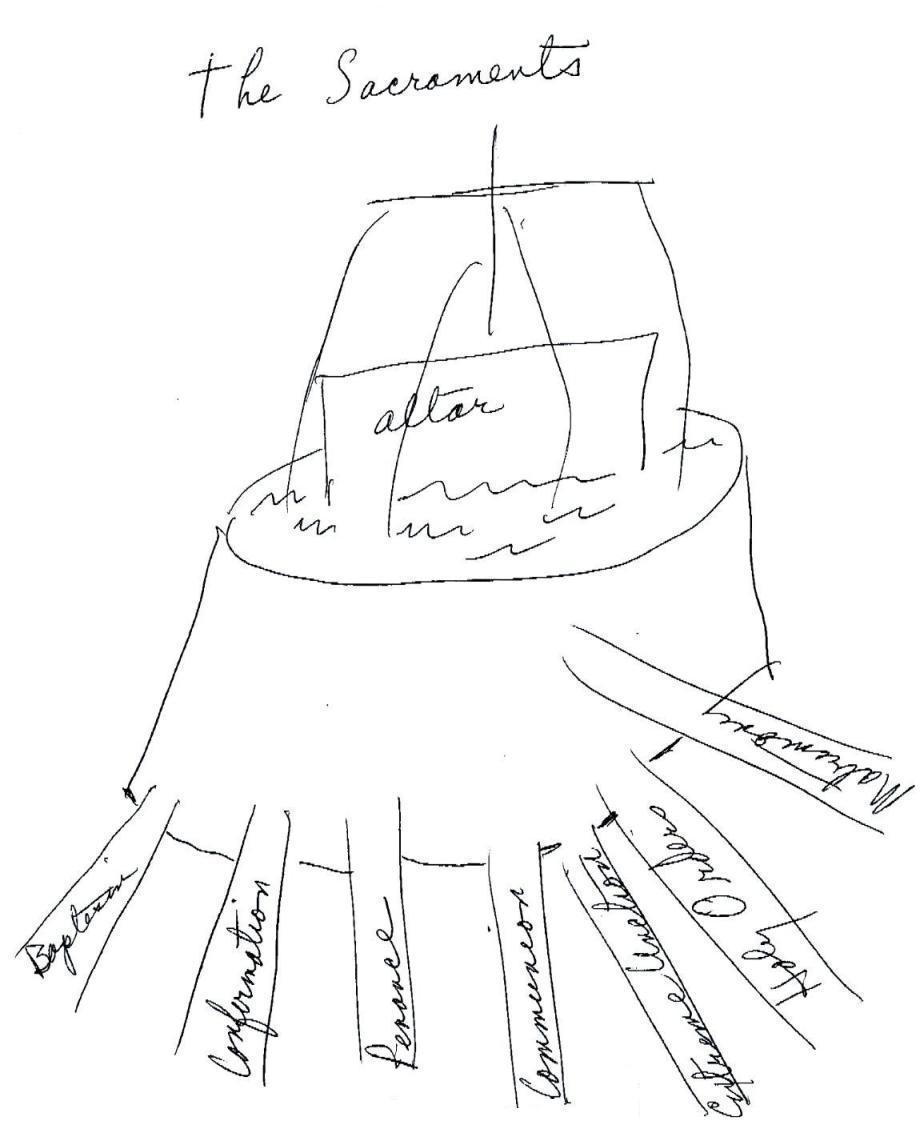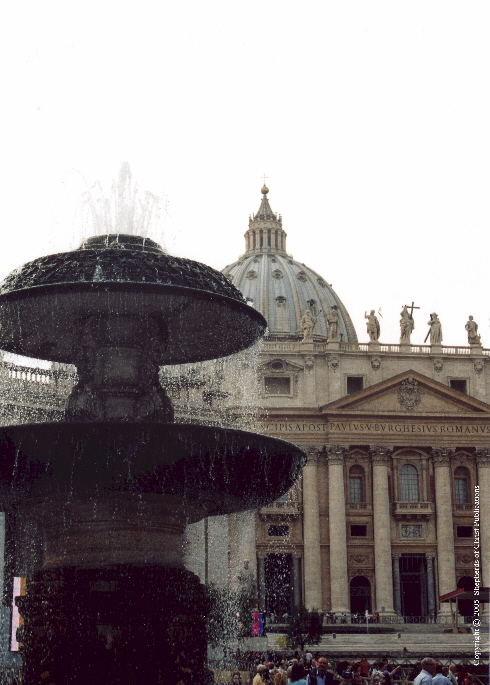 R. We give peace to each other –
The Mass –
We hear
"Peace be with you"
"The Lord has done
great things for us"
Sing: Let There be Peace on Earth
The world cannot give us
peace –
We need God –
We know Jesus prayed in
the desert 40 days –
Peace is found in
our hearts –
inside –
Inside in oneness to God –
Deep in the interior life
we have peace in God.
Even if one tortures a
man rooted in God –
the man in God
suffers, but the
torturer does not
penetrate the strength
of one rooted in God –
Luke 1: 46-55
And Mary said:

My soul proclaims
the greatness of the Lord
and my spirit rejoices
in God my Saviour;
because he has looked upon
the humiliation of his servant.
Yes, from now onwards
all generations will call me blessed,
for the Almighty
has done great things for me.
Holy is his name,
and his faithful love extends age after age
to those who fear him.
He has used the power of his arm,
he has routed the arrogant of heart.
He has pulled down princes
from their thrones
and raised high the lowly.
He has filled the starving with good things,
sent the rich away empty.
He has come to the help
of Israel his servant,
mindful of his faithful love
—according to the promise
he made to our ancestors—
of his mercy to Abraham
and to his descendants for ever.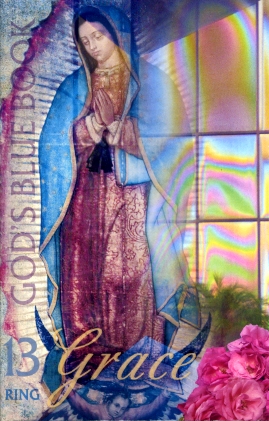 R. No one can shatter a real
man rooted in God –
Peace in Jesus is light
and beauty and joy –
Peace in Jesus is
happiness –
Sing: Peace is Flowing Like a River
"Peace on earth, good
will to men"
Song: Peace is Flowing Like a River –
We as Christians should
have peace in Jesus.
When Jesus is there –
there is peace –
We have peace in our
hearts –
We seek peace with
fervor and desire!
Working for peace!
The devil is chaos,
confusion, turmoil,
clamor
We must have faith in God –
Believing in the providence of God
brings peace.