December 13, 2018
R. Do you think the baby Jesus
looked like Mary? Do you know
how precious Mary's motherly
love was for Jesus?
Mary was given great love from
her Spouse the Holy Spirit to
conceive the Son of God. How
Mary's heart was so full of
love.
When your heart is loving
you give love to others –
God is perfect love and He
loves us. Mary did love and
she went on a journey to
Elizabeth – Elizabeth knew
Mary carried Jesus through
the power of the Holy Spirit.
Isaiah 41: 13-20
For I, Yahweh, your God, I grasp you by your right hand; I tell you, 'Do not be afraid, I shall help you.' Do not be afraid, Jacob, you worm! You little handful of Israel! I shall help you, declares Yahweh; your redeemer is the Holy One of Israel. Look, I am making you into a threshing-sledge, new, with double teeth; you will thresh and beat the mountains to dust and reduce the hills to straw. You will winnow them and the wind will carry them off, the gale will scatter them; whereas you will rejoice in Yahweh, will glory in the Holy One of Israel. The oppressed and needy search for water, and there is none, their tongue is parched with thirst. I, Yahweh, shall answer them, I, the God of Israel, shall not abandon them. I shall open up rivers on barren heights and water-holes down in the ravines; I shall turn the desert into a lake and dry ground into springs of water. I shall plant the desert with cedar trees, acacias, myrtles and olives; in the wastelands I shall put cypress trees, plane trees and box trees side by side; so that people may see and know, so that they may all observe and understand that the hand of Yahweh has done this, that the Holy One of Israel has created it.
Psalm 145: 1, 9-13
Aleph I shall praise you to the heights, God my King,
I shall bless your name for ever and ever.
Tet Yahweh is generous to all,
his tenderness embraces all his creatures.

Yod All your creatures shall thank you, Yahweh,
and your faithful shall bless you.
Kaph They shall speak of the glory of your kingship
and tell of your might,

Lamed making known your mighty deeds to the children of Adam,
the glory and majesty of your kingship.
Mem Your kingship is a kingship for ever,
your reign lasts from age to age.
Sing: A Voice Cries Out
Sing: Proclaim the Joyful Message
Song: A Song from Jesus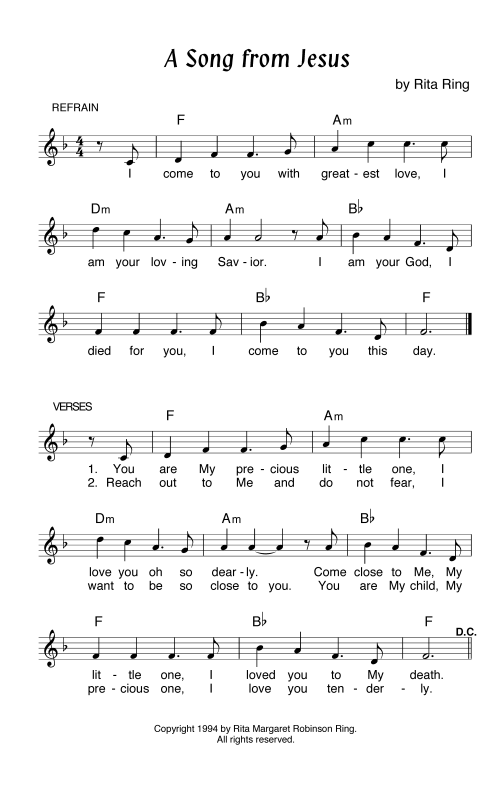 Sing: The Lord is Kind and Merciful
Matthew 11: 11-15
'In truth I tell you, of all the children born to women, there has never been anyone greater than John the Baptist; yet the least in the kingdom of Heaven is greater than he. Since John the Baptist came, up to this present time, the kingdom of Heaven has been subjected to violence and the violent are taking it by storm. Because it was towards John that all the prophecies of the prophets and of the Law were leading; and he, if you will believe me, is the Elijah who was to return. Anyone who has ears should listen!
R. Let us be honest and holy!
Let us love heaven –
John the Baptist said "Repent"
He must increase
We must decrease
Satan is an intruder and he will not
leave. He has nothing to lose if a person
gives to him and lets him rule in their
hearts.
If a person has an intruder in their home
today and call the police - the police might
be too short changed to send someone,
then what do you do, if the person
refuses to go.
Satan refuses to go as long as
a person entertains them and
gives into him.
We see this in the Garden. Satan comes
uninvited and begins his deception –
Once he is in and he gets the person's attention
he keeps at it. Satan works in inordinate
attachments, unhealed memories,
anger, lack of forgiveness.
A person hurts themselves when
they are hung up on baggage from
the past, enslaved – Satan can get
in because the person gives into him
and they are afflicted, not in charge
and satan attacks their weakness,
like a parasite, a germ, a virus,
the wall of defense is weak and
satan is crafty and works in pride,
anger, jealousy, envy – like he
did to Adam and Eve in the Garden –
they were jealousy and envious of God's
intelligence – image that – after
all God gave them –
Satan works through our weakness.
When we love God and love Mary we
have piety – we don't want that
joy in our friendship with God to
be threatened. We love being in love
with God. We are loyal and faithful
and we don't want it jeapordized.
Say a person loves someone – if
they decide to get overcome with jealousy
and envy and act on it to their friend who
isn't doing anything wrong – they
are stirring up unwanted conflict
because of their own weakness of
character and love that is insecure
and their own unfaithfulness to trust
the relationship as they should.
Nothing is going on and that is
what satan wants division, untrust,
a big storm brewing satan wanted
to start.
Christ showed us in the boat the
foolishness of the Apostles when a
storm started to wake Jesus and
act like they were threatened by the
storm.
We need faith in God, we need to let
go of anger, jealousy, envy, pride,
seeing our brothers we need to work
with as enemies.
Satan wants division – it can be
normal for a person who never worked
in relationships with others – to isolate
and be suspicious of others like enemies.
If we never learn to trust and love others –
how can we trust and love God –
Being a loner is not the plan of God –
He intends us to work hand-in-hand
with Him to produce fruit for the
Kingdom of God.
Adam and Eve gave into satan – then
disorder, destruction entered the
world.
Satan wants chaos, confusion,
division – a person who sees this
as normal starts this if there is peace –
many times some people just keep
causing division, chaos, confusion,
games because they see it as normal
and they can use means to try to force
this on others. It is wrong – to hurt
others, to stir up division, play games,
it's the work of satan, not Jesus.
Who would invite an intruder
into their own house to leave
it in an uproar, to rule over
their own peace.
Life is short – we need to learn
to love and trust and forgive
and work in peace and love
for the building of the Kingdom of God –
Heaven and hell are real –
Are we preparing –
Advent is a time of preparing –
sacrifice, maturing – loving,
working on God's plan –