December 15, 2018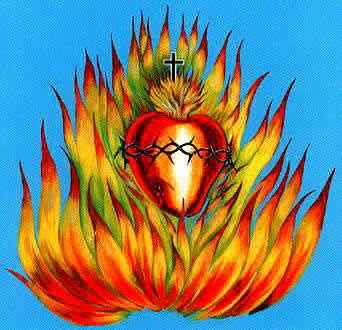 December 17, 1991
R.
On December 17, 1991, I saw a vision of Jesus' Heart on fire after communion. He said – I didn't know how this Heart would lead people to His Sacred Heart.
December 17, 1991
Jesus:
I am Jesus. I have spoken as never before, you will spread My love to all souls on this earth.
R.
The vision of Jesus' Heart on fire I had in the same pew at All Saints Church, December 17, 1991. The heart that is on the Second Blue Book. March 26, 1996, I had in the same pew on the other end of the pew toward the center aisle, the first pew on the right side of the church as I faced the altar.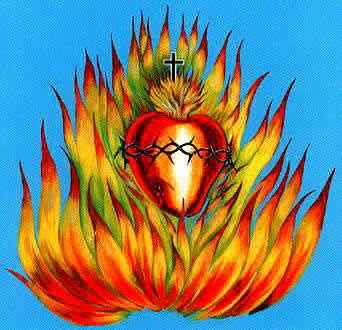 His Burning Heart
R.
I was alone in All Saints Church after Mass and Communion, in front of the tabernacle, when I saw the Sacred Heart. It was red around the outside, then a layer of yellow and then the brightest light in the center. I felt heat and it looked like an open furnace.
I thought about it all day and it instantly gave me peace and warmth in my heart. This is the purpose of these letters – to draw hearts to the ardent on-fire love of Jesus. I received the following message that day:
"Open your heart to the fire of God's love. He is ablaze in your heart. He wants to dwell in you and love you and others through you. Love God, yourself and one another and experience the fire set aglow in your heart and experience the warmth of His love."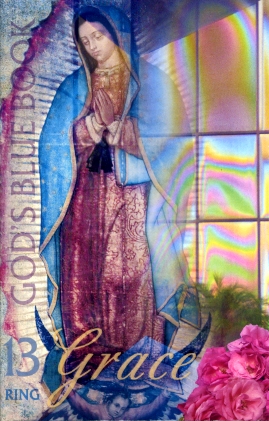 5 Years Later
December 19, 1996

Mary: My dear children, I give to you, my Son, Jesus, born in a stable in Bethlehem on Christmas morn. He is the Almighty God, the Light of the World.

I appear to you, my children, on a (former) bank in Florida. You have made money your god! Do you know how cold are your hearts? You turn away from my Son, Jesus, for your money. Your money is your god.

I am Mary, your Mother. I do not appear as I once appeared to you. I am asking you today to circulate my message given on a tape on the feast of Our Lady of Guadalupe, December 12, 1996. Please circulate this tape now. Give it to as many people as you can. I am Mary, your Mother. Please circulate my Rosary Book. end of December 19, 1996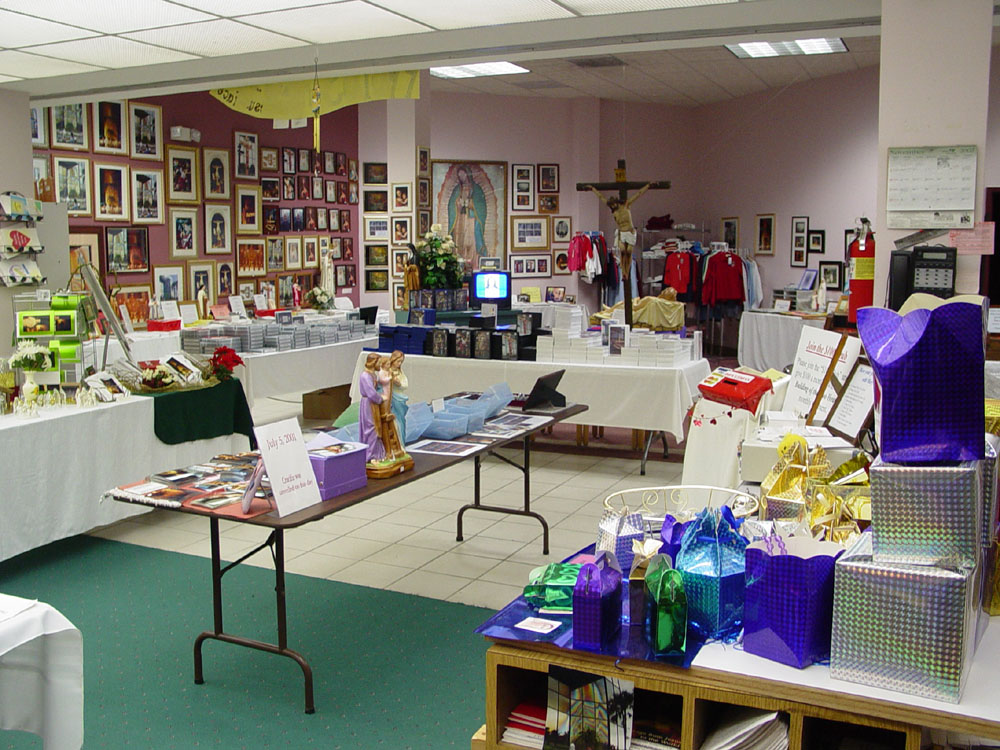 December 16, 2002
Messenger: This is a message from Our Lord.
I'm not a composer, I wrote this up
as He directed me as best I could.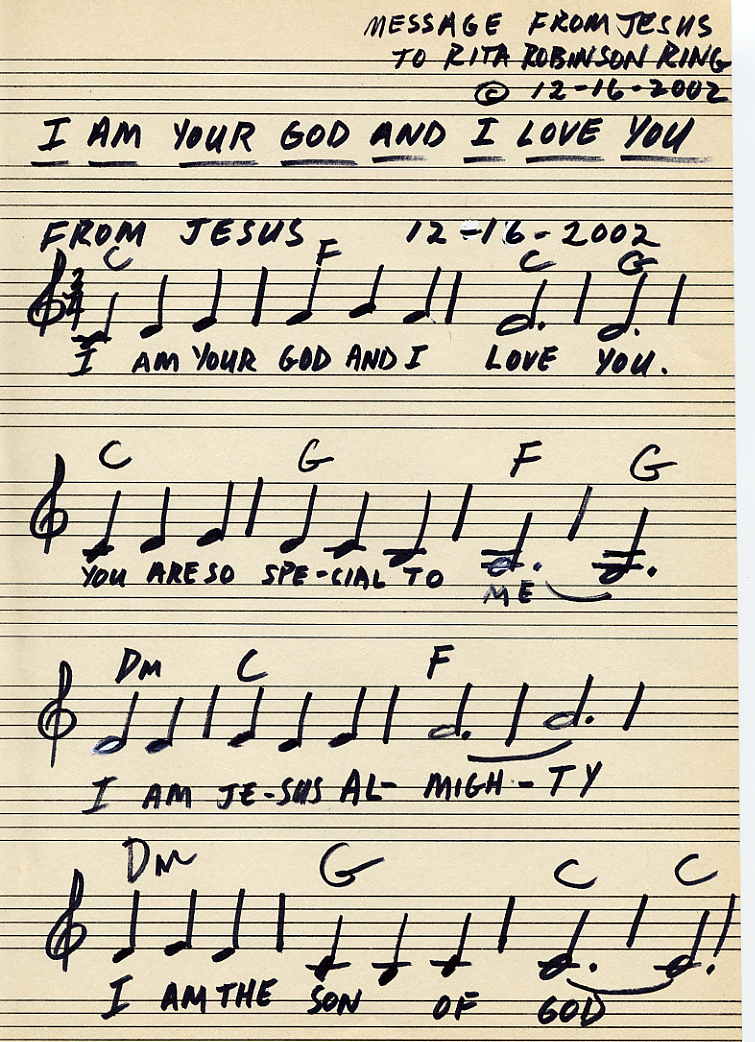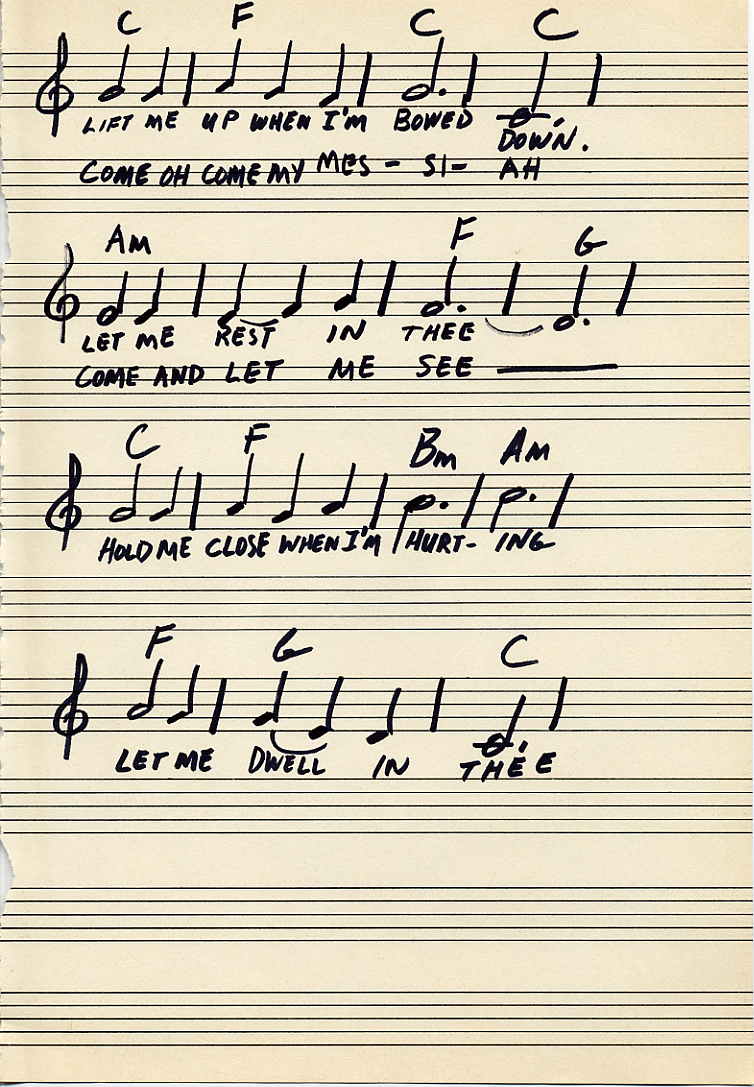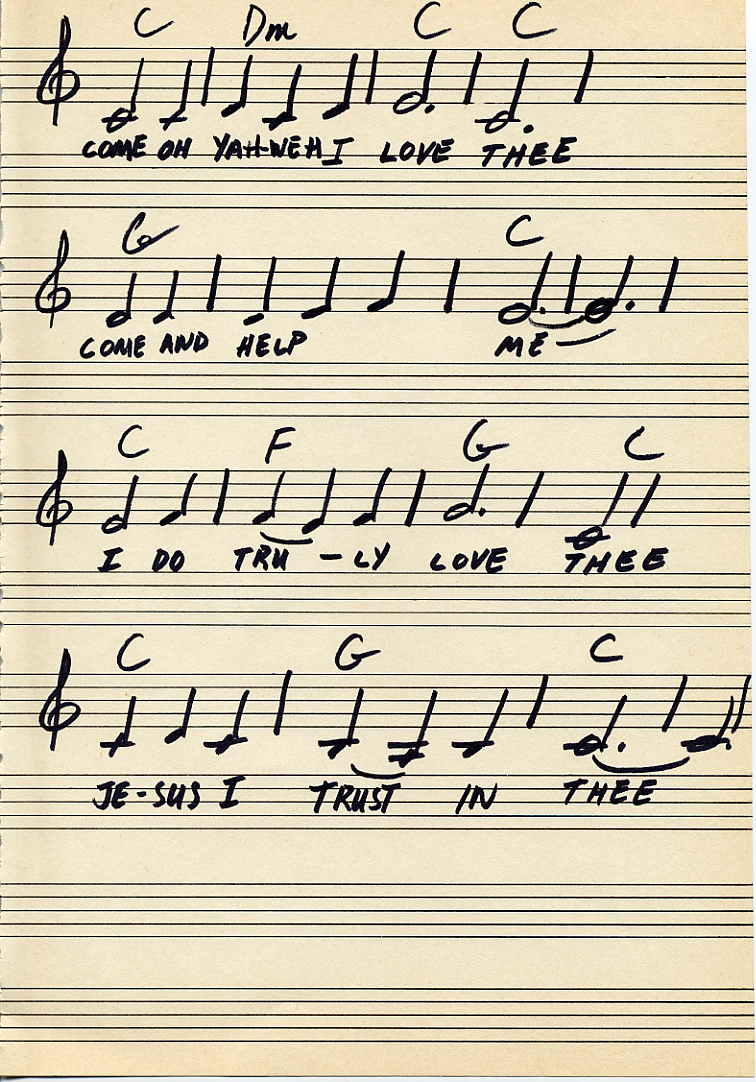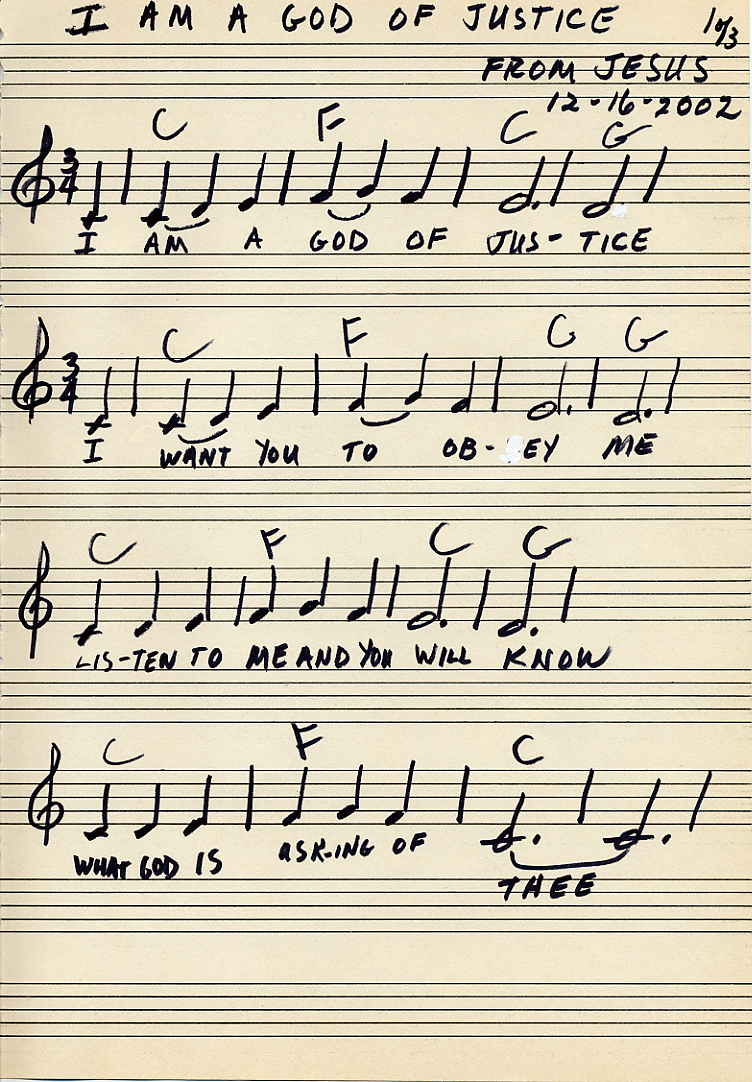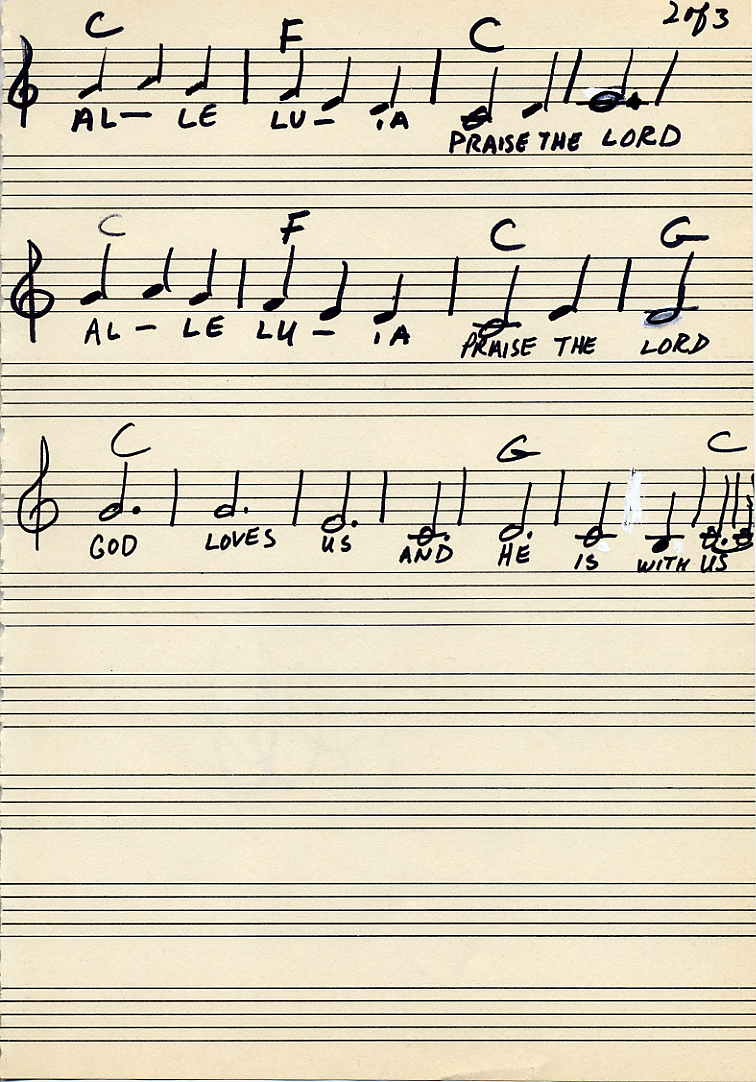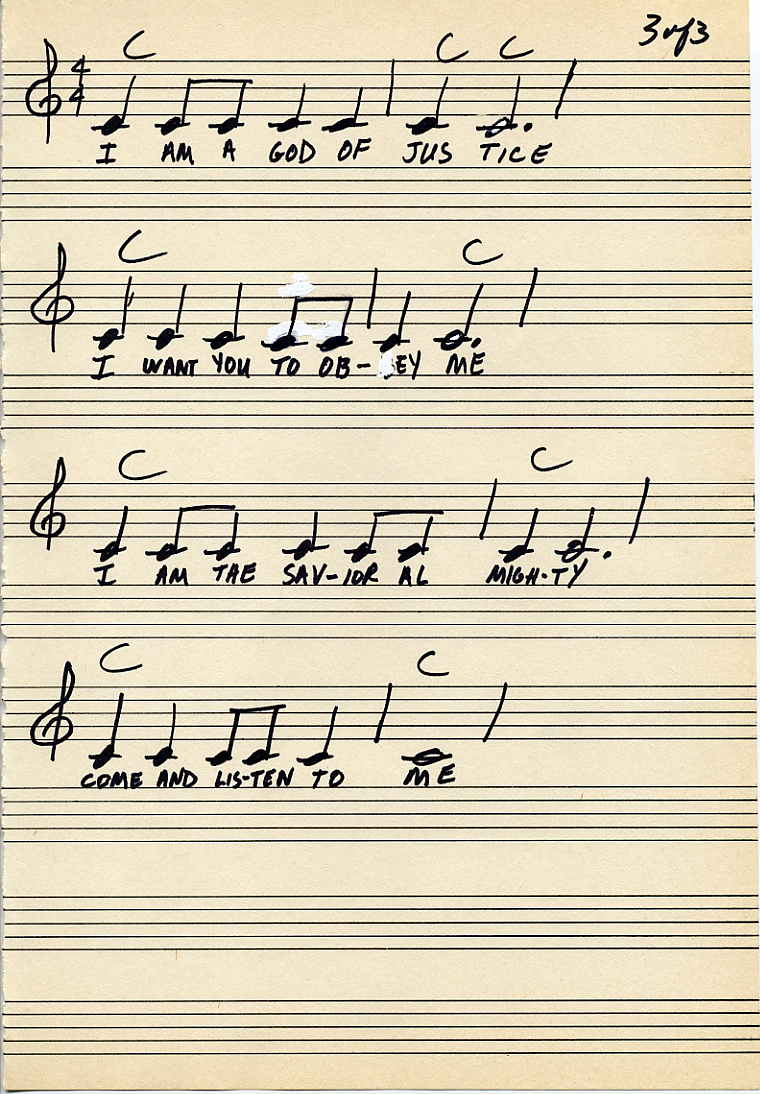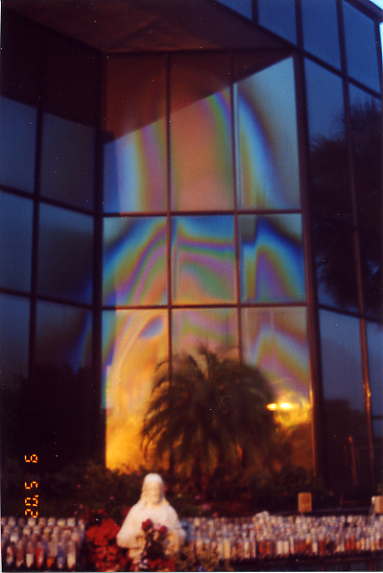 R. Come to Clearwater December 17, 2018 6:20

Merry Christmas

During the Rosary and 6:20 Prayers
November 5, 2001

December 17, 2001
5 years since Mary appeared
Prayers 6:20 PM & Procession

(Right next to each other #19 & #20
on the roll)
Mary speaks:

My dear children,
I have appeared now for five years from
my image site in Clearwater, Florida.
Special graces will be given for all those
coming on this anniversary of my five year
appearance and praying devoutly.
My Son Jesus has appeared here. We call you
to come and to pray for the priests, the Church
and the world.
A special prayer vigil with procession
will begin at 6:20. Other prayers are prayed
all through the day beneath Mary's image.
The 6:20 prayers have been prayed beneath
my image since July 5, 1998 and throughout
the world. My Son Jesus wants you to come
and to sing praise to your God. He wishes
you to come and gather on this day.
Oh my children, I love you so much. There
is so much evil in the world. My children my
Son Jesus wants you to come and pray.
I am Mary your Mother

Mary appeared in Clearwater
on December 17, 1996

Jesus speaks:

Oh My beloved children,
Come to Me. Bring the little ones. Prayers
are held daily at 6:20. I want the little ones to
come and see the gifts God has given you here.
My little ones must pray. You must pray. There
will be prayers throughout the days as usual. Have
rosary meditation books and rosaries available.
Pictures for all who come.
Bring your petitions to Me. I will grant you
special graces for your heartfelt prayers.
Oh I love you so much. Please come. Pray -
help make reparation to Our Hearts. Have prayer
sheets and coloring books available. Morning
Offering cards (Say daily). Have videos of the
Mass and Nursing home videos available.
Encourage all to pray the prayers, to pray the
rosary and to consecrate their hearts.
Have cards "I give my heart to Jesus and Mary
available."
This is a special day to heaven. This is a special
place. Come and pray for the days before and after
also if you wish. The big celebration is December 17,
2001 at 6:20 call for details. I ask you to come to Me.
I love you so much. Please pray for your world.
I am Jesus your Savior.


November 5, 2001
Jesus' face





I love you, I love you, I love you,
Jesus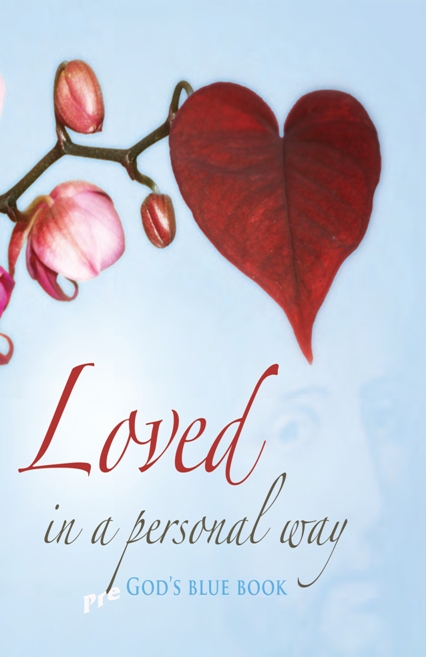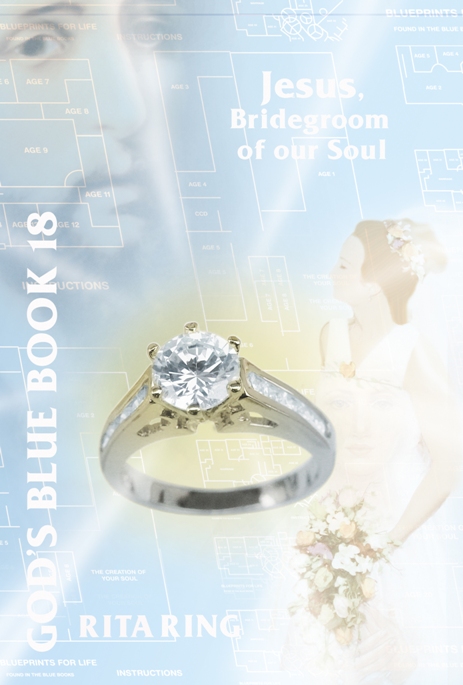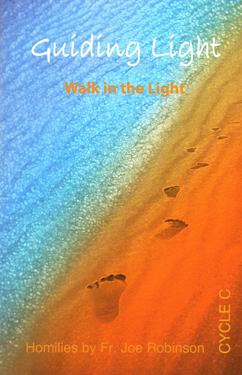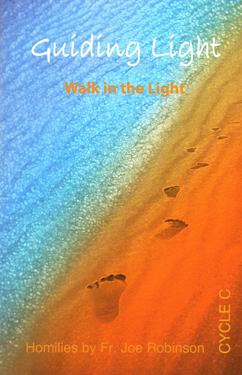 3nd Sunday of Advent
Zephaniah 3: 14-18

Shout for joy, daughter of Zion,
Israel, shout aloud!
Rejoice, exult with all your heart,
daughter of Jerusalem!
Yahweh has repealed your sentence;
he has turned your enemy away.
Yahweh is king among you, Israel,
you have nothing more to fear.

When that Day comes,
the message for Jerusalem will be:
Zion, have no fear,
do not let your hands fall limp.
Yahweh your God is there with you,
the warrior–Saviour.
He will rejoice over you with happy song,
he will renew you by his love,
he will dance with shouts of joy for you,
as on a day of festival.
Philippians 4: 4-7
Always be joyful, then, in the Lord; I repeat, be joyful. Let your good sense be obvious to everybody. The Lord is near. Never worry about anything; but tell God all your desires of every kind in prayer and petition shot through with gratitude, and the peace of God which is beyond our understanding will guard your hearts and your thoughts in Christ Jesus.
Luke 3: 10-18
When all the people asked him, 'What must we do, then?' he answered, 'Anyone who has two tunics must share with the one who has none, and anyone with something to eat must do the same.' There were tax collectors, too, who came for baptism, and these said to him, 'Master, what must we do?' He said to them, 'Exact no more than the appointed rate.' Some soldiers asked him in their turn, 'What about us? What must we do?' He said to them, 'No intimidation! No extortion! Be content with your pay!'

A feeling of expectancy had grown among the people, who were beginning to wonder whether John might be the Christ, so John declared before them all, 'I baptise you with water, but someone is coming, who is more powerful than me, and I am not fit to undo the strap of his sandals; he will baptise you with the Holy Spirit and fire. His winnowing-fan is in his hand, to clear his threshing-floor and to gather the wheat into his barn; but the chaff he will burn in a fire that will never go out.' And he proclaimed the good news to the people with many other exhortations too.
3nd Sunday of Advent
December 13, 2015
INTRODUCTION
– (
Zephaniah 3, 14-18a; Philippians 4, 4-7; Luke 3, 10-18
) Our theme for today, as it often is, is summed up in the Psalm refrain: "Cry out with joy and gladness, for among you is the great and holy one of Israel." Our first reading from the prophet Zephaniah goes back about 700 years before Christ. The Assyrians, who lived in the land we now know as Iran, were the dominant force in the Middle East at that time. They were an exceptionally warlike and brutal people. Their capital city was near modern day Mosul. They had just destroyed the northern kingdom of Israel and were harassing the southern kingdom around Jerusalem when the prophet Zephaniah proclaimed today's first reading. (In the Collegeville Bible Commentary, Stuhlmueller places him during the reign of Josiah – 640-609 BC) Most of what is written in the Book of Zephaniah records his efforts to correct abuses among God's people. The part of the Book of Zephaniah that we hear today is addressed, however, to those who are faithful to God. He tells them not to lose hope, but to rejoice and he assures them God will rejoice and sing too because of his love for them and for all the blessings that will be theirs. Imagine how beautiful it would be to hear God singing. When we come to the second reading, we need to be aware that as St. Paul was writing (or dictating) his letter, he was sitting in prison somewhere. Prisons in those days were really bad. Today's prisons would look like a five-star hotel in comparison. Yet, even as he sits in prison, Paul can be joyful and he is able to encourage the Philippians to have no anxiety and to rejoice always.
HOMILY
– Two young brothers got to spend the night with their grandparents right before Christmas. At bedtime, the two boys knelt beside their bed to say their prayers when the older brother began praying at the top of his lungs: "Dear God, I need a new bicycle!" After repeating this three or four times, his younger brother leaned over and said "You don't need to shout, God isn't deaf." To which the older brother replied, "No, but Grandma is!"
Our readings today tell us to rejoice, to be glad – even in the midst of extreme suffering. As we are aware, that's quite a big order. Today is Gaudate Sunday. The name comes from the days when the Mass was in Latin and the entrance hymn began with the words: Gaudete in Domino semper: (rejoice in the Lord, always) and the hymn goes on with: "again I say rejoice."
The other day I saw a book for sale entitled
Real Happiness
. It sounded interesting, so I bought it. It is a very readable treatment of psychological studies on happiness. The author proposed that we all have an idea of what we really need to be happy, but the research that has occurred in the past ten or fifteen years indicates that often what we think we need, is not what we need. Then it describes seven paths to real happiness. I'm just going to identify a few of the items the book describes.
First off, the most basic lesson that research has taught us is that if we're not as happy as we would like to be, it is possible to increase our happiness. That is exactly the message we hear in today's scripture readings. The first and second reading and the psalm tell us to rejoice. That implies it is possible to rejoice, even during difficult times. God would not tell us to do what is impossible.
If you asked a dozen people: "what do you think you need to be happy?" I'll bet most of them would say: "more money." That might be true for many people, but research shows there comes a level of income (around $75,000 a year) when more money doesn't really make for greater happiness. After noting some of the research that proves this, the author gave an example about a man named Billy Bob Harrell, who won $31 million in a lottery. He enjoyed it until it became a major burden to him. He told a friend: it's the worst thing that ever happened to me" and he eventually ended his life by putting a gun to his head. A lot of people believe that marriage to the right person is the key to happiness. They found happy people tend to get married more than unhappy people. Research is showing that it's not marriage that leads to happiness, but it's happiness that seems to lead to marriage. Then there are those who are convinced that physical attractiveness is necessary for happiness. That probably comes from all the ads that try to convince us we need to be beautiful for people to love us. Again research does not support that idea. As an example, fashion models report much lower levels of happiness than the average person. Interestingly, on the whole, happy people consider themselves as being more beautiful and attractive than unhappy people. If you want to change how you feel about your appearance, don't waste time and money on cosmetic products; instead, commit yourself to becoming happier. All these things I've mentioned (more money, marriage, and good looks) contribute to about 10% of our happiness in life. One major factor that influences about 50% of our happiness is genetics. This was shown to be so through twin studies. We can't do much to change our genetics, but obviously this means that a large portion of our happiness (perhaps up to 50 %) remains under our control.
I'm not trying to sell books and I'm not going to try to repeat the whole book, but I do have to mention the seven paths to happiness that the author describes. Each one of these is a chapter in itself. So here they are: CULTIVATING GRATITUDE (that, of course, includes gratitude toward God), KINDNESS AND COMPASSION, LIVING IN THE PRESENT MOMENT (aka mindfulness which is usually achieved through meditation), FOSTERING SELF COMPASSION, BOOSTING OPTIMISM, STRENGTHENING RELATIONSHIPS, PRACTICING FORGIVENESS. I didn't point out all the areas where these seven paths overlap with our faith because this book is meant to teach good psychological principals, but I can see in most of these paths to happiness an overlap with what we have been taught by our faith. It's just that psychological research is backing up some of the things God has already spoken to us. Today he tells us to rejoice – for he is near. Amen.
From December 17, 2006

Prayer Service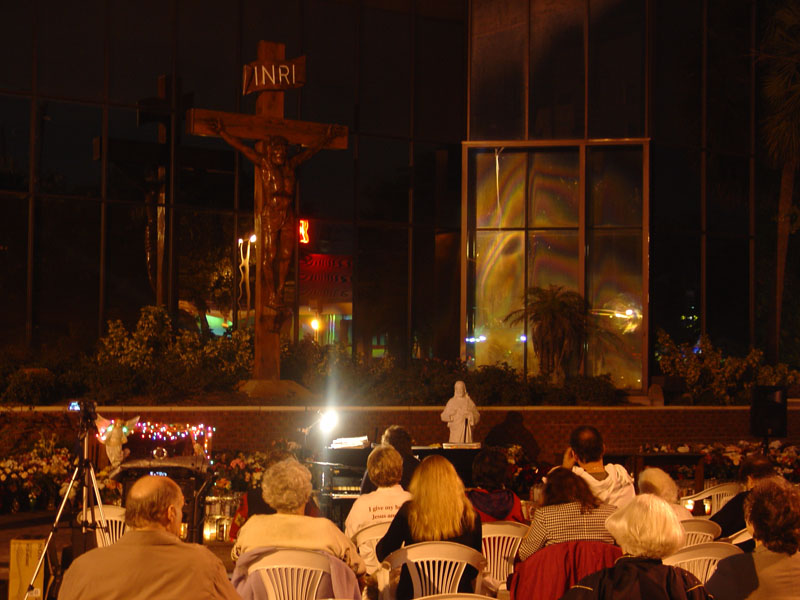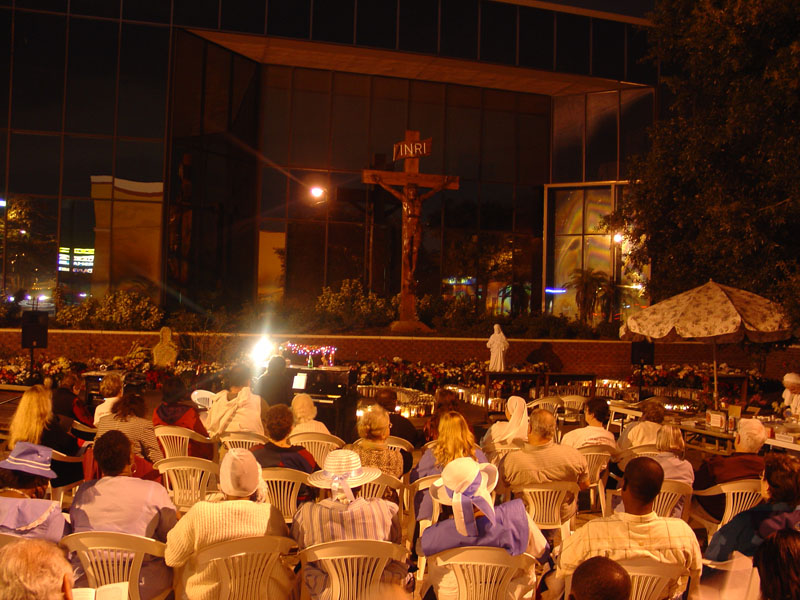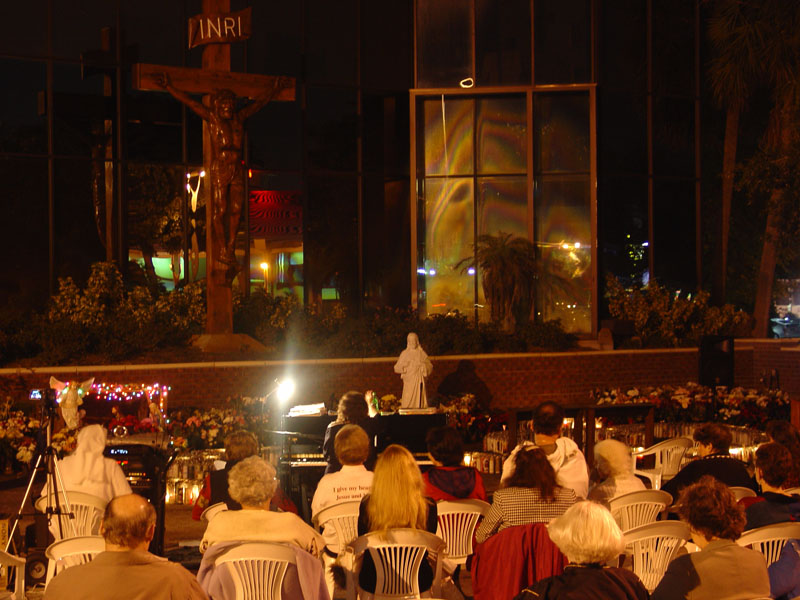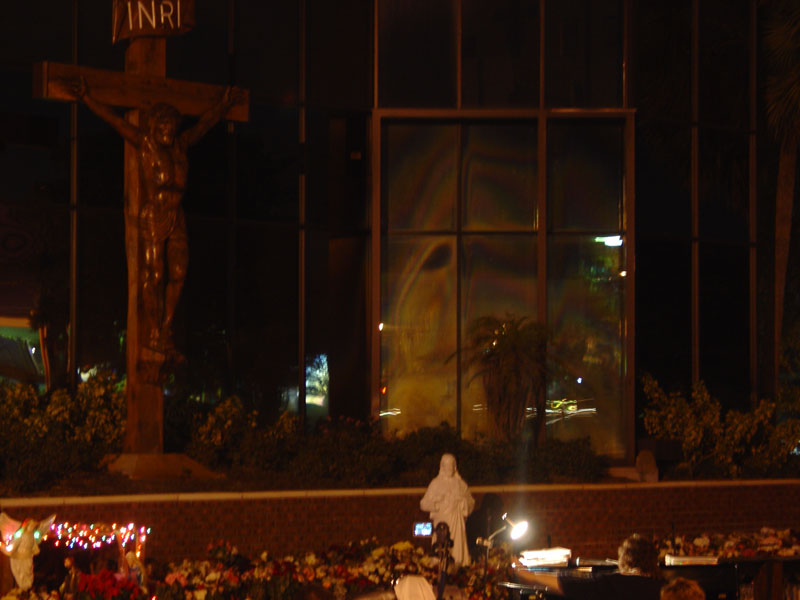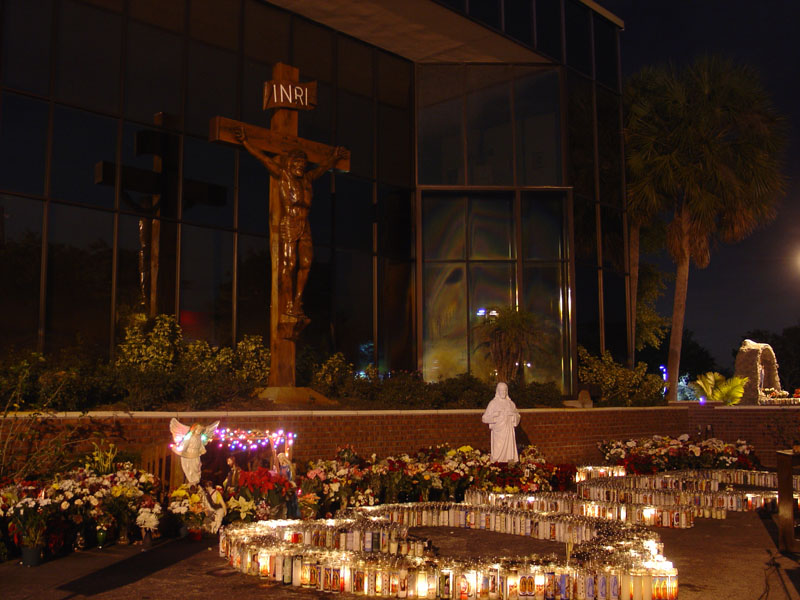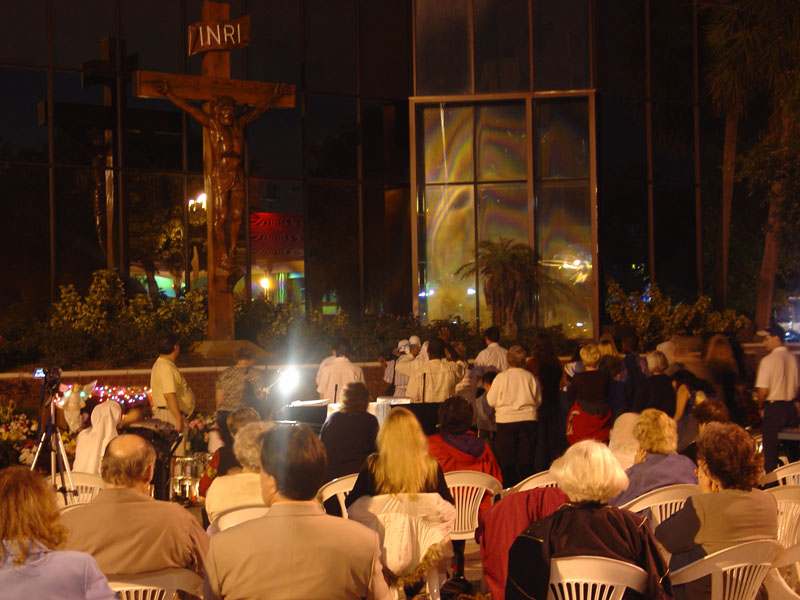 December 17, 2007