Mary has requested that the daily message be given each day to the world. It is read nightly at the prayer service from her Image Building in Clearwater, Florida, U.S.A. This is according to her request. All attempts will be made to publish this daily message to the world at 11 p.m. Eastern time, U.S.A.

---

We acknowledge that the final authority regarding these messages rests with the Holy See of Rome.

---
---
A Prayer for Intimacy with the Lamb, the Bridegroom of the Soul

Oh Lamb of God, Who take away the sins of the world, come and act on my soul most intimately. I surrender myself, as I ask for the grace to let go, to just be as I exist in You and You act most intimately on my soul. You are the Initiator. I am the soul waiting Your favors as You act in me. I love You. I adore You. I worship You. Come and possess my soul with Your Divine Grace, as I experience You most intimately.
---
Messenger: Include Our Lady of the Holy Spirit Center in 6:20 prayers.
---
Messenger: I was little and I wore the white dress and veil to receive my first Communion. My mom had died when I was five and I felt very different from everyone else because they had their real moms and their dads were there too. My stepmother, whom I loved, was there, but my real mom was dead and my dad was too nervous and didnít go. I remember receiving Jesus and loving Him so, but was so saddened by the fact my real dad and mom werenít there. I felt different than everybody else.
I wish you to show a picture of Luciaís vision.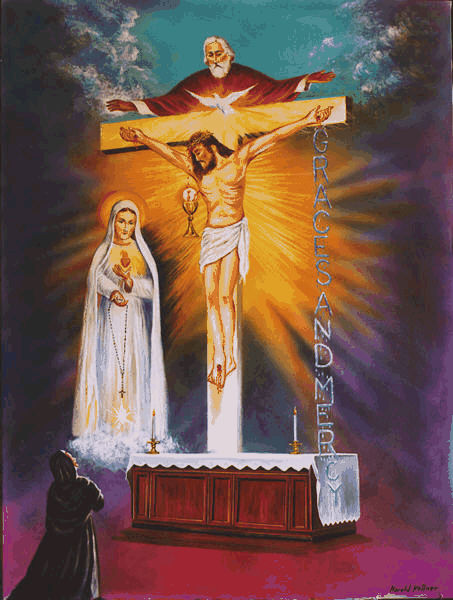 Messenger: We see Mary by the altar and Lucia kneeling. I went to daily Communion most of my life until I was married and had small children. Then there were some years I didnít go. I am not trying to say I was a saint, for I know how I have offended my precious Lord and I am so sorry for hurting Him and for my sins, but many times I would cry at Mass, seeing myself as the little girl going to Communion with the altar the old way and the priestís back to us. I would see myself going to Communion, and I cried because I had this memory of this wishing I would have known more of the great gift I was given at that time and wishing I could have loved Him more.
Today I write to you as He beckons me. The greatest treasure we possess on this earth is Jesus in the Eucharist. The great gift God gives us in the Mass is the greatest source of grace for us.
I wish I would have known through all those Communions more about the great gift I received.
I see the little brides in their Communion dresses and I see myself as He allowed me to see in those experiences with Him as the Bridegroom of my soul from Ash Wednesday, February 25, 1998, until Good Friday that year.
I would see Him dressed in black as I walked the aisle to receive Him and He would give Himself, my Divine God, to me.
How great that vision I experienced with Him as my Divine Bridegroom and the intense oneness I had with the Father, Son and Holy Spirit.
This is only a little story, but today I approach the altar as in the vision of Lucia in the Heart of the Immaculate Mother. Now I know my Mother is always with me, for I come in her Immaculate Heart.
She is the perfect spouse of the Lamb.
She is sinless, I can be more one in Him by dwelling in her sinless Heart.
The splendor I have seen at the altar, but far more than this the experience of being so one in Him, is what He wants me to write about in these revelations.
December 17, 1995, one year exactly before Mary appeared as the Lady Clothed with the Sun, I wrote about an experience in my journal. I wish this to appear here.
---

December 17, 1995

T

HE EARTH STOPPED AND TOUCHED HEAVEN

Messenger: I long to unite in the deepest union with Him in the Eucharist. I long for the Mass. I long for Thee, oh God. My every moment, I join as I did to You December 15 under the cross, where I felt Your presence. You whisked me away, and I was totally absorbed in that moment of celestial union with You. For that time, I existed only in You, in the deepest union, and I was in this moment existing in You. The earth stopped, and I touched the heavens, all my bodily cares were existent in You. I existed in Your Divinity, my being was in You. There was no desire or wish or wanting, for in that moment, I had all I wanted in You. I was satisfied and wanted nothing but to remain in that embrace. You were the Being, and my being existed in You, but I was only as I was in You - merged in You, knowing and being in Your Divinity and being so full as to feel complete in myself.

You are so enormous, and You surrounded me in a burning embrace, the presence of red fire. I was not little, or "nothing", but existed in this enormous power and being so complete!

I touched eternity, and in that embrace, I knew all the waiting was worth the glory. You enveloped my being, and I was truly merged in the Divine Presence. I was merged in Your being. I existed IN You, with You, in the highest union with You, although I knew I was still distinct from You.

I was fused and absorbed in You, feeling complete and satisfied. To describe this union is far beyond any work of my pen and paper. I pray for the reader of this page to receive the grace to share this experience with Him, I will now live for this union-to be forever merged In Him, to be One in Him, to reach higher perfection as I exist in Him, for He takes the lowly and gives to them a sharing in Himself. He merges with us and we exist in Him. The word "in" - I could write pages about. I long for the deepest union with Him, where I am swept up in the heavenly embrace of the Divine God, and I am IN Him.

This is heaven on earth: to be merged as one with Divinity, although remaining distinct from God, to take our feeble hearts, our lowly status and to unite ourselves with the Divine, Almighty, powerful God and in this union to be meshed with Him, that His power dominates and our humanity reaches its heights of fulfillment in this union, in this oneness with Him.

The word I have looked for is "oneness." I understand some of the meaning of the words "One in Him." Oneness is the word to describe this union of our humanity with His Divinity. The depth to which we could meditate on oneness with God is incomprehensible. In that moment, the earth stood still, and He, my Divine Lover, the Bridegroom of my soul, took me to Himself, and I knew the embrace of the Divine God.

Nothing on the face of this earth can describe our union with Divinity. Oh, good God, that creatures are so ungrateful regarding Your divine love. I am so sorry. Let me help make reparation to Your adorable Heart. Please unite with me now that I may more deeply love Thee.

Oh, Divine Lover of my soul, let me help make reparation to Your adorable Heart for the neglect and indifference against You.

Song from Jesus: I come to you with greatest love. I am your loving Savior. I am your God. I died for you. I come to you this day.

Messenger: He allowed me to experience such pain in my heart - wanting Him so badly, so many times-and then on Dec. 15, 1995 - He gave Himself to me in the deepest union.

Nothing satisfies the soul but Him. He wants the nuns and priests to love Him. He chose them to spread His love.

Souls are hungry. They will only be fed with His burning love. Priests need to talk about Jesus' love for us from the pulpit. Priests need hearts burning for love of Jesus. This will feed the hungry souls - lip service love doesn't do it.

He is alive today. He is a Person. He wants us to love Him.
---
Messenger: It is not a "headish" knowledge that He reveals here, but one that is simple and filled with great wisdom.
It is burning-on-fire-love of the Sacred Heart of Jesus.
It is the purity of their two Hearts.
It is what He wants from us as the body of Christ, He wants us to be one as He prayed before He was arrested.
---
John 17: 20-25
I pray not only for these
but also for those
who through their teaching
will come to believe in me.
May they all be one,
just as, Father, you are in me
and I am in you,
so that they also may be in us,
so that the world may believe
it was you who sent me.
I have given them the glory
you gave to me,
that they may be one as we are one.
With me in them and you in me,
may they be so perfected in unity
that the world will recognise
that it was you who sent me
and that you have loved them
as you have loved me.

Father,
I want those you have given me
to be with me where I am,
so that they may always see my glory
which you have given me
because you loved me
before the foundation of the world.
Father, Upright One,
the world has not known you,
but I have known you,
and these have known
that you have sent me.
---
Messenger: He wants us to unite in the Mass at every moment as a body dwelling in Their pure and holy Hearts.
I wish someone would have told me this.
I love Jesus in the Eucharist.
I am the spouse of the Lamb.
We are brides of Christ in the body of Christ, we are to bring forth children.
Now look at Luciaís vision.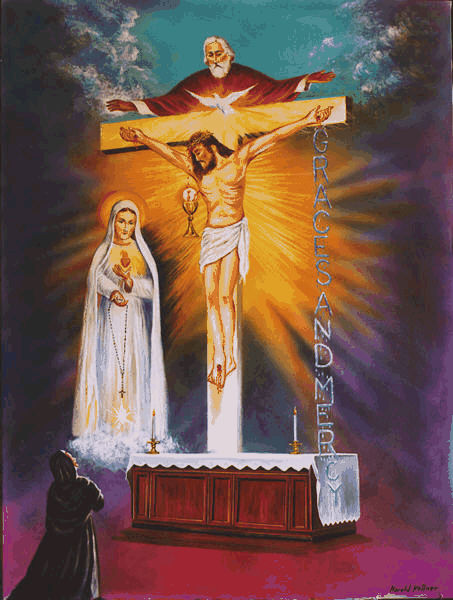 I want priests to tell me when I go to Church about my part in helping to save souls.
I am a bride of Christ, I wear white, my job is to help bring forth fruit for the kingdom.
I can partake at every moment in the work of redemption by offering my life daily in the Morning Offering with Christ to the Father in the Holy Spirit through the powerful intercession of Our Lady in union with the Holy Sacrifice of the Mass.
I am a member of the Body of Christ and I am united to the Holy Sacrifice of the Mass being celebrated around the world.
I want to hear the priests tell me about uniting in the Morning Offering, that no matter what I do I am helping to save souls if I am living according to the Fatherís will in love.
---
A MESSAGE FROM JESUS: FOR YOU MY APOSTLES OF MY SACRED HEART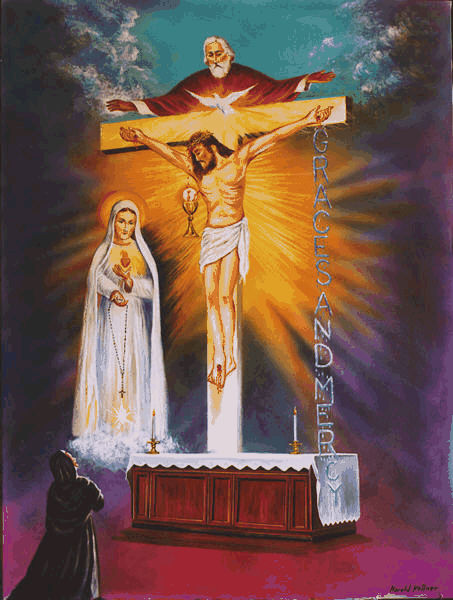 ---
Jesus speaks: I request this that you PASS OUT IN FLORIDA (December 16 through the Christmas season) AND CHINA (December 12, 13, 14):
PRAY THE MORNING OFFERING

Pray to the Father, in the name of Jesus in the Holy Spirit with all the angels and saints and the souls in purgatory, in union with the Holy Sacrifice of the Mass, through the powerful intercession of Mary,

PRAY FOR SOULS
YOUR FAMILY
THE CHURCH
THE WORLD
THE PRIESTS
THE SHEPHERDS OF CHRIST MOVEMENT.

I BEG YOU TO UNITE ALL YOUR ACTIONS WITH EACH OTHER AND OFFER THEM UP AS A PRAYER.

GRACE will be poured out on the earth. I love you, Jesus

PASS THIS OUT wherever possible. I love you, Jesus
---
Messenger: I beg you, priests, to tell the people.
I have never heard any priest tell me to stay united to the Mass all through the day except Fr. Carter.
My life is short here, as a bride of Christ I want to be impeccably pure to unite with Him in this act in which He gives Himself to me.
Mary was conceived without sin.
Maryís Heart is sinless.
Mary is pure.
In going through her Immaculate Heart, everything I offer to God is more pure.
In dwelling in His holy and pure Heart, everything I offer becomes a more pleasing sacrifice.
It is offered through the pure and holy Heart of this God-made-Man and Maryís Immaculate Heart.
I AM A BRIDE OF CHRIST.
I AM A MEMBER OF HIS BODY.
I CAN BRING FORTH FRUIT.
CHRIST IS THE FIRST FRUIT.
I come through her Immaculate Heart to bring forth great fruit.
He is the VINE.
I am the branch.
I live IN HIM.
Through Him, with Him and in Him.
How deep is the union with God when in the act of giving Himself to us He enters our body.
Do we see the depth in which He gives Himself to us? To come to us, to give us His Body and Blood!
Oh God, I know the lights of heaven and I am left empty here as in a parched desert.
I know oneness and people think gift giving and small talk about football is oneness.
Oh God, oneness is to share a meal.
The Family of Christ unites, moment by moment, in the Holy Sacrifice of the Mass.
I received the Prayer before the Holy Sacrifice of the Mass on December 27, 1995. This prayer has circulated all over the world. Jesus wishes that we circulate it in any way possible.
---
Prayer before the Holy Sacrifice of the Mass
Let me be a holy sacrifice and unite with God in the sacrament of His greatest love.
I want to be one in Him in this act of love, where He gives Himself to me and I give myself as a sacrifice to Him. Let me be a holy sacrifice as I become one with Him in this my act of greatest love to Him.
Let me unite with Him more, that I may more deeply love Him. May I help make reparation to His adorable Heart and the heart of His Mother, Mary. With greatest love, I offer myself to You and pray that You will accept my sacrifice of greatest love. I give myself to You and unite in Your gift of Yourself to me. Come and possess my soul.
Cleanse me, strengthen me, heal me. Dear Holy Spirit act in the heart of Mary to make me more and more like Jesus.
Father, I offer this my sacrifice, myself united to Jesus in the Holy Spirit to You. Help me to love God more deeply in this act of my greatest love.
Give me the grace to grow in my knowledge, love and service of You and for this to be my greatest participation in the Mass. Give me the greatest graces to love You so deeply in this Mass, You who are so worthy of my love.

-God's Blue Book, December 27, 1995
---
Messenger: Included is an entry I received that day.
---

December 27, 1995

L

ET US LOVE THE TWO HEARTS OF JESUS AND MARY
IN THE RECEPTION OF THE HOLY EUCHARIST.

HE GAVE HIMSELF TO US ON THE CROSS. HE GIVES HIMSELF TO US IN THE EUCHARIST.

Messenger: How great was the act of love, God gave to this world, when He gave Himself and died on the cross. He gives Himself to us this day in the Holy Eucharist.

The greatest commandment is that we must love God with our whole heart, our whole soul, and our whole being. This is a commandment. If we are to enter heaven, we must follow the commandments. They are commands given by God for us to follow.

The greatest act we can do on this earth is an act of loving God. The reason for our existence is to love God. In the sacrament of His greatest love, He gives Himself to us. This is an act of love on His part. We are called to respond by giving ourselves in love to Him.

This is the purpose of the Holy Eucharist: to unite in such oneness with our Holy, Loving God. Our all consuming passion should be that of loving God. How many go to the Eucharist with the sole purpose of giving great love to God? He wants us to love Him. He wants souls to tell Him how much they truly love Him. This is the most intimate act of love when Jesus gives Himself-Body, Blood, Soul, and Divinity to man. If it is such an act of love, how are we receiving Him in Communion? We should beg God, in this most intimate union with Him, to help us to love Him with greatest love.

Jesus is a Person. He wants our love. The Holy Spirit wants such intimacy with us. Our Father wants us to love Him. In the Eucharist, we unite with God. In this intimate act of uniting with our beloved God, with Divinity, we must pour out our love to God. We must pour out our heart to the most adorable Heart of Jesus. Jesus is so unjustly treated by many of His beloved souls He loves so much. Let us help make reparation to the Almighty God by loving God with our whole heart, our whole soul, and our whole being in the sacrament of His greatest love. This is the Gift of Himself.

Think of how it is to love someone and give your all for that person, to pour out your heart to him or her and then be treated with coldness and neglect. It hurts our heart so much more when we deeply love someone to be rejected by that person. Jesus loves us with the deepest love. We cannot fully comprehend this love. Let us love Him with the deepest love. Let us love Mary and her Immaculate Heart. Let us love her as the Mother of God. Let us love her as the virgin who bore the Son of God. May we, in the reception of the Eucharist pour out our love to Him, to this adorable Heart. May we pour out our love to His Holy Mother.

Mary said at Fatima that Jesus wants His Heart venerated next to the heart of His Mother. Let us love these two Hearts as we receive the Sacrament of the Eucharist. Then we are so deeply united with God. We see Their two Hearts surrounded with thorns for the injustices against Their Hearts. Let us help make reparation daily as we receive Him in the Eucharist. This is a special time to help make reparation to Their wounded Hearts.

Let us remember how He poured His love out to us on the cross and how He pours out His love to us now when He gives us Himself in the Eucharist, the Eucharist which contains His Heart of burning love. His Heart was pierced with a lance. Her heart was invisibly pierced with a sword. As the wounds in Their Hearts are deep, so too is Their love so deep.

He does not want "surface love". He wants hearts filled with deep burning love.
---
Messenger: Six years ago today, I received the following message:
---
The Bridegroom Awaits
December 27, 1993 - 4:00a.m.
Jesus speaks: Dear child, the Son of Man waits and you sleep in the night. I wait for you and you sleep. You know I am waiting and you are dead in your bed. Awake, My little one, when I call. You must not give in to the desires of the body. I care for your needs. Your strength comes from Me. Jump from your bed, sound the trumpet and arise, for your Savior comes in the night to bring you a message for all His children. Ready yourself, for I do not like to wait. Get up and come, child. I am God.
I am He Who made the world, He Who makes the sun shine and the baby in the womb! You make Me wait while you sleep. Rise and run, for the Lord is at hand. God awaits you and beckons you to be attentive to your calling. Sound the trumpet! Arise in the night. I am He Who comes to you. You must harken to the call. Come pronto to My request and do not tarry. I wait and I wait and I eagerly want to talk to you.
I am Jesus, Son of the Living God. Oh, child, I want these messages to reach the ends of this earth. I deliver each with such love. Will you deliver My messages to all My loved ones? They eagerly need to hear My words of love. They need to know how I feel about each one of them. They need to know that I am God. I love each child uniquely and My love is the love of God. What can you get on this earth that can compare to the love of God? You have a message declaring My love for each of My children. They are My love letters to them. Please see that they receive this letter. This is your top priority. It is a love letter to My beloved ones.
I am your Savior. I am not a myth. I am alive and I come to you. I wait in the tabernacle every day as a prisoner. Waiting and waiting in the tabernacle and who comes to be with Me? I await you, My children, to come and realize that God is in the tabernacle. I am Jesus, the Son of God, and I wait for you every day. Come to Me in your busy day. Come to Mass. Make ready your hearts and receive Me in Communion. I am there awaiting you as a groom awaiting his bride. I want to be with you, united in Holy Communion. I am truly present there, but which of you come? I wait for each of you. I am God. I can love you each so intently you do not understand. Your brother does not make up your love to Me. I wait, you little ones. Will you come and receive your love this day?
Ready your hearts and keep them holy. God will enter there. Prepare the way for Me. Do not sin. Do not lie to yourselves and tell yourself that some sins are of no account. Every sin is wrong. I tell you what is right and wrong in your hearts. You know the Ten Commandments. Satan tells you "but in this case, you are exempt", "this is out of date, you are allowed here." No, little ones, sin is sin and your heart knows what is wrong! Keep it pure. The more you lie to yourself about evil, the more right it becomes. Oh, how sad to numb your beautiful heart and accept the things of this world that are evil as okay. Evil is evil and you must guard against any evil the world tells you is okay.
I am the way, the truth and the life. When you abide in My ways, you possess the light of life. Do not be pulled into the world and its evil ways. Ready yourself for My love. I am as a bridegroom awaiting his bride. So pure, so white, so untainted she appears, just for her loved one. Her ways are gentle and kind and she is a picture of holiness, dressed in a white gown. Dress your soul in a white gown for Me. Keep your soul clothed in a cloth of dignity, a white cloth untainted by any sin, pure as the bride who meets her groom. Our meeting is with such love.
You enter My church, you walk My aisle. Your bridegroom awaits you in Communion. I am the bridegroom of your hearts. I come with such love to enter your soul. I am He Who walks with you to be united in Communion. I am Jesus. I am your true Love. I wait for you, My child. Please clean yourself up for My arrival! Think of My coming the day before and eagerly await our union. This is the greatest event of your life, union with God. Anticipate it with such eagerness, as the wedding of our hearts. I await you, little ones. I am God. What could this world ever give you that can be likened to God's entering your soul?
I am God and I come to you in Communion. Do you wait for Me, the bridegroom of your soul? Do you wait as one who is going to one's own wedding? This event far surpasses any wedding. It is you who are missing the significance here. I am here every Mass waiting, just for you. Get dressed, purify yourself, see the priest, go to confession, guard your tongue as the opening to your soul. I enter therein and you receive God, my child. Do you not comprehend this a little?
Read My words here. They are as real as the eyes you use to read them. It is you who blind yourself to all I have to give you. You do not reach with the things of the soul. You look for explanations in bodily things. To see the soul and the things of God you must reach with the eyes of God. You must be opened by the faith I eagerly want to give you. Beg to be open to Me so I can give you all you need to know Me. This world is blurring your Godly vision. It is hard to see through the mask of evil it has created. Every day the mask becomes more dense.
I am here, little one. You must die to this world to see Me. You don't need more of the world. You need less of the world. As the world decreases, your knowledge of Me increases. Take the mask off your face. Make your hearts pure. Pray to the Holy Spirit for His gifts of wisdom, understanding, counsel, fear of God-all gifts that only He can give! Fill your hearts with the gifts of the Spirit. He will remove the blinders from your eyes and dwell in your soul. You will know a new life and I will become so much more alive to you. You, child, need the Spirit!
The way to God is through Jesus. You need the Spirit. You need the Father. You need all three. Pray to be made whole in the Holy Trinity. Pray for union with God. Pray for the things of the soul. When your soul is in order, all else falls into order. You needn't pray for things of the world. Pray to know Me more fully. Pray for unity with God. Pray for opening in your hearts. Pray for holiness. Pray for faith, hope, charity. Pray for knowledge of how to please God. These are the true treasures. All else is of no account. Don't recite prayers for worldly things. Pray for your union with God. This is what it is all about!
I am so eager to make Myself known to you. Our love affair awaits and it depends on you. I am here loving you. It is you who keep us apart. What could you find on this earth that could compare with a love affair with God, child? Your soul was created to know love and serve Me. It craves this union with Me. This appetite is stronger than any other you possess. You hold it back and make light of it because this world has taken God out. This world is messed up. I am God and you are a creature of God. You cannot take God from you or you remain only a creature. What dignity you sacrifice to remove God from yourself!
Prepare for the wedding of our souls. Your bridegroom awaits you. I am Jesus, Son of the one, true, God. I await your union with Me. Child, nothing you ever do on this earth can compare with Communion with God. If you do not behold this as something, you need to pray to know Me more. Go to the Spirit and beg Him for understanding and wisdom. Beg Him for all his gifts to enhance your knowledge of God. Beg the Spirit for His baptism. Let Him shower you with His life and you will become alive and on fire in your heart.
Your bridegroom awaits you. Prepare yourself for the wedding. Come, pure and white, and anticipate this union with eagerness. I love you so, My child. You will never find a speck on this earth that can compare with the love of God. Search, you feeble creature, for worldly satisfaction and you will never satisfy one little part of your soul. Your soul can only be satisfied by the love of God. It stalks your restless heart and is only satisfied in God. It craves God like an appetite except that it is much stronger. What is in your heart that is never satisfied by your worldly way? It is the soul that craves union with God. It constantly keeps you in a state of unrest, of searching, of seeking, of looking for more. The more is found in the Eucharist. It is the answer to the empty heart. It is the love you seek, but cannot find anywhere else. It is Jesus, child. It is your Bridegroom. Come and be in Communion with Him. He awaits you and bids you to come, pure in your heart, to the wedding-the wedding of your soul.
Messenger: I felt as if there was so much I just did not understand and I was overwhelmed by the mystery of God. I opened the Blue Book to this:
Nov. 21, 1993:
Jesus speaks: Oh, what glories I have in store for you when you finally see it all, see all there is to Me! Little glimpses I will give you. These are special treats of My love, but you, in your earthly form, cannot even handle it. My power, My light, My fire would blow you off your feet and you would be out cold.
That is how I am at your side, with a power pack like this, and you worry about a power failure? Oh, how silly, when I am with you. Trust, trust. I am here.
---
Messenger: Jesus requested in January of 1994, that this message be circulated, especially to priests.
---
December 27, 1999 - Second Message
Given December 26, 1999
DO NOT BLAME OTHERS FOR THE WAY YOU FEEL
ADDICTIONS
Jesus speaks: So you donít feel good.
So you are filled with pain.
Some do not even recognize their pain.
They try to fix everybody else and never look at themselves.
Look at yourselves.
Feel the pain.
You must pray to eat and drink according to Godís will, and not take in things against Godís will.
Some people are addicted to excitement.
Some people are addicted to people.
What do you think will make you feel better?
You must live healthfully, you must eat healthfully, you must treat your body correctly, you cannot abuse it, you cannot abuse others in word or deed or in anger.
If you are feeling bad, do you look outside yourself for a solution and then you feel better? Do you blame your bad mood on others?
The thoughts of many will be laid bare.
YOU WILL HAVE TO ADMIT the hard, cold truth.
Generations of pain have been passed down.
Some parents numbed their pain with sex, some with alcohol, some with lots of flirtatious conduct, alluring conduct.
I call you to respect every person as a temple of God. You will be held accountable for how you acted.
You are here to grow in your ways of loving. You are not responsible to fix the world and never look at yourself.
Do you reach for a drink, candy, a person, a game, a movie, when you donít feel good? Using Godís gifts according to His will is what is important, moderation as He wills.
You may never look at your true self. You rely on cigarettes, (tobacco), drink, another person, whatever it is.
You cannot be addicted to foods or people, sports, television, games, sex, etc.
What is your heavenly Father telling you?
You must obey the commandments.
You are here to do His will.
You cannot just do anything you want. He gives you a free will. Acting in ways against Godís will affects yourself and everybody else.
Feel the pain, write about it. Pray all through the day for Godís help and to know the truth.
I love you. During this dark time of the year, you may experience great darkness. Stay rooted in Me, donít do things to others when you are angry. Handle problems that must be handled in love.
I love you, Jesus.
---
Question for married couples and others in intimate relationships:
Q: How do I feel when you shut me out of your life and I cannot share your burden?
---
---
---

Copyright © 1999 Shepherds of Christ.
Rights for non-commercial reproduction granted:
May be copied in its entirety, but neither re-typed nor edited.
Translations are welcome but they must be reviewed for moral and theological accuracy by a source approved by Shepherds of Christ Ministries before any distribution takes place. Please contact us for more information.
All scripture quotes are from the New Jerusalem Bible, July 1990, published by Doubleday.
Revised: December 27, 1999
URL: http://www.SofC.org
Contact Information for Shepherds of Christ
Email: info@SofC.org
---
Shepherds of Christ Ministries
PO Box 193
Morrow, Ohio 45152-0193

Telephone: (toll free) 1-888-211-3041 or (513) 932-4451
FAX: (513) 932-6791