February 8, 2017
R. From Fr. Carter's Class
Christian Life and Celebration
To establish a comprehensive view of
what is necessary for the maintenance
and development of full Christian
living.
Christian Life
(1) Response to God's Love
(2) Participation in God's life
(3) Elevation of human nature
(4) Living in the Christ-life
(5) Life in the Holy Spirit
Mary's role is Mother at our side.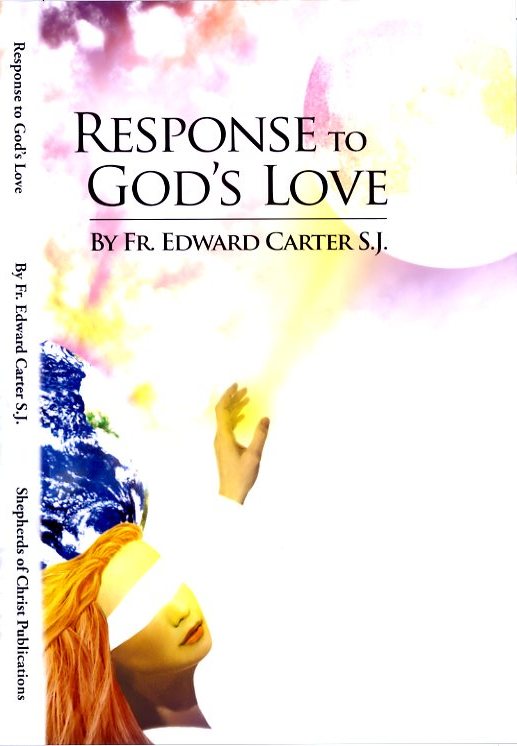 Excerpt from Response to God's Love by Fr. Edward Carter, S.J.
... In reference to Christianity, God himself is the ultimate mystery. Radically, God is completely other and transcendent, hidden from man in his inner life, unless he chooses to reveal himself. Let us briefly look at this inner life of God.

The Father, in a perfect act of self-expression, in a perfect act of knowing, generates his son. The Son, the Word, is, then, the immanent expression of God's fullness, the reflection of the Father. Likewise, from all eternity, the Father and the Son bring forth the Holy Spirit in a perfect act of loving.

At the destined moment in human history, God's self-expression, the Word, immersed himself into man's world. God's inner self-expression now had also become God's outer self-expression. Consequently, the mystery of God becomes the mystery of Christ. In Christ, God tells us about himself, about his inner life, about his plan of creation and redemption. He tells us how Father, Son, and Holy Spirit desire to dwell within us in the most intimate fashion, how they wish to share with us their own life through grace. All this he has accomplished and does accomplish through Christ. St. Paul tells us: "I became a minister of this Church through the commission God gave me to preach among you his word in its fullness, that mystery hidden from ages and generations past but now revealed to his holy ones. God has willed to make known to them the glory beyond price which this mystery brings to the Gentiles—the mystery of Christ in you, your hope of glory. This is the Christ we proclaim while we admonish all men and teach them in the full measure of wisdom, hoping to make every man complete in Christ" (Col 1:25-28).
end of excerpt
R. God is the ultimate mystery.
God is other and transcendent, hidden
in His interior life unless
He chooses to reveal Himself.
God's self expression → WORD immersed into man's world
INNER EXPRESSION → OUTER EXPRESSION
MYSTERY OF CHRIST
MYSTERY OF GOD becomes MYSTERY of CHRIST
In Christ God tells us about Himself, about
His inner life
about the plan of creation and redemption.
Father, Son and Holy Spirit want to dwell in us in intimate fashion.
God shares His life with us through grace.
Through Christ we share God's life.
CHRIST IN US
God wants us to go to heaven.
The Mystery of the Christian life is rooted
in the Incarnation.
Mystery of His life in us is
SUMMED UP IN CHRIST.
The Mystery of Christ in us –
Everything the Father wishes to tell us
is summed up in the life of
Jesus of Nazareth –
To Fathom the TRUTH of the
WORD INCARNATE
Hebrews 1: 1-2
At many moments in the past and by many means, God spoke to our ancestors through the prophets; but in our time, the final days, he has spoken to us in the person of his Son, whom he appointed heir of all things and through whom he made the ages.
R. Christ would (1) Release us from the dominion of sin
(2) Elevate us to a new level of existence
Grace Permeates Nature
We are to be an expression of the Christ-life
All of our experiences are made more
deeply human because of Him.
Christ has come to perfect the human
and lead it to graced fulfillment
This is the meaning of Incarnation.
The more God-like we become - the
more human we become.
WE LIVE IN CHRIST
We have been incorporated into the
mystery of Christ –
The Mystery of Christ – the Christ event
---
All happenings or events of Christ's life
LIFE, DEATH and RESURRECTION
Given October 29, 2016
R. Please spread blessed holy water
(You can also mix Jesus and Mary water
with your blessed Holy Water if you have it.)
in your yard, around your house,
in the state you live in.
And ask God to bless your state
Ask God to bless the United States
Pray all prayers through the intercession of
Our Lady of CLEAR – WATER.
Ask the Lady of CLEAR - WATER
to help with the blessed water.
Mary has appeared to me for 22 years,
in Ohio and Florida.