R. Order
Adam and Eve brought disorder from
obeying satan and disobeying
God.
Knowing one's place is knowing
God is first and we
obey the Commandments
of God –
What are the Commandments of God?

The Ten Commandments
1. I, the Lord, am your God. You shall not have other gods besides me.
2. You shall not take the name of the Lord, your God, in vain.
3. Remember to keep holy the Sabbath day.
4. Honor your father and your mother.
5. You shall not kill.
6. You shall not commit adultery.
7. You shall not steal.
8. You shall not bear false witness against your neighbor.
9. You shall not covet your neighbor's wife.
10. You shall not covet anything that belongs to your neighbor.

R. How could a person tell
themselves they can
disobey the Commandments
of God?
They are all important rules
God gives us to be happy –
When I taught school, high school
and college classes of freshman,
I had to give assigned seats
sometimes – always in
high school –
It helped to bring the purpose
of why I was there to teach
Math –
When I taught Fr. Carter's class –
I taught about love and
relationships –
I would begin asking them what
they wanted in a relationship
with a significant other –
We made 2 lists what they wanted
in a significant other –
What they didn't want in
a person in an intimate relationship.

The things most college students
wanted were virtues like Jesus –
for example –
Commitment
honesty
true to their word
kindness toward them
respect
love
communication
time

What they didn't want
was:

lack of commitment
lying – untrue to their word
fighting
anger
not being accountable for their actions –
taking responsibility for their actions
standing them up –
wanting to rule them –
using them for their own vain glory
not respect of them and their things,
their wishes
pride
manipulating them
anger
holding out
envy
being mean
jealousy
These were a few the college students
listed on the board

God operates on order –
people are hired in a business
and there is an authority –
people must obey the rules –
and they must be accountable
and responsible –
So many people divorce because
they can't get along –
Our world is suffering because of
injustice done to others –
abuse –
killing babies –
divorces –
lying –
God is light and in Him is no darkness –
God is order –
God lifts us up –
God when He possesses a man
brings joy and love
and unity to the man's heart –
Religious Communities, churches
should bring love and
peace – should bring
order and help from the
troubles of the outside world –
In a business people are hired
so they do the job, they must
work in unity with others –
all are unique, but can work
in profound unity to produce
the work desired.
If a person lies, they are
usually, let go – if they start
fights, disobey authority –
try to hurt other workers –
violate boundaries of others
and the boss – they can't stay
because they are not working
to produce the product,
but bringing division and
darkness where unity is
needed –
Learning to work with others in
unity is maturity Fr. Joe
says.
In Fr. Joe's book Cycle C
Feed My Soul
Fr. Joe says this on page 11 & 12.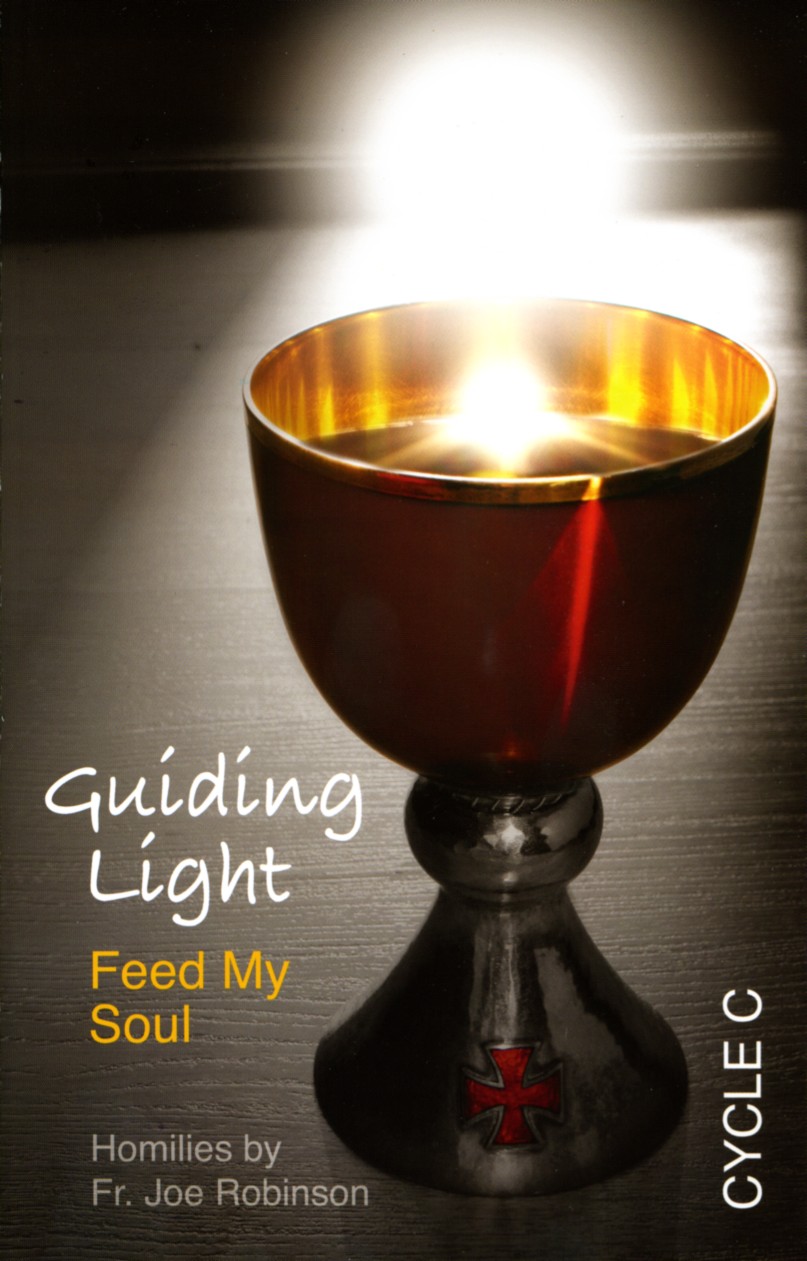 3rd Sunday of Advent -

December 17, 2006
HOMILY: ... In the few minutes I have, let me name some of the things that keep us from having joy: * Feeling sorry for oneself. * Constantly putting other people down to make ourselves look smarter or better. * Putting ourselves down all the time. Because we're human we all make mistakes or do wrong and there are healthy ways of dealing with guilty or shame, but constantly beating ourselves up is not one of them. * Holding on to anger and resentment. It only eats us up inside and does not produce joy. We have to forgive. * Thinking that having more things is going to make us happy. It satisfies us only momentarily. * And then there's fear and worry. Paul says have no anxiety at all. That might sound impossible but there are so many things that cause us anxiety, which we can do nothing about and we have to leave in God's hands.

If self pity, guilt, unforgiveness, anger, resentment, fear, and worry work against our having joy, then what will lead to joy? We must decide to be joyful. Paul tells the Philippians "rejoice" as if it is something for them to choose to do rather than it being something that just happens to them. I think it was Abraham Lincoln who said most people are about as happy as they make up their minds to be. Dr. Hans Selye, the scientist who developed and researched the concept of stress, would agree. He said: it's generally not the things outside of us that create stress for us, but it's the way we respond to these things. Next we need to be good and to do good. Otherwise we won't feel good about ourselves. The people in today's gospel ask the Baptist, "what should we do?" John gave them a few specific ideas. All we have to do is read the gospels or the 10 Commandments and we'll get the idea that there's more to a good life than just to say, "I believe!" Lastly, I think gratitude is the final key to unlock the way to joy. And again, being grateful is an intentional thing, it is an attitude we must develop. St. Paul said: "in everything, by prayer and petition, with thanksgiving, make your requests known to God." A heart that is ungrateful is not happy. This is not all that could be said about joy, but it's probably enough for us to think about today.

My closing words for today are don't make yourselves so anxious this season that you lose the joy that can be found only in knowing Jesus' love. "The Lord, your God, is in your midst."
R. Even repairing a road with many
men takes unity and structure –
It takes men who want to
succeed at accomplishing
the goal of the work and
a time table when they
expect it done –
If you take your car to be fixed
you expect to get it back in
a reasonable time –
they don't hold onto your
car and make you fight
for it while they enjoy
the sport of drama,
control, power and
struggle – not producing
anything but frustration –
They co-operate with the
car owner and work to
accomplish the task –
working in commitment
together with the car
owner and the car
dealership paying them
an honest wage –
Men in life must
cooperate and work
together
Building a road takes
workers that work
together in a time - table
to fix the road.
They don't hold out and say
to those in charge –
not today – day after
day so the work never
gets done.
Seek True Treasures

February 17, 1994 - 5:30 a.m.

Jesus: My little ones, how are you doing? Are you getting bogged down in this weather? Do you know yet that you do not control the elements? You live every day and you think you have much to do to control your actions but you do not see the eyes of Him Who watches over you with loving care.

I give to you this earth and all you need to sustain your life here. Man worries about the earth and if this or that will happen. Man has become so independent that he thinks he controls all things and he needs to worry about his present and future.

You, My favored, chosen ones, know that life here lasts but a moment and like smoke it is gone without a trace. Look at your ancestors. So few people ever remember their ancestors, yet your ancestors thought that at every moment their actions were so crucial. Little ones, you hold on to life. You hold on to these little happenings here and you worry in vain! Look at the big picture, My little ones. Here today, gone tomorrow, and where are you going?

The days go by with such speed. "Oh," you say, "Where have the years gone?" You think every second is so important. You worry, you fret, you wander empty roads and I watch you. I see you with your emphasis on the moment. You are being deceived, My little ones. It is in seeing the moment as part of eternity that you really know what is going on. Each moment you live, you are the teacher about the God Who dwells in your breast. Each moment you live, you are My messenger to this cold, scared world. Nothing you do means anything except as you are serving Me.

Take off your glasses. Behold the life above. See every moment as a drop of the life to come. See every moment as part of eternity. All these drops together make up your pass into My kingdom.

You worry, you wonder, you fret, you hold on. I give you a toothache, I take it away. One second and a toothache is gone. Is that not how it is with life—one second and it is gone? Oh, how those little precious moments seem to die away and you scarce can remember what happened! Yet during people's lives those moments seem earth-shattering. Those moments are yesterday's forgotten memories. You hold on, you fret, you fume and I watch you let go of each moment, only to become forgotten by today.

Store up your moments as part of eternity. Every moment here is part of your pass to My kingdom. How are you living this moment? Is it used to give service to Me and preach My gospel? Are you making all your moments count towards your eternity? Each moment is but a breath and it is gone. Did you use the moment I gave you to do My work? This time is not yours. I can snatch your moments away in one breath. It matters, My children, only as you choose to serve Me and spread My love!

If everyone had God as their primary goal, what love you would possess. What power you would know, because God is the mightiest force. I have all the power. Other power is false power!

Do you get it yet? Do you think anything you hold on to is so precious here? Here today, gone tomorrow, and I snatch you from your seats and you never return to finish what you deemed so important.

Are you comprehending My words here? The body is but an instrument to get you around. Reach with the spirit within. Live from the soul. Communicate with Me in your soul. Look for the unseen world that surrounds you constantly. Die to yourself.

You have a soul at this very moment that is a vibrant spiritual force alive within you. Live from your soul, My little ones. Focus on your soul. Live from your heart. Do not fret and fume for the things of this world. Here today, gone tomorrow, and then forgotten. Today's moments, yesterday's forgotten treasures. Do they mean so much or do you forget what seemed so important?

Reach with the soul. Live for God. Each moment is your chance to store up treasures for eternity. They will never be forgotten. What you do to help others to know Me will never be forgotten. How you loved will never be forgotten. How you gave lives on in those you touched. Your love is like a bubbling brook. It bubbles and keeps on bubbling. Your selfishness dies the moment after you live it.

Love is the force. Love is the power that reflects the God above. Love is not selfish. Love does not demand its own way. Love gives and doesn't stop giving. On the day of judgment it will be found in the hearts of those you touched. Think of only yourself and watch your moments become yesterday's forgotten moments. Love your brothers and watch the world reflect the love you gave, from now to the end.

Love or selfishness? I call you to love. I call you to plant a seed that grows into a mighty oak. Plant My seeds of love. Ask not how you can attain your goal but how you can fulfill the goal of God. Love God, love one another. Too simple, too hard for many.

Love, children. Reflect the God Who dwells within your soul. Store up your moments forever lest they become yesterday's forgotten treasure.

Like ripples on a pond, your love never dies. It reaches on and on and goes into the moments of eternity. Love is lasting. Love never dies. Love God, love one another. Die to yourself and live.

end of excerpt
1st Sunday of Lent
Genesis 2: 7-9; 3: 1-7
Yahweh God shaped man from the soil of the ground and blew the breath of life into his nostrils, and man became a living being.

Yahweh God planted a garden in Eden, which is in the east, and there he put the man he had fashioned. From the soil, Yahweh God caused to grow every kind of tree, enticing to look at and good to eat, with the tree of life in the middle of the garden, and the tree of the knowledge of good and evil.

Now, the snake was the most subtle of all the wild animals that Yahweh God had made. It asked the woman, 'Did God really say you were not to eat from any of the trees in the garden?' The woman answered the snake, 'We may eat the fruit of the trees in the garden. But of the fruit of the tree in the middle of the garden God said, "You must not eat it, nor touch it, under pain of death." ' Then the snake said to the woman, 'No! You will not die! God knows in fact that the day you eat it your eyes will be opened and you will be like gods, knowing good from evil.' The woman saw that the tree was good to eat and pleasing to the eye, and that it was enticing for the wisdom that it could give. So she took some of its fruit and ate it. She also gave some to her husband who was with her, and he ate it. Then the eyes of both of them were opened and they realised that they were naked. So they sewed fig-leaves together to make themselves loin-cloths.
Romans 5: 12-19
Well then; it was through one man that sin came into the world, and through sin death, and thus death has spread through the whole human race because everyone has sinned. Sin already existed in the world before there was any law, even though sin is not reckoned when there is no law. Nonetheless death reigned over all from Adam to Moses, even over those whose sin was not the breaking of a commandment, as Adam's was. He prefigured the One who was to come . . .

There is no comparison between the free gift and the offence. If death came to many through the offence of one man, how much greater an effect the grace of God has had, coming to so many and so plentifully as a free gift through the one man Jesus Christ! Again, there is no comparison between the gift and the offence of one man. One single offence brought condemnation, but now, after many offences, have come the free gift and so acquittal! It was by one man's offence that death came to reign over all, but how much greater the reign in life of those who receive the fullness of grace and the gift of saving justice, through the one man, Jesus Christ. One man's offence brought condemnation on all humanity; and one man's good act has brought justification and life to all humanity. Just as by one man's disobedience many were made sinners, so by one man's obedience are many to be made upright.
Matthew 4: 1-11

Then Jesus was led by the Spirit out into the desert to be put to the test by the devil. He fasted for forty days and forty nights, after which he was hungry, and the tester came and said to him, 'If you are Son of God, tell these stones to turn into loaves.' But he replied, 'Scripture says:

Human beings live not on bread alone
but on every word
that comes from the mouth of God.'

The devil then took him to the holy city and set him on the parapet of the Temple. 'If you are Son of God,' he said, 'throw yourself down; for scripture says:

He has given his angels orders about you,
and they will carry you in their arms
in case you trip over a stone.'

Jesus said to him, 'Scripture also says:

Do not put the Lord your God to the test.'

Next, taking him to a very high mountain, the devil showed him all the kingdoms of the world and their splendour. And he said to him, 'I will give you all these, if you fall at my feet and do me homage.' Then Jesus replied, 'Away with you, Satan! For scripture says:

The Lord your God is the one
to whom you must do homage,
him alone you must serve.'

Then the devil left him, and suddenly angels appeared and looked after him.
1st Sunday of Lent
March 9, 2014
INTRODUCTION –
(Genesis 2,7-9; 3,1-7; Romans 5,12-19;Matthew 4,1-11) Today's first reading tells us the story of the creation of our first parents, their temptation and their fall from grace. The story is more theological than it is historical. It tells us God created the human race to be happy and to share in his grace and friendship. This is symbolized by the Garden of Eden where our first parents had all their needs met. But things didn't turn out as well as God intended. This story presents one explanation for the problem of evil in the world, a problem that St. Paul attempts to explain in today's second reading. In these passages we are told that evil finds its source in our decision to give in to temptation, in our attempt to make our own rules and to use our free will to say "no" to God. In the gospel, Jesus, who has come to save us from evil, has shown us how to resist temptation.
HOMILY –
A wife noticed on her husband's workbench a broken vise. Being a very thoughtful person, she decided to buy him a new one for his birthday. She went to the hardware store and asked the salesman, "Do you have any heavy-duty vices?" "Sorry," he replied. "I gave them all up for Lent." (Reader's Digest: Laughter, the Best Medicine, pg. 286)
Getting rid of some of our vices, whether heavy-duty or not, is what the Church is trying to get us to do as we begin this holy season. We have just heard two stories from the Bible: a story about Adam and Eve and a story about the temptations of Jesus. Let me begin by talking about our first parents. Science tells us the first modern humans appeared to have lived about 200,000 years ago and this Scripture passage was written around 3,000 years ago. Since no one was probably around to record what was happening 200,000 years ago, the important message here is not a historical description of the beginning of human life but the theology it teaches us. Behind this story is the concept that God has the authority to tell us what we must do and not do. It is a concept that a greater and greater part of our culture seem to ignore as they create their own rules about what is right and wrong, sinful or not. Our first reading also gives us a typical picture of temptation. Like Adam and Eve, we often find ourselves attracted to something God said we must not have or do, and we become convinced God is just trying to keep us from being happy or fulfilled. The story of Adam and Eve is the story of all of us. Temptation is an illusion, and giving in to it may please us for a moment, but it does not really bring us any lasting happiness. Usually it leads to problems. It certainly affects our relationship with our own conscience (if it's in good working order) and it affects our relationship with God and not in a positive way.
This leads us into the gospel reading about Jesus who showed us that temptation can be overcome with the help of God's word. Matthew, Mark and Luke tell us in their gospels that after Jesus was baptized and the Spirit came upon him, the Spirit drove him into the desert where he remained for forty days and was tempted by Satan. It's Matthew and Luke who describe Jesus' temptations for us. They are certainly different than the run of the mill temptations most of us have to deal with. Jesus' temptations dealt with if and what kind of Son of God he was. Remember that at Jesus' baptism, God the Father spoke about Jesus: that Jesus was his Beloved Son, with whom he was well pleased. So in the temptations, Satan challenged Jesus: "if you are the Son of God, change these stones into bread" or "if you are the Son of God, throw yourself down from the top of the Temple. Nothing is going to hurt you." The temptations also dealt with his Messianic calling. Satan in effect was saying, "use your special powers to satisfy your hunger, or to get attention from the Jews and their leaders when you come floating down from the top of the Temple, or make yourself powerful over the whole world by adoring me." It is most likely that Jesus was not tempted in exactly this way in the desert, but that he faced actual temptations such as these in the course of his ministry. One example: after Jesus miraculously fed 5,000 people with five loaves of bread and two fish, everyone in the crowd wanted to make him their king. He refused their attempt to elevate him to that position, but I'll bet he might have wondered whether he could have had greater influence over many more people if he allowed them to make him their leader and their king. One temptation I'm sure he went through was during his agony in the garden right before his death. Before Judas showed up with the soldiers, he could easily have walked away from it all, given up preaching and healing and just live a quiet life until he died a peaceful death. But he would not walk away from his ongoing mission of teaching and healing and trying to destroy the power of Satan.
What does all this mean for us? It shows the kind of Messiah Jesus would be, humble, faithful, here to serve and not be served, and ready to pay whatever price this would require of him. It shows what kind of Son of God he was, that he loved the Father with his whole heart and soul and mind and strength. It shows that no matter how holy we are and how filled with the Spirit of God, we still have to guard against the temptations of the devil, for he is interested in leading any one of us astray. He goes about like a roaring lion looking for someone to devour. (I Peter 5,8) It shows that because Jesus experienced temptation, he knows how hard it is to resist and he understands us when we give in to it and is greatly pleased with us when we succeed in resisting it. And he wants us to know that he will help us when we are tempted and he encourages us not to let Satan get the better of us. May this Lent give you greater strength to resist temptation. Amen.