March 14, 2017
From Blue Book 17
October 14, 1997 Tuesday
Sorrowful Mysteries
Song:
Be Not Afraid
The Agony in the Garden
1.
R.
We need to identify everything in our lives with the Almighty God and we know a lot because He has given us so much. There is still a lot that we do not know. But He has taken us into His Heart, we can identify with Him.
2.
R.
We can meditate on the agony of the garden. Jesus is the Son of God. He is God. Jesus knew they would lead Him away as a common criminal and put Him to death.
3.
R.
These were senseless men. These men did not comprehend this is truly God. God runs the universe. The men did not see their blindness. "Blind" means a man that could not see. We could have walked our lives in great spiritual blindness. God truly loves us.
4.
R.
We long and wait for God. There are so many emotions that we experience. Think of Jesus in the garden, and knowing for all time every single sin that would be committed.
5.
R.
Jesus suffered and Jesus knew the evilness in the hearts of many hearts that were created by the Father for love.
6.
R.
Jesus saw all this in the Garden and He sweat Blood.
7.
R.
I suffer much anguish, my precious Jesus, because I want this earth to know You and to love You, to bow before You, to spend time with You. I suffer greatly inside because it feels as if I can not reach so many of those I want to or even know how to. It is immensely, great suffering to know God even a little and to be in this world today, for this world is not focused on Him as they should be.
8.
R.
And He speaks, and He says to the people –
Jesus: My beloved ones, My chosen shepherds, I am God. I come and I stand before you in My robes that are robes of glory. You do not comprehend that life is in Me. Quit worshipping the molten calf. Give honor and glory to God. Give honor and glory to God. Why do you worship the calf? I watch you and I am saddened by men who have dark hearts. Many do not even think of God and His ways.
9.
Jesus:
But I am with you at every moment, and I watch you struggle and I watch you suffer. But it gives Me great delight to know that you are aware of My presence with you. And so I say to you this night to put on Christ in all your ways, in all of your thoughts, in all of your actions, in everything that you do, you are to put on Christ. I live in you. I live in this world in you. My shepherds, I want to live in you, operate through you in the world. Concentrate on My life inside of you at every second and identify with Me in all you do, in your life.
10.
R.
And so I woke up this morning and immediately, as always happens on the 14th of the month, the devil is there ready to meet me at the door to tempt me to be glum because I am usually tired. How is it that our society focuses on the things that are not right when so many things in the world are absolutely right. The sun comes up and the sun goes down and the stars shine and we have water to drink and food to eat and we have all the comforts of life in our cars and gas and money in our banks and what do we see? And so we dwell on one little thing that may, may perhaps cause us a problem. We worry and we spend useless hours focusing on this when the Almighty God is truly present in the tabernacle living in our graced, baptized soul. Jesus would like us to say upon rising: "Oh my precious and most beauteous Savior, I adore You, I love You, and I want to be one with You at every breath and heartbeat that I take this day."
Song:
Here I Am Lord
The Scourging at the Pillar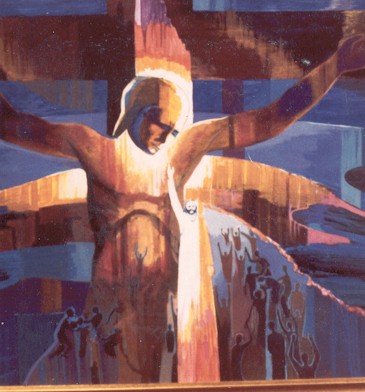 1.
R.
The pillar, the pillar, the pillar, meditate on Jesus at the pillar. You see the Son of God whipped. Jesus is the Light of the world. It is very strange to me, the only person that I ever knew that posed, was drawn on the cross by an artist was Fr. Carter.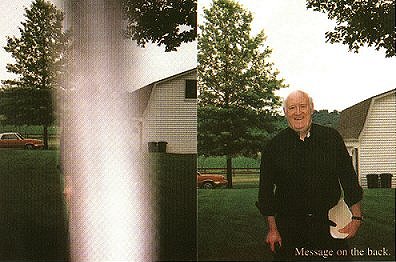 2.
R.
We see Fr. Carter in this picture a pillar of light. Jesus is the Light of the world. Jesus rose victorious from the dead. Jesus came forth from the tomb, but He was a battered mess at the pillar. And what is the message if Fr. Carter was a pillar of light. Fr. Carter was drawn once on the cross. Is this not how it should be in the life of the priest, that the priest is willing to die for his flock? And it is in the dying to self that the priest becomes more like Christ.
3.
Jesus:
Put on Christ you senseless ones, for I have called you to a great calling but you are blind and hardened in your hearts. And I call, and I call, and I call, and My call falls on deaf ears, and so I appear to you on the cross with My mouth moving. It is a time now that the victory will be won, for the days ahead are days to prepare you for this new earth. There has been a definite change in the pattern. There is a time now that the events that follow will be the events that will lead to the renewal of the Church and the world. The methods that I gave to you were ineffective for the flock did not listen. But you, you are the ones, the ones that I have called, and what you do will make a difference still, even at this late hour when the darkness is about to fall on the earth in these last moments. It will be your efforts that will make a drastic difference to so many souls, for you are suffering for souls. You are suffering for the priests. You are suffering for the priests that do not hear the words that I speak. I spoke and I was silenced by those that I loved the most.
4.
Jesus:
Do you see Me at the pillar with My hands tied? And they come at Me and they beat Me. Would it have mattered if I talked there? Would they have stopped if I said, "Hold it. I am God. Why do you beat Me?" They would not hear. The message would have been blocked. They would have continued to laugh, and in all their guile, rip My flesh and they would have scorned Me and spit on Me anyway, despite any words that came from My mouth. And I deliver the message today, and I am silenced by My holy ones, by the ones that I left in My Church.
5.
Jesus:
I am pleased, My beloved ones, with the
Mass Book
, and I am asking you to pray for the money to publish more Mass Books, for it will help to change the face of the earth.
6.
Jesus:
Look at the face of the earth, for it is reflected in their eyes and in the wrinkles in their skin. They do not even know, many, that their hearts are as prunes in their body. I look into their eyes and I see the dead hearts, and I look into your eyes and I see the light. The light of day will steel across the sky when you spread this consecration to the hearts that are dead in sin. It is a time of rebirth, of budding forth. As the leaves go into dormancy, your movement will spring forth in great bloom.
7.
Jesus:
You are being run by My hand. You will not be paralyzed, and you will not die, I have called you. I have taught you. I have trained you. I have held you in My Heart and taken you to the depth of My Soul, and now you will reap a harvest of plenty. And the people that I send to you, you must be attentive to this calling for I call you the chosen ones. Many have not been called to this great honor that I have called you. Do not be proud. Be busy, humble, and loving, for it is through you, majorly, that My Heart will Reign.
8.
R.
So I got out of the bed and I put my feet on the floor and I walked over, and before I even got to the other side of the room, the voices started. And they said, "This person, that person, did you think about this? Did you think about that? What about this? That was mean. Don't you think you should act? What should you do? This person might do that." And I said to myself, "I am being attacked by satan so early that I will not pray." And I sat on the end of my bed and I looked at Jesus' picture, and I said to Jesus, "Please Jesus, please help me." And then I remembered the refuge in these end days will be the heart of my Mother, her Immaculate Heart. And it is there that you will be protected from the evil one. And I went to her heart, and I silenced the voices of satan that I heard within my head, and I put all my trust in Jesus, for it is in His Might that His work will be accomplished. It is not in me listening to those voices that greet us at uninvited times during the day, times before prayer, times before we will meet someone that we need to connect with and to share information to help to bring about work to promote His Kingdom and to spread His Word. Before these meetings there is always those few minutes when this little voice is inside that says, "You should act now or this will happen." Right before Mass, and it is such a pressing, pressing down. And it is in that strength, that discipline, that courage, that going to Their Hearts that, that moment too passes and there is great peace, love, and joy, and gifts of abundance. When we pray, when we meet with the other, whatever the case is when satan is inside of us trying to tell us to act now, hastiness is usually from the evil one.
9.
R.
Stand there with Jesus at the pillar. Are you there? Are you tied to the pillar? Are your hands tied tightly and the ropes hurt so bad as your body hangs? Do you feel, do you feel as He felt in His Heart, knowing, knowing all things, that in one second that the whip would come down on Him and tear His flesh?
10.
R
. Were you in the Heart waiting for the whip to hit? Can you imagine? Was He patient? Did He scream out and holler or was He silent? Is this how it is when satan presses down and he wants us to act now and we know it is not from God, but satan is trying to get you to act. Are you getting upset? Do you feel anger in your heart? Is this from God? What is it then, does Jesus say? Jesus says, "How much do you want the Kingdom of God to come to men's hearts? Do you want that with your whole heart, your whole soul, and your whole being? Do you want God to be loved?" Those last few moments before you meet another in which it will be a time that will be a great time, and satan knows that much will be accomplished to help souls. In those last moments, those thoughts of division that you feel for the other and for others, are they from God? Do you act or do you hold tight for those last few minutes and then you meet, and when you see their face, all those foreign, ugly thoughts go out of your mind and you see this person that you love, and then you do the job about bringing about His Kingdom to men's hearts. It took those last few moments of not acting impulsively and control and giving into the evil one who wants division, who wants you to say those things, who wants you to be irritated in your heart. Look at Him at the pillar and He stood there with His arms tied upward, and He knew that the whip would come down and He did not scream and holler. He was silent. And when the whip hit, He grunted so slightly, for He is God and Jesus died out of love for us. Is it not love that we all want? We want the Reign of love. When we are tempted with division in our heart, we must look at these seeds being planted in our mind or in our heart and analyze; are they good seeds or are they the blackberries with the bad name written on them? They will cause hatred, division, and problems that will stop the upcoming meeting that will help bring about the Reign of the Sacred Heart.
Does the mind race? Do you hear it? Do you feel it? Do you see His head crowned with thorns for the thoughts of men? Where does satan work? What is our battle ground? What is our refuge? Our refuge is in going to her heart and focusing on our whole goal here, to bring about the Reign of the Sacred Heart to this earth, and it is a mighty task and it will have mighty results because so many souls will go to heaven. And so the devil presses heavy and hard before there is anything to do with prayer and with meetings, with mailings, with whatever to promote the Kingdom of God in the hearts of men.
Song:
Here I Am Lord
The Crowning with Thorns
1.
R.
The sins of the intellect, the great gift given to man, the intellect, the great capacity to think and to know, to figure something from almost nothing, to knowing so much, and how have we used our intellects to glorify our beloved God?
2.
R.
In dwelling in His Heart, our knowing capacity reaches great heights, and we are elevated in Him to a new level of comprehending, elevated to this special gift that He gives at Baptism of sharing in His Divine life and our knowing and loving capacity is elevated. We can know and love on a supernatural level!
3.
R.
If we are knowing the relationship between the Persons of the Trinity, knowing Our Father and Jesus and the Holy Spirit, it is because of this gift given in Baptism. Without this gift, we could only know on a human level. We can have insight into the hidden mysteries!!
4.
R.
Have we made our knowledge a god? Will we focus on using our knowledge to get ahead in jealousy before others, to hate? Why did God give us our brains?
5.
R.
So many parts of our body, we have made gods themselves, decorated our body with so much beauty to allure the wrong kinds of pleasure. Look at the heads and the faces of those, painted in order to lure others for sin. And look at the head and the face of our beloved Jesus.
6.
R.
It is in dwelling in Him that we know the truth. We are God's creature. If we look beautiful, it is to give honor and glory to God.
7.
R.
There is so much to know, but it is so simple and so easy when we dwell in the Heart of Jesus. We know how His Heart is.
8.
R.
We know what pleases Him when we stay one in Him.
9.
R.
Satan is tricky and so much on our trail constantly. To say that we are not attacked by satan is absolutely foolish and to give him a free reign. He attacks us in our minds all through the day. It is as Jesus says in the third Blue Book, "Is the glass half empty or half full?" Should we focus on all these incidental things? Fear. Let us look at this. Satan is attacking the minds of the people around us to get us agitated. He is attacking our mind and trying to get us to divide with them. Before we meet with others, he attacks our mind and their mind. And it only takes a word for fires are welling up before the meeting. And you wonder how come this explosion? Nothing was hardly even said. It is what happened in the heart before the meeting. It is what we allowed to go on in our mind. Was our heart going down a road of division? Was our mind running and thinking about this person and what they did to us? Let us go to the heart of the Virgin Mary, in her purity and her love, and ask her to help us to have a heart like Jesus.
10.
R.
How can we be the ones to help, majorly, to help to bring about the age of the Two Hearts if our hearts are not filled with love. It is that imperfection that we think we have the right to give into that is keeping us from having a heart like Him. If we had a heart like Jesus, many things would not bother us. We must seek perfection in our heart. Jesus wants our hearts on the way to perfection. It is the imperfections that we must be healed of, and this happens here. It happens in the Mass. It happens when we pray for the healing of the imperfections of the hearts in the ministry. For it is in that tiny, tiny imperfection in the heart that satan can attack us and try to make great division and damage to us and to others.
Jesus:
I give great grace when you use these
Rosaries from the Hearts of Jesus and Mary.
Song:
A Song from Jesus
The Carrying of the Cross
1.
Jesus:
I have explained to you the working of satan in your heart and in your mind through My messenger, and now the time is here for you to change your ways to those ways that are most like My Heart. It is in dwelling in the pure and Immaculate Heart of My Mother that the Holy Spirit sanctifies you and makes you most likened to Me.
2.
R.
Noah entered the Ark and he took all the animals with him, and God opened up the floodgates of heaven and the earth was flooded for forty days, and nothing, nothing survived the great flood.
3.
R.
January the 18th the Father spoke and He says, "I tell you all to read the accounts concerning Noah. Nowhere in history has God been offended as He is this day by this sinful world. You will suffer a fate for the offenses against God." Will there be a building that we can run to? How is it when you are standing there and you are being attacked by the evil one and torn to shreds through someone else's vile mouth? Do you have a building that you can go run to, that you can take cover, some beautiful grounds that will protect you in that second, that second when you are attacked before you will do something very important for Jesus? Where is it that you will take refuge?
Song:
I Am Your Sacred Heart
4.
R.
Like a thief in the night he comes and you must be prepared. I do not see the devil. The devil comes to us like a thief in the night. We are standing there, happy as a lark, and a person comes up and they can say exactly the thing that hits in the right spot that causes a down spiral because we let it. How is that? Is it because of that imperfection, that place deep within where the love was lacking, that little jealousy that you had? Satan attacks us through others many times. Can we go back and analyze everything inside of ourselves and see where our imperfections are at work. We are complicated beings that have gone through all kinds of woundings and we can project our own problems on others. There is one place of refuge. When the wind starts to blow and the rain starts to come, are we going to stand there and analyze what's happening to us? It is a useless waste of brain power. We've got one goal: it is that the Sacred Heart of Jesus will Reign in all hearts, that souls will be reached, we ourselves love God with our whole heart, our whole soul, that we love one another, and oh yes, of course, that we are avid apostles in the Shepherds of Christ Movement.
5.
R.
Like a thief in the night, the thought comes and do you feel the inside rising and then the thoughts start to come and then you start to analyze and then you start to think. Did you say your hourly prayers? Those prayers protect us. They help us focus on our goal. That doesn't happen. He has given us these messages for a purpose. When we say those hourly prayers, we realize our dependency is on Him. And we need to pray and when we pray, afterwards, we are good.
6.
R.
Look into the eyes of Jesus. Do you see His bright and beautiful eyes, like eyes you have never seen before? He carries a cross on His back. He is covered with blood. He can hardly move, but within His eyes are perfect love.
7.
R.
Every moment there is that choice to be made. As Adam and Eve were in the garden, they had that choice. And it was hard because the devil was there all wound up and telling Eve that she could be equal to God. And he was tempting her and taunting her, and she stood there and it is like picking petals off of a daisy - he loves me, he loves me not. I pick the good fruit. I pick the bad fruit. What fruit do we pick off the tree at every second? And it would have been hard for Eve to say, "Be gone satan! I will not pick the fruit." But she was tempted. She thought that she would be like God, and she wanted that. She wanted to be on the top, and so she sinned.
8.
R.
And so we say in the Hail Mary, "the Lord is with thee. Hail Mary, full of grace, the Lord is with thee; blessed art thou among women, and blessed is the Fruit of thy womb," And so, if we want to bear fruit, we must go to her heart, her spiritual womb. For the fruit of the womb of the Blessed Mother is Blessed.
9.
Jesus:
So you think it should be easy. Do you see Me, My beloved ones? I fell to the ground and the cross was on top of Me, and when I could not even move, they came to Me and they poked Me hard. I wanted to cry out, but I saw you and I saw this heart that was filled with love, that was red and soft and warm. I saw all these dark hearts, but then I saw yours and I saw you in church that day. I saw you when you were crying and you said, "Oh, I just love You so much, my God." And I heard your words and it comforted Me. I heard the words from your mouth and saw the tears in your eyes and I knew within your heart that what you cared for more than anything in the world was for love of Me. And I got up and I went on to the hill of Calvary.
10.
Jesus:
Did you see the pit, the pit of everlasting hell, the black pool of sulfur? Do you smell the stench? Do you see the shriveled souls? Do you know that for all eternity that the souls will truly be lost? Do you know the road that you are on? The road that you are on is the right road, and you are taking with you all those children to the heart of their Mother and they will have eternal salvation because you and them, said 'yes.' When you wanted to pick the blackberries, you picked the white ones. You did not talk about your brother. You did not give into those thoughts that were racing in your mind that someone was thinking something when they weren't even thinking it at all. It was satan that was helping you to think those thoughts. When that person was giving so much to you, you saw the half-empty cup and you went to that side instead of the full side that was really 7/8ths inch full. And I was disappointed because I wanted you to love them. You are all My apostles and you are all giving from the bottom of your hearts and you are imperfect in your ways and you fall to your face, and the devil works in your imperfections and he is tearing at the Movement. He tears at your heart and he works in your minds. But I see you and I see the tears in your eyes and I see your love for Me, and I know that the devil is working on each one of you very hard for he wants you stopped. But you will not give in, for I am giving you My grace in abundance. But I am letting you be strengthened for the day of slaughter when you will stand erect and you will be a pillar of light to the dark world. When there is the wailing and the crashing, you will be the soul dressed in a white gown that will lead the way to victory. My shepherds, you have walked the way with Me to the hill of Calvary and fallen and skinned your knees and your cheeks have bled. And you did not worry about your pretty faces in the morning - you put on the same face and you went out the door. The face you wore was My face. It had blood on it, and I watch yours bleed. But there were many that day that changed in their hearts because of your prayers and endurance. And you do not even know the fruits of your labor.
Song:
Crown Him With Many Crowns
Jesus:
I love you. I love you. I love you to My death on the cross. I saw the tears in your eyes and it gave Me the strength, when I was on the ground, to get up and to go to the hill of Calvary where they nailed Me to a cross and I died for the sins of the world.
The Crucifixion
1. Song:
Little Baby Hands and Feet - refrain
2.
R.
Look at the little Baby in her arms in China - the little hands and the little feet. See the beautiful Mother so big, in the Lady of China statue, and then see the mural overthe tabernacle, see Jesus hanging erect from the tree and the Lady weeps beneath His cross.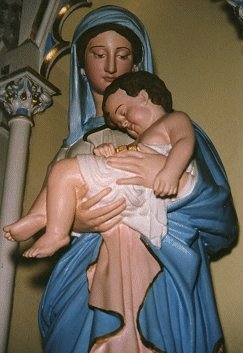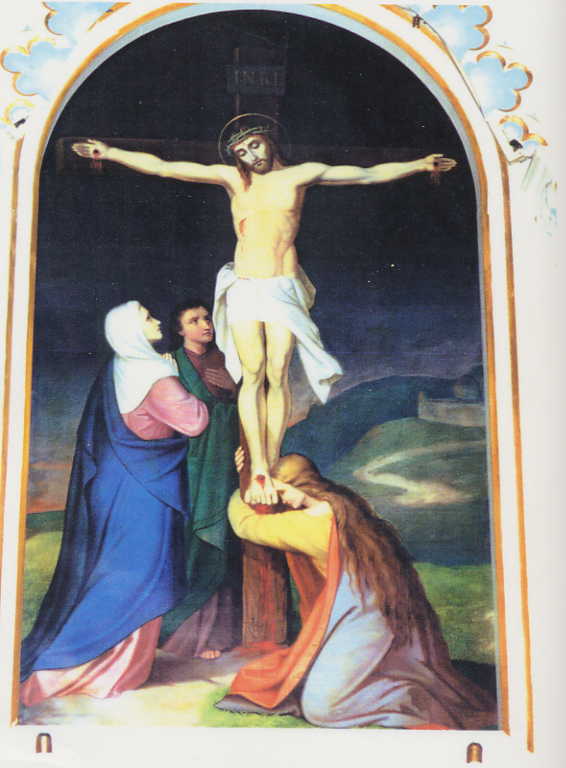 3. Song:
Little Baby Hands and Feet - verse 1
4. Song:
Little Baby Hands and Feet - verse 2
5. Song:
Little Baby Hands and Feet - verse 3
6. Song:
Little Baby Hands and Feet - verse 4
7.
R.
I saw, today, all these pictures of Our Lady, and she had within her arms the little Child Jesus - His little hands and His little feet. And in many of the pictures, she had a crown and He had a crown. A big, big Lady and a little, tiny baby Boy and He is God and He comes in the arms of the Woman. How is it that God humbles Himself so much to come as a little, tiny Baby in the arms of a human person? And then, how is it, as we are in China and we see this little Baby in the arms of this Lady, that we see the Lady beneath the cross and they hung this Man, at the age of 33, on a cross. Jesus came and was born and He gave Himself to His death on the cross. This is the little baby in Mary's arms in the statues and pictures.
8.
R.
And in the St. Anthony statue - St. Anthony holds this little Child over there. Will we learn a lot about becoming that little child in the heart of Mary? How come Christ, the Almighty God, comes as a little Child in the arms of a big Lady? He teaches us about being little, like a child, being humble, being saintly.
9.
R.
And Christ says, "There is but one refuge. Your buildings and your land will do you no good when the time is here. The place of refuge is the Immaculate Heart of the Virgin Mary." And there will be a virgin birth, for we will be brought forth as fruit in her womb. And we are leading the children home to the Heart of Jesus when we give them the consecration cards and the books and when we pass the Priestly Newsletter to the priests. Oh, yes indeed, the men in the black cloth are little children. For if we want to be like Jesus, we must be a little child in the arms of the Virgin Mary. For in the end, it will be the little King that will Reign. It will be the people who have turned to little children in the arms of Mary that will be carried to the home that is their real home - the Heart of the Sacred Heart of Jesus. And so we hear her words under the cross and she says, "I stood beneath the cross and cried." For she heard the wailing cries of her children as they went into the pool of darkness. And it is in Clearwater that she is bringing forth the children of this world into this age of light, for this is what Jesus said in a message that the children of light are being brought forth from Clearwater. Majorly, this is a launching pad for the children of light, for it is out of there that many are being brought forth in the womb of the Woman. And our safe refuge will be her Immaculate Heart.
10.
Message from Mary:
My dear little children, I am Mary your Mother, and I long to hold you in my arms and to caress you as my little infant, but so many of you are so haughty in your hearts and you do not come to my arms or to my heart and let me hold you and take you to the Heart of my Son. I have given to you the great site in Florida to help bring forth my children into the light. It is most important that you realize the importance of this location to the world, to the completion of my mission begun at Fatima. The children will be brought forth from my womb into this world as children of light, because of the work that you do there. This is my launching pad for the children of light. I ask you to take this mission with the utmost urgency and seriousness, for some of my children will be lost and condemned to the fires of hell. Little children, little children of mine that I love and I heard their wailing cries under the cross, and I cried for I wanted to reach them. I am asking you today to help to reach my little children, to lead them to my heart through the consecration. It is the refuge for my children. It is the place that they will see the light. As children pray the rosary, they receive great lights through my Spouse, the Holy Spirit. Encourage the youth to pray the rosary, and they will know about the Heart of my Son. I am Mary, your Mother, and I am greatly pleased with the work that you have done my beloved apostle, in Florida. I love you with my Motherly heart and I ask you to please your heavenly Father by giving Him your love and devotion at my site in Florida. I am Our Lady of Fatima in the Americas, Our Lady of Guadalupe, Our Mother in Clearwater, Florida. I am Mary, your Mother, and I thank you for helping me to spread the rosary and the consecration to this world. I thank you for helping me to reach my priest-sons. So many of my sons do not know their Mother, and they do not see the light. You must work fervently and obey the Father and spread the Priestly Newsletter and the Priestly Newsletter Book that the souls of my priest-sons will be led to my Immaculate Heart. It is there, they will find refuge. It is there that they will be most like my Son, that they will be the shepherds my Son has called to help the Church to be one in Him. I am your Mother Mary, and I thank you, my beloved shepherds. I love you with the greatest love. From my Motherly heart, I give you my kiss of love.
Song:
A Song from Jesus
Mary:
The Sacred Heart of Jesus will Reign and my Immaculate Heart will triumph. Do not be discouraged but encouraged for I am guiding you in this mission. You must be obedient and follow the directions Jesus and I give you. You must obey the messages that are given to you and follow the direction of your spiritual director, Fr. Carter. You must pray fervently, continuously for the Jesuits. In the days ahead, you will be faced with rough waters and they must turn their hearts to consecration. The Jesuits must give their hearts to me. I am Mary, your Mother. I ask you to help lead the priest-sons of this world to my heart. It is my heart that is the gate-way to the Sacred Heart of my Son. His Heart will Reign on this earth. The power is in the Eucharist. The power and the light to light this world is in His Eucharistic Heart. He is the Lord of Hosts, the Almighty God, waiting for you to love, to serve Him, to be obedient, to adore Him, to worship Him, to bow before Him as the King of this world. He is my little Son, the infant King, the Almighty God, come to save a big world, but He is powerful and mighty. Will you assume your role? Will you move ahead full force for the days of darkness will be brightened by the light that you carry in your lamp. It is the life of my Son alive in your hearts. Come to my heart and I will lead you on your way to greater life in Him.
Given October 29, 2016
R. Please spread blessed holy water
(You can also mix Jesus and Mary water
with your blessed Holy Water if you have it.)
in your yard, around your house,
in the state you live in.
And ask God to bless your state
Ask God to bless the United States
Pray all prayers through the intercession of
Our Lady of CLEAR – WATER.
Ask the Lady of CLEAR - WATER
to help with the blessed water.
Mary has appeared to me for 22 years,
in Ohio and Florida.