March 15, 2017
From Blue Book 17
NOTE: You will need your Bible.
October 26, 1997
Shepherds of Christ Meeting
Sorrowful Mysteries
The Agony in the Garden
1. Song:
Taste and See
2. Song:
Taste and See
Reference John 9: 1-12
R.
In the message of October 8th, Jesus woke me up at 6, and that's when He said "seedless barren no fruit on the vine". And I thought that is really strong, but I wrote as fast as I could write, that's how the message was and I wrote for a solid hour and it had so many pages.
To us it sounds crude and that God would not talk this way, but yet God speaks this way and you will see that three times in this message, this man is asked how he was healed so that he could see and he said he had mud in his eyes. Jesus told me to look this up yesterday and when I read it I knew exactly why He said they had mud in their eyes.
When Jesus speaks in the messages it is in His personality. To Him it is not the crudeness of saying that we have mud of the earth in our eyes, it is to say that we are blind and we do not see. So much of the focus of what we are focused on, is on the things of the earth, so for Him to use mud it is very symbolic because it was like this, I knew Friday, look at the fruit on the tree and how man has specialized in tryingto find out about insect control on the fruit of the tree. To the greatest detail man is so concerned of the things of the earth and controlling them, yet the serpent that is wallowing its way into the hearts of men is not studied in the heart of men. Look at the heart of man. The heart within the body, that which bears fruit, that which will lead people to the Kingdom of God. Are we caring about this fruit? Look at the study that has been made about how, I know there is a message in the Blue Book that talked about a worm burrowing its way into an apple and it wants to make the whole apple rotten. We have gone to the greatest extent with our minds to figure out the things of the earth, yet the things of the soul, the things of the life that is forever lasting, have we studied those things which will lead to the greatest life forever and ever and ever? Think of that, see the tree and see the men industriously studying to the finest detail all, everything that they can think of, in how to control insects. Yet the serpent which is burrowing its way into the hearts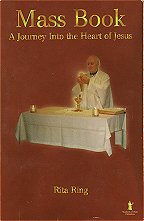 of men and for all of eternity, so many souls will lose their life and go to the pit of death for ever and ever and ever and they are holding on to these things, as Christ says bolted to the earth. So I see more and more in the messages He gives to me where He speaks in God's language and I'll be writing a message and its not even a word that I use or that I am familiar with and it is in the Bible. It was at Mass, every time the Host was raised I saw this beautiful glow come out of the Host, it is like a transparent halo and a Host comes out of the Host. This is our food and it is food indeed for God gives to us His most precious Word and His Body and His Blood in the Holy Eucharist. The Bread of life is His Word and the Eucharist. He gives us a sharing in His life in baptism and He feeds that life with the Bread of life.
3.
R.
Next they took the man who had been born blind to the Pharisees, and this reminds me of going to the priests. This is how it is my beloved ones, this truly is how it is. For God has given to us great writings in that He has given to me and Fr. Carter majorly to help bring about the Reign of the Sacred Heart. And also God gives us the scriptures. It is like a two-edged sword when the Word of God penetrates the soul of a man and this is how it is.
There will be a new earth and the old order will pass away as it says in Revelation and in order for this to happen every time a person reads a Blue Book message, every time a person comes in contact with His writings, Fr. Carter's or mine, we read about Jesus' Sacred Heart and His love for us and Mary's Immaculate Heart and her love for us – and we see through God's eyes and it helps us. Mary appeared every day for 14 months. Jesus is speaking in the Blue Books. The words in the Blue Book penetrate our heart. If we are open and we receive a grace, we can respond. We can have this most personal intimate, spousal relationship with God that man has never had before, which will be characterized by the age of love, the age of the Two Hearts.
What we speak here is the truth, we have been called. This small lot of people in the Shepherds of Christ Movement to bear the truth in this age, to help bring about this new era, this new earth, the Era of Peace and Love! Are you willing to let go of those things because this is what it will be, every word that you put forth will be received in one of two ways in which the person will respond, and they will change to that new order that there will be in the new earth, which is the most spousal, intimate, personal relationship with Christ, in which the Sacred Heart of Jesus will Reign or they will reject the words that we speak. So be prepared, when you deliver anything that you deliver here, you are dropping the seed to bring about the Reign of the Sacred Heart. We will be met with opposition for you touch their heart with a sword when you give them those words, and they are forced either to go into the age of light and to be a child of light but they must let go of opposition to God's will, and people must be willing to die to those things that are worldly and to move ahead to this deep relationship with God and be deeply united with each other, high spiritual intimacy, with Christ and with one another as never before. The bridegroom has come to claim His bride, the soul, and you are the soul that He will take most intimately to Himself, love you, and hold you tightly within the deepest chamber of His Heart and give you the love from the burning Heart of our Savior, Jesus Christ.
4.
R.
And so we go to the priest, and what ends up happening is this. We need to spread the consecration to the Two Hearts of pure and perfect love. We are the leaders that He has called to help bring about this new era. He has taught us about Himself. We deliver the message of Fatima and that is as Mary said, that you must consecrate your hearts to her Immaculate Heart, and in so doing, you are brought forth a child of light, for it does make complete sense that as the woman Eve, is the mother of the living; Mary is our Mother, the Mother of the spiritual life and in order to have this light we must go to Mary's Immaculate Heart.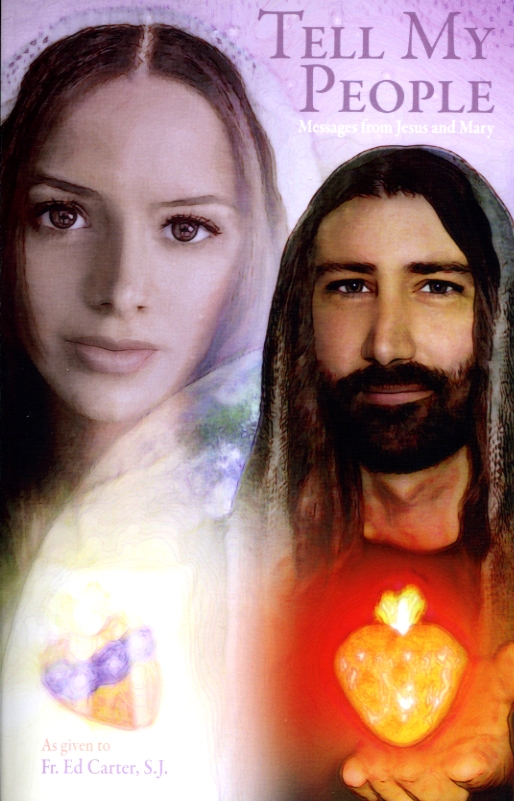 From

Tell My People by Fr. Edward J. Carter, S.J.

The Holy Spirit
Jesus:
"My beloved friend, tell My people to pray daily to the Holy Spirit. They are to pray for an increase in His gifts. My people must realize that the Holy Spirit comes to transform them. The Spirit desires to transform you more and more according to My image. Those who are docile to His touch become increasingly shaped in My likeness. He performs this marvel within Mary's Immaculate Heart. The more one dwells in My Mother's Heart, the more active are the workings of the Spirit. The Spirit leads Mary to place you within My own Heart. In both Our Hearts, then, your transformation continues. The more you are formed after My own Heart, the more I lead you to the bosom of My Father. Tell My people all this. Tell them to pray daily for a greater appreciation of these wondrous gifts. I am Lord and Master. All who come to My Heart will be on fire to receive the gifts of the Spirit in ever greater measure! I love and bless My people!"
Reflection:
The Holy Spirit is given to us to fashion us ever more according to the likeness of Jesus. And the more we are like Jesus, the more Jesus leads us to the Father. Do we, each day, pray to the Holy Spirit to be more open to His transforming influence? Do we strive each day to grow in union with Mary? The greater our union with our Mother, the spouse of the Holy Spirit, the greater is the transforming action of the Holy Spirit within us.
end of excerpt
Jesus:
Are you alone? Yes you are alone, My dear shepherds, you are alone for I have called you. I have called you to this mission, and you stand alone you feel many times, but you are to deliver messages for the New Era. You are the ones that will help lead this age of light in which men will know Me most intimately. You are the ones that must open this door for them through the consecration, for the consecration leads to the depths, to the deepest chamber of the Heart of Jesus.
5.
Reference John 9: 13-16
R.
I tell you these things my shepherds because we are meditating on the Agony in the Garden and it is in the Agony in the Garden that He was pressed on, pressed and pressed as a grape that was squeezed for He knew all things, knew all things, God created this mighty earth, the sun, the sky, the grass and He tells the sun when to shine, and the grass when to grow. And here are men now for almost two thousand years walking in darkness for they do not see they are men who have ignored our precious beauteous God, that have not fallen to their faces and have worshipped Him and loved Him. Jesus knew all things in the Garden and He suffered for all the blind men that rejected Him and sinned.
6.
R.
God wants love at Mass! It is a love affair with God.
Reference John 9: 17-18
R.
But the thing of it is, here we are down here and the blind are leading the blind.
We need to reach all with the Consecration. When people go to the Heart of Mary they can see – they become children of light. Jesus wants this intimate love affair with us.
Jesus wants us so one with Him at Mass – it is a love relationship. We need to be praying united to our brothers at Mass.
Mass is the sacrifice of Calvary, sacramentally made present –
We need to spread the consecration so all are one in their hearts at Mass, and all through the day united in offering their day united to the Mass for the priests, the Church and the world.
Jesus knew that men would not realize how awesome the gift of the Mass is. He suffered in the Garden for their blindness. For 2000 years, many men rejecting this great gift He gives us at Mass, in the sacraments, the gift of the priest.
Jesus suffered in the Garden for the blindness of men! We need to spread the Consecration to the Two Hearts.
July 31, 1994
Words of Jesus to Members of Shepherds of Christ Associates:
"My beloved priest-companion, I intend to use the priestly newsletter,
Shepherds of Christ
, and the movement,
Shepherds of Christ Associates
, in a powerful way for the renewal of My Church and the world.
"I will use the newsletter and the chapters of
Shepherds of Christ Associates
as a powerful instrument for spreading devotion to My Heart and My Mother's Heart.
"I am calling many to become members of Shepherds of Christ Associates. To all of them I will give great blessings. I will use them as instruments to help bring about the triumph of the Immaculate Heart and the reign of My Sacred Heart. I will give great graces to the members of Shepherds of Christ Associates. I will call them to be deeply united to My Heart and to Mary's Heart as I lead them ever closer to My Father in the Holy Spirit."
- Message from Jesus to Father Edward J. Carter, S.J., Founder, as given on July 31, 1994, feast of Saint Ignatius Loyola, Founder of the Society of Jesus (The Jesuits)
R.
So it is the blind leading the blind, two thousand years since the time of Christ and here it is, parent after parent after parent leading their children. Our parents telling the children about Jesus in the Eucharist, our parents telling the children about the love of God and how He is truly present, and how He is a personal God. Jesus is not loved as He should have been loved. Jesus knew this in the Garden and blood came forth from His most precious pores and fell to the ground.
7.
R.
The men refused to believe that the man had been born blind and had begun to see, and they make a big emphasis on him being born blind, that's what we are, we came from Eve. God gives us baptism which takes away original sin, but it's affects are still with us. We have a wounded human nature. Mary is the New Eve. Mary is our Spiritual Mother, Mother of the Church. Mary is the woman who will lead us into this deeper spiritual relationship with God. So Mary has appeared, she has appeared at Fatima, she appeared at Medjugorje, they didn't pay attention there and then we got the destruction of the village over there, she appeared at Falmouth, we got the destruction of the town over there, she appeared at Fatima, they didn't pay attention and we got World War II.
Now she's down there in Florida on the building and she is saying that you can't ignore me people, you must consecrate your hearts to the Two Hearts.
So they talk about these parents here.
We see the man in the scriptures was blind from birth. We are the children of Eve. We need baptism.
We need the consecration to the Two Hearts. We need to go to Mary's Immaculate Heart and the Holy Spirit transforms us more and more in the image of Jesus. We need to know the intimate love of the Sacred Heart.
So Jesus has given us this Movement to have an intimate relationship with Him. Life IN Him.
The Blind man had mud in his eyes from Jesus and now he could see – he was blind from birth!
Mary is the Lady of Light. We need to go to the Two Hearts of greatest and purest love.
The parents we have, have taught us about Mary.
The Church must see Mary is Mother of the Church. We need this spiritual mothering – relationship with Mary.
Mary is the Lady of Light!
So God sends a messenger and says okay here you go, this is the antidote for the poison. You are not obeying the ten commandments, you are not living by the truth in the scriptures, so the antidote which will majorly help bring about the Reign of the Sacred Heart is in these writings which we have received from Jesus and Father's newsletter. The writings are blocked. Jesus wants this intimate love union with Him and among men. So again He continues with this blind man and why are they talking about the mud in their eyes so much.
Reference John 9: 24-29
R.
Are they obeying the Ten Commandments? How are the men of the earth? How are the priests in the Church. Is God their God and we the people of God, or has the television become the god, or has the sports become the god, or the money become their god, or the food their god, or their alcohol their god, power their god, anger, jealousy, pride their god? How is it? My beloved ones you must come back to the Word, for the Word is the truth and the Commandments are the law which we must abide by.
The Ten Commandments
1. I, the Lord, am your God. You shall not have other gods besides me.
2. You shall not take the name of the Lord, your God, in vain.
3. Remember to keep holy the Sabbath day.
4. Honor your father and your mother.
5. You shall not kill.
6. You shall not commit adultery.
7. You shall not steal.
8. You shall not bear false witness against your neighbor.
9. You shall not covet your neighbor's wife.
10. You shall not covet anything that belongs to your neighbor.
8.
R.
It is unheard of that anyone has ever given sight to a person blind from birth. If this man were not from God he could never have done such a thing.
Reference John 9: 35-41
9.
R.
In the Garden Jesus suffered for the blindness of men. He knew the haughtiness and the pride of men. Jesus calls us to come to the water – to be baptized – to come to the Eucharist, to be fed at the table of the Lord. Jesus gives us a sharing in His life in baptism and He feeds this life with the Bread of Life. He feeds this life with the Bread of life which is the Word and the Eucharist. Jesus sweat blood in the Garden for all who rejected Him – for all who rejected the gifts given in the Church – for selfishness and pride and anger and focus on putting other things over God.
Life is in Him – God is calling us to be witnesses to the truth. To tell men about the Mass and Eucharistic Adoration. We need grace to be strong in this battle against those who have rejected Jesus.
Jesus:
Spread the Blue Books – tell the people about the Mass and consecration to Our Two Hearts. You are called to be children of the light!
R.
You must be able to control yourself, to be able to spend the day in prayer and be able to withstand the greatest torture and pressing down for you are the pillars, you are the victors, you are the ones that will wear the white robes and lead the others into victory. If you say no, if you are afraid, if you decide,
if
this is too hard, there will be one less person to bring about this great era.
10.
R.
He knelt in the garden and the blood came forth from His most precious sacred pores, the saving blood. Jesus knew all things, and how men would be, He knew you and the struggle and how you would endure to the end, and you would be the one that would lead so many souls to victory, because you lived in Him and when He called, you said to Him, here I am Lord.
Glory Be
Song:
Here I am Lord
The Scourging at the Pillar
R.
I see the leaves on the trees as they fall to the ground. The trees become barren and as the Winter comes and the morning light, and one morning He dresses those same trees in the most gorgeous gown of glistening white for He is a God that dresses His creations and how much greater after the earth has become barren. Jesus wipes us clean and He cuts us back that He will dress those faithful ones in a white gown of glory.
1. Song:
Here I am Lord
2. Song:
Here I am Lord
R.
Have you heard Jesus calling in the night? Is the world surrounded by darkness? Have you watched the television and seen the seeds that are being planted in the hearts of our youth? Our beautiful children created by God and how about all those games, what about Halloween and the time and the emphasis is on what, on the things of the earth and He speaks to us and He says it is the time for gathering home into barns. But where have they gone, the little ones, they have wandered so far from the beaten path and they do not even know, they do not know that life is found in the Lamb that gave Himself. Jesus is truly present and with us this day in the Eucharist and He lives in us.
3.
R.
And so you say, you say what concern of it is mine for thepeople over there in China, and far away. We are one body in Him and if one person is suffering we all suffer, for we are one in Him and we cannot, not be concerned for those souls that will not end up making it. They are our brothers, they are creations of God the Father and it is up to us to spread the Good News for we have been brought to this earth that we will lead others to Him, that we will bear children of the earth, that we will take them, take them to the home, to the heart of our beloved one, to the Heart of Jesus.
4. Song:
One Bread One Body
5.
John 10: 1-2
'In all truth I tell you, anyone who does not enter the sheepfold through the gate, but climbs in some other way, is a thief and a bandit. He who enters through the gate is the shepherd of the flock;
R.
This is going into the Heart of Jesus.
Reference John 10: 3-4
R.
Are we listening to the voice of God and His Word? Are we listening to the voice of God in these writings? Are we listening to the voice of God that is in our hearts? Are we the shepherd that He talks about? This is your order, your order is to bring about this new earth in which men will listen to the voice of God because they recognize His voice. They will not follow a stranger, such a one they will flee because they do not recognize a stranger's voice. Who's voice do you follow? Do you know the truth in the Scriptures? Is it the truth you find in these messages? The truth is in the Word of God, the scriptures. We dwell within the Heart of Christ and He makes Himself known to us, for to dwell in His Heart is to know Him. We must listen to His voice alive in our hearts.
6.
Reference John 10: 7-11
R.
This is what Fr. Carter starts the Newsletter with, this is what it is all about. Fr. Carter's Newsletter will majorly help bring about the renewal of the Church and the world, for it says –
Reference John 10: 11-13
R.
Priests need to go to the tabernacle and pray after communion. There are so many committees and so many ways people that have money want influence in our churches. This is the mission of the Shepherds of Christ Newsletter: Jesus is teaching the priest to go to their hearts through the consecration and to be Good Shepherds. On December the 5th Jesus appeared on the cross and again on August 20th. He is clothed in the greatest robes of victory and light. And the Father's voice was heard and He spoke, "This is My Beloved Son, in whom I am well pleased. Listen to Him." The Father is telling us His plan through these messages that He has given here.
7.
Reference John 10: 16-18
8.
Reference John 10: 19-21
9.
Reference John 10: 25-27
R.
Now I understand about His sheep hearing His voice, because we know Him.
Reference John 10: 27-30
10.
Reference John 10:31-39
Glory Be
The Crowning of Thorns
R.
And so it goes on and He raised Lazarus from the dead, He healed a blind man and He has raised Lazarus from the dead and they still do not believe Him.
1.
R.
But His sheep hear His voice and He knows them.
2.
R.
Are they not only blind, but deaf, for they do not hear the voice of Jesus as He speaks, as He speaks in His Word, and as He speaks in these writings. They do not hear the words of the Blessed Virgin Mary as she cried out from Fatima and she shows a sign as the sun looked as if it came crashing to the earth. Remember World War II. Mary appears on the building in Florida and how many go there, but as He says, 'My sheep hear My voice and I know them.'
3. Hail Mary
4. Hail Mary.
5
Reference John 15:18-25
6. Song:
We Have Been Told
7. Song:
We Have Been Told continues
8. Song:
We Have Been Told continues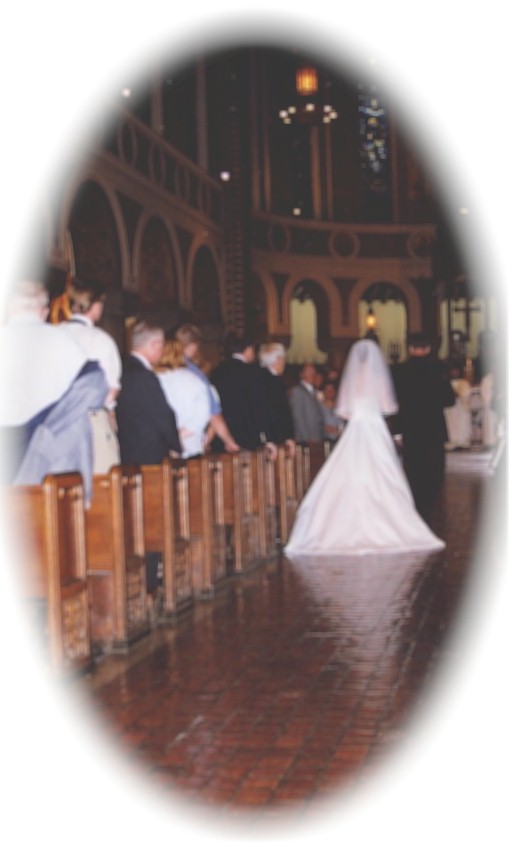 9.
Jesus:
Now My dear precious ones, I want you to see yourself with your head down, and I see you in all your beauty, My beloved creation of My Father and I look on you with the most loving eyes and you are dressed in a gown for the wedding feast. You are garbed in your wedding attire, and I am watching you in your purity and your beauty and I long to be one with you and to unite with you in the deepest love and in the deepest union in that oneness with the Divine God. For this is about the love of Our Hearts, it is about oneness in the Holy Trinity. You are taken into My Heart and you unite in the deepest union with the Father, and the Holy Spirit in the deepest recesses of My Heart. I take you to the glowing chamber and you are there united to Me, My bride. I am God the Almighty, maker of heaven and earth.
Do you see the trees in this vast earth? Do you see the beauties of the sunset and the color of the leaves? Do you see your God and how He dresses this earth and how He acts? I am a God of goodness and of love and you are the creation of the Father who is all love. You are tainted by the sin of Adam. My beloved ones I give you My precious grace and you are clothed in the finest, whitest garbs and it will be Our wedding in which we unite in the deepest oneness. Little child, how dearly you are loved, by My Father. For I will have My wrath on that last day, I am King and they will be My people. I have been handed over to the hands of men. No longer will I wait while they prod and they look and they deliberate and they ignore Me. For would more days give them greater joy or would more days give them greater pleasures that they find on this earth, useless pleasures that leave their mouths dry after they pursue and indulge in them. I am the everlasting God, the God that lives forever. I give to you Myself, the treasure that you seek, the One that will leave you speechless. My beloved ones, for when I wrap you in My precious love there are no words to express this embrace. It is the embrace of the Divine God, the Almighty Eternal Lover, the Bridegroom of your soul.
R.
And the feast was planned and many did not come and you could hear Rachel's children wailing outside of the tent, for they did not know that it would come so suddenly in the darkest night and when they went to fill their lamps with oil, the oil had run out and the foolish virgins did not go in. Jesus wants to be King and center of our hearts. For He gave from the goodness of His Heart and they scoffed at Him and they did not care, for God is the Creator, the Almighty God of heaven and earth.
10.
Jesus:
Whippoorwill, Whippoorwill, My beloved ones. You are so focused on so many senseless and foolish things and I am here and I am waiting to be embraced and loved by My chosen souls. I wait no longer for the day is at hand and in the dark night you could hear the gnawing and the wailing and the gnashing of teeth.
Glory Be
Hebrews 7:17
...You are a priest for ever of the order of Melchizedek.
The Carrying of the Cross
1.
Reference Revelation 1: 4-7
2.
Reference Revelation 3: 1-3
3.
Reference Revelation 3: 12
4.
Reference Revelation 5: 9-10
5.
Reference Revelation 5: 12
6.
Reference Revelation 5: 13
7.
R.
We pray in the Mass the Our Father –
The Our Father
Our Father, Who art in heaven, hallowed be Thy name. Thy Kingdom come, Thy will be done on earth as it is in heaven. Give us this day our daily bread and forgive us our trespasses as we forgive those who trespass against us. And lead us not into temptation, but deliver us from evil. Amen.
8. Hail Mary
9. Hail Mary
10. Hail Mary
Glory Be
R.
It is so neat in the Mass because it's like it is all leading up to this day, and the thing, when we do the Our Father, we say, "
Deliver us, Lord, from every evil, and grant us peace in our day"
, because of this great era of peace, "
in your mercy keep us free from sin and protect us from all anxiety as we wait in joyful hope for the coming of our Savior, Jesus Christ."
Then we should almost feel like crying and say, "
For the kingdom, the power, and the glory are yours, now and for ever."
, and then we do this kiss of peace. Where we are asking let there be peace and that we be one, which is what we are asking for the Reign of the Sacred Heart, grant us peace and unity that's what we are asking for, that's what the era of peace will be. Peace and oneness. "
Lord Jesus Christ, you said to your apostles: I leave you peace, my peace I give you."
He came into this world as a little baby and the angels sang, 'Peace on Earth, Good will to men.' He says to us after the resurrection, 'I leave you peace, My peace I give you.' "
Look not on our sins"
and we say in the Mass, "
Look not on our sins, but on the faith of your Church, and grant us the peace and unity"
, this is where we are praying for the Reign of the Sacred Heart in every Mass, "
grant us the peace and unity of your kingdom where you live for ever and ever."
(
Quotes takes from the Concluding Rite at the Roman Mass
)
Jesus Died on the Cross
1. Hail Mary
2. Song:
A Song from Jesus
R.
Jesus is our King.
3.
R.
We want Jesus to be King and Center of our hearts.
Song:
I Love You Jesus
4. Song:
Come Holy Spirit, Fill Our Hearts
5.
Reference Psalm 1: 1-3
6.
Reference Psalm 3: 1-8
7.
R.
And He hung on one tree of life and beneath the cross was the wailing widow, the woman that loved her beloved Son, the Mother of all of the children of this race, and she cried and her tears added to the anguish that her Son had experienced at His death.
8.
Reference Psalm 6: 1-5
9.
R.
And one tree of life is planted erect above the tabernacle in China, and it is there that He wants this to be the beginning of our Eucharistic Centers in this world, that we can turn abandoned Churches into Centers in which the Eucharist will be adored and loved and people will come to pray the Shepherds of Christ prayers for the Church, for the world, for the priest and it is all in our hearts. Let us plant this desire deeply in our hearts and to see with vision not to go back and focus on ourselves and our imperfections and our own wrong doings. For if this is what we focus on we will be paralyzed, for we are not perfect. Each and every one of us are not perfect, and if we think that we must be perfect, we will have to stop doing exactly what we are doing and this is what the devil hopes to accomplish in us. So in a second, this thief comes to our house. If you knew at what hour the thief was coming would you not have prepared. But the thief comes to our hearts and he wants to get into our hearts, and divide our hearts and make us focused on ourselves. The devil is mean. He wants to operate in us. If you are standing by your tree and it is shaking and shaking, and you do not understand how you can stop it, cry from the depth of your soul, Jesus, Jesus, Jesus, help me now. For I am a soul that wants to love Thee, but I too, am tainted in my nature and as the devil presses in, constantly shaking the tree, he waits until the second, like a thief in the night when you are under pressure, when you are about to pray, when you must do something, when you wake from sleep, whatever it is the devil waits for that hour, like the thief that wants to get into the house unnoticed, and he puts on the last ounce of pressure when his friend, the other devils have already been pressing for days to try to make something happen. Then he waits for that unannounced moment, that time when he can do his dirty work of pressing in - and causing chaos and confusion and bringing the house down if he can.
10.
R.
Are you a people that are tattered and torn, that are worried, and are anxious? But in your heart, despite the worry and the anxiousness there is, an immense peace, deeply rooted beneath the surface. So the waters on the top are not the smooth sailing waters that you would like, so you keep going over the turbulence and you suffer, but you know deep down in your soul, there is this over all calm that you will never let go of, the rock of the one planted erect. The Tree of Life.
Glory Be
Song:
Be Not Afraid
Song:
City of God
Jesus:
Comfort My people, make gentle their ways, proclaim to My city, the day of her birth, for it is this day that is born to you a Savior, it is Christ the Lord, and it is My beloved ones, that the time of the birth of the children of light is at hand and they will be led out of the darkness. It is through you, I come to you this day and I ask you to be strong, for the days ahead will be days that you will be shaken as rotten fruit from the tree, the fruit will fall to the ground, but you will be strong and you will not lose your way, but you will suffer much. You will be taunted and tempted, you will have to hold fast to the Tree of Life for it is there that you will be fed, you will be fed with My Body and My Blood, and if you fail and if you are pressed on, you must go ahead for the only victory will be in endurance and proceeding ahead, you cannot be prideful. I am stripping you of your imperfections and as you grow in oneness, they will stick out like sore thumbs, the thumbs that come out must be cut off, they must be trimmed and you must die to these imperfections. You will grow in greater oneness. My beloved ones you cannot give up. No matter how hard it is, never, ever give up. For it is through you that many, many souls will be led to everlasting life in Me. Is it worth the torture, yes I say torture, to suffer so, for the sake of the souls of your brothers. You will be pressed on and you must not be prideful. You must live in humility and truth, with the underlying desire in your heart to bring about the Reign of My Most Sacred Heart. I am Jesus, I am greatly pleased. Do not let satan focus on your imperfections and tell you that you are not doing a good job. You are doing a job for the King, and I am greatly pleased with your efforts, but you are not perfect, you must admit your imperfections that you will grow to be more like Me, and like your heavenly Father. I am Jesus, your beloved Savior come to save this sinful race.
Given October 29, 2016
R. Please spread blessed holy water
(You can also mix Jesus and Mary water
with your blessed Holy Water if you have it.)
in your yard, around your house,
in the state you live in.
And ask God to bless your state
Ask God to bless the United States
Pray all prayers through the intercession of
Our Lady of CLEAR – WATER.
Ask the Lady of CLEAR - WATER
to help with the blessed water.
Mary has appeared to me for 22 years,
in Ohio and Florida.