20 Years Ago Today
March 3, 1997
Falmouth flooded
March 3, 2017
Why am I Afraid to Love
R. Why am I afraid to love. I know
the Heart of Jesus is consumed with
love on fire for love of
me and love of the souls God
has created. I feel the white heat
of God's love, I know God's presence
and yet He commands, commands me
to love and I hold back. Why am
I afraid to let go, as He commands
me, and to give, to give my all –
to be His instrument of love – as
He loves in me –
Why am I afraid to love –
to be as He operates and loves
in me – Do I think there
is security in holding back –
Oh God – Why am I afraid
to love –
Oh God – Why do I hold on
when I need to let go –
Do I see His Sacred Heart –
full of love for me and full of
love for men and I think
there is some kind of security
in holding back –
Why am I afraid to love –
to let go – to trust as He wants
me to do – to trust in Him and
not be afraid – Not be afraid –
because He commands me to love –
Why am I afraid to love – to
let go – to spend
myself answering Him – with a
heart consumed with love for
Him and love for others –
Why am I afraid to prepare
my heart as I should to even
contemplate His infinite love
for me – to meditate on Divine
Love for me and let the love
He has for me – consume my
heart – so He can operate
in me –
Give me Your Heart oh
Jesus, give me a heart like
Yours.
Why am I afraid to
really become aware of the
reality of His love – the depth –
the reality of Divine Love –
the reality that Jesus loved me
so much He died for me on
the cross –
God is not like a stingy –
holding back, untrusting man –
God is Divine – God is
consumed with love for me –
Open my mind, my heart
to know this reality of
Divine love.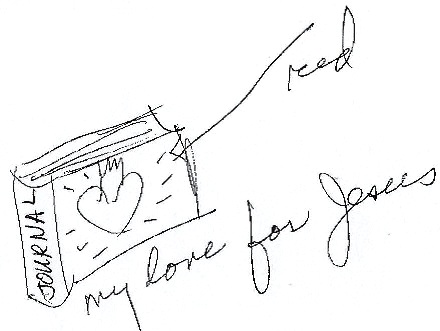 R. Oh my beloved Jesus, I am
consumed with love for Thee
Oh my beloved –
let me know and experience
in my soul the reality of
Divine Love –
Let me Open wide and
not hold back when You
beckon me to give –
to open –
to be on fire for love of Thee –
Oh Savior
inebriate me with the reality
of Divine Love and
in so doing – meditate Your
love for me that You
gave Yourself in the bitter
passion – to Your death
on the cross –
that I might live more
deeply in Thee –
live in Thee –
my beloved one –
live in Thee more deeply here and
Be consumed with Divine
Love for all eternity –
when I see Thee face to
face and exist eternally
wrapped in the embrace
of Divine Love – eternally
in the beatific vision –
Being wrapped in the love
of Father, Son and Holy Spirit –
forever in heaven –
This is my goal, my God –
Why am I afraid to love –
Wrap me in Your Divine Love
of Your Sacred Heart
consumed with love for
me and all men and
help me to not be afraid
to love –
But be as You desire
me to be – to operate
in my heart and love through
me –
Most Sacred Heart of Jesus
I adore You, I worship You,
I love You, I give myself
to You –
Come and dwell in me
NOW – operate
in my feeble heart and
bid me to grow more and
more likened to You
in my being – to love
through You and to say
with St. Paul –
I have been crucified with
Christ –
it is no longer I who
live, but He who
lives in me –
Come to me Lord, possess
my soul
Prayer for Union with Jesus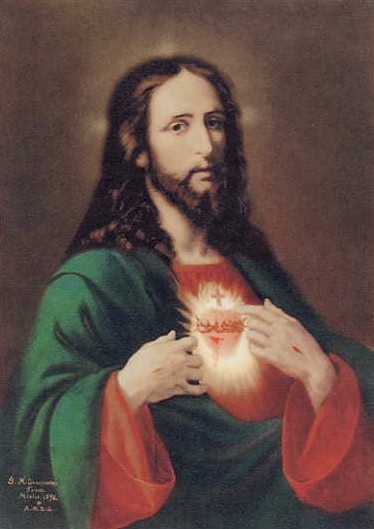 Come to me, Lord, and possess my soul. Come into my heart and permeate my soul. Help me to sit in silence with You and let You work in my heart.

I am Yours to possess. I am Yours to use. I want to be selfless and only exist in You. Help me to spoon out all that is me and be an empty vessel ready to be filled by You. Help me to die to myself and live only for You. Use me as You will. Let me never draw my attention back to myself. I only want to operate as You do, dwelling within me.

I am Yours, Lord. I want to have my life in You. I want to do the will of the Father. Give me the strength to put aside the world and let You operate my very being. Help me to act as You desire. Strengthen me against the distractions of the devil to take me from Your work.

When I worry, I have taken my focus off of You and placed it on myself. Help me not to give in to the promptings of others to change what in my heart You are making very clear to me. I worship You, I adore You and I love You. Come and dwell in me now.
-God's Blue Book, January 17, 1994
Song: Give my Your Heart Oh Jesus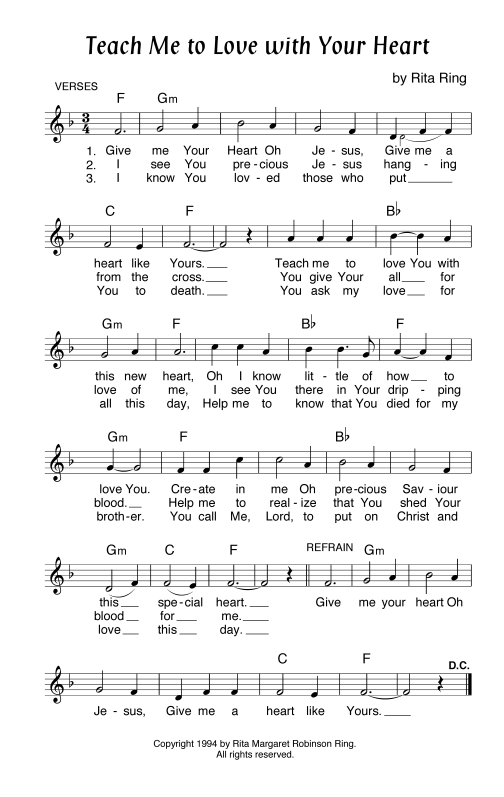 Song: Why Do We Hurt the Ones We Love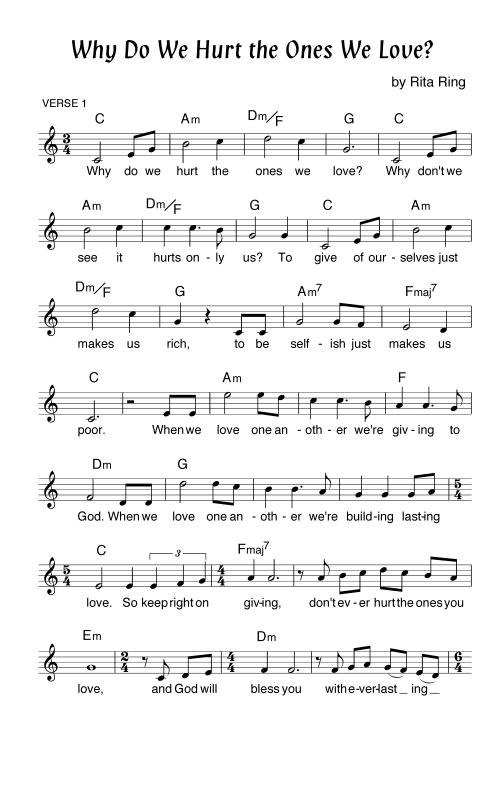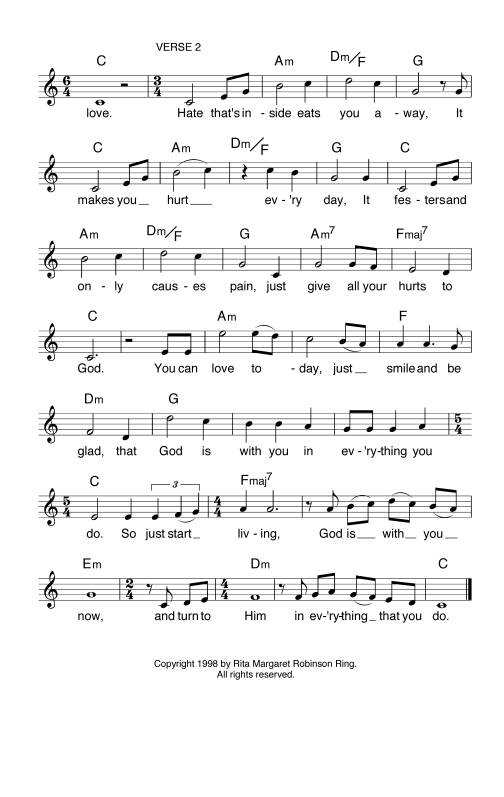 Song: A Song from Jesus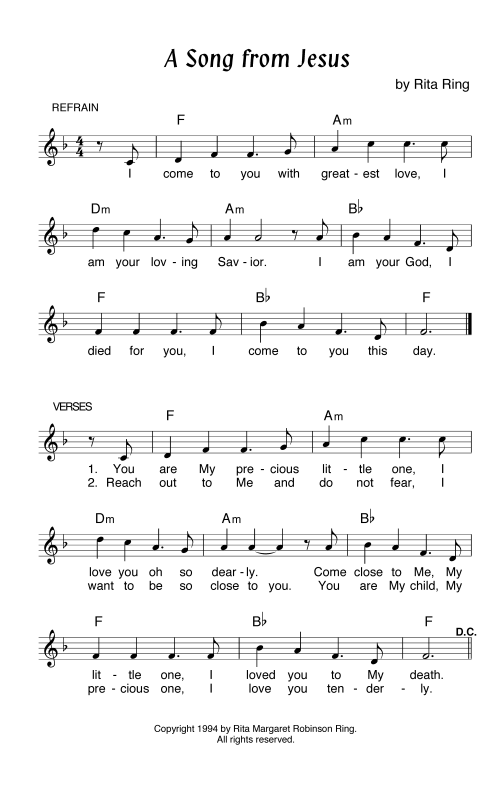 Song: I Love You Jesus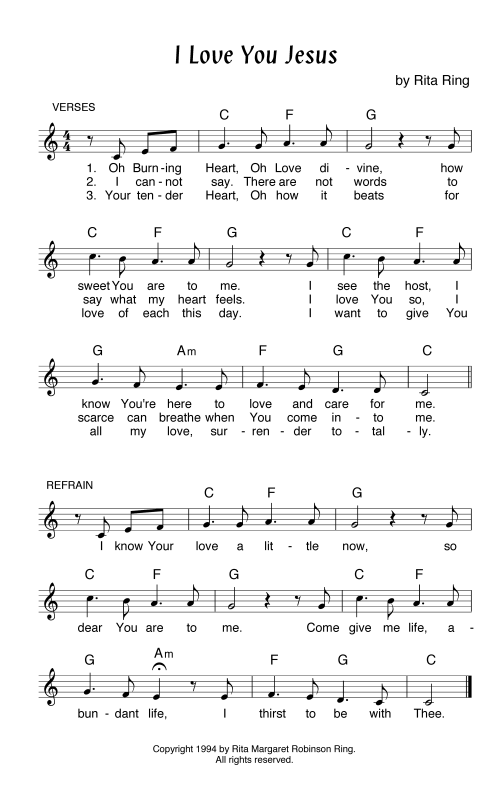 I Love You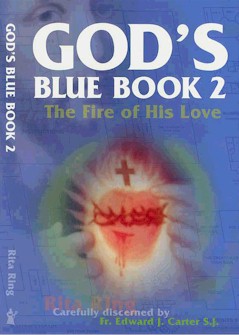 April 13, 1994
Words of Jesus. Read before the Tabernacle.
Jesus: How, child, do I, Jesus, tell you I love you? You hold on to silly things when God is in your midst and is ardently loving you. I am Jesus Christ, the Son of God. I am writing to each precious child this day. I am on fire for love of you. I remain in the Eucharist to be with you with My ardent love. I did not want to leave My beloved ones at the Last Supper. I love you so, My dear and ardently loved children. I remain with you this day in the Blessed Sacrament, the same Jesus Who died a brutal death on the Cross.
Do you know I am truly present there? Do you know that God waits every day for you in the tabernacle? Do you comprehend even a minute amount of My love? You will never know of how I love you on earth.
I, Jesus, truly the Son of God, came to earth a man and suffered a brutal death for love of you. I love you so much! I remain with you this day. I long for your love. I want you to come and be with Me in front of the tabernacle. I wait, I yearn for you to come and whisper your love to Me. I am a person and I love you this day, with such an ardent on-fire love! No human could ever compare a speck to My love for you.
I wait, little ones, in the tabernacle. I wait for you to come and receive Me in Communion. I want you to want Me so much you cannot wait to come and receive Me. I want to be the love, the center of your life!
I am Jesus. I am the Son of God. I am writing to you this day. I want to possess your very soul and live in you. I have all you need, sweet ones. Oh, you are so blind! I long for your union with Me. I wrote the book of love. I instituted it, yet you go to the world for your love and do not even come to Me! Oh, I love you, little ones. Little ones, beloved of the Father, loved by the Holy Spirit, mothered by My very own mother! What more can I say? The rest is up to you!
I give you your will with such love and I want your love freely given. I am God. What do you think you could ever need that I do not give you? I am the Savior of this world. I am Jesus, the Son of God. I am waiting for you. I am longing for you. I am yearning for you. I am God. I have all you ever will need!
Surrender this life to Me. Pray My Prayer for Union with Me. I want to possess your soul and operate from your very being. I am Jesus. I am the Son of God. I am the Sacred Heart of Jesus. I am Who am. I died and rose on the third day.
Harken to My call, harken to My pleading. Spend your days in love with Me. Nothing matters unless it is rooted in Me and rooted in My love. I am the Son of God. I am the Sacred Heart of Jesus. I love you with the tenderest love. I am waiting this day for just you, My beloved one. Come to Me for I am the tenderest of all hearts. I am the Sacred Heart of Jesus.
- God's Blue Book, Volume 2 April 13, 1994
8th Sunday in Ordinary Time
Isaiah 49: 14-15

Zion was saying,
'Yahweh has abandoned me,
the Lord has forgotten me.'
Can a woman forget her baby at the breast,
feel no pity for the child she has borne?
Even if these were to forget,
I shall not forget you.
1 Corinthians 4: 1-5
It is widely reported that there is sexual immorality among you, immorality of a kind that is not found even among gentiles: that one of you is living with his stepmother. And you so filled with your own self-importance! It would have been better if you had been grieving bitterly, so that the man who has done this thing were turned out of the community. For my part, however distant I am physically, I am present in spirit and have already condemned the man who behaved in this way, just as though I were present in person. When you have gathered together in the name of our Lord Jesus, with the presence of my spirit, and in the power of our Lord Jesus, hand such a man over to Satan, to be destroyed as far as natural life is concerned, so that on the Day of the Lord his spirit may be saved.
Hebrews 4: 12
The word of God is something alive and active: it cuts more incisively than any two–edged sword: it can seek out the place where soul is divided from spirit, or joints from marrow; it can pass judgement on secret emotions and thoughts.
Matthew 6: 24-34
'No one can be the slave of two masters: he will either hate the first and love the second, or be attached to the first and despise the second. You cannot be the slave both of God and of money.

'That is why I am telling you not to worry about your life and what you are to eat, nor about your body and what you are to wear. Surely life is more than food, and the body more than clothing! Look at the birds in the sky. They do not sow or reap or gather into barns; yet your heavenly Father feeds them. Are you not worth much more than they are? Can any of you, however much you worry, add one single cubit to your span of life? And why worry about clothing? Think of the flowers growing in the fields; they never have to work or spin; yet I assure you that not even Solomon in all his royal robes was clothed like one of these. Now if that is how God clothes the wild flowers growing in the field which are there today and thrown into the furnace tomorrow, will he not much more look after you, you who have so little faith? So do not worry; do not say, "What are we to eat? What are we to drink? What are we to wear?" It is the gentiles who set their hearts on all these things. Your heavenly Father knows you need them all.
Set your hearts on his kingdom first, and on God's saving justice, and all these other things will be given you as well. So do not worry about tomorrow: tomorrow will take care of itself. Each day has enough trouble of its own.'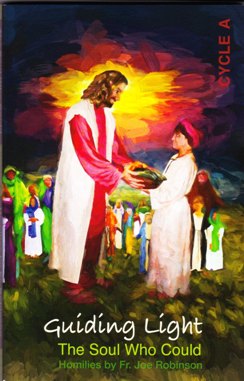 8th Sunday in Ordinary Time
February 27, 2011
INTRODUCTION – (Isaiah 49:14-15; 1 Corinthians 4:1-5; Matthew 6:24-34) The Jews certainly thought God had forgotten them after 50 years of exile in Babylon. But God tells them he hasn't forgotten. The prophet records what God spoke: "Comfort, give comfort to my people, says your God. Speak tenderly to Jerusalem and say to her that her service is at an end, (i.e. the exile is over), her guilt is expiated." (Isaiah 40:1-2) God goes on to tell his people he has written their name on the palm of his hand – an image expressing his continual remembrance of his people. Our very short first reading today is one of the most tender expressions in the Old Testament of God's love for God's people.

HOMILY – Murphy and his buddies were out playing cards one evening and Murphy was soon down $500. After he lost an additional $500 in the next hand, he grabbed his chest and fell over dead. His buddies didn't know what to do, but they knew they had to tell his wife. Sullivan was chosen to tell Murphy's wife. The other guys told him he had to be very gentle, not to shock her and to break it to her easily. He assured them he would be the essence of tactfulness. So he went to the house, knocked on the door and when Mrs. Murphy answered he told her, "Your husband just lost $1000 in a poker game and he is afraid to come home." She replied, "Tell him to drop dead." Sullivan said, "I'll be sure and do that Mrs. Murphy." Jesus reminds us today in the gospel that we are not in control of that moment when we have to leave this world. Modern medicine may give us a little more time, but we can't avoid the inevitable. He asks us: "Can any of you by worrying add a single moment to your life-span?"

As we continue listening to the Sermon on the Mount, Jesus reminds us that entering the kingdom of heaven is more important than everything else in our lives. In a variety of ways this theme runs all through the Sermon on the Mount. In each part of the Sermon, Jesus tells us something we need to know in order to enter into the heavenly kingdom. Today's passage focuses on our everyday needs and worries.

The people Jesus was speaking to had more basic needs and worries than most of us have. Most of them were just trying to survive. Many people are just trying to survive today too, but most of us have our basic material needs met and so we worry about other things like safety and security, our loved ones, politics, health, the price of gas, whether I should get a new cell phone, worrying whether my nose is too big, keeping up with the Jones', etc. As important as some of our concerns are, God's kingdom is more important. Jesus tells us, "Put God first and have more trust in God."

We must not distort his message like the boy who wrote home from college: "Dear Mom and Dad, today's gospel reading was all about not worrying over things like food and clothing because God is going to give them to us anyway, and it takes our minds away from what really matters. That gave me a whole new perspective. From now on, I'm not going to worry about getting good grades, finding a job, etc. God knows that I need them and God will come through. Your loving son. P.S. In case God is slow getting around to me, I need $800. (from Preaching Resource, Celebration Publications.org, Feb 27, 2011, pg 4)

God expects us to use our brains to deal with life and to provide for ourselves. There is a line in George Bernard Shaw's play Joan of Arc. Joan was discussing with her general whether she should go into battle with an army that vastly outnumbered her own. She said God would help her win. Her general told her, "God is no man's daily drudgery." The general as it turned out was right. Joan lost the battle. God is not going to do for us what we should do for ourselves. He's not going to do our laundry, pay our bills, cut our grass or plant our gardens. We have to do for ourselves what God gave us the power to do.

There are those times when we are not in control. That's when we must trust in God's love and care. If we don't trust, we can worry ourselves to death, but Jesus doesn't want us to do that. There is a line from St. Paul that is very helpful to me. He tells us, "for those who love God, all things work out for the best." (Rom 8:28) Believing that brings me a lot of peace. Amen.
7th Sunday in Ordinary Time
Leviticus 19: 1-2, 17-18
Yahweh spoke to Moses and said:
'Speak to the whole community of Israelites and say:
"Be holy, for I, Yahweh your God, am holy.

You will not harbour hatred for your brother. You will reprove your fellow–countryman firmly and thus avoid burdening yourself with a sin. You will not exact vengeance on, or bear any sort of grudge against, the members of your race, but will love your neighbour as yourself. I am Yahweh.
Psalm 103: 1-4, 8, 10, 12-13
Bless Yahweh, my soul,
from the depths of my being, his holy name;
bless Yahweh, my soul,
never forget all his acts of kindness.

He forgives all your offences,
cures all your diseases,
he redeems your life from the abyss,
crowns you with faithful love and tenderness;

Yahweh is tenderness and pity,
slow to anger and rich in faithful love;

he does not treat us as our sins deserve,
nor repay us as befits our offences.

As the distance of east from west,
so far from us does he put our faults.

As tenderly as a father treats his children,
so Yahweh treats those who fear him;
1 Corinthians 3: 16-23
Do you not realise that you are a temple of God with the Spirit of God living in you? If anybody should destroy the temple of God, God will destroy that person, because God's temple is holy; and you are that temple.

There is no room for self-delusion. Any one of you who thinks he is wise by worldly standards must learn to be a fool in order to be really wise. For the wisdom of the world is folly to God. As scripture says: He traps the crafty in the snare of their own cunning and again: The Lord knows the plans of the wise and how insipid they are. So there is to be no boasting about human beings: everything belongs to you, whether it is Paul, or Apollos, or Cephas, the world, life or death, the present or the future — all belong to you; but you belong to Christ and Christ belongs to God.
Matthew 5: 38-48
'You have heard how it was said: Eye for eye and tooth for tooth. But I say this to you: offer no resistance to the wicked. On the contrary, if anyone hits you on the right cheek, offer him the other as well; if someone wishes to go to law with you to get your tunic, let him have your cloak as well. And if anyone requires you to go one mile, go two miles with him. Give to anyone who asks you, and if anyone wants to borrow, do not turn away.
'You have heard how it was said, You will love your neighbour and hate your enemy. But I say this to you, love your enemies and pray for those who persecute you; so that you may be children of your Father in heaven, for he causes his sun to rise on the bad as well as the good, and sends down rain to fall on the upright and the wicked alike. For if you love those who love you, what reward will you get? Do not even the tax collectors do as much? And if you save your greetings for your brothers, are you doing anything exceptional? Do not even the gentiles do as much? You must therefore be perfect, just as your heavenly Father is perfect.'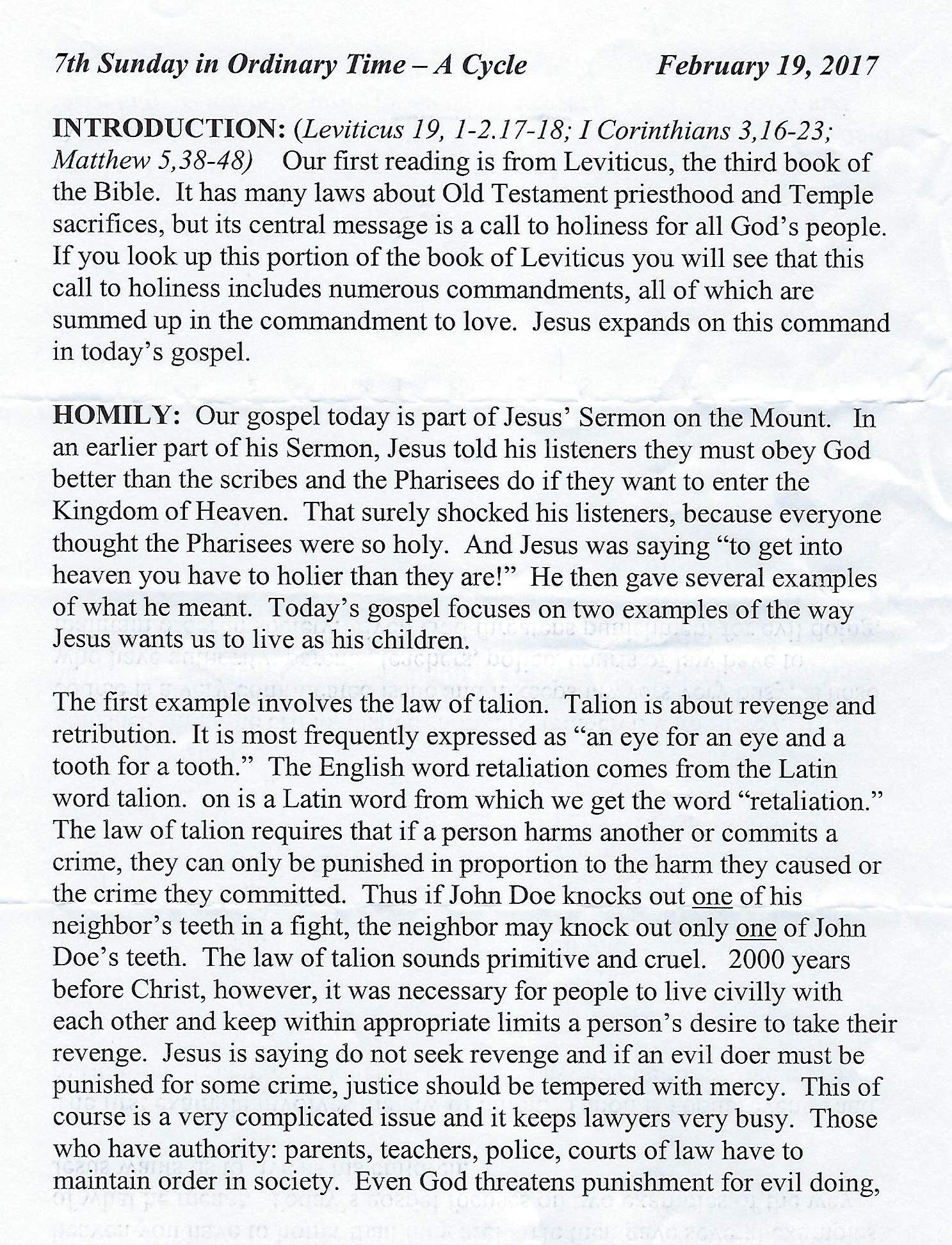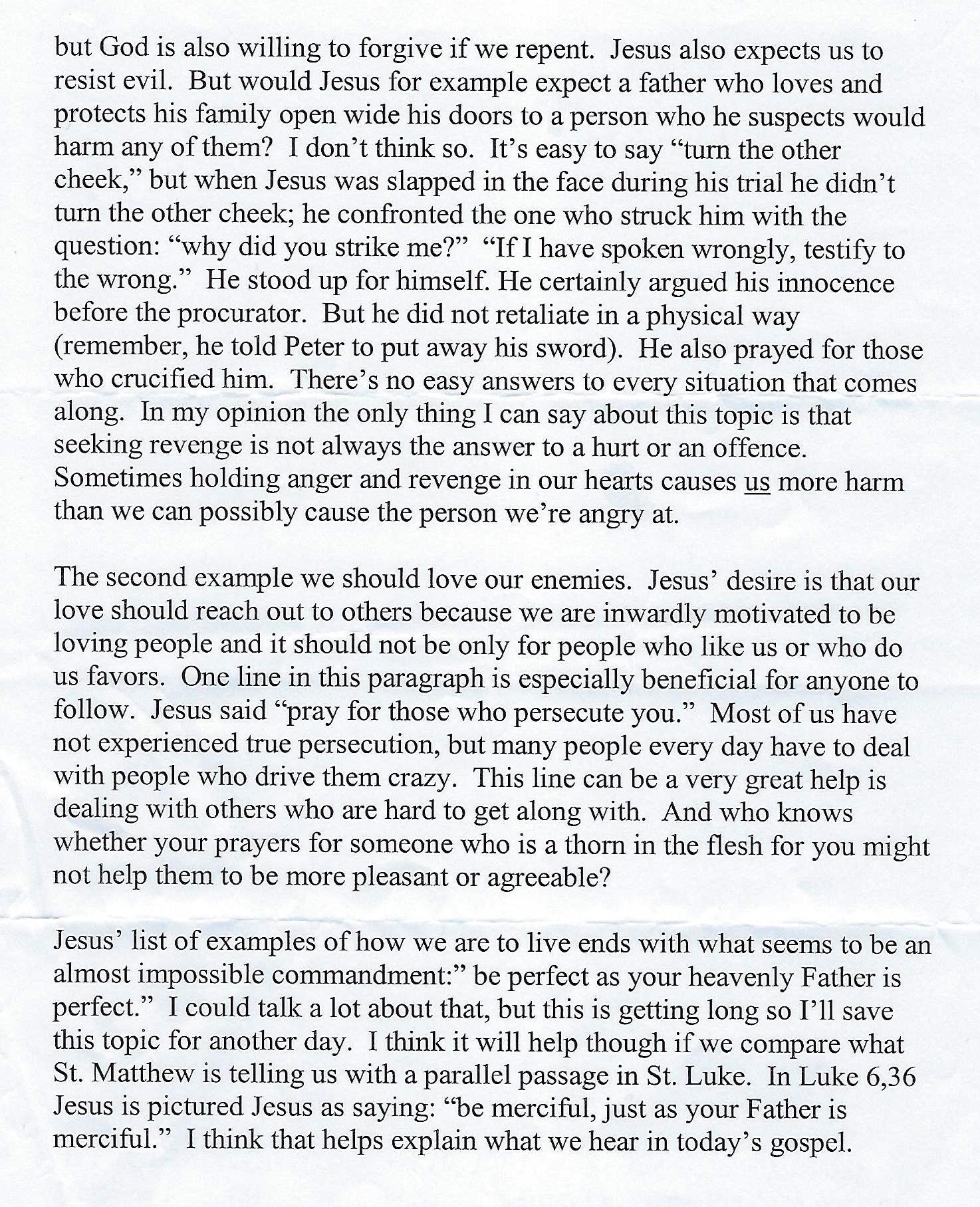 Given October 29, 2016
R. Please spread blessed holy water
(You can also mix Jesus and Mary water
with your blessed Holy Water if you have it.)
in your yard, around your house,
in the state you live in.
And ask God to bless your state
Ask God to bless the United States
Pray all prayers through the intercession of
Our Lady of CLEAR – WATER.
Ask the Lady of CLEAR - WATER
to help with the blessed water.
Mary has appeared to me for 22 years,
in Ohio and Florida.