Given February 5, 2017
R. Dear Jesus,
Please help me, put my
spiritual bandages on my
soul so I will be healed of
all that needs healing.
Jesus: Though you walk in
the valley of darkness I
will be your rear guard
and your shield.
That you know more
and more that life is in Me.
Woe you who labor and are
heavily burden – a light shines
around you and peace I infuse
into the troubled heart.
Peace to you, My child, though
you walk the valley of darkness
I send light to light your path –
the victory is seen in that
the sun comes every day –
Sunrise, Sunset, Sunrise,
Sunset and your days are
soon ended.
How did you live in
your hearts? How did you
labor in My vineyard – did you
use the days I gave wisely to
promote My work – to do the
job the Father created you to
do – to love and serve Him
as only you can do.
Sunrise, Sunset,
swiftly goes - the days
of your lives. Do not ever
waste a moment living
in self-pity and fear – soon
the days are gone, your
life is gone – your trial is ended.
How did you live child,
for or against the heavenly
Father's will.
Let your days be numbered
aright. Let the morning
and evening remind you
of the days of your lives.
R. When I was carrying the
children in my womb I
worried about their birth –
then they came and all were
well children and then I
raised them and worried and
fretted and then they left –
and they are married and now
I have grandchildren, the
days go by in petty pace
and never will I have a
chance to do a more
better day - we got one
shot at every day –
The devil wants us to worry –
to focus on emotions, needless
details – God gives us the strength
to deal with every day.
Every day is like a
new sheet to write the
story that day. How
beautiful the sun comes
up every day to light the
day anew – after resting
from the day before.
Oh it is a Divine Design
that repeats and shows
beauty for us. How blinded
we can be, when we need
to let go and live and walk by
the hand of Jesus.
The Apostles did this –
walk by the hand of Jesus,
let Him teach them. He
showed them miracles. They
walked close to Him and He
taught them what they needed
to know.
Jesus is here – truly present
in the Eucharist. We receive
Jesus in communion, body,
blood, soul and Divinity –
Jesus, Jesus, why do we
worry and give into the
destructive ways when we
must walk more and more
in faith and live in hope and
love – the heart was made
for love. Why would men
rebel against God who
created them. Why are men
so brazen in their pride
and senseless ways.
We are the Spouse of Jesus Christ –
we walk the isle and
receive Him at Mass – We
received in baptism a sharing
in His life –
Oh Holy Spirit Come into our hearts
to enlighten the mind of Your
people –
For the devil is strong and
if you do the work of Jesus
the devil will work to try
to stop it.
Oh we need prudence
and the gifts of the Holy Spirit to
fight satan who is at battle
with the man doing God's
work.
God has told us – He tells
us in this message – He wants
such intimate love with us,
He wants to dwell IN US –
He wants to operate IN US –
but He says the devil's grip
is paralyzing and crippling –
don't give into him.
Cling to Me

May 13, 1993

Jesus: My dear child, if you stay close to Me, then I live in you and you live in Me. I am He Who created you and I love you with such an intensity that you will never know. My words are your truth. You must abide in My heart in all things. There is no room for doubt. My ways are steadfast, direct, and without error.

You must stay rooted in Me to ward off the power of the evil one. His grip is paralyzing and crippling. His power is stronger every day.

When you live in Me, I am in your heart and he has no power over Me. I am your God. I am your true lover. I want to protect you. I want to guard you from this force. Stay rooted firmly in Me and he will have no power.

I am He Who comforts you. My hand is upon you. Hold tight to Me, My child. My eyes are fixed right on you. You are My most precious child. I love you as no other can. My arms are about you. My tenderness surrounds you. My love is in your heart. You go not alone. I walk with you.

I share every aspect of your life with you. Cling to Me, feel My presence. It is warm and secure within your chest. There is no room for fear, for I cast out fear and bring you comfort and joy.

end of May 13, 1993
R. We need the gifts of the Holy Spirit.
We need the virtues. We must
let go of the pressing down
of satan and walk by faith –
live in hope of our eternal
salvation. Come Holy Spirit Come
and fill us with love and light –
Come into our troubled prideful
hearts and fill us with all
we need to operate as Your
instruments of love –
Come and dwell in my feeble
heart – lest I stumble and
fall and not find my way –
Shelter me from the sun
that is scorching. Protect
our steps. Send the breezes
to lift us up – the coolness
of air on us on a hot day –
the water, pure, to quench
our thirsty souls – let the
days be sweet with Your
order and love and direction –
and my life lived to serve
and love You and live by the
will of the heavenly Father –
Teach me Your precepts –
Number me among those who
are serving and loving You
and others.
Only a fool turns away
from God, who wants to
forgive us and grant us
mercy. The prideful man
walks in his pride and he
lives a life caught in his
own darkness. His blindness
grows every day because of
his pride – even on sunny
days – he may not see
so good, but his blindness
is so great he doesn't
even know it.
Jesus: My child, I give you a
heart to love – I give you
the light of day to see –
I give you ears to hear My
teaching – I give you friends
to love. I remain in the Eucharist
truly present so you will pray
for yourself and your
country and your world,
the priests, the Church,
your family.
Satan never slumbers
or sleeps, if you intend
to work for Me in a serious
way – he is hypo-vigilant
and breathing down your
back at every turn.
You need to know My intimate
love. I want to dwell in you
and operate from you.
The Holy Spirit comes and enlightens
and strengthens the open soul
welcoming Him as their
Guest – You must ask
God to help you, now –
to be pure – to be empty –
to be surrendering – to live
every day for God – live as it
is your last!!
Life is like a gallery of picture.
Once you go to bed your picture
is framed for that day for the
Gallery by _______ _______ of
your life.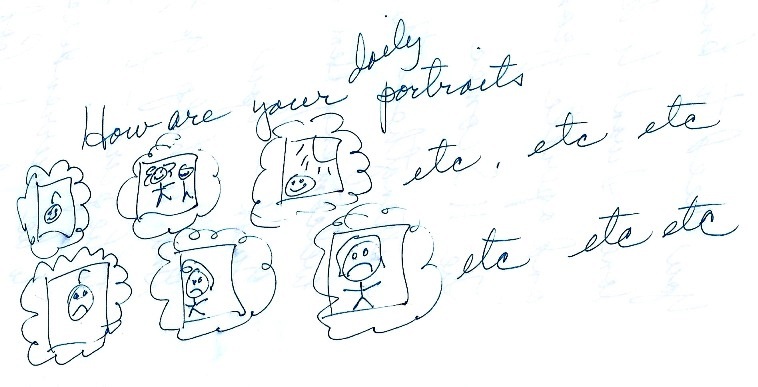 Jesus: Wear the armor I give you
for salvation.
Dwell in My Heart of
love – on fire for
love of men.