Prayer for Grace for our Country
Dear Father united to Jesus in the Holy Sacrifice of the Mass, the Sacrifice of Calvary sacramentally made present, celebrated around the world, in the Holy Spirit. We offer up all we do united to the Mass. We unite in one mind and one heart as members of the mystical body of Christ, with Christ our head in the pure and holy Hearts of Jesus and Mary, through the powerful intercession of Mary with all the angels and saints and souls in purgatory, and we beg for the saving grace, for our country, the United States. Please help us. We further pray for unity to always do the will of God in love. We spread the Blood of Jesus on the leaders and people of the United States and cast the devil into hell. We consecrate our country to the Sacred Heart and Immaculate Heart and all our dioceses, and beg for an outpouring of the Holy Spirit. God help us. We pray for our families, the priests, the Church and the world. In the Name of Jesus please hear us, we pray. We pray for our new president as he takes office. We pray that we are united as one nation under God to work together in love as God wants.
Given April 25, 2017
R. God created us with a purpose – God gifted
us to bring love to others – so others will
pass it on when we are gone. Love is
giving – we have relationships first with
God who is the source of love –
We were created and nothing is certain.
We can try to control things because of
fear, but isn't that silly – our lives
are full of unknowns.
There are people in the service – now
giving their lives for us, so we can be
safe.
There are priests who gave their lives
serving in the Church for us.
There are men, like our President,
Vice President trying to serve for us
to help us. There are leaders who are
faithful and loving.
There are also bullies who choose
to hurt people for their selfish pride,
that choose to be dark and evil
in their hearts, that hate more and
more every day and are full of lies
they tell themselves and pride and
anger and disobey God and authority
and punish people who want to stand
up for what is right – when they
live in a twisted space they make
of division and darkness.
God is real and in His Divine Justice
He will judge what we did, but
God forgives the contrite sinner who
comes and really wants to stop
sinning and do His will. God promises
mercy to those who seek His mercy
and are sorry for their sins.
We can't escape death – we were
born, we live and our bodies get
old and die – or get diseased –
and die.
God is all just –
God is love.
God knows all things –
To disobey God and hurt others
maliciously – to cause division
to watch others suffer for our
meanness is evil.
God is just –
God gives us so much –
We see beauty God has given
us. Oh God we thank You for Your
gifts to us.
The fruits of the Holy Spirit are
joy, love, peace, patience,
kindness, goodness, faithfulness,
gentleness, self-control –
Bad fruit is impurity, pride,
jealousy, lust, envy, selfishness,
greed, anger and punishment
in fits of holding out to cause people
to suffer for meanness,
lust, sexual immorality, idolatry,
hatred, malice of intent, deceit,
evil plotting to hurt others and watch
them suffer under a person's power,
slander –
A person can do a good thing
with an evil motive to punish,
control and be mean hurting
others with it – This is wrong –
Jesus: To use religion to do evil to men is
despicable to Me. To deceive others
in religion to act out anger
and punishment and meanness
is despicable to the Heavenly Father.
Playing a trick of deception for a
manipulating prideful heart in
the service of God is debauchery.
The Ten Commandments
1. I, the Lord, am your God. You shall not have other gods besides me.
2. You shall not take the name of the Lord, your God, in vain.
3. Remember to keep holy the Sabbath day.
4. Honor your father and your mother.
5. You shall not kill.
6. You shall not commit adultery.
7. You shall not steal.
8. You shall not bear false witness against your neighbor.
9. You shall not covet your neighbor's wife.
10. You shall not covet anything that belongs to your neighbor.
Luke 23: 34
Jesus said, 'Father, forgive them; they do not know what they are doing.' Then they cast lots to share out his clothing.
Jesus: God is light and in Him is NO
Darkness!
What a fool to display rebellion
before God with an evil
purpose in one's heart –
I am the way, the truth and the life –
Prayer of St Ignatius

Soul of Christ, sanctify me
Body of Christ, save me
Blood of Christ, inebriate me
Water from the side of Christ wash me
Passion of Christ, strengthen me
O good Jesus, hear me
Within Thy wounds hide me
Permit me not to be separated from Thee
From the wicked foe defend me
at the hour of my death call me
and bid me come to Thee
That with Thy saints I may praise Thee
For ever and ever. Amen.

From The Spiritual Exercises of St. Ignatius,
by Louis J. Puhl, S.J. p.11

21. SPIRITUAL EXERCISES

Which have as their purpose the conquest of self
and the regulation of one's life in such a way that
no decision is made under the influence of any
inordinate attachment

From The Spiritual Exercises of St. Ignatius, by Louis J. Puhl, S.J. p.12
23. FIRST PRINCIPLE AND FOUNDATION
Man is created to praise, reverence and serve God
our Lord, and by this means to save his soul.
Excerpt of The Spiritual Exercises of St. Ignatius, by Louis J. Puhl, S.J. pp.60-61


136. THE FOURTH DAY

A MEDITATION ON TWO STANDARDS

The one of Christ, our supreme leader and lord,
the other of Lucifer, the deadly enemy of our
human nature

PRAYER. The usual preparatory prayer.

window at a former Jesuit Seminary

137. FIRST PRELUDE. This is the history. Here it will be that Christ calls and wants all beneath His standard, and Lucifer, on the other hand, wants all under his.

138. SECOND PRELUDE. This is a mental representation of the place. It will be here to see a great plain, comprising the whole region about Jerusalem, where the sovereign Commander-in-Chief of all the good is Christ our Lord; and another plain about the region of Babylon, where the chief of the enemy is Lucifer.

139. THIRD PRELUDE. This is to ask for what I desire. Here it will be to ask for a knowledge of the deceits of the rebel chief and help to guard myself against them; and also to ask for a knowledge of the true life exemplified in the sovereign and true Commander, and the grace to imitate Him.


FIRST PART

THE STANDARD OF SATAN

140. FIRST POINT. Imagine you see the chief of all the enemy in the vast plain about Babylon, seated on a great throne of fire and smoke, his appearance inspiring horror and terror.

141. SECOND POINT. Consider how he summons innumerable demons, and scatters them, some to one city and some to another, throughout the whole world, so that no province, no place, no state of life, no individual is overlooked.

142. THIRD POINT. Consider the address he makes to them, how he goads them on to lay snares for men and bind them with chains. First they are to tempt them to covet riches (as Satan himself is accustomed to do in most cases) that they may the more easily attain the empty honors of this world, and then come to overweening pride.

The first step, then, will be riches, the second honor, the third pride. From these three steps the evil one leads to all other vices.


SECOND PART

THE STANDARD OF CHRIST

143. In a similar way, we are to picture to ourselves the sovereign and true Commander, Christ our Lord.

144. FIRST POINT. Consider Christ our Lord, standing in a lowly place in a great plain about the region of Jerusalem, His appearance beautiful and attractive.

145. SECOND POINT. Consider how the Lord of all the world chooses so many persons, apostles, disciples, etc., and sends them throughout the whole world to spread His sacred doctrine among all men, no matter what their state or condition.

146. THIRD POINT. . . .


end of excerpt of The Spiritual Exercises of St. Ignatius
Jesus: Indignity with malice of
intent will not go unpunished
when one is too stubborn to repent.
April 26, 2017
R. My dear Jesus thank You for dying and rising
for me. I love You, Jesus and I thank You for
all that You have taught us about Yourself
in the Shepherds of Christ Movement. Thank You for
teaching us about what love is – that love is following
in Your footsteps, doing the will of God in love.
When a person loves they give freely for the
good of the other to be as the heavenly Father
created us to be. In loving and giving with
love parents help their children to give
and love others in this world. If parents
teach children to love – the child should
bring love into the world to others. Love
is why You created us. You created us in
Your image and likeness. We are instruments
to spread the Good News to others. You
created us with a purpose.
So many that went before us gave so
much to us. Jesus You gave us the Church.
You gave us Your Word. You gave us
the Eucharist and Baptism – You
give us a sharing in Your life and You feed
us with Yourself. We are here to love and
to follow in Your footsteps giving and
loving others.
Thank You, Jesus for the priests who
give us so much and celebrate Mass.
Thank You for the reminders that You
are in control and we really can't
control things. Thank You for all the
things You taught us in the Shepherds of Christ.
Mary: My Son Jesus has taught you
so much. He has taught you how to
pray. Pray as I told you, yesterday in
China. Consecrate your country and the
world to the Sacred Heart and My
Immaculate Heart and spread the
Blood of Jesus on all in the country
and the world at 12, 3, 6, 9. I am
your heavenly Mother and I appear as
the Queen of Peace to spread this message.
Jesus and I come to bring peace and
love and joy and unity.
Satan is division, chaos, anger,
confusion. Satan is evil. Satan
has tried to block the message My Son
Jesus and I have given to the world.
I am the Lady of Light. I appear
in light to show you that I am
with you.
My Son died for the souls that
reject Him. They say "no", No, No
even while he speaks telling them
His love for them. You have a free
will to open your heart and love or
to be full of pride, seeking power
and evil.
The "wild card" is the free will –
Do you love God and obey Him and live
your life being under God, under the commandments,
working with others doing what God called
you to do with a disposition of love of
giving, of being the son or daughter of
the heavenly Father and living God's Plan
or with your free will reject God,
reject the Plan of God, seek power
over every one, join in evil with a
corrupt heart and say "Nobody
will tell me what to do. My power is my god –
I live to be over every one else."
How can a person be so foolish.
This is God's world and He is Almighty –
He is the Creator – you are His creatures –
The devil wants division – division with
God – division with people and when
your days are ended – the man who
forced division and hatred cannot
expect an eternal reward for his unrelented
mortal sins.
Sin is failing to love God and love
others. Heaven is for lovers. Heaven
is where God wants you with Him
eternally. God commands you to love.
You cannot be disobedient and reject
God life-long and at your death
and not suffer for it eternally –

The fires of hell are full of the pompous,
impudent, stubborn people who sinned
mortally rejecting God and never asking
for forgiveness.
I beg you, as your heavenly Mother,
as it approaches My 100 Year anniversary
at Fatima – to not test the hand of
God with disobedience to God and
hatred and division toward your neighbors –
God is love. The bullies will keep bullying
in their life-time – bullying the righteous
men – disobedience to God's authority –
seeking power – playing tricks to make
other squirm because of their evil
and then with a hard heart and the
look of being violated – they act as
if they, in their evil, were treated
unfairly. The devil is real –
He opposes God's Laws and people
give into him. They live under the
standard of satan – they live their
lives trying to prove the wrong they
do is right and soon they are
6 feet under with a tombstone
over them for their wicked lives –
You are here for a short time to
live to please your heavenly Father
who created you and put you on this
earth.
I am Mary, Queen of Peace, Jesus
and I have told you to spread the
devotion to our Two Hearts. The devil
has blocked my Fatima message
for 100 years and there was
World War II.
The man of disobedience, anger, grows
in greater and greater darkness as he
serves satan – he becomes angrier
and angrier blaming other men for
his choices to choose darkness –
Rejecting God is opposed to the plan
of the heavenly Father –
You were created to open your
hearts and live in love according to the
heavenly Father's Plan –
A man of evil can ignore any
accountability for his actions while
he acts to divide and hurt others
and do the work of satan – he is
a man in darkness, his pride grows
and he becomes more and more
an instrument for satan as he
gives into his darkness –
and loves evil designs – The righteous
man becomes his enemy and he wants
to bring him down –
God is love – the man who loves
God – loves men and wants to
go to heaven – He says "yes" to
God even in suffering –
He says "yes" to God –
"yes" – "yes" – "yes"
Jesus: I am the way, the truth and the
life.
I suffered and died for your
sins so you could live a
life of obedience and love
to the Plan of the heavenly
Father and go to heaven
eternally in unity and love.
You are here to show the heavenly
Father you are not like
Eve who wanted to be equal
to God and disobey God
because of power and pride.
The devil goes about the world
looking to devour souls
and stop the man doing the
work of My heavenly Father –
The devil uses people and they
operate for him because they
reject love and authority
and God's will and become
impudent and hard-in-heart.
My Heart is on fire for love of
the men I died for – Spread
this devotion to My Sacred Heart
and My Mother's Immaculate Heart –
The man who keeps rejecting God
and the 10 Commandments
will be sorry for his evil –
Song: I Am a God of Justice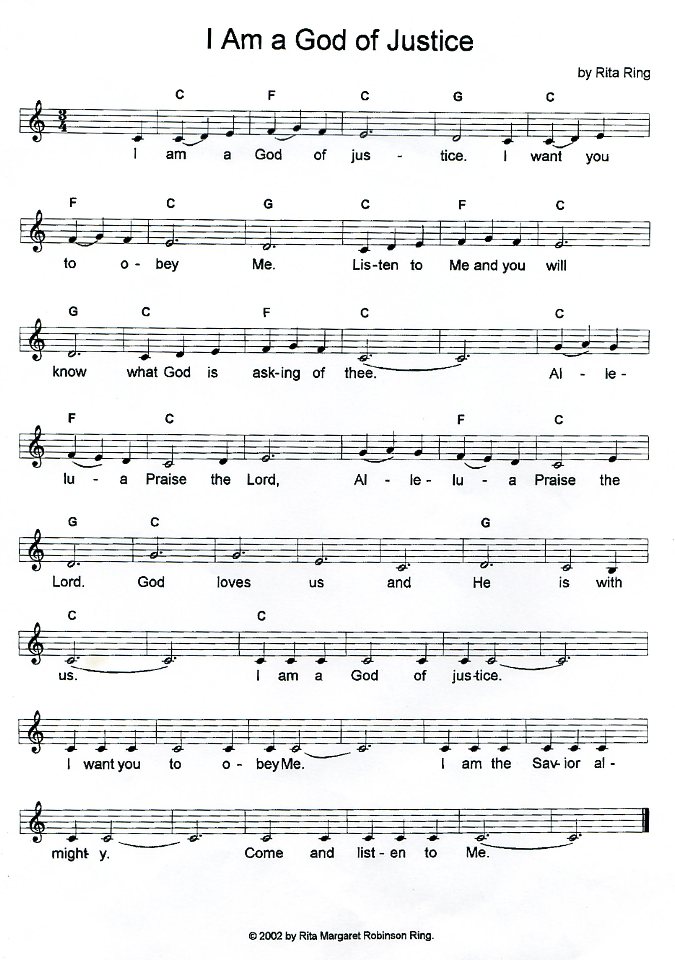 The man of evil rejects authority –
lives in division – makes chaos –
hates his brothers
and some are so stubborn they
refuse any help from God
or anyone to change their
evil ways –
Pray as you have never prayed before –
open your heart to God –
Evil men want righteous men under
their feet –
They want power –
They want to team up with other
"bullies" so they can be
on top and show their
power –
All power comes from God.
I am the way, the truth and the
life –
Given October 29, 2016
R. Please spread blessed holy water
(You can also mix Jesus and Mary water
with your blessed Holy Water if you have it.)
in your yard, around your house,
in the state you live in.
And ask God to bless your state
Ask God to bless the United States
Pray all prayers through the intercession of
Our Lady of CLEAR – WATER.
Ask the Lady of CLEAR - WATER
to help with the blessed water.
Mary has appeared to me for 22 years,
in Ohio and Florida.