Prayer for Grace for our Country
Dear Father united to Jesus in the Holy Sacrifice of the Mass, the Sacrifice of Calvary sacramentally made present, celebrated around the world, in the Holy Spirit. We offer up all we do united to the Mass. We unite in one mind and one heart as members of the mystical body of Christ, with Christ our head in the pure and holy Hearts of Jesus and Mary, through the powerful intercession of Mary with all the angels and saints and souls in purgatory, and we beg for the saving grace, for our country, the United States. Please help us. We further pray for unity to always do the will of God in love. We spread the Blood of Jesus on the leaders and people of the United States and cast the devil into hell. We consecrate our country to the Sacred Heart and Immaculate Heart and all our dioceses, and beg for an outpouring of the Holy Spirit. God help us. We pray for our families, the priests, the Church and the world. In the Name of Jesus please hear us, we pray. We pray for our new president as he takes office. We pray that we are united as one nation under God to work together in love as God wants.
April 8, 2017
Isaiah 50: 4-7
Lord Yahweh has given me
a disciple's tongue,
for me to know how to give
a word of comfort to the weary.
Morning by morning
he makes my ear alert
to listen like a disciple.
Lord Yahweh has opened my ear
and I have not resisted,
I have not turned away.
I have offered my back
to those who struck me,
my cheeks to those
who plucked my beard;
I have not turned my face away
from insult and spitting.
Lord Yahweh comes to my help,
this is why insult has not touched me,
this is why I have set my face like flint
and know that I shall not
be put to shame.
Psalm 22: 8-9, 17-20, 23-24
'He trusted himself to Yahweh, let Yahweh set him free!
Let him deliver him, as he took such delight in him.'

It was you who drew me from the womb
and soothed me on my mother's breast.

I can count every one of my bones,
while they look on and gloat;
they divide my garments among them
and cast lots for my clothing.

Yahweh, do not hold aloof!
My strength, come quickly to my help,
rescue my soul from the sword,
the one life I have from the grasp of the dog!

'You who fear Yahweh, praise him!
All the race of Jacob, honour him!
Revere him, all the race of Israel!'

For he has not despised
nor disregarded the poverty of the poor,
has not turned away his face,
but has listened to the cry for help.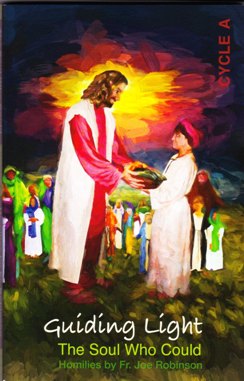 Palm Sunday of the Passion of the Lord
March 13, 2014
HOMILY –
Does anyone know what a kinkajou is? I came across this word for the first time this week and I had to look it up in a dictionary. A kinkajou is about the size of a large raccoon. It is related to the raccoon family and can be found in the wild in southern Mexico, Central America and the northern parts of South America. It has a strong tail it can use to hang from a tree limb; it has sharp claws and sharp teeth. A lady in Florida decided she wanted one for a pet. Having a dog was too commonplace, but having a pet kinkajou was really cool. It was a cute little pet when it was small, but when it experienced puberty for the first time, it went berserk. It tried to eat its own tail and tried to tear itself to pieces. The family was bitten and scratched trying to save the little creature from destroying itself. (from National Geographic, April 2014, pg 118). You might be wondering why the family would subject themselves to getting bitten and clawed to save this little animal? The answer (and it's an important answer) is this. It was a wild animal and its nature showed itself at this mature stage of life. The nature of this family who loved their pet also showed itself in their efforts to save it from destroying itself. The nature of the wild animal conflicted with the nature of the caring family.

We just heard the story of Jesus giving his life for us. Many times I've been asked, "why did Jesus have to die?" The reason goes back to the fact that it was in his nature to save us and he could not stop doing everything he was trying to do to lead us to salvation. There are elements in our nature that are driven by selfishness, pride, jealousy, cruelty and all kinds of attitudes and behaviors that work against God's desire to save us. In Jesus' passion we saw intense and pure love on the part of Jesus (that was his nature to be that way) and we saw the dark side of human nature working against him and trying to destroy him.

Because it is in Jesus' nature to love, he continues to reach out to us in love. He speaks to us each week in the Scriptures, he nourishes us each week by feeding us with his own body and blood. He willingly shares his Spirit with us so that we can continue to live and love more like he does as we stumble along making our way to eternal happiness. Amen. (thoughts from National Catholic Reporter 3/28 to 4/10/2014, pg 27)

R. Jesus suffered for our sins. Jesus knew that
He would suffer so for our sins. Jesus knew
every detail that He would go through – He
gave Himself – He is love. Love gives –
love does not hold back – love is not
selfish and self seeking – love wants –
first of all – to do all they can do to please
the heavenly Father – this is what determines
the man of holiness in his actions –
"What does God want of me."
"I want to do what God calls me to do today."
"I do what I do for love."

The man in darkness, doesn't feel good –
they can be angry inside – ready to
strike out – hold back – not give –
revenge – retaliation – starting conflict –
division – confusion – chaos

Darkness is not a fun place – Satan
is the counselor, while the person waits
thinking he has power, he will 'show them'.
It can be very devious, deceptive, malice
of intent –
How could a person be happy deceiving?

God made us in His image and likeness – So
we act because it's what God wants us
to do to serve Him, to love Him, to know
Him – more and more –

We need to pray now for our country and the
world – This is the most powerful thing we
can do. Make our hearts grow in love –
Give what God wants us to give.

A person closed down and pulling tricks,
hurting others – who would even go to
their funeral?

God made us to give love – To learn
to cooperate and work together.
God has given us these prayers in the
Shepherds of Christ to learn how to pray –

A person must learn to obey under
just authority – work as one as a
unit –

There was a man who went out by
himself on the ocean – he had a very
hard time –

Our life here can be compared to the
journey of Moses to the promised land –

The Pharaoh wanted power – his goal was
power over –

Who can win when they try power-over
God – We see Adam and Eve in Eden –
they were thrown from the Garden of Paradise
Eve wanted to be equal to God – that is
a bad place to be.

Philippians 2: 6-11
Who, being in the form of God,
did not count equality with God
something to be grasped.

But he emptied himself,
taking the form of a slave,
becoming as human beings are;
and being in every way
like a human being,
he was humbler yet,
even to accepting death,
death on a cross.

And for this God raised him high,
and gave him the name
which is above all other names;

so that all beings
in the heavens, on earth
and in the underworld,
should bend the knee at the name of Jesus
and that every tongue should acknowledge
Jesus Christ as Lord,
to the glory of God the Father.
Philippians 2: 8-9
Christ became obedient for us even to death,
dying on the cross.

Therefore God raised him on high and gave him
a name above all other names.
R. Jesus is the Light of the World –
We see the journey to Jerusalem –
He was not afraid – He did God's will –
He cried over Jerusalem.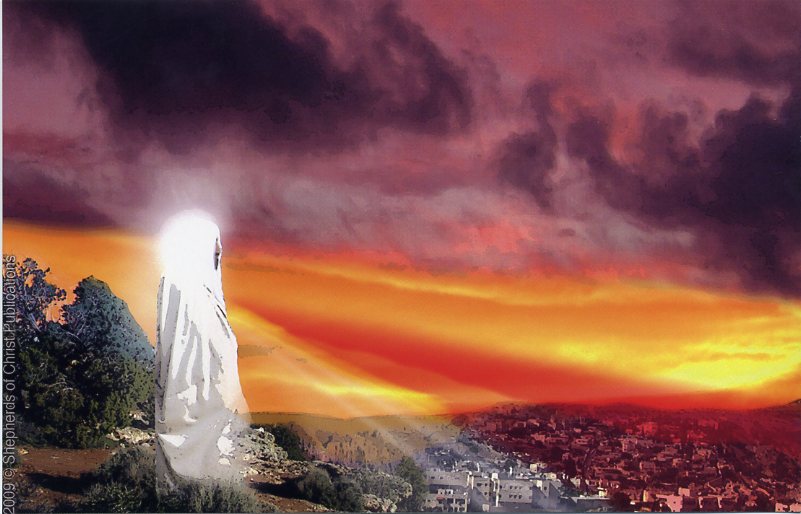 "Not a stone will be left on a stone"

R. The darkness was coming –
We know the Passion and death of
Jesus is at hand –
Jesus suffered and gave His life for us –
Jesus – the Suffering Servant –
We are weak - we pray for strength
to do God's will –
We pray for grace –
We love God so much –
We are privileged to adore and love
Jesus in the Blessed Sacrament
Sing: Remember Your Love
"Seedless, Barren, no fruit on the Vine"
Christ cursed the barren fig tree –
God calls us to love deep in our hearts –
to be heart-felt – one with Him –
to bring forth fruit on the vine –

John 15: 5
I am the vine,
you are the branches.
Whoever remains in me, with me in him,
bears fruit in plenty;...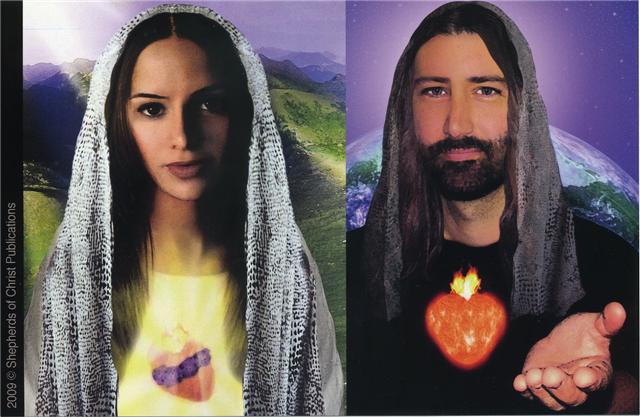 Act of consecration to the Sacred Heart of Jesus


and the Immaculate Heart of Mary
Lord Jesus, Chief Shepherd of the flock, I consecrate myself to Your most Sacred Heart. From Your pierced Heart the Church was born, the Church You have called me, as a member of Shepherds of Christ Associates, to serve in a most special way. You reveal Your Heart as a symbol of Your love in all its aspects, including Your most special love for me, whom You have chosen as Your companion in this most important work. Help me to always love You in return. Help me to give myself entirely to You. Help me always to pour out my life in love of God and neighbor! Heart of Jesus, I place my trust in You!
Dear Blessed Virgin Mary, I consecrate myself to your maternal and Immaculate Heart, this Heart which is symbol of your life of love. You are the Mother of my Savior. You are also my Mother. You love me with a most special love as a member of Shepherds of Christ Associates, a movement created by your Son as a powerful instrument for the renewal of the Church and the world. In a return of love, I give myself entirely to your motherly love and protection. You followed Jesus perfectly. You are His first and perfect disciple. Teach me to imitate you in the putting on of Christ. Be my motherly intercessor so that, through your Immaculate Heart, I may be guided to an ever closer union with the pierced Heart of Jesus, Chief Shepherd of the flock.
R. Judas betrayed Jesus for 30 pieces
of silver –
Jesus: Be on guard not to do things for your
own power – pride, selfishness
deception – Judas betrayed Me
for 30 pieces of silver –
What do you use that is Mine to
get control and power –
The devil tempts people to use
what is Mine for their own
evil –
I can spit you out of My Mouth
the arrogant who betray Me –
I cry blood for the man who gives
bad example – hurting people
spiritually for their anger
and pride – jealousy and envy –
Psalm 26: 12
"False witnesses have stood up
against me, and my enemies
threaten violence, Lord,
do not surrender me into
their power!"
Sing: A Song from Jesus –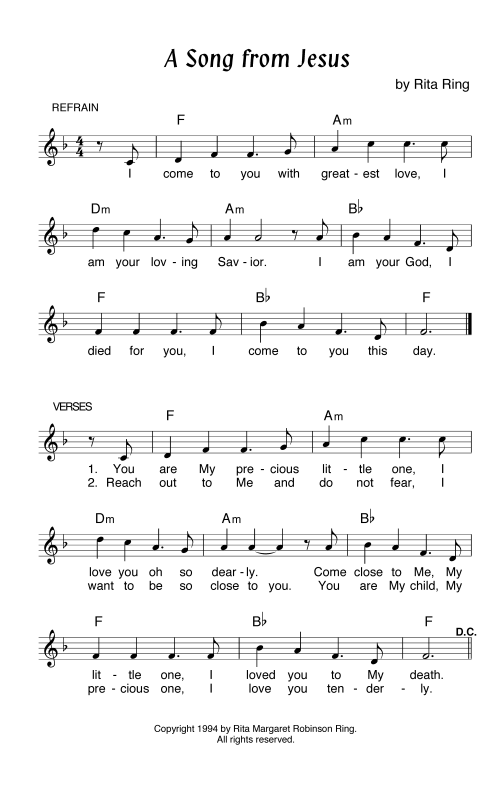 R. Jesus was obedient to His Father –
Jesus, the Lamb who was slain –
They constantly challenged Jesus –
Jesus, the Son of God!
Judas aided the men in arresting Jesus
by betraying Him with
30 pieces of silver –
Philippians 2: 8, 10-11
he was humbler yet,
even to accepting death,
death on a cross.

so that all beings
in the heavens, on earth
and in the underworld,
should bend the knee at the name of Jesus
and that every tongue should acknowledge
Jesus Christ as Lord,
to the glory of God the Father.
R. They crucified Jesus –
They hung Him on a tree –
They publically displayed Jesus as a criminal –
Oh Jesus, I am so sorry for my sins
that fixed You to the cross –
It was not enough –
They humiliated Jesus –
They released Barabbas –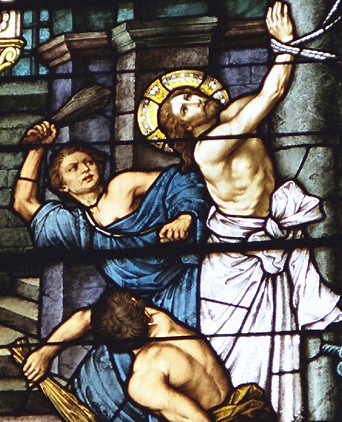 R. They took Jesus off to be scourged
and they tore His precious flesh –
raw – they beat Him – His
blood like puddles on the
ground –
Oh my Jesus, I am so sorry
for my sins and the sins
of the world –
Weakened and having been mocked
and treated with such scorn –
They took Jesus off to crown Him
with a Crown of Thorns –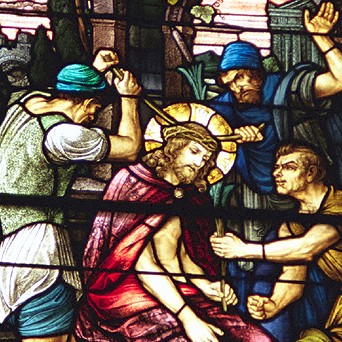 R. They pounded thorns into His Head
and He bled so in this –
Blood running all over His
Head - in His eyes, in His
ears and then they pounded on His
Head hard and His teeth went
into His tongue – His mouth
a bloody mess –
What did Jesus do to get such
treatment?
Response: Jesus I am so sorry for my sins
and the sins of this world,
I love You –
Jesus I am so sorry for my sins
and the sins of this world,
I love You –
Jesus I am so sorry for my sins
and the sins of this world,
I love You –
R. I am sorry, Jesus, sorry for evil
I did that may have hurt
others –
Oh Jesus, I am so sorry for
my sins and the sins of
the world –
I love You –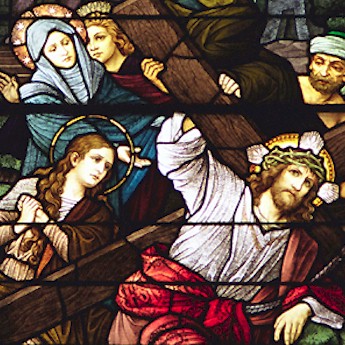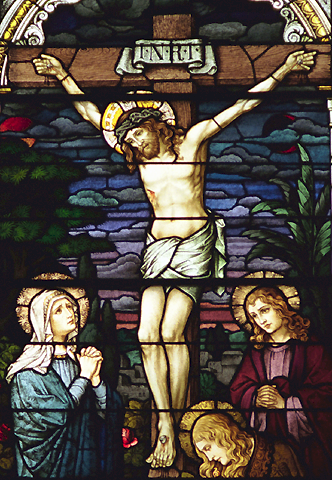 August 23, 1993 - On His Passion
Jesus: My dear child, I was condemned to death, death on a cross. They gave Me a big cross and made Me carry it. They stood around and glared at Me. It weighed on My shoulder and I pulled at it until it finally moved. Every step was almost impossible as I dragged it, weighing so heavily on My shoulders.

My shoulder felt as if the bones inside would crack and the cross would fall through to the ground. I couldn't drag it any more. I tried, I fell. I fell and its weight fell on Me. A guard hit Me with something sharp. It really hurt because he wanted Me to move, and fast! People were watching—on with the show! How dare I fall in the middle of the show! He hit Me again and the blow really stung Me. I got up because it hurt so badly. I tried to walk on.

My Mother was in the crowd. She looked at Me and her face looked red and hurt. Tears rolled down her cheeks like rain and as her eyes met Mine, I was hurt so by her sorrow! She was always by My side, silent and loving. She was My mother of love! She is always there next to you when you suffer.

I fell again and he (the guard) really hit Me. It (the cross) was so heavy that he and I together could barely move it. It seemed as I walked, heavier with the sins of the world heaped on it. My hands were bleeding. Blood ran from the wounds of My thorns and My head throbbed, seeming to make the wounds in My head bleed even more. Some of the Blood was dried, some of it running all over My Body. I had so many cuts and bruises—and people watched and laughed!

I am Jesus, Son of the Living God, and they laughed and mimicked Me! Oh, such hardened hearts! How vile can men's heart become? The devil's grip is paralyzing and crippling.

The walk was so long up a hill and over rocks—the cross had to be lifted over the rocks. My Body was bleeding so badly! My heart was pounding. I knew that the salvation of all men depended on My love. Therefore, I went through such agony.
I thought of My intense love for you—that many would go to heaven because of My suffering—and I continued to the top of the hill. At the top they laid Me on the cross and with a big hammer nailed My hands to it. It was the worst (suffering) yet. My hands were nailed with big nails and the big hammer. Oh, it was unbelievable! Then, as if that weren't enough, with a big nail they nailed through both feet.

Then they lifted the cross and banged it into (a hole in) the ground. My shoulders ached from how I hung. My head bobbed and My neck ached and they laughed and said, "Now save Yourself." I hurt so much! I suffered this way for hours—which seemed like forever—and they glared at Me and laughed! My Mother watched in such agony.

For love of you, to My death I gave you My Body. My child, I shed My Blood and gave you My life that you might be with Me forever in heaven – not for a day, a month or a year, but forever with Me in heaven.

I am the true Bread come down from heaven. He who eats My Flesh will have life forever. For the drink I give you is My Blood and food you eat is My Body. Who would lay down his life for a friend? I did, for you. I love you this much, child. Forget about those who reject you. You have My life that I gave you and I give you life eternal.

I am the One true God. I am the Light of life. He who abides in Me will have life eternal, for the drink I give is My Blood and the food I give is My Body. Drink and eat and have everlasting life.

My child, that is all you need to know. Love one another and be good that you may enter into My kingdom.
end of excerpt
R. Jesus speaks from the Red Rosary Book.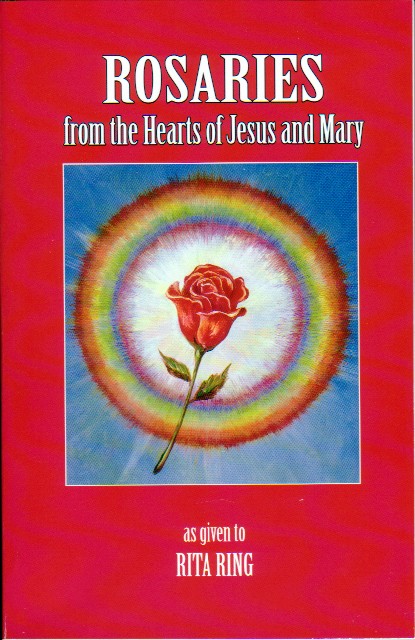 Stations of the Cross
February 22, 1995
1. Jesus Is Condemned to Death

Jesus: My dear child, with angry hearts and hatred on their faces, they poked at Me and condemned Me to death. I stood so silent, My hands tied, in perfect peace, because I knew the Father's love. I knew the Father's Will. You too will stand your trials in perfect peace, the more you realize the immense love the Father, Son and Holy Spirit have for you. Pray to the Spirit to transform you more and more into My image and, through this transformation, you will be led ever closer to the Father. Oh, how I love you!
2. They Give Jesus the Cross

Jesus: They gave Me a heavy cross, laden with the sins of the world. They placed it on My shoulder. It was so heavy I felt as if My shoulder would break. I ask you to carry little crosses, to experience little pains. I could not remove this cross from My shoulder. The weight was unbearable. It is through My suffering and death that you receive new life. It is through your sufferings this day that you will grow in your life with Me. Oh, child, I loved you so much that I took up the cross of salvation. I love you. Please realize that I am talking to you here. To My death I loved you. Oh, how I love you!




3. Jesus Falls the First Time

Jesus: The cross was so heavy I could hardly walk. I held on to My cross for greatest love of you and in compliance with the Will of My Father. It became so hard to walk! The cross was so heavy! I fell. I fell and the cross fell on Me. They poked at Me, they struck Me, they demanded I get up. The pain from the instruments they used to poke Me and strike Me was so great! I somehow managed to get up.

When you fall under the weight of your cross, come to My Eucharistic Heart. I am no less present in the tabernacle and in the Eucharist than on the day I carried My cross. I wait with the same love that I had for you when I carried this cross and suffered such agony. Oh, how I love you!

4. Jesus and Mary Meet

Jesus: I saw the face of My beautiful Mother. She was weak, her face reddened and full of tears. I saw her tender heart, her love, her anguish, her pain. I saw My dear Mother Mary. My Heart was comforted by the sight of her, but torn by her suffering.

Mary: As I looked into the eyes of my beloved Son, I saw His love. His head, bleeding and wounded. His body weak. His clothes covered with blood. I looked into His eyes and I saw His love for you. I call out to you today. I appear today with a face full of anguish and tears. I appear to call you back to the love of my Son. See through my eyes, as I peer into His eyes, the love He has for you this day to give of Himself for you. Oh, He loves you so much, my little children. See through my eyes the love of my Son. Oh, how He loves you!

5. Simon of Cyrene Is Forced to Help Jesus Carry His Cross

Jesus: The cross was so heavy I could not move. My persecutors became angry and forced a man to help Me. The cross was so heavy the two of us could barely move it. How is your cross today? Does it seem so heavy you cannot go on? I am forever watching you. When you are suffering the greatest, I am very close to you. It is in immense suffering that you realize My great love for you. Pray for grace to do always the Father's Will. Pray for grace to grow in your knowledge and love of Me.

6. Veronica Wipes the Face of Jesus

Jesus: My face was covered with blood. From the crowd Veronica came forward with a cloth to wipe My face. On the cloth I gave to you an imprint of My bloodied face. This, My children, remains with you this day as a sign of My immense love for you. But more than any cloth, look beyond the visible consecrated host. I, Jesus Christ, the Son of God, remain with you, Body, Blood, Soul and Divinity, in the Eucharist this day, waiting and longing to be with you. Oh, how I love you!

7. Jesus Falls the Second Time

Jesus: Oh, dear ones, the road became harder and harder to walk. The cross was becoming heavier, My body weaker and weaker. My shoulders and arms hurt so much! My head throbbed as I walked. The blood came from My body, from My head to My feet. I was covered with open wounds. I could not go any farther. I stumbled and fell. Again they poked at Me, only harder, and with such hatred they kicked Me. Such vileness in the hearts of men! My greatest agony was not the agonies of My body, but the agonies of My heart for the love I have for all My precious souls. I loved them so dearly. I loved those who persecuted Me. Oh, how I love you!

8. Jesus Meets the Women of Jerusalem

Jesus: The women came to Me with their children, their tender hearts crying and wanting to comfort Me. I saw their love, their care. I saw the coldness of men's hearts for all time, the hatred, the anger, the sins, all the souls that, despite all of My sufferings and death, would be condemned to eternal damnation. I told the women to weep not for Me, but for themselves and their children. My greatest agonies were the agonies of My Most Sacred Heart. Oh, how I love you!

9. Jesus Falls the Third Time

Jesus: I fell hard the third time. I was so weakened I could not go on. My body collapsed under the cross from such exhaustion! My child, My child, My greatest agonies were not the wounds to the body. They were the wounds I experienced to My heart. Do you know a little more now how I love you? It is in meditating on My Passion and death that you will realize My immense love for you. When you fall, when you struggle, I give you the grace to get up. I never give you more than you can handle. Your strength will come from Me. Come to My Eucharistic Heart. I am waiting for you this day. Oh, how I love you!

10. Jesus Is Stripped of His Garments

Jesus: They took Me to the hill to crucify Me. They angrily stripped Me of My garments. They took off My clothes to whip Me. They had covered My bloody wounds with a dirty purple robe. Now, total surrender-they took off My clothes. I showed you the way to surrender, always complying with the Will of the Father. It is in living in His Will that you will have peace and joy, and life eternal some day. Oh, how I love you!
11. They Nail Him to the Cross

R. See Mary as she holds the little Baby Jesus. See her as she washes His tender hands and feet. See her now as she watches as they pound into those same hands and feet the gigantic nails that fix Jesus to the cross.

Mary: Oh, my dear ones, my heart was torn in my chest as they nailed His hands and feet to the cross. I ask you this day to walk the Passion with me and see through my eyes the love He has for you. He truly was nailed to the cross.

Jesus: They pounded the nails into My first hand, then they stretched My body and nailed My other hand. The blood poured from these wounds that went totally through My hands. My pain was so immense, but then they nailed My feet! You do not know what pain I suffered, My child. My children, My children, for each one of you I suffered this pain. Oh, how I loved you!
12. Jesus Dies on the Cross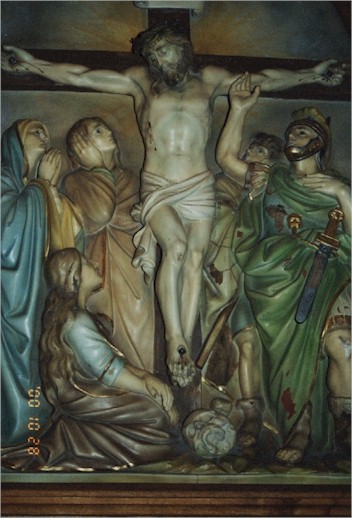 (Silence.)

R. He hung for three agonizing hours on the cross against the darkened sky. His greatest agonies were not the agonies of His body, but those of His Heart for the great love He has for each and every soul.

Jesus: I gave Myself to you, My dear ones. I gave My all. I hung with My arms spread in total surrender. My head was punctured; My hands and feet were nailed to the cross. I gave Myself to you. I give Myself to you this day in the Eucharist. I give Myself to you. I, God, give you Myself! What more do you want?

Song: Oh, burning Heart, oh, Love divine, etc.

R. They pierced His Heart with a lance and what flowed forth was blood and water, the sacramental life of the Church, water for Baptism and blood for the Eucharist. His life, death and resurrection live on in the Church this day.

13. Jesus Is Taken Down from the Cross and Placed in the Arms of His Mother

R. His totally lifeless body was placed in the arms of His most loving Mother. As she had held the little baby body in her arms, she now received His bloodied, bruised body in her arms. This is how He obeyed the Father's Will. Jesus gave His life for us. The Father gave His only Son because He loves us so much. Mary, His Mother, our Mother and the Mother of the Church, is forever by His side. See Jesus in the arms of His loving Mother under the cross. This is love.

Mary: I held His lifeless body in my arms. See through my eyes the love He has for you this day. He gives Himself to you today in the Eucharist. He loves you so much!
14. Jesus Is Locked in the Tomb

R. His enemies rolled the stone up to the tomb and were pleased to have buried Jesus. Mary, outside the tomb, wept bitterly. The cold reality that He was dead! But death has no power over Jesus for on the third day He rose, triumphant, from the tomb! We are partakers in His divine life. Death has no power over Jesus. He is with us this day. He comes to bring us life to the full. He loves us so much!