May 22, 2017 - Feast of St. Rita
R. Dear God we are called to show the
love of God to one another, to live our
lives in union with You. True freedom
is in this, that we live for Christ.
We are living stones in the Church –
our lives are rooted in faith, we live
rooted in Christ. We live in the Holy Spirit.
Jesus is the way, the truth and the life.
We are not to let our hearts be troubled.
We are rooted in Jesus, our Master, our Savior,
Jesus who died for us and redeemed us with
His precious Blood. We are precious to God.
We keep our eyes on our heavenly home, we are
here to prepare for this.
Jesus came and He died and He went to
prepare a place for us. A person may be building
a house and they store their furniture in
the transition and move their family to
a temporary place, it can belong to
someone else and they are waiting until
the house is built. It can be a long process,
but they are waiting for the men to build their house.
Jesus has gone before us. He has prepared
a place for us. Jesus is the way, the truth
and the life.
We know Jesus, we live in Him and
we know the Father too –

John 14: 6-12
Jesus said: I am the Way; I am Truth and Life.
No one can come to the Father
except through me.
If you know me,
you will know my Father too.
From this moment you know him
and have seen him.

Philip said, 'Lord, show us the Father and then we shall be satisfied.' Jesus said to him, 'Have I been with you all this time, Philip, and you still do not know me?

'Anyone who has seen me
has seen the Father,
so how can you say,
"Show us the Father"?
Do you not believe
that I am in the Father
and the Father is in me?
What I say to you
I do not speak of my own accord:
it is the Father, living in me,
who is doing his works.
You must believe me when I say
that I am in the Father
and the Father is in me;
or at least believe it
on the evidence of these works.
In all truth I tell you,
whoever believes in me
will perform the same works
as I do myself,
and will perform even greater works,
because I am going to the Father.
R. Saul was converted, but the Apostles were
still afraid of him. We can see a person who
is for God works for God to build the Kingdom of God –
They are for God. A person can choose to
listen to satan and become an enemy to God.
They oppose the will of God and fight those
working for God and try to make things
happen to catch them in a snare.
Why would someone do this if they
realized we are here and God has a place
He has prepared for those who love and serve Him.
1 John 3: 18-24
Children,
our love must be not just words
or mere talk,
but something active and genuine.
This will be the proof
that we belong to the truth,
and it will convince us in his presence,
even is our own feelings condemn us,
that God is greater than our feelings
and knows all things.

My dear friends,
if our own feelings do not condemn us,
we can be fearless before God,
and whatever we ask
we shall receive from him,
because we keep his commandments
and do what is acceptable to him.
His commandment is this,
that we should believe
in the name of his Son Jesus Christ
and that we should love one another
as he commanded us.
Whoever keeps his commandments
remains in God, and God in him.
And this is the proof
that he remains in us:
the Spirit that he has given us.
John 15: 1-8
I am the true vine,
and my Father is the vinedresser.
Every branch in me that bears no fruit
he cuts away,
and every branch that does bear fruit
he prunes
to make it bear even more.
You are clean already,
by means of the word
that I have spoken to you.
Remain in me, as I in you.
As a branch cannot bear fruit all by itself,
unless it remains part of the vine,
neither can you unless you remain in me.
I am the vine,
you are the branches.
Whoever remains in me, with me in him,
bears fruit in plenty;
for cut off from me you can do nothing.
Anyone who does not remain in me
is thrown away like a branch
—and withers;
these branches are collected
and thrown on the fire
and are burnt.
If you remain in me
and my words remain in you,
you may ask for whatever you please
and you will get it.
It is to the glory of my Father
that you should bear much fruit
and be my disciples.
R. Building – the Apostles were spreading
the Church – they lived for Christ –
not opposing Him. We see how Saul was
persecuting the Church and trying to
tear it down for failure and God
knocked him down and Paul then
was converted and all He did and
wrote –
Paul and Barnabas traveled and proclaimed
the message of Jesus, the Good News and
so many were converted. They traveled
all over proclaiming the Good News
and the Church spread.
Revelation 21: 1-5
Then I saw a new heaven and a new earth; the first heaven and the first earth had disappeared now, and there was no longer any sea. I saw the holy city, the new Jerusalem, coming down out of heaven from God, prepared as a bride dressed for her husband. Then I heard a loud voice call from the throne, 'Look, here God lives among human beings. He will make his home among them; they will be his people, and he will be their God, God–with–them. He will wipe away all tears from their eyes; there will be no more death, and no more mourning or sadness or pain. The world of the past has gone.'

Then the One sitting on the throne spoke. 'Look, I am making the whole of creation new. Write this, "What I am saying is trustworthy and will come true."
R. This reading gives us encouragement.
Jesus went to prepare a place for us.
John tells us to love one another –
Jesus said

John 13: 34

I give you a new commandment: love one another; you must love one another just as I have loved you.
R. We are encouraged to follow Jesus,
He is our Master. Satan goes about like
a roaring lion - looking for someone
to devour. Jesus tells us – we must
love –
The devil tells people to be jealous and
prideful and envious and angry and
see their brothers as enemies. The devil
wants division and chaos and confusion.
The devil keeps working on a soul and they
give into him and walk in deeper and deeper
darkness.
Jesus came to teach us love – to love
our enemies, to spread love. Jesus came
to tell us to follow Him. Jesus is the Light
of the world. The soul following Jesus
sees light – they walk as Jesus wants
them to walk – in truth – in
building the Kingdom of God – in spreading
the Kingdom of God –
They are filled with faith and believe
in God. They live as sons of God.
At the transfiguration the voice of the
heavenly Father was heard
"This is My beloved Son in whom I
am well pleased, Listen to Him."
Following Jesus as a son of God
brings us light and joy even
in suffering.
We celebrate resurrection – we
live the life, death and resurrection
of Jesus in our lives.
We are followers of Christ!
Jesus suffered for us. God loves us so much.
The Apostles spread the Word of God –
they believed in it.
We can see today, if a person refuses
to do anything to spread the Good News
and works against it – they stop
what God wants and called them
to do.
Fr. Carter tells us how Jesus called him to
do this Ministry – he spread prayer
chapters in every state – He worked
hard to spread the Blue Books –
he spread 18,000,000 Priestly Newsletter
in books and loose in the 6 years
he lived.
These men in the early Church had faith
and believed in the Mission –
Mary appeared on the building
in Clearwater to spread this
message. Jesus called the 13ths and 5ths,
the retreats in China and Florida.
I believe in all Jesus told me and
Fr. Carter to do as founder and
co-founder.
I have seen Mary appear to me for
23 years now in both Florida
and China and at Our Lady of the
Holy Spirit Center and Immaculata –
When Jesus appeared on the cross December 5, 1996,
12 days before Mary appeared in
Clearwater –
Jesus dying on the cross said
"No one was listening".

December 5, 1996
R.
On December 5, 1996, Our Lord appeared to me at Holy Cross-Immaculata Church, after Mary had appeared on most of the 5ths since July 5, 1994. Our Lord now appeared, dying on the cross. His withered body was horrifying to me. I cried and looked at Him in horror.
This lasted about twenty minutes. It looked as if He could exert no effort, but His jaw moved and moved and moved. It was a big movement as His mouth moved. I heard no words. I was sickened.
I was horrified at the sight of His weakness, the vision I saw and I cried from the depth of my soul as I watched I could hardly stand it.
It was in the church, Holy Cross-Immaculata. He appeared on this crucifix. It was horrifying for me. I was in such anguish and tears. I know this experience so well, He implanted it in my soul. This was after Mary appeared for 2 years and 4 months on the 5ths. Jesus appeared on the 2 1/2 year anniversary on the crucifix.
At the traditional rosary (I had done them now for 2½ years of 5ths) that evening at 6:30 with all the Shepherds of Christ people there, He said He moved His mouth because no one was listening.
All 5ths - Our Lady of Clearwater Florida


July 5, 2000


September 5, 2000


October 5, 2000


November 5, 2000


December 5, 2000
| | | | | |
| --- | --- | --- | --- | --- |
| January 5, 2001 | February 5, 2001 | March 5, 2001 | April 5, 2001 | May 5, 2001 |
| | | | | |
| --- | --- | --- | --- | --- |
| June 5, 2001 | July 5, 2001 | August 5, 2001 | September 5, 2001 | October 5, 2001 |
| | | | | |
| --- | --- | --- | --- | --- |
| November 5, 2001 | December 5, 2001 | January 5, 2002 | February 5, 2002 | March 5, 2002 |
| | | | | |
| --- | --- | --- | --- | --- |
| April 5, 2002 | May 5, 2002 | June 5, 2002 | July 5, 2002 | September 5, 2002 |
| | | | | |
| --- | --- | --- | --- | --- |
| October 5, 2002 | November 5, 2002 | January 5, 2003 | February 5, 2003 | March 5, 2003 |
| | | | | |
| --- | --- | --- | --- | --- |
| April 5, 2003 | May 5, 2003 | July 5, 2003 | August 5, 2003 | September 5, 2003 |
| | | | |
| --- | --- | --- | --- |
| October 5, 2003 | November 5, 2003 | December 5, 2003 | January 5, 2004 |
| | |
| --- | --- |
| February 5, 2004 | March 5, 2004 |
R. We are suffering now more than ever.
We need to have faith and spread
this message Jesus and Mary gave us –
Spread the Blue Books, the Mighty
Medicine, call the people to the
5ths and 13ths.
Christ died for our sins and He rose
so that we could live a new life.
John 14: 23
Jesus replied:

Anyone who loves me will keep my word,
and my Father will love him,
and we shall come to him
and make a home in him.
R. This is so beautiful –
This is the Lord's Farewell Discourse
at the Last Supper.

John 14: 15-23

If you love me
you will keep my commandments.
I shall ask the Father,
and he will give you another Paraclete
to be with you for ever,
the Spirit of truth
whom the world can never accept
since it neither sees nor knows him;
but you know him,
because he is with you, he is in you.
I shall not leave you orphans;
I shall come to you.
In a short time
the world will no longer see me;
but you will see that I live
and you also will live.
On that day
you will know that I am in my Father
and you in me and I in you.
Whoever holds to my commandments
and keeps them
is the one who loves me;
and whoever loves me
will be loved by my Father,
and I shall love him
and reveal myself to him.'

Judas--not Judas Iscariot--said to him, 'Lord what has happened, that you intend to show yourself to us and not to the world?' Jesus replied:

Anyone who loves me will keep my word,
and my Father will love him,
and we shall come to him
and make a home in him.

R. Step by Step the Church grew because
of the acts of the Apostles. They
believed – they spread the Good News
like Fr. Carter did. It's all about
love and helping souls to go to heaven –
We are to prepare for heaven – be instruments
for Christ and help others get to heaven.
Mary and Jesus have appeared to me
delivering this message –
I believe – we want the Church
to spread – We want the messages of
love in God's Blue Book to spread –
1 John 4: 7-10
My dear friends,
let us love one another,
since love is from God
and everyone who loves
is a child of God and knows God.
Whoever fails to love does not know God,
because God is love.
This is the revelation
of God's love for us,
that God sent his only Son into the world
that we might have life through him.
Love consists in this:
it is not we who loved God,
but God loved us and sent his Son
to expiate our sins.
John 15: 9-17
I have loved you
just as the Father has loved me.
Remain in my love.
If you keep my commandments
you will remain in my love,
just as I have kept
my Father's commandments
and remain in his love.
I have told you this
so that my own joy may be in you
and your joy be complete.
This is my commandment:
love one another,
as I have loved you.
No one can have greater love
than to lay down his life for his friends.
You are my friends,
if you do what I command you.
I shall no longer call you servants,
because a servant does not know
the master's business;
I call you friends,
because I have made known to you
everything I have learnt from my Father.
You did not choose me,
no, I chose you;
and I commissioned you
to go out and to bear fruit,
fruit that will last;
so that the Father will give you
anything you ask him in my name.
My command to you
is to love one another.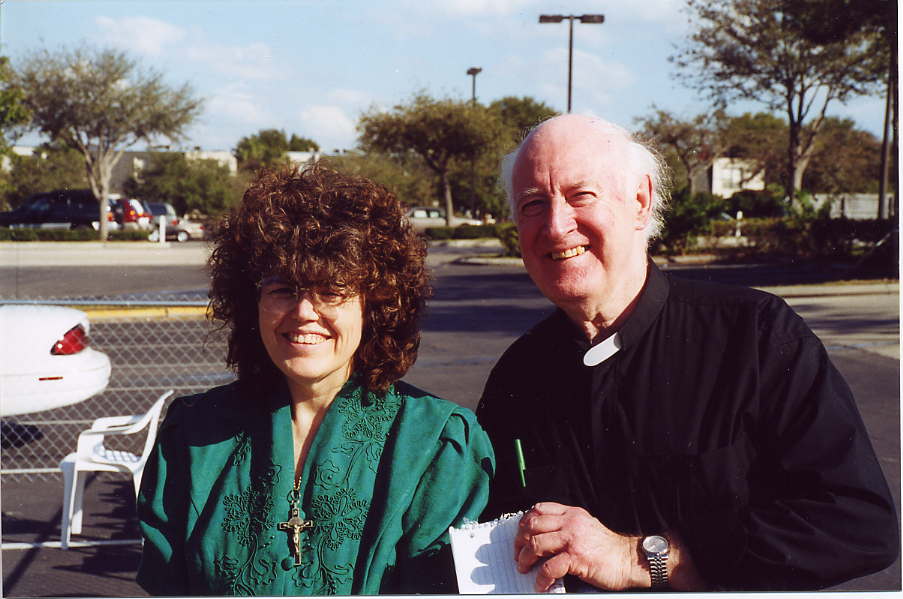 From The Spiritual Exercises of St. Ignatius, by Louis J. Puhl, S.J. p.12
23. FIRST PRINCIPLE AND FOUNDATION
Man is created to praise, reverence and serve God
our Lord, and by this means to save his soul.
John 14: 23-29
Jesus replied:

Anyone who loves me will keep my word,
and my Father will love him,
and we shall come to him
and make a home in him.
Anyone who does not love me
does not keep my words.
And the word that you hear
is not my own:
it is the word of the Father who sent me.
I have said these things to you
while still with you;
but the Paraclete, the Holy Spirit,
whom the Father will send in my name,
will teach you everything
and remind you of all I have said to you.
Peace I bequeath to you,
my own peace I give you,
a peace which the world cannot give,
this is my gift to you.
Do not let your hearts be troubled
or afraid.
You heard me say:
I am going away and shall return.
If you loved me you would be glad
that I am going to the Father,
for the Father is greater than I.
I have told you this now,
before it happens,
so that when it does happen
you may believe.
R. Christ ascended into heaven. He asks
us to spread the Good News.
Through baptism we are commissioned
to go out and spread the Good News.
We are given the supernatural virtues of
faith, hope and love. We must believe and
hope in our eternal salvation and
help others to go to heaven and we are
commanded by God to love Him with
our whole heart, our whole soul
and our whole being and love
our neighbor as ourselves.
We are to carry this work as members
of the mystical body of Christ. We are
to live holy lives following Christ! –
We are to serve others, to teach, to
live the sufferings of life and die and
rise in Jesus. We are to build up
the body of Christ –
Our mission in the Shepherds of Christ,
called by Jesus, in our vocation is to help
renew the Church and the world, to spread
this Movement so it goes on even
when we die – So the China Church –
The Virgin Mary building goes on even
when we die – after we are gone –
so the message of Jesus and Mary goes
on after we are gone – like Fr. Carter
who died 16 years ago.
My children have children and
they are getting older and older.
I will die and hopefully they will
spread the message of love to make
the world more and more like Jesus
wants even when my husband and
I are gone. I raised them to be loving,
to love their children, to love the Church,
to spread the Good News.
Jesus showed us in the Ascension
that He was going to the Father.
We are here to prepare for heaven –
to make the Church and the world
a better place –
We are not here to live forever on
this earth. We are to have our eyes
on our sights to go to heaven –
Do you meditate on what the
Ascension means – We are not to
stay on this earth forever –
We will have the fullness of life
in heaven –
God prepares us for this here
below –
Ephesians 1: 17-23
May the God of our Lord Jesus Christ, the Father of glory, give you a spirit of wisdom and perception of what is revealed, to bring you to full knowledge of him. May he enlighten the eyes of your mind so that you can see what hope his call holds for you, how rich is the glory of the heritage he offers among his holy people, and how extraordinarily great is the power that he has exercised for us believers; this accords with the strength of his power at work in Christ, the power which he exercised in raising him from the dead and enthroning him at his right hand, in heaven, far above every principality, ruling force, power or sovereignty, or any other name that can be named, not only in this age but also in the age to come. He has put all things under his feet, and made him, as he is above all things, the head of the Church; which is his Body, the fullness of him who is filled, all in all.
R. What does the Ascension tell you?
Matthew 28: 16-20
Meanwhile the eleven disciples set out for Galilee, to the mountain where Jesus had arranged to meet them. When they saw him they fell down before him, though some hesitated. Jesus came up and spoke to them. He said, 'All authority in heaven and on earth has been given to me. Go, therefore, make disciples of all nations; baptise them in the name of the Father and of the Son and of the Holy Spirit, and teach them to observe all the commands I gave you. And look, I am with you always; yes, to the end of time.'
Mark 16: 15-20
And he said to them, 'Go out to the whole world; proclaim the gospel to all creation. Whoever believes and is baptised will be saved; whoever does not believe will be condemned. These are the signs that will be associated with believers: in my name they will cast out devils; they will have the gift of tongues; they will pick up snakes in their hands and be unharmed should they drink deadly poison; they will lay their hands on the sick, who will recover.'

And so the Lord Jesus, after he had spoken to them, was taken up into heaven; there at the right hand of God he took his place, while they, going out, preached everywhere, the Lord working with them and confirming the word by the signs that accompanied it.
R. Go out and spread the Good News!!
Luke 24: 46-53
and he said to them, 'So it is written that the Christ would suffer and on the third day rise from the dead, and that, in his name, repentance for the forgiveness of sins would be preached to all nations, beginning from Jerusalem. You are witnesses to this.

'And now I am sending upon you what the Father has promised. Stay in the city, then, until you are clothed with the power from on high.'

Then he took them out as far as the outskirts of Bethany, and raising his hands he blessed them. Now as he blessed them, he withdrew from them and was carried up to heaven. They worshipped him and then went back to Jerusalem full of joy; and they were continually in the Temple praising God.
R. We must pray for this unity God wants
in the Church. This is our
mission in the Shepherds of Christ in trying
to help men to be more and more
holy members of the mystical body of Christ.
Our life here on earth is not meant
to live forever.
We were called by God to help
this world to be a better place –
to spread the Good News –
to die to our imperfections
and to rise in Him –
We are commanded to follow Jesus,
His Sacred Heart – to love Him with all
our hearts –
to love Mary –
to spread the consecration to the
Hearts of Jesus and Mary.
We pray for the special outpouring
of the Holy Spirit!!
| | | | | | |
| --- | --- | --- | --- | --- | --- |
| English | Español | Français | Português | Italiano | Polska |
John 17: 1-11
After saying this, Jesus raised his eyes to heaven and said:

Father, the hour has come:
glorify your Son
so that your Son may glorify you;
so that, just as you have given him
power over all humanity,
he may give eternal life
to all those you have entrusted to him.
And eternal life is this:
to know you,
the only true God,
and Jesus Christ whom you have sent.
I have glorified you on earth
by finishing the work
that you gave me to do.
Now, Father, glorify me
with that glory I had with you
before ever the world existed.
I have revealed your name
to those whom you took from the world
to give me.
They were yours
and you gave them to me,
and they have kept your word.
Now at last they have recognised
that all you have given me
comes from you
for I have given them
the teaching you gave to me,
and they have indeed accepted it
and know for certain
that I came from you,
and have believed
that it was you who sent me.
It is for them that I pray.
I am not praying for the world
but for those you have given me,
because they belong to you.
All I have is yours
and all you have is mine,
and in them I am glorified.
I am no longer in the world,
but they are in the world,
and I am coming to you.
Holy Father,
keep those you have given me
true to your name,
so that they may be one like us.
R. We see Judas betrayed Jesus –
We can do what the devil wants
and betray Jesus too –
We can't rewrite the Plan of
God the Father –
We must live it –
This is His plan for us to live
here to help the world – to be
like Jesus and to die – to go to heaven.
Our works are to be carried on in the Church.
Jesus ascended into heaven –
We are to help others to carry on
our works in the Shepherds of Christ –
It's not all about us, settling
in and being selfish and
then not wanting to die.
1 John 4: 11-16
My dear friends, if God loved us so much, we too should love one another.

No one has ever seen God, but as long as we love one another God remains in us and his love comes to its perfection in us. This is the proof that we remain in him and he in us, that he has given us a share in his Spirit. We ourselves have seen and testify that the Father sent his Son as Saviour of the world. Anyone who acknowledges that Jesus is the Son of God, God remains in him and he in God. We have recognised for ourselves, and put our faith in, the love God has for us. God is love, and whoever remains in love remains in God and God in him.
John 17: 11-19
I am no longer in the world,
but they are in the world,
and I am coming to you.
Holy Father,
keep those you have given me
true to your name,
so that they may be one like us.
While I was with them,
I kept those you had given me
true to your name.
I have watched over them
and not one is lost
except one who was destined to be lost,
and this was to fulfil the scriptures.
But now I am coming to you
and I say these things in the world
to share my joy with them to the full.
I passed your word on to them,
and the world hated them,
because they belong to the world
no more than I belong to the world.
I am not asking you
to remove them from the world,
but to protect them from the Evil One.
They do not belong to the world
any more than I belong to the world.
Consecrate them in the truth;
your word is truth.
As you sent me into the world,
I have sent them into the world,
and for their sake I consecrate myself
so that they too
may be consecrated in truth.
R. We see Stephen how he was
prepared to die – despite
what Saul did to him.
Stephen's eyes were on
heaven –
Jesus ascended into heaven –
We are to be prepared to die
and have our eyes on
heaven –
not be crippled fighting
God's plan –
We were to do good work
while we were here
and pass the job onto
others –
leaving a legacy by our lives –
lived for Jesus –
Song: A Song from Jesus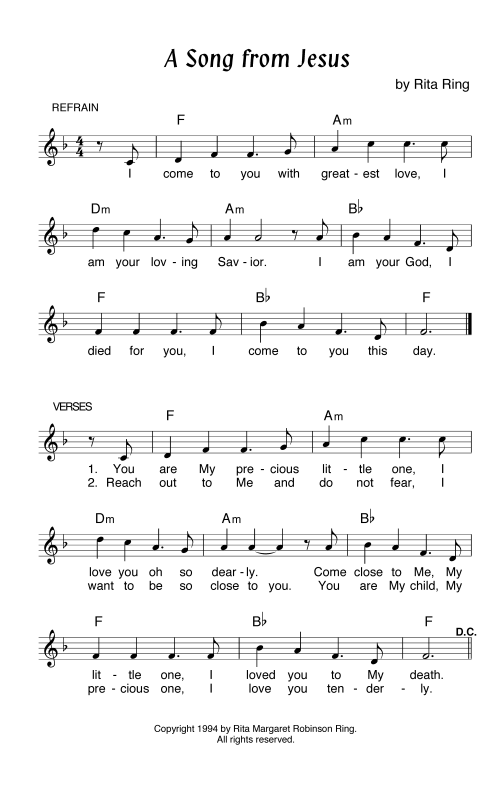 R. Jesus ended the Bible –
Remember I am coming
soon –
Read all of Gospel John 17
John 17: 20-26

I pray not only for these
but also for those
who through their teaching
will come to believe in me.
May they all be one,
just as, Father, you are in me
and I am in you,
so that they also may be in us,
so that the world may believe
it was you who sent me.
I have given them the glory
you gave to me,
that they may be one as we are one.
With me in them and you in me,
may they be so perfected in unity
that the world will recognise
that it was you who sent me
and that you have loved them
as you have loved me.

Father,
I want those you have given me
to be with me where I am,
so that they may always see my glory
which you have given me
because you loved me
before the foundation of the world.
Father, Upright One,
the world has not known you,
but I have known you,
and these have known
that you have sent me.
I have made your name known to them a
nd will continue to make it known,
so that the love with which you loved me
may be in them,
and so that I may be in them.
R. Pentecost
From the Lectionary
Pentecost Sequence
Come, Holy Spirit, come!
And from your celestial home
Shed a ray of light divine!

Come, Father of the poor!
Come, source of all our store!
Come, within our bosoms shine!

You, of comforters the best;
You, the soul's most welcome guest;
Sweet refreshment here below;

In our Labor, rest most sweet;
Grateful coolness in the heat;
Solace in the midst of woe.

O most blessed Light divine,
Shine within these hearts of yours,
And our inmost being fill!

Where you are not, man has naught,
Nothing good in deed or thought,
Nothing free from taint of ill!

Heal our wounds, our strength renew;
On our dryness pour your dew;
Wash the stains of guilt away;

Bend the stubborn heart and will;
Melt the frozen, warm the chill;
Guide the steps that go astray.

On the faithful, who adore
And confess you, evermore
In your sev'nfold gift descend;

Give them virtue's sure reward;
Give them your salvation, Lord;
Give them joys that never end. Amen.
Alleluia.
R. Holy Spirit is the soul of the Church.
Sing: Veni Sancte Spiritus
R. The Holy Spirit Comes –
Jesus ascended into heaven
Body and Soul
Mary was assumed into
heaven –
We pray for the Holy Spirit to come on
the Church and the world.
Sing: Come Holy Ghost!
R. Moses went up the mountain
to get the message of God –
Life on earth is not forever!!
Sing: Come to the Water
Acts 2: 1-11

When Pentecost day came round, they had all met together, when suddenly there came from heaven a sound as of a violent wind which filled the entire house in which they were sitting; and there appeared to them tongues as of fire; these separated and came to rest on the head of each of them. They were all filled with the Holy Spirit and began to speak different languages as the Spirit gave them power to express themselves.

Now there were devout men living in Jerusalem from every nation under heaven, and at this sound they all assembled, and each one was bewildered to hear these men speaking his own language. They were amazed and astonished. 'Surely,' they said, 'all these men speaking are Galileans? How does it happen that each of us hears them in his own native language? Parthians, Medes and Elamites; people from Mesopotamia, Judaea and Cappadocia, Pontus and Asia, Phrygia and Pamphylia, Egypt and the parts of Libya round Cyrene; residents of Rome—Jews and proselytes alike—Cretans and Arabs, we hear them preaching in our own language about the marvels of God.'
Given
October 29, 2016
R. Please spread blessed holy water
(You can also mix Jesus and Mary water
with your blessed Holy Water if you have it.)
in your yard, around your house,
in the state you live in.
And ask God to bless your state
Ask God to bless the United States
Pray all prayers through the intercession of
Our Lady of CLEAR – WATER.
Ask the Lady of CLEAR - WATER
to help with the blessed water.
Mary has appeared to me for 22 years,
in Ohio and Florida.