May 3, 2017
R. Are not our hearts burning within us –
How can we even express the wonder we have,
feeling the breeze on a day when the warmth of it
caresses us as we go from inside our house to
outside.
The spring is spring in Cincinnati and the rain
has come in so great a measure with
thunder storms and gallant rains and
the earth is so green and the trees
that were once barren have come out
in such beauty. Flowers are all over
peeking out – what was once barren has
come forth in radiant beauty. The trees
looked dead except for the pine trees
and there were no flowers and now the
days are so beautiful accompanied by
the breeze that wraps you in a warm
embrace when you come from inside
the house.
Oh God, for the beauty of the earth –
and yet we scarce can take it all in – the
gift that God gives us, the vastness of
a morning light and dew upon things
after a long winter and the dark of night.
We see children and their freshness as
they grow and develop – their little brains
and big eyes of wonder, giggles and full
of energy and promise. One child is just
learning to walk and say "dog", "da da",
"ma - ma", ball – and they are full of smiles
and joy in their little faces – while in another
child we see the miracle of God's life
in them – talking, learning, giggling,
love for mom and dad –
How do we embrace this in our hearts –
Our hearts are alive more and more as we
know the presence of God in us – He fills
us – He fills our heart and soul – He
is our friend, the beloved, who is Almighty
and Supreme. God gives us a sharing in
His life in baptism – so the more deeply
He fills us with His grace – the more we
know and love on a supernatural
level, but we cannot take it all in.
Our human nature is tainted and we
have tendencies toward the deadly
sins because of this.
We know we hunger always for more
knowledge, more love, more understanding –
we seek the wisdom of the saints, the
purity of our heavenly Mother Mary,
we seek pureness to love and do what
God wants without the tainted side.
In heaven there is no jealousy, envy,
anger, pride,, slothfulness, lust,
gluttony – there is no bad habits in
heaven –
There is perfect unity – wrapped in
the arms of love – the Divine embrace
of the beatific vision –
We are hungering to be satisfied –
we can't be completely satisfied
here. We will know in heaven – We
can't experience things in the depth
here our heart desires.
How do we experience such
grandeur God shows us here or the
knowing of love – love we have for
our own members in our family,
deep friends we know and love
so much – times we touch unity at
Mass and in prayer with others –
Knowing the love of our heavenly Father,
the Son and Holy Spirit.
We are pilgrims on a journey –

God gives us a sharing in His life –
He feeds this life abundantly with
the bread of life – the Word and
the Eucharist –
He lifts up so high and gives us
insights into the hidden mysteries,
but we are here in our lives –
We are not yet in heaven. We
are imperfect in our ways –
and yet God loves us – SO, SO MUCH,
God loves us and wants to forgive
us and give us mercy –
God wants us to grow in our
relationship of loving – to have
God fill us more and more –
Christ - in - us –
Life in the Holy Spirit –
The Father loves us– He created us –
we are His little child –
We belong to the Father's family –
There is promise, elevating our
knowing and loving capacity
in baptism –
Oh God loves us –
God loves us –
Easter is the time we meditate on the
Victory –
Coming out of the tomb of sin –
Dying to bad habits in our hearts
of any unforgiveness and
hatred – being enslaved
by sin –
God loves us so much –
We believe in the seen and the unseen –
We are not blinded by our tainted ways –
We have new life –
We walk in the light –
We are children of the light –
being more and more in Him –
Jesus is the way, the truth and the life.
Jesus is the Light of Life –
Jesus is the Light of the World –
can you experience the depth
of a heavenly embrace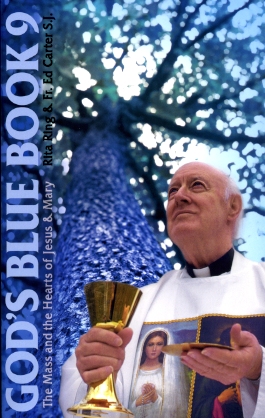 From Blue Book 9
December 19, 1995
Feed the Hungry Souls
R.
I want to love deeply, my Lord. It is in knowing Him more, I love Him more. I beg Him for insights of Himself that I will know Him more. I know Him greatly through the intimate experiences I have had with Him. He and Mary have allowed me to experience deep insights into Their sufferings and love, deep insights into the Hearts of Jesus and Mary.
If I am closed, I remain locked inside. Love flows from the heart. Love is not words spoken only. Love is the giving of one's self to another person or cause.
Children need this love from their parents. There is a whole generation of children that are receiving substitute moms and dads. Instead of love from their parents, they are given things. Things are not heart
-felt love. To love God more, it helps to know the love of another. We see love reflected from God through the eyes of our parents, by their time and attention.
God is love. He is always there. He is attentive to all our needs. He gives and keeps on giving. I do not have to fear for want of love. I know that He is one in me. I am living in this love!
Children today are not given this love. They are given all they need physically, all they can absorb technically, intellectually, all they need to make the appearance of perfection: a beautiful house, a beautiful car, a room adorned with such decorations, some have a private bath, a computer, a television, a VCR, a compact disk player, a telephone, a beautiful suntanned body, a swimming pool, the greatest sports equipment, the right label on their clothes and shoes. They are taken to every sport event so they can participate and be the greatest player, but what about the family meal? What about the nights the family sits and talks about things in their hearts? What about the family rosary? We are raising a heartless, self
-indulgent society of youth. Their hearts are dying inside, while their bodies are adorned to perfection. It is what I call the "inside-out syndrome." Everything exists for how we look on the outside and the inside (the heart) is dying and shriveling up inside the body. I see Mary standing beneath the cross and feel the pain for her little, lost children.
I see Mary before me and hear her call out for the children that will lose their souls and go to hell. I see Mary, our heavenly Mother, call out at Fatima. I hear her urgent cry and as at Fatima - who listens?
Satan has attacked our hearts. They are closed and dying in our bodies. We have every hair in place and every muscle exercised. We know the fat level in every muffin and the calories in every spoon of yogurt, but the heart of man is dying within the body.
The starved hearts of the world cry out, more and more, "Please feed our hungry!" We are starving and the world fills the hearts and souls with more and more pleasures and things. The focus is hollow, the eyes are fixed, and what of the little ones who do not even know how to feed the pangs of hunger within their souls?
His Heart was pierced with a lance; her heart was pierced with a sword of sorrow.
His way is the way of the heart.
December 20, 1995
Mystical Experiences
R.
I am filled with overwhelming love for God on the beach in the Bahamas. I realized the immensity of the Almighty God and how little we are compared to Him. As a little grain of sand on the seashore, a drop in the vast ocean, yet He, in all His immense love, comes and gives Himself to us! His great love becomes apparent. Jesus took on a human nature for love of us.
I receive mystical experiences. These mystical experiences we receive in our lives can be compared to the light of the sun. The sun is so bright and blinding and we see every detail with such clarity. It is so blinding, we feel the immensity of its power.
He releases His grace, His light, with a deep, deep light and I see with the deepest clarity. I am wrapped in the love of all three Persons. To be as it were
- one in this love, it overtakes me and I know only love—all encompassing love of God. I am and I do not want anything, only to serve Him and give myself over in entire abandonment to Him. I call this being "on the other side." It is in a state of knowing, with deepest clarity, the things of God. I call it a light. I am indeed in the light, for I am in the presence of God and I know it. I know Him in deepest oneness. I am aware of myself, my littleness, and I am aware of His love as I become overtaken by perfect love. He is love. I experience different things at different times. I remember last year in December '94/January '95 having such a presence and then Jesus spoke. It was such an awareness of God and knowing with such clarity the things of God as it said in Numbers 24:2-7 "of one who sees what the Almighty sees, enraptured and with eyes unveiled." This is exactly what I experience when I am in this light. The last one was the greatest when I was so satisfied and knew what it was to be one in Him, to know the magnificence of His life. I have had a constant presence of this since Dec. l5 and I see myself (diagram-circle, God and Me) - it is red, it is warm, it is power. I know Him most powerfully. It is He who acts in me. I connect with the presence of the Father and the Holy Spirit working in the Heart of Mary. My heart is empowered beyond comprehension for I am as I am in Him. I can vision Jesus and Me — His Heart is red, yellow glow and I am empowered, wishing only the will of God and being satisfied with the outcome, knowing it is His will when I am in Him as in this vision. His circle is without bounds. It is more than I am in a red cavity, surrounded by a yellow glow - it is an endless feeling of penetration. It empowers me for I am IN HIM!
Last year from the first Saturday in December until January l9, I had seven presences of God like this. In one of them He read me the January l9th message. I was filled with shame, having His presence and being on the other side and having ever doubted and knowing all I wanted to do if He didn't keep me in that moment was to spread the messages He was giving me. Each time I am in this light I vow to do all I can to spread His love, His presence, His messages, for I am given a revelation that I am given, I am touched by the Almighty God: Father, Son and Holy Spirit. I went to (what I call) the other side. I know what They are saying and it is up to me to tell this world what I have been told when I was there, so I keep saying, "I know what They are saying", "I know what God is saying". How do you tell the world that you have experience this so many times and told by God what He is saying?
Men did not believe Jesus. I experience the presence of God and am allowed to suffer deep experiences there. I know the sufferings of Mary and Jesus to a small degree.
I have had my heart jabbed with swords and experienced the agonies to a small degree of Jesus in the Garden, Mary under the cross, the Sorrowful Mother, the neglect and indifference of the Eucharist, the Heart of Jesus that cries out for His beloved souls to love Him and treasure His presence in the Eucharist, the Heart of His Mother that calls out for her little, sick children. I have experienced her heart as she held Him under the cross and touched the lifeless skin of the little boy she once carried. I know the oneness between Their Hearts and why He wants His Heart venerated next to hers.
The light shines, so many mystical experiences that have been recorded as greatly as I can in these letters and in the rosaries from the Hearts of Jesus and Mary. I have been swept away by the Father's love during the Mass and felt all through the Mass the great miracle as it takes place. I did not know what a mystic was, but I have been given great gifts over and over again: mystical experiences, where I have the presence of the Trinity and they allow me to experience these insights into the emotions in the heart. I only hope that the world can share these deep insights into the Hearts of Jesus and Mary.
Today the clouds lift and I behold the sun shinning through the light, and power only slightly compared to the magnificence of the Almighty God. I know what He is saying. I have experienced these things in this deepened sense and have united to Him in this act of intense love. It says in the scripture
- Perfect love casts out fear (1 John 4:18), for to know Him is to be without fear. He is. He exists and He is alive, with all the magnificence and wonder of the Divine Being, the Almighty God. Our feeble hearts and minds cannot even comprehend in a small sense the magnificence of God, but He gives the grace and in one instance and I see through the eyes of God, I am in an ecstasy with eyes unveiled and in that moment He gives to me His gifts and His love.
Oh, that this world may know more and more His wondrous works, His power and His might, His love, His Divine Life! That the Holy Spirit will descend on the earth and the earth will be reborn with the Fire of God's love!
The light comes and goes, the clouds go over the earth, but His magnificence is forever with us. His light is always existent. I want to live dwelling in the burning cavity of His endless love, in oneness with the heart of Mary that we will embrace this Almighty God.
December 21, 1995
Relationships: Be in One Heart with All Men
Between 3:00 p.m. and 4:00 p.m., Divine Mercy time:
R.
My dear Jesus,
I have been troubled for a long time with my relationship with others. To have a heart like Yours, I cannot have division in my heart toward any man. I feel separation between myself and many others. To be in one heart with all men, I must not have division with any person, primarily my family. I must, at all times, stay one with my husband and obey him unless he tells me to commit a sin. I must be loyal to him.
Everything is as it is for You have allowed it in my life. I must always live in the Father's will to have peace in my life. Nothing that is right need be hidden. I do not have to reveal myself to every person, but I must remain undivided and one with all my brothers in Christ at all times.
My primary concern is that of being obedient to You and living in the Father's will.
Fr. Carter is my spiritual director. He represents You to me on this earth. He tells me what You would tell me, and You have given to him great graces to help me draw closer to You. Nothing I do on this earth is of any account if it divides me from You. Under obedience, I must comply always to what he tells me. My closeness to him is as my spiritual director. You act through him and guide him in his actions to draw me closer to You.
I thank Him for all He has given to me and am forever grateful for His deep love for me!
I see as never before, since December 15, when I was enveloped in Jesus' love and existed in God. From this point on, the goal of my life must be to live to try to be as my heavenly Father wants me to be. I am weak and I fail, but my goal is to love God above all things, to always do His will, to want nothing but to please Him as a most devoted child, living to please her Father. I love God with my whole heart and my whole soul and my whole being. I love each and every Person of the Trinity. I love God, Father, Son, and Holy Spirit. I know and love Him as one. I know and love God as one. I know and love God in each Person of the Trinity. I know so much from standing under the crucifix and being so united to Him on December 15, 1995. He lifted the veil and I saw with eyes unveiled.
I saw with eyes unveiled. I know now the immense concern of His Heart. His Heart is a Heart of endless love. It is burning. It engulfs a soul. He takes them unto Himself. He gives us special moments in which many things are made clear. In that moment, I was embraced by His burning love. I was swept within the deepest chamber of His Heart and heard the roar of the fire from His Heart. In that moment, I knew what it was to be united to God. My eyes were unveiled, and I was enveloped and swallowed up by His presence. I existed in Him. I existed in the endless cavern of His divine love. I wanted for nothing. I felt satisfied, for in that moment I was absorbed in Him, and I knew no fear being united to love itself.
I do not think that I am better than anyone. He has given to me great gifts to share His burning love to all. With all my heart, for my whole life, I will spend all my waking hours trying to please Him and tell this world of His love, my whole life being lived to love God and my fellow man.
Oh, that He loves us so much that He gave Himself for us, and He gives Himself to us now. In the deepest recesses of His Heart, I will find shelter from the rain and the storm, for the embers of His Heart burn the brightest and we cannot even comprehend this deep cavern of His endless love.
He took me to the deepest chamber of His Heart, and I was embraced by the love of God. To this day, I will not be the same. I saw with unveiled eyes, and I saw, as He allowed me to see, with His divine wisdom. Many things being made clear, I embraced eternity, and I know the presence of God as never before.
Alleluia, Alleluia. He is a God, true and just, Who knows no favorites, but loves all His precious souls with an unfathomable love. Alleluia.
(I had a dream about a little boy riding his bike. A bunch of hungry kids would kill him. I woke up and my heart was sick.)
We must be willing as a little child to suffer martyrdom for His sake. We will love to the bitter end, for in the cavern of His endless love there is no fear. Perfect love cast out fear. The Holy Spirit fills our hearts with the fire of God's love, and we are indeed made fearless in His love.
The wind may blow and the earth shake, and we will not fear for we exist In God: Father, Son, and Holy Spirit. We are one with the heart of Mary and one with the world and all its inhabitants. To know Him is to love all He created, and to know Him is to love all. There will be one heart and one soul, all united under the reign of His Sacred Heart. The Immaculate Heart of Mary will triumph and the Sacred Heart of Jesus will reign, and we will be one in Their Hearts. To know Him, to be one in Him is to exist in His love. We will be joined in one heart with the Hearts of Jesus and Mary. The Hearts of Jesus and Mary were joined in one body before His birth. We will be joined in one heart, all the members of the body of Christ. The Church is the body of Christ. Jesus is the Head. Mary is the Mother of the Church. Mary is our Mother; the Father is Our Father.
As members of His body, we will be like Him in our actions. He lives in the hearts of His members and His love is emitted from their being.
We are one body in Him, joined as one heart in the Hearts of Jesus and Mary.
They were in the upper room, and the Holy Spirit descended on them and they were as one mind. We will be one mind and one heart, living in the Father's will.
Jesus has said:
"Unless the messages of My burning love are transmitted among the members of My body, the Church, the bloodshed will continue"
"Spread these letters to this world, Rosaries from the Hearts of Jesus and Mary"
R.
They were one mind and one heart for they knew His love, His burning love.
Jesus:
I am the Alpha and the Omega, this is My gift to this world, to draw all hearts into the furnace of My Burning love, how I love My beloved souls. I am one with you now.
R.
See the heavens and earth as one in Him, all living as being one. The unseen world is really real. What is really real is that which we do not see and do not fully comprehend. We do not know how we ourselves breathe and why our hearts beat and why, at one moment, our bodies will cease to be alive.
Man tries to explain everything with scientific reasoning. He cannot explain the vast universe and the life in the womb of a mother. He cannot explain the power of the sun, and he cannot control the weather, the clouds, a disease such as cancer. He cannot live on his own, he depends on a Being higher than himself
- this Being is the Almighty God! I see so clearly how our interior life must be rooted in Him.
We search. We want something to feed our starved souls. We want a person, place, or thing to fill the hunger within us. There is no other way. He is the Way, the Truth and the Life. The more I search this empty wasteland, the more I am left empty. All things must be used according to His will, not too much, not too little, neither all nor nothing, but moderation in all things.
For me many times it was easier to be extreme one way or the other. This is not of God. All things are in moderation, according to His will, not my will. He gives us what we need to help us to grow in sanctity. If we do not learn the lessons, He increases His teachings. All things in moderation, according to His will.
We see hardened faces in this world. We know of the hardened hearts of men. The eyes are sullen, their actions self
-centered and on the surface.
He is the source of life.
He says:
I am the true vine,
and my Father is the vinedresser.
Every branch in me that bears no fruit
he cuts away,
and every branch that does bear fruit
he prunes
to make it bear even more.
You are clean already,
by means of the word
that I have spoken to you.
Remain in me, as I in you.
As a branch cannot bear fruit all by itself,
unless it remains part of the vine,
neither can you unless you remain in me.
I am the vine,
you are the branches.
Whoever remains in me, with me in him,
bears fruit in plenty;
for cut off from me you can do nothing.
Anyone who does not remain in me
is thrown away like a branch
-and withers;
these branches are collected
and thrown on the fire
and are burnt.
…My command to you
is to love one another. (Jn. 15:1-17)
R.
He is the Life. We receive our life in Him. We are as the branches connected to the tree. If I am an isolated branch disconnected from the vine, I do not have life in me. I will wither and die.
We are one in the Holy Sacrifice of the Mass. As I become one in the sacrifice with Jesus and die to myself and offer myself to the Father. I am one in Him.
The oneness is deep, not lip service love. All members of the vine must live with their primary purpose to know, love, and serve Him. He died and what flowed forth from His Heart, His adorable Heart, was blood and water. He is the Source of our life. We are given and nourished by Him. As we become one in this Heart, one in the Sacrifice of Calvary, sacramentally made present at the Mass, we become one in Him. His life comes to us through His Mother, Mary. She stood under the cross, and Jesus gave us His Mother as the Mother of our spiritual life. Our life in Him is in a constant state of becoming in the spiritual womb of our Mother through the action of the Holy Spirit. The life of the Church is in a constant state of becoming as Mary mothers the Church through the action of the Holy Spirit.
Life flows from the Father, in the Holy Spirit, through the pierced Heart of Jesus, and through the heart of Mary.
We cannot leave out the Source. To focus on the interaction only between the members is to cut off our life supply from the source. And what does He want? He wants life rooted in Him. He wants oneness with Him. He wants us saturated as watered and fed deeply in Him. To be saturated with His life, we will bear abundant fruit.
We must feed the hungry with the message of His burning love for them. To not have His divine life is to be starved.
So many this day have cut themselves off. They exist isolated from the vine. Their interior life lacks the light of His life. Their hearts are hungry. They exist in and of themselves. They have made themselves their gods. They exist with a gaze that is focused on self.
Unless we die to ourselves, we will not have life in Him. Man cannot serve two masters: He must be rooted in Him. These roots are deep penetration. The heart is the life of the body. In dwelling in His Heart and His Mother's heart (her heart that dwells most perfectly in His Heart), we are saturated with His divine life.
A branch cannot exist separate from the vine. Likewise, we cannot be one body in Him if we are not joined in one heart and one mind with Him.
The Father has a plan for us. We were uniquely created. Each branch of the tree has its own beauty. Each one of us, created in His image and likeness, have a beauty uniquely our own. It is in living in Him that our beauty reaches greater perfection as the Spirit's action works on us to sanctify us. He wants us holy as saints. He wants us to be joined in Him. He wants our goal to be a reflection of the God Who dwells within us. He wants to live in us and become one in us and live in this world in us.
December 17, 1995
The Earth Stopped and I Touched Heaven
R.
I long to unite in the deepest union with Him in the Eucharist. I long for the Mass. I long for Thee, oh God. My every moment, I join as I did to You December 15 under the cross, where I felt Your presence. You whisked me away, and I was totally absorbed in that moment of celestial union with You. For that time, I existed only in You, in the deepest union, and I was in this moment existing in You. The earth stopped, and I touched the heavens, all my bodily cares were existent in You. I existed in Your Divinity, my being was in You. There was no desire or wish or wanting, for in that moment, I had all I wanted in You. I was satisfied and wanted nothing but to remain in that embrace. You were the Being, and my being existed in You, but I was only as I was in You - merged in You, knowing and being in Your Divinity and being so full as to feel complete in myself.
You are so enormous, and You surrounded me in a burning embrace, the presence of red fire. I was not little, or "nothing", but existed in this enormous power and being so complete!
I touched eternity, and in that embrace, I knew all the waiting was worth the glory. You enveloped my being, and I was truly merged in the Divine Presence. I was merged in Your being. I existed IN You, with You, in the highest union with You, although I knew I was still distinct from You.
I was fused and absorbed in You, feeling complete and satisfied. To describe this union is far beyond any work of my pen and paper. I pray for the reader of this page to receive the grace to share this experience with Him, I will now live for this union
- to be forever merged In Him, to be One in Him, to reach higher perfection as I exist in Him, for He takes the lowly and gives to them a sharing in Himself. He merges with us and we exist in Him. The word "in" - I could write pages about. I long for the deepest union with Him, where I am swept up in the heavenly embrace of the Divine God, and I am IN Him.
This is heaven on earth: to be merged as one with Divinity, although remaining distinct from God, to take our feeble hearts, our lowly status and to unite ourselves with the Divine, Almighty, powerful God and in this union to be meshed with Him, that His power dominates and our humanity reaches its heights of fulfillment in this union, in this oneness with Him.
The word I have looked for is "oneness." I understand some of the meaning of the words "One in Him." Oneness is the word to describe this union of our humanity with His Divinity. The depth to which we could meditate on oneness with God is incomprehensible. In that moment, the earth stood still, and He, my Divine Lover, the Bridegroom of my soul, took me to Himself, and I knew the embrace of the Divine God.
Nothing on the face of this earth can describe our union with Divinity. Oh, good God, that creatures are so ungrateful regarding Your divine love. I am so sorry. Let me help make reparation to Your adorable Heart. Please unite with me now that I may more deeply love Thee.
Oh, Divine Lover of my soul, let me help make reparation to Your adorable Heart for the neglect and indifference against You.
Song from Jesus:
I come to you with greatest love. I am your loving Savior. I am your God. I died for you. I come to you this day.
He allowed me to experience such pain in my heart
- wanting Him so badly, so many times - and then on Dec. 15, 1995 - He gave Himself to me in the deepest union.
Nothing satisfies the soul but Him. He wants the nuns and priests to love Him. He chose them to spread His love.
Souls are hungry. They will only be fed with His burning love. Priests need to talk about Jesus' love for us from the pulpit. Priests need hearts burning for love of Jesus. This will feed the hungry souls
- lip service love doesn't do it.
He is alive today. He is a Person. He wants us to love Him.
December 18, 1995
In the Deepest Recesses of His Heart
R.
The place Jesus took me was into the deepest recesses of His Heart. I was enveloped in His burning love. It was a red room with heat and an intense glow. I was swept away in this embrace, and I only existed in Him. The power of the Almighty God enveloped me, and I only existed in Him. There was no fear, for I was existent in this Almighty Being. My heart was wrapped in the eternal embrace of this Supreme Being. The security, the power I know was His deep presence in which I existed. I knew the room was red and warm. I knew His immenseness, but I felt my own completeness in Him. I did not feel little, as a speck, but elevated and empowered for I existed then in Him in a most special way.
I was overtaken by the love of God. The fire of the Holy Spirit filled me. I was absorbed by the love of the Father, and I existed IN Him and in the deepest recesses of the Heart of Jesus. Our heaven on earth is these inner chambers of His magnificent Heart
- the Heart of the Almighty God, with all the power, with omnipotence, with the fire of the love of God. He took me to the deepest chamber of this fiery Heart, and in that moment, I touched eternity, for I knew what it was to be enveloped in the deep furnace of His love. I now want to exist in this chamber of His Heart, swept away in His burning love, absorbed in my every cell with His love.
We do not understand the fire of His love. We do not understand what it is to be absorbed by love itself. He took me to the inner, deepest chamber of His Heart, and I felt the heat and knew the presence of love itself, and there was no fear, only a feeling of completeness, omnipotence, all
-embracing, penetrating love - a power indescribable in words, a saturation of my being in the presence of God, and I was as I was created to be - living in Him!
This is how I will forever live my life, saturated with His divine life and love deep within this inner chamber of His burning Heart, living in Him as He possesses my being, and I operate with His power in me. Little creatures though we are, we are His, His power, His life, flowing through us. In Him, we are as the Father intended: one in Him, each one of us, dwelling in this fiery furnace of His love. With our fears quieted and our hearts empowered by His life, we live forever in Him
- in the Heart of Jesus.
Let no man separate what God has joined together. I am wed in the deepest love with my beloved Spouse, wed to the Heart of Jesus. As I am, I am one in Him. I live and I breathe in Him. He, Who is love, He Who is our all, He Who is mighty and without limits, He Who is, He Who is God and as I live, He lives in me in this world.
I am wed to Him, and I shall not fear for He is God
- one, complete, loving, God. Heart of Jesus, I place my trust in Thee. As I live, I live in Your most adorable Heart, the furnace of God's love!
end of blue book 9
Sing Song: Night Is Over
Sing: New Life
Sing: Glory, Glory, Glory Lord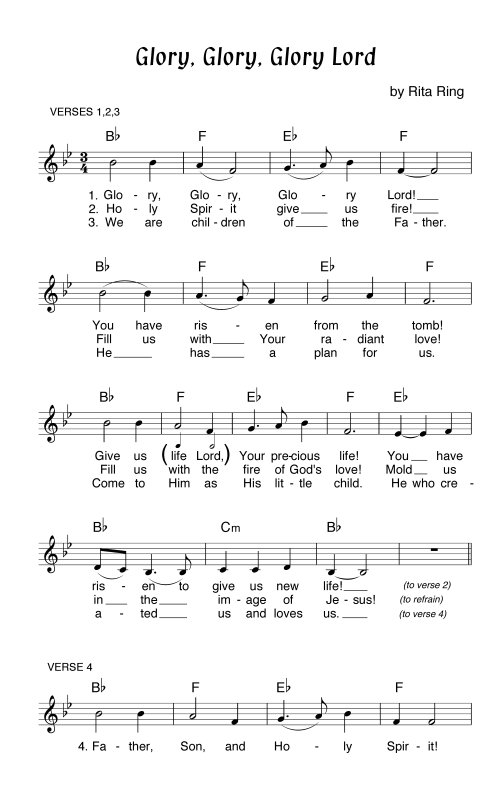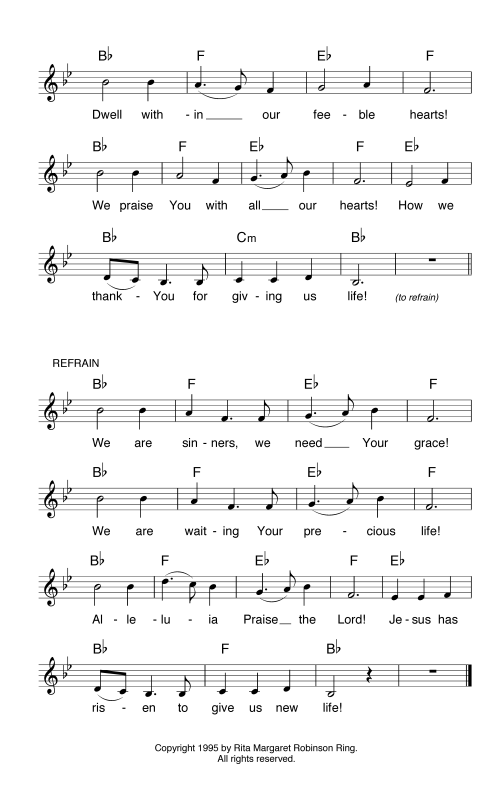 John 20: 29
Jesus said to him:

You believe because you can see me.
Blessed are those who have not seen
and yet believe.
Given
October 29, 2016
R. Please spread blessed holy water
(You can also mix Jesus and Mary water
with your blessed Holy Water if you have it.)
in your yard, around your house,
in the state you live in.
And ask God to bless your state
Ask God to bless the United States
Pray all prayers through the intercession of
Our Lady of CLEAR – WATER.
Ask the Lady of CLEAR - WATER
to help with the blessed water.
Mary has appeared to me for 22 years,
in Ohio and Florida.