June 18, 2017 - Feast of the Body and Blood of Jesus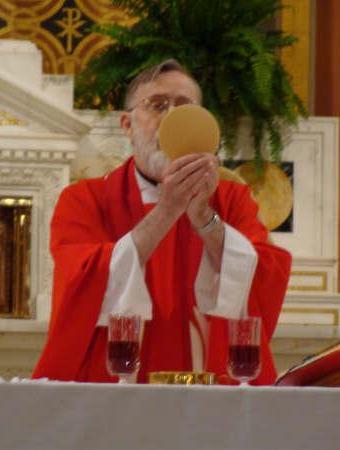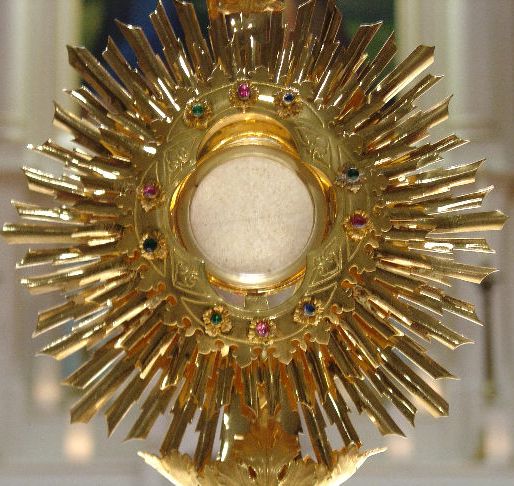 The Body and Blood of Christ
Deuteronomy 8:2-3, 12-16
Remember the long road by which Yahweh your God led you for forty years in the desert, to humble you, to test you and know your inmost heart -- whether you would keep his commandments or not. He humbled you, he made you feel hunger, he fed you with manna which neither you nor your ancestors had ever known, to make you understand that human beings live not on bread alone but on every word that comes from the mouth of Yahweh.

Do not then forget Yahweh your God who brought you out of Egypt, out of the place of slave-labour, who guided you through this vast and dreadful desert, a land of fiery snakes, scorpions, thirst; who in this waterless place brought you water out of the flinty rock; who in this desert fed you with manna unknown to your ancestors, to humble you and test you and so make your future the happier.

Psalm 147; 12-15, 19-20

Praise Yahweh, Jerusalem,
Zion, praise your God.

For he gives strength to the bars of your gates,
he blesses your children within you,
he maintains the peace of your frontiers,
gives you your fill of finest wheat.

He sends his word to the earth,
his command runs quickly,

He reveals his word to Jacob,
his statutes and judgements to Israel.
For no other nation has he done this,
no other has known his judgements.

1 Corinthians 10: 16-17

The blessing–cup, which we bless, is it not a sharing in the blood of Christ; and the loaf of bread which we break, is it not a sharing in the body of Christ? And as there is one loaf, so we, although there are many of us, are one single body, for we all share in the one loaf.

John 6: 51-58

I am the living bread
which has come down from heaven.
Anyone who eats this bread
will live for ever;
and the bread that I shall give
is my flesh, for the life of the world.'

Then the Jews started arguing among themselves, 'How can this man give us his flesh to eat?' Jesus replied to them:

In all truth I tell you,
if you do not eat
the flesh of the Son of man
and drink his blood,
you have no life in you.
Anyone who does eat my flesh
and drink my blood
has eternal life,
and I shall raise that person up
on the last day.
For my flesh is real food
and my blood is real drink.
Whoever eats my flesh
and drinks my blood
lives in me
and I live in that person.
As the living Father sent me
and I draw life from the Father,
so whoever eats me
will also draw life from me.
This is the bread
which has come down from heaven;
it is not like the bread our ancestors ate:
they are dead,
but anyone who eats this bread
will live for ever.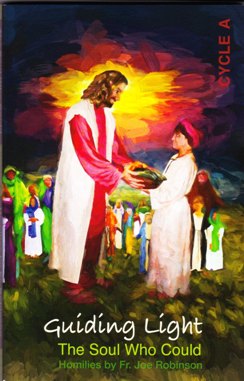 The Body and Blood of Christ
June 22, 2014
INTRODUCTION –
(Deuteronomy 8,2-3.14b-16a; I Cor. 10,16-17; John 6,51-58) The setting for our first reading is on the east side of the Jordan River across from the Promised Land. Moses' job of leading the people of God is just about finished. He is giving them some last minute instructions before they cross the Jordan and enter the Land and he goes off to his eternal reward. His fear is that the people, once they get comfortable in this new land, will become complacent and forget the God on whom they depend. So he tells them to remember - remember the journey from Egypt, remember the long time they spent in the desert and especially remember the food with which God fed them - the manna. This reading (especially the mention of manna) is meant to introduce us to the main focus of today's feast - how God sustains us with the flesh and blood of his Son, Jesus, the bread of life.
HOMILY –
Food is a big part of our lives. Not only are we aware of it throughout the day (and even at night sometimes), our newspapers, magazines, books, ads on TV keep telling us about food, how to fix it, where to buy it, what tastes good, what is healthy for us and what isn't.
When Jesus taught, he used examples that touched the lives of the simple people in the culture in which he lived. I suspect their interest in food was just as great as ours. The whole sixth chapter of John is about food. It begins with Jesus feeding a crowd of 5000 people with 5 barley loaves and two fish. None of the gospel stories tell us how he did it, but it must have been spectacular because it's the only miracle (other than the resurrection of Jesus himself) that all four gospels tell us about. The people were so impressed that they wanted to make Jesus their king. They didn't understand that he was already a king, but his kingdom was not of this world. He tried to explain that he didn't come to them to feed them free meals, but to feed them with a food that will bring them eternal life. "I am the bread that comes down from heaven, that a person eat it and never die." (Jn. 6,50) Initially as he spoke of himself as the bread of life he was talking about having faith in him and living as he has taught.
Today's gospel, however, continues on with a new theme on Jesus as the bread of life. Not only were they to believe in him, but they were to eat his flesh and drink his blood. If they had some problems with what Jesus had already said, this really blew their minds. Jesus knew this idea really disturbed them, so what did he do? He repeated it with greater emphasis and clarity: "Amen, amen, if you do not eat the flesh of the Son of Man and drink his blood, you have no life in you." (Jn 6,53) And he repeated it again. This is where many in the crowd began to walk away, saying to themselves that Jesus was out of his mind. Jesus didn't call them back to tell them they were misunderstanding him. He knew they understood exactly what he was saying.
This is where many people today part company with Jesus. They don't say he is out of his mind, for they like many of the things he taught. They think his teachings on love and his demonstration of his love for people by forgiving their sins or healing the sick is awesome. They may even call themselves Christians or Catholics, but they find it too much to accept that this consecrated host and sip from the chalice is really Jesus' body and blood. They can't say what Peter did when Jesus asked him if he wanted to leave with the others. Peter said: "Lord, to whom shall we go? It is you who have the words of eternal life; and we have come to believe and are convinced that you are God's Holy One." (Jn 6,68)
We take it on faith when we eat healthy food, take our vitamins, count our calories that this is good for us. We have to take it on faith too that the Eucharist is good for us. "The person who feeds on my flesh and drinks my blood has eternal life (and he remains in me and I in him)." (Jn 6,54&56) We can't go wrong in believing in these words because they come from God himself and God would not lie.
We cannot see with our eyes that bread and wine have been changed into the body and blood of Christ, we can only see that this is so with our mind. We allow our mind to see what our eyes cannot see because we have chosen to believe what Jesus said. As I seek to believe and to visualize the Eucharist as Jesus himself, I find I am helped by modern physics. This is how it works for me: modern physics tells us that a substance may look solid, but it really isn't. That is because everything around us is made of atoms and molecules. There's a lot of space in things, and a lot of energy. If I were to set this podium on fire, what would make it burn? It would burn because of the energy contained in it and the burning would release that energy. If I sit down and eat a sandwich, my body breaks the sandwich down into energy that allows me to keep going. I like to visualize the Eucharist in terms of divine energy. I picture the Holy Spirit transforming the normal energy that's in wheat and wine into divine energy, an energy that somehow creates in us eternal life. What that means, we have yet to find out. We only know that Jesus referred to eternal life as "the fullness of life." (Jn 10,10) No more suffering, pain, growing old, no more wars or hatred and no more death.
Do you want to grow deeper in your faith in the Eucharist. One way I would suggest is to come to Mass one day during the week or to come to a Holy Hour on Wednesday morning or Friday afternoon. I pray that more people will take our Lord's words to heart: "The bread that I shall give is my flesh for the life of the world." (Jn 6,51) Amen.
Sing: I am the Bread of Life
Bless the Lord My Soul who heals the broken hearted
From Fr. Joe's Homily
Happy Father's Day –
Gospel:
We don't need anybody to tell us how much food
means to our well being, but we need Jesus
to tell us about spiritual food.
Read Chapter 6 of John.
Jesus is feeding 5,000 on a
few barley loaves and fish –
Jesus knew this is not why
He came –
Jesus was walking on water –
Jesus said He was the food to
feed His life in them –
Many left when He said –
"I am the Bread of Life"
They thought He was crazy
when He said you need
to eat My Flesh and
drink My Blood.
The Bread of Life is
the Word and the
Eucharist –
Jesus feeds us with
the Bread of Life –
Jesus' Word made
things better –
Jesus gives us the
Bread of Life