Mary: I am your heavenly Mother, Mary. Souls
are going into hell like rain, souls of my
beloved children. I have told you this for
21 years.
My children do you know how hell is.
Hell is total darkness. In hell you do not
ever know love or God. There is crying
and gnashing of teeth. The souls know
they will never see God.
Souls in hell know they will never get
out, their suffering is eternal.
There are so many souls who have died.
You have a short time on this earth. For
a few years of senseless pleasure – souls
can serve satan in satanic tricks –
hidden in darkness, hurting one's neighbor
you are to love – hurting them with
malice of intent – hurting them in mortal
sin and refusing to admit the wrongs
you have done are wrong and ask God for
forgiveness and mercy. Why would a person
become so consumed with the love of
this darkness for power of hurting their
brothers they are commanded to love.
Hell is for real. Today so many souls
will go to hell despite the suffering and death
of my Son Jesus because of their hard
hearts and their mortal sins against
God and against their neighbor they refuse
in the hardness of their hearts to admit to –
Darkness, my children, a soul can give
into satan who tempts them with the
deadly sins of pride and anger,
jealousy and envy, slothfulness, lust
and gluttony. Satan blinds them and
they refuse to stop the ugly bad habits
they succumb to against their neighbors,
their brothers God has put them with
to love.
My children, I speak of darkness, to live in
the darkness of mortal sin – is so much
darkness and the hardened heart gets
harder and more prideful seeking more
power and malice of intent.
A soul can seek to punish their brothers
for their own pride and darkness and their
own free choices. Once a person seeks power
over their brothers it is a hungry lion –
they don't want to stop when they nurse
anger for hours, for days when they were
commanded to love their brothers –
they can live in a state of such anger
they project on an innocent other
and the anger in their heart they
can nurse – like a loving mother
feeding a child – they begin to feed
their anger day after day, hour after
hour – projecting their own hatred on
an innocent other they blame and
decide deserves their anger. They can
give themselves a right to be angry
and for weeks, months, years if
they so choose, remain in a state
of anger they feed and watch it
grow.
When they choose to ignore the
commandments of God to love your
neighbor as yourself – they nurse
anger from their past and they
project their huge ugly anger on
an innocent other – they are the judge
and jury and decide who deserves
their punishment.
Pride is a deadly sin, anger is
a deadly sin, jealousy and envy
are deadly sins. A person filled with
pride works to put themselves, their power,
their way above everyone – they put
their power as a god above God.
You are connected to your brothers –
There is to be co-operation and love
between people in a family, a community
and you are to work with others when
God has given you a job to do to serve
Him and build His Kingdom.
Anger is like a big bully one gives
into, if they nurse it, and it is
felt by all around. Like the love of
God and neighbor brings peace and
unity and is a healing balm –
Anger can be taught in families to a child
and can be passed down from generations
before that.
A woman served a canned ham and
before she put it in the pan she cut
off both ends. The pan was plenty big
for the whole ham, but the woman
cut off the ends anyway. Her husband
asked why do you cut off the end of
the ham and throw it away – the
woman said "My mother did it".
Her mother did it because her pan was
too small, but the daughter did it
because she learned it from her
mother.
Anger is like a spray can that parents
can spray on their innocent children –
Where people were to work in love
settling struggles and problems –
so people created crisis after crisis
acting out their anger before little
children and the children learned not
how to settle conflict, but children can
learn power games and anger games,
punishment games, hatred games,
physical, sexual abuse games and
children can grow up seeking power
over others so they are never under
anyone again.
In the hard heart of a proud man is
the fool he doesn't even admit he
is.
Men were created in the image and likeness
of God. Men were created and wonderfully
made by God to love and serve Him
and live a life knowing God – having
wisdom and understanding and
bringing light and love to others.
In baptism you are given a sharing
in God's life. In the Blue Books my Son
Jesus has outpoured the Mighty Medicine
for the sick world and the devil has used
people who called to learn from the Blue Books
and teach others – the devil has used them
to not show the love God teaches in
the Blue Books, but anger and blocking
Jesus' letters of love.
My children 100 years ago at Fatima
I showed 3 little children hell –
Excerpt from The Spirituality of Fatima
by Fr. Edward Carter, S.J.
July 13, 1917

"During this same July apparition, Mary showed the three children a vision of Hell. She told them:

"You have seen Hell, where the souls of poor sinners go. To save them, God wishes to establish, in the world, devotion to my Immaculate Heart. If people do what I tell you, many souls will be saved and there will be peace.

"The war (World War I, then raging) is going to end. But if people do not stop offending God, another and worse one will begin in the reign of Pius XI. When you shall see a night illuminated by an unknown light [January 2, 1938], know that this is the great sign that God gives you that He is going to punish the world for its many crimes by means of war, hunger, and persecution of the Church and the Holy Father. (12)

"To prevent this, I shall come to ask for the consecration of Russia to my Immaculate Heart and the Communion of Reparation on the five first Saturdays. If my requests are granted, Russia will be converted and there will be peace. If not, she will scatter her errors throughout the world, provoking wars and persecutions of the Church. The good will be martyred, the Holy Father will have much to suffer, and various nations will be destroyed....

"But in the end, my Immaculate Heart will triumph, the Holy Father will consecrate Russia to me, Russia will be converted, and a certain period of peace will be granted to the world." (13)

11. For background material on Fatima, I am particularly indebted to
Our Lady of Fatima's Peace Plan from Heaven (Rockford: TAN
Books and Publishers, Inc., 1983). pp.3-4.
12. Ibid., pp.4-5.
13. Ibid., p.5.
From Fatima Peace Plan — Tan Books p.4-5.
July 13, 1917
THE CHILDREN SEE HELL
As she spoke these words, Our Lady stretched out her hands, and bright rays came forth which seemed to penetrate into the earth. All at once the ground vanished, and the children found themselves standing on the brink of a sea of fire. As they peered into this dreadful place, the terrified youngsters saw huge numbers of devils and damned souls. The devils resembled hideous black animals, each filling the air with despairing shrieks. The damned souls were in their human bodies and seemed to be brown in color, tumbling about constantly in the flames and screaming with terror. All were on fire within and without their bodies, and neither devils nor damned souls seemed able to control their movements. They were tossing about in the flames like fiery coals in a furnace. There was never an instant's peace or freedom from pain.
end of excerpt
Mary: Since 1994, July 5th I have appeared
and told you – souls are going into hell
this very day because of the mortal sins
and how they refuse to seek forgiveness
from God because they are so prideful
about the evil they do to their brothers –
The devil tries to make right look wrong
and wrong look right – he tempts people
who give in day long – more than one
devil comes to tempt the soul – The devil
is envious – he is going to hell – he
wants souls for hell. And a person that
sins in mortal sin and seeks to prove
to himself and others he is right –
begins to make being right in his
evil his god.
They can refuse any corrections, directions
and seek independence. They can live
in a space in their head – writing
the rules as they go along and demanding
others live by their image and likeness through
punishment and force –
So as you give, so will you receive –
People living in mortal sin can hold out
what is needed for God's work and hold
out and punish in ways, if they can get
away with it, so their way is put up
with.
Unpredictability is a sign of the evil
one - like the terrorist who come in a
sneaky way to get your undivided
attention and force their evil on innocent
others –
God is order – God gives you the commandments
and commands you live by them for healthy,
loving, real living. They are a gift from
God – all God gives is a gift –
When God is behind something and
an evil person fights, opposes God's
plan – you are fighting God.
Did you see the tower of Babel – they
thought they could build up a tower without
God. How foolish for a man to build their
life on quick sand.
Your heavenly Father sent me as
Our Lady of Clearwater to deliver the
message to you –
Souls are going into hell today and
they will never get out. Hell is a horrible
place of darkness, without God,
without love, I cannot even
describe – TOTAL DARKNESS –
And there are people today on earth
that need to quit sinning and ask for
forgiveness before it is too late –
And what you do today effects my
children in future generations –
I am Mary and I have appeared
and delivered these messages in the
Shepherds of Christ, my Son's Movement
for God the Father –
You must not keep sinning mortally
in hatred and anger and punishment
of your brothers and not even
seek forgiveness and quit sinning.
God is all just – God will judge
the hateful sinner as he deserves –
My Son Jesus came and took flesh
and died for the sins of men –
so they could seek forgiveness
and go to heaven –
The man in mortal sin can be blinded by
his sin and can continue in his
blindness to punish and bring down
his darkness upon innocent others
with such malice of intent – hard
hearts full of black sin against
others God has commanded them to
love.
God is love – in Him is no
darkness –
When you sin – you offend a good and
loving God – You reject God and put
yourself and your sin above God –
God is to be loved and praised and
honored and respected and instead
the sinner chooses to put himself
and his sin before God –
God made the universe and all
that is in it and a puny person
says "I am bigger than You God."
"I reject your laws and write
my own laws, God, I am up –
you are under"
God understands all the workings of
the law – a person of deception
is working under satan – you
tell God, when you sin, you
think you are better than Him.
You make your own laws in
willfulness and reject God's laws.
God is Almighty, Creator of heaven and
earth and a puny person says to God –
"I will reject Your law and
the commandments
and do what I want" –
Darkness – then if they live by their rule –
"I am always right" then they begin
the long journey of darker and
deeper darkness – snubbing
a good God as though He does
not see them in their pride –
There is no evil in God. A person of
impudence and sin against God
with a hard heart is setting themselves
up in darkness.
God watches this impudence from
above while the angry, I am right,
sinful, prideful soul can witness
to others what is evil.
God watches, the God of love
and goodness while a hardened, angry
heart in sin – deceives themselves
that they can get away with this
before the eyes of the all – Perfect
loving God, their Maker.
How deep is the gulf between God
as a sinner rebels against
God's laws and moves deeper
and deeper into the darkness
of holding out anger and
rebellion who has offended
a good and loving, perfect God.
Sin is a meanness. If a person pulls
a trick on a person giving love and
acceptance to them – is it not
meanness to see the sinner rejecting
God's love and goodness and law
in prancing around before God
in impudence and anger and
rebellion in unloving hateful ways.
Sin offends God – God is
infinitely good and loving –
So as you give – so shall it be
given to you –
The sinner is in the realm of
holding back, selfishness,
putting themselves and their
sin before God –
R. In giving good deeds to others
we give goodness and love to
God –

God is the "Giver".
God has given to us –
What do we have that God has
not given to us –
Is this not meanness to parade
down here on this earth as
if God does not see –
or does not exist while we
impudently parade in rebellion
in ugly meanness before God in sin
that offends Him in gratitude
of God's gifts given to us in
goodness and love used to
do evil to our brothers and God.
Mary: The heavenly Father sent Jesus so
you could know Him most
intimately. The heavenly Father
sent me to Clearwater –
The heavenly Father created you in
the image of Jesus and
you, when you sin, rebel
against the Father, your
Creator and offend a
good God.
John 3: 16
For this is how God loved the world:
he gave his only Son,
so that everyone who believes in him
may not perish
but may have eternal life.
Mary: How can you act this way
against the heavenly Father's
goodness and love and sin and
refuse to ask forgiveness for
your sins?
God has gifted you in allowing me to appear
in Clearwater –
Look how I have been treated –

Mary by day
July 5, 2000

by night
July 5, 2000
Mary: To sin mortally against your
heavenly Father is so
black – the heavenly Father
created you – His creation
and you show Him – you
are independently evil –
God the Father created you in the
image of His Son –
and you prance before Him –
you who sin mortally, like
it is okay!
How is it when a son goes out
and renounces his father?
Mortal sin is darkness, blackness
offence against God
Mortal sin is horrible –
Rebellion against God the Father –
God is full of mercy and forgiveness
God is good –
God is to be thanked –
thanked for your precious life
given by God –
God wants hearts that are pure –
Sin is slavery.
Sin is darkness.
God offers forgiveness and freedom
from sin –
But the man steeped in the
"I am right even when I sin"
is in for a dark road –
He has given away the freedom
God wants to give him –
to be pure and accept
the forgiveness God gives
to the penitent sinner – sorry
for his sin –

The devil wants a person to keep going
deeper and deeper into darkness
and sin –
So if you pull a trick when your
victim is down – the
devil says – go further –
don't stop –
How is it when a person gives into
the stoneness of their actions
and keeps holding out before
God in rebellion – hours –
days, weeks, months in
anger and rebellion –
And God looks down upon this
impudence before others they
are to serve and witness to
R. Fr. Carter did an examination of conscience
twice a day for ten minutes
Confession is a sacrament –
Religious are to go to the sacrament
of confession.
How pure are your consciences?
How do we obey the law of
God –
There are venial sins done in
bad example before others
teaching others disobedience and
willful neglect of what God
calls somebody to do are
wrong – charity and love is
to be seen before others –
We have a duty to do our required
jobs in our vocations –
St. Ignatius wanted the examination
twice a day Fr. Carter said –
Religious takes vows of obedience
to superiors –
How does a religious conduct
their faithfulness to their
duty in the community.
You are to perform your
spiritual exercises daily
as God has called you to
do –
Mary: Disobedience to those over you is
rebellion to what God the Father
calls religious to –
To not examine your conscience
at least two times a day
is a big disorder
Anger directed and nursed –
endlessly – is a deadly sin –
Order lies in obedience to God
and the commandments of
God –
Irregularity – unpredictability –
failure to be accountable and
responsible for one's actions
towards one's duty is
highly a disorder
and offensive to God.
Do you kneel regularly through the
day before the crucifix and
ask God to forgive you for
your sins

Do you meditate on Jesus' five wounds?
From St. Ignatius

"What have I done for Christ?"
"What am I doing for Christ?"
"What ought I to do for Christ?"
Mary: I am Mary, your heavenly Mother, August 27, 2017.
Do this rosary and watch the Passion Movie turned down.
Given June 20, 2011
Sorrowful Mysteries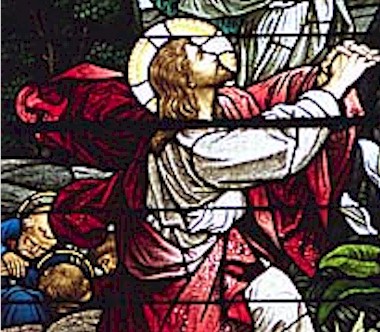 The Agony in the Garden
(1) R. Jesus sweat blood in the garden
His grief was so great —
Beyond anything we could imagine —
(2) R. The Apostles slept
Peter, James and John
Jesus told them to Watch
Jesus told them to Pray
(3) R. Judas was the betrayer —
Jesus told them at supper —
Judas was a betrayer of Jesus, Jesus who
loved Him so much —
(4) R. Jesus was sold for 30 pieces of silver —
Judas kept the purse
(5) R. Jesus in so much anguish He sweat
Blood —
Jesus did not give into His fear —
Jesus did the will of the Father —
(6) R. People have a free will to do God's
will or their own —
Jesus prayed to the Father —
The devil wanted Jesus to give into His fear —
Jesus gave His all in love —
(7) R. Jesus prayed:
Matthew 26: 39

... 'My Father,' he said, 'if it is possible, let this cup pass me by. Nevertheless, let it be as you, not I, would have it.'
(8) John 3: 16
For this is how God loved the world:
he gave his only Son,
so that everyone who believes in him
may not perish
but may have eternal life.
(9) R. The devil wants souls for hell —
Jesus came our Savior —
Jesus is the Savior of the world —
We can resist doing our selfish will against
God's will, if we follow in Jesus'
footprints we serve God the Father —
we do God the Father's will —
We resist temptation —
(10) R. Judas betrayed Jesus
Judas was sneaky —
Judas hid his evil design from
the other Apostles —
Judas betrayed Jesus with a kiss —
Judas betrayed the Son of God with
a kiss —
The Apostles were afraid —
They saw what they did to Jesus —
Do we abandon Jesus for our
selfish disobedience to God's will?
Jesus healed the guy who lost his ear —
Jesus worked miracles —
Jesus told them to put away the
sword —
The man's ear was healed —
When we don't hear, Jesus can
heal our ears —
Jesus was led away like a criminal —
Mary suffered so much —
The Apostles suffered —
The men taking Jesus laughed at Jesus, hit Jesus —
Jesus knew all these whippings
He would get in the garden —
Judas despaired
Judas betrayed the Son of God —
Jesus was whipped, mistreated —
the men were consumed with hatred
who beat Jesus —
They condemned Jesus to death —
Jesus' eye was whipped
Jesus' head was whipped
Jesus' body whipped —
They arrested Jesus —
Jesus was considered a criminal
Jesus was a carpenter —
Mary and Jesus loved each other —
They were in one heart —
Mary took care of Him as a baby —
Mary watched Him learn to walk and talk —
Mary knew He, her beloved Son, was
arrested —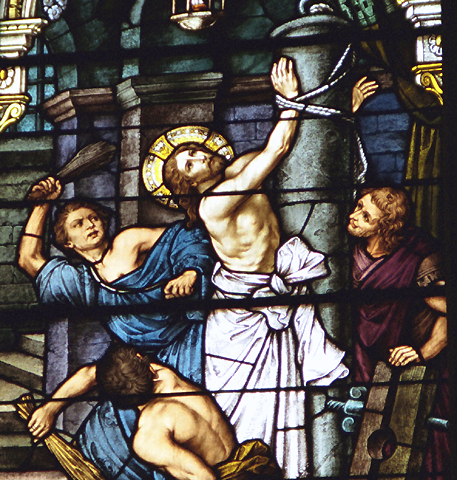 Whipping at the Pillar
(1) R. Oh Jesus we are sorry for our sins —
Oh Jesus we are sorry we offended
You with our sins —
(2) R. They arrested Jesus, the prophet —
They lied about what Jesus said.
Jesus is the King of all Kings —
(3) R. Jesus was the innocent Lamb led
to the slaughter
Jesus was whipped for our sins —
Jesus was the teacher of love and
They hit Jesus —
(4) R. Jesus cured the sick, Jesus drove
out demons — Jesus worked
miracles — Jesus, the King
of the Jews —
(5) R. Jesus was innocent
Jesus is the Son of God
and they whipped Him — They hit
His face —
He bled — Men laughed —
They had no shame —
All God has given to us —
Our life —
Our love — His love for us —
(6) R. We can disobey Him and act as if He
doesn't see our lies, deception,
hurting the Plan of the Father
by disobedience —
like disobedient children —
We say — "no God"
we want to do it our way —
(7) R. Like God doesn't see our
deceiving, selfish hearts —
The devil is the father of lies —
Lies drive us from God —
We become more blinded —
Saints don't want to offend
God because they love God —
Jesus was whipped for our sins —
Jesus wore strips for our lies,
our deception, our hiding
when we wronged God and
then tried to make the wrong
we did appear right —
further offending God —
(8) R. God shed the saving Blood —
Jesus, the Son of God —
Jesus' Blood was spilled
for us —
Watched His blood flow
because of our sins —
(9) R. And He was whipped for
our lies
Judas despaired —
We can't change God's plan
with our willful ways —
We hurt ourselves —
We offend God and
We hurt souls —
Souls Jesus shed His Blood for —
Souls Jesus died for —
(10) R. The devil wants us to despair —
The devil wants us to say no to God's will —
The devil wants us to say "I will not serve"
The devil wants us to hate —
Jesus is love —
If we are like God —
we love —
The devil wants us to be unloving —
They lied about Jesus' teaching —
Jesus the Messiah was
whipped for our sins —
He did not sin —
Gentle Jesus accused of all
these lies!!
He paid for our deception
and lies with beatings,
with His Blood —
His flesh was torn —
Jesus is the King —
Jesus is the King of Heaven and Earth
Jesus is the way, the truth
and the life —
They beat the Lord of truth!
They wanted Barabbas
They passed Jesus to Herod —
They punished the Son of God —
Jesus who restored sight to
the blind —
Jesus who changed water into
wine
Jesus who cast out devils —
Jesus who healed lepers —
Jesus beaten, bloodied, His
flesh torn —
Jesus is crowned with a crown
of thorns —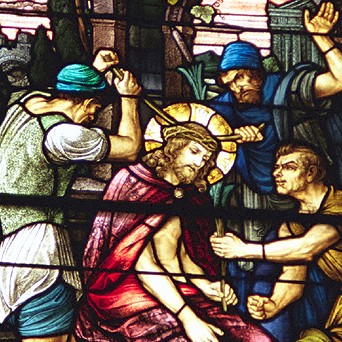 Crowning with Thorns
(1) R. Jesus is the way, the truth and
the life
(2) R. Jesus is the King of all men —
Jesus died so we could live
in Him —
Jesus paid the price for
our sins with His
Blood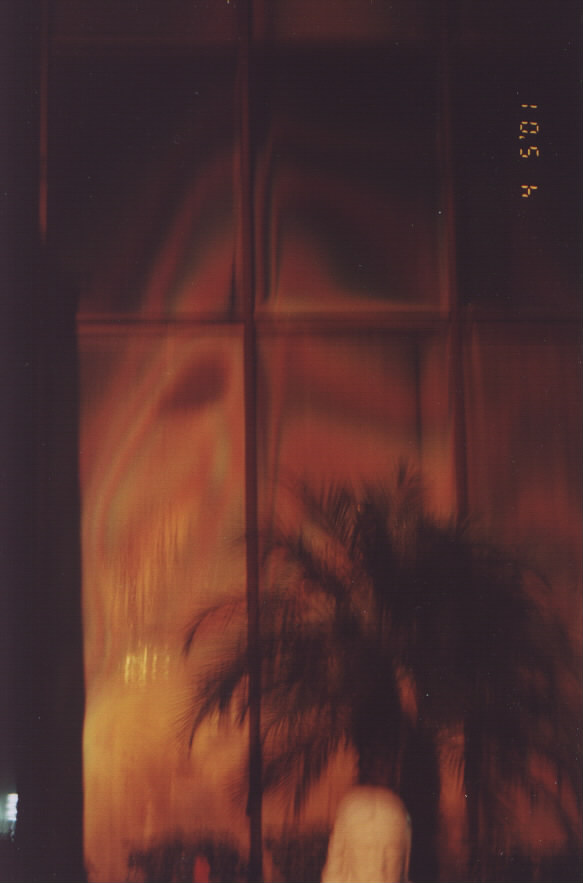 April 5, 2001
From Clearwater

(3) R. Men hide their sins sometimes and
act like God doesn't know —
How foolish!!
(4) R. Men beat the raw back of
Jesus — blow after blow —
tearing His flesh —
beating His back —
Suffering, Suffering, Suffering —
It is 'just' for God to punish us
for our sins — our lies —
God who is all just —
Song: I Am a God of Justice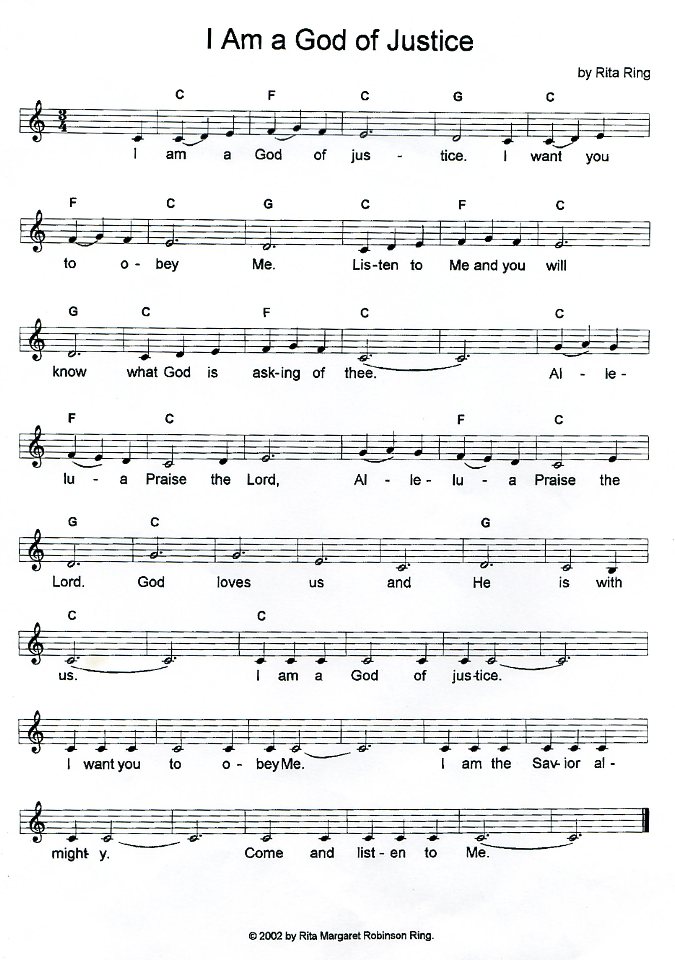 R. They beat Jesus at the pillar —
He stood in a puddle of His
own blood —
His whole body a bloody
bath of open wounds
for our sins
Jesus knows the evil in our
hearts — the deception,
He paid for it
(5) R. When they beat Him so hard —
they beat Him harder —
they beat and beat God —
they laughed and laughed —
Angry men with all their
strengthen and malice —
They beat Jesus raw —
for our sins —
Jesus knows —
They beat His Head —
His hair matted with
clotted blood for
our pride —
His precious Head — crowned
with thorns after beating,
after beating, after beating
tearing His flesh —
Oh God we are sorry for our
lies, pride, anger
seeking dominance for dominance
sake —
gluttony —
giving into our will against
the Father's will —
lust —
luring others into sin —
Jesus bore the stripes for all
we did —
We beat Him at the pillar —
We crowned Him with thorns —
We were unloving —
We were prideful
Blood from His mouth —
teeth in His tongue
What we do to others we do
to Jesus
If we provoke others and laugh —
we are doing it to Jesus —
When we say we know the truth
and we lie — we are lying to
Jesus —
We try to rise above Jesus for
satan —
We whipped Jesus at the pillar —
He was a bloody sponge —
Raw and whipped —
Crowned with our pride —
Obstinacies
(6) R. Crowned for our hatred —
Laughed at for our control,
envy and jealousies —
our hateful ways —
(7) R. Blood, Blood, Blood —
Shed for our deception —
Our raising over others
Our sins
(8) R. The devil wants us to think
we did no wrong —
to be full of vices —
not virtue —
Oh God — You paid for our sins —
Oh God, Oh God, forgive our
sins —
Oh God (Jesus), help us to be holy and
to do this work spreading
love for the most precious
price that You paid for us —
(9) R. "Behold the Man"
Jesus was wrapped in a purple
robe, given a scepter and His
head pounded with thorns —
pounded and bloodied —
His eyes full of blood —
(10) R. God has all the Power —
The Crowd yelled:
"Crucify Him"
"Crucify Him"
"Crucify Him"
Should I crucify your King?
"Crucify Him"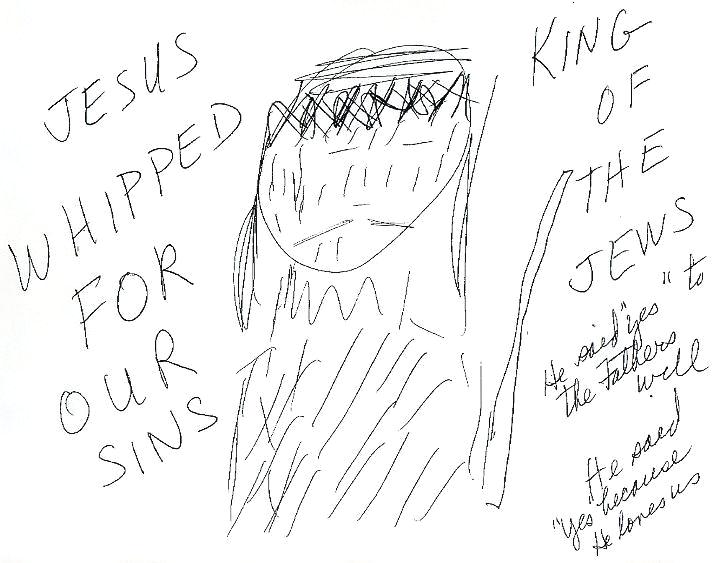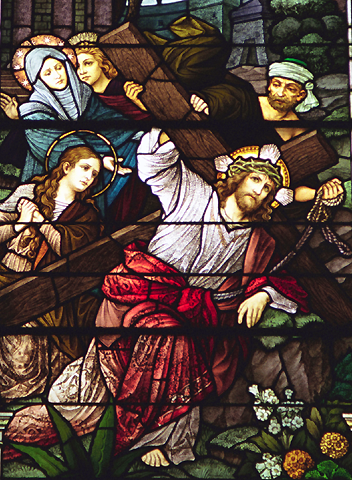 The Carrying of the Cross
(1) August 23, 1993 (excerpt)
On His Passion

Jesus: My dear child,
I was condemned to death, death on a cross. They gave Me a big cross and made Me carry it. They stood around and glared at Me. It weighed on My shoulder and I pulled at it until it finally moved. Every step was almost impossible as I dragged it, weighing so heavily on My shoulders.

My shoulder felt as if the bones inside would crack and the cross would fall through to the ground. I couldn't drag it any more. I tried, I fell. I fell and its weight fell on Me. A guard hit Me with something sharp. It really hurt because he wanted Me to move, and fast! People were watching — on with the show! How dare I fall in the middle of the show! He hit Me again and the blow really stung Me. I got up because it hurt so badly. I tried to walk on.

My Mother was in the crowd. She looked at Me and her face looked red and hurt. Tears rolled down her cheeks like rain and as her eyes met Mine, I was hurt so by her sorrow! She was always by My side, silent and loving. She was My mother of love! She is always there next to you when you suffer.

I fell again and he (the guard) really hit Me. It (the cross) was so heavy that he and I together could barely move it. It seemed as I walked, heavier with the sins of the world heaped on it. My hands were bleeding. Blood ran from the wounds of My thorns and My head throbbed, seeming to make the wounds in My head bleed even more. Some of the Blood was dried, some of it running all over My Body. I had so many cuts and bruises — and people watched and laughed!

I am Jesus, Son of the Living God, and they laughed and mimicked Me! Oh, such hardened hearts! How vile can men's heart become? The devil's grip is paralyzing and crippling.

The walk was so long up a hill and over rocks — the cross had to be lifted over the rocks. My Body was bleeding so badly! My heart was pounding. I knew that the salvation of all men depended on My love. Therefore, I went through such agony.

end of

excerpt
(2) R. They whipped Jesus to get up —
A mob followed Jesus
Mary and John and Mary Magdaline followed —
(3) R. They whipped Him
He fell all full of blood under the
cross
They whipped Him again and again
(4) R. Mary remembered her little boy —
She held Him
She loved Him
She looked into His face —
Now she looked into His bloodied face —
Jesus could hardly go on —
She saw His torn face —
covered with wounds and blood —
His eyes a bloody mess
They whipped Him to move —
(5) R. They didn't give up —
It's like the energy in these
men from the devil to
whip the Son of God —
(6) R. Veronica wiped His face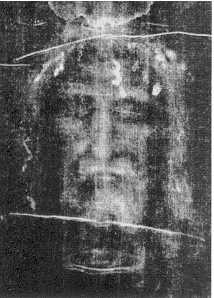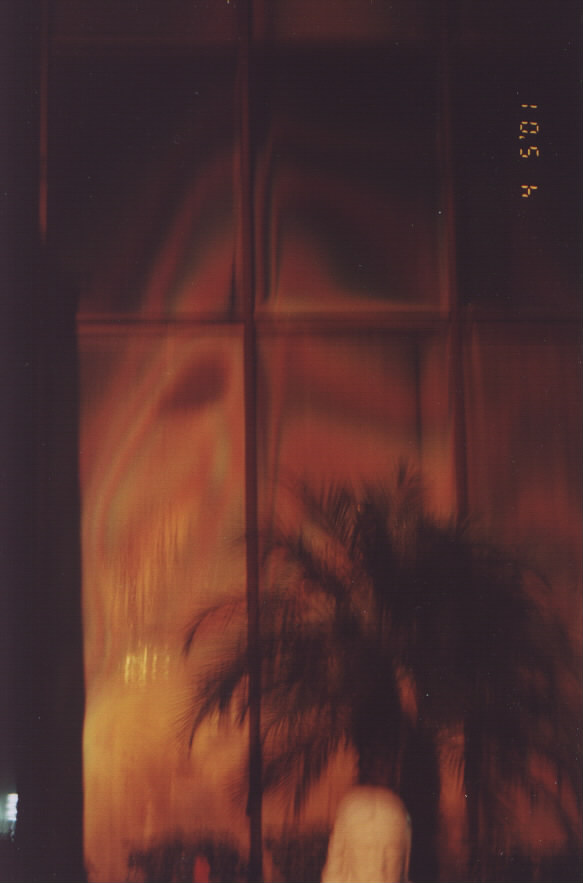 Shroud face April 5, 2001

(7) R. Whipping and whipping Jesus —
They made Simon of
Cyrene help Jesus —
You help Him!! — they said —
"Help Him" —
The 2 of them could hardly carry
the cross
(8) R. Jesus had washed their feet —
Now He was whipped raw —
with this heavy cross
laden with our sins —
Jesus had celebrated the Last Supper
Luke 22: 19-20

Then he took bread, and when he had given thanks, he broke it and gave it to them, saying, 'This is my body given for you; do this in remembrance of me.' He did the same with the cup after supper, and said, 'This cup is the new covenant in my blood poured out for you.
(9) R. The procession to Calvary
was a journey He endured
for our sins — for love
of us —
(10) R. Jesus was stripped —
Jesus was laid on the cross —
Jesus nailed to it by
His hands and feet —
Sing: Little Baby Hands and Feet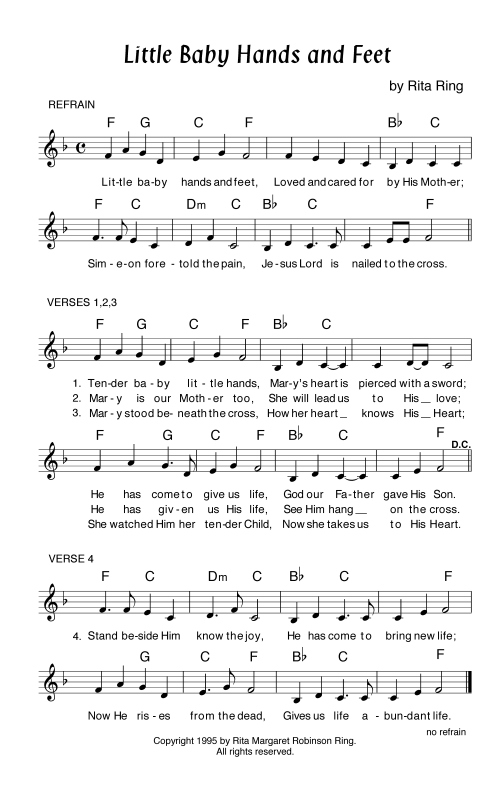 R. In this passion and death Christ
endured extreme suffering —
The people wanted His Blood —
And His Blood He shed —
He was mocked, whipped raw,
crowned with thorns —
Jesus' message:
". . . love your enemies and pray
for those who persecute
you" —
Jesus was abandoned by His
Apostles and friends —
Jesus, the most tender Heart
suffered for us —
Jesus is the Good Shepherd —
Jesus laid down His life for
His sheep —
His whole body torn to
shreds —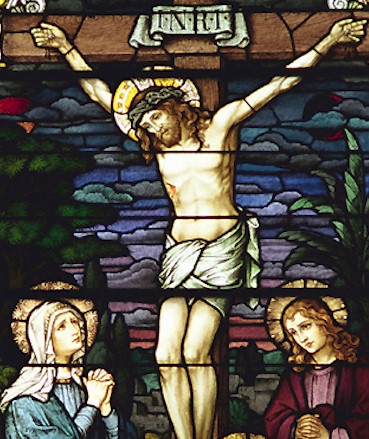 The Crucifixion
(1) June 26, 1995 - The Pain - Naples, Florida
1. PRIMARY MINISTRY - CIRCULATING
PRIESTLY NEWSLETTERS TO PRIESTS ALL OVER
THE WORLD IN ENGLISH AND SPANISH to promote
priestly holiness, Fr. Joe's books and other priests books –
2. PRAYER CHAPTERS praying for the priests and
the renewal of the Church and the world using the prayer
manual (in 8 languages with the Church's Imprimatur).
3. School Rosary Program and Junior Shepherds of Christ Ministry.
4. Nursing Home Ministry.
5. Special retreats and adoration before the Blessed Sacrament.
6. Apostles of the Eucharistic Heart of Jesus.
7. Promoting the rosary to all, rosary meditations.
8. Prison Ministry to promote prayer and spiritual renewal.
9. Handmaids and Servants of the Good Shepherd.
10. Audio/Video Departments (priestly newsletters on tape).
11. Prayer books, newsletters, newsletter books, and other spiritual aids.
I am the vine, you are the branches. Whoever remains in me,
with me in him, bears fruit in plenty; for cut off from me you can
do nothing. Anyone who does not remain in me is thrown away
like a branch –and withers; these branches are collected and
thrown on the fire and are burnt.

May they all be one, ...