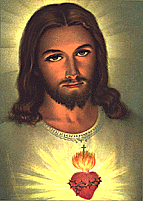 The Way to Love Is to Affix Yourself to My Heart

June 13, 1994
Love to save souls. Did your brother offend you and say awful things to you? Think of his soul. You are here to help your brothers and love them. Love is not asking in return. Love is giving without demanding anything back. Do you love to get back? Then it isn't love! "But, God, how do I learn this lesson? It is so hard." My dear, little ones, I love you. You come to My Heart, you see as only the Holy Spirit allows you to see. You see your brother in his suffering and his soul.
Oh, child, does it matter when you think of his soul? Is it such a small act for Me to ask you to love rather than "tolerate" Him, your brother? He will die some day. If he is in darkness, you are My light shining into his being. Do not think of yourself. Think of his soul. Think of your efforts, your attempts to touch him, sweet one. This is the way to touch him now. Don't think about yourself and how you have been wronged. See his soul before God and love for Me.
Child, this pleases Me so much. Do you not know I gave My life for him? I love him so. You give your life for your hurting brother. You give when you want to think of yourself. The way to Me is to follow Me. I loved those who crucified Me. I thought only of the life to come. I thought of saving their souls.
Follow Me, My sweet and wonderful child. Think of saving souls. My mercy is there for every soul. Preach My love in your actions. Put on Christ. I died to save your soul. I died to save their soul. I died that you might be with Me forever in heaven.
Love mends the fence. Love is giving. Love is My way. You are here to help your brothers get to heaven. Life, child, is so short. You cannot do this alone. You need to come to My Heart and constantly dwell there. You need to let go and let Me love through you. I showed you the way. You must decide to unite your life to Mine in such a way that you never wander from My Heart. Then, sweet one, you will love as I love through you. You will see, where you were blind, things you never saw before. You will see the things of God and you will live!
---
---
Copyright © 1994 Shepherds of Christ.
Rights for non-commercial reproduction granted:
May be copied in its entirety, but neither re-typed nor edited.
Revised: August 1998
URL: http://www.Shepherds-of-Christ.org
---