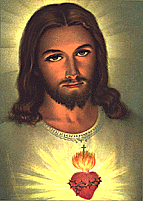 I Call You to Holiness

May 4, 1994 4:30a.m.
Dear ones, I am calling you to love your brothers. I have loved you. Would you, dear ones, lay down your lives for your brothers? How are you loving this day? Are you following Christ in your actions? I am the Way, I am the Truth, I am the Life. You must constantly put the world aside and look to the Master for all your directions. I call you, My little ones, to holiness. I call you to pure hearts, hearts that are full of love and empty of hate and anger. I call you to guard your hearts and watch that they stay forever holy. You, My precious bride, I want your soul white.
Do you criticize your dear brothers? I gave the last beat of My Heart and the last drop of My blood for the soul you are displeased with. I would die for them this day. Will you not love them for Me? They are so precious to Me!
Quit sizing up your brothers. You do such unloving things in your mind. You do not even know how unloving are your thoughts. You judge your brothers by their exteriors, by their education, by their money. You do not see the beautiful creation of God the Father. He created your brothers just perfectly and He loves His creation. Who are you to criticize His creation? Love your brothers when they are hurting. It is in your loving the hurting ones that they will see the reflection of Christ in you.
Do not hold on to foolish things. One moment and your days on this earth have ended. All that remains is how you loved. Did you love God? Did you love your neighbor? Love is not selfish. It gives of itself. Its whole purpose is to draw the other closer to Jesus.
Study the crucifix. It is such a comfort! I loved you so. I died for you. I would die for you alone this very day, little ones! Look at Me dying on the cross! The way to Me is to follow Me. Be Christ-like in your ways. You must study Me to know My ways. Do not give in to yourselves. My way is love. Will you be the reflection of the love of God within you? My way is the way of the cross. They persecuted Me, they hurt Me, they tore My flesh and spit on Me. They did this to Me for My love given to all! This world is not your end. You follow My ways and you move as you should toward your goal.
I am Jesus, I am the Son of God. I love you so ardently. I died and shed My blood, My beautiful blood, for love of you. I await you this day, My little ones. I loved you so I remain with you in the Eucharist. I await, I long for you to come and share in our love. I am the tenderest of Hearts. No man can be close to you as I. I love you so. I want to dwell and live within you. I want to fill you with all My love and radiate My love to your beloved brothers. I want to shine from your souls.
Oh, little ones, take Me seriously. I am truly here, begging for you to live in My love.
You are the light that will shine in this dark world. You will light up the darkest night with My love.
The best gift you can give to this world is to busy yourself about your love affair with Me. I love you, My little ones. I love you and I want to share this love with you.
Love your brothers. Do not let Satan talk in your heads and make them wrong and you right. Love them as I have loved you. Do not look at your brothers and size them up. See them with the eyes of God, the beautiful creations of the Father.
Will you love My beloved ones for Me this day, or will you say "no" to My call? Love your brothers in darkness. They need your love. I am calling you to love them for Me this very day. They may scoff at you and persecute you, but you will plant a seed that I Myself will water and give sunlight to. Plant seeds of love. This is the most important seed you will plant, a seed of love. Watch it grow as I provide it with water and nourishment. I will shine on your brothers through you if you stay in My love. Be the light that shines on this dark world. They are crying out for the love of God. They are suffering. They need your love.
Put yourselves aside. Die to yourselves. Live only for the love of God. If the world goes one way, you stay focused on My love. Do not follow the world. Follow the risen Christ!
I love you so, little ones. I bring you new life. I fill your hearts with My love. Pray to the Holy Spirit for His gifts. Pray the Our Father. Let My mother mother you as she mothered Me. She loved you so. She suffered so for love of you. She appears to bring you back to her beloved Son. Will you answer her call? She is calling you to put God first in your life. She is calling you to love, love of God, love of one another.
Forgive your brothers. Empty your hearts of hate and anger and let go. Let all your anger go. Give Me your resentments and let Me heal your hearts. Forgiveness is the way to peace. Let go. Do not size up your brothers. Love them all. Pray for them. Unite in My love. Love is a miracle cure. Say you are sorry. Be gentle in your ways. Pray for your needs. I love you, little ones. I am with you this day.
Will you answer the call and love for Me? I love you. I am your beloved Jesus. I would die this day just for you. I love you the same as I did the day I died. Turn to Me and give Me your life. I will care for you and love you. I am your Savior. I am Jesus Christ, Son of the Living God. Let Me live in your heart!
---
---
Copyright © 1994 Shepherds of Christ.
Rights for non-commercial reproduction granted:
May be copied in its entirety, but neither re-typed nor edited.
Revised: August 1998
URL: http://www.Shepherds-of-Christ.org
---