We need your donations for postage —
Postage for 5,000 priests is about
$4,500 - please help us —
1-888-211-3041
It's our founders birthday.
On January 15th Fr. Carter,
our founder would be 80.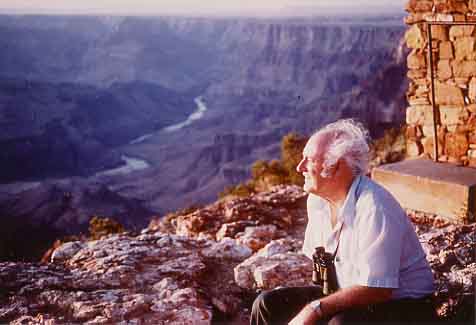 He had a dream.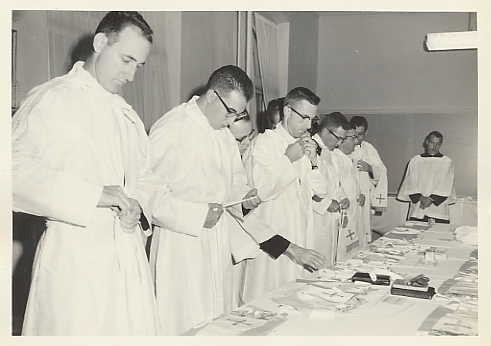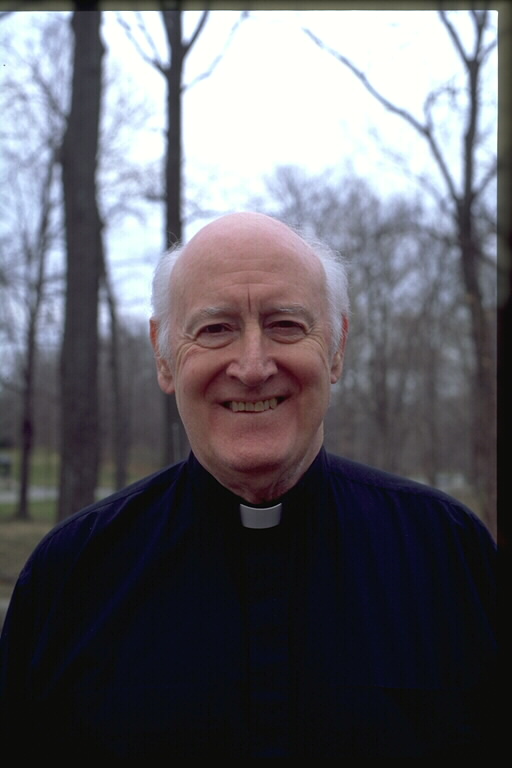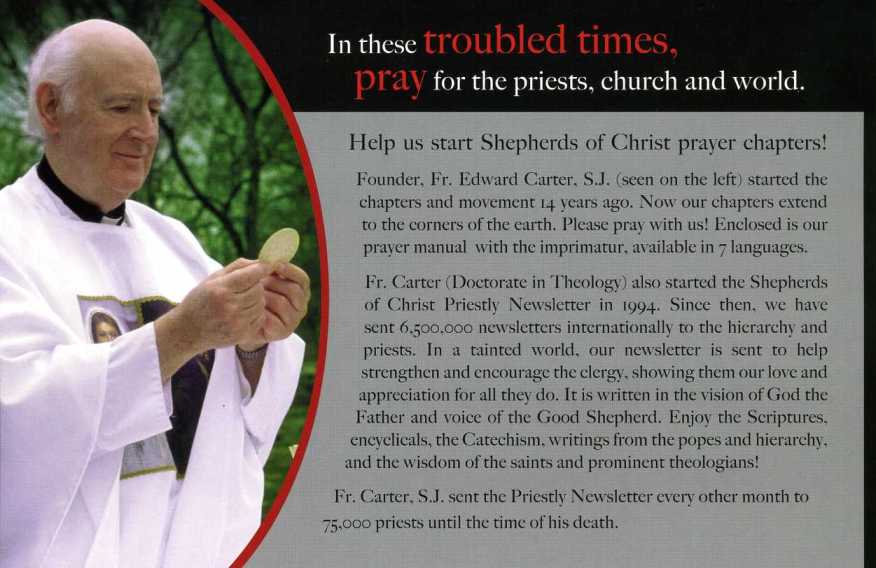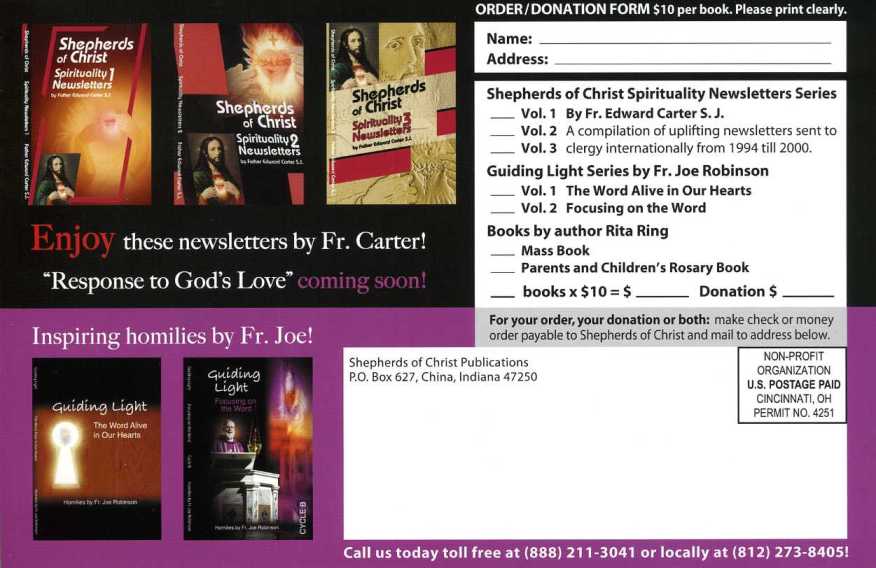 January 14, 2009
Writing by Rita Ring
God is with us
God is with us to help us —
Jesus says "I am the way, the truth and the life"
Hebrews 2: 14-18
Since all the children share the same human nature, he too shared equally in it, so that by his death he could set aside him who held the power of death, namely the devil, and set free all those who had been held in slavery all their lives by the fear of death. For it was not the angels that he took to himself; he took to himself the line of Abraham. It was essential that he should in this way be made completely like his brothers so that he could become a compassionate and trustworthy high priest for their relationship to God, able to expiate the sins of the people. For the suffering he himself passed through while being put to the test enables him to help others when they are being put to the test.
Psalm 105: 1-4, 6-9
Alleluia!

Give thanks to Yahweh, call on his name,
proclaim his deeds to the peoples!
Sing to him, make music for him,
recount all his wonders!
Glory in his holy name,
let the hearts that seek Yahweh rejoice!

Seek Yahweh and his strength,
tirelessly seek his presence!
Remember the marvels he has done,
his wonders, the judgements he has spoken.

Stock of Abraham, his servant,
children of Jacob whom he chose!
He is Yahweh our God,
his judgements touch the whole world.

He remembers his covenant for ever,
the promise he laid down for a thousand generations,
which he concluded with Abraham,
the oath he swore to Isaac.
Mark 1: 29-39
And at once on leaving the synagogue, he went with James and John straight to the house of Simon and Andrew. Now Simon's mother-in-law was in bed and feverish, and at once they told him about her. He went in to her, took her by the hand and helped her up. And the fever left her and she began to serve them.

That evening, after sunset, they brought to him all who were sick and those who were possessed by devils. The whole town came crowding round the door, and he cured many who were sick with diseases of one kind or another; he also drove out many devils, but he would not allow them to speak, because they knew who he was.

In the morning, long before dawn, he got up and left the house and went off to a lonely place and prayed there. Simon and his companions set out in search of him, and when they found him they said, 'Everybody is looking for you.' He answered, 'Let us go elsewhere, to the neighbouring country towns, so that I can proclaim the message there too, because that is why I came.' And he went all through Galilee, preaching in their synagogues and driving out devils.
Communion
Jesus prayed in oneness with the Father
Strength for us is in this —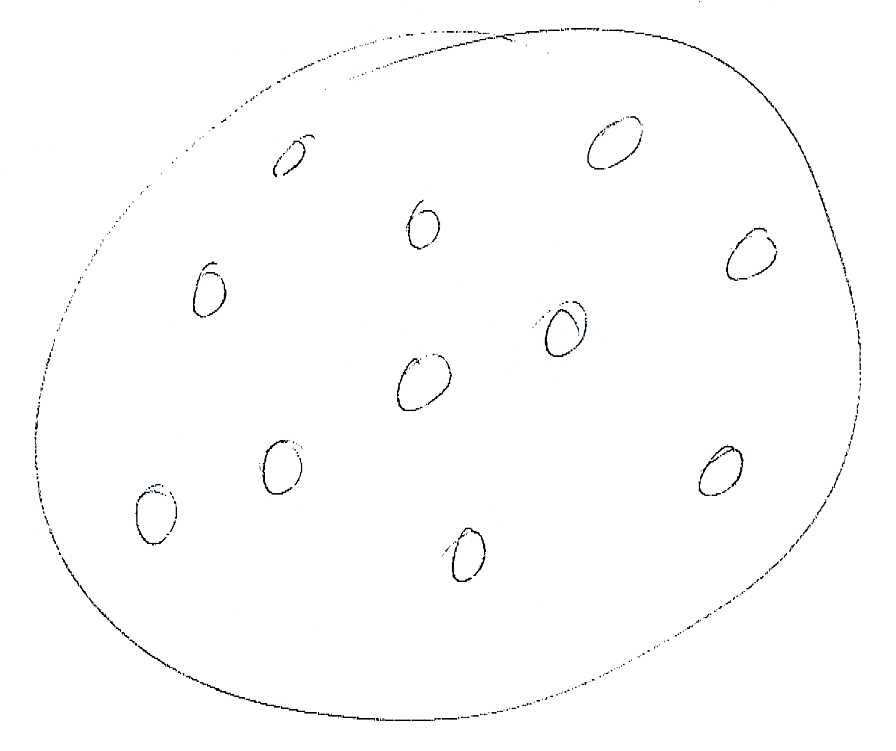 One body
Christ is the head
must be love
We do what we do for Jesus —
Religious communities that
survive as united and loving and holy —
hospitals — schools — nursing homes
have attitude of Mother Teresa
(1) they do what they do
for Jesus
(2) they see Jesus in the
person —
they love for Jesus —
Mother Teresa — saw Jesus
in the dying —
Jesus went up the mountain to
be alone and pray to the
Father
Our strength comes in
keeping our eyes on
God —
knowing oneness of Father,
Son and Holy Spirit
Our strength is in God
Those who marry — marry in love —
work with each other —
Those who enter a religious community —
are not like a married couple —
those entering a religious
community — enter because
they believe it is
God's will
If the others in the communities are
there because it is God's will —
those in the community must
choose to be united because it
is God's will —
Living in obedience they cannot
keep giving into unloving
ways with those they
live with
Kara and Joan entered 1995 in
a religious community —
they never made a decision
to work in unity —
they were unloving for 10
years
finally after 10 years it
turns to hate, competition,
working in discord —
This in turn works against the reason
we were created to love —
If this is not addressed they
live in a very tense situation —
suppressing their reason for
living to love God and love
others as ourselves —
Hearts that may be in this situation
choose unloving discord —
day by day, hour by hour
They become angry in the community
living a life of self-made
discord of their own choosing —
The devil can 'eat' at communities,
families, churches, schools,
nursing homes — neighborhoods,
countries — this way
Praying to the HOLY SPIRIT who
is God helps us to be
HOLY — SANCTIFIED
Praying to the Holy Spirit helps
us to love
Praying to the Holy Spirit helps
us to unite
The evil one wants division
The evil one does not want us to
love God, serve God,
love and praise God
The devil works to try to stop
us from loving and praising
God in Church
The Holy Spirit helps us have fire
for love of God and others —
The Holy Spirit helps us to know
Jesus more intimately and
thirst to go to the tabernacle —
Jesus told me we should put the
Holy Spirit Novena in the
front of the Blue Books —
We are here to spread the good news —
To be Apostles of the Sacred Heart
To be actors, not reactors —
When we hate and ignore God
our hearts become more and
more hard and we become
more and more angry —
because we are depriving
ourselves of love which is
why we were created —
Then people can sit on a
"pity-pot" and want someone
to rescue them — make them
feel better because they feel
awful from being unloving,
divided, depriving themselves
of love and union with others because
of anger, pride, possessiveness,
envy, jealousy, lust etc. —
1 John 4: 20
Anyone who says 'I love God'
and hates his brother,
is a liar,
since whoever does not love the brother
whom he can see
cannot love God whom he has not seen.
We are happiest loving God and
others as ourselves —
We are happiest doing God's
will in love
Jeremiah 1: 4-8
The word of Yahweh came to me, saying:

'Before I formed you in the womb
I knew you;
before you came to birth
I consecrated you;
I appointed you as prophet to the nations.'

I then said, 'Ah, ah, ah, Lord Yahweh;
you see, I do not know how to speak: I am only a child!'

But Yahweh replied,
'Do not say, "I am only a child,"
for you must go to all to whom I send you
and say whatever I command you.
Do not be afraid of confronting them,
for I am with you to rescue you,
Yahweh declares.'
1 Corinthians 2: 12
Now, the Spirit we have received is not the spirit of the world but God's own Spirit, so that we may understand the lavish gifts God has given us.
We live the God-life to
a highly and developed degree.
It is a profound realization
of what it means to participate
in God's life through grace.
The Holy Spirit has been given to us
to teach us how to live
this God-life, this Christ-life.
The Spirit perfectly understands
the life of God, and He
perfectly understands our
participation in that life.
The Holy Spirit is the perfect teacher who
instructs us how to live and
develop this life, ideally to its
mystical heights.
The Holy Spirit is with us to guide us in
our life in Christ.
The Holy Spirit continually desires to
deepen the Christic, Trinitarian
image within us.
Fr. Joe's Homily Books
Guiding Light -
The Word Alive in Our Hearts

$10.00




Guiding Light -
Focusing on the Word

$10.00

Fr. Carter's Books

Priestly Newsletter Book I

12 Newsletters
July 1994 - June 1996

$12.00


Priestly Newsletter Book 2

17 Newsletters
1996 - 1999

$12.00


Priestly Newsletter Book 3

4 Newsletters & Prayers
2000

$12.00


Synopsis of the Spiritual Life

Spirituality Handbook
$3.00


Messages given
by Jesus and Mary 1994

Tell My People


$10.00



The Pain and the Joy

$10.00

Tell My People

Spirituality Handbook


Priestly Newsletter on CD
2000 - Issue 1

$10.00


Priestly Newsletter on CD
2000 - Issue 2

$10.00
Call Kathleen
1-888-211-3041
812-273-8405
1-888-321-7671
God's Blue Books
God's Blue Book 1 –
Teachings to Lift You Up

$10.00




God's Blue Book 4 –
The Love of the Hearts of
Jesus and Mary

$5.00





God's Blue Book 2 –
The Fire of His Love

$10.00


God's Blue Book 5 –
So Deep Is the Love of His Heart

$5.00




God's Blue Book 3 –
Love God, Love One Another
(Fr. Carter's favorite)
$10.00





God's Blue Book 6 –
He Calls Us to Action

$10.00

Rosary Books




Rosaries from the
Hearts of Jesus and Mary

$10.00


Rosaries from the
Hearts of Jesus and Mary

$12.00

Rosary Meditations for
Parents and Children's

$10.00




Mysteries of Light 1

$5.00


Mysteries of Light 2

$5.00




Little People & Elderly Rosary Book

$10.00

Coloring Book
$5.00 each




Coloring Book
$5.00 each

Coloring Book
$5.00 each

Coloring Book
$5.00 each

Coloring Book
$5.00 each




Coloring Book
$5.00 each
Statues
| | | |
| --- | --- | --- |
| Our Lady of Mt. Carmel | Our Lady of Lourdes | Our Lady of Grace |
| | | |
| Sorrowful Mother | Immaculate Heart - Ivory | Immaculate Heart of Mary |
| | | |
| Limpias | Sacred Heart of Jesus -Blessing | Sacred Heart of Jesus |
| | | |
| Infant of Prague | Divine Mercy | Holy Family |
| | | |
| St. Jude | Our Lady of Guadalupe | Holy Family |
| | | |
| St. Therese | St. Francis | St. Anthony |
| | | |
| St. Claire | St. Padre Pio | St. Joseph |
| | | |
| Angel | St. Philomena | St. Rita - 18 |
| | | |
| Immaculate Heart of Mary - 18 | Immaculate Heart - Ivory - 18 | Sacred Heart of Jesus - 18 |
| | | |
| Our Lady of Lourdes - 18 | Our Lady of Mt. Carmel - 18 | Our Lady of Grace - 18 |
| | | |
| St. Francis - 18 | St. Anthony - 18 | St. Joseph - 18 |
| | | |
| St. Therese - 18 | Our Lady of Guadalupe - 12 | St. Clare - 12 |
| | | |
| St. Padre Pio - 12 | St. Rita - 12 | Divine Mercy - 12 |
| | | |
| Pieta - Color | Pieta - Marble | Limpias - 8 |
| | | |
| Fatima w/glass - 11 | Pilgrim Virgin w/glass - 12 | Pilgrim Virgin w/glass - 15 |
| | | |
| Fatima w/glass - 18 | Pilgrim Virgin w/glass - 18 | Pilgrim Virgin w/glass - 27 |

Shepherds of Christ Ministries
P. O. Box 627
China, IN 47250

Toll free - 1-888-211-3041
Local - 1-812-273-8405
fax - 1-812-273-3182
web: www.sofc.org
e-mail: info@sofc.org

| | | | |
| --- | --- | --- | --- |
| | Size | Price | Quantity |
| Holy Family | 24" | $180 | |
| Immaculate Heart of Mary | 24" | $125 | |
| Immaculate Heart - Ivory | 24" | $125 | |
| Infant of Prague | 24" | $125 | |
| Limpias | 24" | $125 | |
| Our Lady of Grace | 24" | $125 | |
| Our Lady of Guadalupe | 24" | $125 | |
| Our Lady of Lourdes | 24" | $125 | |
| Our Lady of Mt. Carmel | 24" | $125 | |
| Sacred Heart of Jesus | 24" | $125 | |
| Sacred Heart of Jesus -Blessing | 24" | $125 | |
| Sorrowful Mother | 24" | $125 | |
| St. Anthony | 24" | $125 | |
| St. Claire | 24" | $125 | |
| St. Francis | 24" | $125 | |
| St. Joseph | 24" | $125 | |
| St. Jude | 24" | $125 | |
| St. Padre Pio | 24" | $125 | |
| St. Therese | 24" | $125 | |
| Angel | 22" | $100 | |
| Divine Mercy | 22" | $100 | |
| St. Philomena | 20" | $100 | |
| St. Philomena | 16" | $65 | |
| Immaculate Heart of Mary | 18" | $65 | |
| Immaculate Heart - Ivory | 18" | $65 | |
| Sacred Heart of Jesus | 18" | $65 | |
| Our Lady of Lourdes | 18" | $65 | |
| Our Lady of Mt. Carmel | 18" | $65 | |
| Our Lady of Grace | 18" | $65 | |
| St. Joseph | 18" | $65 | |
| St. Francis | 18" | $65 | |
| St. Anthony | 18" | $65 | |
| St. Rita | 18" | $65 | |
| St. Therese | 18" | $65 | |
| Pieta - Color | 15" | $75 | |
| Pieta - Marble | 15" | $75 | |
| Holy Family | 12" | $60 | |
| Our Lady of Guadalupe | 12" | $40 | |
| St. Padre Pio | 12" | $40 | |
| St. Rita | 12" | $40 | |
| Divine Mercy | 12" | $40 | |
| St. Claire | 12" | $40 | |
| Limpias | 8" | $25 | |
| Fatima w/glass | 11" | $150 | |
| Fatima w/glass | 18" | $250 | |
| Pilgrim Virgin w/glass | 12" | $160 | |
| Pilgrim Virgin w/glass | 15" | $200.00 | |
| Pilgrim Virgin w/glass | 18" | $250.00 | |
| Pilgrim Virgin w/glass | 27" | $450.00 | |

Call for Shipping Price (1-888-211-3041)


Name

Sub-Total
Address

IN Tax (7%)
City

Shipping
State Zip

Donation
Telephone

Order Total


Available for $750.00