Mary has requested that the daily message be given each day to the world. It is read nightly at the prayer service from her Image Building in Clearwater, Florida, U.S.A. This is according to her request. All attempts will be made to publish this daily message to the world at 11 p.m. Eastern time, U.S.A.

---

We acknowledge that the final authority regarding these messages rests with the Holy See of Rome.

---
---
A Prayer for Intimacy with the Lamb, the Bridegroom of the Soul

Oh Lamb of God, Who take away the sins of the world, come and act on my soul most intimately. I surrender myself, as I ask for the grace to let go, to just be as I exist in You and You act most intimately on my soul. You are the Initiator. I am the soul waiting Your favors as You act in me. I love You. I adore You. I worship You. Come and possess my soul with Your Divine Grace, as I experience You most intimately.
---
Messenger: Include Our Lady of the Holy Spirit Center in 6:20 prayers.
---
January 16, 2000
Messenger: I went into a store and I saw the following card: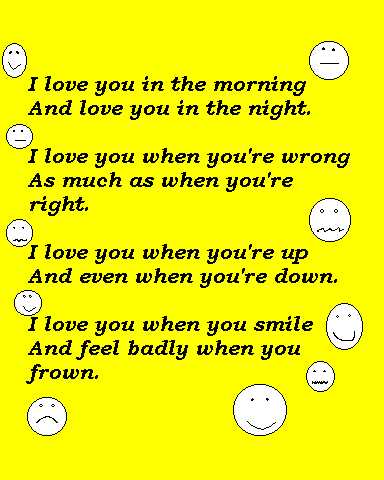 Messenger: I thought this is the way Jesus loves me and this is what I want from my friend and this is what my friend wants of me.
We must love like Jesus.
Jesus loves us.
He looks at us.
His face shines on us.
Our Lady has asked us to have these little yellow smiley dolls in Florida.
They remind us of her little children of light.
They grace the store in Florida, little ones and bigger ones, with their little smiles.
Children love the little seven inch dolls.
It is a very good way to explain what Mary wants of us, to be little children of light, sons and daughters of God.
Little children of light follow Jesus, He is the Light of the world.
Mary speaks: My little wounded babies,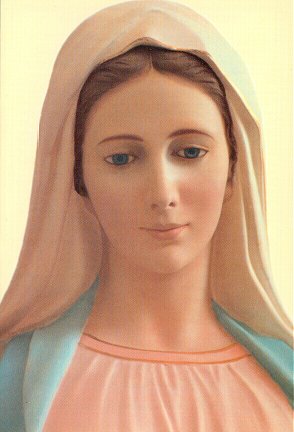 I hold you in my Heart. I take you to the burning furnace of my Son's Heart. His Heart is a Heart filled with Divine Love. He is consumed with love for you. See the burning yellow glow from the flame. It is so intense in some places you could describe it as intensely white. His Heart is consumed with this "white heat" of His love.
I ask that these little babies be sold in my store in Florida, and that you purchase them and give them to children or keep them yourselves.
Through the spreading of the consecration my children dwell in my spiritual womb, my Immaculate Heart, and the Holy Spirit works in them, helping them to be children of the light.
I am the Lady Clothed with the Sun, Mary Immaculate.
My Son is the Light of the World.
I wish this message to appear with my little dolls.
I want children to know that when they follow Jesus, when they dwell in Our Hearts, they will be more and more children of the light as they live and follow Our lives.
Our lives are brought to your awareness in a special way in the mysteries of the rosary.
In praying the rosary, you pray as children to your Father and to me your Mother, and my Spouse, the Holy Spirit, enlightens you to know more about God. This is a promise my Son, Jesus, has made: That children praying the rosary will get special graces and lights about the mysteries of the rosary and about the love of Our two Hearts for them and about the love of God.
Oh, my children, and I call you all my children, old and young, circulate my message in my store with my little yellow dolls.
Oh, my children of light, do not follow the evil ways of the world. Do not follow the dark ways of the world. You are my children of light.
Pray the rosary. Greet one another and say often, "I give my heart to Jesus and Mary with you in love."
I am Mary your Mother. I wish a small picture of my face as Our Lady of Grace to accompany this message.
I love you so, my little children, I am Mary your Mother.
I want the message about Our Lady of Snows of January 2, 1999, with the picture in China, Indiana, in my store. I want this laminated as it is.
I also want you to promote the picture over the altar in China, Indiana. Have pictures in my store.
I love you so much,
I am the Virgin Mother Mary
---
Mary speaks: I ask classes be offered in the Virgin Mary Building (Florida) for the School Rosary Program. The classes should describe how children can use my book to pray the rosary.
I am Mary, Our Lady of the Rosary
---
Mary speaks: February 5, 2000, is the day I wish my Rosary Factory in Florida to be in full operation.
I wish my children all over the world to pray the rosary with my meditations. I wish all books available in my store, including coloring books.
I want the tapes and all things made available to promote the rosary.
I want all to make rosaries with my image medal.
Please promote my Florida image.
I appear to reach the world.
I want them to obey my message from Fatima:
1. I want you to pray the rosary.
2. I want you to consecrate your hearts to Our two Hearts.
3. I want you to observe the 1st Saturday Devotion.
4. I want you to make reparation to Our two Hearts.
Cards need to be readily available promoting the First Saturday Devotion and explaining it.
I want you to promote the scapular.
I am Our Lady of the Rosary
Our Lady of Fatima
Our Lady of Fatima in the Americas
Our Lady of Sorrows
Our Lady of Clearwater
Our Lady Clothed with the Sun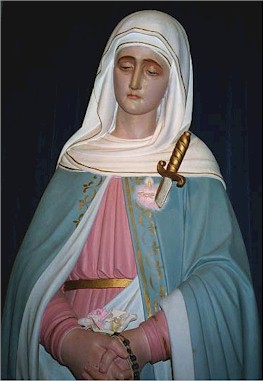 ---
Witness Letter - Margaret Mary R.
How has being a member of Shepherds of Christ changed my life?
I have always loved God my whole life. My mom was a convert to Catholicism when she was in her early teens. She taught me the love of God and neighbor and her closeness to Mary our Mother.
During my adult life I was very active in the Church. I was a religion teacher, Eucharistic minister, member of various church committees and groups. I even trained to become a Third Order Franciscan, but there was always something missing. There was always this void and ache in my heart which I couldn't identify.
My children started migrating to the Ohio area in the late 70's. I would visit them and a seed was planted in my heart telling me that maybe one day I would also live out there. In the early 90's I finally moved to Ohio. As I would visit my daughter who lived in Norwood, I would pass this huge building, which looked like it was boarded up, and I would feel a closeness to it. I didn't know at that time that it was Our Lady of the Holy Spirit Center. Each time I passed it, it felt like a hand was beckoning me to come.
After a visit back to New Jersey to see my mom, I was awakened one Sunday and in my heart I knew very strongly that I was to go to this building. I drove up to the Catholic Church next door and watched the people going in the side entrance to this building. I went in. I walked down the hall and saw the big doors that led into the Holy Rosary Chapel. I went in, I exclaimed, "My Lord, I have come home!"
From this former Seminary building, now named Our Lady of the Holy Spirit Center, (The Blessed Mother calls it her house) many men became priests and dedicated their lives to God. Now after being in disrepair for many years there was a rebirth occurring.
It was here at this beautiful oasis of Our Lady that I became part of the Shepherds of Christ Movement. It was there that this Movement was born. I found myself readily joining and attending the prayer meetings. They were led by a lovely lady, who was God's messenger and through whom Jesus gave wonderful love letters to teach us all how to live.
Through these beautiful letters, which have now become Blue Books and are published through the ministries and readily available, the longing in my heart and soul was filled. I started to learn how to relate to my God and to my fellow human beings. I learned how to love unconditionally as Our Lord has taught us. It was as if a giant window opened and the lovely warm fresh air come flowing in and engulfed me. I now realize that the guidance of the Holy Spirit was at work in a major way.
Even though I have come a long way in my journey of life, I realize I have a long way to go. But through the grace of God and my simple "yes", I will completely find the way to my God.
I realized that we need a life of prayer. The more we pray, the more grace is given and the more joy we experience in praying.
God has taught me that the most important thing in life is love of God and neighbor. This love extends to our praying incessantly for the souls here on earth and those waiting in Purgatory and to our helping to make reparation for the sins of the world.
I now have so much joy in my heart, even amongst the suffering and trials that come along. We, too, must carry our cross to Calvary to be able to spend eternity with our beloved God.
My life is more peaceful now and lived in a simpler way. I no longer crave earthly possessions but the gifts of the Father.
---
Question for married couples and others in intimate relationships:
Q: How do I feel I can work toward oneness in love as God the Father wishes of me? How do I feel we may more fully put our heads together and work always for the goal?
Jesus says there should be loving surrender from both parties trying to accomplish the goal He wishes for us. He says we must work together in love. He says we are not to be competitive with one another but mutually work using all our individual talents productively. One should not try to control the other. The focus must be on mutually working toward the goal in love.
---
---
---
Copyright © 2000 Shepherds of Christ.
Rights for non-commercial reproduction granted:
May be copied in its entirety, but neither re-typed nor edited.
Translations are welcome but they must be reviewed for moral and theological accuracy by a source approved by Shepherds of Christ Ministries before any distribution takes place. Please contact us for more information.
All scripture quotes are from the New Jerusalem Bible, July 1990, published by Doubleday.
Revised: January 16, 2000
URL: http://www.SofC.org
Contact Information for Shepherds of Christ
Email: info@SofC.org
---
Shepherds of Christ Ministries
PO Box 193
Morrow, Ohio 45152-0193

Telephone: (toll free) 1-888-211-3041 or (513) 932-4451
FAX: (513) 932-6791