Mary has requested that the daily message be given each day to the world. It is read nightly at the prayer service from her Image Building in Clearwater, Florida, U.S.A. This is according to her request. All attempts will be made to publish this daily message to the world at 11p.m. Eastern time, U.S.A.

---

We acknowledge that the final authority regarding these messages rests with the Holy See of Rome.

---
January 16, 2002
January 17th Holy Spirit Novena
Scripture selection is Day 5 Period II.
The Novena Rosary Mystery
for January 17th is Sorrowful.
---
We need special prayers for
one urgent intention for Wednesday.
Begin praying right away.
Spread the Blood of Jesus on everyone involved,
consecrate their hearts in so far as you are able,
cast the devil far away, ask for a special
outpouring of grace from the Holy Spirit.
And continue to pray very, very fervently for this
even after Wednesday.
---
Excerpt from January 3, 2002
Jesus speaks: My dear earth and all Shepherd of Christ
Members.
I call you to special days of prayer
January 12-17 for the Priestly Newsletter
Book II and the Prayer Manual
and its mailing.
I call you to pray through the intercession
of Our Lady of Clearwater and
your Founder Fr. Carter.
On January 17 you will end with the
Prayer Services at 6:20 in
Morrow, Ohio.
Your prayers should focus on this
for these 6 days and for all
priests receiving the mailing,
for the publication and distribution
of the Newsletter.
end of excerpt from January 3, 2002
---
Healing Rosary in Sidney - January 22, 2002
Please come to Clearwater, Florida
on February 5, 2002.

During the day we will celebrate
the anniversary of the Rosary Factory.
We really need the $35,000 for the postage
for the Newsletter Book II so they can
send it as soon as it is printed.

Our donor will match the whole $35,000.
---
January 16, 2002
Messenger: Oh celebrate with us tomorrow.
It is an important day. The seventh anniversary
of the first priest message I received in
Blue Book II January 17, 1994. I want my
priests to come back and the 7th anniversary
of the Prayer for Union with Jesus.

Prayer for Union with Jesus

Come to me, Lord, and possess my soul. Come into my heart and permeate my soul. Help me to sit in silence with You and let You work in my heart.

I am Yours to possess. I am Yours to use. I want to be selfless and only exist in You. Help me to spoon out all that is me and be an empty vessel ready to be filled by You. Help me to die to myself and live only for You. Use me as You will. Let me never draw my attention back to myself. I only want to operate as You do, dwelling within me.

I am Yours, Lord. I want to have my life in You. I want to do the will of the Father. Give me the strength to put aside the world and let You operate my very being. Help me to act as You desire. Strengthen me against the distractions of the devil to take me from Your work.

When I worry, I have taken my focus off of You and placed it on myself. Help me not to give in to the promptings of others to change what in my heart You are making very clear to me. I worship You, I adore You and I love You. Come and dwell in me now.

-God's Blue Book, January 17, 1994
---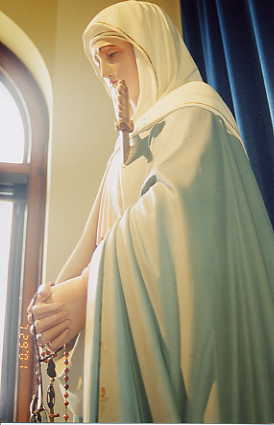 January 16, 2002 message continues
Messenger: Mary appeared to me so beautiful tonight.
She was so very beautiful.
She was more beautiful than I have ever seen her.
Oh God, we give you ourselves wholly and completely.
Please help us.
Please hear our cries.
Celebration Morrow Center tomorrow night
after 6:20 prayers.
God told me to prostrate myself before Mary and
the tabernacle and beg the Father for our needs
through the intercession of Our Lady and Fr. Carter.
All that has happened in the Shepherds of Christ
has happened in 7 years since the first
priest message January 17, 1994 and the Prayer
for Union with Jesus January 17, 1994.
Oh Jesus fill our hearts with your love.
All the apparitions of Mary took place after that.
Mary's apparitions in Florida took place after that.
The Newsletter going to 75,000 priests.
The Newsletter Book II took place after that.
Oh Father help us get what we need for the building.
Oh Father help us to get what we need for the Priestly
Newsletter Book.
Mary appeared so beautiful in the Sorrowful Mother
statue.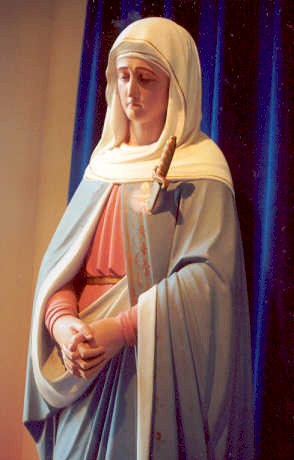 January 16, 2002 message continues
Messenger: We can be all over the earth, in the places where the
sky is so beautiful and the land a paradise-
but nothing can compare to seeing her
before my eyes and having that deep connection
with my God.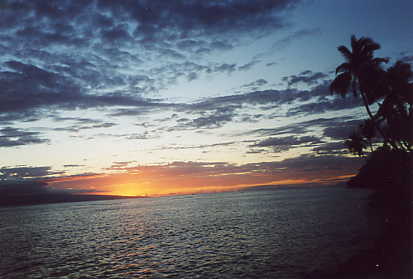 January 16, 2002 message continues
Messenger: This is real. The Father, Son and Holy Spirit dwell
within us in a special way when we
are in the state of grace.
---
Received January 15, 2002
Jesus speaks: Give the Blue Books to My precious souls.
Give to all who are hurting. They are my
letters of love.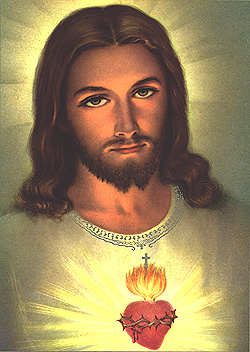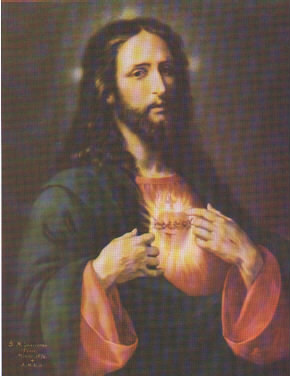 ---
My Heart Aches for You
Excerpt from February 6, 1994 5:00 a.m.
Messenger: His heart is a furnace of endless love. He waits for you, His love, in the tabernacle and in Communion. He longs for you to come (I smell incense) and be with Him. He is the bridegroom of your soul. He is your ardent lover. He is God and He is waiting for you, longing for you.

end of excerpt from February 6, 1994
---
January 15, 2002 message continues
Jesus speaks: My dear sweetheart,
I am Jesus, I am the Sacred Heart.
I call you to spread devotion to My Sacred Heart.
I want you to tell men how much I love them.
I want you to think about how much I love you.
I want you to meditate on My death and
resurrection.
When I was beaten, I did it for you.
I thought of you and how much I loved you.
Your love given to Me gave Me comfort in My
bitter passion.
I saw you identify with Me in your
suffering now.
I love you so much.
I love to give Myself to My precious souls
who are able to receive Me worthily in the
Holy Eucharist.
I am Jesus, Son of the Living God.
I am God.
I love you so very much.
Sing song: Climb Every Mountain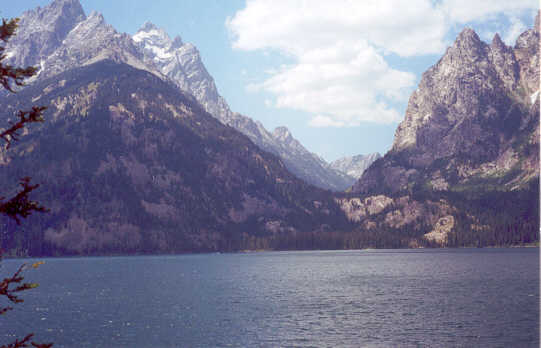 January 15, 2002 message continues
Messenger: Today is Father Carter's birthday, and Jesus instructed
me to write the following message.
Jesus speaks: Please pray for your priests.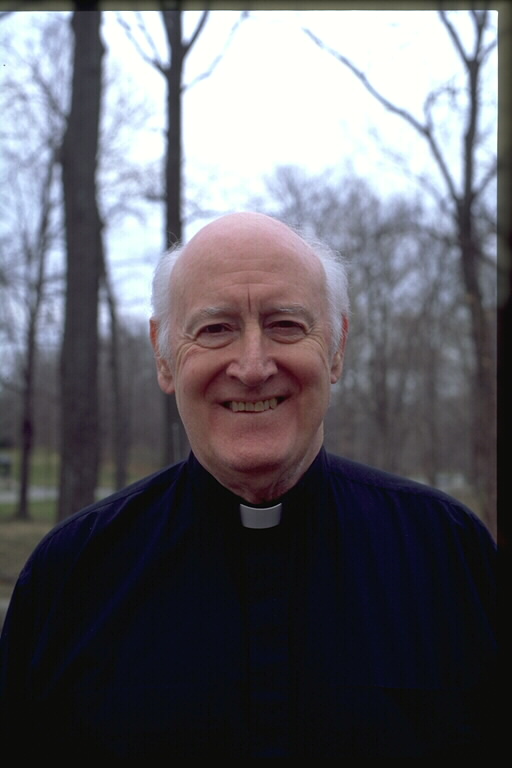 January 15, 2002 message continues
Jesus speaks: One priest can touch so many souls.
One priest can minister to help My hurting souls.
Please pray to get My Newsletter and Prayer Manual
to My priests.
Messenger: Note: concerning abuse...
Jesus is not telling someone who is physically abused to
withstand that abuse. Many married couples hurt each
other and the family through verbal abuse or other
ways of abusing, neglect, etc. Many husbands and
wives abuse the other or abuse their children verbally or
abuse them in other ways. Jesus is telling us to pray
especially for these people. Pray for special grace
for them to be healed.
Jesus addresses these issues in this writing.
Jesus speaks: Look at the price I paid for love of you.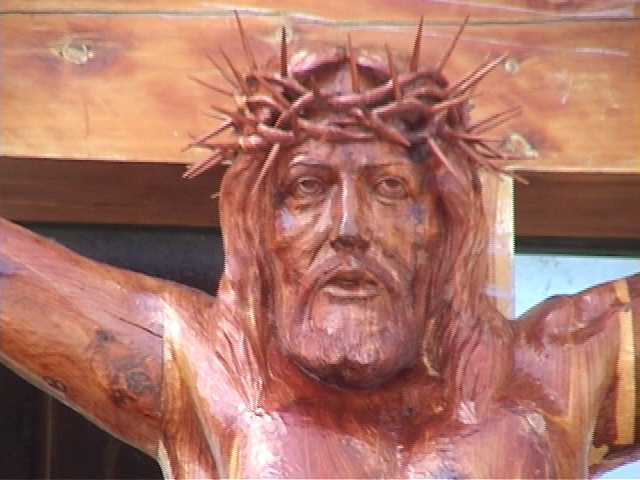 January 15, 2002 message continues
Jesus speaks: I love you My child, I am with you in all your
trials. I am your beloved God, the One who loves you
so much.
I want you to love Me now My child. Give Me yourself.
Messenger: Oh it is in suffering I feel so very close to Him. I know the
Father and the Son and the Holy Spirit. I feel the presence of
God so deep within me. No matter what trials we may be
asked to undergo, we know when we have lived to love and
serve Him and try to do God's will that no one can ever
interfere with our deep connection with our God. A person
in the state of grace has a special gift, for God dwells
within them in a special way.
Christ suffered His bitter passion and death.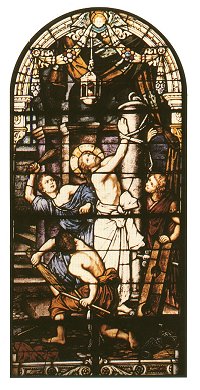 January 15, 2002 message continues
Messenger: When we endure suffering we can help to bring down great
grace for souls.
I know so deeply the truth and His presence within
me. No one can come between me and God if I love Him
and live to serve Him. I want Him and I love Him. I understand
that if I endure suffering it can help to bring down great
grace for souls.
I am what I am in God's eyes. Anything anyone
says about me, doesn't mean it is true. The opinion
others have of me, need not effect how I truly am.
What is important is my soul, the purity of my soul,
how I live to love and serve my God.
I ask you to suffer the things that God gives to you as
little trials and offer them up so great grace will be
released for certain needs of the Movement, Shepherds of Christ.
Pray for Wednesday and a meeting and all involved.
There is another special intention I ask you to pray for.
On January 11, 2002, I received a strong message from God.
I saw a woman the next day and Jesus told me to give her
a Blue Book. I went up to her and I gave her the Blue Book.
She began to cry and told me she felt she had to come
to the place where I was.
She was very depressed and very much in need of
God's help at that moment. I told her about the great
grace that can be released when someone goes to daily
Mass and when someone prays before the tabernacle.
She told me about her husband who had the disease
of alcoholism and her 17 year old daughter and how the
lady, herself, was never married in the Church and the problems
of her divorce and her deep desire to do God's will.
She was so fearful of the influences in her daughter's
life. Her daughter was living with her father.
She was very depressed and in need of special help
from God.
I began to read her the message of January 11, 2002
and it was as if I was reading her, her life's story. She
cried and looked like she couldn't believe the
message. I ask you to pray for her and her family.
There are so many, many people suffering in the
world that want to do God's will. The devil can press
down so hard when someone is suffering. The abuse
of others who say things can deeply hurt another.
An abuser can deeply wound another. They say very
many nasty untrue things. They can tell the other
they are wrong, they can try to shame the other,
they can try to make the other person feel worthless.
Some abusers head for the core of the other. They tell
them they are a mistake. They lie and try to tell them
everything they did their whole life was wrong. An abuser
leaves the other feeling like a train ran over them many
times.
We must see ourselves in the eyes of God. No matter
who the person is they cannot truly affect what another
person really is. A person is looked at by God. He is the
one to judge them.
Some people were taught to abuse others. Some times
this happens in families. Little boys and little girls can be
taught to disrespect others. It can be so offending, because
for generations past, the abuser was taught how to treat
their significant other. The fault very often is not
the one being abused, they may have been taught
to take abuse from their parents. Some parents do not
affirm their children. They may love them deeply, but
because of bad behavior patterns taught from their
own parents they disrespect their children and do not
give them the basic respect and support they need.
It is very easy to see why God allows us to
suffer sometimes. When we are asked to suffer it
can help to bring down great grace for other souls.
I remember in the many live rosaries I did when
Mary appeared, Jesus would speak and say a
soul is on the edge of death now and
needs grace.
A mother of an alcoholic or drug addicted
son knows how she wishes their child would
receive a special grace to be able to get out of
that trap they are in.
A spouse may watch the family meal be ruined
year after year by an alcoholic parent. A parent
may watch another parent tear away at the
self esteem of their child or watch the other parent
show their child dirty movies and teach them things
that could lead their child into sin. The other parent
may not be able to stop the abusive parent.
Divorced parents can have very many hurts
from things that go on with the children.
We really need to realize how important these
prayers are Jesus gave us for the renewal of
the Church and the world.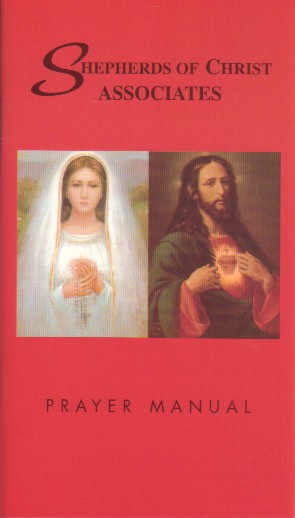 January 15, 2002 message continues
Messenger: We really need to be instructed about
the fact so much grace can be released by
attending Mass and praying before the
tabernacle, daily if we can.
Jesus speaks: Let me tell you. The devil is cunning and
he wants you to sin. The devil is prowling around
like a roaring lion looking for someone to devour.
He is evil. He wants to hurt you.
Suffering is suffering. Some of the greatest saints
experienced great joy in suffering, but for most
of the people suffering is very hard for them
to endure. Some realize however that great
grace can be released when they suffer according
to God's will.
Messenger: On December 18, 1993 I received the following writing
on suffering.
---

Take Up Your Cross

December 18, 1993
Jesus speaks: Pain? Oh, how I suffered! The pain was so intense, I could hardly bear it. I was so wounded and so covered with blood. Think of a little gash and how it hurts when it begins to bleed. I bled and I bled all over. Such intense pain. Every time you experience pain, think of Me and how minute your little pain is. There was not a place on My body that was not covered with blood. There were deep wounds all over Me. My head throbbed from the crown they had placed on Me and I was forced to carry a big cross so heavy, I scarce could move it on My shoulder. My shoulder ached so badly I felt as if it was constantly breaking by the weight of the cross. But I carried it and pushed on My way. If I stopped, I was poked and pushed and hit. The crowd jeered and they forced Me on My way. What crime had I committed? Why was I forced to endure such torture? It was out of love of you that I continued that journey. I was God. I could have stopped at any moment. I was obedient to death to the demands of My Father.

Pain, child? I suffered so much for love of you! This is how I love you at this moment. In all that befalls you you must know at every moment that I know exactly what you are suffering. There is nothing that happens in your life without My consent and it comes from Him Who loves you.

Take your crosses and truly endure them. Accept them. Know that everything that happens in your life I have allowed. Accept it with the love with which I give it. You are being taught in that pain. You are suffering for yourselves and others. I endured all that pain. Did I once say, "Father, take it away?" I am your model. I showed you the way. I took it all, every last wound, every kick and smack and vileness. I took My cross and I carried it without a word. This is what I ask of you. Know that when you are experiencing pain or suffering, or being taunted by those around you, look to the Master for your course of action. I took it all, every last wound, and accepted it to My death. I did not say, "Oh, how awful." I did not complain. I walked in silence that bumpy road with a heavy cross, with My mother suffering by My side and I never complained. I accepted it all for love of you.

Carry your crosses, little ones. They are gifts from Me. Do not look for an explanation or a way to get rid of them. I will take them when I think you have had enough. It is in suffering that you experience My life more fully. It is in suffering that I speak to you in a special way. Endure it. I know every ache and pain you are experiencing. I am this close to you! Your pain may save a soul dead in sin or get a soul from purgatory. Accept all I send you and don't complain. A lot of the pain is enhanced by your rejection. A lot of your lessons are lost by your refusal to see that crosses come from Me. I give you crosses to share in My suffering. I love you so much, little ones. Know how personal I am with you: the very hairs of your head are numbered. Come close to Me and look into My eyes. I am truly here with you at every single moment. Think of Me as a person, but I am closer than any person could ever be! I am there and I know your every breath and I care about your every breath. Who could even do this for another? Others would have to sometimes think of themselves.

I am God and I can think of you at every instant. I am so close to you you do not have any comprehension. It is not a myth. I am truly present to you at every instant. Feel My presence. Make Me alive to you. Experience all I have to give you. You will know Me as your personal Jesus the more you read and re-read these letters. I write them to each of you. Only God could love you each this way. Focus on Me and you and how close I am to you. I love you so, little one. Whence you go you never walk alone. I walked a road of torture that led to My death for love of you! When will you realize what I say is true? When will you know how close I am to you and embrace Me as I so desire? You hold yourself back because you do not focus on My love for you. I would walk that path this day for you. I love you the same this moment as I did then. Oh, little one, you want to put your little crosses down so fast. Hold them and walk awhile with Me down the road to Calvary. Be by My side and share a little in how intently I trod out of love of you.

I am Jesus, Son of the Living God. I am alive in this room with you. I am by your side. A toothache, you say-what pain! Accept your pain. I want you to feel that pain now. It will go away.* It is so little. Heartache I know, heartache to love each of My children so much and be ignored or put at arm's length! Do you know how it is to love another and not have their love? I long for your love with Me, but you are busy. You do not have the time to be with Me while I await thee. I am an ardent lover Who waits for each of My children to come and experience this great love. You stay away from Me Who is always waiting and you search this barren desert for that which I have to give you. I watch you in this search and want you to come home to My heart. I am waiting for you, little one. Don't keep yourself from Me. Remember how I suffered for love of you. When you feel a pain, remember the pain I suffered for love of you. That is how I love you this very day. Take your cross and walk with Me. Come and be with Me. I have that which your hungry soul craves.

I am your loving Jesus. I love you, child. You do not know. I wait to be closer to you. You must see Me as this personal and this alive in your life! Oh, sweet one, I love you to My death and I love you this way today. I lament My children lost in darkness. I want to be united to you. Come and make Me the center of your life. I wait for you!

R. *My toothache is gone!
end of December 18, 1993 message
---
January 15, 2002 message continues
Messenger: I barely knew Fr. Carter, only his
face and his name and the book he signed for me:
The Pain and the Joy. Who would have thought Fr. Carter
would die 7 years later and all this would unfold in between.
Look at all that happened since I talked to him March 26, 1994
and his death December 18, 2000. Only this could have
happened by God's grace.
A lot happened after December 18, 1993. It was
Fr. Carter who stood by me and taught me about
the love of Jesus as he ministered as a
holy priest. He was so much like Jesus. When he
celebrated Mass, I saw Jesus in him. He
loved all in the movement so much as our
spiritual father. He taught us about the love of
God through his love. He was a loving father to
us all. He was patient and kind and always there
for us. He discerned the Blue Books and he gave of
himself to the end for all of us so the Movement,
and his writings and the messages would be
out there today.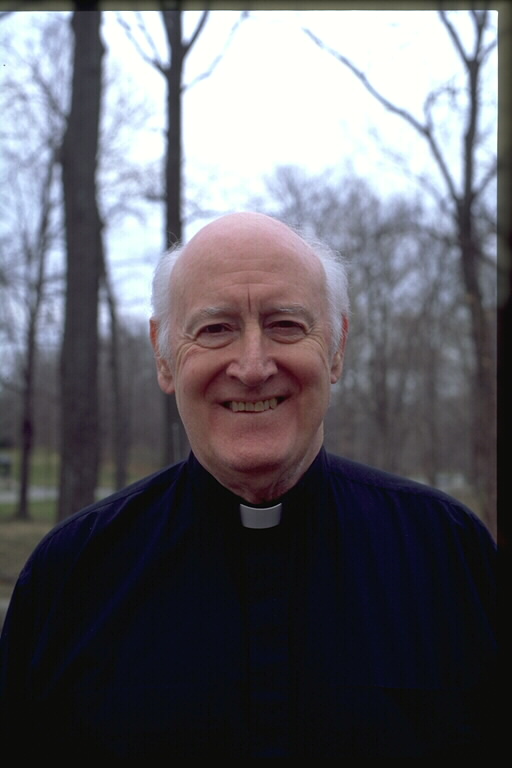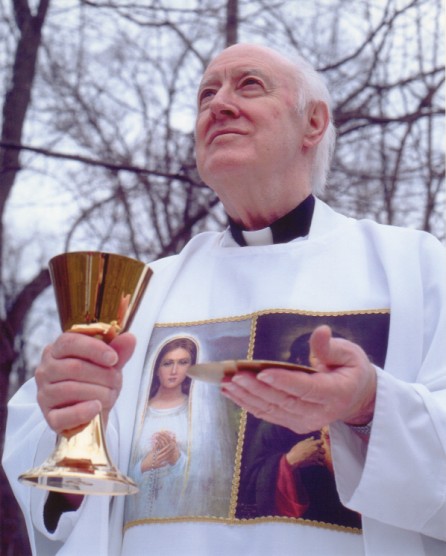 THROUGH HIM, WITH HIM AND IN HIM
January 15, 2002 message continues
Messenger: One man can be so affirming. One woman see the
other with such love and respect. And
another person can be so demeaning and tear
away at the other because of their own
lack of love for themselves and not understanding
the truth.
Well we are all here as brothers and sisters in the
Father's family. God has given us our beautiful
priests to help us.
Jesus says we need to pray for them and He
wants the Newsletter to get to them.
Mary speaks: A soul is on the edge of death.
The soul is my little child.
I want them to turn to my Son Jesus.
Your prayers are not in vain. Pray for grace for them.
Think of how grateful you would be
if your son or daughter was
able to change their ways that
were leading them down the wrong
road.
Jesus speaks: Meditate on the sorrowful
mysteries. Meditate on the Glorious
mysteries. Death-Resurrection
---
Excerpt from Mother At Our Side, By Father Edward Carter, S.J.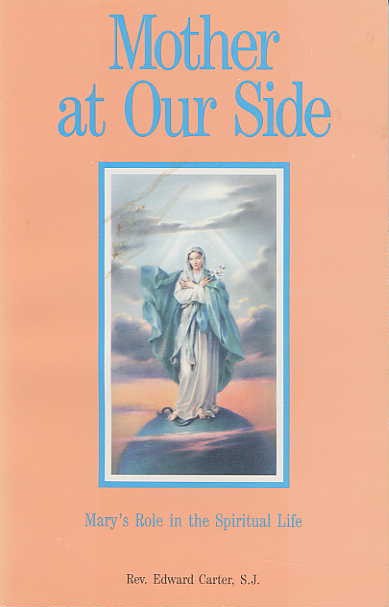 nine

The Cross Leads To Life


. . .and Simeon blessed them and said to Mary his mother, "Behold, this child is destined for the fall and rise of many in Israel, and to be a sign that will be contradicted (and you yourself a sword will pierce) so that the thoughts of many hearts may be revealed." (Lk. 2:35).


Our incorporation into the mystery of Christ at baptism, and our growth in this life, is centered in the pattern of death-resurrection: Or are you unaware that we who were baptized into Christ Jesus were baptized into his death? We were indeed buried with him through baptism into death, so that, just as Christ was raised from the dead by the glory of the Father, we too might live in newness of life. (Rom. 6:3-4).

The theme of death-resurrection is at the heart of salvation history. It is a recurrent theme in the Old Testament and in the New Testament.

The Jewish people, under the leadership of Moses, experienced death-resurrection as they were formed into the people of the covenant—Yahweh's people. In the great Exodus event, they escaped Egyptian slavery, went on to Mt. Sinai where the covenant was ratified, and then progressed to the Promised Land. As members of the Mosaic covenant, the Jews experienced a religious transition; they passed over to a higher level of religious existence—to a more intimate union with God.

This religious transition contained death-resurrection. For the Jews to become people of the covenant, to remain so, and to grow in the life of the covenant, it was necessary that they undergo a mystical or spiritual death. In short, they had to be willing to pay a price. They had to be willing to bear with that which was difficult in covenant life. This mystical death, however, had a very positive purpose; it was directed at life in the covenant and at growth in that life. This spiritual death, in other words, was for the purpose of resurrection.


Christ perfectly fulfilled the Old Testament theme of death-resurrection. In doing so, He was experiencing a religious transition. He was passing over—gradually, at first, and then definitively in His death—to a new kind of existence, to the life of resurrection. He achieved this life not only for Himself, but for us also. To achieve this new life of resurrection, Jesus was willing to pay the price. He was willing to suffer, even unto death. That it had to be this way—that the only way Jesus could have achieved resurrection was through suffering and death—was pointed out by Jesus Himself to the two disciples on the road to Emmaus: And he said to them, "Oh, how foolish you are! How slow of heart to believe all that the prophets spoke! Was it not necessary that the Messiah should suffer these things and enter into his glory?" (Lk. 24:25-26).

Christ has structured the Christian life by the way He lived, died, and rose from the dead. It is obvious, then, that the pattern of death-resurrection must be at the heart of the Church's life. Mary, as Mother of the Church and our mother, is in a most advantageous position to show us our own individual roads to Calvary and support us as we carry the cross, each of us on our own as well as the Church as a whole. She already traveled that road in perfect acceptance of the death-resurrection struggle as she was always most closely united with the work of her Son. Individually and collectively, we are meant to continually die in Christ so that we may continually rise in Christ. We thus pass over in a process of continued religious transition to a greater participation in Jesus' resurrection. It is true that our participation in Christ's resurrection will reach its culmination only in eternity. Nevertheless, we begin the life of resurrection here upon this earth, in the here-and-now of human life, in the midst of joy and pain, in the experience of success and failure, in the sweat of our brow, in the enjoyment of God's gifts.

We cannot maintain the life of resurrection or grow in it without a willingness to suffer. This does not mean that we need to feel overwhelmed and heavily burdened by the suffering in our lives. The greater portion of suffering for most of us seems to be an accumulation of ordinary hardships and pains. At times, more penetrating suffering—even suffering of agonizing proportions—can enter our life. Whether the sufferings are either of the more ordinary variety or the rare and extreme type, Christians must convince themselves that to properly relate to the cross is to grow in resurrection.


The great tragedy regarding human suffering is not that there is so much of it, but that apparently so much of it is wasted. Apparently many do not relate to suffering properly—according to God's will. Consequently, they fail to use suffering as a means to growth. Again, our mother's fiat can be a vivid reminder to persevere through even our most difficult trials.

As the opening Scripture passage tells us, Our Lady was no stranger to suffering. As we well know, her life of suffering culminated in her extreme agony beneath the cross. Who can fathom the depth of her grief as she watched her innocent Son suffer the excruciating pain and death of crucifixion? In the church of San Domingo in Puebla, Mexico, there is one of the most striking representations of Mary that I have ever seen. Near the front of the church, and to the right as one faces the altar, there is a figure of our Blessed Mother seated in a chair. She is dressed in a black robe with gold trim. Atop her white veil is a black lace veil of mourning. On her lap is Christ's crown of thorns. Mary gazes down at this crown which had been so cruelly and derisively placed upon Jesus. The expression on Mary's face is one of the most moving I have seen. It is a combination of grief, dignity, and beauty. It is indeed easy to shed tears as one beholds this figure of Mary. It tells us so much about Mary. It tells us that she not only is the Mother of Joy, but also the Mother of Sorrows.

Yes, our dearest Mother Mary knows what it is like to suffer. She knows so well the purpose of suffering in God's plan. By asking her to obtain for us the grace to grow in wisdom, we can increasingly understand the role of suffering in our own lives. Asking her for the grace not to waste suffering, we can learn to use it as a means of growth for ourselves and others.


One of the most traditional forms of the experience of the cross which spiritual masters have always discussed is self-discipline or asceticism. People in all walks of life require self-discipline. The athlete must subject himself or herself to rigorous training; the musician must endure long hours of practice; the doctor must be willing to order his or her life to the vigorous demands of the medical profession.

The Christian life, too, has its own form of discipline, and it is necessary for the greater assimilation of our total being to Christ. Christian self-discipline, or asceticism, helps us grow in the Christ-life. It extends to all aspects of the person—intellect, will, imagination, memory, sight, hearing, taste, touch, and so forth.

Renunciation is another form of dying with Jesus, which, over the years, has been given much attention in the teaching of the spiritual masters. Indeed, the New Testament itself attests to the undeniable role that renunciation plays in the Christian life. The gentle St. Luke, for example, teaches Jesus' message of renunciation—a message which Jesus Himself lived. Renunciation was obviously not the only aspect of Christ's life, but it was an undeniable one. Christians, because they are followers of Christ, must also include renunciation in their lives regardless of their individual vocations. Again, it is well to remind ourselves that we embrace renunciation for the sake of life. This was the purpose of renunciation in Jesus' life, and it must have the same purpose in ours.


Acts of renunciation are life-promoting regarding ourselves and others. Let us always remember what Our Lady of Fatima has said: Pray, pray, a great deal, and make sacrifices for sinners, for many souls go to Hell because they have no one to make sacrifices and pray for them.24 And the angel said to the Fatima visionaries: Make everything you do a sacrifice, and offer it as an act of reparation for the sins by which God is offended, and as a petition for the conversion of sinners.25 All our good actions, including the enjoyable and pleasant ones, can be offered as sacrifices. In the stricter sense, our sacrifices include those actions which involve doing that which is difficult or which involves acts of renunciation.

A good example of an act of renunciation is the practice of fasting which Our Lady of Medjugorje requests of us. She asks us to renounce our regular habits of eating and drinking on Wednesdays and Fridays. Mary tells us that the best way to fast on these days is to partake only of bread and water. If one is unable to fast in this manner, he or she should practice that type of renunciation which is possible. We should remember that fasting is a practice contained in New Testament teaching.

There are, of course, many other forms of carrying the cross besides those of self-discipline and renunciation. There is that very common form of bearing the cross which is involved in the proper living of every day. There is nothing dramatic about this form of suffering, and, precisely because it seems so uneventful, it is difficult to properly relate to it in a consistent fashion. On particular occasions, we might feel that a quick death by martyrdom would be easier than the daily dying which involves all sorts of little sufferings or crosses. But this daily dying is a precious type of suffering, and to grow in the realization of its importance is a significant sign of spiritual progress. It is a sign that we have the spiritual discernment to comprehend that God so often situates the cross within the ordinariness of everyday life.


Crucial decision-making is also a form of the cross. Making a decision, we realize, is extremely important for both ourselves and others. We can seek advice from others, but in the last analysis we know—oh, how well we know—that, ultimately, we alone must make the decision before God. We pray for light and strength, for we realize that we need help not only to make the proper decision, but also to deal with the pain which is inevitably involved.

The experience of failure is another suffering that we encounter in various degrees along the path of life. In failure there is a twofold pain—the pain of having failed and that involved in having to begin again. The pain of having failed must not be wasted. We must use it to become better persons.

Rejection, in various forms, is another pain not uncommon to human experience. Many have experienced rejection because of race or ethnic origin. Although we ourselves might not have experienced this type of rejection, there are other kinds. We may have felt, for instance, a certain ostracism in not being accepted. When our ideas and opinions are not accepted by others, we feel the sting of yet another kind of rejection. And how many there are who have experienced that very painful rejection, being rejected in a romantic relationship.

Another common form of suffering is the experience of loneliness. There are two basic kinds of loneliness—that which need not be and that which cannot be avoided. And who has not experienced the pain connected with illness or injury? Some must bear this cross to a much greater degree than others. Some, indeed, have had their lives very significantly changed because of serious illness or injury. Let us pray for these so that they may have the love and courage to live with their cross according to God's will.

The above examples describe some of the ways in which the cross enters our lives. We can each probably add one or two more to our own list. In any case, we need to remember that we have a special prayer partner to help guide us along the way. She knows suffering and she certainly knows her Son. She is always by our side.

In conclusion, let us again remind ourselves that the cross is meant to lead us to greater life—here and in eternity. Let us always strive to live by the words Jesus has left as: Then he said to all, "If anyone wishes to come after me, he must deny himself and take up his cross daily and follow me. For whoever wishes to save his life will lose it, but whoever loses his life for my sake will save it. (Lk. 9:23-24).

---
NOTES:

Our Lady's Peace Plan, op. cit., back cover.
Ibid., p. 1.
end of excerpt from Mother At Our Side
---
Excerpts from The Pain and the Joy, by Father Edward Carter, S.J.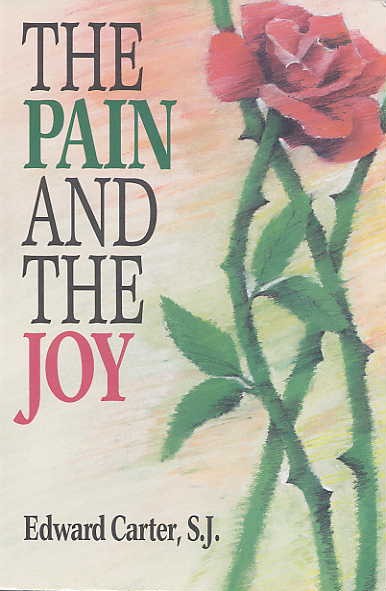 2

The Pain and the Joy

Certain people look upon religion as a type of enslavement. Religion, claim these people, puts shackles on one's desires for full living, pleasure, and happiness. Religion, they continue, makes you fearful, forces you into a rigid pattern of dos and don'ts which restricts and even suffocates your thrust toward full personality development. Whatever the causes may be for one's arriving at this view, such an attitude grossly misrepresents the nature of true religion.

Jesus has come to make us happy, not to make us participate in a religion which destroys the joy-dimension of human life. Jesus has come to increase our capacity for true self-fulfillment, not to restrict us with a religion which (while encouraging morbid self-enclosement), destroys possibilities for healthy self-expansion. Jesus has come to show us the way to true pleasure, not to present us with a religion which looks askance at such. Furthermore, this happiness and fulfillment which Jesus has come to give us is meant for this life as well as for eternal life. Christianity is a religion which gives a here-and-now happiness that develops into a future and eternal happiness. It satisfies our deepest desires to be fully alive. Furthermore, Christianity is a religion which unites pain and joy.

Christ's followers have looked upon His sufferings—which culminated in the agony of Calvary—and have been moved to a most unique kind of compassion; for the sufferings of Jesus are those of the completely innocent one, sufferings of an extremely kind, sensitive, and loving man. Here was a man who had done nothing but good, and yet, in the end He suffered rejection, betrayal, and denial.

Nevertheless, this classical figure of suffering and pathos who is Jesus is also the classical figure of hope. The crucified Jesus is the great symbol of hope because His suffering and death point beyond Calvary to His Resurrection. The suffering and pathos of Jesus opens up into hope-causing and joy-causing resurrection. The Jesus who exacts compassion from His followers is the same Jesus who fills them with resurrection joy, peace, and happiness. Jesus allows the Christian to see that suffering is not meant to be self-enclosed, but rather open-ended. Suffering is meant, when properly assimilated, to lead to greater life, to greater love, joy, and happiness.

The pain and the joy of life are inevitably linked together. Let us not try to separate them. On the one hand, let us not narrowly view life's suffering so that we fail to see it as a means, if properly encountered, to a fuller life. On the other hand, let us not so exclusively focus on the aspect of joy that we fail to remember that its presence in our life cannot be maintained and deepened unless we are willing to suffer with Jesus. Pain and joy—what God has joined together, let us not strive to separate.

Dying and rising were inseparable in Jesus' existence. Since we have been baptized into Christ's death-resurrection, as St. Paul tells us (Rom. 6:1-11), dying and rising are also inseparable in our own existence. The pain and the joy. In experiencing humanity, the Christian must assimilate both according to God's designs.

---
15

Contemporary Asceticism

Let us define asceticism here as the effort to reach a higher spiritual level by rigorous self-discipline and denial.

Asceticism is an important element in the pattern of death-resurrection. It is one of the more active forms of dying with Jesus, for the term asceticism implies a chosen kind of effort on the Christian's part, but, very importantly, an endeavor assisted by God's grace. There is another fundamental form of the cross which does not require this more active type of effort and we could label it as passive suffering or purification, a kind of suffering which we accept in accord with God's will, but over which we have little or no control. Here, we discuss asceticism on a different level, as defined above.


The purpose of Christian asceticism is to cooperate with the Holy Spirit in achieving the necessary discipline required for the living of the Christ-life, our life of grace. This discipline is meant to extend to all dimensions of the person. As with many aspects of the Christian life, the concept of asceticism has undergone rethinking in our day. The traditional asceticism is seen as deficient in certain respects. A contemporary asceticism, geared to meet the needs of the modern Christian, has been gradually developing.


The traditional asceticism was based to a considerable extent upon the monastic or semi-monastic type of spirituality. For many centuries this spirituality was a dominant force. It became systematized and was handed down from generation to generation. Many committed Christians who were not living a monastic or semi-monastic state of life, more or less adapted this spirituality as best they could to serve their own particular vocations. As we know, this monastic spirituality stressed withdrawal from the world. If one had to live in the world, one endured it for the proper reasons, but hardly desired such a situation in itself. Many precautions were given on how to escape basically unscathed from the engagement. Monasticism's attitude toward secular involvement was to a considerable extent negative. Its asceticism was oriented toward non-involvement rather than toward proper engagement. This traditional asceticism was basically directed toward achieving a particular kind of contemplative union with God. Its direct objective was not primarily aimed at the proper building of the secular city, although it did have its own proportionate concern in this regard.


We should not be overly critical of this traditional asceticism with its stress on withdrawal, silence, and the like. It originated and developed to serve the purpose of monasticism, and in view of this goal we can say it was basically well-conceived. This spirituality certainly has produced its share of great saints. Its shortcomings arose because it came to be accepted by many as the universal asceticism—the one for committed Christians of all vocations.


As stated above, a contemporary asceticism is being developed to more realistically meet the needs of the vast majority of today's Christians. The new asceticism is meant to serve the Christian in her or his secular involvement. It is meant to help the Christian find God in the market place as well as in times of formal prayer and solitude. Its general principles can serve the needs of all committed Christians living in the secular world, whatever their vocations may be. The traditional monastic type asceticism is still available for those living within that monastic tradition, and it has also been experiencing its own renewal.


The new asceticism, if it is to be authentic, has to meet the varied needs of the Christian in the exercise of the Christ-life. This Christ-life is a relational life. Let us now discuss three of the relationships which flow from this Christic existence—relationships with the material world, with one's neighbor, and, most importantly, with God.

The new asceticism assumes a very positive attitude toward material creation. Yet, as must the asceticism of any age, contemporary asceticism has to be concerned with the Christian's proper control relative to the material world. We have a tendency to misuse the world's material things. At times we use things in excess. At other times we use things we should not be using. These abuses are present in any age and culture, but they are apt to be multiplied among people living in affluent cultures. The new asceticism, while accepting an appreciation of material things, must also be concerned with instructing us to achieve proper control relative to the material. There are two facets of this control. One allows us to relate to the material world properly, while actually using it. The other facet directs us at times to non-use, either to learn better how to use God's material gifts, or because there is an indication that the particular use of something material is simply not according to the Spirit's designs here and now.

Turning our attention to relationship with our neighbor, let us say a few words concerning new asceticism and social concern. There is the constant temptation to settle down in the niche of one's relatively comfortable existence and act as if there were not extremely pressing social problems and issues. A Christian could even do this under pretense that he or she needs peace, a freedom from anxiety, in order to find God. The person could rationalize that to become mixed up with the murky and seething waters of social issues destroys this peace of spirit.


The asceticism of social concern points in another direction. First of all, it gives us the courage to look at the unpleasant, sometimes hideous aspects of the social structure. The asceticism of social concern bids us to reflect sufficiently about the actual situation—long enough and consistently enough so that we no longer block out that about which we should be aware. The asceticism of social concern makes us look at racism, at poverty, at the vastly destructive drug traffic, at the free reign of pornography, at political corruption—at whatever is eating away at authentic social structures, at whatever helps prevent the establishment of a more just social order.

The asceticism of social concern makes us seriously reflect on all this. Obviously, it must do more. It must also generate the verve to act upon this realization that there is much to be done. Asceticism must prompt us to embrace the pain involved in bettering the social structure, whether that pain be, for instance, enduring the anguish attendant with actual inner-city involvement, or the frustration entailed in painfully slow court procedures aimed at achieving social justice. Whatever our state of life, whatever our work or profession, whatever our immediate environment may be, the asceticism of social concern will prompt us to do something. This doing can range from the most intense concrete involvement of the social activist to the prayer and sacrifice of the cloistered contemplative. All of us must take Christ seriously. May He be able to say to us:


For I was hungry and you gave me food, I was thirsty and you gave me drink, a stranger and you welcomed me, naked and you clothed me, ill and you cared for me, in prison and you visited me. (Mt. 25:35-36).


Contemporary asceticism looks not only at our responsibility toward society at large, but also at our dealings with those relatively few individuals whom we contact in a more direct and consistent fashion. There is, for example, an asceticism required for giving time and attention to the individual. This is not always easy. We live in a vastly advanced technological culture in which the individual can easily be pushed into the background where she or he tends to be treated as a faceless number rather than as an unique individual with a priceless dignity. Influenced by this ugly dimension of our culture, we can rationalize that we are too busy to give any considerable time to this or that individual. Asceticism, however, bids us to develop the patience, the loving attention, the selflessness involved in making ourselves available to individuals, particularly in those instances when the individual is not especially attractive to us.

Even when the individual is appealing to us—as, for example, in friendship or marriage—there is still an ascetical effort demanded. These close relationships are meant to be meaningful and beautiful occasions for the exercise of the deepest love. If this love is to grow and flourish, if it is not to wither, and perhaps die, there is a dying which must take place within us—it is ultimately a dying to the non-authentic self, to that self which is an obstacle to the relationship. It is a dying to that which refuses to give oneself in love so that the other may be aided in becoming more what he or she is destined to be. If these relationships are to endure properly, there must be at least a basic attitude of such selflessness. We are not speaking here of those relationships which are dissolved for legitimate reasons, for instance, a friendship which is judged by one or both parties to be no longer authentically viable.


Let us consider a few ideas concerning this new asceticism and the Christian's relationship with God. We have already said much in this regard. In discussing asceticism's role in helping the Christian relate properly to material things and to one's neighbor, we have also been implicitly speaking about one's finding God through such relationships. This is precisely one of the main thrusts of contemporary asceticism—to enable the Christian to find God in and through a proper engagement with the world.


To find God in this manner demands discipline. We have to make the effort to be open to the Spirit's guidance during our activity. We have to take the means whereby the vision of faith is vitally operative in our engagement in the market place. Following the lead of faith, we must allow Christian love to shape and inform our secular activity. If we fail to make this effort, lesser motives take over. We work and are busy, we mix in the society about us, simply because we happen to find it all so interesting, and the overriding influence of the Spirit guiding our activity fades to the background.

If we are to achieve proper openness to the Holy Spirit during our secular involvement, it seems a certain amount of formal prayer and disengagement must be structured into our lives. In this regard, the new asceticism can borrow from the traditional asceticism. Figuratively speaking, the Christian must at times go to the solitude of the desert to meet God in a more direct fashion. The Christian must seek the solitude of one's room, a church, a walk in the fields or along the lake's shore. The Christian needs these periods of disengagement in order to pray, reflect, reorient oneself so that engagement with the world may be truly a Christic one, one guided by the Spirit.


In conclusion, we can say that a new asceticism has been developing to meet the needs of today's Christian. If the current asceticism is a new one, it is not a totally different one. It is not completely differentiated from the traditional asceticism. But if it is to be really effective, today's asceticism will necessarily have to incorporate into its structure some of the practices of the more traditional one. We have just given one indication of this in our discussion of the need for a certain degree of disengagement. By having proper regard for certain teachings of traditional asceticism, the newer form can temper what could be an excessive optimism regarding our engagement with the world.


If the traditional asceticism was prone to an excessive fear of the world, the new asceticism is prone to fail to effectively point out that there are precautionary measures to be taken to ensure a proper engagement with the world. If the new asceticism can judiciously blend certain aspects of the older form with its own particular thrusts and broadened vision, then it certainly will be a more effective and realistic asceticism for the vast majority of today's Christians.
---
26

Shattered Dreams

To hear the words "shattered dreams" conjures up for us memories of major disappointments experienced along the ever-changing path of life. The disappointments can be those which wound the heart to its core. Disappointments of lesser proportions cause diminished pain, but still a kind which leaves its mark.

Shattered dreams come in all sorts of sizes and shapes. Some experience career disappointments even though they were privileged to enter the work of their dreams. Once professional success was achieved, however, a type of emptiness ensued and, with puzzlement, they asked themselves, "Is this all the satisfaction that comes from all my strivings? Is this all there is to professional success?"

Others experience shattered dreams because the careers they hoped for were always beyond their grasp. For this or that reason they were not able to give themselves completely to that work or occupation for which their hearts yearned. For example, one with outstanding talent as an artist can only give a bit of free time to expressing his or her genius because financial problems force the person to work full-time at another occupation. The heartbreak this occasions can only be known by one who has experienced this kind of frustration. An athlete on the verge of national stardom sustains a serious injury which necessitates abandonment of a cherished sport. These and similar examples leave one with the question: "What would it have been like?. . .I'll never know."

Personal relationships have yielded a plethora of shattered dreams. A person experiences crushing disappointment because he or she is rejected by a person dearly loved, a person who had been the focus of so many hopes and dreams. Another experiences pain because the hoped-for relationship with a particular person never eventualizes. In both cases tears flow copiously and the person has to strive mightily to convince oneself that life is still worth living.

The shattered dreams of parents regarding their children—this particular kind of pain makes up a considerable portion of life's sufferings. For example, a child with so much to live for is snatched away in sudden, unexpected, and tragic death. Or parents watch a child slip away from their influence and go the way of moral degradation despite the parents' best efforts to provide proper guidance. Other situations involve financial problems which prevent the desired education of exceptionally gifted children—an education the parents had so much hoped for.

There are many examples of shattered dreams. You know of other examples, ones which you have personally suffered, and others which you have seen others experience. All examples involve shattered hopes, whose remains are scattered about in the form of burnt-out ashes, the remnants of goals once eagerly sought, but which now no longer exist.

As Christians we too are subject to experiencing shattered dreams along with the rest of the human race. However, being exposed to various disappointments will not excessively disturb us if we rely on our Christian perspective. To be able to view disappointment in union with Christ is a great gift which all do not possess.

With the light afforded by this Christian perspective, we should ask ourselves whether the shattered dream was the result of seeking that which was outside of God's will. Sooner or later such a pursuit always causes a sense of emptiness, disappointment, disillusion. Disappointment can also result from the relative failure of doing that which we thought to be Spirit-inspired. The disappointment attached to such a venture, however, is permeated with a distinct sense of peace; for we realize we have done our reasonable best to follow God's lead. Our effort has failed in one sense; but in another sense, we have succeeded. We know that good has emanated from our conformity to God's will.

Individual shattered dreams do not destroy the all-pervading dream or hope of the Christian. We know that if we remain basically faithful to Christ, our dream, or hope, regarding our earthly destiny will be fulfilled. We further know that this dream or hope for a truly successful existence on this earth will open up to absolute fulfillment in eternal life. The committed Christian, then, can experience shattered dreams, but not a shattered life, for in them we can also recognize a challenge and a cross to carry. He has asked us to pick up our cross and follow Him.
---
31

Failure

One of the most painful sufferings we experience within the human condition is failure. The suffering is often exacerbated because we over-identify with the situation. We have linked too much of our being with the task, the relationship, or whatever else has prompted the failure. We tend to think, for example, that because we have failed in a particular work, we have failed as human beings. However, as much as we may have involved ourselves in the work, we are not the work itself. This is not to say we are always blameless. We may be considerably at fault regarding the failure. On the other hand, we may be basically without culpability. Whichever the case, we must strive not to over-identify with the situation. This only increases the pain, and needlessly so.

Besides over-identifying with failure, there are two other sufferings connected with it. There is very obviously the pain of the failure itself—even when we succeed in keeping it within proper perspective. There is also the pain of regrouping, of starting over, of getting on with the rest of life. This is not easy; but the pain involved is less than that which results from remaining mired in the failure, allowing it to rob us of some of the joy which is meant to be ours. There have been, are, and will be failures of various kinds and degrees in our lives. Let us accept the pain involved, learn from it, and continue the spiritual journey as wiser human beings.
---
32

Loneliness

Loneliness is an experience which afflicts every human being to one degree or other. No one escapes its suffering. Its pain can vary from being no more disturbing than that of other common sufferings, to a kind of affliction which penetrates to one's inner depths and makes one shed copious tears.

There are two basic kinds of loneliness: the one which need not be, and the one which is inevitable. The one which is avoidable emanates from our not relating to God and others as we should and can. The other, which exists even though we are doing our reasonable best to reach out to God and neighbor, is simply a part of the human condition. We experience an unavoidable loneliness because we are pilgrims. Until our pilgrimage ends in the attainment of eternal life, loneliness will always haunt us in various degrees. This must be, for the kind of loneliness which is inevitable results from our not yet being completely fulfilled. We attain perfect fulfillment only in eternal life. Until then we are, in part, lonely creatures.

If unnecessary loneliness results from our not relating properly to God and others, the remedy for lessening its suffering is obvious. We must strive to grow in our relationships with God and others. This is not going to completely remove loneliness, but it will lessen its pain and make it more bearable.

In coping with loneliness we experience ups and downs in the process, and even apparent contradictions. For example, in striving to deepen my relationship with a significant person—a step which basically lessens loneliness—I may still experience it on occasion because of prolonged physical separation from this person, or because of misunderstandings which temporarily seem to separate us to some extent. Regarding God, at times one can feel a particular loneliness precisely because one desires God so much; but for now, God seems hidden and difficult to contact. Some experience this suffering in a very penetrating fashion as they undergo the classical dark night of the spirit; others feel this loneliness in a less striking, but still very real, fashion.

Loneliness resulting from our efforts to relate properly to God and others is not debilitating as is that which emanates from our failure to go out to God and others as we should. This is so because the former constitutes part of the positive growth process.

The temptations which confront the human person in his or her struggle with loneliness are numerous and well known. Seeking alleviation from loneliness in alcohol and other drugs, in illegitimate sex, in excessive TV watching—these are a few of the escape routes well known to the modern world. Whatever the false escapes, they seem to be more prevalent in affluent cultures where money can buy practically any false comfort one could desire.

Here in the United States, the affluent American can easily buy all the non-authentic escapes from loneliness. These false routes beckon us so enticingly, promising a quick solution to our problem. As with anything non-authentic, however, embracing them as a cure for loneliness actually makes the problem more severe. So it is not surprising that a group of experts has concluded that loneliness is a serious problem in today's world, and nowhere does it seem to be greater than in the United States.

In coping with the problem of loneliness, we should look at the phenomenon realistically. This realistic view tells us that loneliness will always be with us to some degree. Dealing with the problem does not mean eradicating all loneliness. It means making sure that we are not causing ourselves unnecessary loneliness by failing to relate to God and others as we should. In other words, it means we should strive to love as we should. The person who is trying to love properly is not a person who escapes all loneliness. He or she is a person whose basic happiness, loneliness does not destroy.
end of excerpts from The Pain and the Joy
---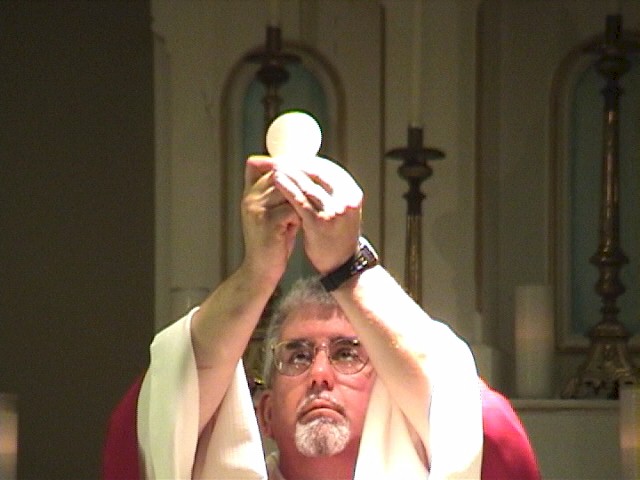 Nursing Home Mass Video
We updated the Nursing videos so that if you have a good dialup
connection, you should be able to watch the movie live.
Click Here for help with Videos

click here to download the Nursing Home and Homebound Mass video (12.3 MB)
---
This ad cannot be altered in anyway.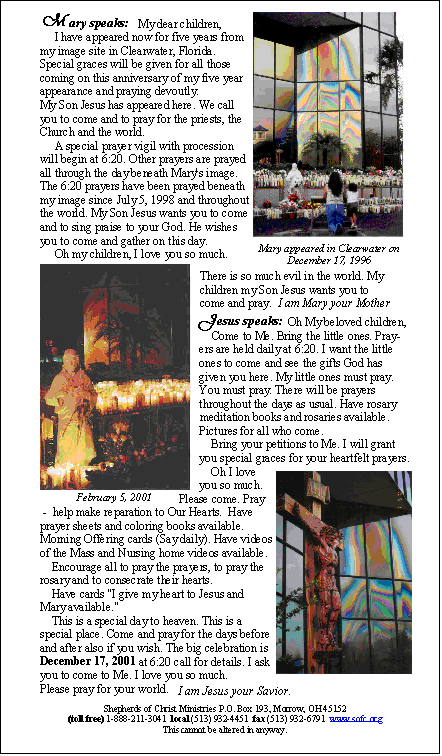 Download the free

software to view and print the PDF files of the advertisements
Please allow a couple of minutes to download, thank you.
---

This ad cannot be altered in anyway.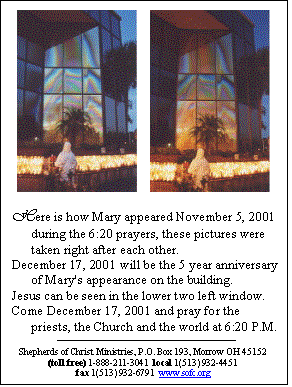 Please allow a couple of minutes to download, thank you.
---
It cannot be altered in any way.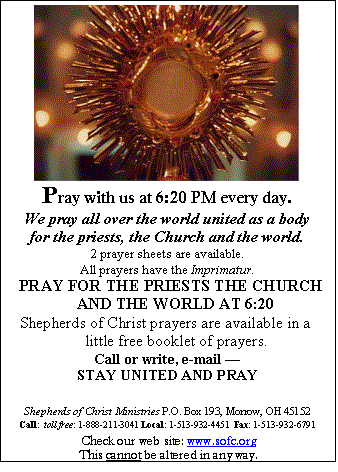 Download the free

software to view and print the PDF files of the advertisements
Please allow a couple of minutes to download, thank you.
---
This cannot be altered in anyway.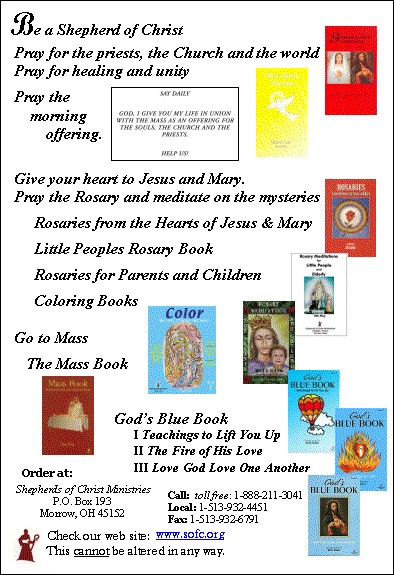 Please allow a couple of minutes to download, thank you.
---
Messenger: A shorter ad may be as follows.
This cannot be altered in anyway.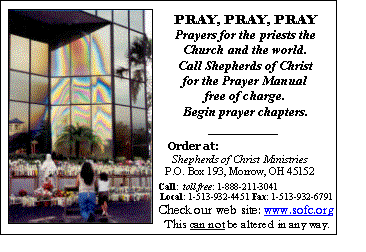 ---

This cannot be altered in anyway.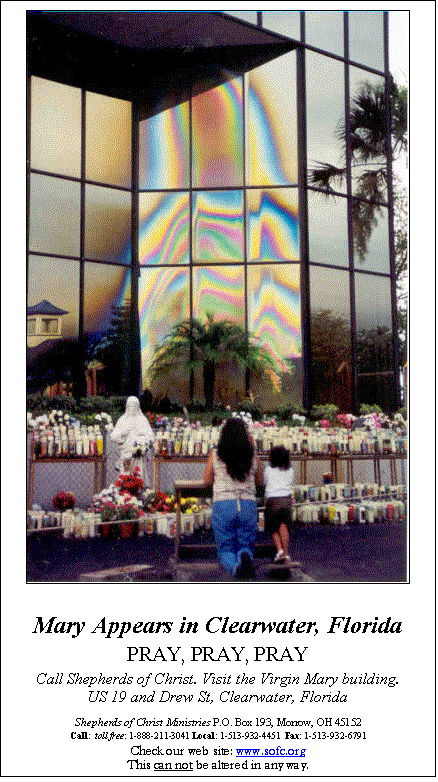 ---
---
---
Copyright © 2001 Shepherds of Christ.
Rights for non-commercial reproduction granted:
May be copied in its entirety, but neither re-typed nor edited.
Translations are welcome but they must be reviewed for moral and
theological accuracy by a source approved by Shepherds of Christ Ministries
before any distribution takes place. Please contact us for more information.
All scripture quotes are from the New Jerusalem Bible, July 1990, published by Doubleday.
Revised: January 16, 2002
URL: http://www.SofC.org
Contact Information for Shepherds of Christ
Email: info@SofC.org
---
Shepherds of Christ Ministries
PO Box 193
Morrow, Ohio 45152-0193

Telephone: (toll free) 1-888-211-3041 or (513) 932-4451
FAX: (513) 932-6791