Mary has requested that the daily message be given each day to the world. It is read nightly at the prayer service from her Image Building in Clearwater, Florida, U.S.A. This is according to her request. All attempts will be made to publish this daily message to the world at 11p.m. Eastern time, U.S.A.

---

We acknowledge that the final authority regarding these messages rests with the Holy See of Rome.

---
January 18, 2002
January 19th Holy Spirit Novena
Scripture selection is Day 7 Period II.
The Novena Rosary Mystery
for January 19th is Joyful.
---
We need special prayers for
one urgent intention for Wednesday.
Begin praying right away.
Spread the Blood of Jesus on everyone involved,
consecrate their hearts in so far as you are able,
cast the devil far away, ask for a special
outpouring of grace from the Holy Spirit.
And continue to pray very, very fervently for this
even after Wednesday.
---
Healing Rosary in Sidney - January 22, 2002
Please come to Clearwater, Florida
on February 5, 2002.

During the day we will celebrate
the anniversary of the Rosary Factory.
We really need the $35,000 for the postage
for the Newsletter Book II so they can
send it as soon as it is printed.

Our donor will match the whole $35,000.
---
January 18, 2002
Messenger: Pray for the
Priestly Newsletter.
Pray for each other.
Pray for 7 urgent intentions.
January 18, 2002 after 7:00 AM Mass Cathedral
Messenger: It is so good to be
with You my beloved God, I cannot even
express it in words.
The gift of the Eucharist!
Oh it is a love affair with God!
One can only long to experience Him deeper.
My life is His.
My heart longing for completeness in Him!
Oh my God thank You for the gifts You give
to me.
The gift of Yourself.
I never want these moments at Mass to ever
end.
The gift of the Mass is so very precious
to me.
My heart longs for completeness in
Him.
My eye is always on my eternal reward.
My happiness is in Him.
My love for all others ever deepens.
The love I have in my heart for others
is so deep in Him.
My connection to all the souls of the
earth is so very deep in my heart.
I don't need a phone line or an internet,
the connection to heaven and
earth is so deep within my heart.
I love the saints deeper every day,
I know Fr. Carter with us at every
breath, I know St. Francis Xavier
and St. Ignatius, St. Claude, St.
Margaret Mary. My love grows
ever deeper for the saints. I LOVE
THEM SO MUCH.
Writing about the apparition of Our
Mother Mary on the eve of the
17th: her face was so beautiful. Never before
did I see her face, so beautiful as I
did then. I felt her presence so much
with me. The light was more than I can
describe, but her face, the beauty of
her face. I see her face embedded in
my memory. She looked down, I
was beneath her, the tabernacle to
the left of her. She was looking
downward her head turned in
the direction of the tabernacle.
Oh the beauty of the face of the Mother of God.
The light that surrounded her.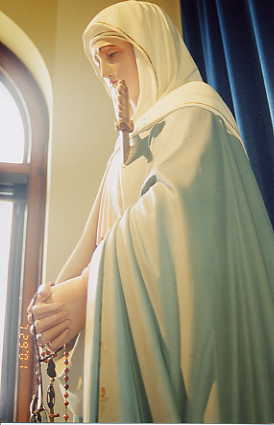 January 18, 2002 message continues
Messenger: Oh God the gift of the Eucharist.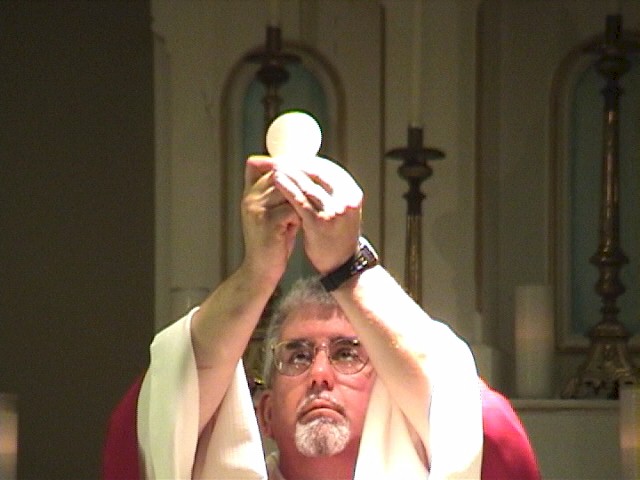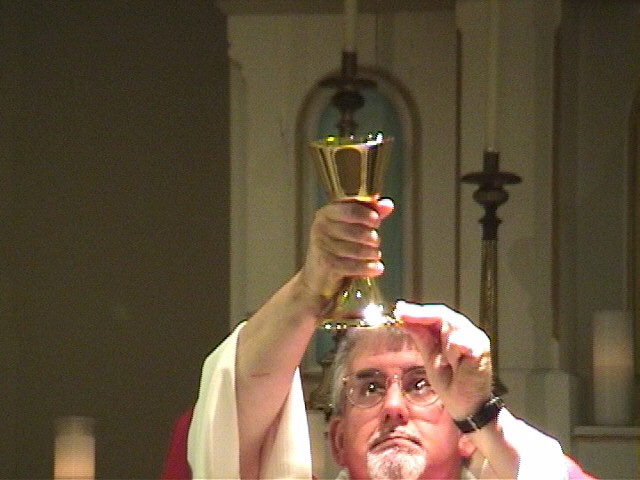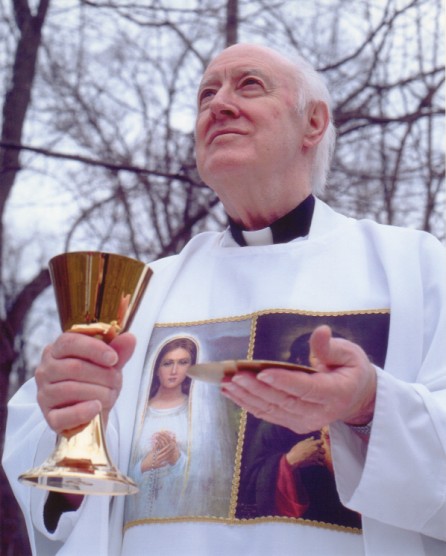 THROUGH HIM, WITH HIM AND IN HIM
January 18, 2002 message continues
Jesus speaks: Pray the prayer for Union
with Jesus.
---

Prayer for Union with Jesus

Come to me, Lord, and possess my soul. Come into my heart and permeate my soul. Help me to sit in silence with You and let You work in my heart.

I am Yours to possess. I am Yours to use. I want to be selfless and only exist in You. Help me to spoon out all that is me and be an empty vessel ready to be filled by You. Help me to die to myself and live only for You. Use me as You will. Let me never draw my attention back to myself. I only want to operate as You do, dwelling within me.

I am Yours, Lord. I want to have my life in You. I want to do the will of the Father. Give me the strength to put aside the world and let You operate my very being. Help me to act as You desire. Strengthen me against the distractions of the devil to take me from Your work.

When I worry, I have taken my focus off of You and placed it on myself. Help me not to give in to the promptings of others to change what in my heart You are making very clear to me. I worship You, I adore You and I love You. Come and dwell in me now.

-God's Blue Book, January 17, 1994
---
January 18, 2002 message continues
Jesus speaks: Satan will try to get you focused
on yourself and what people
are thinking -
Focus on Me.
I have called you.
Don't give into satan.
---
7 years ago

I Want Both Feet Off the Ground
January 18, 1994 4:40 a.m.

Messenger: Dear Jesus, I am ready for Your work. I love You. I am sorry I didn't get to Mass because of the snow. I love You, Jesus.

Jesus speaks: You mustn't feel that I am displeased because you stayed home. You need to be with Me at home just as you are in church. Focus on Me and My love for you and keep making Spiritual Communions. I am Jesus. I am present. I talk, you write. I am He Whose bootstraps you are unworthy to tie. I am He Who loves you intently. If you only knew a little of My love, you would be preaching about Me from a high mountain.

You are he that wants one foot on the earth and one foot in the air. One foot will let go, but the other is not willing. I want both of your feet off the floor. That extra security you hold on to, just in case--that is what makes you worldly. I demand you let go entirely. You will then be free in My love. You will soar! As long as you think you are doing any of it yourself you stop yourself from the total freedom of letting go.

So here you are and I am telling you in your heart to do something and you decide to ask someone else, or you procrastinate, or you want proof. I don't give proof! The beauty of total surrender is to have no proof and total trust in Him Who truly loves you! "Well, Lord, I know you are telling me this." Then, do it child! Let go! Feel the freedom of flying. You are totally free. I am running the balloons. You, child, let go. You totally surrendered to Me and at first you were afraid, but here you are flying and it is such freedom! Take in the sights. Be lighted on your way. Do you trust Me like that? If you don't, you are still in control.

The will of The Father I make clear to you. You want that security the world says you should have. The world is not secure. It is built on a sinking ship. It may look secure, but in one instant your ship could sink and if you are counting on yourself, what will you do?

I sail your balloon to heights you never dreamed possible. Let go. I run the balloon. There may be a little wind, but the freedom of sailing, of knowing you will never lose your way because Jesus is holding you up, what power Jesus has over all and He holds you up! If you go out on a limb for Him, He supports the limb. "Scary," you say? "Freedom," I say! When you trust your interior promptings this much, when you know God is this close that you will do whatever He calls you to, despite the world, that is freedom. You are My special messengers. The world is teaching some awfully sick messages. People are getting literally sick. Become selfless, let Me possess you so I can do what I need to through you.

The world wants you to have security, insurance, jobs that they consider safe. "Be sure you have all these things to be sure." Sure of what? That in one minute there can be an earthquake and it all is destroyed? You are not sure! I have all the power. You are so silly to think you are sure of anything in this world.

There is only one thing you can be sure of: I am Jesus, Son of the Living God. Put your trust in Me and then you are sure. You may not receive a reward in this world, but you, for sure, will receive a golden reward in the next.

Let go, My children. Seek after only the things of God. Do not store up earthly treasures that wither and fade. Store up heavenly treasures that never die.

Let go, My children. I am waiting for you to let go with both of your feet. Jump into the arms of Him Who saves you. You let go, I catch you. God is there to hold you up lest you stumble and lose your way.

You walk the road to My love. It does not go down the solid roads the world has built. It is a road suspended in the sky. To know Me is to let go. Get off that road that appears to the world as solid. You know an earthquake can split that road in half. Walk My road with Me. That may mean the road seems to be missing at times. But you do not have your ducks in a row. Minute by minute you follow a road supported by Me. What freedom! To trust in Me, to do My work with support from Me is so free, but so uncertain for your earthly minds.

I tell you in your hearts. The world wouldn't even hear that which becomes to you a command to obedience. I tell you to do such things. The more I possess your soul, the more it becomes Me acting out of you. You know you are doing things you would not have done before.

This is Me. When you beg Me to possess your soul, you let go and I take over. You don't need security here. You only need the inner promptings and the trust in your heart that God has spoken and you follow His command.

How can I minister to this sick world if you choose to keep one foot on what the world calls "solid ground"? I want to possess you. I want to operate from your very being. I want to be in constant communion with you. I want you to hear the pipeline to Me every second you breathe. You will do this when you let go. I need to have full reign to operate from you as I see fit. Believe Me, I will not be doing what you would do.

When you see yourself moving selflessly ahead, doing My work, no questions asked, when you are listening to your information from within instead of from without, then your pipeline is open and working. Your answers are in your heart. You search for your answers in a senseless world, while you cover up the answers in your heart. Let Me possess you. Be selfless, be unattached. Operate as I am telling you in your heart.

"But," you say, "Oh, how do you test it?" That is the world. The more you know Me, you do not even think. It is I Who operate you. You do not even deliberate. I just work through you and you see that what you did was a vital move in My plan. But you did not even deliberate much. You were pushed in that direction and you knew you had to do it.

Child, listen to your heart. I am calling you to quiet union with Me. Silence with Me. Let Me change you and make you open. Say the Prayer for Union with Jesus, then let go and let Me do My work. I need your total submission. Your security is not found in thinking. It is found in your heart, in being so attached to Me that it is I Who live and act from your soul.

I operate you like a little windup doll. You don't worry and fret. You just go. You ask no questions. You are selfless and unattached and what you achieve is the work of the Son of Man.

I am Jesus. I am God. I am He Who wants to possess you and use you. When I do something, I do not make mistakes. Quit trying to do it yourself. Let Me operate you. Let Me do it all. Get both feet off the ground and say, "Lord, Lord, I give you My all. You use me, You run me, You possess me. I am Yours." Die to yourself and all the things of the world. You are he whom I want to possess and use to do My work. If you continue to do it your way, it is your doing a so-so job. Let go and let Me do My work as I want it done!

Don't ask questions. Don't jump back to the ground and say, "Oh, but it got scary out there with nothing under my feet. I just wanted to stand on solid ground." My ground is all that you must walk. You do not have a choice. My life in you is like being suspended in midair. It only feels good when you have decided that you will let go, that you know in your heart that trusting in Me is the only way. What freedom, to sail the sky and never ever look for security!

This is life in Me. You can't go to the world. Life with Me is like this. Life in the world is sick. You can't go there. You don't let go so you are not fully here. So, there is discontent in your heart. One foot on, one foot off. Surrender, My child. Let go with both feet and don't question! I will lift you up and lead you on your way. I need you to do My work in this world. If you become selfless and let Me possess you, you will operate just as I want you to because I will be doing the work.

Don't look for security! Pray constantly. I am as close as your breath. I am He Who powers you. You will not falter for I will catch you on your way. Your only job is to let go and trust. Know I am truly here and you are never abandoned. I love you so. You are doing My work with all your heart and I am powering your heart. Let go. Living in Me is not the security that the world preaches. It is like being in midair and knowing I am by your side and will catch you. If you feel your life is like this, being in midair, you are doing a great job. But it is not you at all. It is I Who sustain you. It is I Who act from you. You are My precious ones. You, I love to My death! Trust Me. I died for you. I am your beautiful Jesus. I am your spouse. I am ever by your side and I love you with a heart on fire for love of you. Surrender. Let go and you will be free in the Lord!

Messenger: Alleluia. And He made them His workers and they acted as He did in them and the world knew His love in mighty proportion through those who chose to serve the Lord. Alleluia. Our hearts are lifted to such heights in Him. His ways are secure!
end of January 18, 1994
---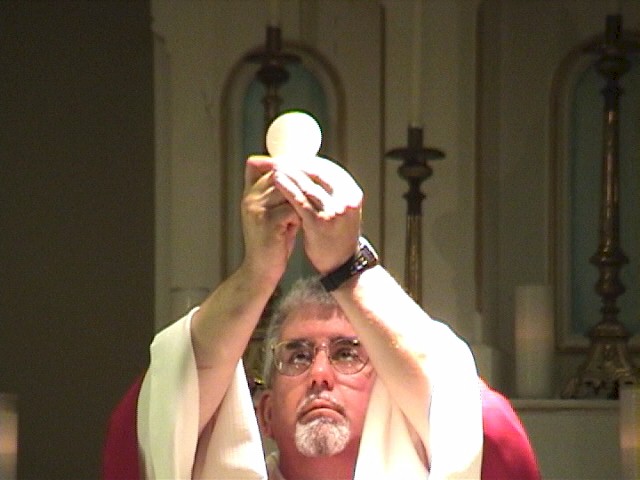 Nursing Home Mass Video
We updated the Nursing videos so that if you have a good dialup
connection, you should be able to watch the movie live.
Click Here for help with Videos

click here to download the Nursing Home and Homebound Mass video (12.3 MB)
---
This ad cannot be altered in anyway.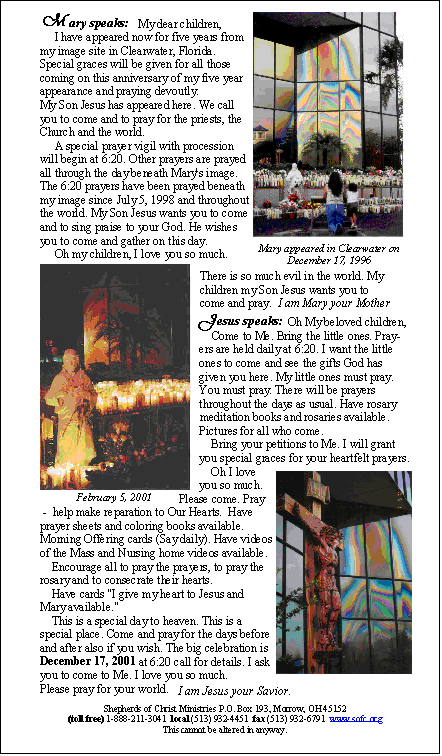 Download the free

software to view and print the PDF files of the advertisements
Please allow a couple of minutes to download, thank you.
---

This ad cannot be altered in anyway.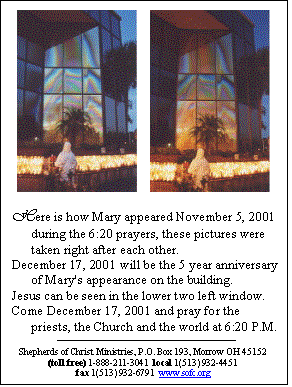 Please allow a couple of minutes to download, thank you.
---
It cannot be altered in any way.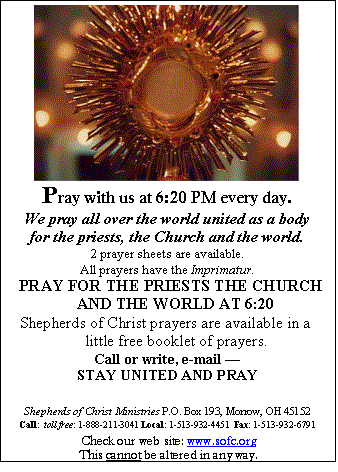 Download the free

software to view and print the PDF files of the advertisements
Please allow a couple of minutes to download, thank you.
---
This cannot be altered in anyway.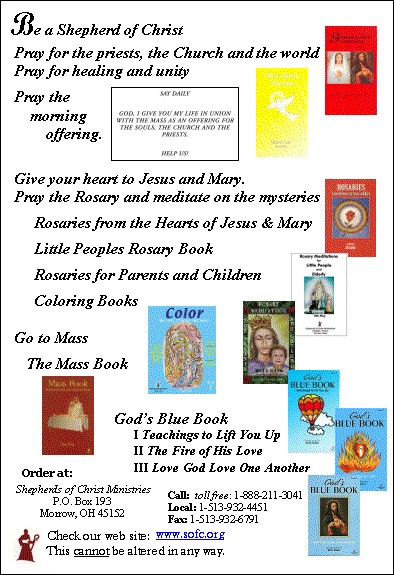 Please allow a couple of minutes to download, thank you.
---
Messenger: A shorter ad may be as follows.
This cannot be altered in anyway.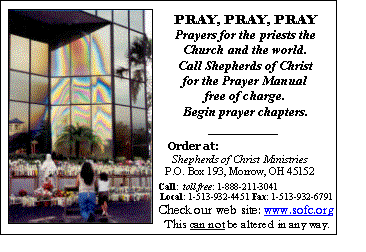 ---

This cannot be altered in anyway.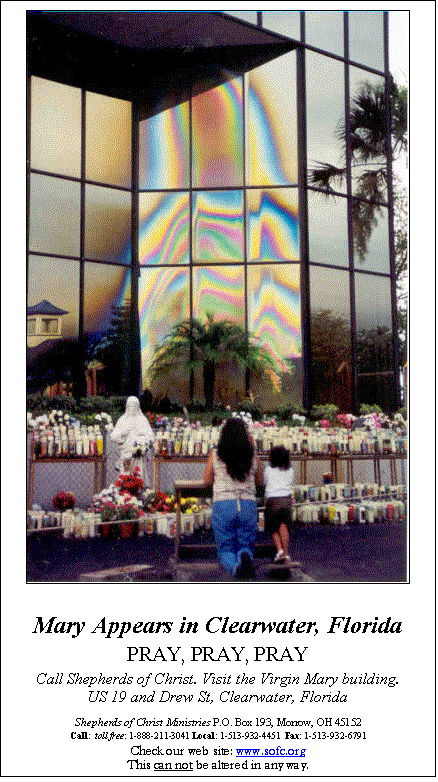 ---
---
---
Copyright © 2001 Shepherds of Christ.
Rights for non-commercial reproduction granted:
May be copied in its entirety, but neither re-typed nor edited.
Translations are welcome but they must be reviewed for moral and
theological accuracy by a source approved by Shepherds of Christ Ministries
before any distribution takes place. Please contact us for more information.
All scripture quotes are from the New Jerusalem Bible, July 1990, published by Doubleday.
Revised: January 18, 2002
URL: http://www.SofC.org
Contact Information for Shepherds of Christ
Email: info@SofC.org
---
Shepherds of Christ Ministries
PO Box 193
Morrow, Ohio 45152-0193

Telephone: (toll free) 1-888-211-3041 or (513) 932-4451
FAX: (513) 932-6791