God is all good —
God is the Creator
We are the creatures
God has a Covenant with man
God speaks to us through creation —
All creation bears the handprint of God —
God the Father has a Plan
We are to see through the eyes of God —
the Plan of the Father —
A person can be an interesting person —
in control at the office, but when it
comes to his heart a person can let
the inner child of the past come
out and try to take control.
A person that lived as an army-tank
home - tension — not loving as soon
as he goes into his home can crawl
into this mode —
hard to get along with
fighting
combat
A person who does not work with others —
and keeps some person as a scapegoat
for their unmet needs — can crawl
into their army tank and began
combat —
If you see them at work or
out in the world they can look as if
they have no problems, but they can
have a hard shell - like an army
tank when it comes to personal
relationships. God has called us
to love — not put our heart in
a hard shell — ready for combat —
The more one wastes opportunities to work
with others in unity — in love in God's
service, according to His plan, in love
as a family of God, building the Kingdom
of God — the more one is going in the
opposite direction when interacting
with others.
Some people have built protective
combat armor in their childhood
and they can be addicted to argumentation,
misery, excitement because of problems
in their life.
They are afraid to trust anyone
with their heart and come out of
their protective shell. People in
these isolated ways, addicted to
misery can think only of themselves —
the more they seal off their heart
which is their own choice, many times,
because of this combatal attitude —
the more angry they become —
they only feel, some of them, when
there is combat, tension — the
fight because of the hard shell
they have built around their heart.
A person can be a brain surgeon,
but our lives, our personal lives
are majorly affected by the love
in one's heart and how their
spirit is willing in working
with others —
This combat of a person can
create the battle front of childhood
they are familiar with — this
is normal to them —
God created us for harmony, love —
working together in personal relationships
as a family
Not co-dependent
slavishly dependent
abnormal combat - disharmony —
averse individuals try
to project on others
There was a new movie — American
Girl where girls (2) provoked
openly other girls, made fun
etc. —
Adults can use passive-aggressive
measures to manipulate and
control — provoking others
secretly - in an abuse cycle until they
make a mark of "getting to" an innocent
other
God intends us to love
God intends us to choose willingly
to interact according to His
Plan in peace
Discord, disharmony,
disorder come from the
garden
A person can be one who grew-up in
a home where there was constant
arguing and so therefore they
do not communicate at all
because any communication
would be another argument as they
knew as a child — so they offered
no communication about any
problems, distancing and controlling
the money, many times, making others beg for
monetary funds while they kept the
facts — facts needed, hidden, and
they controlled while others waited,
begged and could not deal productively
on any matter because of the inner
child of the person who could never
handle any matters in love, peace,
joy and empowerment —
He felt there was a major
problem if anything was discussed
and he refused to openly let anyone
in on pertinent information —
In every personal relationship — married,
religious, a person must
(1) have commitment
(2) be open not wear masks
or tell lies
(3) not have secrets
(4) observe rules and
structure — not
fight structure and
rules so a single
person can control
with secrets to
control
A person with a hard shell — getting harder
becomes like a rock —
they only feel when there is an explosion
and since they have cut off normal
interaction.
When the pot boils over in
them, from lack of communication
they provoke through ways that
hurt others wanting to conduct
normal work and function for the
good of the organization, family,
community, religious order
The child of the past may
come with one pair of glasses - while
the child (adult child) is quite a
different story —
The child of the past sees
through the emotions in their past
family.
The more we interact with others
personally — the more we have an
opportunity to grow out of our
selfish ways of our inner
child — the more we work to
discipline the little child —
full of hurt emotions, many
times, we can learn through
our sound reasoning to not
give into the little undisciplined
child that wants to win — temper
tantrums and have it their way.
We must recognize our undisciplined
feelings coming from childhood.
A question can be asked
"Why do you act a certain
way, when you don't want to"
Many feelings of this little
inner child must be controlled
by the reasoning of the "adult child" —
within a person - who seeks
relationship, love, justice,
prudence, vision, harmony
The little child of the past keeps
trying to recreate the home life
of childhood and live in it —
wanting to rule and give into
childish demands that are
inappropriate to adult
personal relationships —
Wanting what is familiar
because we know it may
have a melodrama we don't
want as adults —
We learned about life
and relationships in our
homes as children —
In dealing with adults who
are accepted in the world and
business — a person can pout
and expect another person to
make them feel good.
In watching babies — they
cry and are picked up — they
want to be fed — they need to
be changed — it is not another
adult's place to pick up
adult babies who do not
know how to love maturely —
Christ shows us His self - less love —
The Blue Books teach us about
being filled up by
God's love —
so we give love to others —
So we love as Christ —
lives in us
Romans 8: 5-9

Those who are living by their natural inclinations have their minds on the things human nature desires; those who live in the Spirit have their minds on spiritual things. And human nature has nothing to look forward to but death, while the Spirit looks forward to life and peace, because the outlook of disordered human nature is opposed to God, since it does not submit to God's Law, and indeed it cannot, and those who live by their natural inclinations can never be pleasing to God. You, however, live not by your natural inclinations, but by the Spirit, since the Spirit of God has made a home in you. Indeed, anyone who does not have the Spirit of Christ does not belong to him.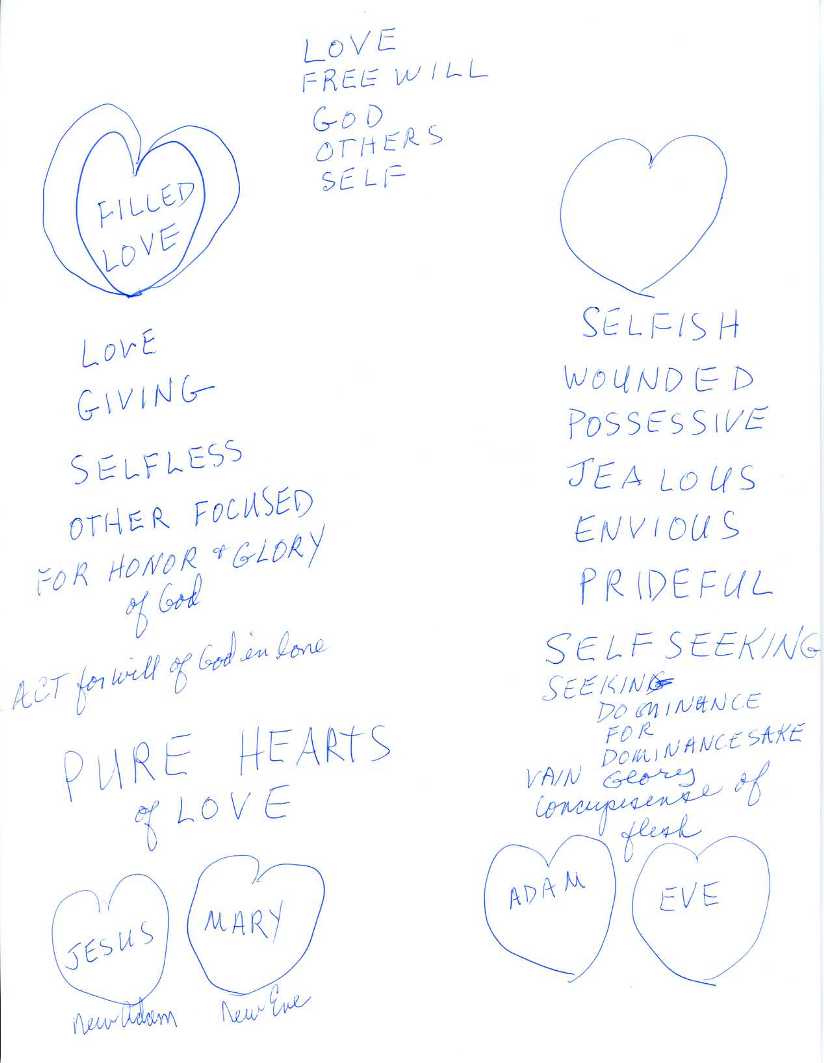 Even among doctors who
recognized their habits from
the child of the past they found
it difficult to change the feelings
that the little child of the past
demanded in personal relationships
if left to control —
In Alcoholics Anonymous and
Alonon — many adults seeking recovery
could not go home during
recovery because of the problems
encountered by other members
of the family expecting them to once
again get in roles of — 'little
brother' — 'hero child' — 'scapegoat'
etc. The family knew the dance
well and the steps were the
steps of the family as 'little
brother' and 'scapegoat' better
get in and do the family dance —
What happens when one is
locked in heart and spirit
because their lives are lived
as 'reactors' instead of 'actors' —
in giving into paralyzing feelings
inside that demobilize them —
instead of living as Jesus taught
us according to God's will in
love —
Happiness comes in acting according
to God's will in love —
being so deeply one with God.
God is our counsel
not satan
in the discernment of spirits of
St. Ignatius.