Mary has requested that the daily message be given each day to the world. It is read nightly at the prayer service from her Image Building in Clearwater, Florida, U.S.A. This is according to her request. All attempts will be made to publish this daily message to the world at 11 p.m. Eastern time, U.S.A.

---

We acknowledge that the final authority regarding these messages rests with the Holy See of Rome.

---
---
A Prayer for Intimacy with the Lamb, the Bridegroom of the Soul

Oh Lamb of God, Who take away the sins of the world, come and act on my soul most intimately. I surrender myself, as I ask for the grace to let go, to just be as I exist in You and You act most intimately on my soul. You are the Initiator. I am the soul waiting Your favors as You act in me. I love You. I adore You. I worship You. Come and possess my soul with Your Divine Grace, as I experience You most intimately.
---
Messenger: Include Our Lady of the Holy Spirit Center in 6:20 prayers.
---
January 20, 2000
Jesus speaks:
I address you for you are so dear to My Heart. I give to all a free will, I ask you to respond from that free will. The Shepherds of Christ is My Movement to help bring about the Reign of My Heart. The apostles are focused on the directions I have given. On October 13, 1996, three months before Mary appeared on the building, I called gatherings on the 13th of every month to help bring to completion the mission My Mother began at Fatima. Some leaders in My Movement would not listen to the messages in My Blue Book, and they no longer function as leaders. Only in firm commitment to ones spiritual life will a shepherd be able to hear My voice and do as I have asked. All apostles try most fervently to spend one hour daily before the tabernacle, go to daily Mass and remain twenty minutes after Communion, I wish this message to appear on the Internet directed to all who hear My voice within their hearts and want to respond.
To all concerned I give the following message:
My mission is a mighty one. My Mother appearing on the building is a continuation of the visits given to My messenger and the visits from our Lady, Mary, Mother of all in the 20th century. Mary called and called. On October 13, 1996, I asked for these gatherings to help bring about the culmination of the mission begun at Fatima.
Mary called men through her ministries.
I am the Sacred Heart of Jesus, I come to lead men to the depth of My Heart, where they will live every moment their spousal union to Me. I want them to be so one in Me. I am the Bridegroom of their souls.
Mary appeared at Fatima and said that men must give their hearts to Our two Hearts in consecration.
Mary said that you must pray the rosary.
Mary said that you must make reparation to Our two Hearts.
Mary said to observe the First Saturday Devotion.
In the act of discerning My Movement, many have focused and focused on what others have said who have not followed the messages given by Me.
I tell you this. I speak here. I am the voice of the Good Shepherd. You will hear My voice in the priestly newsletter and the messages given.
Many priests and millions of people have been changed because of the recitation of these prayers I have given. Praying to Me as I have instructed has brought down great grace for the world.
Mary stated clearly in the early daily messages that she appears to teach the world to pray.
I am teaching all to be the spouse of the Lamb and prime intercessors united to the Holy Sacrifice of the Mass. I teach you to pray, being one in Our Hearts, for the priests, the Church and the world. You pray and great grace is released for souls.
The Blue Book messages have changed the lives of so many and led many churches to have Eucharistic Adoration.
When your children are being taught untruths in the world, and the world is teaching them to live an unholy life, it has wounded My Sacred Heart that the world has ignored your Mother, Mary, and partially blocked My mission.
The Father is angered because of how the world has failed to respond to Mary's apparition in Florida and to My Movement.
I come to you with My Sacred Heart in My hand and I give you refuge in this burning furnace of Divine Love.
I do not coerce or force, I ask every man to respond willingly. This is My Movement, I have run it. Souls are at stake. I do not speak to be ignored. I give warnings. The sign of Mary on the building is a major sign you receive. I want people to respond because they hear My voice. Mary gave signs, I call you to faith and to prayer.
The more you do as I have instructed, the more I will become alive in you.
I am Jesus, the Son of God, I speak to you here.
Sing My song: A Song from Jesus.
---
Revelation 22:6-7
The angel said to me, 'All that you have written is sure and will come true: the Lord God who inspires the prophets has sent his angel to reveal to his servants what is soon to take place. I am coming soon!' Blessed are those who keep the prophetic message of this book.
---
Revelation 22:20-21
The one who attests these things says: I am indeed coming soon.
Amen; come, Lord Jesus.
May the grace of the Lord Jesus be with you all. Amen.
---
Reference Revelation chapter 22: 6-21, Epilogue.
Jesus speaks: Yes, I come to you today.
---
Revelation 3:1
'Write to the angel of the church in Sardis and say, "Here is the message of the one who holds the seven spirits of God and the seven stars: I know about your behaviour: how you are reputed to be alive and yet are dead.
---
Jesus speaks: I AM ALIVE, I AM ALIVE, I AM ALIVE.
I ask you to see the fruits of My Movement, I ask you to hear the voice of the Good Shepherd in My writings. I ask you to obey. I will come alive more and more in their hearts, and they will be one flock with one Shepherd the more they give their hearts in consecration to Our Hearts and unite to the Holy Sacrifice of the Mass.
---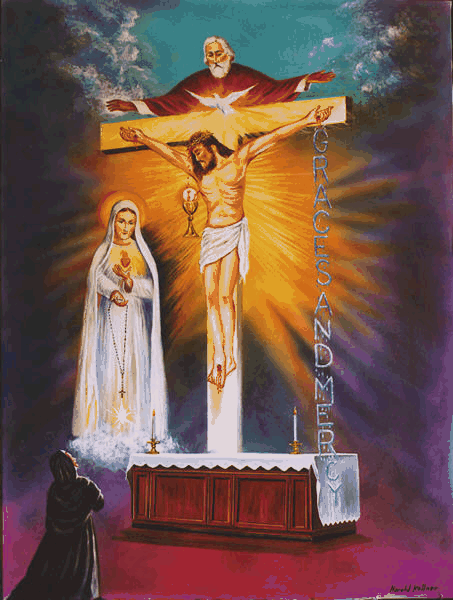 ---
Question for married couples and others in intimate relationships:
Q: How do I feel I can better serve Him by praying daily to know the truth? How can we as a couple be a powerful instrument in the world by always speaking the truth?
---
---
---
Copyright © 1999 Shepherds of Christ.
Rights for non-commercial reproduction granted:
May be copied in its entirety, but neither re-typed nor edited.
Translations are welcome but they must be reviewed for moral and theological accuracy by a source approved by Shepherds of Christ Ministries before any distribution takes place. Please contact us for more information.
All scripture quotes are from the New Jerusalem Bible, July 1990, published by Doubleday.
Revised: January 20, 2000
URL: http://www.SofC.org
Contact Information for Shepherds of Christ
Email: info@SofC.org
---
Shepherds of Christ Ministries
PO Box 193
Morrow, Ohio 45152-0193

Telephone: (toll free) 1-888-211-3041 or (513) 932-4451
FAX: (513) 932-6791