Mary has requested that the daily message be given each day to the world. It is read nightly at the prayer service from her Image Building in Clearwater, Florida, U.S.A. This is according to her request. All attempts will be made to publish this daily message to the world at 11 p.m. Eastern time, U.S.A.

---

We acknowledge that the final authority regarding these messages rests with the Holy See of Rome.

---
January 25, 2005
January 26th Holy Spirit Novena
Scripture selection is Day 3 Period I.

The Novena Rosary Mysteries
for January 26th are Sorrowful.
There will be a rosary
in Florida on
January 28th
because prayer is needed.
Retreat for Apostles
Starts Ash Wednesday
February 9, 2005 6:20pm
Continues 10th thru 13th
On September 3, 1994 - First Saturday

Messenger: I suffered the greatest sorrow within my heart for the sorrows of Mary. I had gone to Mass and the priest had done the peace rosary.

This is what would happen to me at Our Lady of the Holy Spirit Center. My heart would be in such anguish because of the sorrows of Mary I experienced. I would be buckled over in pain. This day I was before the Sorrowful Mother statue in the back of the main chapel. We were going to the Falmouth, Kentucky Farm, that day to pray. I was so drained and weak from this experience, I thought I could not go. I was weakened, so weakened, the experience lasted about an hour and was so intense. I existed in this intense pain of the Immaculate Heart.

That afternoon we came for the 6:30 p.m. prayers where Our Lady would appear. At 6:00 p.m. I went to the tabernacle in the Rosary Chapel and there was this picture of Jesus to the left of the tabernacle and a candle with the Sacred Heart of Jesus on it. There was sunlight in the room from the rosary windows. I sat before the tabernacle on the altar as I had done so many times, before the picture and left of the tabernacle. I began to experience the deepest agony of His Heart. I knew the sorrow of His Heart for all who do not come before Him in the Blessed Sacrament . I knew His sorrow so deep within me for all the blocks I had experienced in delivering the messages. I was so weakened and I was suffering. Then the lights in the room dimmed and the picture of the Sacred Heart turned black before me. I could very faintly see His outline behind the blackness. The candle of the Sacred Heart went out. I sat on the end of my chair in pain and suffering and a fear shot through me. I wondered what had happened. It remained this way for about 5 minutes.

Then the light in the room returned, the candle went on and the picture became bright, all instantaneously, brighter than ever before. I went to the back of the chapel where Mary would appear, to do the 6:30 p.m. prayers and I cried. I was so shaken from the experience. Father Carter was there for the prayers. I was told to tell Father Smith, which I did.

end of September 3, 1994

Messenger: Jesus told me that this was the meaning of the message.
September 10, 1994
Prayers Will Transform Your Land
Messenger: Light comes every day. There was total darkness throughout the land and as quietly as could be the morning light shone over this same land. Do we question that there existed total darkness and then the light appeared in such grandeur?
Jesus speaks: There will be darkness throughout the earth; men's hearts will turn cold and dark and the light of the love of God will, as quietly, steal across these same hearts and transform them into hearts on fire and alive. What, My child, will do this? The power of the Almighty God can change men's hearts that are dead in sin to hearts that are alive and vibrant, radiating the love of God. Pray, My little one, more than anything you do, your prayers will be that which transforms your land from darkness to light. Only the might of the Almighty God can do this. This is a miracle. A heart, dead in sin, can be touched by the hand of God.
Live My love in your hearts. You are My hands to this dark world. You radiate the love of God from your very being. The most important thing you can do for this earth is to develop your love affair with God. Everything follows from that. If your hearts are set on the Lord, your might will be great. You will shine in the darkest night. The darker the night, the brighter your light. My light is so bright that nothing can compare to or equal this light. Its intensity shines brighter than ever against the dark night.
Oh, My children, if you only believed as you should. You worry for needless tasks. You see the world and you think you control it. You, children, control nothing. I never slumber, I never sleep, I never go away. My light is a vibrant force that shines from the hearts centered in My love.
Keep your hearts pure. Be about your love affair with Me. Come to My altar and receive the one, true God, totally present and in your midst this very day. Sit with Me and soak in My might. Come to the tabernacle. I am the Almighty God. I cast a light from the tabernacle that penetrates your soul. You are filled with My power. I am the Almighty God, truly present there. No less present than the day I walked this earth.
You, My little ones, need to spread this good news. Jesus Christ is Lord. He has died, He is risen, He is in your midst this very day! Come to Me, My little babies, and sit with Me. I await with such gifts for you to come. My Heart is burning for love of you. I penetrate your soul with My might. Come and be transformed by the light of Christ. Sit before Me in the tabernacle. You will receive such power as My might transforms your soul. You needn't fret and worry. Pray children, offer your days up the the Father, through the Holy Sacrifice of the Mass. Offer your lives for all your brothers, living and dead. You have a mighty weapon. Pray. Do not spend time in idle talk discussing the hardened hearts of this world. Offer your days in prayer. Pray constantly. I am the Almighty God. I go before you, I will light the way.
Keep your hearts ever set on the mysteries of Christ. It is through Me you will reach such heights. I am the Almighty God. I go before you. I gave My life that you would live. I loved you to My death, My sweet children. Come to Me and I will give you rest. Alleluia.
end of September 10, 1994
September 3, 1994 - After Communion
I Am Sorrowful To Know The Hearts Of Men
Messenger: Such emotion I feel, looking at Mary's statues. I can hardly take it in. I feel so close to Christ in my heart and have an intense longing for Him. I felt a burning in my chest, wanting more. I felt such sorrow around Mary, I couldn't bear to look at the statue and wanted to cry.

Mary speaks: My little girl, I am Mary, your beloved mother. As I have told you, you will suffer. My Heart is so sad for all those who do not know the love of my Son. You know some of His intense love for all the beloved souls. I give you some of my emotions to allow you to experience my suffering, to know all those who reject the love of my precious Son. Sweet child of mine, you know how He loves all. I tell you to pray, pray for each other.

Promote the rosary. I am showing you how to make the rosary alive in your life. The rosary is such a powerful prayer against Satan. Satan is running rampant. He will be squelched by the praying of the rosary. Promote the rosary. I appear to you as the Lady of Light. My rosary will light up the world! I am the Immaculate Heart of Mary. Who will hear if you are not speaking? Constantly be about the work of promoting Our Two Hearts and praying the rosary. I show myself to you to comfort you and to lead others to my rosary. I am sorrowful to know the hearts of men. They have turned so cold, when Jesus has a burning fire waiting to warm them.

Jesus speaks: I am Jesus. I am the Sacred Heart of Jesus. My Heart burns for love of My beloved children. It is through My Mother's Heart and My Heart that so many will turn their cold hearts and lukewarm hearts to hearts ablaze with the fire of My love.

Promote My Heart through My Mother's Heart. You will continue to experience such emotions! My Mother is so closely united to Me! To know her is to know her suffering for the sinners that will be lost in eternal damnation. She appears to you in such light! You must preach the contents of these letters. Your words will be a light to the dark world. I speak through you. You are delivering My messages to those I love. Your tongue should forever declare My intense, burning love for all. This world will shine with the love of My Sacred Heart. These words will illuminate their hearts. You hold words given to My loved ones from Me. Do not take this job lightly. You need to get my messages out. Souls will be lost forever because they did not know My burning love. This is the medicine for the sick world. They need these messages.

I am Jesus. I speak here to the world. These are My intense love letters to all. They need to hear these words. They are given from Me to each precious soul. This is an urgent message. Time is so short! You will know soon that the time delayed will hurt many souls.

Souls will not know of My love. They need these messages. I speak so tenderly to My beloved ones here! Please, I beg you to spread these words to My hurting children.

Mary is appearing as a Lady of Light. These letters will light men's hearts with My intense love for them. The world will shine with My love. Circulate the messages. This is an urgent message.
September 3, 1994
He Thought Of Us - And Endured All He Had To Suffer
Messenger: I am realizing there is a constant presence of Father, Son and Holy Spirit.

Jesus stood before the crowd when they condemned Him to death. He was surrounded by hatred and the mob agreed that our beloved Jesus, Who is love, deserved to be crucified. He had done nothing but give love, but through the hardness of their hearts they surrounded Him and condemned Him to death.

The devil is, oh, so cunning. He is callous. He is hate-filled. He wells up in men's hearts and acts through them. When we are persecuted by those around us, by one person, by many, the example of Jesus is what we must follow. The devil is so strong. There will be more mass persecutions of us, as Christians. By mass, I mean, several or more persons taking a stand against us and persecuting us. Whenever I am innocent and being attacked by several persons accusing me of a misdeed, Satan is at work.

But, the interior awareness of God is what will sustain us! Jesus had a constant awareness of the love between Him and the Father. Jesus knew all the men who persecuted Him and loved them. Jesus had a constant awareness of each person, the divine, unique creation of the Father. He saw all this hatred before Him and still loved these people as the Father loved them.

Jesus speaks: They may persecute you, My child, several in number, and you will stand as the mighty oak. Your roots are rooted firmly in the love of God, and you are aware of My presence within you always. You are never abandoned. Everything that happens, I am allowing. The very hairs of your head are numbered.

Messenger: Jesus stood condemned to death. Jesus, tied to a pillar, allowed men to tear His precious Flesh away. He bled the very Blood in His veins. How did Jesus still love such ruthless men? The constant awareness of men as "divinely created" allowed Him to love them as God the Father's creatures. He saw the divine creation of the Father and loved them. He is one with the Father. He knew the Father's love. He knew the Father's will and He, Who is God, could have stopped all of it, but He wanted to do the will of His Father. He thought of us and His love, so deep for us, and endured all He had to suffer for our salvation.

Jesus speaks: My Blood was spent. My Life was given. I am He Who died and has risen so that you might have new life! In every death there is the resurrection into new life.

Messenger: To constantly keep the Resurrection before our eyes when we experience suffering is a key factor in living the new life.

Jesus speaks: I come to bring you life that you may have it to the fullest. When they persecute you and holler every slander against you, keep your eyes forever set on your heavenly Kingdom.
September 3, 1994
You Will Stand As A Mighty Oak
Messenger: I am realizing more and more the Presence of God at all times. Interiorly, I am constantly aware of this Presence of Father, Son and Holy Spirit. This Presence is so strong that I cannot feel abandoned.

I am as the baby at the breast. I know my loving Father more and more and I know He will care for me. I know that Jesus and the Holy Spirit are forever with me. I feel as if I have a coating on me, between me and the world, and I am so protected by this interior union.

No one can ever touch this union with God. This is why I live to be forever connected as one with Him. The more I become one in Him, the more I experience this protection.

The wind may come and blow, you may be rocked in your place, but the interior life of the love of God is forever in my breast.

I have an awareness more and more that I love my brothers so much as I see them as created by my loving Father. He loves them so much. He is one with them. How can I not love them? I see less their faults and more their beauty as His creation. I know Jesus gave the last drop of His Blood for them and would die for them this very day. How could I hate anyone that He loves so much! To love Jesus is to love my brother. I cannot love Jesus and hate my brother. He is one with them. He is so good and loving. I love Him. I am one in Him and He is one in me. My brother is one in Him. If I am one with Jesus and I love Jesus, then I must love my brother because he is one with Jesus and we are all one, united in Him.

I am constantly aware that He allows everything that happens and I must accept it. If He allows me to suffer, it is with great love He allows this suffering. He forever watches us and guards us and loves us. A little child doesn't stop and think about its mother's care and love. The child knows and operates with the assuredness he will be taken care of.

Lord, give to me the assuredness of a little child. Let me know I am forever loved by You. Let me operate with this certainly of Your love.

God is loving and caring for me.
September 3, 1994
I Cry For The Souls
Messenger: Notes: When the Host was raised, I kept hearing with emotion the song, "This is My Body". He was talking about passion before Mass. I heard, "This is My Blood". This triggered all His explanations of how He gave His very Flesh and Blood for us.

I wanted to cry. Tears came down. I was filled with immense emotion, couldn't look at Mary's statue. I love Him so much. I am aware of all the souls that will be lost because they do not know His love. I know it so well. I can't speak.

The world stands still and it is so clear to me about the existence of the other side. It is as if I am not here. I know His love so much. He is so much ONE with me. I want to help others to know this love!

He died so they would go to heaven and what do I do to tell others of this love?

I love Him so much and I love all others because they are one in Him and I want to spread His love.

My heart is torn apart in my chest for souls that I know will be lost because they did not know Him and He wants to love them so much. He loves them so much that He gave His Flesh and Blood for them.

I cry for the souls that are on the way to hell if they do not change. I cry for the senseless ones. I cry for my beloved brothers whom I love so deeply.

Crying is no way to release agonies of the heart. That is why He sweat Blood. That is why Mary appears crying blood, her face cracked.

This is reality. This is the world. These are His beloved ones. God, the Father, loves them so dearly. Jesus died for them. The Holy Spirit loves them so. Mary is by their sides and with all this, they will be lost forever to hell if they do not change.

Prayer is the answer. No drop of water will ever quench their thirst if they go to hell. Our prayers are our love for our brothers.

Mary speaks: My children, my Heart was pierced with a sword to watch my beloved Son suffer so for love of you. Pray the rosary for our beloved brothers. Sacrifice, offer your days in union with the Mass for their souls. Time is so short, my beloved ones. Pray, pray, pray. Your prayers can help save the lives of your brothers. Time is short. I am Mary, your Mother and thank you for responding to my call.
end of September 3, 1994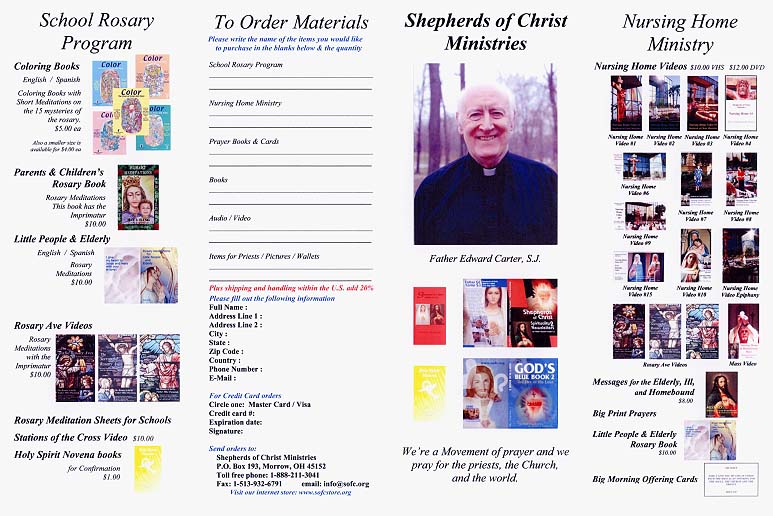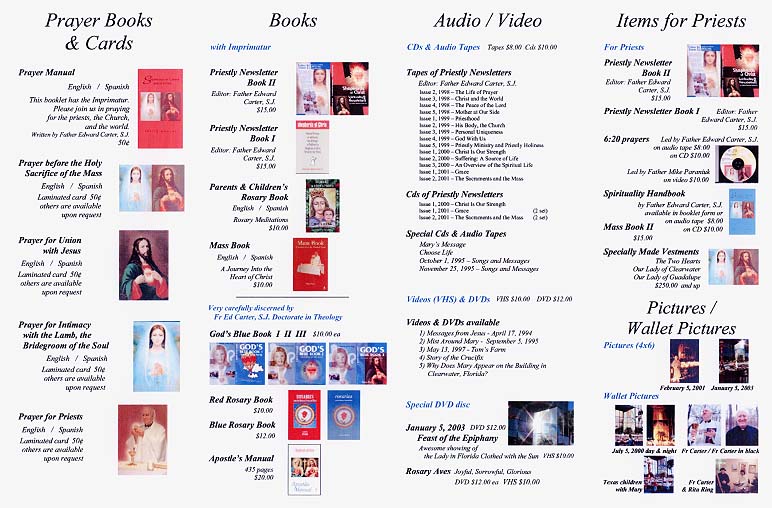 ---
---
---
Copyright © 2005 Shepherds of Christ.
Rights for non-commercial reproduction granted:
May be copied in its entirety, but neither re-typed nor edited.
Translations are welcome but they must be reviewed for moral and
theological accuracy by a source approved by Shepherds of Christ Ministries
before any distribution takes place. Please contact us for more information.
All