Mary has requested that the daily message be given each day to the world. It is read nightly at the prayer service from her Image Building in Clearwater, Florida, U.S.A. This is according to her request. All attempts will be made to publish this daily message to the world at 11p.m. Eastern time, U.S.A.


---

We acknowledge that the final authority regarding these messages rests
with the Holy See of Rome.

---
January 30, 2004
January 31st Holy Spirit Novena
Scripture selection is Day 2 Period I.
The Novena Rosary Mysteries for
January 31st are Luminous.
A Prayer for Intimacy with the Lamb
the Bridegroom of the soul
Oh Lamb of God, Who take away the sins of the world, come and act on my soul most intimately. I surrender myself, as I ask for the grace to let go, to just be as I exist in You and You act most intimately on my soul. You are the Initiator. I am the soul waiting Your favors as You act in me. I love You. I adore You. I worship You. Come and possess my soul with Your Divine Grace, as I experience You most intimately.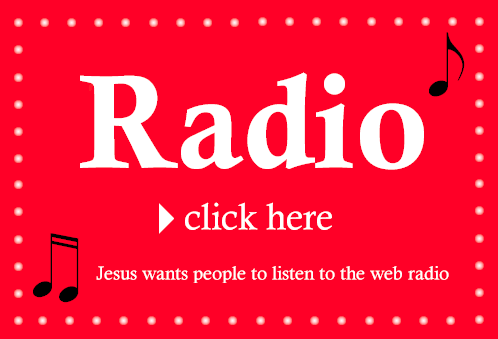 Schedule for January 31, 2004

4:00 a.m. - Mass

4:37 a.m. - Live Rosary December 13, 1996

6:02 a.m. - Morning Offering & prayers

6:14 a.m. - Songs

6:20 a.m. - 6:20 prayers led by Father Carter
Holy Spirit Novena
Shepherds of Christ Prayer Manual
Rosary

7:24 a.m. - Tell My People read by Father Carter

8:55 a.m. - Songs

10:14 a.m. - Mary's Message

10:21 a.m. - Children praying the Shepherds of Christ

10:39 a.m. - Children's Rosary November 2, 1996

11:37 a.m. - Songs from Jesus- sung by Joe Lee

12:46 p.m. - Nursing Home #3

1:29 p.m. - Glorious Aves

2:00 p.m. - Children's Rosary March 20, 1997

2:47 p.m. - Mysteries of Light November 1, 2002

3:35 p.m. - Songs from Jesus in Spanish - sung by Fernando

4:00 p.m. - Mass

4:37 p.m. - Songs from Jesus

6:20 p.m. - 6:20 prayers led by Father Carter
Holy Spirit Novena
Shepherds of Christ Prayer Manual

7:24 p.m. - Children's Rosary July 15, 1995 led by Father Carter

8:17 p.m. - Newsletter 2000 Issue 1 (Christ Is Our Strength)

9:37 p.m. - Songs

10:57 p.m. - Nursing Home #7

11:35 p.m. - Talk given about Shepherds of Christ

12:54 a.m. - Sorrowful Rosary March 21, 1995

1:41 a.m. - Rosary in Spanish July 15, 1995 led by Fernando

2:30 a.m. - Instrumental Songs

2:56 a.m. - Songs & Messages October 24, 1995

4:00 a.m. - Mass

January 30, 2004
Excerpt from Response to God's Love,
by Father Edward Carter, S.J.

1

The Mystery of Christ and
Christian Existence

...In reference to Christianity, God himself is the ultimate mystery. Radically, God is completely other and transcendent, hidden from man in his inner life, unless he chooses to reveal himself. Let us briefly look at this inner life of God.

The Father, in a perfect act of self-expression, in a perfect act of knowing, generates his son. The Son, the Word, is, then, the immanent expression of God's fullness, the reflection of the Father. Likewise, from all eternity, the Father and the Son bring forth the Holy Spirit in a perfect act of loving.

At the destined moment in human history, God's self-expression, the Word, immersed himself into man's world. God's inner self-expression now had also become God's outer self-expression. Consequently, the mystery of God becomes the mystery of Christ. In Christ, God tells us about himself, about his inner life, about his plan of creation and redemption. He tells us how Father, Son, and Holy Spirit desire to dwell within us in the most intimate fashion, how they wish to share with us their own life through grace. All this he has accomplished and does accomplish through Christ. St. Paul tells us: "I became a minister of this Church through the commission God gave me to preach among you his word in its fullness, that mystery hidden from ages and generations past but now revealed to his holy ones. God has willed to make known to them the glory beyond price which this mystery brings to the Gentiles—the mystery of Christ in you, your hope of glory. This is the Christ we proclaim while we admonish all men and teach them in the full measure of wisdom, hoping to make every man complete in Christ" (Col 1:25-28).

End of excerpt from Response to God's Love


Excerpt from Response in Christ
Relationship with Members of the Church
e) Relationship with Members of the Church

There is but one true Church of Christ. Yet this one Church has three different states of existence. There is the pilgrim Church, the Church of this world, composed of members who have received the grace of Christ and strive for its development. They have not yet obtained the goal of their efforts, as have the members of the heavenly Church, who enjoy God in eternal happiness. The Church suffering is an intermediate state of existence necessary for those who had not achieved the required purification as members of the pilgrim Church. Although there are these three phases of the Church's existence, there is a profound union existing between all the members. All these members possess the same basic life of grace in Christ, and this common life establishes the most intimate bonds of love. In our preceding chapter, we discussed the pilgrim Church. Let us now consider the Church suffering and the heavenly Church.

The members of the Church suffering are those who have departed from this life in an incomplete state of Christian development. Their development is incomplete in the sense that grace has not fully taken possession of them, and, as a result, they are yet closed in upon themselves to a greater or lesser degree. They as yet cannot open themselves out in complete love to the Triune God in the beatific vision. They must undergo a further purification, a purification which could have been achieved upon earth with merit. Now the purification must be achieved with no merit attached. The pain of this purification is mixed with the certain expectation of achieving the vision of God. We can hasten the advent of this vision for this people by the offering of prayers and other good works. Scripture itself refers to our action on behalf of those in purgatory in Chapter 12 of the Second Book of Maccabees beginning with verse 38.

The members of the heavenly Church are those in whom the life of grace has taken full possession and has reached its completion in the life of glory. Faith now is unnecessary, as the light of glory gives the human intellect a new strength and capacity for seeing God face-to-face. While the Christian was a wayfarer, he received the imprint of the indwelling Trinity as he shared in God's own life. Now in heaven that grace-life and possession of God reaches its completion—the absolute completion is not achieved, however, until the resurrection of the body. The divine persons give Themselves to the beatified in a profound union far surpassing that of the indwelling of the Trinity experienced here below.

This life of heaven is still the Christ-life, for just as we possess a share in Trinitarian life here below as mediated by Christ, and exercise this grace-life as structured by Him, so also in heaven is the mediation of Christ present. In the words of Rahner, "One always sees the Father through Jesus. Just as immediately as this, for the directness of the vision of God is not a denial of the mediatorship of Christ as man."14 And not only does the humanity of Christ unite the blessed to God, but also, in some way, to the whole of creation. This is merely a completion of what is begun here below, namely, the union with Christ in His humanity establishing the Christian in a special relationship with God, with other men, and with the whole of creation. We have a glimpse, therefore, of the fullness of life which members of the heavenly Church possess.

The heavenly Church, as St. Thomas says, is the true Church.15 The Church of this earth and the Church of purgatory are, each in its own way, reaching out in loving hope for the heavenly Jerusalem. Vatican II puts it very simply: "The Church, to which we are called in Christ Jesus, and in which we acquire sanctity through the grace of God, will attain her full perfection only in the glory of heaven."16

The members of the heavenly Church can help us in living our life of grace until we too share its fullness with them. Their power of intercession on our behalf is but another ramification of the communal aspect of Christianity. We are meant to help others grow in Christ. We, in turn, are intended by God to receive aid from others—yes, from members of the heavenly Church, as well as from those with whom we dwell here below.

Not only can we be aided by the saints' intercession, but the example of the canonized saints can also be of great value to us. They have concretely proved that full holiness is possible. Such an inspiration is of real worth when we are tempted to think that Christian sanctity in its higher degrees is impossible of attainment. Moreover, the canonized saints, in their diversity, teach us that there are many authentic versions of Christian holiness. They can be innovators in showing us that there are numerous possibilities in assimilating the mystery of Christ, although the basic assimilation remains the same for all Christians of all times. In the opinion of Rahner this is one of the chief roles the canonized saints exert in the life of the Church.17

---

NOTES:

16. Second Vatican Council, Constitution on the Church, No. 48.
17. Cf. Karl Rahner, Op. cit., pp. 100-101.

end of excerpt from Response In Christ written in 1967
Excerpt from the Mass Book
IN THE DEEPEST RECESSES OF HIS HEART
The place Jesus took me was into the deepest recesses of His Heart. I was enveloped in His burning love. It was a red room with heat and an intense glow. I was swept away in this embrace, and I only existed in Him. The power of the Almighty God enveloped me, and I only existed in Him. There was no fear, for I was existent in this Almighty Being. My heart was wrapped in the eternal embrace of this Supreme Being. The security, the power I know was His deep presence in which I existed.

I knew the room was red and warm. I knew His immenseness, but I felt my own completeness in Him. I did not feel little, as a speck, but elevated and empowered for I existed then in Him in a most special way.

I was overtaken by the love of God. The fire of the Holy Spirit filled me. I was absorbed by the love of the Father, and I existed IN Him and in the deepest recesses of the Heart of Jesus. Our heaven on earth is these inner chambers of His magnificent Heart - the Heart of the Almighty God, with all the power, with omnipotence, with the fire of the love of God. He took me to the deepest chamber of this fiery Heart, and in that moment, I touched eternity, for I knew what it was to be enveloped in the deep furnace of His love. I now want to exist in this chamber of His Heart, swept away in His burning love, absorbed in my every cell with His love.

We do not understand the fire of His love. We do not understand what it is to be absorbed by love itself. He took me to the inner, deepest chamber of His Heart, and I felt the heat and knew the presence of love itself, and there was no fear, only a feeling of completeness, omnipotence, all-embracing, penetrating love - a power indescribable in words, a saturation of my being in the presence of God, and I was as I was created to be - living in Him!

This is how I will forever live my life, saturated with His divine life and love deep within this inner chamber of His burning Heart, living in Him as He possesses my being, and I operate with His power in me.

Little creatures though we are, we are His, His power, His life, flowing through us. In Him, we are as the Father intended: one in Him, each one of us, dwelling in this fiery furnace of His love. With our fears quieted and our hearts empowered by His life, we live forever in Him - in the Heart of Jesus.

Let no man separate what God has joined together. I am wed in the deepest love with my beloved Spouse, wed to the Heart of Jesus. As I am, I am one in Him. I live and I breathe in Him. He, Who is love, He Who is our all, He Who is mighty and without limits, He Who is, He Who is God and as I live, He lives in me in this world.

I am wed to Him, and I shall not fear for He is God - one, complete, loving, God. Heart of Jesus, I place my trust in Thee. As I live, I live in Your most adorable Heart, the furnace of God's love!

end of December 18, 1995 writing
The Seven Sorrows
February 22, 1995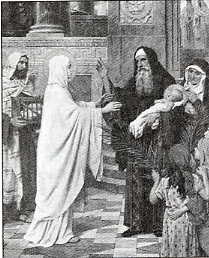 The Prophecy of Simeon

Mary, Joseph and the child Jesus went to the temple. Simeon, the prophet, inspired by the Holy Spirit, met them and told Joseph and Mary of the great sufferings of Jesus and Mary. He told Mary that a sword would pierce her heart. From that point on, Mary ever remembered the prophecy of Simeon whenever she beheld her child. When she looked at His little body, even as an infant, she knew He would suffer. Every time she clothed Him and watched Him at play, her heart was torn in her chest as she knew what He would suffer. And a sword, too, shall pierce your Heart, O Mary!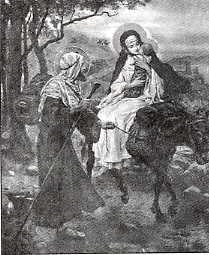 The Flight into Egypt

Joseph was told by the angel to flee. Joseph, Mary and the child Jesus had to flee because of what might happen to Jesus. They had to pack for a long stay. The child Jesus was so small! They left on their journey, hearts full of fear, trying to protect Jesus. They were forced to flee into Egypt.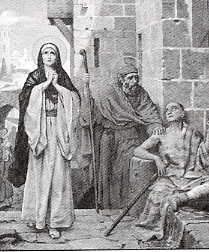 Jesus Is Lost, In the Temple

Imagine the sufferings in Mary's heart when she realized the child Jesus was not with them. Think of how it would be to lose your child and not know where he was or if anything happened to him. With sorrow in their hearts, Mary and Joseph returned to Jerusalem to look for the child Jesus. And a sword, too, shall pierce your heart, O Mary!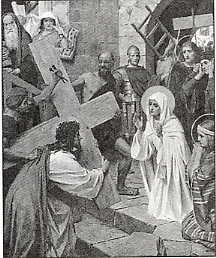 Jesus Carries His Cross

Song: See the eyes that look at Mary, her tender infant child. See the child's Heart beat so tenderly, the Savior of the world!
See the eyes of Jesus and Mary as they met on Calvary. Mary's Heart knew Jesus' Heart so well! From the first moment of conception and throughout His life, Mary was so connected with Jesus and now she peered into His eyes. The crown of thorns adorned His Head! Blood ran down His face! A heavy cross on His back! Wounded, His whole body covered with bleeding wounds! And her whole life flashed before her, the life that she had spent with Jesus. This was the beloved child that she had held in her arms when Simeon told Mary that 'a sword, too, shall pierce your Heart, O Mary!'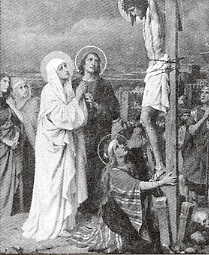 Jesus Dies on the Cross

Mary stood under Jesus' cross as He was put to death. The child that she had held in her arms as Simeon prophesied, And a sword, too, shall pierce your Heart, O Mary! Now Jesus is dead on the cross! He gave His flesh, He gave His blood so that we might be with Him forever in heaven. He held not back. He gave His all. He calls out to us this day to see through the eyes of His mother as she appears and calls out with a Heart of great love, "Return to the love of my Son! He is with you this day. He remains with you, no less present than the day that He hung on the cross, in the Eucharist. He longs for you to come and be with Him. He is in your brother. How can you not love your brother when Jesus died for your brother?"

Her Heart was pierced with a sword. His Heart was pierced with a lance. What came forth was blood and water, the sacramental life of the church. He lives with us this day in the Church. He gives to us His sacraments, the source of His life! He gives to us the Sacrament of Penance whereby any sin that we commit can be taken away through the priest. He wants us to be so close to Him! He gives us everything to be close to Him. But we see with such limited vision only those things that are right before our face, when the true reality is that which we don't see with our eyes, the reality of the invisible divinity of Jesus Christ, the Son of God, in the consecrated Host! This is reality! This is our life! This is our power! This is God! And a sword, too, shall pierce your Heart, O Mary!

Jesus Is Taken Down from the Cross

If we ever doubted for one second that we were loved, we could visualize the picture of Mary as she sat beneath the cross with the lifeless, battered, bruised and bloodied body of her Son in her arms, the same child that she held when Simeon prophesied her suffering. He gave His last breath. He gave the last beat of His Heart. He gave His all! This is the way He complied with the Will of the Father. He came to show us the way. He died in perfect peace. To His death He was in peace because He knew the Father's love. The Father loves us so much that He gave His only begotten Son for love of us! The Spirit descended upon the Virgin Mary and the Word was made flesh! The love of the Two Hearts! Such immense love beating for us!

In all love there is suffering. Her Heart was pierced with a sword. His Heart was pierced with a lance. And a sword, too, shall pierce your Heart, O Mary!

Jesus Is Locked in the Tomb

And now Jesus, His body lifeless, is locked in a tomb! What cold reality for Mary to realize that His body is now gone! A stone separated her from her Son!

He gave His last breath! He gave the last beat of His Heart for love of each one of us! And she comes to us this day with her sweet, beautiful voice and she asks us to go to her Son and love Him! How can we refuse Jesus who spread His arms and gave His life for each and every one of us? How can we not trust Him when He loved us so much that He allowed them to tear His flesh, to crown Him with piercing thorns and, lastly, to hang Him on a cross? He truly gave His life for us! He, truly God, is with us this day, the same as the day He died on the cross, in the tabernacle! And we take it so lightly! Death has no power over Him! Locked in the tomb for three days, He rose triumphant on the third day as He had foretold. He comes to give us life. He gives us the sacrament of Baptism that initiates us into His life, that makes us children of God and heirs of heaven if we remain in the state of grace. He asks two things: love of God and love of one another! He came to show us the way and His way is love. To His death on the cross He loved each one of us! He calls out to each one of us here today to be His soldiers, to march on a world that has forgotten God, that has forgotten what it is like to love! It is a battle to live in this world. But the battle is won with hearts that are filled with His love, empowered by the grace and might that He pours out in the Eucharist. He calls out for us to come to the Eucharist and to the tabernacle and be fed with His very flesh and blood. To feed on Divine Life, the greatest nourishment, the Body and Blood of Jesus Christ, the Son of God! This is the love He gives. This is the love He asks us to share.
Stations of the Cross
February 22, 1995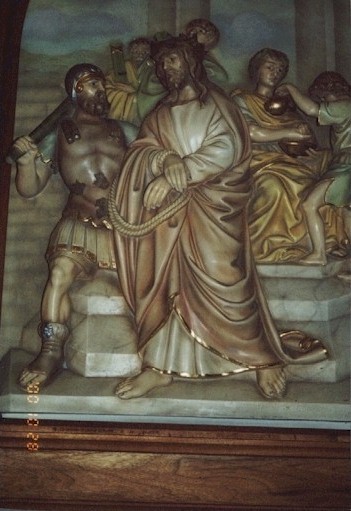 The First Station
JESUS IS CONDEMNED TO DEATH

Jesus: My dear child, with angry hearts and hatred on their faces, they poked at Me and condemned Me to death. I stood so silent, My hands tied, in perfect peace, because I knew the Father's love. I knew the Father's Will. You too will stand your trials in perfect peace, the more you realize the immense love the Father, Son and Holy Spirit have for you. Pray to the Spirit to transform you more and more into My image and, through this transformation, you will be led ever closer to the Father. Oh, how I love you!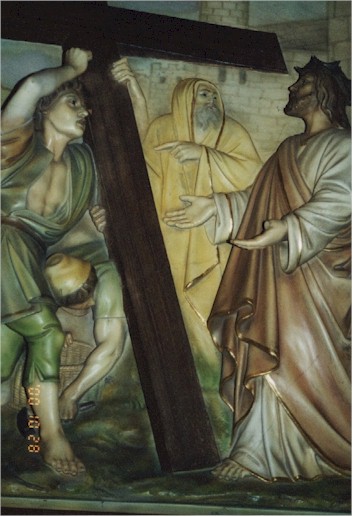 The Second Station
THEY GIVE JESUS THE CROSS
Jesus: They gave Me a heavy cross, laden with the sins of the world. They placed it on My shoulder. It was so heavy I felt as if My shoulder would break. I ask you to carry little crosses, to experience little pains. I could not remove this cross from My shoulder. The weight was unbearable. It is through My suffering and death that you receive new life. It is through your sufferings this day that you will grow in your life with Me. Oh, child, I loved you so much that I took up the cross of salvation. I love you. Please realize that I am talking to you here. To My death I loved you. Oh, how I love you!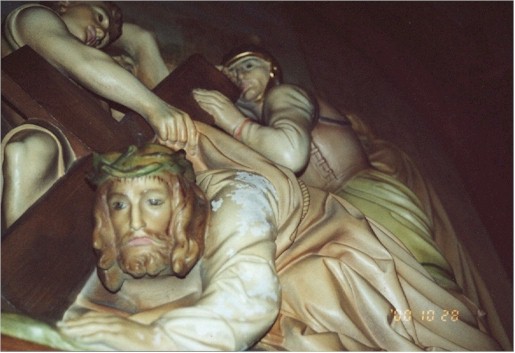 The Third Station
JESUS FALLS THE FIRST TIME
Jesus: The cross was so heavy I could hardly walk. I held on to My cross for greatest love of you and in compliance with the Will of My Father. It became so hard to walk! The cross was so heavy! I fell. I fell and the cross fell on Me. They poked at Me, they struck Me, they demanded I get up. The pain from the instruments they used to poke Me and strike Me was so great! I somehow managed to get up.

When you fall under the weight of your cross, come to My Eucharistic Heart. I am no less present in the tabernacle and in the Eucharist than on the day I carried My cross. I wait with the same love that I had for you when I carried this cross and suffered such agony. Oh, how I love you!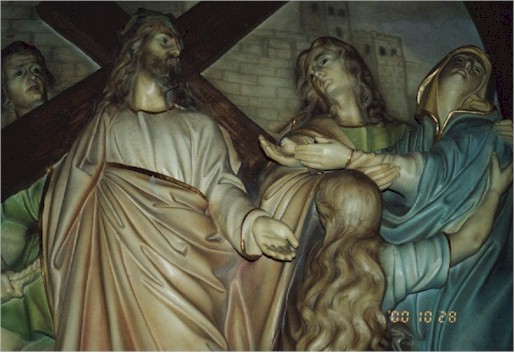 The Fourth Station
JESUS AND MARY MEET
Jesus: I saw the face of My beautiful Mother. She was weak, her face reddened and full of tears. I saw her tender heart, her love, her anguish, her pain. I saw My dear Mother Mary. My Heart was comforted by the sight of her, but torn by her suffering.

Mary: As I looked into the eyes of my beloved Son, I saw His love. His head, bleeding and wounded. His body weak. His clothes covered with blood. I looked into His eyes and I saw His love for you. I call out to you today. I appear today with a face full of anguish and tears. I appear to call you back to the love of my Son. See through my eyes, as I peer into His eyes, the love He has for you this day to give of Himself for you. Oh, He loves you so much, my little children. See through my eyes the love of my Son. Oh, how He loves you!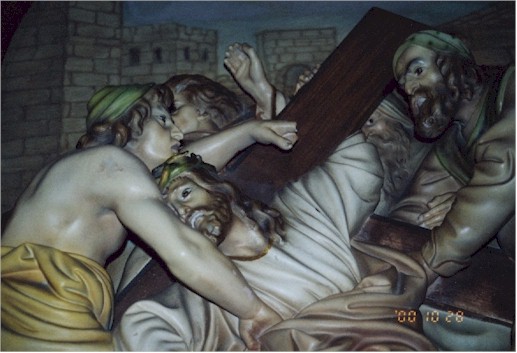 The Fifth Station
SIMON OF CYRENE IS FORCED
TO HELP JESUS CARRY HIS CROSS
Jesus: The cross was so heavy I could not move. My persecutors became angry and forced a man to help Me. The cross was so heavy the two of us could barely move it. How is your cross today? Does it seem so heavy you cannot go on? I am forever watching you. When you are suffering the greatest, I am very close to you. It is in immense suffering that you realize My great love for you. Pray for grace to do always the Father's Will. Pray for grace to grow in your knowledge and love of Me.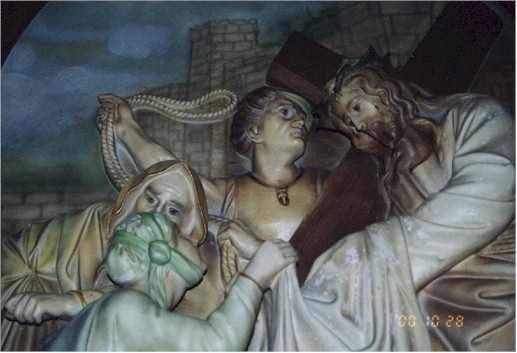 The Sixth Station
VERONICA WIPES THE FACE OF JESUS
Jesus: My face was covered with blood. From the crowd Veronica came forward with a cloth to wipe My face. On the cloth I gave to you an imprint of My bloodied face. This, My children, remains with you this day as a sign of My immense love for you. But more than any cloth, look beyond the visible consecrated host. I, Jesus Christ, the Son of God, remain with you, Body, Blood, Soul and Divinity, in the Eucharist this day, waiting and longing to be with you. Oh, how I love you!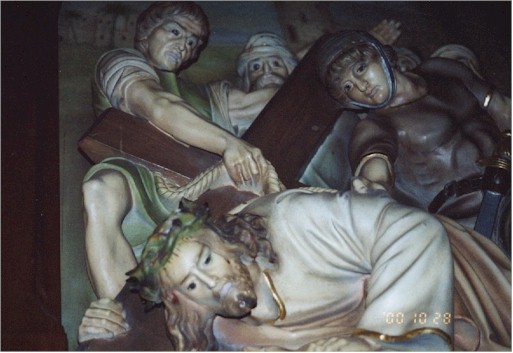 The Seventh Station
JESUS FALLS THE SECOND TIME
Jesus: Oh, dear ones, the road became harder and harder to walk. The cross was becoming heavier, My body weaker and weaker. My shoulders and arms hurt so much! My head throbbed as I walked. The blood came from My body, from My head to My feet. I was covered with open wounds. I could not go any farther. I stumbled and fell. Again they poked at Me, only harder, and with such hatred they kicked Me. Such vileness in the hearts of men! My greatest agony was not the agonies of My body, but the agonies of My heart for the love I have for all My precious souls. I loved them so dearly. I loved those who persecuted Me. Oh, how I love you!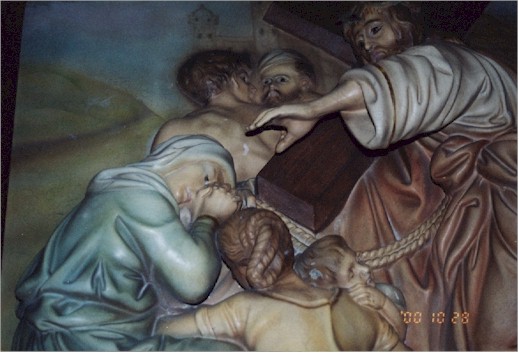 The Eighth Station
JESUS MEETS THE WOMEN OF JERUSALEM
Jesus: The women came to Me with their children, their tender hearts crying and wanting to comfort Me. I saw their love, their care. I saw the coldness of men's hearts for all time, the hatred, the anger, the sins, all the souls that, despite all of My sufferings and death, would be condemned to eternal damnation. I told the women to weep not for Me, but for themselves and their children. My greatest agonies were the agonies of My Most Sacred Heart. Oh, how I love you!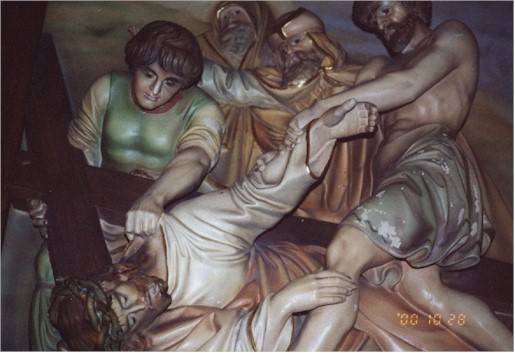 The Ninth Station
JESUS FALLS THE THIRD TIME
Jesus: I fell hard the third time. I was so weakened I could not go on. My body collapsed under the cross from such exhaustion! My child, My child, My greatest agonies were not the wounds to the body. They were the wounds I experienced to My heart. Do you know a little more now how I love you? It is in meditating on My Passion and death that you will realize My immense love for you. When you fall, when you struggle, I give you the grace to get up. I never give you more than you can handle. Your strength will come from Me. Come to My Eucharistic Heart. I am waiting for you this day. Oh, how I love you!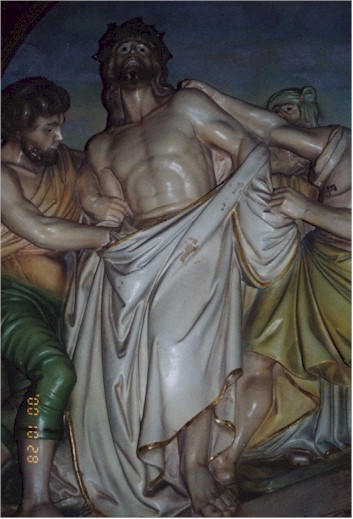 The Tenth Station
JESUS IS STRIPPED OF HIS GARMENTS
Jesus: They took Me to the hill to crucify Me. They angrily stripped Me of My garments. They took off My clothes to whip Me. They had covered My bloody wounds with a dirty purple robe. Now, total surrender-they took off My clothes. I showed you the way to surrender, always complying with the Will of the Father. It is in living in His Will that you will have peace and joy, and life eternal some day. Oh, how I love you!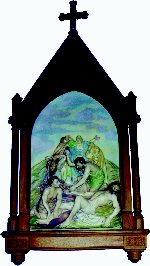 The Eleventh Station
THEY NAIL JESUS TO THE CROSS
Messenger: See Mary as she holds the little Baby Jesus. See her as she washes His tender hands and feet. See her now as she watches as they pound into those same hands and feet the gigantic nails that fix Jesus to the cross.

Mary: Oh, my dear ones, my heart was torn in my chest as they nailed His hands and feet to the cross. I ask you this day to walk the Passion with me and see through my eyes the love He has for you. He truly was nailed to the cross.

Jesus: They pounded the nails into My first hand, then they stretched My body and nailed My other hand. The blood poured from these wounds that went totally through My hands. My pain was so immense, but then they nailed My feet! You do not know what pain I suffered, My child. My children, My children, for each one of you I suffered this pain. Oh, how I loved you!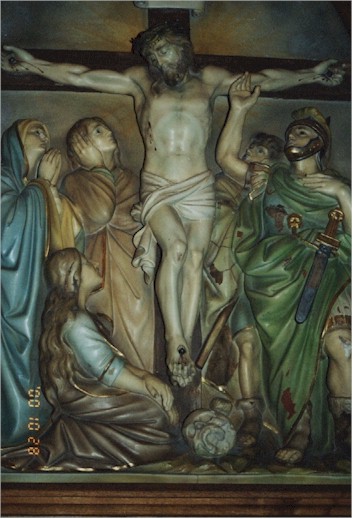 The Twelfth Station
JESUS DIES ON THE CROSS
(Silence.)

Messenger: He hung for three agonizing hours on the cross against the darkened sky. His greatest agonies were not the agonies of His body, but those of His Heart for the great love He has for each and every soul.

Jesus: I gave Myself to you, My dear ones. I gave My all. I hung with My arms spread in total surrender. My head was punctured; My hands and feet were nailed to the cross. I gave Myself to you. I give Myself to you this day in the Eucharist. I give Myself to you. I, God, give you Myself! What more do you want?

Song: Oh, burning Heart, oh, Love divine, etc.

Messenger: They pierced His Heart with a lance and what flowed forth was blood and water, the sacramental life of the Church, water for Baptism and blood for the Eucharist. His life, death and resurrection live on in the Church this day.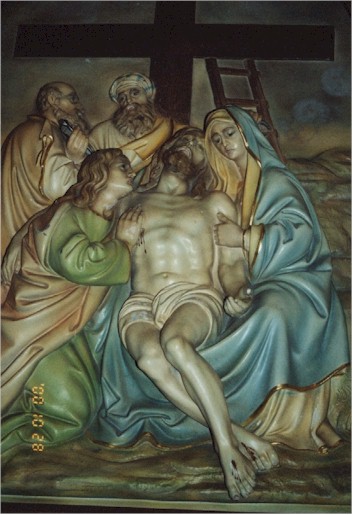 The Thirteenth Station
JESUS IS TAKEN DOWN FROM THE CROSS
AND PLACED IN THE ARMS OF HIS MOTHER
Messenger: His totally lifeless body was placed in the arms of His most loving Mother. As she had held the little baby body in her arms, she now received His bloodied, bruised body in her arms. This is how He obeyed the Father's Will. Jesus gave His life for us. The Father gave His only Son because He loves us so much. Mary, His Mother, our Mother and the Mother of the Church, is forever by His side. See Jesus in the arms of His loving Mother under the cross. This is love.

Mary: I held His lifeless body in my arms. See through my eyes the love He has for you this day. He gives Himself to you today in the Eucharist. He loves you so much!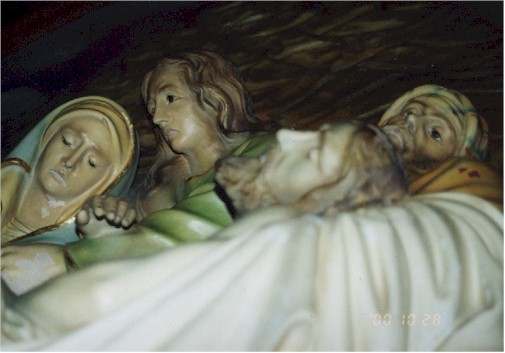 The Fourteenth Station
JESUS IS LOCKED IN THE TOMB
Messenger: His enemies rolled the stone up to the tomb and were pleased to have buried Jesus. Mary, outside the tomb, wept bitterly. The cold reality that He was dead! But death has no power over Jesus for on the third day He rose, triumphant, from the tomb! We are partakers in His divine life. Death has no power over Jesus. He is with us this day. He comes to bring us life to the full. He loves us so much!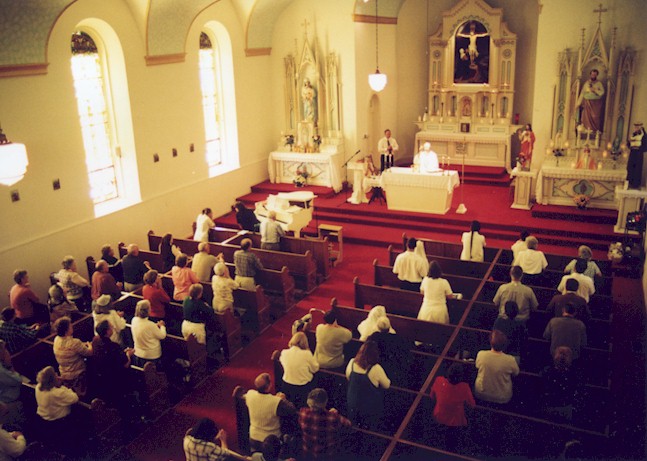 A Very Important retreat for apostles
February 11, 2004 Feast of Our Lady of Lourdes
to February 14, 2004 Valentine's Day
It ends at 3:00pm.
Personal reading and meditation
is needed beginning the night of the
10th from wherever you are.
(This will not interfere with the normal
February 13th gathering in China, Indiana.)
Adorers will be needed for the
evening and early morning hours
since the apostles will be in retreat.
(Please call Doris if you intend to come
to the retreat)
The Country Hearth Inn has
rooms available for $45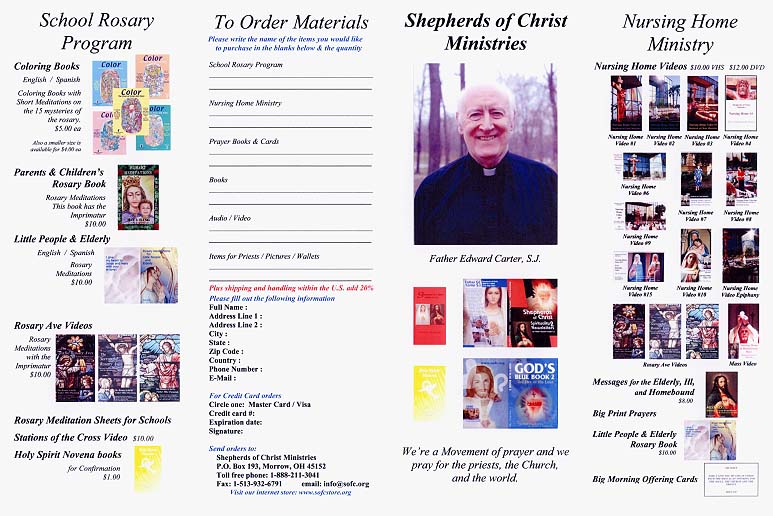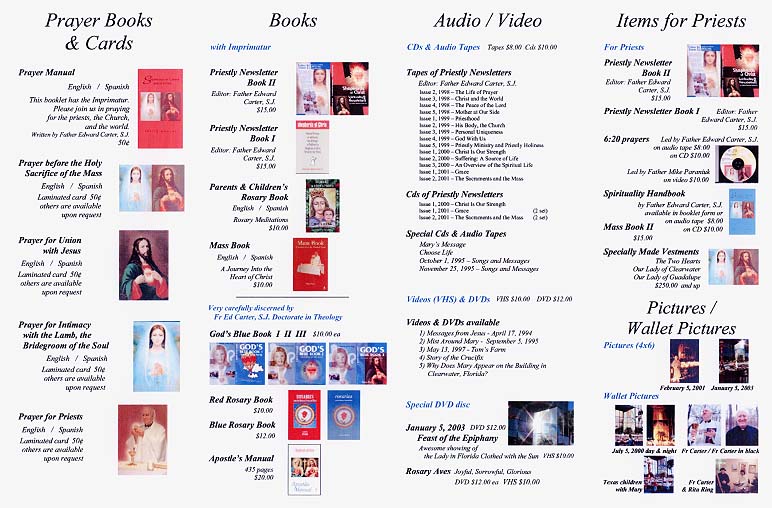 Please remember us in your will.

Shepherds of Christ Ministries
P.O. Box 193
Morrow, OH 45152

(toll free) 1-888-211-3041
1-513-932-4451
---
---
---

Copyright © 2004 Shepherds of Christ.
Rights for non-commercial reproduction granted:
May be copied in its entirety, but neither re-typed nor edited.
Translations are welcome but they must be reviewed for moral and
theological accuracy by a source approved by Shepherds of Christ Ministries
before any distribution takes place. Please contact us for more information.
All scripture quotes are from the New Jerusalem Bible, July 1990, published by Doubleday.
Revised: January 30, 2004
URL: www.sofc.org
Contact Information for Shepherds of Christ
Email: info@SofC.org
---
Shepherds of Christ Ministries
P.O. Box 193
Morrow, Ohio 45152-0193

Telephone: (toll free) 1-888-211-3041 or (513) 932-4451
FAX: (513) 932-6791