Mary has requested that the daily message be given each day to the world. It is read nightly at the prayer service from her Image Building in Clearwater, Florida, U.S.A. This is according to her request. All attempts will be made to publish this daily message to the world at 11 p.m. Eastern time, U.S.A.

---

We acknowledge that the final authority regarding these messages rests with the Holy See of Rome.

---
---
A Prayer for Intimacy with the Lamb, the Bridegroom of the Soul

Oh Lamb of God, Who take away the sins of the world, come and act on my soul most intimately. I surrender myself, as I ask for the grace to let go, to just be as I exist in You and You act most intimately on my soul. You are the Initiator. I am the soul waiting Your favors as You act in me. I love You. I adore You. I worship You. Come and possess my soul with Your Divine Grace, as I experience You most intimately.
---
Messenger: Include Our Lady of the Holy Spirit Center in 6:20 prayers.
---
January 7, 2000
Jesus speaks: What is love?
It is wanting God's will.
It is identifying in whatever He sends.
It is not being anxious, it is letting Me run the show and operate through you.
It is staying firmly within the lines of authority.
It is asking Me to come and possess your soul.
Love is wanting what God wants and praying for this, offering your life for My Plan and not your own.
I was consumed with love for the souls
I look down and I see you stumble around, and yet I love you, despite your faults and willfulness, your pride. I love you.
I give you these relationships on earth: father, mother, son, daughter, brother, sister so you will more fully understand the Father's family.
I am the King, you are under Me. You live to serve Me. You know I am your King and your God.
The prodigal son returned.
I come to you with greatest love, I am your loving Savior, I am your God, I died for you, I come to you this day.
How do you love your children? Some parents love like God wants them to love. The child struggles with his will. The parent tells him what he can do, the child must grow to be independent. The parent teaches him about the will. The child learns and then goes off independently after much struggle with the parents. Some children never leave home, they stay attached to mom or dad too much, some try to do their own will at two years old and are so willful they cause problems for all around them.
There is a winter, a spring, a summer, a fall.
There is a dying, there is a rising.
There is a birth. Many of your children are being trained with garbage, that is that which should be discarded.
I want to tell you of My love and the love of the Father.
The parents that love the child go through much heartache many times. They watch him grow, they give themselves to raising the child, they want what is right, they try not to be possessive, they watch the child (which is now much older) fall and get into traps that are not good, but because of the child's age their only recourse is prayer.
You learn of father and son, mother and son relationships - your whole life is relationships.
I tell you this so that you can compare the love a faithful parent has for a child to the love the Father has for you. I use it to compare My love, so deep for you. I sweat My Blood wanting you to know how much I loved you.
I want you to be all you should be, all the Father intends you to be. I watch you try this and that and "go off" many times, and I am always there with the deepest love, loving you.
Is not a parent that truly loves a child in most anguish when the child is choosing a life that is not the right path to follow?
Do you know how I suffered for those times when you swayed from Me?
Oh My beautiful ones, My love is so deep for those who are going to lose their souls if they don't change their ways. I cry out for the sake of their souls.
Think of the mother and father that raises a child who gets into drugs which control his life. The devil holds the soul addicted to drugs, alcohol, etc. The devil controls through the mood-altering substance.
Oh the mother and father bleed inside, the parents who truly love the child. They love that child and their deep love for him makes them suffer so.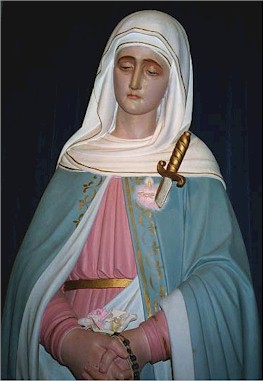 Do you see why My Mother cries to you? Oh My child, I sweat Blood for My precious souls.
Mary, your Mother, is a messenger from God delivering a message
.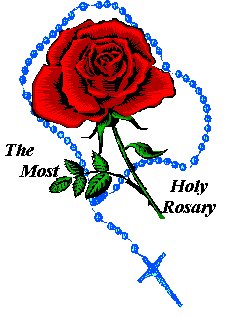 Mary speaks: I want rosaries with my image medal made at the Florida site. This is my rosary factory for distribution and assembly. Volunteers will be called to make rosaries and to pray there.

This is my house. I appear here. It is my Rosary Factory.

I want priests to come. I want rosaries made and sold and circulated to the world from this my Florida site.

I want the priest store to be stocked as my Son Jesus has asked.

I want the Bishops to use my Son's priestly newsletter and pray the prayers He gave.

I want the world to consecrate their hearts to my Heart and the Heart of my Son.

I am Mary, I love you.
---
Question for married couples and others in intimate relationships:
Q: How does my love for Jesus help me love you more?
---
---
---
Copyright © 1999 Shepherds of Christ.
Rights for non-commercial reproduction granted:
May be copied in its entirety, but neither re-typed nor edited.
Translations are welcome but they must be reviewed for moral and theological accuracy by a source approved by Shepherds of Christ Ministries before any distribution takes place. Please contact us for more information.
All scripture quotes are from the New Jerusalem Bible, July 1990, published by Doubleday.
Revised: January 7, 2000
URL: http://www.SofC.org
Contact Information for Shepherds of Christ
Email: info@SofC.org
---
Shepherds of Christ Ministries
PO Box 193
Morrow, Ohio 45152-0193

Telephone: (toll free) 1-888-211-3041 or (513) 932-4451
FAX: (513) 932-6791