October 10 - 13

Big Retreat in China

Mass every day.

October 10 11:00 a.m.
October 11 11:00 a.m.
October 12 12:00 noon
October 13 12:00 noon
Our Lady of Fatima - 90th Anniversary

Please come and pray!

Store will be open.
October 10, 2007
A city on a hill will shine its
lights to the world —
Let me cry for freedom
Freedom is found in living in God's
will
To not live in God's will is to be
enslaved —
A doll maker made the dolls — he
made every doll by hand — uniquely
Soon another man came next door —
set up a machine and began
producing dolls so fast on the
machine — they were all identical
Where the dolls of the first man were
made uniquely - by hand - all different
the second man made them all the same —
In recognizing the sameness in
our human natures we see the wounded
aspects with the same wounded tendencies
(7 deadly sins they may be referred to)
but we all have imperfections —
I see the beauty of the Creator —
God almighty all perfect — the morning
light — the sun reflecting on the water —
a sea of glass — blue skies, golden light —
I read the morning in this basking sight —
I smell the air and its freshness —
The mixture of roadside flowers and tall
autumn trees — I am in awe of
its magnificence — the color —
How much more precious are we
to the Creator than the road side flowers —
the noises of clanging man-made toys —
against the precision of a birdie's sonnet —
how do you describe perfection of the
Creator and His beauty against the man-
made-limited things we make —
Even the dry summer fields have a
beauty — the trees of autumn about
to expire for the long winters sleep.
Autumn days — give way to icy beautiful
wonderland trees — snow flakes of precision
dainty far richer than the finest lace —
Oh morning call — let my eyes bask
on your splendor — after my night of rest —
I embrace your beauty — one more awesome
time — I look to the day with the hope of
tomorrow and tomorrow knowing you
raise the shade of the new day like
a mother hen and put out the lights
for me at night —
Could I but grasp even a small
amount of your wonder in the
hanging clouds that never fall on us
and snuff us out — or do the cows
breath as sweet as the ones who
breathed on Jesus that night, but I
never stopped to take note of it.
One bottle of pop please — where
does the milk of the coconut even
have a place in my memory now —
Oh towns some low in a valley —
some high on the hill, some lacing
the shore of waters — houses where we live —
cars we drive — do we get so caught up
we have no time to see the big picture?
Jesus: I hope not for your sake you say
to Me — for in the wonders of creation —
I tell you about Myself —
I tell you that I am the Creator —
You cannot reach to have the Might
of God and yet I gift you with breathe and
talents — love and creativity.
R. When I behold the waters of this
glorious autumn day — I see not only
the splendor of the waters, but the reflection
of the colored trees — like a picture
with the most precious glass made
by God — reflecting autumn leaves
and a hazy golden sky and beyond the
mountain of trees — the golden sun —
so bright in magnificence in beauty —
looking like a golden sky and a
light of a golden - white - ball I cannot
even tell of its beauty —
All over the earth one day is put to
bed — another rises — death/resurrection —
the sun comes around the hill — little
beams of light — some bearing what
looks like specks of sunlit snow —
The waters, the hills, the lake, the
trees, the rivers, waves and golden
lighted blinding sun of a new
day —
How many days will you give me
Lord — when the sun is so bright
I can barely see and yet somehow
I can in that day ignore the Creator —
His might and His glory —
When I go I want the writing to stay and
the others so my life was lived to explain
the real meaning of life —
Life is not life, just mere
existence without the author of
life and His Plan for you and me —
No artist — no movie maker ever could
make the sky and sun and hills and valleys as
our Almighty God.
Red roofs of barns were close by
the road and silos, a little white church
with a steeple — the river lay off in
the distance like a picture — so beautiful
to behold, but light filtered through
across it like a beauty undescribable
in words —
Mold me Mary in your heart —
When I become cold with a heart
of stone and lost my wonder
show me the rolling hills of pretty
waters —
Take me to the top of a hill to look
into the black night — studded with
the most brilliant stars —
When it is dark let me see the stars —
the moon over the moon lit
waters
Let me bask in the sun and smell
the freshness of a new day —
When I lay in worry and wonder if
the long night will ever
give way to the lighted day —
Remind me Mary of your maternal
touch always with me — reminding
me of windy autumn roads and
wide glassy rivers — with ripples
that shine and are touched by
the Mighty light of a brilliant
sun —
God is and we are His creatures —
He did not put us on the earth to whine
and cry, but to praise His glory and
to give love to Him and others —
The man who sees only inward and listened
with a black ear — hears black
things —
The man who goes outside of himself —
using his eyes to see God's
creation and his ears to hear the
woodland concert is never
shadowed by the glum, stalking
dark noise of self-pity and remorse.
God imparts to us His vision and His plan
for His creatures —
God wants us to be good — to look with
eyes to see - His animals, birds —
how beautifully they fly — how
passive the cows in the field —
and man walks stooped down
with a bag of anger — grunting
many times on the most glorious
day —
Oh men why do you look into a tunnel
of darkness and death —
do you see the windy road goes
so beautifully if you do
not fight it
Sun shines down — trees are brilliant
in color — skies so blue
Night passes with its drudgery
for those who let it —
stars are seen if one looks —
Do you remember the little saying
"Two men looked out
prison bars —
one saw mud —
the other stars"
Do you remember the scripture
of the blind man in John

John 9: 1-40
As he went along, he saw a man who had been blind from birth. His disciples asked him, 'Rabbi, who sinned, this man or his parents, that he should have been born blind?' 'Neither he nor his parents sinned,' Jesus answered, 'he was born blind so that the works of God might be revealed in him.

'As long as day lasts
we must carry out the work of the one
who sent me;
the night will soon be here
when no one can work.
As long as I am in the world
I am the light of the world.'

Having said this, he spat on the ground, made a paste with the spittle, put this over the eyes of the blind man, and said to him, 'Go and wash in the Pool of Siloam' (the name means 'one who has been sent'). So he went off and washed and came back able to see.

His neighbours and the people who used to see him before (for he was a beggar) said, 'Isn't this the man who used to sit and beg?' Some said, 'Yes, it is the same one.' Others said, 'No, but he looks just like him.' The man himself said, 'Yes, I am the one.' So they said to him, 'Then how is it that your eyes were opened?' He answered, 'The man called Jesus made a paste, daubed my eyes with it and said to me, "Go off and wash at Siloam"; so I went, and when I washed I gained my sight.' They asked, 'Where is he?' He answered, 'I don't know.'

They brought to the Pharisees the man who had been blind. It had been a Sabbath day when Jesus made the paste and opened the man's eyes, so when the Pharisees asked him how he had gained his sight, he said, 'He put a paste on my eyes, and I washed, and I can see. Then some of the Pharisees said, 'That man cannot be from God: he does not keep the Sabbath.' Others said, 'How can a sinner produce signs like this? And there was division among them. So they spoke to the blind man again, 'What have you to say about him yourself, now that he has opened your eyes?' The man answered, 'He is a prophet.'

However, the Jews would not believe that the man had been blind without first sending for the parents of the man who had gained his sight and asking them, 'Is this man really the son of yours who you say was born blind? If so, how is it that he is now able to see?' His parents answered, 'We know he is our son and we know he was born blind, but how he can see, we don't know, nor who opened his eyes.

Ask him. He is old enough: let him speak for himself.' His parents spoke like this out of fear of the Jews, who had already agreed to ban from the synagogue anyone who should acknowledge Jesus as the Christ. This was why his parents said, 'He is old enough; ask him.'

So the Jews sent for the man again and said to him, 'Give glory to God! We are satisfied that this man is a sinner.' The man answered, 'Whether he is a sinner I don't know; all I know is that I was blind and now I can see.' They said to him, 'What did he do to you? How did he open your eyes?' He replied, 'I have told you once and you wouldn't listen. Why do you want to hear it all again? Do you want to become his disciples yourselves?' At this they hurled abuse at him, 'It is you who are his disciple, we are disciples of Moses; we know that God spoke to Moses, but as for this man, we don't know where he comes from.' The man replied, 'That is just what is so amazing! You don't know where he comes from and he has opened my eyes! We know that God doesn't listen to sinners, but God dos listen to people who are devout and do his will. Ever since the world began it is unheard of for anyone to open the eyes of someone born blind; if this man were not from God, he wouldn't have been able to do anything.' They retorted, 'Are you trying to teach us, and you a sinner through and through ever since you were born!' And they ejected him.

Jesus heard they had ejected him, and when he found him he said to him, 'Do you believe in the Son of man?' 'Sir,' the man replied, 'tell me who he is so that I may believe in him.' Jesus said, 'You have seen him; he is speaking to you.' The man said, 'Lord, I believe,' and worshipped him.
Jesus said:

It is for judgement
that I have come into this world,
so that those without sight may see
and those with sight may become blind.

Hearing this, some Pharisees who were present said to him, 'So we are blind, are we?' Jesus replied:

If you were blind,
you would not be guilty,
but since you say, 'We can see,'
your guilt remains.
It is followed by the Good Shepherd
Chapter —
John 10: 1-19
'In all truth I tell you, anyone who does not enter the sheepfold through the gate, but climbs in some other way, is a thief and a bandit. He who enters through the gate is the shepherd of the flock; the gate-keeper lets him in, the sheep hear his voice, one by one he calls his own sheep and leads them out. When he has brought out all those that are his, he goes ahead of them, and the sheep follow because they know his voice. They will never follow a stranger, but will run away from him because they do not recognise the voice of strangers.'
Jesus told them this parable but they failed to understand what he was saying to them.
So Jesus spoke to them again:

In all truth I tell you,
I am the gate of the sheepfold.
All who have come before me
are thieves and bandits,
but the sheep took no notice of them.
I am the gate.
Anyone who enters through me
will be safe"
such a one will go in and out
and will find pasture.
The thief comes
only to steal and kill and destroy.
I have come
so that they may have life
and have it to the full.
I am the good shepherd:
the good shepherd lays down his life
for his sheep.
The hired man,
since he is not the shepherd
and the sheep do not belong to him,
abandons the sheep
as soon as he sees a wolf coming,
and runs away,
and then the wolf attacks
and scatters the sheep;
he runs away
because he is only a hired man
and has no concern for the sheep.
I am the good shepherd;
I know my own
and my own know me,
just as the Father knows me
and I know the Father;
and I lay down my life for my sheep.
And there are other sheep I have
that are not of this fold,
and I must lead these too.
They too will listen to my voice,
and there will be only one flock,
one shepherd.
The Father loves me,
because I lay down my life
in order to take it up again.
No one takes it from me;
I lay it down of my own free will,
and as I have power to lay it down,
so I have power to take it up again;
and this is the command
I have received from my Father.
These words caused a fresh division among the Jews.
The Good Shepherd is God —
Jesus - made man —
Jesus laid down His life for His flock —
Ezekiel 34: 11-16
"For the Lord Yahweh says this: Look, I myself shall take care of my flock and look after it. As a shepherd looks after his flock when he is with his scattered sheep, so shall I look after my sheep. I shall rescue them from wherever they have been scattered on the day of clouds and darkness. I shall bring them back from the peoples where they are; I shall gather them back from the countries and bring them back to their own land. I shall pasture them on the mountains of Israel, in the ravines and in all the inhabited parts of the country. I shall feed them in good pasturage; the highest mountains of Israel will be their grazing ground. There they will rest in good grazing grounds; they will browse in rich pastures on the mountains of Israel. I myself shall pasture my sheep, I myself shall give them rest–declares the Lord Yahweh. I shall look for the lost one, bring back the stray, bandage the injured and make the sick strong. I shall watch over the fat and healthy. I shall be a true shepherd to them."
Sing: Valleys of Green
Do you remember the phrase
"Seeing is believing"
Many just do not see — how
precise God's creation is —
Dew, rain comes and waters the
earth and then it returns again —
The plants grow — corn grows tall —
strawberries grow their way —
every leaf of a tree is unique
---
Oh the magnificence of God
Sing: Ah sweet mystery of life at
last I've found thee
One candle in the darkness —
14 Years Ago

You Are the Light in the Darkness
September 18, 1993

Jesus: Little child, come and be filled. It is here, with Me, that you are nourished and set free. Your love is made whole here. I give you joy in your soul. I sanctify you and you are made holy by Me. Yes, child, you are holy-I make you so. Respect yourself and the gift you are to this world. I shine from your eyes and I smile with your lips. I hug My hugs with your arms. Do you not know how I need you, so holy and pure?

Don't let Satan plant his little ugly words in your heart. He tries to bring you down. Shut him up, little one. Listen to Me proclaim your dignity and honor. See yourself beautiful, loving, smiling, being, spontaneous. Satan has no power over you. My light shines from your temple to your toes.

Do not let others affect your moods at all. No one can alter the way you are filled with My light. Your light shines in the darkness if you do not let them affect you. You must stay very fixed to Me to do this. Look at them and pray for them. Pray for all you talk to. They need your prayers.They need My grace to wake them to My love. You are My preacher of love. My love is ever abounding. It is not for a few, or some. It extends to all My children. I love every little one. I want to reach all. I want to give each My unbounded love, as they reject Me Whom they do not see. You know what they do to you they do more to Me. Pray for My little ones your life touches. This is the most important thing you can do.

Your power radiates from within or it is squelched by the devil and does not radiate at all. I create an energy in you. Stay focused in Me.You are not affected by those around you. When I died on the cross, nothing they said or did affected the way I was. My light was fixed. It shone on them who nailed Me to the cross. It shone in the darkness and many were saved who watched Me. Let your light shine for all the world to see. It is I Who am your generator. Like the houses in Medjugorje, only the houses with generators lit up the night. Others were pitch black. When the generator kicked in, the lights shone so bright in the darkness. You shine more when you are surrounded by darkness if you stay fixed in Me. I shone brightly at My death. In such brutality My light shone as the brightest light. In the night you must shine. Many are living in darkness. You do not go there.

No one need to affect your behavior. You are rooted in Me. I generate a power in you. I am God and My power is very powerful. You must ward off Satan's weak pull. Others want to draw you into their darkness. Do not go there. Shine as the brightest star, shine in the night, shine as a beacon light. You saw darkness in Medjugorje. You know this concept. When it is dark, a light shines so bright.

Many of your brothers are in darkness. You must stay fixed in Me that your light shine bright as the light on the dark night. I give you this message, My lights of the world. Many lights light up the darkness and it shows in the dark night as if there is no darkness at all. Be the light to the darkness. Shine bright with a generator that is supplied by Me. Do not let your brothers pull you in. You remain in Me and you will never thirst. You will run and not get weary. You will fly on eagles' wings and your days will be joyous in the troubled world. Alleluia. I am your power.

end of September 18, 1993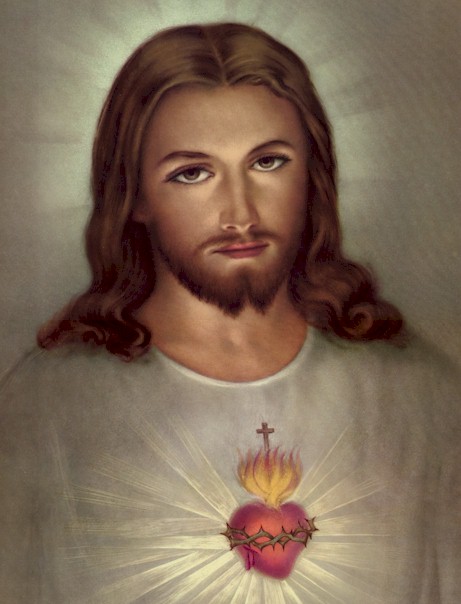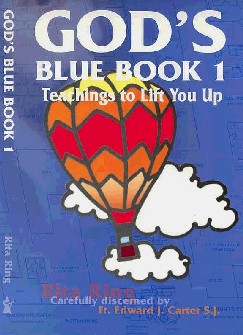 Don't Question God
December 31, 1993 - Early Morning

Jesus speaks: I am the way, the truth and the life. He who abides in Me will have the light of life. I am Jesus, Son of God. I am the most important thing you do every day. If you are tired, then you are focusing on the wrong things. Be ready, for your Savior awaits you and you are His messenger.

I am Jesus, Savior of the World. I am ready for you. Listen and write My words. I am the light that shines in this dark world. I come to you in the night and you know it is Me. I come in such silence and no one knows that I am surrounded by angels. No one knows so many things that you do not see. Faith is the answer for My brothers. Faith is the answer for you, for when you do not see you still believe. When there is no proof, you are still absolutely sure that I am here. This faith does not go unrewarded. Where there are no proofs, you believe in Me. Blessed are they who have not seen and yet believe.

What I reveal to you here, I do in your heart. My connectedness to you is in your heart. I do not need the senses. Man wants God to be like them. Do not ask to have God explained in human terms. This, My child, is surely in the realm of the spirit. Things of God are not like the things of man. I communicate to you as I am. Others want you to explain to them just how it is.

Your human minds do not fathom the ways of God. To ask My messenger to answer your human questions is to ask her to tell you why stars shine, why a baby is conceived in the mother. In the end there is an element of mystery which is beyond words. Don't ask her to tell you why and how she writes these letters. She writes these letters by the power I have. She writes these letters for Me. She writes these letters because I am dictating them to her for you. She sits, half asleep, and writes such clear lessons in faith. And, you My brothers, ask for explanations? I am Jesus Christ, Son of the Living God. I am He Whose boot strap you are unworthy to tie, yet I make Myself so personal to you in Holy Communion. But, little ones, I am God. You cannot comprehend one little speck of My ways. Your human mind is so limited. Do not try to make sense of Me in human terms. I write these letters to bridge a gap between you and Me.

I am this personal to you, but My ways are not your ways and, though I try to make you understand some of the mystery, you cannot in your humanness explain the ways of God. Go ahead and try, child. It is a waste of your time. Do not ask My messengers for explanations that you will understand. You will not ever on this earth understand any of what is happening here. My ways are the ways of God. What is happening here is a miracle.

You ask too many questions and you, in your humanness, expect too many answers. I am the God of your Fathers. They never knew such a God. I was the same God to them and I spoke to similar people to open up Myself to them, but you have been given a great, great gift indeed in these letters. Do you question and question or do you study and become wise. Study My words and accept all I give you with faith.

Be blessed for the faith you show. Your faith will save you in this sick world. I am here, all right. I am in the Eucharist, Body and Soul. Would you like for Me to explain the real presence. How can I, in your earthly form, explain such things to you? Wake up. I give you a gift and you spend your time asking how, why, where, when. I give you this day a gift of My love for you. You will not understand the ways of God but, from these letters, I will become as real as the nose on your face. You can busy yourself asking questions and miss the miracle of My coming to you in these letters.

I come to you, you who are hungry and thirsty and you are waiting for more. To those who listened, much was imparted to them. To those who remained blind, nothing was gained. They try to explain God in human terms. I cannot be explained to your liking, My child. To do so is just silly.

I am God. I am Who Am. I am the Son of God. I am Human, but I am also Divine. You will not understand My divinity. You are a human. Be glad for what you are given. Pray for faith. So many souls will be lost for their stubbornness to have every situation explained. I will not ever be explained to you. If you do not go out on a limb, you will miss the sunset. The glories that you need to seek are to be seen at the end of the limb.

You do not know why, in your heaviness, the limb does not break. You will not understand, in your humanness, My ways. I impart to you many gifts. Do not try to explain My ways in your human ways. It is a futile task. It is impossible. It is not human. It is divine. Accept this miracle on faith and reap such a reward! God-made-man talks to you, not to the messenger. Talks to you! Do you want an explanation? You will not understand My divinity in your humanness, so quit trying and get about the job of listening to My words with your heart.

I will work in your hearts in your quiet time with Me. You do not do this work, either. The more you look for explanations with Me, the more you miss Me. My ways are a mystery. I impart such little glimpses of Myself to you. They are in your hands, to burst forth later. Now you busy yourself with the work at hand. Come in silence and make yourself selfless. I will be the giver of many gifts. If you decide what gifts I will give you, you have missed the boat entirely. I give to you as you need.

You are My babies. Babies do not tell their mothers of their needs. They wait and they are fed. They wait and they are changed. They wait and they are loved. Wait on the Lord. What you get is coming from Him Who loves you. I know all things. I know your needs. I am like the loving mother. I am God. I know your every need. Come and soak in the sunlight. Quit your questioning. Quit your asking for such things that you may never need. Turn yourself over like little babies, freshly born. They have soft little cries and are very dependent on their mothers. Come with your little cries but know that I, in the end, will give you all you need.

Don't try to control Me. I am God. Who are you to come and think you will tell God what you need. I see the whole picture and I comprehend it as God. You see as in a tunnel and think you know so much. Come and make yourself putty in My hands. Remain formless and unattached. Remain a baby. Take all I give and do not ask questions. It is in your submissiveness to Me that you grow in Me. I dwell in you and I can operate from you. In your willfulness, I cannot come in. How can God act in a soul who is in control. If you are operating, I cannot.

Oh, you have much to learn, but it is revealed in these letters how to become creatures of God. Most of your work is in submission to Me. Your biggest job is to die to yourself and live in Me. I am all powerful and I want to dwell in your breast. I want to possess your soul. I want to impart to you My love. I want to fill you to the brim with the things of God. All that is in the way of My working in you is yourself. If you hold onto self, you get yourself. To be of Me, you must let go of yourself. Come to My altar and sit silently before Me. Let Me work in your soul. Look for Me.

I give to you according to your needs. I answer you according to the things of God. I give you gifts that you never knew possible, because your mind cannot imagine the things of God. Do not limit your soul by being in charge. The soul is in the image of God and God must deal with it. To try to feed your soul humanness is useless. Only God can feed the soul. Come to Him and let Him have full reign in your hearts. Don't try to decide what you need. You don't know of the needs of a soul. God is so good and so loving and He wants to give you what you need. Surrender to Him and be open to all He wants to do in you.

end of December 31, 1993
One little light in the darkness —
The world can focus on self-indulgence
Self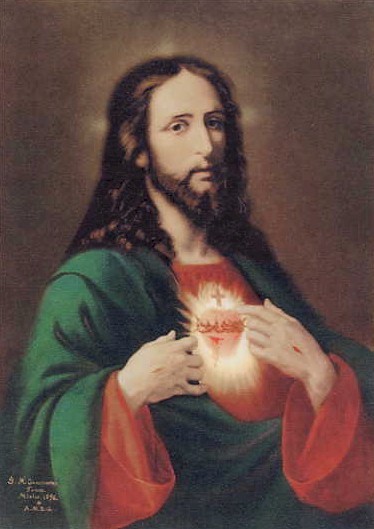 Prayer for Union with Jesus

Come to me, Lord, and possess my soul. Come into my heart and permeate my soul. Help me to sit in silence with You and let You work in my heart.

I am Yours to possess. I am Yours to use. I want to be selfless and only exist in You. Help me to spoon out all that is me and be an empty vessel ready to be filled by You. Help me to die to myself and live only for You. Use me as You will. Let me never draw my attention back to myself. I only want to operate as You do, dwelling within me.

I am Yours, Lord. I want to have my life in You. I want to do the will of the Father. Give me the strength to put aside the world and let You operate my very being. Help me to act as You desire. Strengthen me against the distractions of the devil to take me from Your work.

When I worry, I have taken my focus off of You and placed it on myself. Help me not to give in to the promptings of others to change what in my heart You are making very clear to me. I worship You, I adore You and I love You. Come and dwell in me now.

-God's Blue Book, January 17, 1994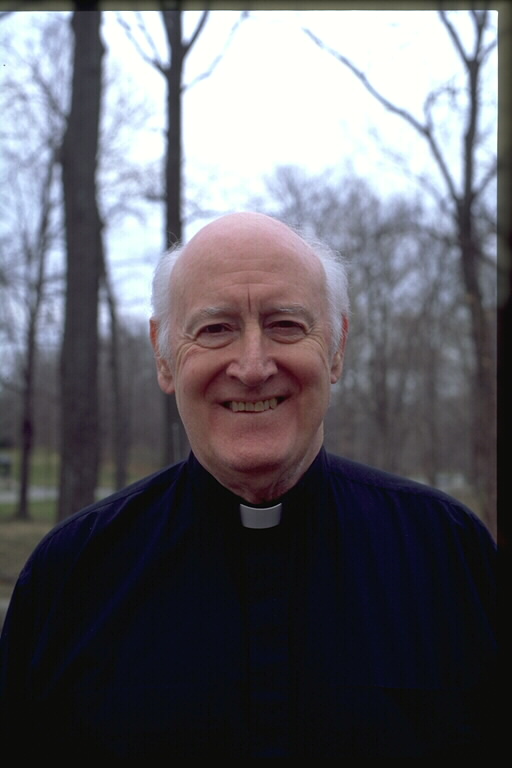 Prayer
Excerpt from Tell My People
The Holy Spirit
Jesus: "My beloved friend, tell My people to pray daily to the Holy Spirit. They are to pray for an increase in His gifts. My people must realize that the Holy Spirit comes to transform them. The Spirit desires to transform you more and more according to My image. Those who are docile to His touch become increasingly shaped in My likeness. He performs this marvel within Mary's Immaculate Heart. The more one dwells in My Mother's Heart, the more active are the workings of the Spirit. The Spirit leads Mary to place you within My own Heart. In both Our Hearts, then, your transformation continues. The more you are formed after My own Heart, the more I lead you to the bosom of My Father. Tell My people all this. Tell them to pray daily for a greater appreciation of these wondrous gifts. I am Lord and Master. All who come to My Heart will be on fire to receive the gifts of the Spirit in ever greater measure! I love and bless My people!"

Reflection: The Holy Spirit is given to us to fashion us ever more according to the likeness of Jesus. And the more we are like Jesus, the more Jesus leads us to the Father. Do we, each day, pray to the Holy Spirit to be more open to His transforming influence? Do we strive each day to grow in union with Mary? The greater our union with our Mother, the spouse of the Holy Spirit, the greater is the transforming action of the Holy Spirit within us.
end of excerpt from Tell My People
Oh God I thirst after Your truth
I seek to be pure
I long for Your compassion and
sweetness —
I long to be fed at your table
I want to be one in You
Fill me with Your grace —
So I can know grace more
abundantly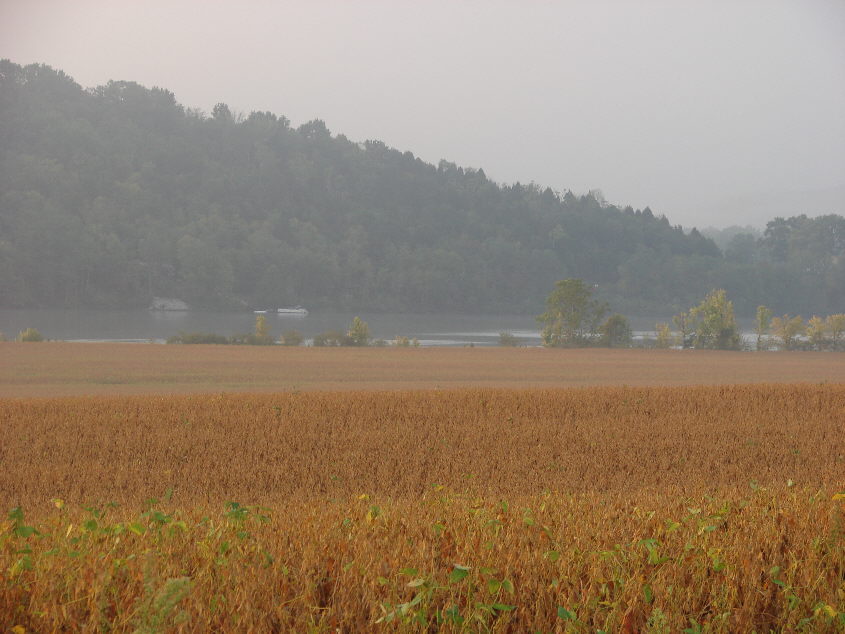 Sing: Come with Me into the Fields
When winter is wintry —
I know Your embrace God —
I know the burning embers of Your
Heart - on fire for me
When the mask of dark lifts and
Morning shows her face — bright
and brilliant — I know Your
magnificent power ever
more God —
When the heat of summer beats
down inside of my car —
I realize a little how
hot the sun can be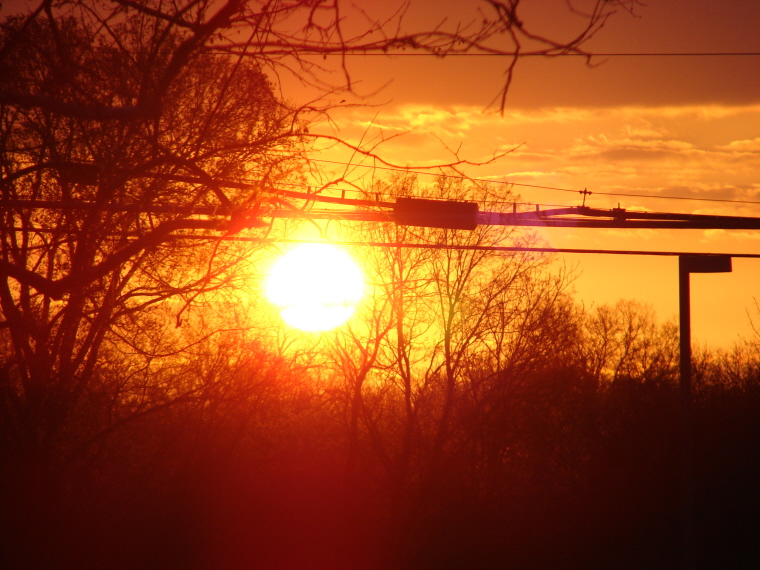 Why am I so afraid
When you show me you are with
me and watching me
Why am I so very blind —
Why - Why, Why
God has given us so many signs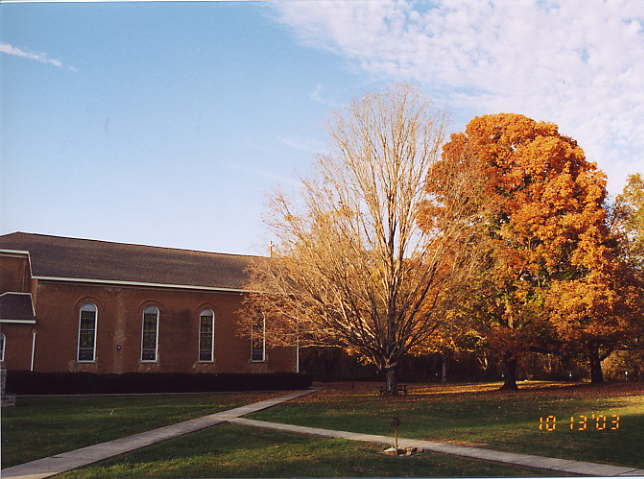 Sing: Be Not Afraid
Sing: Before the Sun Burned Bright
I see the Magnificence of
God —
I see the road that leads to
Him
Song: Choose Life
Song: Turn to Me
If Jesus walked the earth
with me would I show Him the
beautiful orange pumpkins —
would I take Him on a ride
along the river —
Would I show Him the babies
beautiful smile — so
young at 3 months
Would I show Him the bouncy
blond haired curls of the
brown eyed 2 year old as
they scurry about —
So cute and so busy
Would I show Him the 4 year
old drawing smiling pictures
of mommy with a dress on
saying
Mommy I love you and
on the outside a sticker
for mail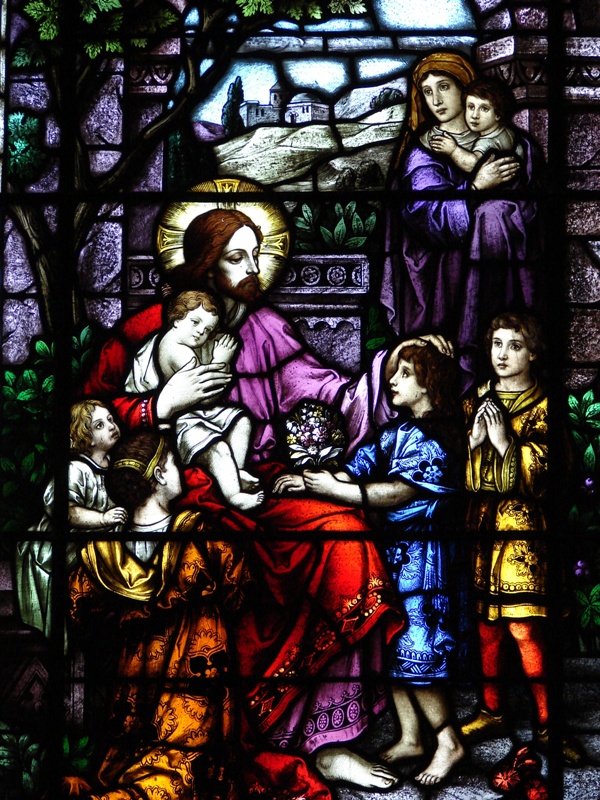 Would I let Jesus hear the Shepherds of Christ
servants and handmaids and members singing
the Litany and how beautiful
they sing songs and pray
the meditations of Blue Book 6B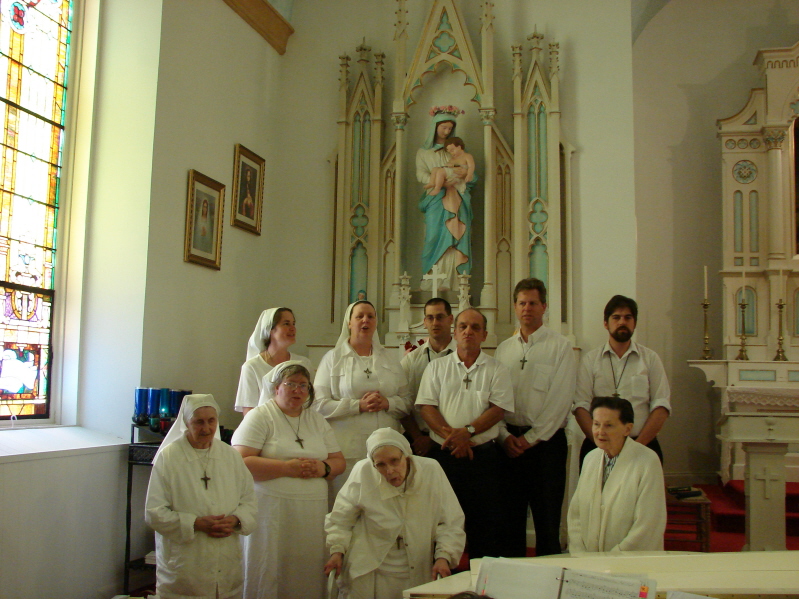 Would I show Jesus how we do the
chicken dance and laugh outside
the post office after a
mailing —
Would I show Jesus how all pitch
in to help with the centers —
mailing and praying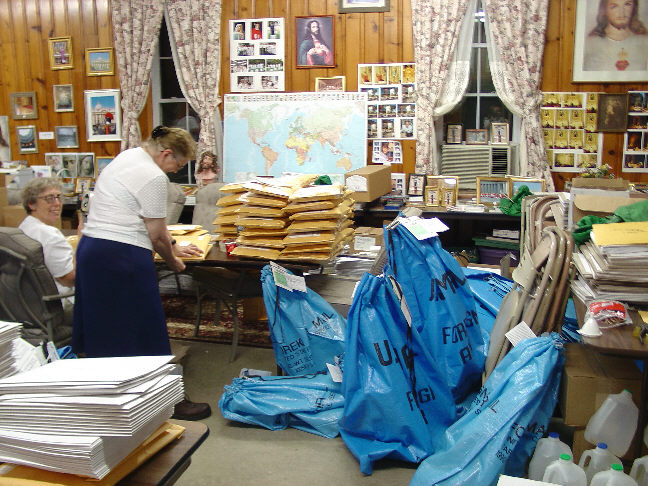 Would I show Jesus when Fr. Bernie
comes to Mass in China
and we sing at Mass and go
to communion
Would I show Jesus how
we love to sing in His
church in China before
the exposed Eucharist
China is the Eucharistic Center
of the World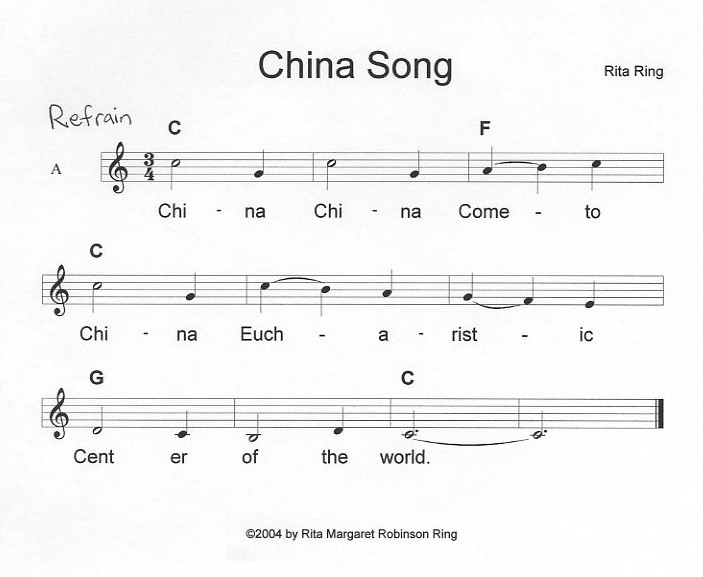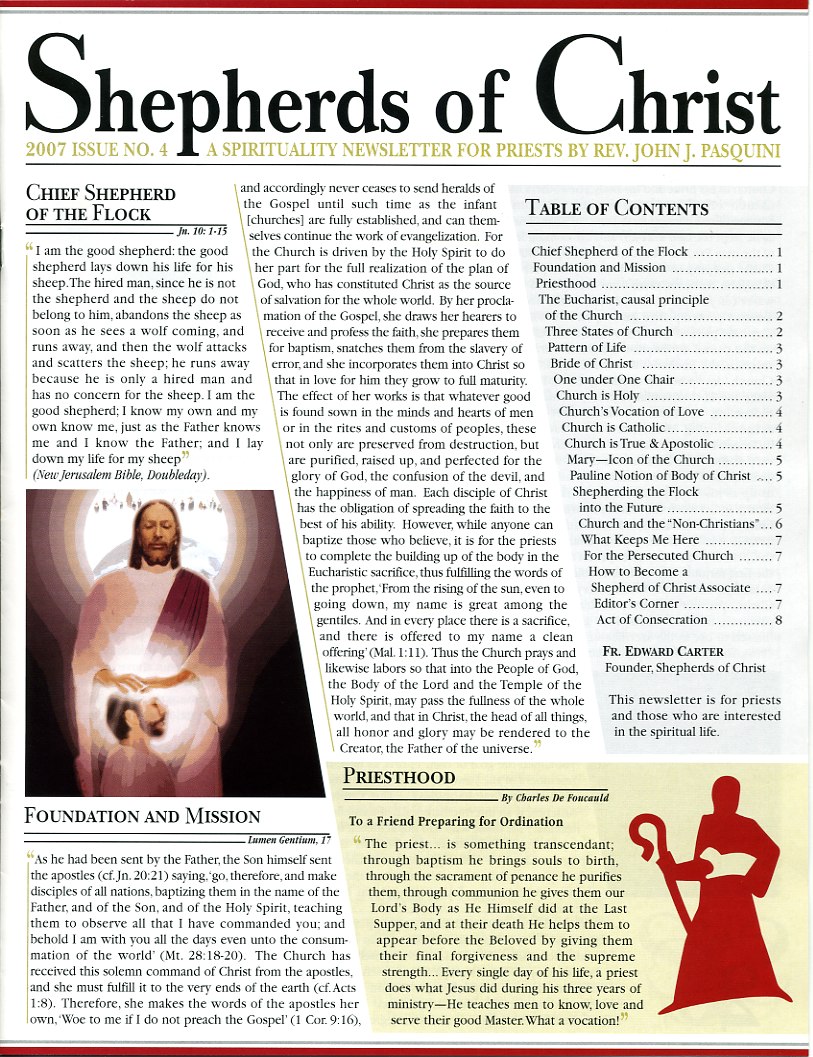 From here we send 80,000
Newsletters every other month,
on the Priesthood and Eucharist
and the Church —
Be a part of it
Pray - Pray - Pray —
And please help us —
We are a family —
I would have a lot to show
Jesus —
We would have to take Him to
Vero Beach and see Fr. John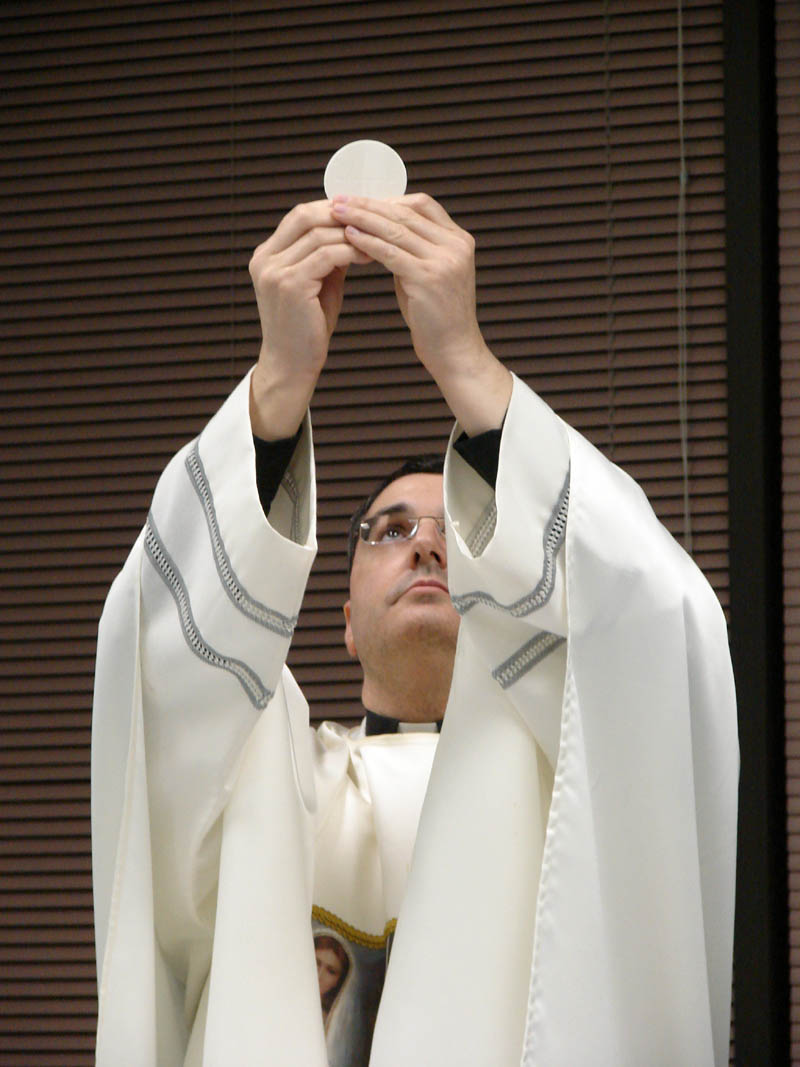 and then to Clearwater and
cry and show Him the grottos
and how we are taking care of
His face and
How everybody there is dedicated
and works so hard and
people come to pray and get
His water and Mary's water —
Jesus says —
I am with you always —
I am there —
I live in you
You are My hands and My
feet and My eyes and
My Heart beating in the
world —
Sing: St. Theresa Prayer
Thank you for giving to the Lord
Prayer of St. Francis of Assisi:

Lord, make me an instrument of your peace.
Where there is hatred, let me sow love.
Where there is injury, pardon.
Where there is doubt, faith.
Where there is despair, life.
Where there is darkness, light.
Where there is sadness, joy.
O Divine Master, grant that I may not so much seek
to be consoled, as to console;
to be understood, as to understand;
to be loved, as to love;
for it is in giving that we receive,
it is in pardoning that we are pardoned.
It is in dying that we are born to eternal life.
A Prayer of Thanksgiving

O God, on behalf of Shepherds of Christ Ministries and Our Lady of Light Ministry, we offer up these prayers of thanksgiving:

Thank You Father for Your love, patience, and understanding. We know we are not worthy of such gifts, but that You give them anyway - because of Your great love for souls.

Thank You Jesus for the many gifts and graces You give us as members of Your Movement - Shepherds of Christ. We offer You our love and gratitude through Your Mother's Immaculate Heart.

Thank You Holy Spirit for Your special gifts. Please inspire us to be grateful for what we have been given. Please help us to give ourselves in love to You and all we meet.

Thank You Holy Trinity for Your boundless love and mercy. Please help us to nurture Your presence within us. Help us to be obedient to Your commands and give all the glory to You - Our loving God. We especially thank You for the gift of our Heavenly Mother, Mary.

Thank you Mary for your example while on earth, and for your constant intercession today. Please help us to grow in holiness and put into action all that your Son, Jesus, asks of us.

We thank St. Michael and the Holy Angels for their prayers, help, and protection. Finally, we thank the saints in heaven and the souls in purgatory for their prayers. We ask them to unite with us in giving thanks and praise to the most Holy Trinity - Our Heavenly Father, Our Lord Jesus, and our Comforter- the Holy Spirit.

We love You! We love You! We love You! Amen.

-This Prayer of Thanksgiving is by John Weickert
From Authenticity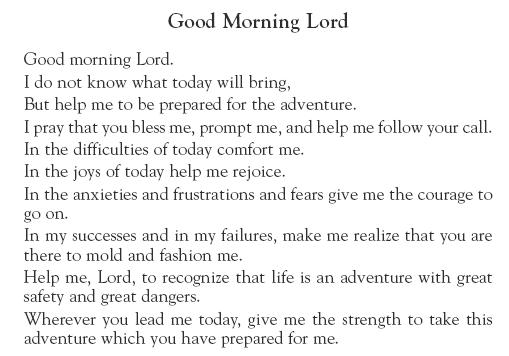 Station Money for China
Mary Newsletter coming
All of these can be donated with
Benefactor Plaque
4 Devotional Rooms in Florida
---
(1) Crucifix Room
Mural - $1,300
Felix - 7 foot crucifix
and electric vigil lights
Kneeler
3 chairs
(2) Annunciation Room

Mural - $1,300
plus electric vigil lights
Kneeler
3 chairs

(3) Mural China

Mural - $1,300
plus electric vigil lights
Kneeler
3 chairs

(4) Resurrection Room

Mural - $1,300
plus electric vigil lights
Kneeler
3 chairs