Mary has requested that the daily message be given each day to the world. It is read nightly at the prayer service from her Image Building in Clearwater, Florida, U.S.A. This is according to her request. All attempts will be made to publish this daily message to the world at 11 p.m. Eastern time, U.S.A.

---

We acknowledge that the final authority regarding these messages rests with the Holy See of Rome.

---
---
A Prayer for Intimacy with the Lamb, the Bridegroom of the Soul

Oh Lamb of God, Who take away the sins of the world, come and act on my soul most intimately. I surrender myself, as I ask for the grace to let go, to just be as I exist in You and You act most intimately on my soul. You are the Initiator. I am the soul waiting Your favors as You act in me. I love You. I adore You. I worship You. Come and possess my soul with Your Divine Grace, as I experience You most intimately.
---
Messenger: Include Our Lady of the Holy Spirit Center in 6:20 prayers.
---
Messenger: We are born to die.
Christ was born to die.
Christ died --- Christ rose.
Sometimes, life is like a beating at the pillar.
Wounds all over us.
We will get glorified bodies.
---
Mark 11: 20-25
The fig tree withered. Faith and prayer
Next morning, as they passed by, they saw the fig tree withered to the roots. Peter remembered. 'Look, Rabbi,' he said to Jesus, 'the fig tree that you cursed has withered away.' Jesus answered, 'Have faith in God. In truth I tell you, if anyone says to this mountain, "Be pulled up and thrown into the sea," with no doubt in his heart, but believing that what he says will happen, it will be done for him. I tell you, therefore, everything you ask and pray for, believe that you have it already, and it will be yours. And when you stand in prayer, forgive whatever you have against anybody, so that your Father in heaven may forgive your failings too.'
---
Isaiah 12: 2

Look, he is the God of my salvation:
I shall have faith and not be afraid,
for Yahweh is my strength and my song,
---
Luke 11: 5-13
The importunate friend

He also said to them, 'Suppose one of you has a friend and goes to him in the middle of the night to say, "My friend, lend me three loaves, because a friend of mine on his travels has just arrived at my house and I have nothing to offer him;" and the man answers from inside the house, "Do not bother me. The door is bolted now, and my children are with me in bed; I cannot get up to give it to you." I tell you, if the man does not get up and give it to him for friendship's sake, persistence will make him get up and give his friend all he wants.


Effective prayer

'So I say to you: Ask, and it will be given to you; search, and you will find; knock, and the door will be opened to you. For everyone who asks receives; everyone who searches finds; everyone who knocks will have the door opened. What father among you, if his son asked for a fish, would hand him a snake? Or if he asked for an egg, hand him a scorpion? If you then, evil as you are, know how to give your children what is good, how much more will the heavenly Father give the Holy Spirit to those who ask him!'
---
Messenger: Christ the first fruits.
---
1 Corinthians 15: 42-58

It is the same too with the resurrection of the dead: what is sown is perishable, but what is raised is imperishable; what is sown is contemptible but what is raised is glorious; what is sown is weak, but what is raised is powerful; what is sown is a natural body, and what is raised is a spiritual body.
If there is a natural body, there is a spiritual body too. So the first man, Adam, as scripture says, became a living soul; and the last Adam has become a life–giving spirit. But first came the natural body, not the spiritual one; that came only afterwards.The first man, being made of earth, is earthly by nature; the second man is from heaven. The earthly man is the pattern for earthly people, the heavenly man for heavenly ones. And as we have borne the likeness of the earthly man, so we shall bear the likeness of the heavenly one.
What I am saying, brothers, is that mere human nature cannot inherit the kingdom of God: what is perishable cannot inherit what is imperishable. Now I am going to tell you a mystery: we are not all going to fall asleep, but we are all going to be changed, instantly, in the twinkling of an eye, when the last trumpet sounds. The trumpet is going to sound, and then the dead will be raised imperishable, and we shall be changed, because this perishable nature of ours must put on imperishability, this mortal nature must put on immortality.

A hymn of triumph. Conclusion

And after this perishable nature has put on imperishability and this mortal nature has put on immortality, then will the words of scripture come true: Death is swallowed up in victory. Death, where is your victory? Death, where is your sting? The sting of death is sin, and the power of sin comes from the Law. Thank God, then, for giving us the victory through Jesus Christ our Lord.
So, my dear brothers, keep firm and immovable, always abounding in energy for the Lord's work, being sure that in the Lord none of your labours is wasted.

---
FAITH AND TRUST in Him.
Jesus speaks: Believe that you will receive it.
When you ask have faith.
Your faith is SHABBY!!
I am speaking to you here - do you believe - does the sign My Father gives you on the building help you?
Do you see the fruits? Is it by your merit such things are done?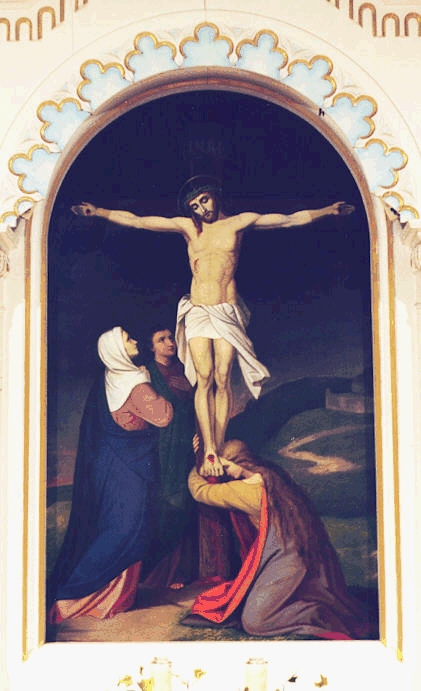 ***1. CONSECRATION -
***2. UNITED TO THE MASS -
JESUS AND MARY - NEW ADAM, NEW EVE
Messenger: My great sorrow is for all the times I went to Mass and I didn't cherish that gift of the Mass.
I see my imperfections are so great, but Christ is the Chief Priest at the Mass, I offer sacrifice through Him and His pure Heart.
I go through Mary's pure Heart.
In Lucia's vision we see Mary with her Immaculate Heart.
I as a member of the Body of Christ, participate more purely going through her perfect Heart.
Jesus is the Chief Priest. The priest is an instrument.
The more the priest identifies with Christ, it will be as God desires.
Jesus is Chief Priest.
Mary the sinless one who stands beside the altar.
Mary the sinless one who stood beneath the cross.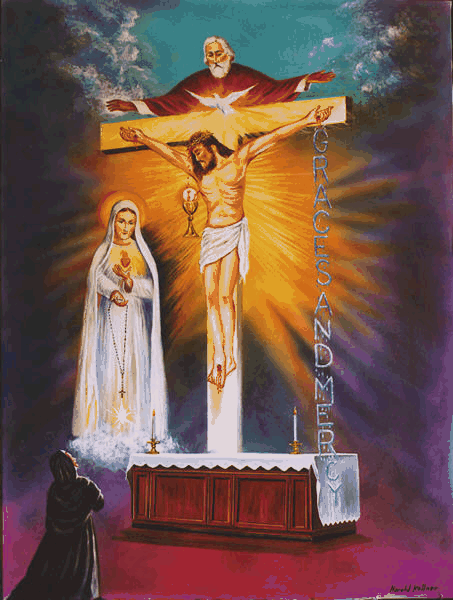 Messenger: Every moment of my day, I unite to this Holy Sacrifice in Their pure and holy Hearts.
The Sacrifice offered to the Father in the Holy Spirit.
I see the powerful intercession of the communion of saints.
We must pray through their powerful intercession.
We help in the act of redemption.
We love souls so much.
He gave His life for them.
We must circulate the little cards.
---
Card PDF format - Business Card Size
Card PDF format - Large Print for Elderly and Nursing Homes
---
Messenger: Encourage all to consecrate their hearts.
---
---
Jesus speaks: GRACE, IT IS GRACE!
I GIVE YOU MY LIFE!!
FAITH AND TRUST.
---

Faith and Trust

March 4, 1994 5:15 a.m.
Jesus speaks: I ask for this faith. It will be your faith and your steadfastness in My word that lead many to faith in Me. You must learn to trust Me totally on faith. I am speaking to you, but how you are in your faith and trust in Me speaks to those around you. You have been given a great gift. You call yourself a puppet. You are not a puppet. You make light of My love for you. I love you ardently. I have chosen you for this work. This is indeed a great honor.
You make light of My intense love for you. You are not My little puppet. Do not refer to yourself as such. I love you ardently. You are My servant. You are My beloved. You are the one Whom I have chosen to give My letters to My beloved ones.
You are missing your specialness to Me. You must be aware I have chosen you to do this and I will do the work. These obstacles from those closest to you are to strengthen you. I do not allow anything that is not for your good. This is teaching you a mighty lesson. You need to be strong. The lesson will be taught with the least problems. You will face many people and with this faith and love you are developing this day is how you will operate in adversity. Operate only for love of Me. Nothing anyone says matters. Do not be attached to the glory or the persecution. Do not doubt yourself or these letters ever. I am the Lord thy God and I am talking to you. You are My beloved. You will be strengthened in every trial you undergo. You will be taught trust for it is this trust that will give you what you need to do My work.
This is My work. These are My letters. I will see to their circulation. I will do what I need to to get them out. I am God. I am mighty. I can do all things. I have the power. I call you to two things in adversity: (1) know how I love you and (2) operate only for the love of God.
You are My beloved one. I have chosen you to do this work. I will give you what you need to do it. They are My letters of love, My mighty medicine. Satan will create all he can to stop this work. You must hold tightly to those two things. I am God and I go before you to pave the way. I am not moving the obstacles you need to develop trust and faith and strength for the road ahead.
I am God, little one. I am mighty. I will accomplish great things in these messages. Do not fret, do not fume. Be about your union with Me. Remain selfless and unattached. Pray the Prayer for Union. You need to memorize the whole prayer, not just the beginning. Say it all day. This is My powerful gift to you.
I want to possess your soul and permeate your being. When you act, you do not act like yourself. You act like God and He does not act like you.
Do not deliberate. Do not evaluate. Do not listen with your heart to others when I am speaking directly to you. When I tell you something, you obey. Your anxiousness is coming from those who want to tell you differently from what I am telling you.
Listen to My words and obey Me. I am God. I will do what I need to to accomplish My task here. You are learning trust in God. You are defining your surrendering position. I want you to operate for love of Me and love of Me alone. This is the true freedom. You operate for love of Me and I am almighty. I am the powerhouse. Do you trust Me this way? I get the job done.
You are in constant union with Me and you obey everything I tell you, whether you want to or not. You do as I tell you. This is teaching you lessons you need to learn. In your trials, you are taught the mightiest lessons. You are going through an intense study about how you must stay focused entirely on Me. Your love for Me and Mine for you. I am the Almighty God. What do you have to fear? I am Jesus. I am God. I can do all things. You can do nothing without Me.
(Messenger: I smell roses.)
Jesus speaks: I can take your breath away and you will cease to be. I am the Lord, your God, and you shall have no gods before Me.
Note: He told Me to look in a book. The visionaries saw purgatory. I have never been told anything about hell or purgatory.
Jesus speaks: You shall see the face of God and live. Nothing matters here if it is not rooted in God. They saw purgatory because it really exits. Souls are burning there. You must preach of My love for the sake of the souls of your brothers. Your selflessness and your love will lead many into My kingdom. Live your life for love of Me. Do all you can to lead all into heaven. Purgatory and hell are real. You must save your brothers from the fires of hell. Preach My love. I need you to do this work. Nothing matters except to save souls. Your faith here is your strength.
Note message of August 23, 1993:
"I thought of My intense love for you, that many would go to heaven because of My sufferings and I continued to the top of the hill. At the top they laid Me on the big cross and with a big hammer they nailed My hands to the cross. It was the worst yet. My hands were nailed with a big nail and a big hammer. Oh, it was unbelievable, and then, as if that weren't enough, with a big nail they nailed both of My feet.
"My mother watched in such agony.
"Oh, God, My God, why have You forsaken Me? It is finished and your salvation is won." For your love, to My death I give you My Body. My child, I shed My Blood and gave you My life that you will be with Me forever in heaven. Not a day, a month or a year, but forever with Me in Heaven.
"I am the true Bread come down from heaven. He who eats My flesh will have life forever. For the drink I give is My Blood and the food you eat is My Body. Who would lay down his life for a friend? I did, for you! I love you this much, My child. Forget about those who reject you. You have My life that I give for you and I give life eternal."
Messenger: My life is to be lived to spread the love of Jesus, to help save souls from purgatory and hell. Jesus saves souls and takes them to heaven. His love is mighty medicine for the sick world.
---
Mass Book II Entry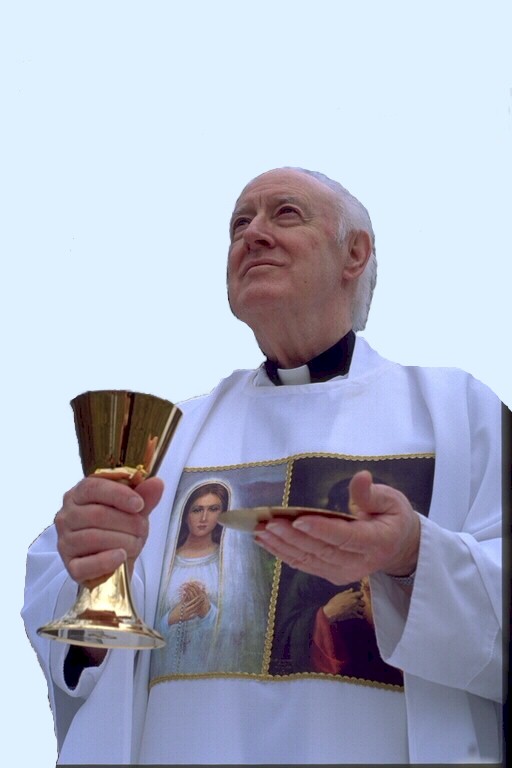 Through Him, With Him and In Him
---
Excerpt from Response in Christ - Chapter 3
- The Christian Life of Grace
b) Relationship with Christ
Scripture, then, indicates the necessity of seeing our grace-life in its relationship with Christ. It is rather amazing that dogmatic theology in its treatment of grace has traditionally said so little about Christ. With a bit of sarcasm, Rahner says: "The tractate de Gratia is commonly entitled de Gratia Christi. Commonly it contains little else about Christ. And yet we only have a Christian understanding of grace when it is conceived of not only in the most metaphysical way possible, as a divinization, but rather as assimilation to Christ. And the existential transposition of this is the following of Christ. . . ."9

How is this assimilation to Christ which Rahner speaks of initiated? Our life in Christ begins in a formal, ecclesial manner with baptism of water—notice, we are not saying that the grace of Christ cannot be had without baptism of water. As baptism marks us as members of the Church, it also indelibly imprints upon us the image of Christ.

The life of the Christian, consequently, is a development of the image of the Incarnate Word given in baptism. The Christian, as he grows in grace, is being shaped more and more after this image of Christ: "We know that by turning everything to their good God co-operates with all those who love him, with all those that he has called according to his purpose. They are the ones he chose specially long ago and intended to become true images of his Son, so that his Son might be the eldest of many brothers." (Rm 8:28-29).

The Christian requires motivation if he is to allow this Christ-likeness to permeate his existence more and more. The Christian must strive to catch a glimpse of that burning vision of St. Paul. For Paul, Christ was the fiery center of an intense existence: "Life to me, of course, is Christ, but then death would bring me something more; but then again, if living in this body means doing work which is having good results—I do not know what I should choose. I am caught in this dilemma: I want to be gone and be with Christ, which would be very much the better, but for me to stay alive in this body is a more urgent need for your sake." (Ph 1:21-24).

Each Christian, according to the graces God gives him, can model his life after the example of Paul. Each of us also can make Christ the dynamic center of our existence. If we dare to live in this way, Christ will fulfill us; for in Christ we possess everything else. In Him we are deeply related in love to God, man and the whole of creation. To develop as fully as possible the image of Christ implanted through baptism is to exercise the only fully true life. So has the Father willed it.

You will remember that we also spoke of the persons of the Trinity imprinting their image upon us as they communicate the life of sanctifying grace. What is the connection between the image of Christ and the image of the Trinity, both imprinted upon the Christian? The connection between the two lies in the fact that the life of grace, the image of the Trinity, comes to us through Christ and is to be lived according to the pattern established by Christ. Our life of grace is indeed a share in Trinitarian life. But we must live out this Trinitarian life according to the basic manner in which Christ lived out the grace-life in His own human nature. Here we emphasize the fact that Christ as man possessed His own life of sanctifying grace.

Why must our life of grace be modeled on Christ's grace-life? We cannot give others sanctifying grace. But the man Christ, head of the human race, does give men a share in the life of sanctifying grace which He possesses within His human nature. Theologians call this grace to be given to His members the grace of Christ the Head. Our life of grace, consequently, since it is the grace of Christ, has been structured according to the modalities or characteristics implanted by Christ. Christ established this structure as He exercised His own life of grace in His human, historical existence. While not claiming to be exhaustive, we will now examine various characteristics of Christ's life of sanctifying grace. Through such a procedure we thereby understand various characteristics and thrusts of our own life of grace.

First of all, Christ's life of grace was filial. The dynamism of this particular modality always led Christ to a perfect, loving service of His Father. His Father's will was all in all to Him. It was the guiding principle of everything He did, of everything He thought, of everything He spoke. Zeal for His Father's glory consumed Him. He would not rest until the work of the Father which he had been sent to accomplish was fulfilled in every detail. To love the Father's will was Christ's attitude towards life. He would cling to this principle even at the expense of a death of excruciating agony in body and soul. The words which Christ uttered in Gethsemane perfectly sum up His existence as man: " 'My Father,' he said 'if this cup cannot pass by without my drinking it, your will be done!' " (Mt 26:42).

Christ's life of grace was also salvific. His life always had that very obvious dimension of being orientated in love to man's good. All of Christ's life as man, swelling up from the unfathomable depths of the most intense love, was redemptive. Everything He did was gradually accomplishing a change in man's stance before the Father. He was bringing man from a state of enmity to a state of friendship and sonship with the Father. Christ's life, then, was magnificently selfless. Guided by love of His Father's will, He gave Himself completely to men. He gave until there was nothing more to give. This is the poignant beauty of Christ's life.

Christ's grace-life was also social, communal and ecclesial. His redemptive work was directed towards drawing all men together in a deep bond of love as brothers of a common Father. The establishment of His Church would perennially guarantee that there would be a visible source of grace for a growing sense of community among men. At the same time, this Church, the People of God, is intended to give a visible example of how the Lord desires men to be united in mutual bonds of love.

Christ's life of grace tended toward an epiphany. That is, it tended toward sacramentality, toward a manifestation of divine realities in space and time. Christ's grace-life, working through His sacred humanity, used the ordinary events and conditions of human existence and the created things of man's world to reveal the Father and the Father's plan for men.

Christ's life of sanctifying grace was also transfigurative. Christ did not come to suppress, but to elevate. He came to transform—to transfigure—man and his world. Anyone who considers Christianity to be a negative religion does not really understand the work of Christ.

These are some of the chief modalities or dimensions of Christ's life of grace. These modalities, in turn, were concretely expressed through the various mysteries or events of Christ's human life. Central to these mysteries were His death and Resurrection. We will discuss these mysteries of Christ at greater length in the chapter devoted to the liturgy. For it is within the eucharistic liturgy that we encounter the mysteries of Christ in a very special manner.

At this point we again remind the reader of the connection between Christ's life of sanctifying grace and our own. Rahner puts it very succinctly: "And yet every grace has analogously the same structure as its source, viz. the structure of the Word become man. . . ." l0

Consequently, as Christ's life of grace was filial, salvific, social, communal and ecclesial, so must be ours. As Christ's grace-life was sacramental (tending toward manifestation) and transfigurative, so likewise must be ours. Finally, let us remember that the Christian expresses these various dimensions of grace as he relives the mysteries of Christ, especially those of death-resurrection.

We have briefly considered the relationship between the graced-Christian and Christ. As this relationship grows in mutual love, the Christian understands with maturing penetration what it means to be incorporated into Christ Jesus. He becomes more aware of the full implications of St. Paul's words: "I have been crucified with Christ, and I live now not with my own life but with the life of Christ who lives in me." (Ga 2:19).

______
9Ibid., p. 199.
10Karl Rahner, Theological Investigations, Vol. II (Baltimore: Helicon, 1960), p. 33.
(End of excerpt from Response in Christ)
---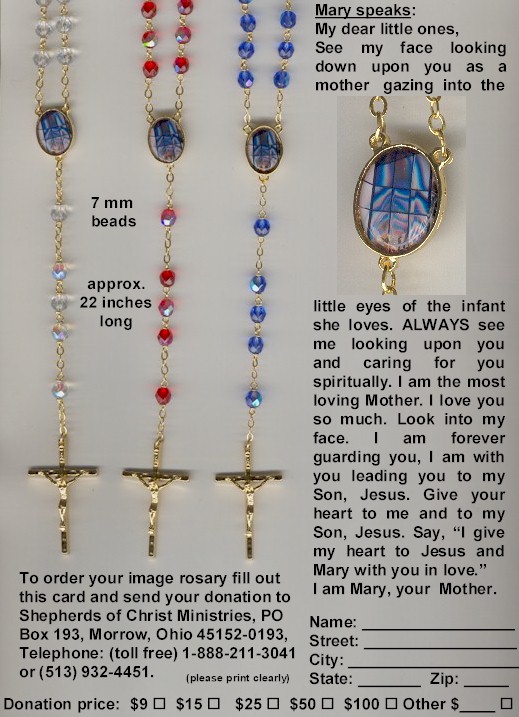 (Please copy and pass out to family and friends.)
---
Mary's Message from the Rosary of August 27, 1996
Mary speaks: I stood beneath the cross of my Son, and my Heart was in such pain for I saw Him before my eyes. I saw Him covered with blood. I saw Him die. My Heart, my children, my Heart to watch my Son, but my Heart, my Heart, how I suffered for my little children of the world that give in to this world and give up the love of my Son. O my little children of light, I give you this message. Carry this light into the darkness for your Mother Mary, for I stood beneath the cross and I cried. I cried for the little ones. I cried for the young ones, the ones that do not care and will lose their souls. How do I make you see for you will not listen to me? What can I do? I come. I appear. I beg. I plead. I give you these gifts from my Son, and you reject me. I do not deliver messages very often anymore for I have been ignored. The message is the same. You do not read the messages I have given to you. Please help me. Help the little children. I appear. I appear. I appear, and I am ignored. I stood beneath the cross, and I cried. I cried, and my Heart was in such anguish for my little children, for I am searching for them this day as I searched for the Child Jesus. Please, please help me. I cannot hold back the hand of my Son any longer. I am Mary, your Mother. I ask you to help my children. You are my children of light.

Song: O Lady of Light, shining so bright, be with us this day, guiding our way, O Lady, O Lady of Light.

Mary speaks: I appear to you as Our Mother of Sorrows.
(End of Mary's Message)
---
MY VALENTINE FOR JESUS AND MARY
AND THE WORLD

I _________________ give my heart to
You Jesus and Mary on this day
_________________
I promise to help spread the devotion to
the Hearts of Jesus and Mary.
---
Question for married couples and others in intimate relationships:
Q: How can writing honest letters to you about how I feel help me grow out of some of my imperfections?
---
---
---
Copyright © 2000 Shepherds of Christ.
Rights for non-commercial reproduction granted:
May be copied in its entirety, but neither re-typed nor edited.
Translations are welcome but they must be reviewed for moral and theological accuracy by a source approved by Shepherds of Christ Ministries before any distribution takes place. Please contact us for more information.
All scripture quotes are from the New Jerusalem Bible, July 1990, published by Doubleday.
Revised: October 13, 2000
URL: http://www.SofC.org
Contact Information for Shepherds of Christ
Email: info@SofC.org
---
Shepherds of Christ Ministries
PO Box 193
Morrow, Ohio 45152-0193

Telephone: (toll free) 1-888-211-3041 or (513) 932-4451
FAX: (513) 932-6791