Can anyone please help us payoff
our loan on the building?
Please help us publish Cycle A -
Fr. Joe's Homily Book
1-888-211-3041
October 13, 2010
R. God can restore us to peace
We need to put our trust in God
We need to realize His Might
We need to obey Him
Really trust God
Really believe in His Might
Relationship —
The Father's family
The Father
Christ the Son
Our brother
The devil wants to break down
order
relationship
Genealogy of Jesus

Matthew 1: 1-17
Roll of the genealogy of Jesus Christ, son of David, son of Abraham:

Abraham fathered Isaac,
Isaac fathered Jacob,
Jacob fathered Judah and his brothers,
Judah fathered Perez and Zerah,
whose mother was Tamar,
Perez fathered Hezron,
Hezron fathered Ram,
Ram fathered Amminadab,
Amminadab fathered Nahshon,
Nahshon fathered Salmon,
Salmon fathered Boaz,
whose mother was Rahab,
Boaz fathered Obed,
whose mother was Ruth,
Obed fathered Jesse;
and Jesse fathered King David.

David fathered Solomon,
whose mother had been Uriah's wife,
Solomon fathered Rehoboam,
Rehoboam fathered Abijah,
Abijah fathered Asa,
Asa fathered Jehoshaphat,
Jehoshaphat fathered Joram,
Joram fathered Uzziah,
Uzziah fathered Jotham,
Jotham fathered Ahaz,
Ahaz fathered Hezekiah,
Hezekiah fathered Manasseh,
Manasseh fathered Amon,
Amon fathered Josiah;
and Josiah fathered Jechoniah
and his brothers.
Then the deportation to Babylon
took place.

After the deportation to Babylon:
Jechoniah fathered Shealtiel,
Shealtiel fathered Zerubbabel,
Zerubbabel fathered Abiud,
Abiud fathered Eliakim,
Eliakim fathered Azor,
Azor fathered Zadok,
Zadok fathered Achim,
Achim fathered Eliud,
Eliud fathered Eleazar,
Eleazar fathered Matthan,
Matthan fathered Jacob;
and Jacob fathered Joseph
the husband of Mary;
of her was born Jesus
who is called Christ.

The sum of generations is therefore: fourteen from Abraham to David; fourteen from David to the Babylonian deportation; and fourteen from the Babylonian deportation to Christ.
God worked on the Jews His
chosen people
Our Fathers
Abraham, Isaac, Jacob
Family of God
New life
Mary her womb
she brought forth child
through the power of
the Holy Spirit
The incarnation goes on in
us
Spiritual womb
The body is there for the soul —
Her Immaculate Heart is
her spiritual womb
Incarnation goes on in us
June 13, 1917
God wishes you to remain in the world for some time because He wants to use you to establish in the world the devotion to my Immaculate Heart. I promise salvation to those who embrace it, and their souls will be loved by God as flowers placed by myself to adorn His throne. (Our Lady of Fatima to Lucia.)1

Mary: Deep in my heart I take you in
love — that you are formed by
my Spouse the Holy Spirit in the image
of Jesus —
I take you to my Son Jesus
where you bask in His Divine Love
where you receive the gifts
more and more in this
Holy Dwelling Place
The treasures you receive
in His Sacred Heart
of Love — Oh my little
child —
The treasures of dwelling
in the Heart of Jesus —
beyond anything you know
---
R. Mary was conceived without sin —
Mary is the singular vessel
Mary is the Mother of our
Christ-life —
Relationship
Faith and love

1st Message of the Angel at Fatima
"My God, I believe, I adore, I hope and I love You! I ask pardon of You for those who do not believe, do not adore, do not hope and do not love You."

"Pray thus. The Hearts of Jesus and Mary are attentive to the voice of your supplications."
2nd Message of the Angel at Fatima
Pray! Pray a great deal. The Hearts of Jesus and Mary have merciful designs on you. Offer prayers and sacrifices continually to the Most High. Make everything you do a sacrifice, and offer it as an act of reparation for the sins by which God is offended, and as a petition for the conversion of sinners. Bring peace to our country in this way.... I am the Guardian Angel of Portugal Accept and bear with submission all the sufferings the Lord will send you. (4)

4. Our Lady's Peace Plan, op cit., pp.1-2.
3rd Message of the Angel at Fatima
"Most Holy Trinity, Father, Son and Holy Spirit, I adore You profoundly. I offer You the most precious Body, Blood, Soul and Divinity of Jesus Christ, present in all tabernacles of the world, in reparation for the outrages, sacrileges, and indifference by which He is offended. By the infinite merits of the Sacred Heart of Jesus and [the intercession of] the Immaculate Heart of Mary, I beg of Thee the conversion of poor sinners." (5)

"Take and drink the Body and Blood of Jesus Christ, horribly outraged by ungrateful men! Make reparation for their crimes and console your God." (6)

5. Our Lady's Peace Plan, op cit., p.2. (The words in brackets are my own-added for clarification).
6. Fatima in Lucia's Own Words, op cit., pp.64-65.
We need God's help
Christ - life
Self - destruction if we distance
ourselves from God
Work our own plan — selfish
isolation
We are like children
opened eyes
ready to learn
Not caved in —
in self destruction in our
hearts —
misery
unhappiness
isolation
God is the one with the Plan
We trust in God —
Relationship

Loving God
Loving others
Loving ourselves as created
by God
God is love
Christ is the teacher
His Sacred Heart
He teaches us about love —
He showed us love
He took flesh
He gave Himself
He died
He rose
Romans 5: 12, 17-19
Well then; it was through one man that sin came into the world, and through sin death, and thus death has spread through the whole human race because everyone has sinned.

It was by one man's offence that death came to reign over all, but how much greater the reign in life of those who receive the fullness of grace and the gift of saving justice, through the one man, Jesus Christ. One man's offence brought condemnation on all humanity; and one man's good act has brought justification and life to all humanity. Just as by one man's disobedience many were made sinners, so by one man's obedience are many to be made upright.
Romans 8: 28-30
We are well aware that God works with those who love him, those who have been called in accordance with his purpose, and turns everything to their good. He decided beforehand who were the ones destined to be moulded to the pattern of his Son, so that he should be the eldest of many brothers; it was those so destined that he called; those that he called, he justified, and those that he has justified he has brought into glory.
Colossians 4: 4-7
pray that I may proclaim it as clearly as I ought.

Act wisely with outsiders, making the best of the present time. Always talk pleasantly and with a flavour of wit but be sensitive to the kind of answer each one requires.

Tychicus will tell you all the news about me. He is a very dear brother, and a trustworthy helper and companion in the service of the Lord.
Ephesians 1: 3-6, 11-12
Blessed be God
the Father of our Lord Jesus Christ,
who has blessed us
with all the spiritual blessings of heaven
in Christ.
Thus he chose us in Christ
before the world was made
to be holy and faultless
before him in love,
marking us out for himself beforehand,
to be adopted sons,
through Jesus Christ.
Such was his purpose and good pleasure,
to the praise of the glory of his grace,
his free gift to us in the Beloved,
And it is in him
that we have received our heritage,
marked out beforehand as we were,
under the plan of the One
who guides all things
as he decides by his own will,
chosen to be,
for the praise of his glory,
the people who
would put their hopes in Christ
before he came.
1 Corinthians 3: 9-13, 16-17
After all, we do share in God's work; you are God's farm, God's building.

By the grace of God which was given to me, I laid the foundations like a trained master–builder, and someone else is building on them. Now each one must be careful how he does the building. For nobody can lay down any other foundation than the one which is there already, namely Jesus Christ. On this foundation, different people may build in gold, silver, jewels, wood, hay or straw but each person's handiwork will be shown for what it is. The Day which dawns in fire will make it clear and the fire itself will test the quality of each person's work.

Do you not realise that you are a temple of God with the Spirit of God living in you? If anybody should destroy the temple of God, God will destroy that person, because God's temple is holy; and you are that temple.
When the Father looks to the
earth how does He
see us building the
Kingdom of God —
building the Father's Family —
helping our brothers
Living under the Father
being children of the Father
being a daughter of Mary —
Modeling ourselves after Jesus our brother
Modeling ourselves after Mary our mother
Seeking answers
Missing the family
Satan said he would not serve
Us — Being held in the Heart of Jesus,
our brother and Savior
Us — Being held in the Heart of
Mary our Mother —
Formed more and more in
the image of Jesus
in the Holy Spirit
We live in the Father's Plan —
We don't disobey our Father
We tell the truth —
We are under God
He created us
He has the Plan
We are the creatures
Mary is our Mother
Say Hail Mary
Hail Mary
Hail Mary, full of grace, the Lord is with thee; blessed art thou among women, and blessed is the Fruit of thy womb, Jesus. Holy Mary, Mother of God, pray for us sinners, now and at the hour of our death. Amen.
We must be honest
We look for the truth —
We love the Father's Plan
We are brothers and sisters in Christ
We live the Christ-life in the Holy Spirit
Excerpt from Response to God's Love by Fr. Edward Carter, S.J.
... In reference to Christianity, God himself is the ultimate mystery. Radically, God is completely other and transcendent, hidden from man in his inner life, unless he chooses to reveal himself. Let us briefly look at this inner life of God.

The Father, in a perfect act of self-expression, in a perfect act of knowing, generates his son. The Son, the Word, is, then, the immanent expression of God's fullness, the reflection of the Father. Likewise, from all eternity, the Father and the Son bring forth the Holy Spirit in a perfect act of loving.

At the destined moment in human history, God's self-expression, the Word, immersed himself into man's world. God's inner self-expression now had also become God's outer self-expression. Consequently, the mystery of God becomes the mystery of Christ. In Christ, God tells us about himself, about his inner life, about his plan of creation and redemption. He tells us how Father, Son, and Holy Spirit desire to dwell within us in the most intimate fashion, how they wish to share with us their own life through grace. All this he has accomplished and does accomplish through Christ.
We are learning —
like little children in a
family
from mother and father —
We are learning to love —
Jesus is our brother
We work in this family
We walk hand-in-hand
Those in hell - rejected God —
they never learned love —
they learned darkness —
they rebelled
they said they would not
serve
they had their plan opposed
to God's Plan —
They wanted God under them —
1 Corinthians 15:20-28
In fact, however, Christ has been raised from the dead, as the first-fruits of all who have fallen asleep. As it was by one man that death came, so through one man has come the resurrection of the dead. Just as all die in Adam, so in Christ all will be brought to life; but all of them in their proper order: Christ the first-fruits, and next, at his coming, those who belong to him. After that will come the end, when he will hand over the kingdom to God the Father, having abolished every principality, every ruling force and power. For he is to be king until he has made his enemies his footstool, and the last of the enemies to be done away with is death, for he has put all things under his feet. But when it is said everything is subjected, this obviously cannot include the One who subjected everything to him. When everything has been subjected to him, then the Son himself will be subjected to the One who has subjected everything to him, so that God may be all in all.
Humility is truth
we recognize as Fr. Carter says
the sin in us
we recognize the good in us
We don't lie
Satan is sneaky
Satan is the father of lies
Deception —
God is light
There is truth in us when
we follow Christ
We seek truth
God gives us a free will
Satan is aggressive
wants to force
uses fear to control
tries to intimidate to control —
God wants us to surrender
Faith — trusting in God
seeing more and more in
the Father's vision
Pride — root of all evil
sees with distorted vision
not through the eyes of the Father
Hope — we fear God
we walk in His way
we follow Jesus and obey
we hope in the heavenly reward
promised to those who love
and serve God —
Our family
Our relationships
Should be modeled after the
love of the Trinity
3 Persons — 1 God
God is love
Satan wants violence, lies —
brute control — anger — making
others obey his dysfunctional rules
closed down in learning —
not wanting to learn as God wants —
learning God's Plan
Anger is a way — control — fear —
one can try to force their
dysfunctional rules —
We know love —
The love of being before the
exposed Eucharist —
Jesus is truly present in His
Divinity and humanity —
The person in a dysfunctional
family trying to control
others in secretive —
out of order —
unpredictable —
The person working in God's
family is like Christ
on the cross
Naked —
giving His all
open heart —
ORDERED —
Sin is Disorder to the Father's
Plan
Order is following God's Plan
We are here to learn to grow
in love
increase in the faith in Jesus —
hope in our eternal reward —
walk in humility —
be temperate —
be just —
be prudent —
and have courage —
God doesn't like satan's game
because a person sees
with distorted vision —
of jealousy,
pride —
envy — punishing others —
anger —
Jesus is not combatal, but
meek and tender in Heart —
Jesus is the Heart of Love —
This Movement exists to spread
this devotion to the 2 Hearts of
Love
Display images of Jesus and Mary
Make Jesus the King and Center of
all places on this earth —
We see the envy of Joseph's
brothers —
because he was chosen —
he was doing good —
in envy they wanted to kill
him —
It was God's Plan —
but because of their sin —
As Joseph did God's will —
They planned to tear down
and make him fail —
---
As Jesus healed — His enemies
wanted to kill Him —
---
When one is chosen and building
God's Kingdom —
the devil presses in on
another in envy
to try to make it fail —
tear down the good others do
to build the kingdom of
satan
---
Satan wants those he can press on to
have jealous habits because
they are jealous of the success
of one doing God's work.
The person becomes the
instrument of satan
to try to make the good seeds
planted to fail —
Satan wants failure of the good others
work for —
by one who is weak gives into
satan when they are pressed
on because of jealousy
and pride, envy wanting
it to fail
They then become an instrument
of satan to tear down
work the good person is doing to build
the Kingdom of God
Provoking others
Holding back
is a means to control the
other and make them
respond to evil traps
satan wants to set to
stop the good work of
building the Kingdom of God
God wants us to establish places
on this earth where the
Heart of Jesus is known
and loved —
Where the Sacred Heart is the King of families
Where Mary is recognized as our
model and Mother —
To give our hearts to these
pure and holy Hearts of Jesus and
Mary
Jesus says —
Come unto Me all who are
burdened and find rest for
your soul —
R. Jesus we beg for grace to live
a virtuous life —
to help build the Kingdom of God —
We want to make reparation for our
sins and the sins of the
human race
Thank You God for Your gifts
We unite to the Mass —
the source and summit of the
Church's life —
We unite to the holy sacrifice
of Jesus and we offer
ourselves with
Jesus to the Father —
to give God love
to give God thanks
to petition God
to help make reparation for our
sins and the sins of the
human race —
Matthew 22: 36-40

'Master, which is the greatest commandment of the Law?' Jesus said to him, 'You must love the Lord your God with all your heart, with all your soul, and with all your mind. This is the greatest and the first commandment. The second resembles it: You must love your neighbour as yourself. On these two commandments hang the whole Law, and the Prophets too.'
We love our brothers on this earth —
We beg for grace from this
fountain at Mass —
In love for the human race
to be as the Father
wants them to be
We pray the people of this
world will cooperate
with this grace —
We are loving our brothers —
We join with the members of the
Church —
the heavenly Church, the angels and saints
the Church suffering, the souls in purgatory
the pilgrim Church on earth —
We pray to the Father, with
the angels and saints and
souls in purgatory —
united to the sacrifice of
Jesus, at Mass, in the
Holy Spirit through the powerful
intercession of Our Lady of
Clearwater for these intentions
and we likewise as members
of the mystical body — offer
in our Morning Offering —
everything we do —
united to the Holy Sacrifice
of the Mass going on
around the world —
for these intentions —
Loving God and
all others —
We love our vocation and
offer what we do with
our "yes" to God in
great love in
the smallest
menial task if it
is God's will —
united to the Mass —
Our lives are as God the Father
wants
We love our family in
God's Plan —
the Father's family —
We are witnesses of God's
love
We see in faith — through
the eyes of the Father's Plan —
more and more as we live
a virtuous life
in Him — our
beloved God —
We are instruments for God —
Galatians 2: 19-20

...I have been crucified with Christ and yet I am alive; yet it is no longer I, but Christ living in me.
We are children of the Father —
Spiritual daughters of Mary —
The Mass is the Sacrifice of
Calvary, Sacramentally
made present — we unite —
we are one with Holy Mother the Church —
We live the resurrected life
in our lives —
We are living in this world
serving God in love
in the Hearts of Jesus and Mary

Given October 7, 2010 - Feast of the Holy Rosary
Glorious Mysteries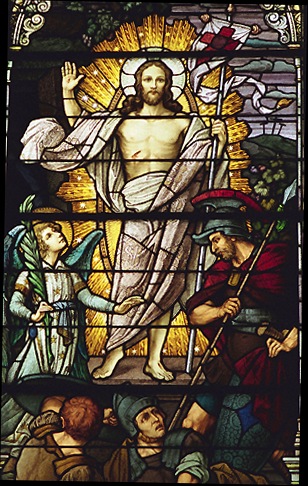 Resurrection
1. Jesus really rose from the dead —
2. We are thankful for the gift of the Church
and the sacraments.
3. Song: Glory, Glory, Glory Lord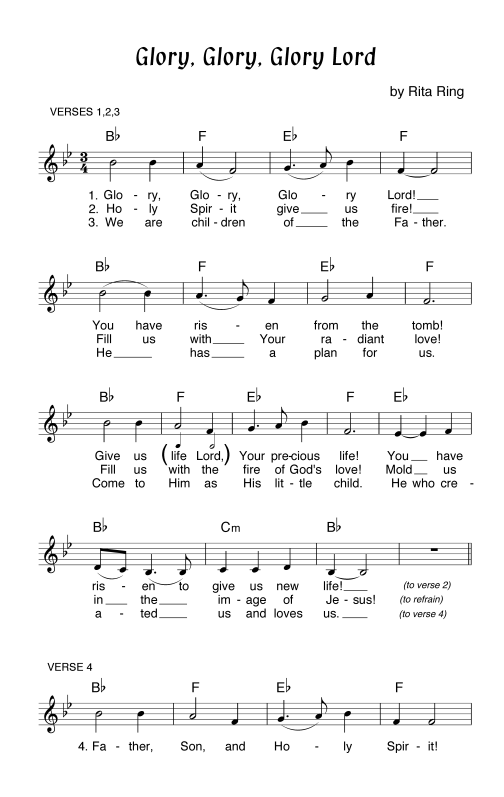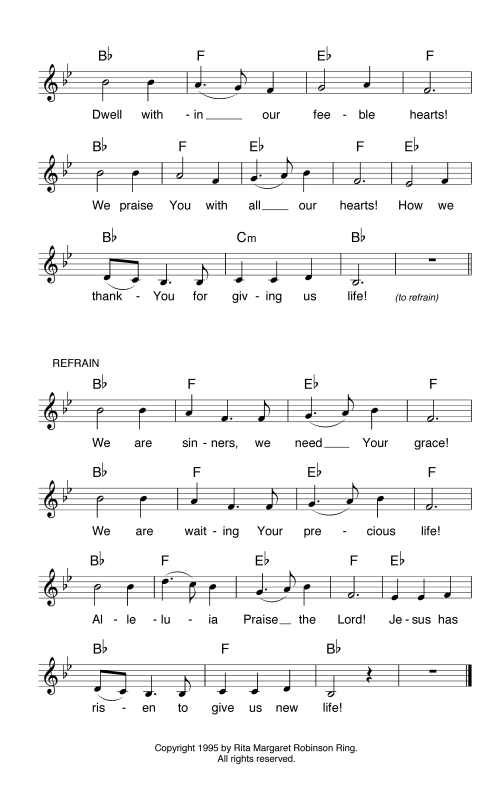 4. Our lives are to be lived more in the image and likeness
of God for which we were created.
5. Blood and water poured out of the pierced Heart of Jesus —
Water for baptism, blood for the Eucharist —
6. Through the pierced Heart of Jesus the Church was born —
7. Death/Resurrection the Pascal Mystery.
8. We are to seek to be more likened to Christ.
9. Sing: Give Me Your Heart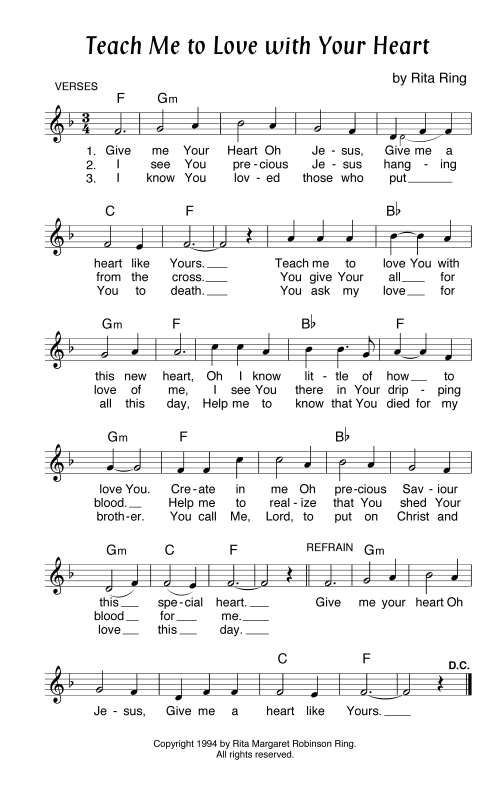 10. Fr. Joe said at Easter
"May the hope of the new life of Christ fill your hearts
today with Alleluia"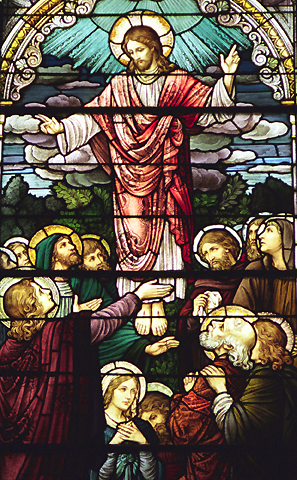 The Ascension
1. Jesus ascended into heaven —
2. Jesus appeared rather frequently after His resurrection
to the Apostles.
3. Guiding Light - Feed My Soul - Cycle C Homilies - by Fr. Joe Robinson - Feast of the Ascension of the Lord
Fr. Joe says
Excerpt from Introduction: Luke's second book, the Acts of the Apostles, tells us of the ways Christ continues to be with us through the Holy Spirit, the sacraments, and the Church.
4. Guiding Light - Feed My Soul - Cycle C Homilies - by Fr. Joe Robinson - Feast of the Ascension of the Lord
May 20, 2007
HOMILY: St. Luke's gospel begins in the temple of Jerusalem with the angel Gabriel announcing to the old priest Zechariah that he and his elderly wife, Elizabeth, would have a baby boy. The angel Gabriel said to him "Do not be afraid, Zechariah, for your prayer is heard, and your wife Elizabeth will bear you a son, and you shall call his name John. And you will have joy and gladness, and many will rejoice at his birth." The joy at the birth of John the Baptist was only the beginning of many moments of joy recorded by St. Luke. A few months after Gabriel appeared to Zechariah, he appeared to Mary and asked her to be the mother of our Savior. She said "yes," as we know, and then she immediately sought out her cousin Elizabeth with her good news. Mary expressed herself in the beautiful canticle, the Magnificat: "My soul proclaims the greatness of the Lord, and my spirit rejoices in God my Savior." When Jesus was born, it was the shepherds who heard the message of joy. The angel said to them: "Do not be afraid; for behold, I bring you good news of great joy that will be for all the people." I could bore you with a number of Luke's other references to joy, but I'll just fast forward to the ending of his gospel as we just heard.
5. Guiding Light - Feed My Soul - Cycle C Homilies - by Fr. Joe Robinson - Feast of the Ascension of the Lord continues
St. Luke's gospel began in the Temple of Jerusalem and that's where it ends. It also ends with a note of joy, the same sentiment with which it began. After the ascension of Jesus, Luke tells us as Jesus "parted from them and was taken up to heaven, they did him homage and then returned to Jerusalem with great joy, and they were continually in the temple praising God."
6. Guiding Light - Feed My Soul - Cycle C Homilies - by Fr. Joe Robinson - Feast of the Ascension of the Lord continues
Wouldn't you think the apostles would have been depressed when Jesus left them? If they were thinking only on an earthly level, of course they would have been. For it is natural to grieve when we lose someone who is important to us. But instead of grieving they "returned to Jerusalem with great joy." I can think of at least four reasons why they were so joyful. 1) Jesus had assured them they weren't really losing him. He would still be with them. He assured them, as we heard last Sunday,: "whoever loves me will keep my word, and my Father will love him, and we will come to him and make our dwelling with him." 2) They were joyful because they were happy for him and they loved him enough not to begrudge his return to the Father. After all he did say: "if you truly loved me you would rejoice to have me go to the Father." 3) They were joyful because they knew there were better things ahead. There was the Spirit which they didn't understand yet, but which they trusted to be something wonderful. Jesus told them: "It is better for you that I go, for if I do not go, the Holy Spirit will not come to you." And 4) they knew one day they would be with the Lord forever. He told them he was going to get a place ready for them: "and, if I go and prepare a place for you, I will come back again and take you to myself, so that where I am you also may be."
7. Guiding Light - Feed My Soul - Cycle C Homilies - by Fr. Joe Robinson - Feast of the Ascension of the Lord continues
They would have had no joy if they thought only of their separation from him. After his resurrection they began to see him in a different way. Luke even tells us they "did him homage," a term reserved for worship of God. Their new way of seeing Jesus gave them new faith and hope and love. They could only rejoice in the faith, hope and love that filled them. Can we too rejoice in the ascension of our Lord?
8. Acts 1: 6-11
Now having met together, they asked him, 'Lord, has the time come for you to restore the kingdom to Israel?' He replied, 'It is not for you to know times or dates that the Father has decided by his own authority, but you will receive the power of the Holy Spirit which will come on you, and then you will be my witnesses not only in Jerusalem but throughout Judaea and Samaria, and indeed to earth's remotest end.'

As he said this he was lifted up while they looked on, and a cloud took him from their sight. They were still staring into the sky as he went, when suddenly two men in white were standing beside them, and they said, 'Why are you Galileans standing here looking into the sky? This Jesus who has been taken up from you into heaven will come back in the same way as you have seen him go to heaven.'
9. Song: God's Love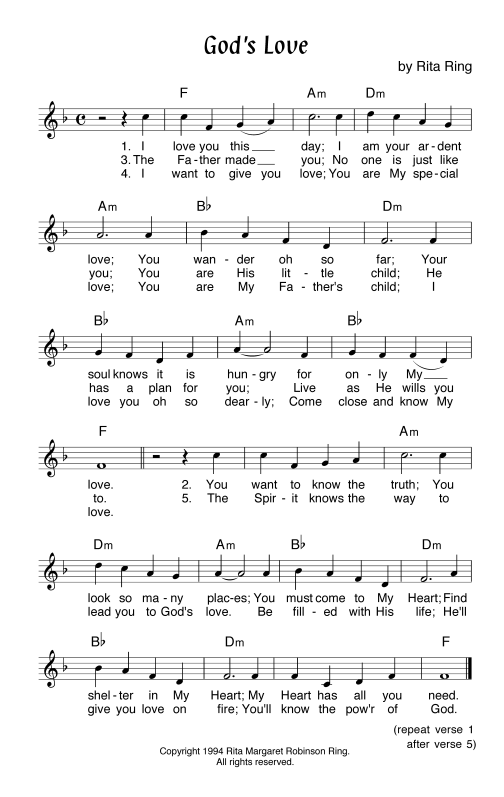 10. Song: A Priest is a Gift from God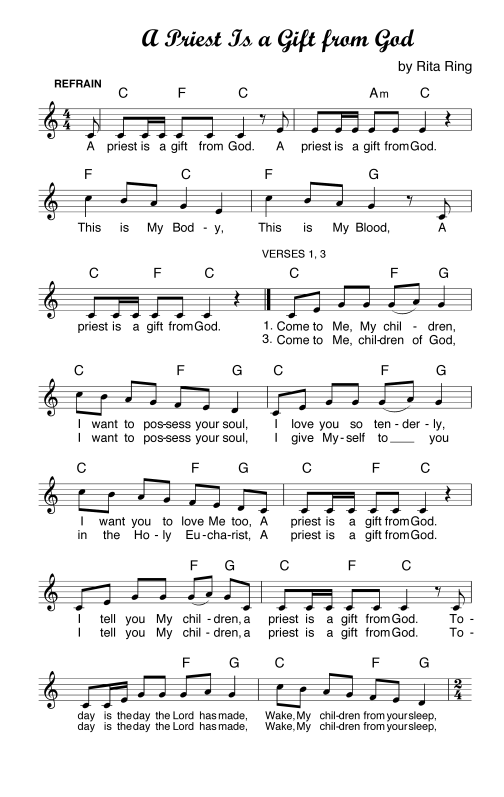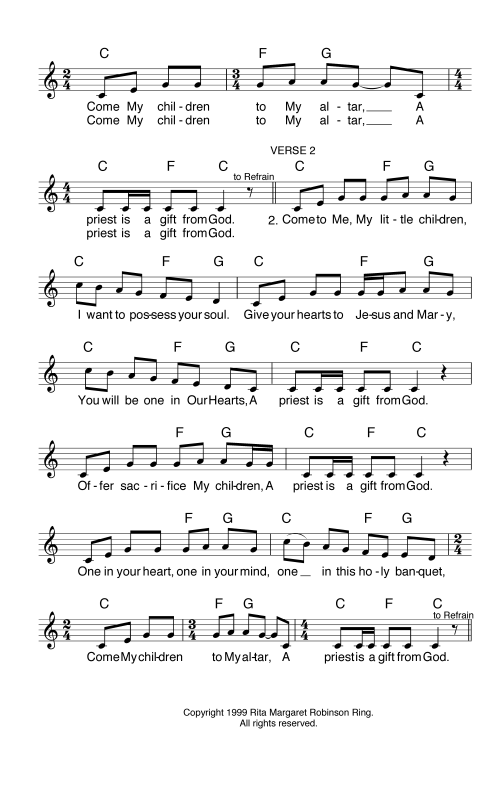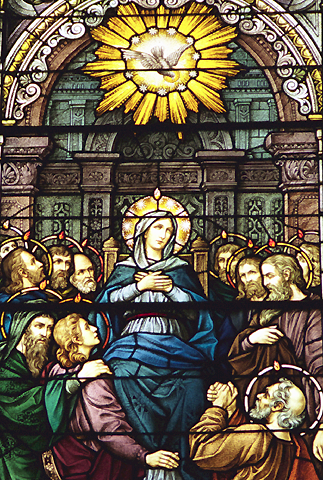 Descent of the Holy Spirit on the Apostles
1. Acts 2: 1-4
When Pentecost day came round, they had all met together, when suddenly there came from heaven a sound as of a violent wind which filled the entire house in which they were sitting; and there appeared to them tongues as of fire; these separated and came to rest on the head of each of them. They were all filled with the Holy Spirit and began to speak different languages as the Spirit gave them power to express themselves.
2. Guiding Light - Feed My Soul - Cycle C Homilies - by Fr. Joe Robinson - Pentecost
June 4, 2006
Homily: Pentecost is one of the three most important feasts of the Church year. We know Christmas is one of the three. It's easy to get excited about the birth of a baby, especially when the baby is God's Son and his mother is the Virgin Mary. We know the feast of Jesus' resurrection is the most important feast of all, because if there were no resurrection, we would have no faith or hope at all. But Pentecost, the third most important feast, seems like another ordinary Sunday.
3. Guiding Light - Feed My Soul - Cycle C Homilies - by Fr. Joe Robinson - Pentecost continues
Let me give you a little history of Pentecost. It was not invented by the Church. The Jews were celebrating Pentecost 3000 years ago. It was one of their three most important feasts. It was originally a harvest feast on which the first fruits were offered in gratitude to God. It later came to be celebrated as the anniversary of the giving of the Law to Moses on Mt. Sinai. The word itself means simply 50th, the 50th day after Jewish Passover. The Jews were celebrating that feast when the Spirit came on Jesus' followers. And so Pentecost is still celebrated, but we who are Christians celebrate it as the day on which God sent his Holy Spirit upon the Church.
4. Guiding Light - Feed My Soul - Cycle C Homilies - by Fr. Joe Robinson - Pentecost continues
Pentecost isn't just the celebration of a past event. It is important for us today, because the Holy Spirit is important for us today. The Spirit is hard to picture because the Spirit is within us when we are in God's grace. The Spirit is like the air we breathe, the light that goes on when we have an idea, the fire that burns in our heart. And so the Scriptures use these symbols help us know the Spirit; in the first reading the Spirit is a strong driving wind whereas in John's gospel the Spirit is the gentle breath of Jesus who breathes on his apostles and says "Receive the Holy Spirit." In either case, whether as a powerful wind or a gentle breath, the Spirit is like the invisible air we cannot live without. The Spirit is like the light that goes on in our mind when we have an idea: Jesus tells us in the gospel "he will guide you to all truth." Jesus couldn't explain everything to the apostles that he wanted them to know, but the Spirit turned on the light in their minds to be able to understand all that he had been teaching them. The Spirit also appeared to the apostles as tongues of fire, a fire that started burning in them to proclaim Christ with courage and conviction.
5. Guiding Light - Feed My Soul - Cycle C Homilies - by Fr. Joe Robinson - Pentecost continues
God wants us to know him and love him and the Spirit helps us to do that. But because the Spirit works within us, we are not aware the Spirit is even there. I would like to share with you some thoughts from C.S. Lewis about how we grow in knowledge things, people and God. If we want to know something about rocks, for example, we go and we find rocks. They won't come to us, they won't run away from us. In no way do they cooperate with us in getting to know them. The initiative is all on our side if we are to know rocks. If we want to study wild animals, that's a little different. We have to go find them and if we're not really quiet they probably will run away from us (or eat us alive). The initiative is mostly on our part if we are to know about wild animals, but they could prevent us from knowing them. If we want to know another human being, and they are determined for us not to know them, we probably won't. We have to win their confidence if they are going to open up to us. The initiative is equally divided: it takes two to make a friendship. When it comes to God, there is no way we could find him or know him if he didn't show himself to us. And he has done so in Jesus Christ. But we cannot not know Jesus Christ without the help of the Spirit. As Paul tells us in today's second reading: "No one can say Jesus is Lord except in the Holy Spirit." Without the Spirit God is totally unknown to us. The Spirit makes the Scriptures alive for us and helps us to be aware of God's presence with us and God's love for us.
6. Guiding Light - Feed My Soul - Cycle C Homilies - by Fr. Joe Robinson - Pentecost continues
When we have this kind of a relationship with God it spills over into everything else we do. So St. Paul tells us in Galatians: if we live by the Spirit, the Spirit will produce in us love, joy, peace, patience, kindness, goodness, faithfulness, humility, and self-control." Most of us also are familiar with Paul's description of the greatest gift of the Spirit: "I may be able to speak the languages of men and even angels, but if have not love, my speech is no more than a noisy gong or a clanging bell…Love is patient and kind, love is not jealous, etc, etc.
7. Guiding Light - Feed My Soul - Cycle C Homilies - by Fr. Joe Robinson - Pentecost continues
One last point: it was on the Church, that God sent his Spirit. As the first reading tells us Christ followers were all together in one place. The Spirit gives different gifts to different members of the Church so we can help each other to know and experience God and God's love. If we want to experience the fullness of the Spirit, we need each other, we need to come together, to worship together, to share our gifts with one another. Without the Spirit we are trying to breathe without air, think without light, love without fire.
8. Sing: Veni Sanctus Spiritus
Do the Pentecost Sequence
From the Lectionary
Pentecost Sequence
Come, Holy Spirit, come!
And from your celestial home
Shed a ray of light divine!

Come, Father of the poor!
Come, source of all our store!
Come, within our bosoms shine!

You, of comforters the best;
You, the soul's most welcome guest;
Sweet refreshment here below;

In our Labor, rest most sweet;
Grateful coolness in the heat;
Solace in the midst of woe.

O most blessed Light divine,
Shine within these hearts of yours,
And our inmost being fill!

Where you are not, man has naught,
Nothing good in deed or thought,
Nothing free from taint of ill!

Heal our wounds, our strength renew;
On our dryness pour your dew;
Wash the stains of guilt away;

Bend the stubborn heart and will;
Melt the frozen, warm the chill;
Guide the steps that go astray.

On the faithful, who adore
And confess you, evermore
In your sev'nfold gift descend;

Give them virtue's sure reward;
Give them your salvation, Lord;
Give them joys that never end. Amen.
Alleluia.
9. Romans 8: 22-27
We are well aware that the whole creation, until this time, has been groaning in labour pains. And not only that: we too, who have the first-fruits of the Spirit, even we are groaning inside ourselves, waiting with eagerness for our bodies to be set free. In hope, we already have salvation; in hope, not visibly present, or we should not be hoping -- nobody goes on hoping for something which is already visible. But having this hope for what we cannot yet see, we are able to wait for it with persevering confidence.
And as well as this, the Spirit too comes to help us in our weakness, for, when we do not know how to pray properly, then the Spirit personally makes our petitions for us in groans that cannot be put into words; and he who can see into all hearts knows what the Spirit means because the prayers that the Spirit makes for God's holy people are always in accordance with the mind of God.
10. John 7: 37-39
On the last day, the great day of the festival, Jesus stood and cried out:

'Let anyone who is thirsty come to me!
Let anyone who believes in me
come and drink!

As scripture says, "From his heart shall flow streams of living water." '

He was speaking of the Spirit which those who believed in him were to receive; for there was no Spirit as yet because Jesus had not yet been glorified.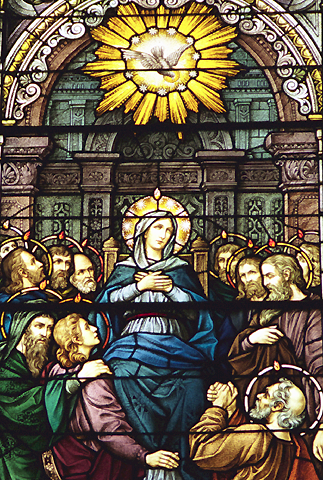 Assumption
1. Sing: Holy Is His Name
2. Sing: Ave Maria Gracia plena
3. Mary went to heaven body and soul —
4. Sing: See the Eyes That Look at Mary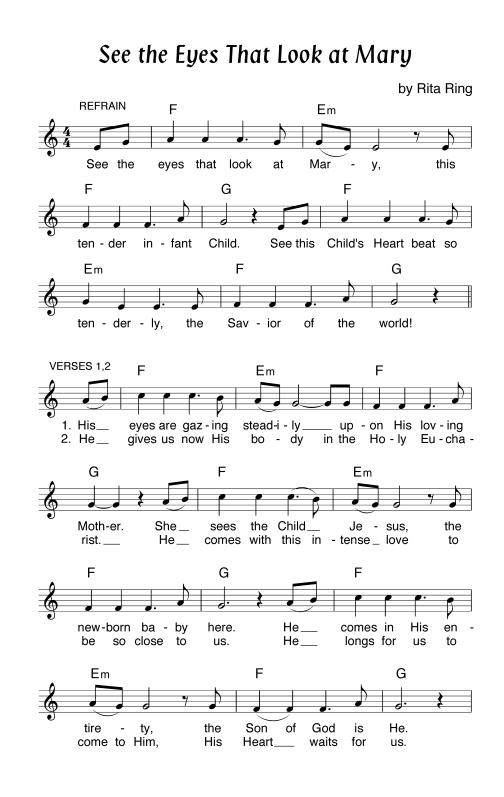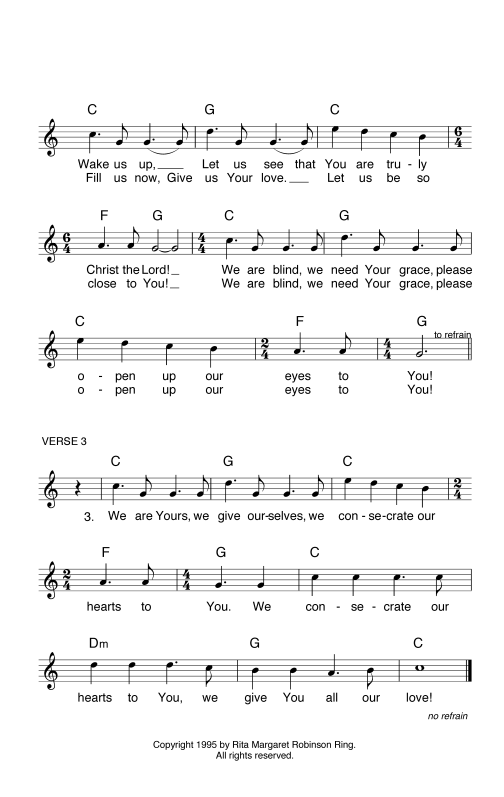 5. Sing: Little Baby Hands and Feet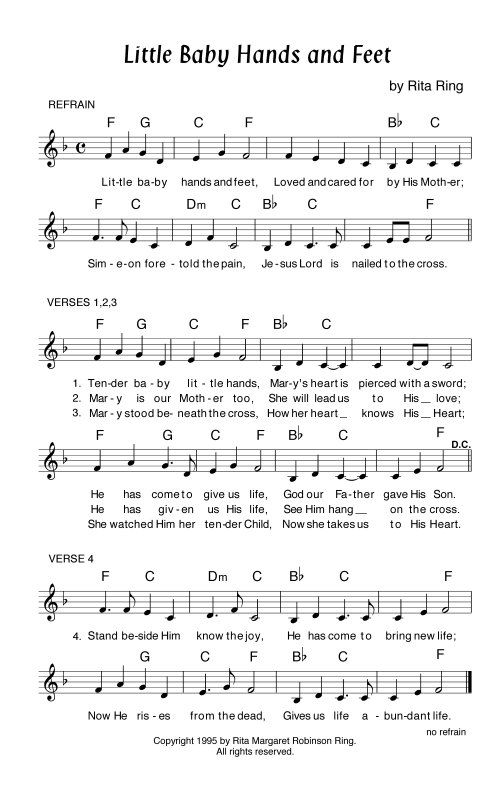 6. From the Rosary of August 27, 1996
Mary's Message

Mary: I stood beneath the cross of my Son, and my Heart was in such pain for I saw Him before my eyes. I saw Him covered with blood. I saw Him die. My Heart, my children, my Heart to watch my Son, but my Heart, my Heart, how I suffered for my little children of the world that give in to this world and give up the love of my Son. O my little children of light, I give you this message. Carry this light into the darkness for your Mother Mary, for I stood beneath the cross and I cried. I cried for the little ones. I cried for the young ones, the ones that do not care and will lose their souls. How do I make you see for you will not listen to me? What can I do? I come. I appear. I beg. I plead. I give you these gifts from my Son, and you reject me. I do not deliver messages very often anymore for I have been ignored. The message is the same. You do not read the messages I have given to you. Please help me. Help the little children. I appear. I appear. I appear, and I am ignored. I stood beneath the cross, and I cried. I cried, and my Heart was in such anguish for my little children, for I am searching for them this day as I searched for the Child Jesus. Please, please help me. I cannot hold back the hand of my Son any longer. I am Mary, your Mother. I ask you to help my children. You are my children of light.

end of Mary's Message
7.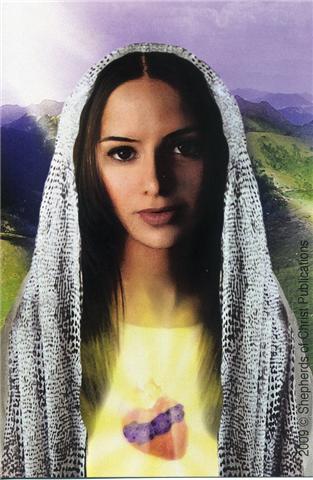 A Prayer for Intimacy with the Lamb, the Bridegroom of the Soul
Oh Lamb of God, Who take away the sins of the world, come and act on my soul most intimately. I surrender myself, as I ask for the grace to let go, to just be as I exist in You and You act most intimately on my soul. You are the Initiator. I am the soul waiting Your favors as You act in me. I love You. I adore You. I worship You. Come and possess my soul with Your Divine Grace, as I experience You most intimately.
8. Sing: Hail Mary Gentle Woman
9. Genesis Chapter 3
Now, the snake was the most subtle of all the wild animals that Yahweh God had made. It asked the woman, 'Did God really say you were not to eat from any of the trees in the garden?' The woman answered the snake, 'We may eat the fruit of the trees in the garden. But of the fruit of the tree in the middle of the garden God said, "You must not eat it, nor touch it, under pain of death." ' Then the snake said to the woman, 'No! You will not die! God knows in fact that the day you eat it your eyes will be opened and you will be like gods, knowing good from evil.' The woman saw that the tree was good to eat and pleasing to the eye, and that it was enticing for the wisdom that it could give. So she took some of its fruit and ate it. She also gave some to her husband who was with her, and he ate it. Then the eyes of both of them were opened and they realised that they were naked. So they sewed fig-leaves together to make themselves loin-cloths.

The man and his wife heard the sound of Yahweh God walking in the garden in the cool of the day, and they hid from Yahweh God among the trees of the garden. But Yahweh God called to the man. 'Where are you?' he asked. 'I heard the sound of you in the garden,' he replied. 'I was afraid because I was naked, so I hid.' 'Who told you that you were naked?' he asked. 'Have you been eating from the tree I forbade you to eat?' The man replied, 'It was the woman you put with me; she gave me some fruit from the tree, and I ate it.' Then Yahweh God said to the woman, 'Why did you do that?' The woman replied, 'The snake tempted me and I ate.'

Then Yahweh God said to the snake, 'Because you have done this,

Accursed be you
of all animals wild and tame!
On your belly you will go
and on dust you will feed
as long as you live.
I shall put enmity
between you and the woman,
and between your offspring and hers;
it will bruise your head
and you will strike its heel.'

To the woman he said:

I shall give you intense pain
in childbearing,
you will give birth to your children
in pain.
Your yearning will be for your husband,
and he will dominate you.

To the man he said, 'Because you listened to the voice of your wife and ate from the tree of which I had forbidden you to eat,

Accursed be the soil because of you!
Painfully will you get your food from it
as long as you live.
It will yield you brambles and thistles,
as you eat the produce of the land.
By the sweat of your face
will you earn you food,
until you return to the ground,
as you were taken from it.
For dust you are
and to dust you shall return.

The man named his wife 'Eve' because she was the mother of all those who live. Yahweh God made tunics of skins for the man and his wife and clothed them. Then Yahweh God said, 'Now that the man has become like one of us in knowing good from evil, he must not be allowed to reach out his hand and pick from the tree of life too, and eat and live for ever!' So Yahweh God expelled him from the garden of Eden, to till the soil from which he had been taken. He banished the man, and in front of the garden of Eden he posted the great winged creatures and the fiery flashing sword, to guard the way to the tree of life.
10. Guiding Light - Feed My Soul - Cycle C Homilies - by Fr. Joe Robinson
August 15, 2007 - Feast of the Assumption (excerpt)
HOMILY: It is recorded nowhere in Scripture when, where or how Mary died. Nor do the Scriptures tell us about her assumption. It has been a part, however, of the very ancient tradition of the Church that Mary was assumed bodily into heavenly glory when her life here on earth was ended. One early document referring to this event comes from the Bishop of Jerusalem in 451, St. Juvenal. He was asked by the emperor of Constantinople to bring the body of Mary to Constantinople. He replied to the emperor that Mary had died in the presence of all the apostles. But her tomb, when opened upon the request of St. Thomas, was found empty. Thus the apostles concluded that her body was taken up to heaven as Jesus was.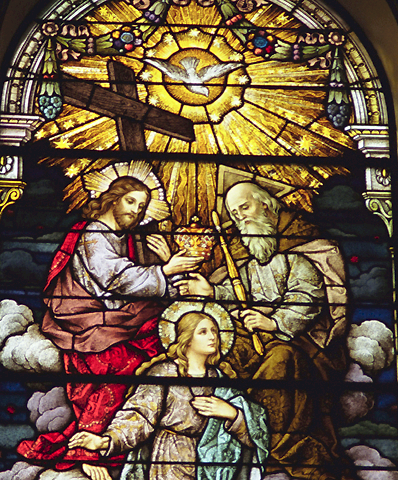 Crowning Mary Queen of Heaven and Earth
1. Sing: Hail Holy Queen
2. Guiding Light - Feed My Soul - Cycle C Homilies - by Fr. Joe Robinson - Feast of the Assumption
August 15, 2007
INTRODUCTION ON THE FEAST: (Rev. 11, 19a; 12, 1-6a, 10ab; I Cor. 15, 20-27; Lk. 1, 39-56) The book of Revelation is highly symbolic. Some of the symbolism is quite obvious while it requires a fairly extensive knowledge of Scripture to interpret some of the other symbols. In today's first reading we hear about a woman, a child and a dragon. The dragon is the devil and the powers of evil at work in the world. The child is Christ. The woman in our reading has a double symbolism. She stands for Mary, the physical mother of Jesus Christ, and she stands for the Church, our spiritual mother who brings Jesus Christ to birth in us through faith and the sacraments. In today's passage the woman is rescued from the powers of the dragon and is described in great glory. This too has a double symbolism. It symbolizes the glory of Mary in the assumption. It also symbolizes God's faithful people whom he will rescue from evil and will bring, in the resurrection from the dead, into the glory of heaven.
3. Revelation 11: 19 — 12: 1-6
Then the sanctuary of God in heaven opened, and the ark of the covenant could be seen inside it. Then came flashes of lightning, peals of thunder and an earthquake and violent hail.

Now a great sign appeared in heaven: a woman, robed with the sun, standing on the moon, and on her head a crown of twelve stars. She was pregnant, and in labour, crying aloud in the pangs of childbirth. Then a second sign appeared in the sky: there was a huge red dragon with seven heads and ten horns, and each of the seven heads crowned with a coronet. Its tail swept a third of the stars from the sky and hurled them to the ground, and the dragon stopped in front of the woman as she was at the point of giving birth, so that it could eat the child as soon as it was born. The woman was delivered of a boy, the son who was to rule all the nations with an iron scepter, and the child was taken straight up to God and to his throne, while the woman escaped into the desert, where God had prepared a place for her to be looked after for twelve hundred and sixty days.
4. Guiding Light - Feed My Soul - Cycle C Homilies - by Fr. Joe Robinson
August 15, 2007 - Feast of the Assumption (excerpt)
Today's feast honors Mary, for God himself has honored her. In her openness to God and in her willingness to always do whatever God wanted, God rewarded her in a unique way. But today's feast also is a source of hope for us. Christ came, as he says in St. John's gospel, that we might have the fullness of life. Our faith tells us our bodies too will share in that fullness. So Mary is allowed to enjoy ahead of time what God's plan is for all of us who are faithful in following him and serving him.
5. Act of Consecration to the Immaculate Heart of Mary
"Dear Blessed Virgin Mary, I consecrate myself to your maternal and Immaculate Heart, this Heart which is symbol of your life of love. You are the Mother of my Savior. You are also my Mother. You love me with a most special love as a member of Shepherds of Christ Associates, a movement created by your Son as a powerful instrument for the renewal of the Church and the world. In a return of love, I give myself entirely to your motherly love and protection. You followed Jesus perfectly. You are His first and perfect disciple. Teach me to imitate you in the putting on of Christ. Be my motherly intercessor so that, through your Immaculate Heart, I may be guided to an ever closer union with the pierced Heart of Jesus, Chief Shepherd of the flock."
6. Litany of the Blessed Virgin Mary
Lord, have mercy on us.
Christ, have mercy on us.
Lord, have mercy on us. Christ, hear us.
Christ, graciously hear us.
God, the Father of heaven,
have mercy on us.
God, the Son, Redeemer of the world,
have mercy on us.
God, the Holy Spirit,
have mercy on us.
Holy Trinity, one God,
have mercy on us.
Holy Mary, pray for us (repeat after each invocation).
Holy Mother of God,
Holy Virgin of virgins,
Mother of Christ,
Mother of the Church,
Mother of divine grace,
Mother most pure,
Mother most chaste,
Mother inviolate,
Mother undefiled,
Mother most amiable,
Mother most admirable,
Mother of good counsel,
Mother of our Creator,
Mother of our Savior,
Virgin most prudent,
Virgin most venerable,
Virgin most renowned,
Virgin most powerful,
Virgin most merciful,
Virgin most faithful,
Mirror of justice,
Seat of wisdom,
Cause of our joy,
Spiritual vessel,
Vessel of honor,
Singular vessel of devotion,
Mystical rose,
Tower of David,
Tower of ivory,
House of gold,
Ark of the Covenant,
Gate of heaven,
Morning star,
Health of the sick,
Refuge of sinners,
Comforter of the afflicted,
Help of Christians,
Queen of angels,
Queen of patriarchs,
Queen of prophets,
Queen of apostles,
Queen of martyrs,
Queen of confessors,
Queen of virgins,
Queen of all saints,
Queen conceived without original sin,
Queen assumed into heaven,
Queen of the most holy rosary,
Queen of the families,
Queen of peace,
Lamb of God, who take away the sins of the world,
spare us, O Lord.
Lamb of God, who take away the sins of the world,
graciously hear us, O Lord.
Lamb of God, who take away the sins of the world,
have mercy on us.
Pray for us, O holy Mother of God,
that we may be made worthy of the promises of Christ.

Let us pray: Grant, we beseech You, O Lord God, that we Your servants may enjoy perpetual health of mind and body and, by the glorious intercession of the Blessed Mary, ever virgin, be delivered from present sorrow, and obtain eternal joy. Through Christ our Lord. Amen.

We fly to your patronage, O holy Mother of God. Despise not our petitions in our necessities, but deliver us always from all dangers, O glorious and Blessed Virgin.
7. From Tell My People by Fr. Edward J. Carter, S.J.
The Holy Spirit
Jesus: "My beloved friend, tell My people to pray daily to the Holy Spirit. They are to pray for an increase in His gifts. My people must realize that the Holy Spirit comes to transform them. The Spirit desires to transform you more and more according to My image. Those who are docile to His touch become increasingly shaped in My likeness. He performs this marvel within Mary's Immaculate Heart. The more one dwells in My Mother's Heart, the more active are the workings of the Spirit. The Spirit leads Mary to place you within My own Heart. In both Our Hearts, then, your transformation continues. The more you are formed after My own Heart, the more I lead you to the bosom of My Father. Tell My people all this. Tell them to pray daily for a greater appreciation of these wondrous gifts. I am Lord and Master. All who come to My Heart will be on fire to receive the gifts of the Spirit in ever greater measure! I love and bless My people!"
Reflection: The Holy Spirit is given to us to fashion us ever more according to the likeness of Jesus. And the more we are like Jesus, the more Jesus leads us to the Father. Do we, each day, pray to the Holy Spirit to be more open to His transforming influence? Do we strive each day to grow in union with Mary? The greater our union with our Mother, the spouse of the Holy Spirit, the greater is the transforming action of the Holy Spirit within us.
8. From Tell My People by Fr. Edward J. Carter, S.J.
Work to Make Your World Better
Jesus: "My beloved companion, remind My people of their responsibility toward the world. They have a duty to try to make this a better world for all to live in.
"Today there is much which is wrong with the world. Sin covers the face of the earth. Sins of all kinds blemish the goodness of My Father's creation.
"However, My Mother and I are increasingly gathering our forces for the battle against Satan and his followers. We are more and more forming Our followers to wage the battle to win back that part of the world dominated by Satan's influence. We are forming our followers in the ways of love. We are forming Our followers with the grace which flows from the bosom of My Father, through My Heart, given in the Holy Spirit, and distributed through the intercession of the maternal and Immaculate Heart of Mary.
"We are forming Our followers to give themselves in the greatest love for God and neighbor. We are bringing them ever more closely to Our Hearts so that they may draw from the flames of love of My Heart and Mary's Heart! The more My followers dwell in Mary's Heart and My Heart, the more they are enlightened and strengthened to give themselves for the salvation of the world.
"I am Lord and Master. I ask all to follow Me and My Mother to help us bring forth the great age of love and peace for the world. This age will emerge after the phase of purification has been completed. This age will be characterized by the triumph of Mary's immaculate Heart and the reign of My Sacred Heart. In this great new age, soon to come, My people will love and praise My Father, with Mary and through Me and in the Holy Spirit, as never before!
"I love My people with a tremendous, burning love, and in this love I give them this message!"
Reflection: The world belongs to Christ. St. Paul tells us about this:
As he is the Beginning, he was first to be born from the dead, so that he should be first in every way, because God wanted all perfection to be found in him, and all things to be reconciled through him and for him, everything in heaven and everything on earth, when he made peace by his death on the cross (Colossians 1:18-20).
Since the world belongs to Christ, we, who are His followers, must have a great love for the world as created and redeemed by God. We must labor through our participation in the Mass and through all our other prayers and good works to more and more help the Christic image of the world to shine forth in ever greater splendor. This is our duty and our privilege. Out of love for God and neighbor, let's resolve to get on with the task!
9. From Tell My People by Fr. Edward J. Carter, S.J.
Age of the Two Hearts
Jesus: "My beloved priest-companion, I have allowed you to experience in extraordinary fashion the riches contained in My Heart and My Mother's Heart. I desire that you tell all My people about these riches. I desire that My people consecrate themselves to My Sacred Heart and to Mary's Immaculate Heart. My people are living in the beginnings of the age of the Two Hearts.
"After the time of the purification is completed, this new era of the Church and the world will become firmly established. This era will be characterized by the triumph of the Immaculate Heart and the reign of My Sacred Heart. All those who consecrate themselves to My Heart and to My Mother's Heart will help to establish this glorious new age. I am Lord and Master. Please listen to My urgent request. Within Our Hearts you will experience the love and security, the peace and the joy, which you all desire. I love My people with a tremendous love, and in My love I give them this message!"
10.
Apostles of the Eucharistic Heart of Jesus

My dear fellow Associate Members,

Jesus is calling special apostles to join a new division of the Shepherds of Christ Movement. Here is a message from Jesus given to Father Carter:

My beloved priest-companion, I am requesting that a new prayer movement be started under the direction of Shepherds of Christ Ministries. I am asking for volunteers who are willing to pray before the Blessed Sacrament for one hour, twice-weekly. Members of the Shepherds of Christ prayer chapters, as well as others, are to be invited to join this movement.

These apostles are to pray for the intentions I am giving you. For part of the hour they are to use the prayers of the Shepherds of Christ Associates Handbook. They may spend the rest of the hour as they so choose.

I will use this new prayer movement within My Shepherds of Christ Ministries in a powerful way to help in the renewal of My Church and the world. I will give great graces to those who join this movement. The name, Apostles of the Eucharistic Heart of Jesus, is to be given to this movement.

I am inviting My beloved Rita Ring to be coordinator for this activity.

I pour out the great love of My Sacred Heart to all. I am Jesus, Chief Shepherd of the flock.

This is indeed a special calling for us to unite in one heart with His Eucharistic Heart and pray for the following intentions:

1. For the spread of the devotion to the Hearts of Jesus and Mary culminating in the reign of the Sacred Heart and the triumph of the Immaculate Heart.
2. For the Pope.
3. For all bishops of the world.
4. For all priests.
5. For all sisters and brothers in the religious life.
6. For all members of the Shepherds of Christ Movement, and for the spread of this movement to the world.
7. For all members of the Catholic Church.
8. For all members of the human family.
9. For all souls in purgatory.
end of Apostles of the Eucharistic Heart message
July 31, 1994
Words of Jesus to Members of
Shepherds of Christ Associates:

"My beloved priest-companion, I intend to use the priestly newsletter, Shepherds of Christ, and the movement, Shepherds of Christ Associates, in a powerful way for the renewal of My Church and the world.

"I will use the newsletter and the chapters of Shepherds of Christ Associates as a powerful instrument for spreading devotion to My Heart and My Mother's Heart.

"I am calling many to become members of Shepherds of Christ Associates. To all of them I will give great blessings. I will use them as instruments to help bring about the triumph of the Immaculate Heart and the reign of My Sacred Heart. I will give great graces to the members of Shepherds of Christ Associates. I will call them to be deeply united to My Heart and to Mary's Heart as I lead them ever closer to My Father in the Holy Spirit."

- Message from Jesus to Father Edward J. Carter, S.J., Founder, as given on July 31, 1994,
feast of Saint Ignatius Loyola, Founder of the Society of Jesus (The Jesuits)

Give Christmas Presents that count

.

Get a canvas print of Mary's image
with a sliver of glass and
a little bottle of
Jesus and Mary water.

The glass will be fixed behind the
back of the picture.

Cost — $200.00

Call Sheila

1-513-470-3387

Also available

a cup with a Mary's image on it

Cost — $15

1-888-211-3041
Call Doris

or Call Kathleen
1-727-412-0906


Rosaries with Mary's Image Available
Aurora Borealis Beads

6mm - $30.00
8mm - $40.00

all items plus shipping


Fatima w/glass - 11"
$150.00


Sacred Heart of Jesus
w/glass - 18" - $300.00



St. Joseph - 18"
$65.00


St. Rita - 12"
$40.00

Different statues and sizes available

1-888-211-3041
Call Doris

or Call Kathleen
1-727-412-0906



Authenticity


Prayers and Meditations

$10.00


Medicine of Immortality


Prayers and Meditations - on
the mystery of the Eucharist

$10.00

other books by Fr. Pasquini available




Cycle A Book available soon!


other books available by Fr. Carter

$10.00 each plus shipping

Call 1-888-211-3041

other books available by Rita Ring


Blue Book I
$10.00

Blue Book II
$10.00

Blue Book III
$10.00

Blue Book IV
$5.00

Blue Book V
$5.00

Blue Book VI
$10.00

plus shipping




Immaculate Heart and Sacred Heart Pictures Available
with & without frames - different sizes available

1-888-211-3041
Call Doris

or Call Kathleen
1-727-412-0906

We can send Fr. Joe's

homily book to a priest for 75¢.

Can you please help us get

these homilies to the priests?


Please help us with your donation.

Call Shepherds of Christ

1-888-211-3041

Prayer Cards available

Holy Spirit Prayer
Act of Consecration to
Immaculate Heart of Mary
Act of Consecration to
Sacred Heart of Jesus
Prayer for Priests

Prayer before the Holy Sacrifice of the Mass

Prayer for Union with Jesus

Available for .25¢ each plus postage

Call Shepherds of Christ

1-888-211-3041

Prayer Card 4" x 6"

.50¢ each plus postage

size 5 1/2" x 8 1/2"
$1.00 plus postage

Statues

| | | |
| --- | --- | --- |
| | | |
| Sacred Heart of Jesus w/glass - 18 | Our Lady-Guadalupe w/glass - 12 | Limpias - 8 |
| | | |
| Immaculate Heart w/glass - 18 | I Heart - Ivory w/glass - 18 | Our Lady of Grace w/glass - 18 |
| | | |
| Our Lady-Mt. Carmel w/glass - 18 | Our Lady of Lourdes w/glass - 18 | Infant of Prague w/glass - 24 |
| | | |
| Sacred Heart of Jesus w/glass - 24 | Sacred Heart -Blessing w/glass - 24 | Sorrowful Mother w/glass - 24 |
| | | |
| I Heart - Ivory w/glass - 24 | I Heart of Mary w/glass - 24 | Our Lady of Lourdes w/glass - 24 |
| | | |
| Our Lady-Guadalupe w/glass - 28 | Our Lady of Grace w/glass - 24 | Our Lady-Mt. Carmel w/glass - 24 |
| | | |
| Fatima w/glass - 11 | Pilgrim Virgin w/glass - 12 | Pilgrim Virgin w/glass - 15 |
| | | |
| Fatima w/glass - 18 | Pilgrim Virgin w/glass - 18 | Pilgrim Virgin w/glass - 27 |

| | | |
| --- | --- | --- |
| St. Padre Pio | St. Joseph | St. Therese |
| | | |
| St. Francis | St. Anthony | St. Claire |
| | | |
| Limpias | St. Jude | Divine Mercy |
| | | |
| Holy Family | Angel | St. Philomena |
| | | |
| Pieta - Marble | Pieta - Color | Holy Family |
| | | |
| St. Anthony - 18 | St. Francis - 18 | St. Joseph - 18 |
| | | |
| St. Therese - 18 | St. Rita - 18 | St. Clare - 12 |
| | | |
| | | |

| | | | |
| --- | --- | --- | --- |
| St. Rita - 12 | St. Padre Pio - 12 | Divine Mercy - 12 | St. Michael - 11 |


Shepherds of Christ Ministries
P. O. Box 627
China, IN 47250

Toll free - 1-888-211-3041
Local - 1-812-273-8405
fax - 1-812-273-3182
web: www.sofc.org
e-mail: info@sofc.org


| | | | |
| --- | --- | --- | --- |
| | Size | Price | Quantity |
| Holy Family | 24" | $180 | |
| Limpias | 24" | $125 | |
| St. Anthony | 24" | $125 | |
| St. Claire | 24" | $125 | |
| St. Francis | 24" | $125 | |
| St. Joseph | 24" | $125 | |
| St. Jude | 24" | $125 | |
| St. Padre Pio | 24" | $125 | |
| St. Therese | 24" | $125 | |
| Divine Mercy | 22" | $125 | |
| Angel | 22" | $100 | |
| St. Philomena | 20" | $100 | |
| St. Philomena | 16" | $65 | |
| St. Joseph | 18" | $65 | |
| St. Francis | 18" | $65 | |
| St. Anthony | 18" | $65 | |
| St. Rita | 18" | $65 | |
| St. Therese | 18" | $65 | |
| Pieta - Color | 15" | $75 | |
| Pieta - Marble | 15" | $75 | |
| Holy Family | 12" | $60 | |
| St. Padre Pio - standing | 12" | $40 | |
| St. Padre Pio - sitting | 8" | $50 | |
| St. Michael | 11" | $40 | |
| St. Rita | 12" | $40 | |
| Divine Mercy | 12" | $40 | |
| St. Claire | 12" | $40 | |
| Limpias | 8" | $25 | |
| Our Lady of Guadalupe w/glass | 28" | $500 | |
| Our Lady of Mt. Carmel w/glass | 24" | $500 | |
| Immaculate Heart of Mary w/glass | 24" | $500 | |
| Immaculate Heart - Ivory w/glass | 24" | $500 | |
| Infant of Prague w/glass | 24" | $500 | |
| Our Lady of Grace w/glass | 24" | $500 | |
| Our Lady of Lourdes w/glass | 24" | $500 | |
| Sacred Heart of Jesus w/glass | 24" | $500 | |
| Sacred Heart -Blessing w/glass | 24" | $500 | |
| Sorrowful Mother w/glass | 24" | $500 | |
| Immaculate Heart of Mary w/glass | 18" | $300 | |
| Immaculate Heart - Ivory w/glass | 18" | $300 | |
| Sacred Heart of Jesus w/glass | 18" | $300 | |
| Our Lady of Lourdes w/glass | 18" | $300 | |
| Our Lady of Grace w/glass | 18" | $300 | |
| Our Lady of Mt. Carmel w/glass | 18" | $300 | |
| Our Lady of Guadalupe w/glass | 12" | $200 | |
| Fatima w/glass | 11" | $150 | |
| Fatima w/glass | 18" | $250 | |
| Pilgrim Virgin w/glass | 12" | $160 | |
| Pilgrim Virgin w/glass | 15" | $200 | |
| Pilgrim Virgin w/glass | 18" | $250 | |
| Pilgrim Virgin w/glass | 27" | $450 | |


Call for Shipping Price (1-888-211-3041)


Name

Sub-Total
Address

IN Tax (7%)
City

Shipping
State Zip

Donation
Telephone

Order Total

Shepherds of Christ
P. O. Box 627
China, IN 47250

1-888-211-3041

Fr. Joe's Homily Books

Guiding Light - Cycle A
The Word Alive in Our Hearts

$10.00




Guiding Light - Cycle B
Focusing on the Word

$10.00


Guiding Light - Cycle C
Feed My Soul

$10.00
Fr. Carter's Books
Priestly Newsletter Book I

12 Newsletters
July 1994 - June 1996

$12.00


Priestly Newsletter Book 2

17 Newsletters
1996 - 1999

$12.00


Priestly Newsletter Book 3

4 Newsletters & Prayers
2000

$12.00




Response to God's Love



$10.00



Messages given
by Jesus and Mary 1994

Tell My People


$10.00



The Pain and the Joy

$10.00

Synopsis of the Spiritual Life

Spirituality Handbook
$3.00


Priestly Newsletter on CD
2000 - Issue 1

$10.00


Priestly Newsletter on CD
2000 - Issue 2

$10.00
Fr. Pasquini's Books
Authenticity



Prayers and Meditations

$10.00

In Imitation of Two Hearts

For those suffering or
in Nursing Homes

$10.00

Light, Happiness and Peace

Journeying through traditional
Catholic Spirituality

$10.00

Medicine of Immortality

Prayers and Meditations - will assist the reader in growth toward a deeper understanding of the mystery of the Eucharist

$10.00


Ecce Fides - Pillar of Truth





Ideal for RCIA, Adult & Youth Bible Study, Homeschooling, Catholic
Identity Studies

$10.00

Shepherds of Christ Newsletters
9 Newsletters
2006 - 2008



$36.00
DVDs and CDs by Fr. Pasquini




Authenticity DVD
Prayers on the Ocean

$10.00


Nursing Home Mass DVD

$10.00

Consolation DVD

$10.00

Medicine of Immortality
Read by Rita Ring

2 CDs - $17.00

In Imitation of Two Hearts DVD

$10.00




Consolation CD
by Fr. John

$8.00





Nursing Home Mass CD

$8.00


Holy Spirit Novena DVD

$10.00

Divine Mercy Chaplet DVD

$10.00