Mary has requested that the daily message be given each day to the world. It is read nightly at the prayer service from her Image Building in Clearwater, Florida, U.S.A. This is according to her request. All attempts will be made to publish this daily message to the world at 11 p.m. Eastern time, U.S.A.

---

We acknowledge that the final authority regarding these messages rests with the Holy See of Rome.

---
---
A Prayer for Intimacy with the Lamb, the Bridegroom of the Soul

Oh Lamb of God, Who take away the sins of the world, come and act on my soul most intimately. I surrender myself, as I ask for the grace to let go, to just be as I exist in You and You act most intimately on my soul. You are the Initiator. I am the soul waiting Your favors as You act in me. I love You. I adore You. I worship You. Come and possess my soul with Your Divine Grace, as I experience You most intimately.
---
Messenger: Include Our Lady of the Holy Spirit Center in 6:20 prayers.
---
October 15, 1999 - Feast of St. Teresa of Jesus
Mary speaks: My dear children,
I invite you to come to My Image site
to pray December 17, 1999.
I am Mary your Mother.
Please come."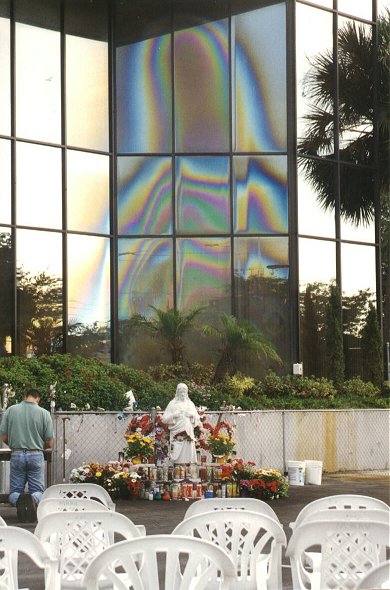 Messenger: Jesus showed me His fiery Heart December 17, 1991.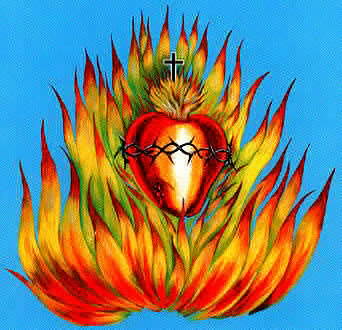 ---
T

HE EARTH STOPPED AND TOUCHED HEAVEN (excerpt from the Mass Book)

I touched eternity, and in that embrace, I knew all the waiting was worth the glory. You enveloped my being, and I was truly merged in the Divine Presence. I was merged in Your being. I existed IN You, with You, in the highest union with You, although I knew I was still distinct from You.

I was fused and absorbed in You, feeling complete and satisfied. To describe this union is far beyond any work of my pen and paper. I pray for the reader of this page to receive the grace to share this experience with Him, I will now live for this union-to be forever merged In Him, to be One in Him, to reach higher perfection as I exist in Him, for He takes the lowly and gives to them a sharing in Himself. He merges with us and we exist in Him. The word "in" - I could write pages about. I long for the deepest union with Him, where I am swept up in the heavenly embrace of the Divine God, and I am IN Him.

This is heaven on earth: to be merged as one with Divinity, although remaining distinct from God, to take our feeble hearts, our lowly status and to unite ourselves with the Divine, Almighty, powerful God and in this union to be meshed with Him, that His power dominates and our humanity reaches its heights of fulfillment in this union, in this oneness with Him.

The word I have looked for is "oneness." I understand some of the meaning of the words "One in Him." Oneness is the word to describe this union of our humanity with His Divinity. The depth to which we could meditate on oneness with God is incomprehensible. In that moment, the earth stood still, and He, my Divine Lover, the Bridegroom of my soul, took me to Himself, and I knew the embrace of the Divine God.
---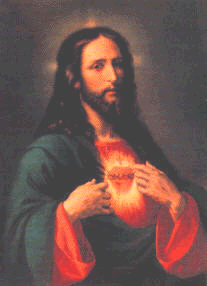 "Jesus speaks: I wish you to come and pray with the greatest fervor before the image of My mother December 17, 1999. I wish prayer booklets, jiffy sheets, tapes of the 6:20 prayers, rosary packets, school rosary materials and the Parent and Children's Rosary Book be made available. Please come and pray. If this is impossible, pray as a body before the tabernacle and at all Centers including: Toledo, Ohio; California; Kansas; Pennsylvania; Delaware; wherever one is able to pray. I love you, Jesus"
---
October 15, 1999 - 2nd message
Jesus speaks: I request you put on the first entry of Blue Book IV, today on the Internet.
Love, Jesus
Given July 1, 1994 - I Accept Myself - I am the Father's Creation
Messenger: Dear Father, I do not know You as well as I want, but I love You so.
You are one with Jesus. He is one with You. I love Jesus so much, Father. I come to You through Jesus to love You. I love You so because I love Jesus so. I know how You love me because You created me and gave Your only Son that I might get to heaven.
Oh, Father, to pray your "Our Father" is such a delight!
"Our Father, who art in heaven, hallowed by Thy name, Thy
Kingdom come, Thy will be done on earth as it is in heaven."
(Smelling strong scent of flowers - none around.)
Oh, Father, I love You so much.
"Give us this day, our daily bread and forgive us our trespasses
as we forgive those who trespass against us." Amen.
Father, Father, Your love is so immense! You created this whole world and all that is in it. Holy Spirit, help me now to know the Father more. Jesus, help me to love Your Father more. Mary, help me to love the Father more. I want to be close to You, my Father. I love You, my beautiful Father, so very much. My Father, my Father, my beautiful Father!
If I am loving the Father, I am loving Jesus, so to love the Father is to love Jesus because He is one with the Father.
When I pray to the Father, I feel more the immenseness of God. How truly great He is - limitless! I feel warm and good in my chest to realize I have a Father Who loves me so much. I have a loving Father and I hove Him so. Such warmth in my chest for My Father!
I praise You, Father. I praise You, Son. I praise You, Holy Spirit. Such fullness in my heart to love God, all three Divine Persons. What joy I feel to be united to God through the Immaculate Heart of my loving Mother. Oh, Mother, I love you. Such honor and praise to my God and love given to all three Persons and to you, my Mother, and St. Joseph.
I can accept myself now, knowing I am the creation of my beautiful Father. All that I am was created by Him. My feet are as He designed them, my nose is perfect, since He made me. I am His creation.
So, too, is my brother, His creation. My brother is perfectly designed by my Father. We are truly brothers, created by the Father, we are brothers through Jesus.
Oh, God, what a work of love to create such things for us. We are Your beloved sons and daughters, created by the hands of our loving Father. Such love poured out to us!
My Father is your Father. We are brothers in Him. Oh, Jesus, I love You so. Thank You for leading me to Your Father and my Father. We are brothers in Christ.
"My God, my God, why have You forsaken Me?" To His death on the cross, He loved us all, our Brother Christ. This is how He asks us to love our brothers, that we would lay down our lives for them. He loved us to His death. Can we do any less for our brothers? Christ is our Brother. God the Father is our Father. Jesus is the Son of God and we are heirs to the Kingdom through the salvation achieved for us by Jesus.
Jesus speaks: Come, oh come, My chosen ones. Do you see the love of your Father to give His only Son for you? Do you see the love of the Son to die for you? Oh, how you are loved, My little chosen ones! Come to me and experience such love. I Am Who Am, I am God. I come to you in the Eucharist and you do not adequately know the true treasure you possess. Oh, little ones, come to God and be fed. I am the one, true God, come down from the Father. I come to you, chosen ones, in the Eucharist. I am He Whose bootstraps you are unworthy to tie and you run away with such ignorance. Spread My love, read and publish this letter, for I am God and I come to you to love you and be loved by you. Do not cast Me off. I am God, My Heart cries out for your love. Love me through My beautiful Mother. Our love is your answer to your hurting souls. Do not go to this world, come to the God Who loves you. Receive Me in Holy Communion and where I am, My Father and the Holy Spirit are. Mary is with you also.
Such foolish ones, to ignore such treasure given freely to you! Oh, you blind ones! Pray to the Spirit to open your eyes to what you possess. You are so blind, My children. It is here you find your strength. Come to Us for the love of God, one in three Persons: Father, Son and Holy Spirit. Come and be united in your hearts to God and your loving Mother. Your peace is found in union with Jesus. Consecrate your lives to our Hearts. Consecrate your hearts to the Hearts of Jesus and Mary. Such love you will find here. My little ones - such love to fill you! Oh, I love you and long for your love, My beautiful children.
I am your loving Jesus.
---
October 15, 1999 3rd message
Jesus speaks: I wish you to study and memorize I Corinthians 13:4-7, and first sentence of verse 8.
I Corinthians 13: 4-8
Love is always patient and kind; love is never jealous; love is not boastful or conceited, it is never rude and never seeks its own advantage, it does not take offence or store up grievances. Love does not rejoice at wrongdoing, but finds its joy in the truth. It is always ready to make allowances, to trust, to hope and to endure whatever comes. Love never comes to an end.

---
October 15, 1999 - 4th message

Given April 20, 1995 - Nursing Home Message

Jesus speaks:

My dear beloved ones,

How quickly the years pass on this earth. The days go by with such swiftness and your life on this earth has ended.

My beloved ones, true life is life only as it exists in Me. The victory of My Resurrection is here this day. You are called to live forever and ever with Me in heaven.

Realize that life on earth is a preparation for the life to come. What glory awaits those who love and serve the Lord.

My beloved ones, I am Love. I came to show you My way. My way is love. You will be filled with every bliss in heaven.

Time here is so short. Many of My beloved souls, your brothers, will lose their souls. They will go to the fires of hell. They have sinned and turned against God. Your prayers, your sufferings, your daily activities offered up to the Father in union with My Body and My Blood can help many souls to turn from their sinful ways. Pray for grace for your brothers.

Your life is so important to Me. Your life, your sufferings are great prayers for this world. Pray, beloved ones, for the priests and ministers. They can lead so many souls to My love. Offer up your sufferings for them. Please, I beg you.

I love you, I love you, I love you. I am with you every second of your day, as you breathe, as your heart beats. I am in your heart, waiting for you to be with Me and talk to Me. I love you. The very hairs of your head are numbered. Tell Me of your pain. Tell Me of your sadness. Tell Me when you are cold and lonely. I want to comfort you and be with you in such love.

I long to be so close to you. I am here, the resurrected Jesus is with you and in your heart. Turn your hearts to joy. The victory has been won through My Resurrection. You have been given new life. You are the rightful heirs of the Kingdom of heaven.

Song:Eye Has Not Seen

Song:May the Angels Lead You Into Paradise

Jesus speaks: You are My missionaries. Through your prayers for the priests, you will help many souls. I love you, My special ones. I have chosen you, special, to pray. Pray for the priests and the ministers and the world.
---
October 15, 1999 - 5th message

Given December 18, 1995 - Mass Book

I

N THE DEEPEST RECESSES OF HIS HEART

The place Jesus took me was into the deepest recesses of His Heart. I was enveloped in His burning love. It was a red room with heat and an intense glow. I was swept away in this embrace, and I only existed in Him. The power of the Almighty God enveloped me, and I only existed in Him. There was no fear, for I was existent in this Almighty Being. My heart was wrapped in the eternal embrace of this Supreme Being. The security, the power I know was His deep presence in which I existed.

I knew the room was red and warm. I knew His immenseness, but I felt my own completeness in Him. I did not feel little, as a speck, but elevated and empowered for I existed then in Him in a most special way.

I was overtaken by the love of God. The fire of the Holy Spirit filled me. I was absorbed by the love of the Father, and I existed IN Him and in the deepest recesses of the Heart of Jesus. Our heaven on earth is these inner chambers of His magnificent Heart - the Heart of the Almighty God, with all the power, with omnipotence, with the fire of the love of God. He took me to the deepest chamber of this fiery Heart, and in that moment, I touched eternity, for I knew what it was to be enveloped in the deep furnace of His love. I now want to exist in this chamber of His Heart, swept away in His burning love, absorbed in my every cell with His love.

We do not understand the fire of His love. We do not understand what it is to be absorbed by love itself. He took me to the inner, deepest chamber of His Heart, and I felt the heat and knew the presence of love itself, and there was no fear, only a feeling of completeness, omnipotence, all-embracing, penetrating love - a power indescribable in words, a saturation of my being in the presence of God, and I was as I was created to be - living in Him!

This is how I will forever live my life, saturated with His divine life and love deep within this inner chamber of His burning Heart, living in Him as He possesses my being, and I operate with His power in me.

Little creatures though we are, we are His, His power, His life, flowing through us. In Him, we are as the Father intended: one in Him, each one of us, dwelling in this fiery furnace of His love. With our fears quieted and our hearts empowered by His life, we live forever in Him - in the Heart of Jesus.

Let no man separate what God has joined together. I am wed in the deepest love with my beloved Spouse, wed to the Heart of Jesus. As I am, I am one in Him. I live and I breathe in Him. He, Who is love, He Who is our all, He Who is mighty and without limits, He Who is, He Who is God and as I live, He lives in me in this world.

I am wed to Him, and I shall not fear for He is God - one, complete, loving, God. Heart of Jesus, I place my trust in Thee. As I live, I live in Your most adorable Heart, the furnace of God's love!
---
Question for married couples and others in intimate relationships:
Q: How do you feel when you tell me often how you feel?
---
---
---
Copyright © 1999 Shepherds of Christ.
Rights for non-commercial reproduction granted:
May be copied in its entirety, but neither re-typed nor edited.
Translations are welcome but they must be reviewed for moral and theological accuracy by a source approved by Shepherds of Christ Ministries before any distribution takes place. Please contact us for more information.
All scripture quotes are from the New Jerusalem Bible, July 1990, published by Doubleday.
Revised: October 14, 1999
URL: http://www.SofC.org
Contact Information for Shepherds of Christ
Email: info@SofC.org
---
Shepherds of Christ Ministries
PO Box 193
Morrow, Ohio 45152-0193

Telephone: (toll free) 1-888-211-3041 or (513) 932-4451
FAX: (513) 932-6791