Mary has requested that the daily message be given each day to the world. It is read nightly at the prayer service from her Image Building in Clearwater, Florida, U.S.A. This is according to her request. All attempts will be made to publish this daily message to the world at 11 p.m. Eastern time, U.S.A.

---

We acknowledge that the final authority regarding these messages rests with the Holy See of Rome.

---
---
A Prayer for Intimacy with the Lamb, the Bridegroom of the Soul

Oh Lamb of God, Who take away the sins of the world, come and act on my soul most intimately. I surrender myself, as I ask for the grace to let go, to just be as I exist in You and You act most intimately on my soul. You are the Initiator. I am the soul waiting Your favors as You act in me. I love You. I adore You. I worship You. Come and possess my soul with Your Divine Grace, as I experience You most intimately.
---
Messenger: Include Our Lady of the Holy Spirit Center in 6:20 prayers.
---
Messenger: Please pray for 3 urgent intentions!
---
Messenger: Please pray for the healing of Father Carter through the intercession of Our Lady of Clearwater.
---
Mary speaks: Pray through my powerful intercession as Our Lady of Clearwater for healing.
---
Messenger: CAN YOU HELP US BY GIVING US ROSARIES FOR THE SCHOOLS REQUESTING THEM?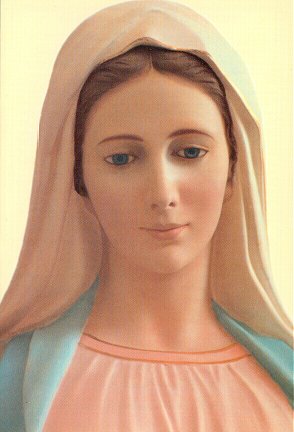 Mary speaks: PLEASE MAKE WALTER'S ROSARIES. THE SCHOOLS WANT ROSARIES AND THERE ARE NOT ANY ROSARIES LEFT.
---
October 21, 1994 (Blue Book V)

Abortion

Messenger:
We are God's chosen children from the first moment of conception. The life in the Mother's womb is a life created by God. From the first moment it is conceived, it is a creation of the Father and He deems it to be alive. We are fooling around with the divine creation of God the Father if we, in any way, stop the child from being born. Only God can create a human life! No man can, in any way, take this life and destroy it without answering to God the Father.

The child in Elizabeth's womb leapt for joy at the presence of Jesus and Mary. He was God in the womb.

Jesus said to me, in a vision:
"These children are the chosen ones of My Father. You saw My Heart, the flowers were for the dead children that are dying. You are little flowers growing into a beautiful bouquet for My Father. Each moment of your life is a flower in the bouquet. You want your bouquet full of flowers that are beautiful, not half dead. When you sin, you are not growing into the beautiful flowers He wants you to be. Each moment is a flower. Will your bouquet be half-dead? Will your moments be as little petals you present to the Father, full of life and beauty?"

"Tell the little children to come to Me. Bring the children to church. Let them be in front of the tabernacle. I am the Way, the Truth, and the Life. Bring your children to church. Children need to be close to Me. I love My children - bring them to Me!"
To really know God is to love - every action that comes from you should be a result of His love within you.
Messenger: The same day I had this vision.
This is the picture from my notebook.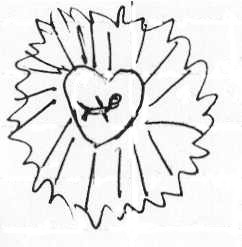 (End of Excerpt from Blue Book V)
---
Excerpt from October 6, 2000 Daily Message
Jesus speaks: I beg you to choose life. Killing anyone is against the 5th Commandment.

I give you gifts from heaven. My Mother cries for the massacre of her unborn children. I bleed for My children murdered.

You must vote for life.

I CALL YOU TO CHOOSE LIFE.

LIFE IS FOUND IN LIVING MY WORD AND OBEYING THE COMMANDMENTS.

MY YOUTH, MY WORLD, RESPECT LIFE.

THOU SHALT NOT KILL.

MY PRIESTS TELL THEM.

KILLING IS A SIN.

I GIVE YOU LIFE.

GOD GIVES LIFE TO THE BABY IN THE WOMB.

YOU MUST CHOOSE LIFE.

I AM THE BREAD OF LIFE.

I COME TO YOU IN THE EUCHARIST.

WHAT IS LIFE?

LIFE IS FOUND IN ME!

YOU RECEIVE AN OUTPOURING OF GRACE IN THE EUCHARIST.

BE FILLED WITH MY LIFE. COME TO THE EUCHARIST.
(End of excerpt from October 6, 2000 Daily Message)
---
Excerpt from Tell My People
Mary as Our Mediatrix

Mary: "My beloved priest-son, I have given you a profound conviction of how necessary it is to realize I am your motherly mediatrix with Jesus. I have been appointed by the Triune God. Constantly remind all my little ones of this great truth! The more my little ones give themselves to my maternal and Immaculate Heart, the more I bring them to the Heart of Jesus!"

Reflection: Some mistakenly think that Mary "gets in the way" of their relationship with Jesus. How far from the truth is this erroneous attitude. Mary's role in our salvation has been willed by God. Enough said!
(End of excerpt from Tell My People)
---
Prayer to St. Joseph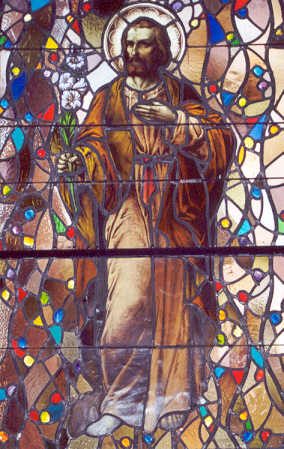 St. Joseph, guardian of Jesus and chaste spouse of Mary, you passed your life in perfect fulfillment of duty. You supported the Holy Family of Nazareth with the work of your hands. Kindly protect those who trustingly turn to you. You know their aspirations, their hardships, their hopes; and they turn to you because they know you will understand and protect them. You too have known trial, labor, and weariness. But, even amid the worries of material life, your soul was filled with deep peace and sang out in true joy through intimacy with the Son of God entrusted to you, and with Mary, His tender Mother. Amen. --(Pope John XXIII)
---
July 24, 1999, After Communion, at noon Mass
Jesus speaks: St Joseph is the special protector of the handmaids and servants, they must pray through his powerful intercession.
---
Mass Book II Entry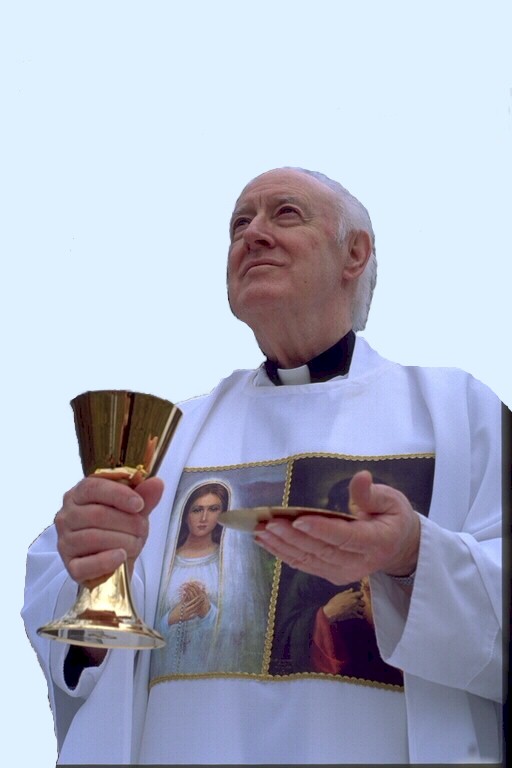 Through Him, With Him and In Him
---
Messenger: We ask God to give us a deeper realization of Mary's motherly mediation. Jesus gave Mary to us as our Mother as He hung upon the cross. We see God's great love for us. We ask God to give us the grace to entrust ourselves to Mary's maternal love every day, all day.
---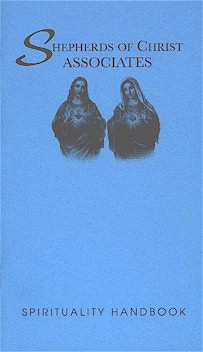 ---
Excerpt from Spirituality Handbook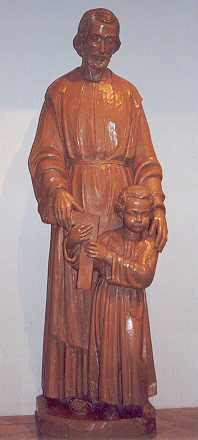 Devotion to St. Joseph, Other Saints and the Angels

St. Joseph is Patron of the Universal Church. His power of intercession is indeed great. Joseph, while on earth, enjoyed extraordinary closeness to Jesus and Mary. And His union with them in heaven is even greater. Let us each day pray to St. Joseph to obtain for us the grace to come ever closer to the Hearts of Jesus and Mary.

We should also pray to the other saints in heaven, especially our favorite saints. The saints are members of the Church triumphant. We should also pray for the souls in purgatory and to them (they can help us). The souls in purgatory are members of the Church suffering. We, who are members of the Church militant here on earth, make up one Church with the saints in heaven and the souls in purgatory. We should be aware of the common bond which unites us in Christ.

We should also pray to the angels for help, especially to the archangels Michael, Gabriel, and Raphael, and to our own guardian angels.
(End of excerpt from Spirituality Handbook)
---
The Spouse of the Lamb book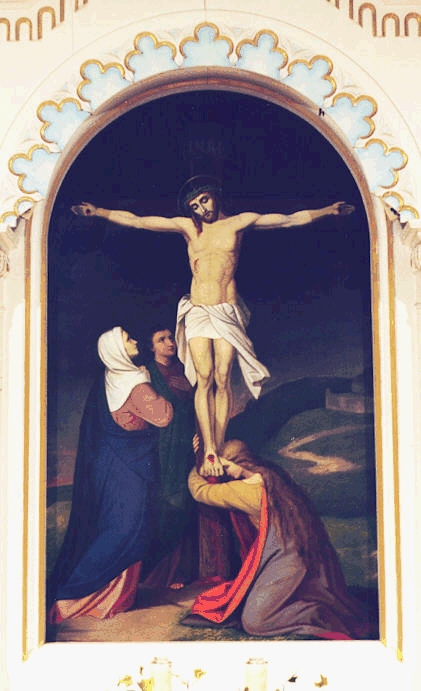 March 7, 1998 - 11th Day

Messenger: My dear Spouse,

You take us to Your mountain top and show us Your light and the world slumbers and sleeps and the throng below the hill shakes the tree and the dead fruit falls, but they do not see it.

We hear the voice of the Father speak, "This is My beloved Son in Whom I am well pleased." and we hear the voice of the Good Shepherd speak as He reveals His Father to us and His plan for the salvation of all men living according to His will.

The voice of the Good Shepherd will be heard as men listen to Jesus. In this Movement, Shepherds of Christ, we pray for our priests, the Church and the world.
---
March 19, 1998 (Excerpt)

Passion

Messenger: Passion is a way the devil can lead a holy soul to death. Jesus calls us to holy love. He calls us to brotherly love, love rooted in God.

Passion is a way the devil uses to drive a holy soul to death.

When appropriate, for example at certain times when we pray together, Jesus wants us to hold hands, to join in unity and to touch one another in a proper way. Satan works in the thoughts of holy souls to create passions and desires that are not to God's liking.

Jesus gives us the Commandment, "Thou shall not commit adultery." He asks us to relax and be one and then asks us to be on our guard. He asks us for love as the Virgin Mary had for St. Joseph and for others. Holy love is holy. It is not rooted in passion and desires, it is rooted in love of God and Godly love for each other. If one truly loves himself and another, he would not put himself and the other in an occasion of sin that could lead to the death of the soul. One that loves would not wish the other to sin.

Time spent before the tabernacle is to give honor and glory to God. God is the focus of this time before the tabernacle. God is there to unite hearts to Himself and to others.

God gives us the Commandment to love God and one another. We are to love in holy love.

Satan can create passions, lights, feelings that will lead a holy soul into sin. Satan creates appetites within the soul to be improperly satisfied with food, alcohol, sex, indulgence. Jesus does not want us to be fearful. He wants us to help to bring about the Reign of the Sacred Heart. You must ask yourself, does this relationship have as its primary purpose to give honor and glory to God? Anything that would lead to anything sinful is not giving honor and glory to God.

I state clearly. Satan will try to lead some astray with passions. Our role is to help bring the world into oneness in the Hearts of Jesus and Mary. Satan can trick a couple engaging in prayer by passions and feelings. We must focus on the work at hand. Being led away by Satan harms the whole Movement. Be diligent, thrifty, and loving, praying always for the gifts of the Spirit.
---
Mary's Message from the Rosary of August 27, 1996
Mary speaks: I stood beneath the cross of my Son, and my Heart was in such pain for I saw Him before my eyes. I saw Him covered with blood. I saw Him die. My Heart, my children, my Heart to watch my Son, but my Heart, my Heart, how I suffered for my little children of the world that give in to this world and give up the love of my Son. O my little children of light, I give you this message. Carry this light into the darkness for your Mother Mary, for I stood beneath the cross and I cried. I cried for the little ones. I cried for the young ones, the ones that do not care and will lose their souls. How do I make you see for you will not listen to me? What can I do? I come. I appear. I beg. I plead. I give you these gifts from my Son, and you reject me. I do not deliver messages very often anymore for I have been ignored. The message is the same. You do not read the messages I have given to you. Please help me. Help the little children. I appear. I appear. I appear, and I am ignored. I stood beneath the cross, and I cried. I cried, and my Heart was in such anguish for my little children, for I am searching for them this day as I searched for the Child Jesus. Please, please help me. I cannot hold back the hand of my Son any longer. I am Mary, your Mother. I ask you to help my children. You are my children of light.

Song: O Lady of Light, shining so bright, be with us this day, guiding our way, O Lady, O Lady of Light.

Mary speaks: I appear to you as Our Mother of Sorrows.
(End of Mary's Message)
---
MY VALENTINE FOR JESUS AND MARY
AND THE WORLD
I _________________ give my heart to
You Jesus and Mary on this day
_________________
I promise to help spread the devotion to
the Hearts of Jesus and Mary.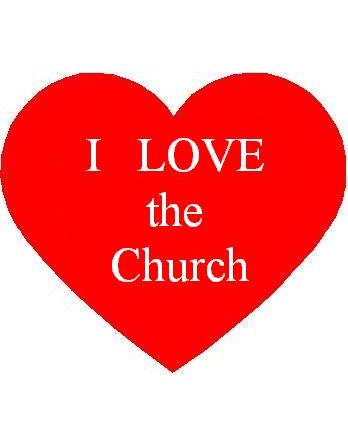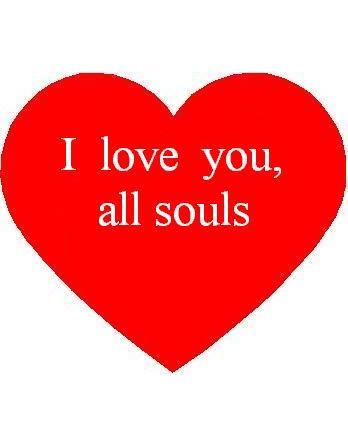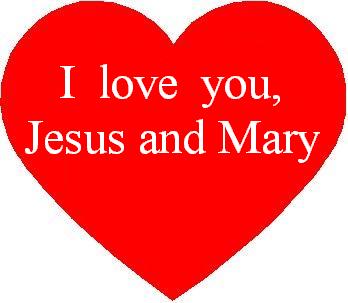 ---
Question for married couples and others in intimate relationships:
Q: How do you feel we can deepen our devotion to Mary and Joseph? Can we model our family after the Holy family?
---
---
---
Copyright © 2000 Shepherds of Christ.
Rights for non-commercial reproduction granted:
May be copied in its entirety, but neither re-typed nor edited.
Translations are welcome but they must be reviewed for moral and theological accuracy by a source approved by Shepherds of Christ Ministries before any distribution takes place. Please contact us for more information.
All scripture quotes are from the New Jerusalem Bible, July 1990, published by Doubleday.
Revised: October 21, 2000
URL: http://www.SofC.org
Contact Information for Shepherds of Christ
Email: info@SofC.org
---
Shepherds of Christ Ministries
PO Box 193
Morrow, Ohio 45152-0193

Telephone: (toll free) 1-888-211-3041 or (513) 932-4451
FAX: (513) 932-6791