Please pray for Jimmy & Delores.
Pray for Printing of Cycle A Book
We need donations for the postage to send it out.
Please help us.
Call Doris 1-888-211-3041
or Call 1-727-725-9312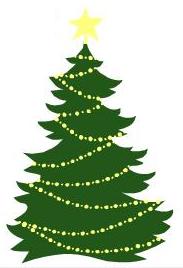 Give gifts that last.
Please remember us when buying
your Christmas gifts.
Can anyone please help us payoff
our loan on the building?
Given October 23, 2010 - 6:00am
Ephesians 4: 1-6

I, the prisoner in the Lord, urge you therefore to lead a life worthy of the vocation to which you were called. With all humility and gentleness, and with patience, support each other in love. Take every care to preserve the unity of the Spirit by the peace that binds you together. There is one Body, one Spirit, just as one hope is the goal of your calling by God. There is one Lord, one faith, one baptism, and one God and Father of all, over all, through all and within all.
I learned on this journey how we are
to walk in faith —
A man with a bad leg is a cripple
and he stumbles endlessly to do what
the man with good legs does without
thinking —
So too it is with one given in
vices — he stumbles and carries
on his back the impure habits,
he himself has chosen to indulge in,
where one steeped in faith, hope and
love — acts for his own good and
the goodness he can bring to
others, living a life rooted in love —
the man who is filled with pride
and selfishness determines his
actions not by God's standards,
by God's will in love, but if
he knows weakness in the world
he may usurp power over others
to fill that, what appears to be,
a 'hole in his soul' — empty.
What he should desire by the
plan of the Father is reaching
toward others and not living
the miserable state he has chosen
for himself —
Happiness comes in union with
God —
A holy man, a happy man, is
one of faith — believing in
God and His love with their
whole heart, their whole soul
and their whole being —
They are not given in selfishness,
but the holy man has learned
to die to self more and more
and to do what will bring
others good — realizing what
they do to others they do to
Jesus —
Do not give into debauchery for
it tears at the soul and makes
one hard in heart —
Seek the road of purity —
Where one is not tied down
with jealousies and
envy and anger and
pride
Seek the road that leads to
victory —
The road of one who is
fit for running the
race to build the
Kingdom of God —
Jesus was the first runner —
we run after — like a man
quick like flint —
The slothfulness of some grows
ever slothful and they
are bound by these deadly
sins —
Choose the virtues that gives
life in one's heart —
Soft and supple hearts
following the example
of Jesus —
Jesus: Oh foolish men — reach for the stars
not for the pits of destruction —
You have but one life to live —
You are given a free will —
And your fate is your fate —
No one else will answer for
your sins — you will
stand before God and all
the darkness will be revealed
in the light —
All will be brought to light —
Satan hovers over secrets —
oh I will not be found out
the man believes
What you speak in the darkness
of your hearts —
Your violent deeds in the chambers
of your heart against your
brother — deeds worked in
anger —
will trip you —
will tie you bound to a life
of misery
You were created for love
God is love and in Him there
is no darkness —
All are meant to change — to die
to their ways not likened to Mine
and to live, more, the resurrected life —
Seek the narrow gate —
Lest your baggage grow as your
age and you never make
it through for you
carried unforgiveness,
anger, hatred and disharmony
plaques on your back —
and when it was time for
those carrying lighted lamps
to go in —
you were not ready
Sunday is
the Lord's Day
to love
It is a commandment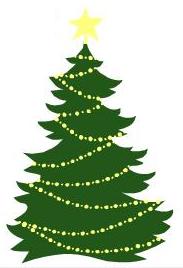 Order your Christmas
presents that last!
Please remember us when buying
your
Christmas gifts.
Fr. Joe's Cycle A book will be available this week.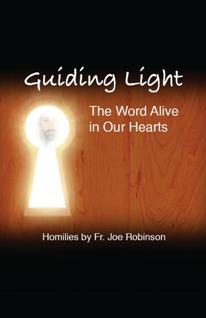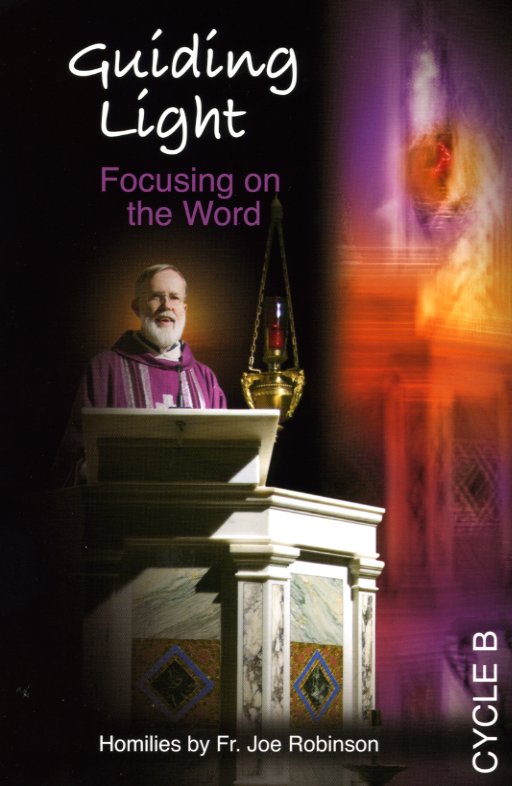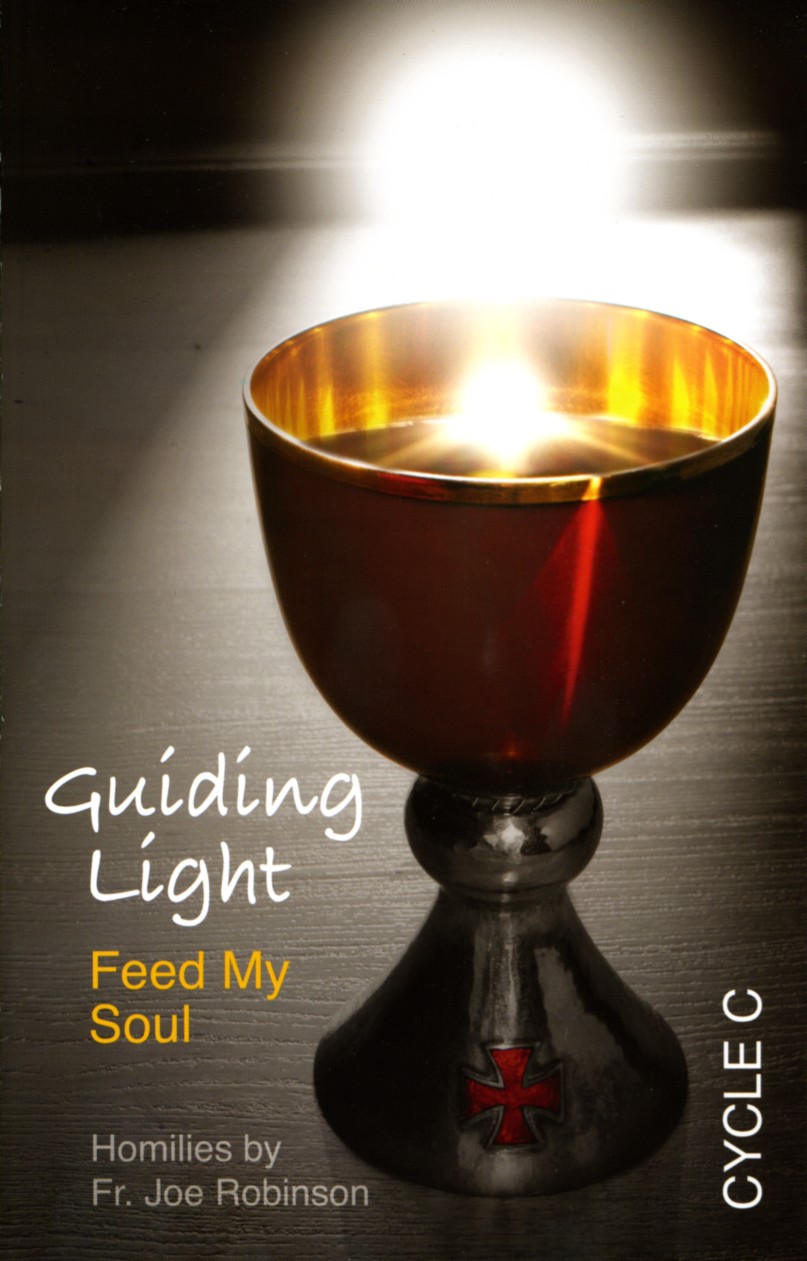 $10.00 each plus shipping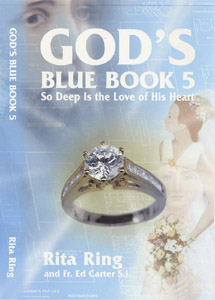 Books written by the cofounder of Shepherds of Christ Ministries

Writings by Rita Ring
Mass Book
A Journey Into the Heart of Jesus - Author: Rita Ring. Discerned by: Fr. Edward J. Carter S.J. Imprimatur
$ 12.00 plus postage
God's Blue Book I
Teachings to Lift You Up. Author: Rita Ring. Discerned by: Fr. Edward J. Carter S.J.
$ 10.00 plus postage
God's Blue Book II
The Fire of His Love. Author: Rita Ring. Discerned by Fr. Edward J. Carter S. J.
$ 10.00 plus postage
God's Blue Book III
Love God, Love One Another. Author: Rita Ring. Discerned by Fr. Edward J. Carter S.J.
$ 10.00 plus postage
God's Blue Book 4
The Love of the Hearts of Jesus and Mary Author: Rita Ring
$ 5.00 plus postage
God's Blue Book 5
So Deep Is the Love of His Heart. Author: Rita Ring.
$ 5.00 plus postage
Blue Rosary Book
Rosaries From the Hearts of Jesus and Mary - Volume II
$ 12.00 plus postage
Messages From Jesus
Given by Jesus to His Messenger Author: Rita Ring. Discerned by: Fr. Edward J. Carter S.J.
This book is 8 1/2" by 11" and you can open it up and sit it on your lap.

$ 10.00 plus postage
Apostle's Manual
Shepherds of Christ Overview: Very carefully discerned by Fr. Edward J. Carter S. J.
$ 20.00

Songs From Jesus
Given by Jesus to His Messenger Author: Rita Ring. Discerned by: Fr. Edward J. Carter S.J.
$ 5.00
Books written by the founder of Shepherds of Christ Ministries
Tell My People
Messages from Jesus and Mary Author: Fr. Edward J. Carter S.J. Imprimi Potest
$ 10.00 plus postage
Spirituality Handbook
Shepherds of Christ Associates Spirituality Handbook - A Way of Spiritual Life
Author: Fr. Edward J. Carter S.J. Imprimi Potest
$ 3.00 plus postage
Get a canvas print of Mary's image
with a sliver of glass and
a little bottle of
Jesus and Mary water.

The glass will be fixed behind the
back of the picture.

Cost — $200.00

Call Sheila

1-513-470-3387

Also available

a cup with a Mary's image on it

Cost — $15

Call Doris
1-888-211-3041
or
1-727-925-9312

Rosaries with Mary's Image Available
Aurora Borealis Beads

6mm - $30.00
8mm - $40.00

Call Doris
1-888-211-3041
or
1-727-925-9312

Statues

| | | |
| --- | --- | --- |
| | | |
| Sacred Heart of Jesus w/glass - 18 | Our Lady-Guadalupe w/glass - 12 | Limpias - 8 |
| | | |
| Immaculate Heart w/glass - 18 | I Heart - Ivory w/glass - 18 | Our Lady of Grace w/glass - 18 |
| | | |
| Our Lady-Mt. Carmel w/glass - 18 | Our Lady of Lourdes w/glass - 18 | Infant of Prague w/glass - 24 |
| | | |
| Sacred Heart of Jesus w/glass - 24 | Sacred Heart -Blessing w/glass - 24 | Sorrowful Mother w/glass - 24 |
| | | |
| I Heart - Ivory w/glass - 24 | I Heart of Mary w/glass - 24 | Our Lady of Lourdes w/glass - 24 |
| | | |
| Our Lady-Guadalupe w/glass - 28 | Our Lady of Grace w/glass - 24 | Our Lady-Mt. Carmel w/glass - 24 |
| | | |

| | | |
| --- | --- | --- |
| St. Padre Pio | St. Joseph | St. Therese |
| | | |
| St. Francis | St. Anthony | St. Claire |
| | | |
| Limpias | St. Jude | Divine Mercy |
| | | |
| Holy Family | Angel | St. Philomena |
| | | |
| Pieta - Marble | Pieta - Color | Holy Family |
| | | |
| St. Anthony - 18 | St. Francis - 18 | St. Joseph - 18 |
| | | |
| St. Therese - 18 | St. Rita - 18 | St. Clare - 12 |
| | | |
| | | |

| | | | |
| --- | --- | --- | --- |
| St. Rita - 12 | St. Padre Pio - 12 | Divine Mercy - 12 | St. Michael - 11 |


Shepherds of Christ Ministries
P. O. Box 627
China, IN 47250

Toll free - 1-888-211-3041
Local - 1-812-273-8405
fax - 1-812-273-3182
web: www.sofc.org
e-mail: info@sofc.org


| | | | |
| --- | --- | --- | --- |
| | Size | Price | Quantity |
| Holy Family | 24" | $180 | |
| Limpias | 24" | $125 | |
| St. Anthony | 24" | $125 | |
| St. Claire | 24" | $125 | |
| St. Francis | 24" | $125 | |
| St. Joseph | 24" | $125 | |
| St. Jude | 24" | $125 | |
| St. Padre Pio | 24" | $125 | |
| St. Therese | 24" | $125 | |
| Divine Mercy | 22" | $125 | |
| Angel | 22" | $100 | |
| St. Philomena | 20" | $100 | |
| St. Philomena | 16" | $65 | |
| St. Joseph | 18" | $65 | |
| St. Francis | 18" | $65 | |
| St. Anthony | 18" | $65 | |
| St. Rita | 18" | $65 | |
| St. Therese | 18" | $65 | |
| Pieta - Color | 15" | $75 | |
| Pieta - Marble | 15" | $75 | |
| Holy Family | 12" | $60 | |
| St. Padre Pio - standing | 12" | $40 | |
| St. Padre Pio - sitting | 8" | $50 | |
| St. Michael | 11" | $40 | |
| St. Rita | 12" | $40 | |
| Divine Mercy | 12" | $40 | |
| St. Claire | 12" | $40 | |
| Limpias | 8" | $25 | |
| Our Lady of Guadalupe w/glass | 28" | $500 | |
| Our Lady of Mt. Carmel w/glass | 24" | $500 | |
| Immaculate Heart of Mary w/glass | 24" | $500 | |
| Immaculate Heart - Ivory w/glass | 24" | $500 | |
| Infant of Prague w/glass | 24" | $500 | |
| Our Lady of Grace w/glass | 24" | $500 | |
| Our Lady of Lourdes w/glass | 24" | $500 | |
| Sacred Heart of Jesus w/glass | 24" | $500 | |
| Sacred Heart -Blessing w/glass | 24" | $500 | |
| Sorrowful Mother w/glass | 24" | $500 | |
| Immaculate Heart of Mary w/glass | 18" | $300 | |
| Immaculate Heart - Ivory w/glass | 18" | $300 | |
| Sacred Heart of Jesus w/glass | 18" | $300 | |
| Our Lady of Lourdes w/glass | 18" | $300 | |
| Our Lady of Grace w/glass | 18" | $300 | |
| Our Lady of Mt. Carmel w/glass | 18" | $300 | |
| Our Lady of Guadalupe w/glass | 12" | $200 | |
| Fatima w/glass | 11" | $150 | |
| Fatima w/glass | 18" | $250 | |
| Pilgrim Virgin w/glass | 12" | $160 | |
| Pilgrim Virgin w/glass | 15" | $200 | |
| Pilgrim Virgin w/glass | 18" | $250 | |
| Pilgrim Virgin w/glass | 27" | $450 | |


Call for Shipping Price (1-888-211-3041)


Name

Sub-Total
Address

IN Tax (7%)
City

Shipping
State Zip

Donation
Telephone

Order Total
Call Doris
1-888-211-3041
or
1-727-925-9312



Immaculate Heart and Sacred Heart Pictures Available
with & without frames - different sizes available

Call Doris
1-888-211-3041
or
1-727-925-9312