Mary has requested that the daily message be given each day to the world. It is read nightly at the prayer service from her Image Building in Clearwater, Florida, U.S.A. This is according to her request. All attempts will be made to publish this daily message to the world at 11 p.m. Eastern time, U.S.A.

---

We acknowledge that the final authority regarding these messages rests with the Holy See of Rome.



---
Isaiah 49:13-15
Shout for joy, you heavens; earth, exult!
Mountains, break into joyful cries!
For Yahweh has consoled his people,
is taking pity on his afflicted ones.
Zion was saying,
'Yahweh has abandoned me,
the Lord has forgotten me.'
Can a woman forget her baby at the breast,
feel no pity for the child she has borne?
Even if these were to forget,
I shall not forget you.
---
Messenger: Reference Isaiah chapter 49.
Prayer of a Mother:
Oh my God, I give You my children. I carried them within my womb and I nursed them at my breasts. I fed them every good thing. I watched them crawl and I watched them when they picked up little harmful objects and put them in their little mouths. I protected them and saved them from such harm. I took them to church and taught them to pray. I am sure I was not perfect in all my ways. I am sure I did not give the perfect example all the time, but I loved them so much. I loved You, God, and I tried, imperfect as it was.
Now I see how short this time truly was. I realize the little time I had to raise them and I see how important it was. Very soon they were independent and on their own. The world lured them with its convincing ways and my children heard this at such an early age.
There were "surround systems" on the television and CD players which produced very loud music. There were video games and computers, friends on the Internet at late hours, sisters and brothers coming and going at late hours to make it most difficult to enforce rules.
The school and world taught them many things and contributed to decreasing the intimacy between the family members in the home.
God, the lessons I was taught by You in my heart about love and Your ways were not reinforced in the school and the media, nor by the friends and the neighbors. Even the members in the family did not agree on the importance of family prayer.
It is indeed a struggle, hard, in today's world. I love You so deeply and I love my children so much. I want every good thing for them, but the world has taught them many lessons that has disturbed the basic parental authority that I know You wish me to exercise.
God, if I give in to the ways of the world, I am not fulfilling my responsibility to You as a mother and parent to raise my children according to Your ways.
It is just a struggle I fight every day to teach them Your ways.
When my other children began to exercise such independence they were much older. The world has moved so much faster now to lead the child to independence at such an early age.
I understand more fully, the visits of the heavenly Mother crying out to the parents to reach their youth with consecration and the rosary. I understand the importance of consecration of the child even in the womb, for it is a fierce world out there.
I have learned, God, to ask You to spread the Blood of Jesus over my children, even hourly. I love them so deeply as the children of my womb and I wish more than anything that they advance in their life in You, that they will be with You for all eternity.
God, I see the deterioration of the Christian family, with sports and activities, television, computers and video games. I see how the family meal is jeopardized and how so many activities have taken preference. I see less and less time for God on Sundays and little time for family prayer. I wish to promote the rosary and consecration in religious schools as Our Lady asked us to do, but many schools do not wish to pray the rosary. They say it is too long.
I see that many families will not pray the rosary or pray other prayers together.
Our Lady said, "The family that prays together, stays together."
My heart is heavy and my prayer life has increased all through the day. I pray for my children constantly and I pray for Mary's children, the children of the earth. I wish my God You would grant great grace to the people so that they would all give their hearts in consecration to Our Lady as she requested at Fatima. I pray continually in her Immaculate Heart, that my prayers will be most pure and "weigh heavy" with You, God, for I so desire peace, love and harmony in the world.
Have mercy on us, God, and help us, we are indeed the poor little banished children of Eve, in need of the Mother's care.
Dear Mary, hold us within your Immaculate Heart.
Dear Sacred Heart of Jesus, spread us with Your precious Blood and let us dwell in Your Sacred Heart.
Most Sacred Heart of Jesus, we place our trust in Thee.
Dear Mary our Mother,
Mother us as you mothered your Son, Jesus. We wish you to take our children and our families deeply into your Immaculate Heart. Please take the Church and the world into your Immaculate Heart. We consecrate the world to the Hearts of Jesus and Mary.
Mary speaks: My children, this is my gift to you on this day. I love my little children of the world. I will give you short rosaries so that a new rosary book of short rosaries can be compiled for parents and children. I ask Ellen to type these and to check them most carefully. I ask Sheila to put them in a book. I ask that you seek the imprimatur for such rosaries.
I ask you, my children, to pray the rosary. The Holy Spirit will fill you and lift you up when you pray the rosary.
I ask you to consecrate your hearts and pray the rosary. Please reach the children in religious schools with the rosary and the consecration. I implore you, I beg you. Please circulate the pink consecration cards and rosary aves and the children's rosary book to all schools as soon as possible. Oh my children, have plays for Christmas using the meditations I give you as you pray the rosary. Dress for the scenes and pray the rosary for the school, church, community and parents.
This Christmas, I wish my Son to be alive in your hearts.
Rosaries can be found in the two rosary books I give you.
My gift this Christmas is my rosaries given in the Rosary Book, Rosary Meditations for Parents and Children, and the Books of the Daily Messages. Pray for these books and the funds to publish them, and circulate rosaries, consecration cards and meditations and tapes to the schools.
It is almost the end of October. I wish my children, would be as enthusiastic about the rosary as they are about Halloween. I wish children to pray the rosary. I will protect them when they come to my Immaculate Heart.
I love them so much.
I am Mary, your Mother, Our Lady of the Holy Rosary.
Messenger: At the 6:00 hour the bells tolled and immediately afterwards Jesus gave this message.
Jesus speaks: My dear child, I ask you to put the message of April 13, 1994 from God's Blue Book III on the Internet.
Messenger: When I received this message on April 13, 1994 Jesus said He wished every soul on the earth to receive this message. My pen was golden in color and glowing. I felt immense power as never before as I wrote.
Jesus speaks: Today I tell you clearly. I wish every soul on the earth to read this message. Put on the Internet on October 29, 1998. I love you, Jesus.
---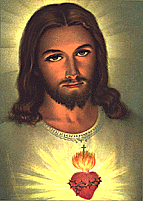 I Love You

(Letter for Front of B.B. II)
April 13, 1994
Jesus speaks: How, child, do I, Jesus, tell you I love you? You hold on to silly things, when God is in your midst and is ardently loving you. I am Jesus Christ, the Son of God. I am writing to each precious child this day. I am on fire for love of you. I remain in the Eucharist to be with you with My ardent love. I did not want to leave My beloved ones at the Last Supper. I love you so, My dear and ardently loved children. I remain with you this day in the Blessed Sacrament, the same Jesus Who died a brutal death on the cross.
Do you know I am truly present there? Do you know that God waits every day for you in the tabernacle? Do you comprehend even a minute amount of My love? You will never on earth know how I love you.
I, Jesus, truly the Son of God, came to earth a man and suffered a brutal death for love of you. I love you so much! I remain with you this day. I long for your love. I want you to come and be with Me in front of the tabernacle. I wait, I yearn for you to come and whisper your love to Me. I am a Person and I love you this day with such an ardent, on-fire love. No human could ever compare a speck to My love for you.
I wait, little ones, in the tabernacle. I wait for you to come and receive Me in Communion. I want you to want Me so much that you cannot wait to come and receive Me. I want to be the love, the Center of your life!
I am Jesus. I am the Son of God. I am writing to you this day. I want to possess your very soul and live in you. I have all you need, sweet ones. Oh, you are so blind! I long for your union with Me. I wrote the book on love. I instituted it, yet you go to the world for your love and do not even come to Me! Oh, I love you, little ones. Little ones, beloved of the Father, loved by the Holy Spirit, mothered by My very own mother, what more can I say? The rest is up to you!
I give you your will with such love and I want your love, freely given. I am God. What do you think you could ever need that I do not give you? I am the Savior of this world. I am Jesus, the Son of God. I am waiting for you. I am longing for you. I am yearning for you. I am God. I have all you ever will need!
Surrender this life to Me. Pray My prayer for union with Me. I want to possess your soul and operate from your very being. I am Jesus. I am the Son of God. I am the Sacred Heart of Jesus. I am Who am. I died and rose on the third day.
Harken to My call, harken to My pleading. Spend your days in love with Me. Nothing matters unless it is rooted in Me and rooted in My love. I am the Son of God. I am the Sacred Heart of Jesus. I love you with the tenderest love. I am waiting this day for you, My beloved one. Come to Me for I am the tenderest of all hearts. I am the Sacred Heart of Jesus.
---
---
Main Shepherds of Christ Page
---
Copyright © 2000Shepherds of Christ.
Rights for non-commercial reproduction granted:
May be copied in its entirety, but neither re-typed nor edited.
Translations are welcome but they must be reviewed for moral and theological accuracy by a source approved by Shepherds of Christ Ministries before any distribution takes place. Please contact us for more information.
All scripture quotes are from the New Jerusalem Bible, July 1990, published by Doubleday.
Revised: October 27, 1998
URL: http://www.SofC.org
Contact Information for Shepherds of Christ
Email: info@SofC.org
---
Shepherds of Christ Ministries
PO Box 193
Morrow, Ohio 45152-0193

Telephone: (toll free) 1-888-211-3041 or (513) 932-4451
FAX: (513) 932-6791