Mary has requested that the daily message be given each day to the world. It is read nightly at the prayer service from her Image Building in Clearwater, Florida, U.S.A. This is according to her request. All attempts will be made to publish this daily message to the world at 11 p.m. Eastern time, U.S.A.

---

We acknowledge that the final authority regarding these messages
rests with the Holy See of Rome.

---
October 30, 2005
October 31st Holy Spirit Novena
Scripture selection is Day 2 Period II.
The Novena Rosary Mysteries for October 31st are Joyful.
Please pray for Rita's Mom really hard.
Pray for Jim who had heart surgery.
Pray for Andrew who has cancer.
Pray for urgent intention and all involved.
October 30, 2005
Messenger: The Trinity is the most perfect
community. God is one, there are
three persons.
When a man and woman marry they
must work on their relationship —
soon children may come and there
is love and interaction.
God wants, through His Movement,
for us to realize more what oneness
is in the body of Christ.
To be united in prayer as
intercessors, as one praying for
the priests, the Church and the
world — united as one with the
Holy Sacrifice of the Mass, praying
to the Father, united to the angels
and saints and the souls in purgatory.
At Mass today many come and do not
think about their union with
each other.
God tells us about oneness in
His Movement — Oneness in Him —
When receiving the rosary July 28, 1995
a man helping to publish the Red
Rosary book said "oh she uses
'oneness' too many times", I told
Fr. Carter, it was Jesus who delivered
this rosary through me and He
used oneness over and over again
because this is His focus in His
messages.
I am a messenger from God, I
deliver a message to the world that
is not the way Jesus wants. He delivers
His message. If someone's feelings are
hurt because they think they are
perfect — that is not my concern —
I delivered the message as God has
given it to me FOR THE RENEWAL
of the CHURCH AND THE WORLD —
What is
RENEWAL —
making things better —
newer —
ways of doing some things
will change —
What is a leader?
Fr. Carter was the leader of the
Shepherds of Christ Movement, but Jesus gave
me most of the messages under his
direction.
He died leaving me the messenger
in charge. It was by God's choice
I received these messages and I was
left in charge. In the course of
the almost 12 years the Movement existed
many were jealous and tried hard
to block the messages, but by
God's might the Movement went
on and on with Our Lady of Clearwater
etc.
The rosaries of October 13, 1996, November 13, 1996,
December 13, 1996, January 13, 1997, February 13, 1997,
March 13, 1997 - were exactly as God
wanted them to be — delivered orally
through me, transcribed from a
tape, discerned by Fr. Carter and Fr. Carter was
leading the rosary as the messages
were delivered.
ONENESS
The Church is ONE, holy Catholic
and Apostolic —
John 17: 21-23
May they all be one,
just as, Father, you are in me
and I am in you,
so that they also may be in us,
so that the world may believe
it was you who sent me.
I have given them the glory
you gave to me,
that they may be one as we are one.
With me in them and you in me,
may they be so perfected in unity
that the world will recognise
that it was you who sent me
and that you have loved them
as you have loved me.
October 30, 2005 message continues
Messenger: Oneness —
The Hearts of Jesus and Mary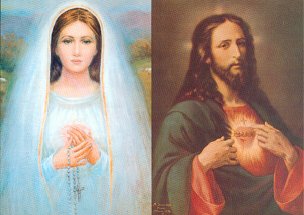 A Prayer before the Holy Sacrifice of the Mass
Let me be a holy sacrifice and unite with God in the sacrament of His greatest love.

I want to be one in Him in this act of love, where He gives Himself to me and I give myself as a sacrifice to Him. Let me be a holy sacrifice as I become one with Him in this my act of greatest love to Him.

Let me unite with Him more, that I may more deeply love Him. May I help make reparation to His adorable Heart and the heart of His Mother, Mary. With greatest love, I offer myself to You and pray that You will accept my sacrifice of greatest love. I give myself to You and unite in Your gift of Yourself to me. Come and possess my soul.

Cleanse me, strengthen me, heal me. Dear Holy Spirit act in the heart of Mary to make me more and more like Jesus.

Father, I offer this my sacrifice, myself united to Jesus in the Holy Spirit to You. Help me to love God more deeply in this act of my greatest love.

Give me the grace to grow in my knowledge, love and service of You and for this to be my greatest participation in the Mass. Give me the greatest graces to love You so deeply in this Mass, You who are so worthy of my love.
-God's Blue Book, December 27, 1995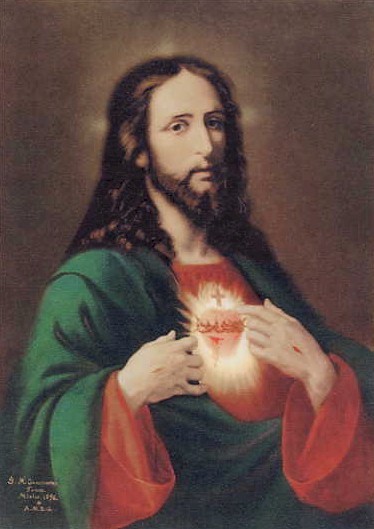 Prayer for Union with Jesus

Come to me, Lord, and possess my soul. Come into my heart and permeate my soul. Help me to sit in silence with You and let You work in my heart.

I am Yours to possess. I am Yours to use. I want to be selfless and only exist in You. Help me to spoon out all that is me and be an empty vessel ready to be filled by You. Help me to die to myself and live only for You. Use me as You will. Let me never draw my attention back to myself. I only want to operate as You do, dwelling within me.

I am Yours, Lord. I want to have my life in You. I want to do the will of the Father. Give me the strength to put aside the world and let You operate my very being. Help me to act as You desire. Strengthen me against the distractions of the devil to take me from Your work.

When I worry, I have taken my focus off of You and placed it on myself. Help me not to give in to the promptings of others to change what in my heart You are making very clear to me. I worship You, I adore You and I love You. Come and dwell in me now.

-God's Blue Book, January 17, 1994
October 30, 2005 message continues
Messenger: God wants the body of Christ to
live in deep oneness — this
is the purpose of His Movement.
My life changed as I gave my
all to the mission, receiving the
messages in God's Blue Book IV that follow —
doing as God told me to do —
One lady criticized the Prayer for
Union and told us we should change
the word possess. Fr. Carter ignored
her.
Everyone has their 2¢ worth, but
this is God's Movement, with God's
mission to help renew the world and
lead them to greater oneness ——
There are so many imperfect
ways — the lack of devotion given
by many to the Eucharist is
offensive to God, but habits
develop — some don't have
much to do with Mary —
a very bad habit —
she is our spiritual mother
she is Mother of the Church.
When a man marries he works in
union with his spouse, hopefully,
it is his vocation, his life changes —
They live as one.
When one is called to live in
a community — they may be nice for
a month, yielding and then they
think they will live as they are used
to, set up shop, do the dance
of home.
A person entering a marriage
joins in oneness to bear fruit —
hopefully.
A person living as a religious
in a community is the spouse of
Christ — living with the other
members to help bring forth fruit
for the Church.
If they live as a single with
all their imperfect ways they are
not living for their vocation —
God has called them to be a
"married" unit with the community —
bringing forth fruit for His Church.
Why enter the religious life —
if you want to be the one in charge and
live as a single — not working
in love with the community in
purity.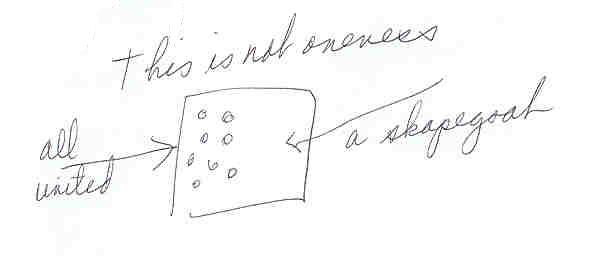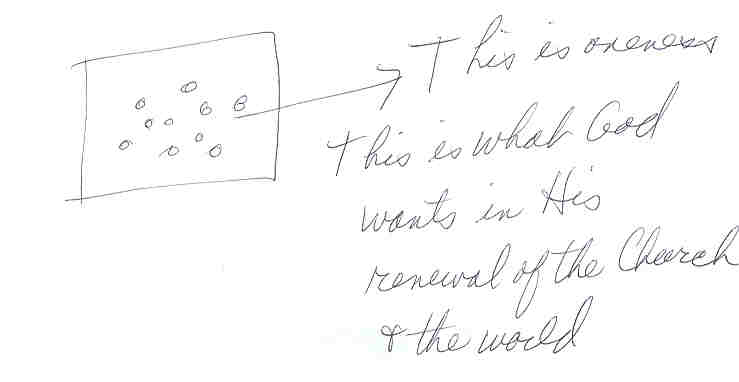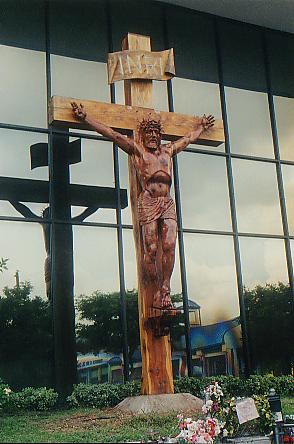 He died for all
October 30, 2005 message continues
Messenger: People who enter a marriage must
grow to greater oneness.
They must change.
Women give their bodies to produce
children.
Moms and Dads take turns getting up
with babies — doing the work —
they love each other —
What religious order could be built
without love —
God is love —
So you join and you are going to
live as you are with your
imperfections and single ways —
Imperfections in a community do one
of two things —
if they are acted out and tolerated —
the community becomes dysfunctional —
If they are addressed and changed to the
right way the community grows
to be like Christ.
Why enter religious life and see only
yourself —
you must see how you are part
of the house you live in —
the Center you are attached to —
the whole Movement, Institution
the whole world and the Church —
The devil works on people to see themselves
as an individual, not connected
to others, and to focus on themselves,
their feelings and how they want
the community to be like what
is familiar to them — (dysfunction and all)
All must work to be a pure unit of
love, serving God their spouse,
He is the focus, living in love.
What happens to a family if the
wife hates her husband and
the kids talk about their
parents.
In a religious order — one who loves
their vocations, put their
selfish focus on their petty
feelings aside and always be
loyal supporting the institution
God has called them to and loving
it, supporting it and not
complaining to others outside
that could hurt their order.
Sisters and brothers and priests are to be
obedient to their superiors and
pray for them —
Jesus speaks: I have called My
Movement to promote oneness
in families, peoples, My Church and
the world.
Leaders who persist in their imperfections
as the way for selfish feelings and
for a selfish will, will not
be a good leader —
They will show others their imperfect,
impure ways, focusing only
on themselves and in the
end —
not lend to the renewal of
the Church and the world.
To be part of My Movement
demands order, love and growing
to purity — do not turn a
deaf ear to My messages —
they are given for the renewal of
the Church and the world —
If you do not follow them —
you will be a weak leader
in My Movement.
Pride is an enemy.
Feeling you are perfect —
stops growth —
Focusing on self-pity and not
doing your job hurts
the work needed to be
accomplished —
A Prayer for Intimacy with the Lamb,
the Bridegroom of the Soul

Oh Lamb of God, Who take away the sins of the world, come and act on my soul most intimately. I surrender myself, as I ask for the grace to let go, to just be as I exist in You and You act most intimately on my soul. You are the Initiator. I am the soul waiting Your favors as You act in me. I love You. I adore You. I worship You. Come and possess my soul with Your Divine Grace, as I experience you most intimately.
Ash Wednesday, February 25, 1998 - 1st Day
Jesus speaks: Do you think I acted on your soul less when I gave you the experiences of hell?

I give to you the greatest graces to know My love. I act directly on your soul. I am the Bridegroom of your soul.

Messenger: Oh Jesus, He took me to the heights of ecstasy in Him in realizing how He is the Initiator and acts on my soul. How foolish I am indeed to think it is I who control the workings of God on my soul, when in fact He is the Bridegroom of my soul.

I see Him look at me with the greatest love, as I did once in the study, when I knew He looked at me and loved me so. I sat with a white dress and my Bridegroom looked with love on me, thinking me so beautiful to Him, me the little child of the Father in all my faults, and looking on me with such love. He stood above me as a Bridegroom dressed in black, tall and handsome, and He looked down with the most loving eyes upon me and I knew the love of the Divine Creator.

Today I knew how it was, how He acted on my soul.

I see how it is when someone really acts in love and does something for me because that person loves me.

I see myself as open, letting go, putting myself entirely in the hands of the Creator, the God I love, and the Bridegroom comes with the greatest love and His grace. He gives me Himself. My job is to be, just to be, a soul, waiting for the Bridegroom to just give me Himself in the greatest love. I am, I know it is He who acts, and when He acts His presence overtakes my soul. I am, I let go and I reminisce about all the times He just overtook my soul.

Little do I do, for it is the Bridegroom loving me, loving my soul and acting most intimately on my soul.

I sit and surrender myself entirely to Him. He is the Initiator. He is the One Who acts with His grace and NOTHING - no intimate experience, nothing here can fill the soul with this love and satisfaction.

For the Bridegroom acts and the soul is satisfied, the only desire is that it will never end. Sometimes there is such a longing and realizing the temporariness of it all. Sometimes He gives my soul such satisfaction, comfort and love, and I am filled with the greatest peace and satisfaction with less awareness of the temporariness, just peace.

Jesus speaks: I give you the peace of the Sacred Heart of Jesus when He acts on the soul of His spouse. I am the Lamb of God who takes away the sins of the world. I am the Spouse of your soul. I give you this satisfaction so that you will write to Me after Communion for My Mass Books for the world. This book will be entitled the Spouse of the Lamb. I will act on your soul most intimately.

And what My child is the key, but total surrender as a spouse who knows her spouse loves her and takes the love given. You, child, pray for this grace, to be possessed by the Lamb, the Bridegroom of your soul. What lesson did I teach you this day but that it is I who act upon you, you do not control My love given to you in any way. A grace is given, a grace is received.

Your total surrender is the way to most optimally allow the Bridegroom, the Lamb, to act on your soul.

Total yielding, so that you will allow yourself to be IN ME.

Messenger: Oh my God - how to explain that which happens when You act on my soul and what I experience. Are there any words that could do this justice when the Almighty God finds favor with me most intimately, and gives Himself to me?

Jesus speaks: My child, I act, you are passive, empty and open. Surrender and I will possess your soul with the lights of heaven so you can experience your Divine Lover most intimately. Surrender, surrender, surrender, a state of being and surrender to live in Him at the point of greatest intimacy in the Mass.

You will know days of darkness and joy as the shadows and lights fade in and out of your life and I reveal Myself most intimately to you.

I am Jesus Christ, the Bridegroom of your soul. Your hand must record these experiences for the marriage of the Lamb to the soul.

I act upon your soul most intimately.

A Prayer for Intimacy with the Lamb, the Bridegroom of the Soul

Oh Lamb of God, Who take away the sins of the world, come and act on my soul most intimately. I surrender myself, as I ask for the grace to let go, to just be as I exist in You and You act most intimately on my soul. You are the Initiator. I am the soul waiting Your favors as You act in me. I love You. I adore You. I worship You. Come and possess my soul with Your Divine Grace, as I experience you most intimately.


Messenger: My beloved Jesus,

The Bridegroom of my soul. It is not I who write, but in fact, You Who write through me, to Yourself. I surrender myself and want to exist in You in such oneness that I can more optimally love You.

This is my desire to give You great love from my heart existent in You.

And this I write for 10 minutes that You will help me to love God most intimately and give myself more completely to Him.

My God, I adore You, I worship You, I love You, my beloved Spouse, the Bridegroom of my soul. I know the black Bridegroom, the one dressed as a bridegroom who wears a white robe of glory. Yes, it is the priests dressed in black that are to teach us to be the spouse of the Lamb.

Revelation 1:6

…and made us a Kingdom of Priests to serve his God and Father; to him, then, be glory and power for ever and ever. Amen.

Messenger: And the Bridegroom comes, He summons the soul.

Oh, my Bridegroom, we pray for the wedding of the Lamb to our souls.

We pray for the spousal relationship of our souls with Our Divine God.

Jesus speaks: I am the Way, the Truth, and the Life. The life flows from My Sacred Heart to My body, the Church. Many never mention the Sacred Heart of Jesus.

What body would survive cut off from the heart? My life flows from My Heart into the body, My Church.

I am the Sacred Heart of Jesus and My Heart will reign - I am calling My people to a personal spousal relationship with God. This is the work of the Shepherds of Christ. I bless you in this mission to bring about the Reign of My Sacred Heart.

I am Jesus, the Son of God, Son of Man, the Sacred Heart, I am the beating Heart that keeps the body alive with My grace.

Messenger: Blood and water poured forth from His most Sacred Heart. Blood a symbol of the Eucharist, water a symbol of Baptism.

He cursed the barren fig tree.

Revelation 6:13

…and the stars of the sky fell onto the earth like figs dropping from a fig tree when a high wind shakes it;

Revelation 7: 17

…because the Lamb who is at the heart of the throne will be their shepherd and will guide them to springs of living water; and God will wipe away all tears from their eyes.

Revelation 5: 10

and made them
a line of kings and priests for God,
to rule the world.
October 30, 2005 message continues
Messenger: My real mom died when I was 5 years old
and my step-mom has been with us ever
since.
Cancer took my first mom and God sent my mom
now who is very sick. Please pray
for her.
We said the Holy Spirit Novena
every day since I was 5 years old —
I remember part of it said
"Bend the stubborn heart and will"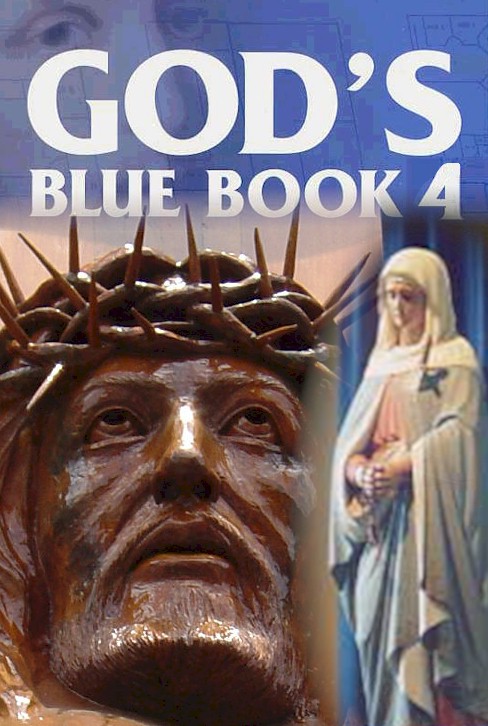 July 5, 1994 6:30 p.m.

The Statue Of The Sorrowful Mother Was Lit Up

Messenger: I was told to go to Our Lady of the Holy Spirit Center to pray the rosary with my children. There were people in the front of the church, so we decided to pray the rosary in the back before the Sorrowful Mother statue. I had the following vision at the end of the rosary.

The statue of the Sorrowful Mother was lit up as if she had fire around her. The light was very bright. Her whole gown was all-white, but the statue's gown is blue and pink. She was all aglow. It looked like the glow that comes off of a fire. Her face kept changing but remained totally sorrowful - the sorrow of an older woman. She was in such pain and sorrow! (It was hard to explain how she looked - extremely pained!) Her face looked as though she was in such pain that she could hardly bear it.

The vision remained like this for about ten minutes, having begun during the last Hail Mary of the Sorrowful Mysteries of the rosary. She was holding something - it was all bright white - the brightest light ever!

July 6, 1994 6:30 p.m.

She Was Aglow, All In White

Messenger: Vision (in front of the Sorrowful Mother statue): I was told by Mary to go alone at 6:30 p.m. to Our Lady of the Holy Spirit Center. I prayed the Sorrowful Mysteries again, saying a sentence at each Hail Mary. She was aglow, all in white. She remained like this for at least 10 minutes.

July 7, 1994 - After Communion

Feel Wrapped In the Love of Mother and Son

Messenger: The vibrancy of this Heart of our Savior!

I had a vision in my heart of His Heart: big and red (not bright red, more of a dull red) and firm, surrounded by thorns that were red and blended in, almost unnoticed. His full red Heart, long and slender, a round, very firm Heart, with a flame above it.

This Heart beats with ardent longing love for each of us and my heart skips a beat at the mention of the name of God. I feel warmth in my chest for Him, my God.

Oh, how I love You so, my precious Jesus, God. How I love the Father and Holy Spirit! After Communion I am so filled with such fullness of this love of my beautiful God! Oh God, You are so good. To be with Him and our Blessed Lady! I love her so.

Oh beautiful Lady, Mother of my precious Jesus, you are so united with One another. I feel wrapped in this love between Mother and Son, and Son and Mother. My heart is overflowing with such fullness of love of God, Father, Son and Holy Spirit. Oh Father, my Father, I love You so. The intimacy I feel with the Spirit Who lives in me! I love You so, my precious God and Mary.

It is through this sinless heart of Mary that I beg to be united to Him, my precious God!

At the mention of His name my heart skips a beat. He is my most precious love. I love His name. I love Him. To speak of Him fills my heart with such joy. He is my Savior. He loved us to His death. Oh Mary, how you suffered for us! How you loved us and love us now! Oh, dear Mary, my Mother, there is such fullness I feel in my chest because of the love of God. To Thee I sing, Thee I praise, Thee I honor and love, My God, my precious One!

Jesus speaks: Do you really think I would leave you, child? My Heart is ablaze for such love of you. My Heart is burning for you. Speak of this love. I love all My precious ones, dear one. I love you so. Focus on My love for you and you will be set free of all worries. Focus on this feeling you experience in your chest, the love of God, so full for you!

Preach the gospel in your being. Stay united to Me this very day. Every moment, think of this burning, ardent love I have for you. Experience this feeling and you will run and not get weary, you will fly on eagle's wings. Your heart will love those you touch.

The secret is to stay in union with Me constantly. I am here. I am on fire for love of you. I am the Heart you see, red and vibrant, solid and firm. I am the Sacred Heart of Jesus. I live today. I am the ardent lover of your soul. Does your heart skip a beat at the mention of My name? This delights My Heart to know how you love Me deeply. Focus on Our love for each Other, feel this deeply in your heart. This is the fire that will light the cold heart. This is the love of God, without limits, without bounds. Such vibrancy, such power, such might! This is the love I give to you. Join in oneness with My Heart and that of My Mother's heart. We will be so united in such intimate love. I love you so, My sweet one.

Read this letter over and over again. Focus only on our love and our union and you will light the dark world through My most Sacred Heart.

You are the light of the world. A city set on a hill will shine in the darkest night. Let your light shine to this world so all can praise your heavenly Father.

Messenger: Alleluia, Alleluia, and they were made the beacon lights that shown bright in a dark world. It was the light of Christ that shown deeply from their hearts. Alleluia, Alleluia.

Jesus speaks: You must prepare for My Mass. When you spend time being with Me for long hours, the Mass is so full! When you are with Me and being close to Me for a long time and then go to Mass and Communion! Prepare yourself to receive Me. Come with your hearts united to Me in deep prayer. It is intimacy I want with you in Communion. To be close and spend time together, to be together, then to go to Mass and Communion, such intimacy! My relationship with you takes much time. To be close to Me, you must have uninterrupted time alone with Me - this means you free your mind of all distractions. You must let go of your world to be united to Me. You must let go.

Take time to be with Me. Focus on letting go of all distractions and giving them to Me. Trust Me, little baby. Be as the little baby who gives his cares to his loving mother. Give your cares to Me and be free. Then come to Mass and Communion. Such union, such intimacy. Oh, you need time alone, not just in body but time alone in your heart and your mind with Me. No distractions in your heart.

Pray to let go. Let there be total surrender, trust, consecration to the Sacred Heart and Immaculate Heart of Mary. We will be united in Our Hearts. Oh, how I truly love you, My beloved ones. To My death, I loved you ... what more can I say?

July 9, 1994

I Must Forgive All To Have Peace

Messenger: My lack of peace is coming from lack of forgiveness. I am living to love God and my brother.

To have anger toward my brother blocks the flow of God's love operating in me. I must forgive all to have peace.

Any lack of love for my brother diminishes peace.

Say you are sorry and forgive.

I must come from a place of love rooted in Him Who first loved us.

I realize how I must forgive. I must give up angry thoughts. I reflect my emotions within when I talk to people. I must stay rooted in Christ's love. I must put on Christ. I must show love. He was silent and accepted all they did to Him!

I must love. I must realize my brothers are dearly loved by Jesus. They are a creation of God the Father. Jesus shed the last drop of His blood for them. Would I talk about my very own brothers? God is our Father, we are brothers in Christ!

I must stay rooted in love, love of God, love of my brothers. I can pray when problems occur. I must trust in God and talk about our problems from a place of love. If I act angry or talk about someone in anger, I am not spreading Christ's love.

Jesus speaks: Trust in Me, My child. I will give you peace, not as the world gives you peace. Your job is to love Me and love one another. How can I spread My love if you are upset with your brother? He who angers you is he whom you need to love. Will you love for Me this day or will you focus on yourself and how you have been wronged? Reach for the Kingdom of God. It is won in holiness, in love. Love always. When they persecuted Me, I loved them.

My child, My child, do you know I know best? Pray - come to Me before the tabernacle.

Pray for strength to love as I have loved you. You, child are so precious to Me. I am always by your side guarding you. Let go and pray. I will make the crooked way straight. I will restore peace and love in your hearts. Be with Me alone, let go, sweet one, come to Me. Meditate on My immense love for you and the love of the Father, Holy Spirit, and your Mother Mary. I love you, so much!

R. I was so filled after Communion with the love of God, especially the Father. I felt I could hardly breathe. The immensity of God's love and Mary's love! My heart overflows with such joy for the love of God!

July 9, 1994 6:30 p.m.

Mary's Statue Became Illuminated

Messenger: Vision: I was going to Dayton to a party. I stopped at the Center around 6:25 p.m. and prayed the Sorrowful Mysteries with my children. I prayed on each bead. Toward the end of the third mystery, Mary's statue became illuminated. Her face was brilliant, so bright! Her gown was white. Her face was beautiful! I could hardly talk for the next two mysteries. She stayed like this for a long time afterwards.

Explanation of Rosary Meditations and Visions

On July 10, Jesus and Mary told Fr. Carter to go to Our Lady of the Holy Spirit Center and pray the rosary with my children and me. He came to the Center every day and led the rosary. Mary told me to say a meditation on every bead.

On July 14, I prayed a meditation on every bead as Fr. Carter led the rosary. During the middle of the fifth mystery, Mary started to change faces. I saw all different expressions, all different ages - older, sorrowful, young, beautiful, mostly joyful. The faces would first be old, then young. Lights would flash on and off.
---
---
---

Copyright © 2005 Shepherds of Christ.
Rights for non-commercial reproduction granted:
May be copied in its entirety, but neither re-typed nor edited.
Translations are welcome but they must be reviewed for moral and
theological accuracy by a source approved by Shepherds of Christ Ministries
before any distribution takes place. Please contact us for more information.