Mary has requested that the daily message be given each day to the world. It is read nightly at the prayer service from her Image Building in Clearwater, Florida, U.S.A. This is according to her request. All attempts will be made to publish this daily message to the world at 11 p.m. Eastern time, U.S.A.

---

We acknowledge that the final authority regarding these messages rests with the Holy See of Rome.

---
October 7, 2002
October 8th Holy Spirit Novena
Scripture selection is Day 8 Period I.
The Novena Rosary Mystery
for October 8th is Sorrowful.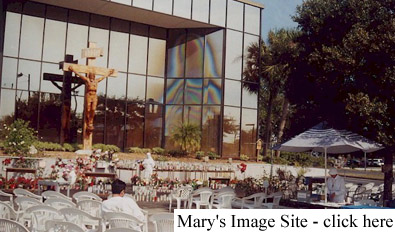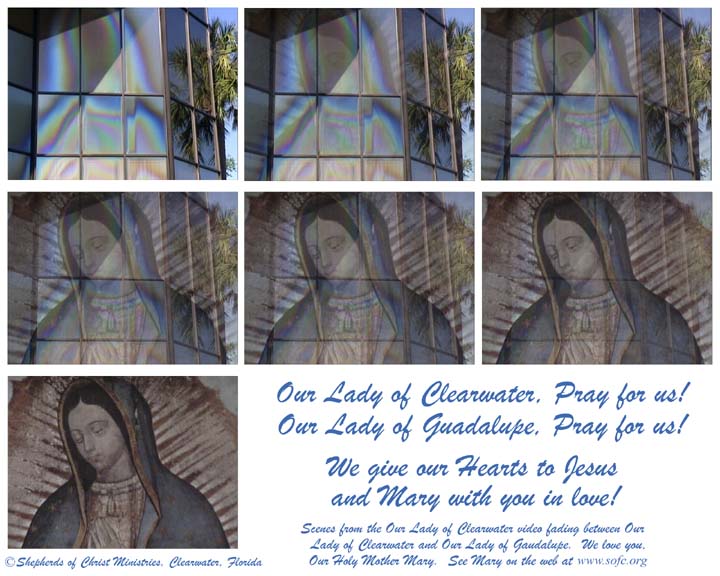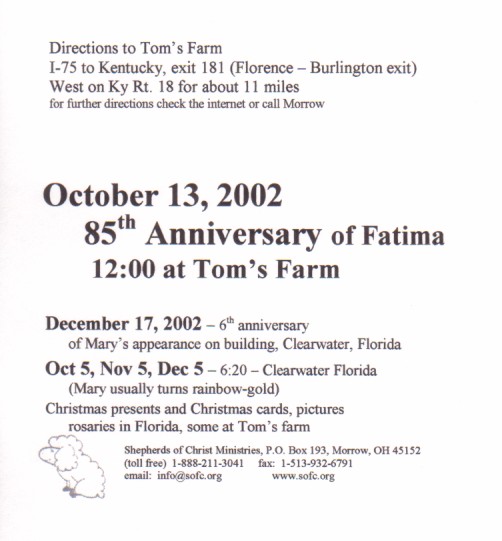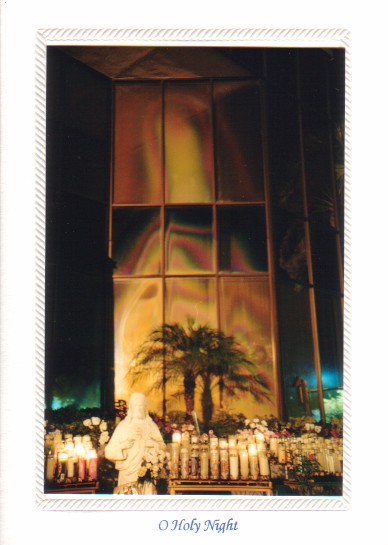 Christmas cards available
Pray for Peace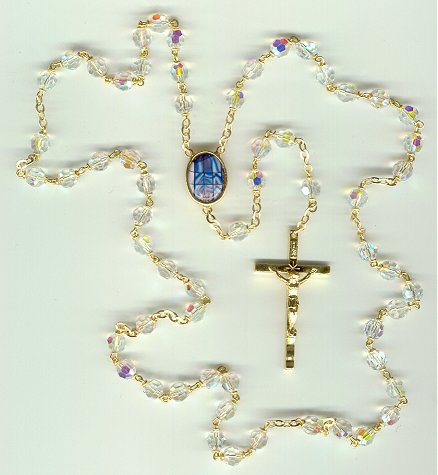 Excerpt from the Spirituality of Fatima
by Father Edward Carter, S.J.
October 13, 1917

In her message that day, Our Blessed Mother told the children:

I am the Lady of the Rosary. I have come to warn the faithful to amend their lives and to ask pardon for their sins. They must not offend Our Lord any more, for He is already too grievously offended by the sins of men. People must say the Rosary. Let them continue saying it every day.(17)

---

NOTE:

17. For background material on Fatima, I am particularly indebted to
Our Lady of Fatima's Peace Plan from Heaven (Rockford: TAN
Books and Publishers, Inc., 1983). p.7.


end of excerpts from The Spirituality of Fatima
Tom's Farm October 13, 2002 -
12:00 click on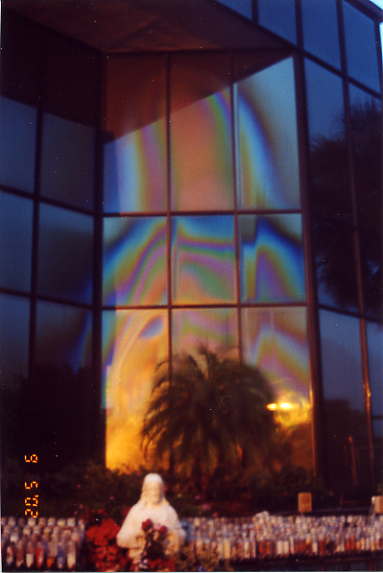 From September 5, 2002
during the special prayer service
in Clearwater, Florida
during the 6:20 prayers.
The images looked exactly like this.
This was taken without a flash.
There have been physical healings
on the 5ths and at other times.
Excerpt from September 17, 2002
I wish the store to carry the Christmas
materials immediately, coloring
books, Blue Books, Spanish Coloring
Books.
I wish image rosaries be made available in
the store and on Tom's farm.
These must also be ordered, it takes
months for their delivery, the requirement
has been made the materials are covered
before the order.
I ask you to have Christmas presents that
reflect Mary's image.
What a gift I give to the earth, you
should tell people about this especially at
Christmas.
end of excerpt from September 17, 2002
---
Jesus is calling all Apostles
of the Good Shepherd
to renew their commitment
at Tom's Farm
October 13, 2002.
Tom's Farm is by Florence, Kentucky
not too far from Cincinnati.
Others who are interested
in becoming Apostles
of the Good Shepherd in the
Shepherds of Christ Movement
are asked to call Morrow, Ohio
1-888-211-3041.
There will be two Masses
in Cincinnati on October 13, 2002
at churches in Cincinnati
where many Shepherds of Christ
will go to both Sunday Masses.
Please call Morrow.
Masses will be at 9am
and 10am.
---
Please pray for the Cardinal
Our Lord has asked us to pray for.
We desperately need funds.
We need funds desperately.
We need funds to send out
the retired Bishop's mailing.

Please pray for the Cardinal
Our Lord has asked us to pray for.
---
It is difficult for us every month to make the
Virgin Mary payment.
We cannot keep the store stocked
because of the shortage of money.
Our Lord has asked us to stock the store
for Christmas.
He has asked all to come and buy
Christmas presents from the store.
Can you help us in any way?

Credit card donations accepted.

Shepherds of Christ Ministries
P. O. Box 193
Morrow, Ohio 45152
1-888-211-3041
---
---
---
Copyright © 2002 Shepherds of Christ.
Rights for non-commercial reproduction granted:
May be copied in its entirety, but neither re-typed nor edited.
Translations are welcome but they must be reviewed for moral and
theological accuracy by a source approved by Shepherds of Christ Ministries
before any distribution takes place. Please contact us for more information.
All scripture quotes are from the New Jerusalem Bible, July 1990, published by Doubleday.
Revised: October 5, 2002
URL: http://www.sofc.org
Contact Information for Shepherds of Christ
Email: info@SofC.org
---
Shepherds of Christ Ministries
P.O. Box 193
Morrow, Ohio 45152-0193

Telephone: (toll free) 1-888-211-3041 or (513) 932-4451
FAX: (513) 932-6791