Mary has requested that the daily message be given each day to the world. It is read nightly at the prayer service from her Image Building in Clearwater, Florida, U.S.A. This is according to her request. All attempts will be made to publish this daily message to the world at 11 p.m. Eastern time, U.S.A.

---

We acknowledge that the final authority regarding these messages rests with the Holy See of Rome.

---
---
A Prayer for Intimacy with the Lamb, the Bridegroom of the Soul

Oh Lamb of God, Who take away the sins of the world, come and act on my soul most intimately. I surrender myself, as I ask for the grace to let go, to just be as I exist in You and You act most intimately on my soul. You are the Initiator. I am the soul waiting Your favors as You act in me. I love You. I adore You. I worship You. Come and possess my soul with Your Divine Grace, as I experience You most intimately.
---
Messenger: Include Our Lady of the Holy Spirit Center in 6:20 prayers.
---
Jesus speaks: My dear one, you are kissed by the wind and guarded as My treasure. I am forever with you. I love you, Jesus.
---
November 10, 1999 - Second Message
Given July 31, 1994 - After Communion 7:45 a.m.
Do Not Judge, Love Your Brothers
Jesus speaks: I am the Way, the Truth and the Life. He who abides in Me will have the light of life. I love all My beloved children. It is not for you to judge, "you are more loved - they are less loved by Me." I love everyone unconditionally. I love them despite their faults. You have faults, yet I love you. Never look to your brother and judge where he is with Me. It is not your place to judge and to measure. It is your place to love. Love all, be a witness to Me in all that you do. The seed you plant may germinate into a mighty oak with My water and sunlight. I constantly provide in the lives of My beloved ones.
Child, I tell you, you must love. You cannot love God, Whom you do not see, if you fail to love those you see. Each child was uniquely created by the hand of the Father. You are loved more greatly than you could ever imagine! Focus on this love, not on your brother's faults. The love of God is abundantly poured out to you in your life. Seek after this love and not your selfish pursuits. My love will sustain the lonely heart and it is ever available to you. Look not to the right nor to the left, look to your Heavenly Father above. He is ever with you and loving you.
I am Jesus Christ, Son of the Living God. It is through Me you are saved. Come to Me all who labor and are heavily burdened and I will give you rest. Oh, blessed of My Father, need I say more? Love God and love one another. Do not judge. Do not measure. Do not criticize your beloved brothers. Love them despite all their faults. The Father loves you. You will know a treasure far greater than anything this world could give you. You are the beloved creation of My Father. See yourself and others as such. These words I have spoken to you that you will have peace and love in your hearts. Hold onto Me and you will not be led astray. I am your precious Jesus, Savior of the World. I love you with the love that bid Me lay down My Life for you. Heed My words that you will know peace, love and joy in your soul.
---
November 10, 1999 - Third Message
Given October 26, 1999 - Excerpt from God the Father's message.
God the Father speaks: ...I wish this invitation be extended daily on the Internet to come and pray during the Christmas Novena at the image site. If this is impossible, pray at home for the coming of Jesus in the hearts of men...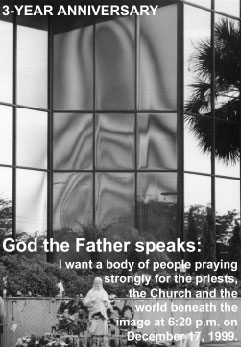 God the Father, Jesus, and Mary are calling all to pray in front of Mary's image in Clearwater, Florida, on December 17, 1999. This important day marks the 3-year anniversary of Mary's appearance on the building. God is asking us to gather for this special day, praying for peace, and especially to make reparation to God, the Sacred Heart of Jesus, and the Immaculate Heart of Mary.

October 11, 1999 - Jesus speaks: …I want all who can come to Florida December 17, 1999, to come there. Mary wants the apostles gathered in prayer, but if you cannot come, then you pray fervently.

October 15, 1999 - Mary speaks: My dear children, I invite you to come to my Image site to pray December 17, 1999. I am Mary your Mother. Please come.

October 15, 1999 - Jesus speaks: I wish you to come and pray with the greatest fervor before the image of My Mother December 17, 1999. …Please come and pray. If this is impossible, pray as a body before the tabernacle and at all Centers including: Toledo, Ohio; California; Kansas; Pennsylvania; Delaware; wherever one is able to pray. I love you, Jesus.

October 26, 1999 - God the Father speaks: You are the children of Eve. You are sons of that woman and I send you the Woman, your Mother and you ignore her.

I want a body of people praying strongly for the priests, the Church and the world beneath the image at 6:20 p.m. on December 17, 1999, and all others praying as a body united to the Holy Sacrifice of the Mass throughout the world. I wish all priests who can to celebrate Mass at 6:20 p.m. on December 17, 1999, and every day after, until Christmas. I wish all to pray this novena for these days December 17, 1999-December 25, 1999 at 6:20 praying for the coming of the Holy Spirit, healing, oneness, to be spread with the Blood of Jesus as directed by My Son in a message February 23, 1999. I want this. I want fervent prayer. I want unity in the hearts. I want men praying as a body at 6:20 p.m. as requested by Jesus and Mary. I want communal reparation by all receiving Communion and/or making a spiritual Communion united to the Mass.

I wish an invitation to this gathering to be circulated, stressing making reparation to God, reparation to the Hearts of Jesus and Mary.

January 5, 1999 - God the Father speaks: It is because of your fervor to pray here that you have held back the hand of My Son from punishing the earth with just punishment for the crimes committed against your God.
Please come and join us for prayer at the site in Clearwater, Florida, the other sites mentioned in this invitation, or from wherever you can. Thank you and God bless you,
Shepherds of Christ Ministries.
December 17, 1999 Planned Activities:

Holy Spirit Novena at 6:20 p.m.

Shepherds of Christ Prayers

Rosary

Fatima Procession

Songs

For more information contact: Shepherds of Christ Ministries, P.O. Box 193, Morrow, OH 45152-0193, U.S.A. Tel: (513) 932-4451, Toll Free: (888) 211-3041. FAX: (513) 943-6792. Internet: http://www.SofC.org.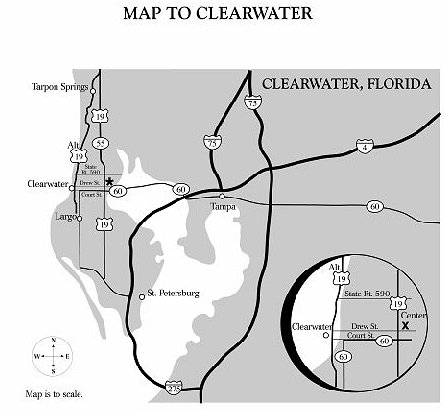 ---
November 10, 1999 - Nursing Home Message
Jesus speaks: Put on the following messages for the Nursing Homes
Given August 31, 1994 - Don't Be Afraid to Love
Jesus speaks: Don't be afraid to love. I loved until I gave My insides. Give your all in love, this is My way. I supply you with the love inside of you. My love supply is inexhaustible. This is My way, to love unconditionally and to come to God to refurbish your supply. I am consistently on fire for love of you this day. I never go in and out. Your Father still loves you, your Mother loves you, the Holy Spirit loves you! In all your actions, put on Christ. My sweet one, oh how I love you. Come to Me!
Mary speaks: I am Mary, your Mother. Let me hold you tenderly in my arms and caress your little body. I am your most loving Mother. I never leave you, child. I am caressing you now. Come and be joined in Our Hearts, cradled by Our love. Hear the beating of Our Hearts. I am your Mother and thank you for responding to this call.
---
Messenger: When visiting a nursing home this is a plan you can follow to pray a little part of the rosary with the elderly or sick residents.
What is usually done and tolerated by the elderly folks is one Our Father, five Hail Mary's and another Our Father. The song, A Song from Jesus, can be sung before and after these prayers.
It is desirable to have a big picture of The Descent of the Holy Spirit Upon the Apostles when doing these meditations. Also it is recommended that you have pictures of the Sacred Heart and the Immaculate Heart of Mary.
---
Excerpt from October 13, 1996 rosary, "The Descent of the Holy Spirit Upon the Apostles" from the Apostles' Manual

The Descent of the Holy Spirit Upon the Apostles
Messenger: "When Pentecost day came round, they had all met together, when suddenly there came from heaven a sound as of a violent wind which filled the entire house in which they were sitting; and there appeared to them tongues as of fire; these separated and came to rest on the head of each of them. They were all filled with the Holy Spirit and began to speak different languages as the Spirit gave them power to express themselves." (Acts 2: 1-4)2
...The deepest union with Him is to give ourselves to Mary, for we are sinners. She is the pure and sinless one. We give ourselves to Mary and we go to Him in her pure and sinless heart, to the very depth of His Heart...
...It is as Mary said: we must consecrate our hearts to the Hearts of Jesus and Mary. This is the key-Mary's heart is the gateway to going to the deepest chamber of the Heart of Christ.
We see how Peter denied Christ. We see how the apostles were afraid. We see Thomas did not believe. We see them stumble and fall and run away, and then we see them, after the Holy Spirit descended upon them. They went out into the world and thousands were converted. They were filled with the fire of God's love. Let us, God, be filled with the fire of Your love...
...If we want peace we should do what Mary has told us for she is the Queen of Peace and the peace of the world has been entrusted to her....
2. Scripture quotations are taken from The New Jerusalem Bible, Catholic Edition, Doubleday and Co.
---
Question for married couples and others in intimate relationships:

Q:

What can I do to help us be more united?
---
---
---
Copyright © 1999 Shepherds of Christ.
Rights for non-commercial reproduction granted:
May be copied in its entirety, but neither re-typed nor edited.
Translations are welcome but they must be reviewed for moral and theological accuracy by a source approved by Shepherds of Christ Ministries before any distribution takes place. Please contact us for more information.
All scripture quotes are from the New Jerusalem Bible, July 1990, published by Doubleday.
Revised: November 10, 1999
URL: http://www.SofC.org
Contact Information for Shepherds of Christ
Email: info@SofC.org
---
Shepherds of Christ Ministries
PO Box 193
Morrow, Ohio 45152-0193

Telephone: (toll free) 1-888-211-3041 or (513) 932-4451
FAX: (513) 932-6791