Mary has requested that the daily message be given each day to the world. It is read nightly at the prayer service from her Image Building in Clearwater, Florida, U.S.A. This is according to her request. All attempts will be made to publish this daily message to the world at 11 p.m. Eastern time, U.S.A.

---

We acknowledge that the final authority regarding these messages rests with the Holy See of Rome.

---
November 11, 2001
November 12th Holy Spirit Novena
Scripture selection is Day 2 Period I.
The Novena Rosary Mystery
for November 12th is Sorrowful.
---
The Nursing Home #3 video is now on the internet.
It is so beautiful and the sound is excellent!
---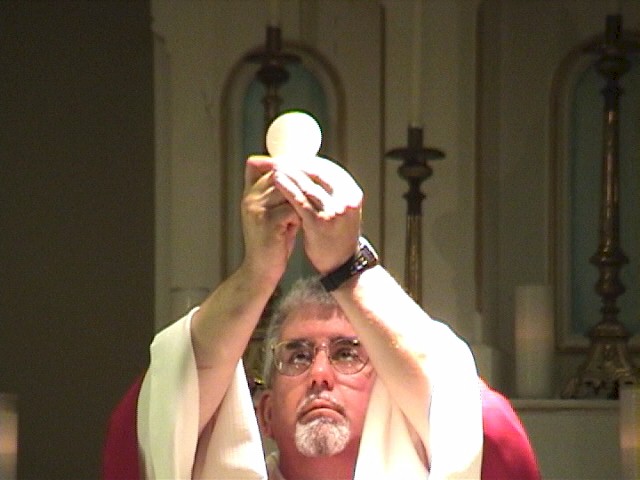 November 11, 2001
Messenger: I know how I deeply want a greater outpouring
of His life for myself. I always pray for the
souls and for grace for the priests, the Church
and the world.
I want His life so alive in me. I want to know
deeper and deeper insights into the mysteries.
I want to be showered with His life here below.
I want to have the deepest union possible.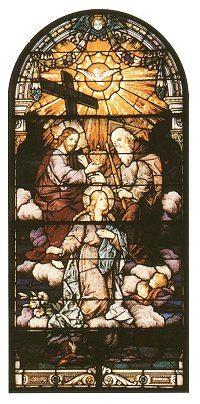 ---
November 8, 2001
(Messenger: Jesus is speaking of meditating on spiritual things
i.e. God's love, mysteries of the rosary, etc.)
Jesus speaks: You must discipline your thoughts.
The devil can tempt you to give into
negative thinking that can hurt you.
Some people have many negative thoughts,
they don't try to think positive thoughts.
Praying the rosary helps you practice
controlling your thoughts for a
holy purpose.
The spiritual exercises of St. Ignatius
were exercises meditating
on certain things.
You will advance more in the spiritual
life if you practice meditating,

You have a free will.
You do not have to give into the
tauntings of satan.
Do you have control over your
thoughts?
Do you spend time meditating?

Do you take time to go inside
of yourself and connect with
your God?
Do you realize how important
it is to sit still and listen
to the Holy Spirit alive
within?
Some people think that they must
give into their feelings.
What would it be like if everyone
just let something inside
control their thoughts?
You have a free will.
Ask for the Holy Spirit to fill
you with His gifts.
In trying to get in touch with
interior feelings some people
just try to become a
free spirit.
I give you St. Ignatius Spiritual
Exercises for discernment of
spirits.
Some people just want to work
out every negative feeling
they have and discuss it
with the person.
What a world this would be if every
time someone experienced a
negative thought they brought
it out in the open.
Prayer can help the discernment
of spirits,
Listening deep within to the
whispers of the Holy Spirit
deep within your hearts.
Satan very often speaks in voices,
He is noisy, He wants to be
heard.
He is the master of lies.
He is deceitful.
He wants you to have commotion
and chaos in your lives.
Writing the positive things in
your life down in a letter
to your Father will help
to change your life.
Studying is a way you discipline
your thoughts.
Every time you do what God
wills you choose life.
Sitting before the tabernacle
can help you to focus
on the things of God.
Praying and meditating can help
you to focus on God.
At a certain point you let go
to Him.
Messenger: He is the initiator.
We sit open and let Him
work in us.
---
A Prayer for Intimacy with the Lamb, the Bridegroom of the Soul

Oh Lamb of God, Who take away the sins of the world, come and act on my soul most intimately. I surrender myself, as I ask for the grace to let go, to just be as I exist in You and You act most intimately on my soul. You are the Initiator. I am the soul waiting Your favors as You act in me. I love You. I adore You. I worship You. Come and possess my soul with Your Divine Grace, as I experience You most intimately.

end of November 8, 2001 message
---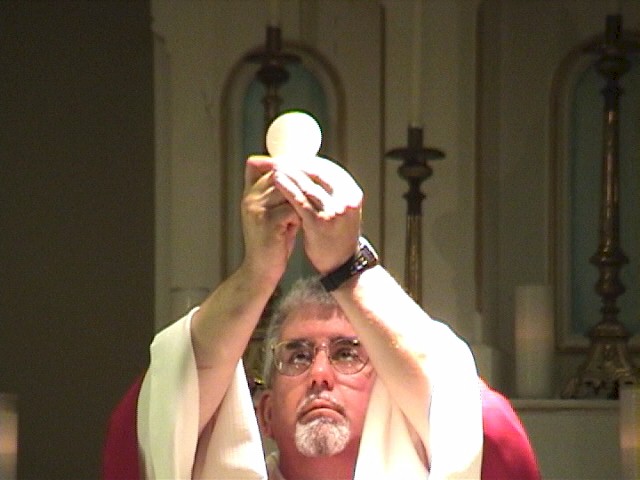 Nursing Home Mass Video
We updated the Nursing videos so that if you have a good dialup
connection, you should be able to watch the movie live.
Click Here for help with Videos

click here to download the Nursing Home and Homebound Mass video (12.3 MB)
---
It cannot be altered in any way.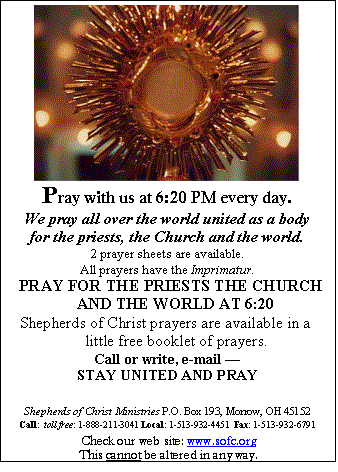 Download the free

software to view and print the PDF files of the advertisements
Please allow a couple of minutes to download, thank you.
---
This cannot be altered in anyway.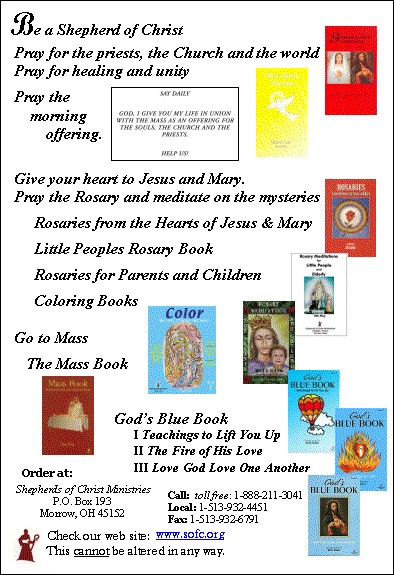 Please allow a couple of minutes to download, thank you.
---
Messenger: A shorter ad may be as follows.
This cannot be altered in anyway.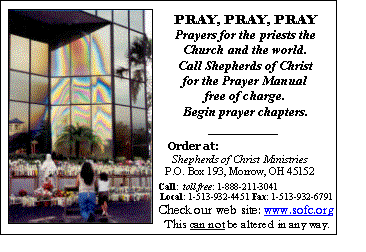 This cannot be altered in anyway.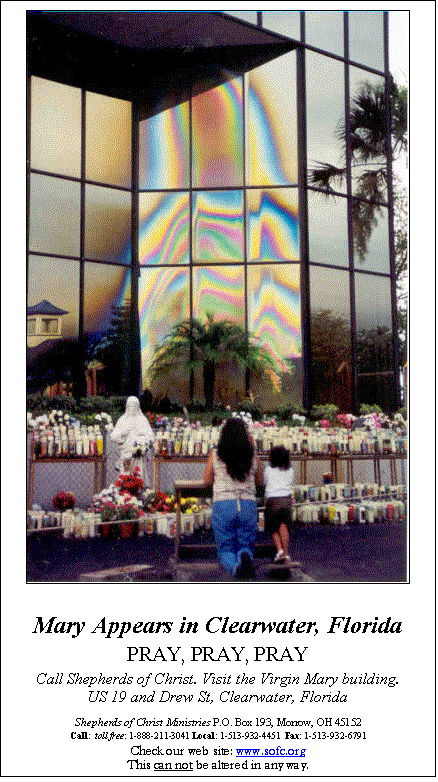 ---
---
---
Copyright © 2001 Shepherds of Christ.
Rights for non-commercial reproduction granted:
May be copied in its entirety, but neither re-typed nor edited.
Translations are welcome but they must be reviewed for moral and
theological accuracy by a source approved by Shepherds of Christ Ministries
before any distribution takes place. Please contact us for more information.
All scripture quotes are from the New Jerusalem Bible, July 1990, published by Doubleday.
Revised: November 11, 2001
URL: http://www.SofC.org
Contact Information for Shepherds of Christ
Email: info@SofC.org
---
Shepherds of Christ Ministries
PO Box 193
Morrow, Ohio 45152-0193

Telephone: (toll free) 1-888-211-3041 or (513) 932-4451
FAX: (513) 932-6791