November 13, 2009
We choose sin — when we sin —
From the book My Way of Life
"Many of our sins come as a pleasant
surprise to the devil. Many of them are
ushered into our lives by ourselves without
the devil's being so much as an occasion
of them. It is, in fact, only our sins that
are wholly and exclusively our own. The
angels take part in all our good works;
behind and through them, as behind and
through us, there is always the omnipotence
of God giving the ultimate explanation of
the mystery of goodness in our actions.
We cannot approach God without His help,
but we can very well fall into sin
with no help at all."
"St. Chrysostom, pointing out the solid
basis of our serenity in the face of the
devil's consuming hatred says:
'The devil does not tempt man for just
as long as he likes, but for as long as
God allows; for although He allows
him to tempt for a short time, He
orders Him off on account of our
weakness.' The mercy of God and the
strong help of the angels turn satanic
temptations into moments of great
significance for men: the blows
struck for virtues against temptation
build up the sinews of a man's soul,
deepening the wellsprings of virtuous
action, laying down valid claims
for an increase in grace and a title
to eternal glory, and welding that
companionship of guarding angel and
wayfaring man into a unity too strong
to be broken by the assaults of evil."
The devil hates us —
We have a wounded human nature —
We must fight to be holy —
Living a virtuous life helps us
to choose good —
Being so one with Jesus, the Eucharist,
prayer, confession helps us to be good,
but we have a free will —
Giving into bad habits of sin —
vices, distort our vision more and
more and rather seeing clearly the
big plan of our heavenly Father —
we see with greater and greater distorted
vision through the habits, vices,
we have acquired —
We have a free will to choose God's
will — in which happiness — pleasing
God is our goal —
Or choose against God's will —
being selfish and making our
decision as we see through eyes
of jealousy, control, anger,
punishing, seeking dominance
for dominance sake, slothfulness,
seeking vain affections, power, greed,
lust, gluttony —
seeing through the eyes — so blinded
because of our wounded human
nature — we walk deeper and deeper
into darkness as a man going deeper
and deeper into an unfriendly dark
forest — when the brightly lighted
forest, sunlit and inviting of
holiness is right beside the
path of darkness and we choose
to go to the darkness further
wounding our soul —
Why do men kill with malice? — There
must have been many journeys that led the
man to such darkness — but as
we choose more and more evil
our vision becomes more and
more distorted and we act in
choosing evil rather than good —
Our decisions are out of selfishness,
seeking to hurt others, our vain
glory, lack of love, wanting to
hate, isolate, punish, be jealous
as the veil of darkness covers
our eyes — our goals can be determined
more and more by our wounded human
nature we give into
Evil Goal
jealous eyes ————> evil goal
envy ————> evil goal
anger from the past ——> punishing
innocent
people now
pride ———————> evil goal
seeking dominance ———> evil goal
for selfish goal
Virtue
First Principal and Foundation
Man is created to praise, reverence and serve God
our Lord, and by this means to save his soul.
- St. Ignatius
Purpose of the Spiritual Exercises
Which have as their purpose the conquest of self
and the regulation of one's life in such a way that
no decision is made under the influence of any
inordinate attachment
- St. Ignatius
Seeing the big picture of God —
walking in faith —

Hope of helping souls —
ourselves going to heaven

Virtuous living
Choosing love
Choosing goodness

Having a good goal - to build
God's Kingdom

Seeing through the eyes of love
Seeing through the eyes of God

Living according to the Father's will —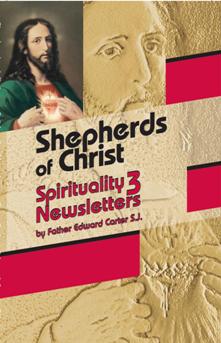 Available $10.00 plus shipping
Call Shepherds of Christ
1-888-211-3041

Pope John Paul II instructs us: "The Church, as a reconciled and reconciling community, cannot forget that at the source of her gift and mission of reconciliation is the initiative, full of compassionate love and mercy, of that God who is love (see 1 John 4:8) and who out of love created human beings (see Wisdom 11:23-26; Genesis 1:27: Psalms 8:4-8)…He created them so that they might live in friendship with Him and in communion with one another.

"God is faithful to His eternal plan even when man, under the impulse of the evil one (see Wisdom 2:24) and carried away by his own pride, abuses the freedom given to him in order to love and generously seek what is good, and (instead) refuses to obey his Lord and Father. God is faithful even when man, instead of responding with love to God's love, opposes Him and treats Him like a rival, deluding himself and relying on his own power, with the resulting break of relationship with the One who created him. In spite of this transgression on man's part, God remains faithful in love.

"It is certainly true that the story of the Garden of Eden makes us think about the tragic consequences of rejecting the Father, which becomes evident in man's inner disorder and in the breakdown of harmony between man and woman, brother and brother (see Genesis 3:12 ff; 4:1-16). Also significant is the Gospel parable of the two brothers (the parable of the 'prodigal son'; see Luke 15:11-32) who, in different ways, distance themselves from their father and cause a rift between them. Refusal of God's fatherly love and of His loving gifts is always at the root of humanity's divisions.

"But we know that God…like the father in the parable (of the prodigal son), does not close His heart to any of His children. He waits for them, looks for them, goes to meet them at the place where the refusal of communion imprisons them in isolation and division. He calls them to gather about His table in the joy of the feast of forgiveness and reconciliation.

"This initiative on God's part is made concrete and manifest in the redemptive act of Christ, which radiates through the world by means of the ministry of the Church."
13
In the evening of that same day, the first day of the week, the doors were closed in the room where the disciples were, for fear of the Jews. Jesus came and stood among them. He said to them, 'Peace be with you,' and, after saying this, he showed them his hands and his side. The disciples were filled with joy at seeing the Lord, and he said to them again, 'Peace be with you. As the Father sent me, so am I sending you.' (Jn 20:19-21).
The world needs peace. Individual nations need peace and families need peace. The Church needs peace. Each of us individually needs peace. We must work for peace through prayer, fasting, and other Christ-like activities.

And just what do we mean by peace? St. Augustine says peace is the tranquility of order. God has put order into His creation and this order must be respected and promoted if peace is to prevail. To the extent that the human family lives according to God's will—lives according to the order or the plan God has established for creation—to that extent does peace exist in the various segments of human society. To the extent there are violations of God's plan, of His will, to that extent peace is absent.

If we are to be instruments of peace, we ourselves must be at peace. Our personal peace is that tranquility of order which results from our doing God's will. The more we are united through love with God in the doing of His will, the more we experience peace.

Sometimes the sense of peace we experience is so strong that we can "feel" it pulsating throughout our being. These are periods of what we may call the experience of extraordinary peace. This type of peace usually is not an everyday occurrence.

Most of the time we live immersed in a more subdued kind of peace which results from our daily attempts to do God's will in love. It is that peace which is a welcome and sustaining companion as we walk the path of everyday life with its usual assortments of joys and disappointments, successes and failures, laughter and tears.

Occasionally, very deep suffering may enter our lives. It is during these times that we need special determination to preserve ourselves in a basic peace of spirit despite the very significant pain. One may wonder how a person can be at peace amidst the experience of great suffering. St. Francis de Sales in one of his writings—and I have not been able to locate the exact place—offers an analogy which I think is very helpful. He asks us to picture an ocean body of water at the time of a violent storm. The surface of the water becomes extremely turbulent. Francis asks us, as we use our imagination, to descend beneath the surface of the water into its depth. What do we find? The more deeply one descends away from the turbulent surface, the calmer the water becomes. Likewise, says the saint and doctor of the Church, should it be with us during times of profound suffering. Although the surface of the spirit may be very agitated, one can still maintain basic peace of spirit by going deep down to one's center where God is more directly experienced. Here the person experiences a calm, a basic peace, although the suffering remains.

If we are trying to do God's will in love, God intends us to be at peace. The more we conform to God's will, the more we are living according to the order He intends for us. In turn, the more our lives are in harmony with the order established by God, the more we experience peace—peace being the tranquility of order. The more we ourselves live in this manner, the more fit instruments we become for promoting God's order and consequent peace throughout the various segments of society.
St. Dominic was an outstanding witness to the peace of the Lord: "Dominic possessed such great integrity and was so strongly motivated by divine love, that without doubt he proved to be a bearer of honor and grace. He was a man of great equanimity, except when moved to compassion and mercy. And since a joyful heart animates the face, he displayed the peaceful composure of a spiritual man in the kindness he manifested outwardly and by the cheerfulness of his countenance."
14
Shortly before he was to die from cancer, Joseph Cardinal Bernardin left us these inspiring words about peace: "It is the first day of November, and fall is giving way to winter. Soon the trees will lose the vibrant colors of their leaves and snow will cover the ground. The earth will shut down, and people will race to and from their destinations bundled up for warmth. Chicago winters are harsh. It is a time of dying.
"But we know that spring will soon come with all its new life and wonder.

"It is quite clear that I will not be alive in the spring. But I will soon experience new life in a different way…

"What I would like to leave behind is a simple prayer that each of you may find what I have found—God's special gift to us all: the gift of peace. When we are at peace, we find the freedom to be most fully who we are, even in the worst of times. We let go of what is non-essential and embrace what is essential. We empty ourselves so that God may more fully work within us. And we become instruments in the hands of the Lord."
15
St. Teresa of Avila, one of the three women doctors of the Church, tells us how the spiritual life is summed up in loving conformity to the Father's will:
"All that the beginner in prayer has to do -- and you must not forget this, for it is very important -- is to labor and to be resolute and prepare himself with all possible diligence to bring his will in conformity with the will of God. As I shall say later, you may be quite sure that this comprises the very greatest perfection which can be attained on the spiritual road."
16
Again she states: "...love consists ... in the firmness of our determination to try to please God in everything."
17
___________________
13. Pope John Paul II, as in Celebrate 2000!, Servant Publications, pp. 140-141.

14. "From the Various Writings of the History of the Order of Preachers," as in The Liturgy of the Hours, Catholic Book Publishing Co., Vol lV, p. 1302.

15. Joseph Cardinal Bernardin, The Gift of Peace, Loyola University Press, pp. 151-153.

16. St Teresa of Avila, Interior Castle, translated by E. Allison Peers, Doubleday and Co., "Second Mansions", p. 51.

17. Ibid., "Fourth Mansions", p. 76.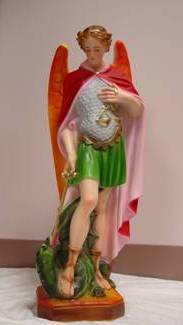 Prayer to St. Michael

"St. Michael the Archangel, defend us in battle. Be our safeguard against the wickedness and snares of the devil. May God rebuke him, we humbly pray, and do thou, O prince of the heavenly hosts, by the power of God, cast into hell Satan and all the other evil spirits who prowl about the world seeking the ruin of souls. Amen."

Prayer to our Guardian Angel

"Angel of God, my guardian dear, to whom God's love commits me here, ever this day be at my side, to light and guard, to rule and guide. Amen."

Act of consecration to the Sacred Heart of Jesus and to the Immaculate Heart of Mary

"Lord Jesus, Chief Shepherd of the flock, I consecrate myself to Your most Sacred Heart. From Your pierced Heart the Church was born, the Church You have called me, as a member of Shepherds of Christ Associates, to serve in a most special way. You reveal Your Heart as a symbol of Your love in all its aspects, including Your most special love for me, whom You have chosen as Your companion in this most important work. Help me to always love You in return. Help me to give myself entirely to You. Help me always to pour out my life in love of God and neighbor! Heart of Jesus, I place my trust in You!

"Dear Blessed Virgin Mary, I consecrate myself to your maternal and Immaculate Heart, this Heart which is symbol of your life of love. You are the Mother of my Savior. You are also my Mother. You love me with a most special love as a member of Shepherds of Christ Associates, a movement created by your Son as a powerful instrument for the renewal of the Church and the world. In a return of love, I give myself entirely to your motherly love and protection. You followed Jesus perfectly. You are His first and perfect disciple. Teach me to imitate you in the putting on of Christ. Be my motherly intercessor so that, through your Immaculate Heart, I may be guided to an ever closer union with the pierced Heart of Jesus, Chief Shepherd of the flock."
We can send Fr. Joe's
homily book to a priest
for a little over a dollar.
Can you please help us get
these homilies to the priests?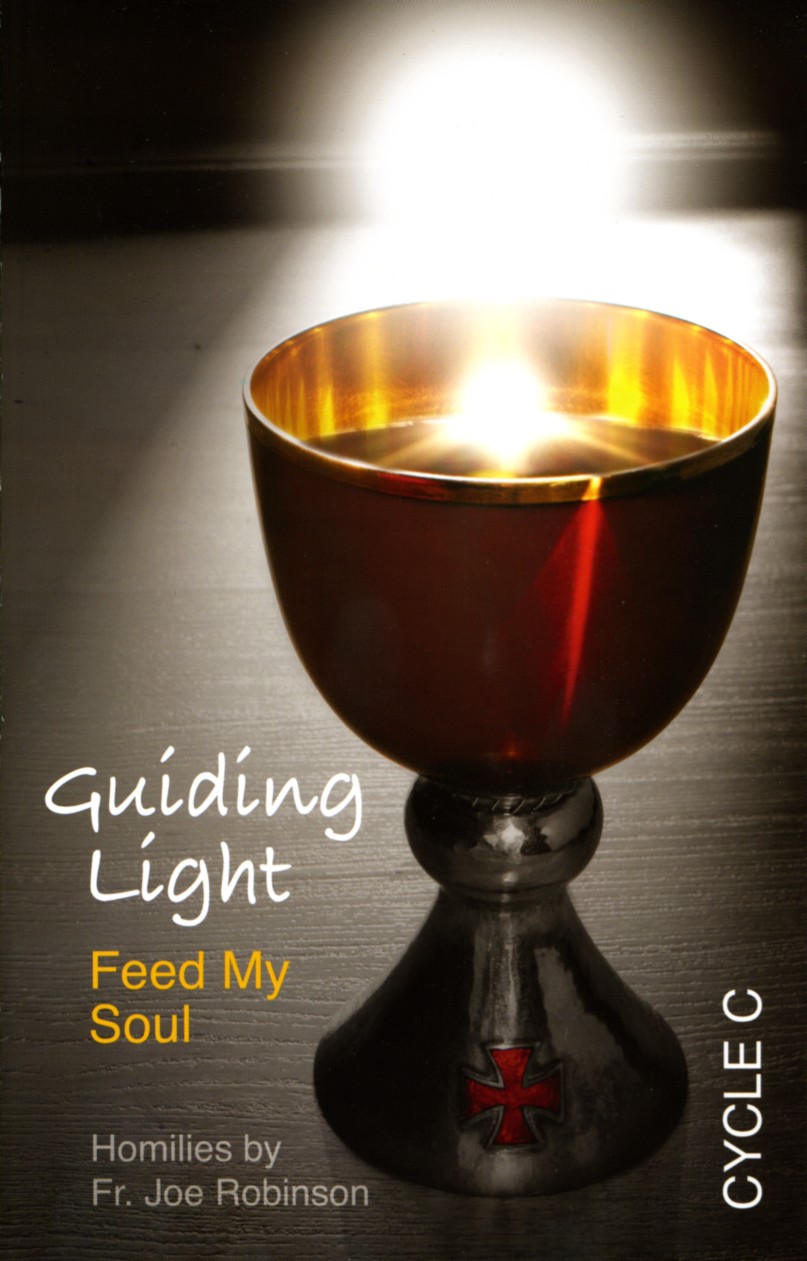 Please help us with your donation.
Call Shepherds of Christ
1-888-211-3041

Prayer Card 4" x 6"

.50¢ each plus postage

size 5 1/2" x 8 1/2"
$1.00 plus postage

Statues

| | | |
| --- | --- | --- |
| | | |
| Sacred Heart of Jesus w/glass - 18 | Our Lady-Guadalupe w/glass - 12 | Limpias - 8 |
| | | |
| Immaculate Heart w/glass - 18 | I Heart - Ivory w/glass - 18 | Our Lady of Grace w/glass - 18 |
| | | |
| Our Lady-Mt. Carmel w/glass - 18 | Our Lady of Lourdes w/glass - 18 | Infant of Prague w/glass - 24 |
| | | |
| Sacred Heart of Jesus w/glass - 24 | Sacred Heart -Blessing w/glass - 24 | Sorrowful Mother w/glass - 24 |
| | | |
| I Heart - Ivory w/glass - 24 | I Heart of Mary w/glass - 24 | Our Lady of Lourdes w/glass - 24 |
| | | |
| Our Lady-Guadalupe w/glass - 28 | Our Lady of Grace w/glass - 24 | Our Lady-Mt. Carmel w/glass - 24 |
| | | |
| Fatima w/glass - 11 | Pilgrim Virgin w/glass - 12 | Pilgrim Virgin w/glass - 15 |
| | | |
| Fatima w/glass - 18 | Pilgrim Virgin w/glass - 18 | Pilgrim Virgin w/glass - 27 |

| | | |
| --- | --- | --- |
| St. Padre Pio | St. Joseph | St. Therese |
| | | |
| St. Francis | St. Anthony | St. Claire |
| | | |
| Limpias | St. Jude | Divine Mercy |
| | | |
| Holy Family | Angel | St. Philomena |
| | | |
| Pieta - Marble | Pieta - Color | Holy Family |
| | | |
| St. Anthony - 18 | St. Francis - 18 | St. Joseph - 18 |
| | | |
| St. Therese - 18 | St. Rita - 18 | St. Clare - 12 |
| | | |
| St. Rita - 12 | St. Padre Pio - 12 | Divine Mercy - 12 |


Shepherds of Christ Ministries
P. O. Box 627
China, IN 47250

Toll free - 1-888-211-3041
Local - 1-812-273-8405
fax - 1-812-273-3182
web: www.sofc.org
e-mail: info@sofc.org


| | | | |
| --- | --- | --- | --- |
| | Size | Price | Quantity |
| Holy Family | 24" | $180 | |
| Limpias | 24" | $125 | |
| St. Anthony | 24" | $125 | |
| St. Claire | 24" | $125 | |
| St. Francis | 24" | $125 | |
| St. Joseph | 24" | $125 | |
| St. Jude | 24" | $125 | |
| St. Padre Pio | 24" | $125 | |
| St. Therese | 24" | $125 | |
| Divine Mercy | 22" | $125 | |
| Angel | 22" | $100 | |
| St. Philomena | 20" | $100 | |
| St. Philomena | 16" | $65 | |
| St. Joseph | 18" | $65 | |
| St. Francis | 18" | $65 | |
| St. Anthony | 18" | $65 | |
| St. Rita | 18" | $65 | |
| St. Therese | 18" | $65 | |
| Pieta - Color | 15" | $75 | |
| Pieta - Marble | 15" | $75 | |
| Holy Family | 12" | $60 | |
| St. Padre Pio - standing | 12" | $40 | |
| St. Padre Pio - sitting | 8" | $50 | |
| St. Rita | 12" | $40 | |
| Divine Mercy | 12" | $40 | |
| St. Claire | 12" | $40 | |
| Limpias | 8" | $25 | |
| Our Lady of Guadalupe w/glass | 28" | $500 | |
| Our Lady of Mt. Carmel w/glass | 24" | $500 | |
| Immaculate Heart of Mary w/glass | 24" | $500 | |
| Immaculate Heart - Ivory w/glass | 24" | $500 | |
| Infant of Prague w/glass | 24" | $500 | |
| Our Lady of Grace w/glass | 24" | $500 | |
| Our Lady of Lourdes w/glass | 24" | $500 | |
| Sacred Heart of Jesus w/glass | 24" | $500 | |
| Sacred Heart -Blessing w/glass | 24" | $500 | |
| Sorrowful Mother w/glass | 24" | $500 | |
| Immaculate Heart of Mary w/glass | 18" | $300 | |
| Immaculate Heart - Ivory w/glass | 18" | $300 | |
| Sacred Heart of Jesus w/glass | 18" | $300 | |
| Our Lady of Lourdes w/glass | 18" | $300 | |
| Our Lady of Grace w/glass | 18" | $300 | |
| Our Lady of Mt. Carmel w/glass | 18" | $300 | |
| Our Lady of Guadalupe w/glass | 12" | $200 | |
| Fatima w/glass | 11" | $150 | |
| Fatima w/glass | 18" | $250 | |
| Pilgrim Virgin w/glass | 12" | $160 | |
| Pilgrim Virgin w/glass | 15" | $200 | |
| Pilgrim Virgin w/glass | 18" | $250 | |
| Pilgrim Virgin w/glass | 27" | $450 | |


Call for Shipping Price (1-888-211-3041)


Name

Sub-Total
Address

IN Tax (7%)
City

Shipping
State Zip

Donation
Telephone

Order Total

Shepherds of Christ
P. O. Box 627
China, IN 47250

Call Shepherds of Christ

1-888-211-3041


Fr. Joe's Homily Books

Guiding Light -
The Word Alive in Our Hearts

$10.00




Guiding Light -
Focusing on the Word

$10.00


Fr. Carter's Books


Priestly Newsletter Book I

12 Newsletters
July 1994 - June 1996

$12.00


Priestly Newsletter Book 2

17 Newsletters
1996 - 1999

$12.00


Priestly Newsletter Book 3

4 Newsletters & Prayers
2000

$12.00


Synopsis of the Spiritual Life

Spirituality Handbook
$3.00


Messages given
by Jesus and Mary 1994

Tell My People


$10.00



The Pain and the Joy

$10.00


Priestly Newsletter on CD
2000 - Issue 1

$10.00


Priestly Newsletter on CD
2000 - Issue 2

$10.00

Fr. Pasquini's Books


Authenticity



Prayers and Meditations

$10.00

In Imitation of Two Hearts

For those suffering or
in Nursing Homes

$10.00

Light, Happiness and Peace

Journeying through traditional
Catholic Spirituality

$10.00

Medicine of Immortality

Prayers and Meditations - will assist the reader in growth toward a deeper understanding of the mystery of the Eucharist

$10.00


Ecce Fides - Pillar of Truth





Ideal for RCIA, Adult & Youth Bible Study, Homeschooling, Catholic
Identity Studies

$10.00

Shepherds of Christ Newsletters
9 Newsletters
2006 - 2008



$36.00

DVDs and CDs by Fr. Pasquini





Authenticity DVD
Prayers on the Ocean

$10.00


Nursing Home Mass DVD

$10.00

Consolation DVD

$10.00

Medicine of Immortality
Read by Rita Ring

2 CDs - $17.00

In Imitation of Two Hearts DVD

$10.00




Consolation CD
by Fr. John

$8.00





Nursing Home Mass CD

$8.00


Holy Spirit Novena DVD

$10.00

Divine Mercy Chaplet DVD

$10.00

Call Shepherds of Christ

1-888-211-3041


God's Blue Books

God's Blue Book 1 –
Teachings to Lift You Up

$10.00




God's Blue Book 4 –
The Love of the Hearts of
Jesus and Mary

$5.00





God's Blue Book 2 –
The Fire of His Love

$10.00


God's Blue Book 5 –
So Deep Is the Love of His Heart

$5.00




God's Blue Book 3 –
Love God, Love One Another
(Fr. Carter's favorite)
$10.00





God's Blue Book 6 –
He Calls Us to Action

$10.00


Rosary Books





Rosaries from the
Hearts of Jesus and Mary

$10.00


Rosaries from the
Hearts of Jesus and Mary

$12.00

Rosary Meditations for
Parents and Children's

$10.00




Mysteries of Light 1

$5.00


Mysteries of Light 2

$5.00




Little People & Elderly Rosary Book

$10.00

Coloring Book
$5.00 each




Coloring Book
$5.00 each

Coloring Book
$5.00 each

Coloring Book
$5.00 each

Coloring Book
$5.00 each




Coloring Book
$5.00 each

Available for $10.00 each plus postage

1-888-211-3041

Call Shepherds of Christ

We are trying to get

Response to God's Love

and the Mass Book out.


Anybody who wants to help us

with a donation to get these 2 books

out in the Priestly/hierarchy mailing —

Please call Shepherds of Christ

1-888-211-3041

July 31, 1994

Words of Jesus to Members of
Shepherds of Christ Associates:

"My beloved priest-companion, I intend to use the priestly newsletter, Shepherds of Christ, and the movement, Shepherds of Christ Associates, in a powerful way for the renewal of My Church and the world.

"I will use the newsletter and the chapters of Shepherds of Christ Associates as a powerful instrument for spreading devotion to My Heart and My Mother's Heart.

"I am calling many to become members of Shepherds of Christ Associates. To all of them I will give great blessings. I will use them as instruments to help bring about the triumph of the Immaculate Heart and the reign of My Sacred Heart. I will give great graces to the members of Shepherds of Christ Associates. I will call them to be deeply united to My Heart and to Mary's Heart as I lead them ever closer to My Father in the Holy Spirit."

- Message from Jesus to Father Edward J. Carter, S.J., Founder, as given on July 31, 1994,
feast of Saint Ignatius Loyola, Founder of the Society of Jesus (The Jesuits)




The China Church is over 140 years old

and we pray in there 24 hours a day.

It needs stucco and so does

the community building.

Can you please help us?

Call Shepherds of Christ

1-888-211-3041

Likewise the priest house

is 150 years old.

Jesus told us to repair it

which we have been doing.

We need $13,000.00 for this work.

You can help put the Blue Book V

in the hands of 1,000 people

we need $1,200 postage for this

It is ready to go

Call Shepherds of Christ

1-888-211-3041

You can help put Fr. Joe's homily

book in the hands of

1,000 priests — it costs $1,100

This can help 1,000 parish priests

talk about Covenant for Lent

Please help us

It is ready to go

Call Shepherds of Christ

1-888-211-3041

Crucifix — hand carved by Felix

Available for $750.00

Brand New Internet Store