Mary has requested that the daily message be given each day to the world. It is read nightly at the prayer service from her Image Building in Clearwater, Florida, U.S.A. This is according to her request. All attempts will be made to publish this daily message to the world at 11 p.m. Eastern time, U.S.A.

---

We acknowledge that the final authority regarding these messages rests with the Holy See of Rome.

---
---
A Prayer for Intimacy with the Lamb, the Bridegroom of the Soul

Oh Lamb of God, Who take away the sins of the world, come and act on my soul most intimately. I surrender myself, as I ask for the grace to let go, to just be as I exist in You and You act most intimately on my soul. You are the Initiator. I am the soul waiting Your favors as You act in me. I love You. I adore You. I worship You. Come and possess my soul with Your Divine Grace, as I experience You most intimately.
---
Messenger: Include Our Lady of the Holy Spirit Center in 6:20 prayers.
---
Messenger: It is His grace acting in all that will make the body work the way He wishes.
We must all do the will of God and pray for this grace.
Jesus speaks: I love you. I pray that they will be one in Me.
---
November 15, 1999 - Second Message
Given November 13, 1994 - 4:15 a.m.

Come to Me with Hearts of Love

Jesus speaks: Will you not wait one hour with Me? My Heart thirsts for the love of souls. Come to Me with hearts of love. My Heart wants your love poured out to Me. I love you so much. I want a love relationship with you.

Read all My letters from your heart, as you read a letter from your closest friend, the one you love. You dote on every word. Oh, how I love you! I write to you here. Read every letter from Me with your whole heart. This is My love poured out to you. Do not read these letters for knowledge, read them for love. These are love letters from Me to you, My most ardently loved ones.

When you open the book think of how I love you and long for your love. I want a relationship with you. I write to you with greatest love. Read My letters as from your loved ones. Read them from your best friend. Read them from a Person that died for you!

I long for your love this day. Write Me a letter of your love. Write Me in front of the tabernacle, or after Communion. I long for your love. I thirst for the love of My most precious souls. Come to Me and find an ocean of love in My most Sacred Heart. Come to Me and find the true love of your soul. I am Jesus. I died for you that you may have life. My Life I give you in the Eucharist. I am the Bread of Life come down from heaven for you this very day. Come and partake in My Life given to you.
---
November 15, 1999 - Third Message
Given November 13, 1994 - After Communion

Love Him in Return

Messenger: Jesus is a Person that wants to be loved. He is not far off. He is inside of me right now, longing for my love, for my tender words telling Him how I love Him. I can scarcely breathe to be this close to God. Oh, God, impart to me Your gifts to know and love You more, to realize Your presence within me in Your Divinity and Humanity now and Your constant presence with me in Your Divinity. I am so unworthy of Your love. We are just ignorant.

Pray for the grace to realize more His presence with us, to realize His love for us and to love Him in return.

Note: I had a vision immediately after the Consecration.

I saw a cross. Above it, the cup - they seemed to be connected, then the cup went upward. I saw intense light, a dark cross. His arms under the cross went close to the cross and it got bigger, then the cup went up to heaven.

Oh, Jesus, You ask us to love You with our whole hearts, but do I want to give You my whole heart? Make me have a heart like Yours. What does that mean? You gave, You loved, You held nothing back.

I never realized before, Lord, but I keep You at a distance because I hold onto parts of my heart. Do I really want to be like Jesus, to give my things away, and be ready to let Him have all if He wants it? Loving is as You loved.

To have a heart like Your Heart means I give You my all. You gave the Blood in Your veins, You gave all the beats of Your Heart and the breath in Your Body. Loving means surrender.

Oh, Jesus, how much of my heart I hold onto! It is another step to let go of my whole heart and ask for one like Yours. You hold nothing back, You always loved. You always gave to the other.

Oh, Jesus, how far I am from You, yet how I love You. Give me, oh Lord, a heart like Yours. When You were naked I clothed You... what I do to my brothers, Lord, I do to You.

Create in me a clean heart. Let me see where I am blind. Oh, Sacred Heart of Jesus, I place my trust in Thee.

To be like You! I see you hanging on the cross, dripping with Blood, this is Your Heart! You ask that we love God with our whole hearts and souls and love our brothers as ourselves. You said: love your brother as I have loved you.
---
November 15, 1999 - Fourth Message
Given October 26, 1999 - Excerpt from God the Father's message.
God the Father speaks: ...I wish this invitation be extended daily on the Internet to come and pray during the Christmas Novena at the image site. If this is impossible, pray at home for the coming of Jesus in the hearts of men...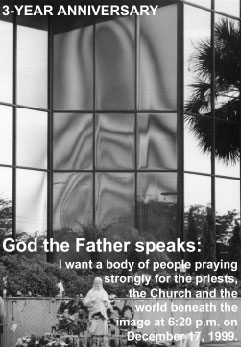 God the Father, Jesus, and Mary are calling all to pray in front of Mary's image in Clearwater, Florida, on December 17, 1999.This important day marks the 3-year anniversary of Mary's appearance on the building. God is asking us to gather for this special day, praying for peace, and especially to make reparation to God, the Sacred Heart of Jesus, and the Immaculate Heart of Mary.

October 11, 1999 - Jesus speaks: …I want all who can come to Florida December 17, 1999, to come there. Mary wants the apostles gathered in prayer, but if you cannot come, then you pray fervently.

October 15, 1999 - Mary speaks: My dear children, I invite you to come to my Image site to pray December 17, 1999. I am Mary your Mother. Please come.

October 15, 1999 - Jesus speaks: I wish you to come and pray with the greatest fervor before the image of My Mother December 17, 1999. …Please come and pray. If this is impossible, pray as a body before the tabernacle and at all Centers including: Toledo, Ohio; California; Kansas; Pennsylvania; Delaware; wherever one is able to pray. I love you, Jesus.

October 26, 1999 - God the Father speaks: You are the children of Eve. You are sons of that woman and I send you the Woman, your Mother and you ignore her.

I want a body of people praying strongly for the priests, the Church and the world beneath the image at 6:20 p.m. on December 17, 1999, and all others praying as a body united to the Holy Sacrifice of the Mass throughout the world. I wish all priests who can to celebrate Mass at 6:20 p.m. on December 17, 1999, and every day after, until Christmas. I wish all to pray this novena for these days December 17, 1999-December 25, 1999 at 6:20 praying for the coming of the Holy Spirit, healing, oneness, to be spread with the Blood of Jesus as directed by My Son in a message February 23, 1999. I want this. I want fervent prayer. I want unity in the hearts. I want men praying as a body at 6:20 p.m. as requested by Jesus and Mary. I want communal reparation by all receiving Communion and/or making a spiritual Communion united to the Mass.

I wish an invitation to this gathering to be circulated, stressing making reparation to God, reparation to the Hearts of Jesus and Mary.

January 5, 1999 - God the Father speaks: It is because of your fervor to pray here that you have held back the hand of My Son from punishing the earth with just punishment for the crimes committed against your God.
Please come and join us for prayer at the site in Clearwater, Florida, the other sites mentioned in this invitation, or from wherever you can. Thank you and God bless you,
Shepherds of Christ Ministries.
December 17, 1999 Planned Activities:

Holy Spirit Novena at 6:20 p.m.

Shepherds of Christ Prayers

Rosary

Fatima Procession

Songs

For more information contact: Shepherds of Christ Ministries, P.O. Box 193, Morrow, OH 45152-0193, U.S.A. Tel: (513) 932-4451, Toll Free: (888) 211-3041. FAX: (513) 943-6792. Internet: http://www.SofC.org.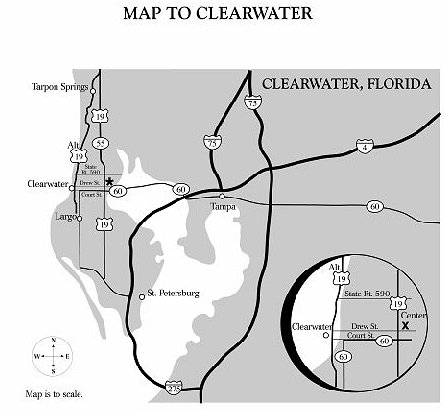 ---
November 15, 1999 - Nursing Home Message - Fifth Message
NURSING HOME and ILL PEOPLE
Jesus speaks: My dear nursing home loved ones and those that are ill.
I wish to press you so tenderly to My Heart and hold you there. I know the fear you sometimes have, and I want you to know I am close at hand to you always.
It is security and love you want. I want you to know how real I am, I write to you this personal love letter that you will keep it with you and hear Me speak.
Look into My face and see My love, see My gentle eyes, for I look on you so lovingly. I see you are afraid, and I want you to see light, see the light within My Heart. My Heart is on fire for love of you.
Oh My gentle little one, I love you. Tuesday is healing day. Pray for great grace to be poured out on you. My shepherds are praying at 6:20 for healing. Pray with them at this time. It is 6:20 Florida time they pray. Remember, Tuesday is a day I give great grace for healing. Pray to Me for this on Tuesdays.
I love you, I am Jesus.
---
Messenger: When visiting a nursing home this is a plan you can follow to pray a little part of the rosary with the elderly or sick residents.
What is usually done and tolerated by the elderly folks is one Our Father, five Hail Mary's and another Our Father. The song, A Song from Jesus, can be sung before and after these prayers.
It is desirable to have a big picture of The Birth of the Lord Jesus when doing these meditations. Also it is recommended that you have pictures of the Sacred Heart and the Immaculate Heart of Mary.
---
Excerpt from July 13, 1995 rosary, "The Birth of the Lord Jesus" from the Rosaries from the Hearts of Jesus and Mary

The Birth of the Lord Jesus
Messenger: Jesus gave to us His Mother who stood beneath the cross. He gives to us a share in His divine life, merited by His life and, in a special way, by His death on the cross. It is through Mary that we receive this life. She is the Mediatrix of all grace. She gave Jesus the life of His physical body. Grace flows through her to us. It is through Mary that we will be drawn closer and closer to the Heart of Jesus.
The sheep and the shepherds are around the child Jesus. Jesus Christ, born in a stable, in a manger, in the town of Bethlehem. The Chief Shepherd of the Flock, a little Baby, comes to this earth. He is not born high and mighty, with gold and silver. Rather, He is wrapped in swaddling clothes and laid in a manger, surrounded by sheep and beasts of the earth.
...Jesus gives us His life in the Sacrament of Baptism. He nourishes this life by His Body and Blood in the Sacrament of the Holy Eucharist.
Jesus speaks: I have not come to this earth to divide, but to save men from their sins. I came to this earth to love all of My beloved ones, more and more. My dear one, release all of the anxiety and fear in your heart. Let Me bathe you in a bath of My love. I am Jesus and I am truly present and attentive to all your needs.
This love is poured into your heart and you know more and more the presence of the Almighty God. Feel this presence within you. Release and let go of all distractions. I am the Almighty God and I am truly present.
---
November 15, 1999 - Sixth Message
Given March 6, 1998 - First Friday
SPOUSE OF THE LAMB
Messenger: My beloved Spouse, the Bridegroom of my soul,
The days go by with such swiftness, yet my focus is entirely on being one with Thee. The days fade in and out in shades of lights and darks, some days I receive immense insight into Your mysteries, some days I am left to tremendous suffering, wanting You so deeply in my soul and not experiencing Your favor.
On this First Friday, I recall vividly the vision of Your precious Heart I hold in my heart. I see it clearly, red and filled with fire, and I know the warmth and glow of Your sacred divine love.
Oh, my Sacred Heart, indeed, Thy love is most sacred. Yet even though I do not ponder as I should on the endless fires of love emitted from your treasured Heart, I have a constant awareness of this love which leads me to march forth in this battle of helping to win souls over for the Kingdom.
Little is accomplished if I nurse my wounds on those dark days and sit in a corner waiting for a great favor from You.
I walk those shaded days as You walked with the cross on Your back, but my awareness of Your Father and His plan for salvation is so limited, and I struggle tremendously as I am pressed on as I travel on my journey to the end of the day.
And then a day of glory comes and You look upon me, my Bridegroom, and give me great favors and allow me to have a day of resurrection from the doom and the struggle.
And how did He walk the earth? He walked it too, in dark and light days. Days in which they chased Him and wanted to kill Him, in which they called Him crazy, in which He sweat the saving Blood because of His anguish, in which He was tempted, in which He wept, in which He loved Mary His Mother and Mary Magdalene, in which He raised His dear friend Lazarus from the dead, in which He preached about the Kingdom to His followers.
Days of light, days of darkness, but He entered the tomb and came forth victorious in the end.
He rose to give us life, His wounds were glorified, the victory was won. His days were finally days of glory.
My Bridegroom, You give to me Yourself this day. I am one in the glorified Lord in the most intimate way. The banquet is prepared. The Lamb has been slain. Now we reap the glory of the risen Lord. We receive the gift of life in Him.
LIGHT and darkness. He is the Bread of Life, He comes to feed the starved soul with Himself. Our most treasured gift, our most treasured Friend, Jesus Christ, the Bridegroom of our soul, gives Himself as a sacrifice that we will share in His life most abundantly.
I love You, Jesus Christ my Bridegroom, come and possess my soul.
---
Question for married couples and others in intimate relationships:
Q: What can I do to help us be more united?
---
---
---
Copyright © 1999 Shepherds of Christ.
Rights for non-commercial reproduction granted:
May be copied in its entirety, but neither re-typed nor edited.
All scripture quotes are from the New Jerusalem Bible, July 1990, published by Doubleday.
Revised: November 15, 1999
URL: http://www.SofC.org
Contact Information for Shepherds of Christ
Email: info@SofC.org
---
Shepherds of Christ Ministries
PO Box 193
Morrow, Ohio 45152-0193

Telephone: (toll free) 1-888-211-3041 or (513) 932-4451
FAX: (513) 932-6791