We need funds for the mailing
of Fr. Joe's book
Our Lord wants out.
Call 1-888-211-3041

Please pray for Jimmy & Delores.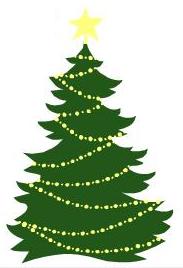 Give gifts that last.
Please remember us when buying
your Christmas gifts.
Can anyone please help us payoff
our loan on the building?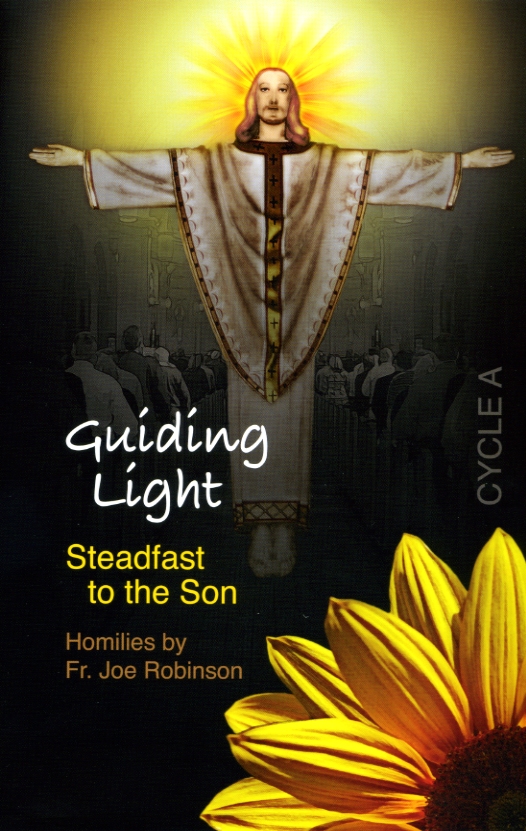 Homilies by Fr. Joe Robinson

Guiding Light - Cycle A

$10.00 plus shipping
We need donations for the postage to send it out.
Please help us.
Call Doris 1-888-211-3041
or Call 1-727-725-9312
November 15, 2010
R. We are to love Jesus, the Sacred Heart,
in return. The Heart exposed is a sign
and symbol of His infinite love —
The Heart shown as it is, reminds
me of His taking on flesh for love of me.
We see the simplicity of obedience
to His Father — We see that all is
done in love for service of God —
We do not see any stubbornness in the
Heart of Christ, we see the purity of
His love to go to the extent to die for
our sins — The generosity of Christ's —
Heart in giving — The truth in Christ —
To know when we enter with
falsity and deception in ourselves
when we have sinned and offended
God, to lie to cover up the wrong and
deceive others, rather than bring the
truth of our offense to light — to help
bring the situation to resolution for
God's service —
All is about being a servant
for God — of loving God — of never
wanting falsity and pride to enter
our actions — to love Him so much
and treasure His love given so
abundantly and sweetly to us, that
we desire to give Him great love
in return —
We are in search always of the
truth —
We do not help others who are
disharmoniously upsetting structure
and rules —
We are firmly rooted to obedience
to the rules, obedience to the
head and we do not help others
disobeying the rules or we are
not good stewards — We want
what God wants — we want His
work done — We love Him so
much — We never forget our sins
and how Jesus forgave us, if we
went to confession, if they were
venial and we went to Mass and
asked to be forgiven —
We love You, so much, oh
Sacred Heart of Jesus, we know
You paid a big price for our
sins. We meditate on how You
were beaten for our sins and
Your flesh torn and how You
were crowned with thorns and
nailed to the cross and You died
hanging on the cross because
You love us so much —
Oh, Most Sacred Heart of Jesus,
increase our love and devotion to
You, increase our faith in You —
increase our hope in You —
We want to make reparation to Your
Heart of Love and the Heart of Mary
for our offenses in not loving
as we should —
Jesus says:
Let no deception be in you, for
Your lies drives you far from
My Heart of truth — I am the way,
the truth and the life —
R. Dear God help me to know the
mystery of Your love — that I will
live to serve You and do what
God wants in this world — That I
will seek to love You and let go
of inordinate attachments, worrying
what others think of me and focus
most of all of what You want
of me and telling the truth and
operating in love of You and
others - being a servant of God —
To realize that we are constantly
helping to make reparation to Christ
as we unite our crosses in life
To Christ's Cross, as we unite
our lives in union with
the Masses going on around the
world —
Constant reparation as we
live His death, life and resurrection
in our lives —
As we live in truth —
Serving God and doing all
things in honor of Him —
Song: In My Heart —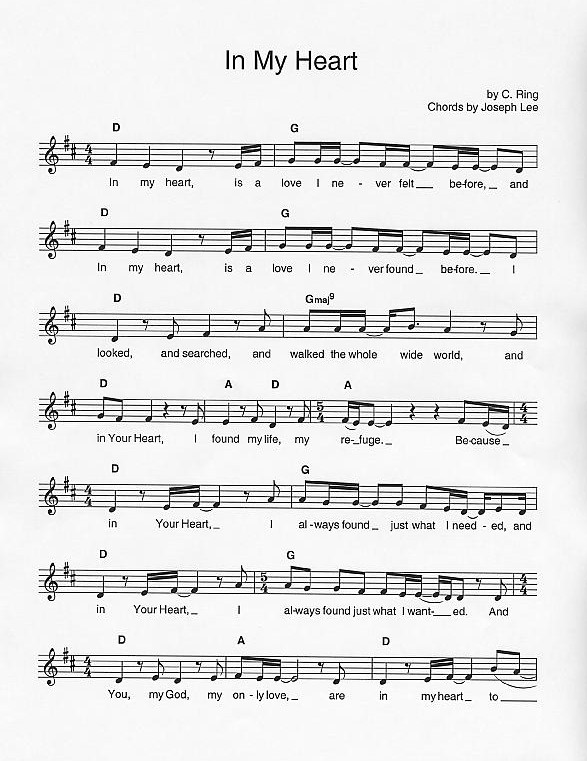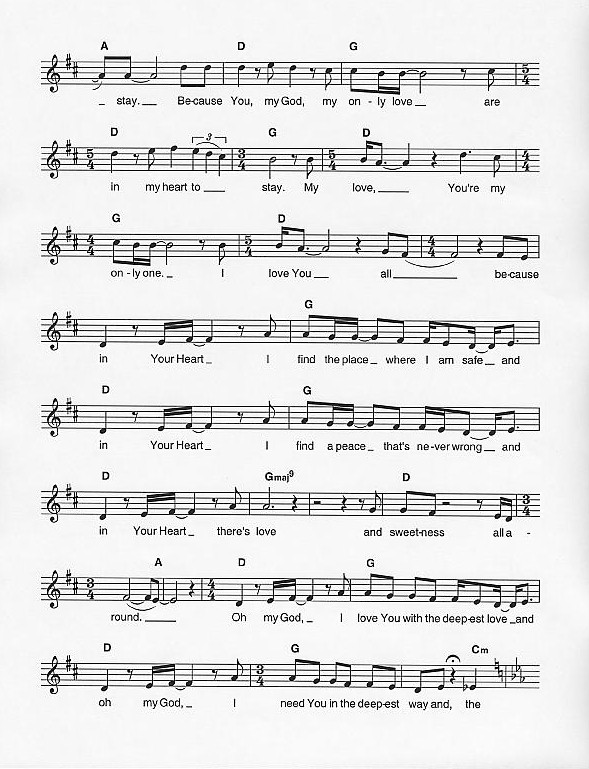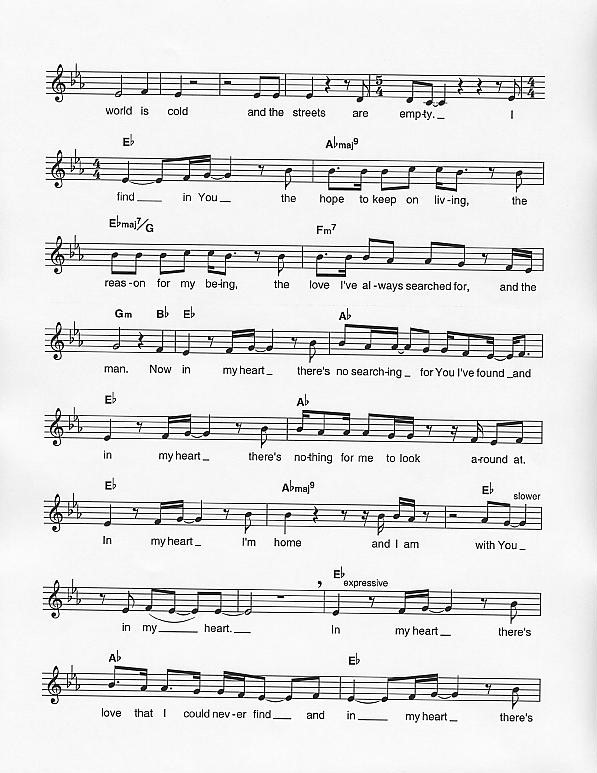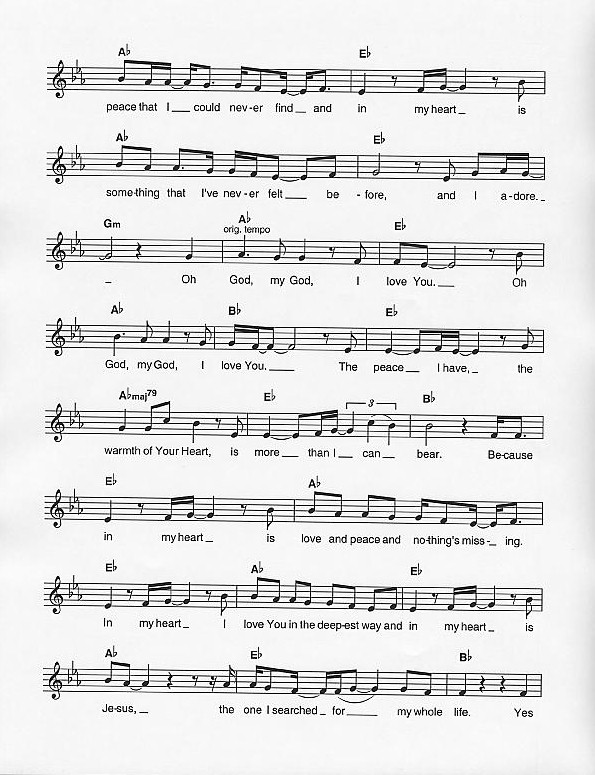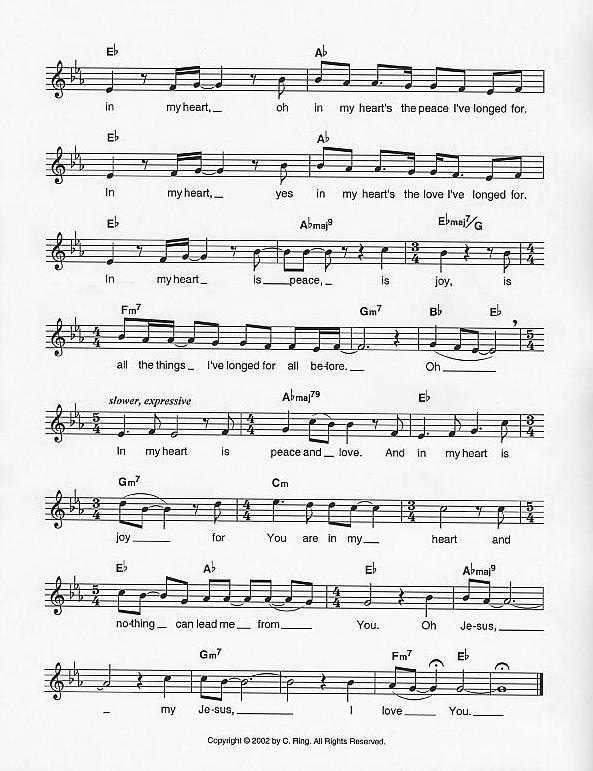 I know the warmth of the love of the
Sacred Heart of Jesus — His warmth surrounds
me — I am one in His Heart — I
know the embrace of His
infinite love. He never leaves
me — the more I labor to please
Him, to die to any impurities of
my heart — the more one I am
with Him —
Jesus is the reason for my living —
I live for God: Father, Son and Holy Spirit —
I am never abandoned —
I am never alone —
I know the warmth of His love
in my heart —
Jesus, Jesus, I love You —
The warmth of His love —
We can drive ourselves away
from unity with Jesus by deception,
by worrying about how we act to
please men that have no authority
over us — worry about how we look
before men —
And disobey Jesus, deceive
others in lying to save our self
perfect image we want before
men —
We must want to serve Jesus, first —
To obey God first — to serve God even
when it's hard — not operate because
we are afraid of men —
We can be strong in serving God
through this deep interior union
with the Sacred Heart — Being deeply
one in our heart with the Heart
of Jesus — His love burns in us —
Our desire to live by the Father's Plan
in love — casts out our fear of
men and what they think of us in
our hearts —
We are at battle wanting to please
Jesus, the Sacred Heart, it is a privilege to
be so mystically married to Jesus,
to know Him, to love Him, to
serve Him, to do His will in
our lives and the lives we touch —
We draw our strength from
the Heart of Jesus — Where in is
found TRUTH
LOVE
OBEDIENCE —
We are one in this deep interior
union with the Sacred Heart.
This devotion helps deepen the
interior life union with
God — Dancing in our heart
always with Jesus, our
beloved —
Jesus promised Fr. Carter this —
13th Promise
Jesus: "I am calling many to become members of Shepherds of Christ Associates. To all of them I will give great blessings. I will use them as instruments to help bring about the triumph of the Immaculate Heart and the reign of My Sacred Heart. I will give great graces to the members of Shepherds of Christ Associates. I will call them to be deeply united to My Heart and to Mary's Heart as I lead them ever closer to My Father in the Holy Spirit."
We see the focus of many on
the external — focusing on the
world, stimulation from outside —
more and more stimulation —
violence —
Yet God calls us to this interior
union with Him in our heart —
To be mystically married to God —
To love Him and have all the energy
it takes to serve Him with vigor
and love — to run the mile for
Christ — to promote the devotion
to His Sacred Heart —
Exterior activity if directed to
further the interior life can help
the interior life be deeper —
But exterior activity — loud and
violent etc. can drive us away
from the interior life —
The Sacred Heart Devotion, prayer before
the Blessed Sacrament, the Mass,
the sacraments can help us to grow
in deeper life in Him — so we
live deeply our lives mystically
married to Christ, contemplatives
in action —



Order your Christmas
presents that last!
Please remember us when buying
your
Christmas gifts.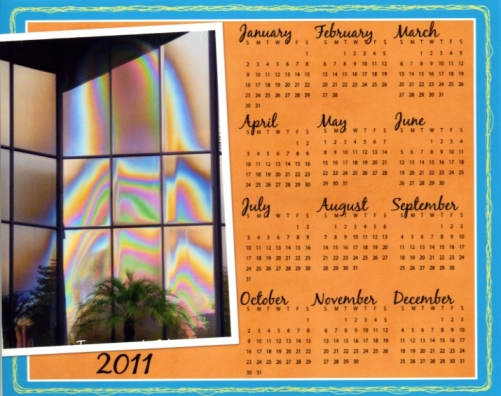 $1.00 plus shipping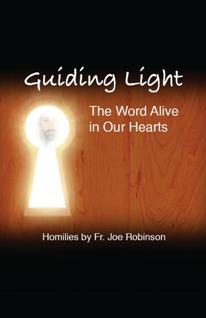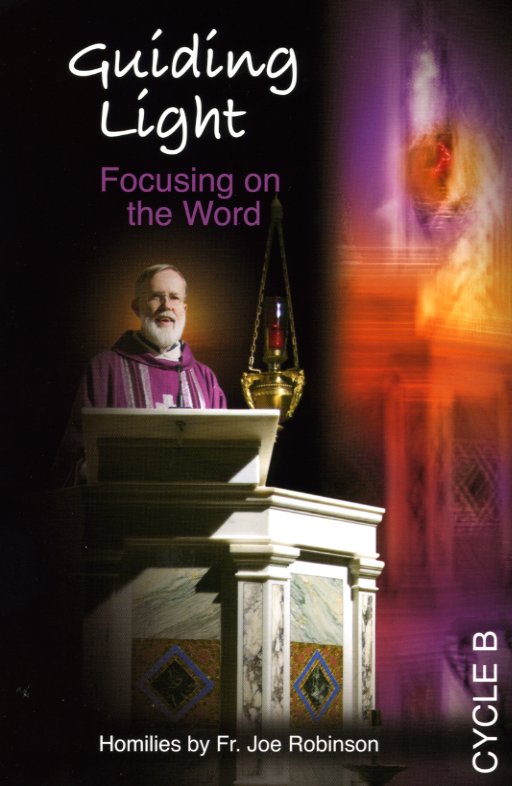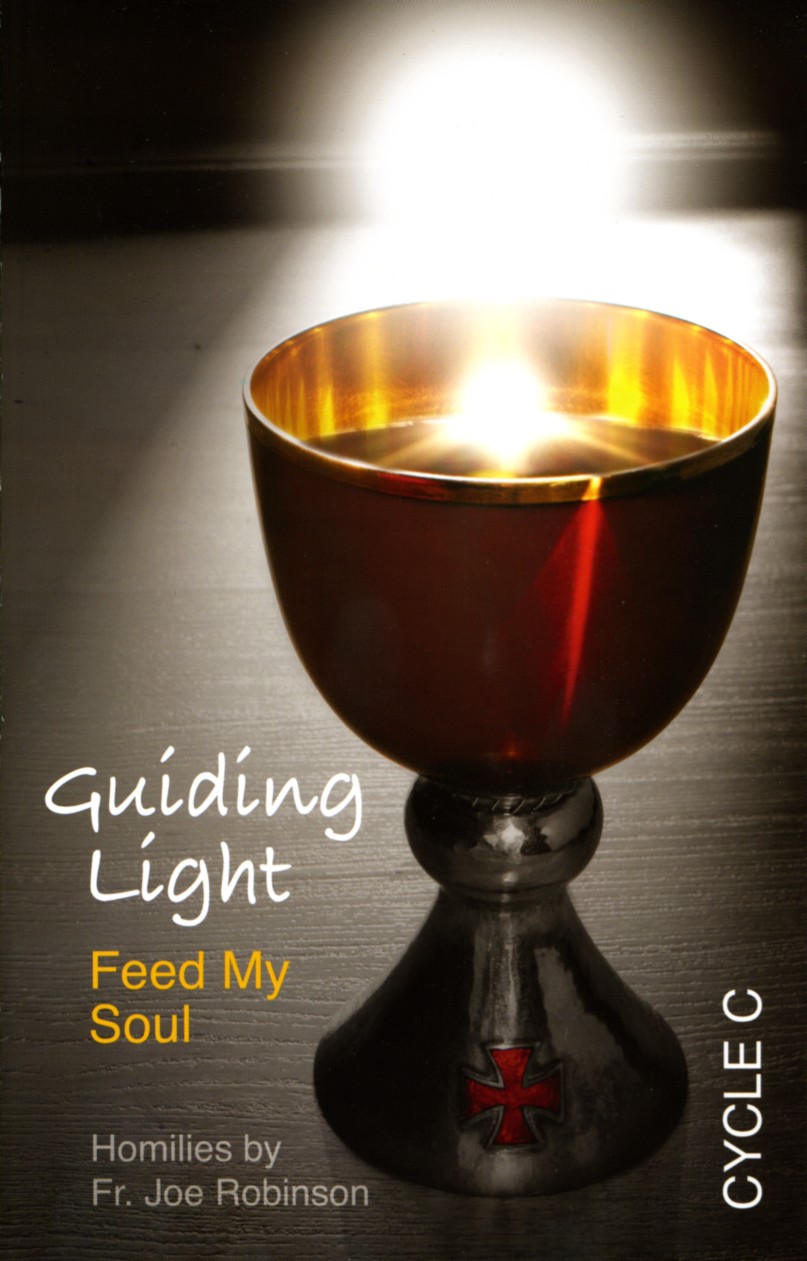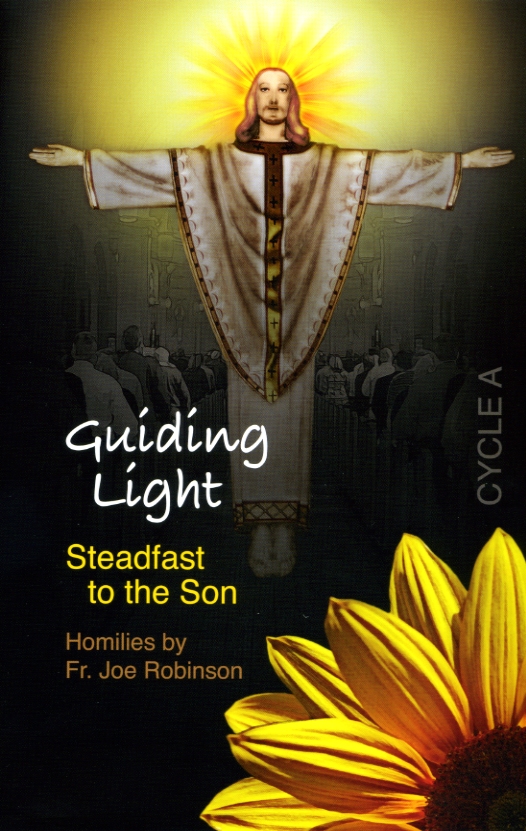 Homilies by Fr. Joe Robinson
$10.00 each plus shipping
Call Doris
1-888-211-3041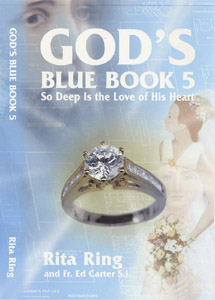 Books written by the cofounder of Shepherds of Christ Ministries

Writings by Rita Ring
Mass Book
A Journey Into the Heart of Jesus - Author: Rita Ring. Discerned by: Fr. Edward J. Carter S.J. Imprimatur
$ 12.00 plus postage
God's Blue Book I
Teachings to Lift You Up. Author: Rita Ring. Discerned by: Fr. Edward J. Carter S.J.
$ 10.00 plus postage
God's Blue Book II
The Fire of His Love. Author: Rita Ring. Discerned by Fr. Edward J. Carter S. J.
$ 10.00 plus postage
God's Blue Book III
Love God, Love One Another. Author: Rita Ring. Discerned by Fr. Edward J. Carter S.J.
$ 10.00 plus postage
God's Blue Book 4
The Love of the Hearts of Jesus and Mary Author: Rita Ring
$ 5.00 plus postage
God's Blue Book 5
So Deep Is the Love of His Heart. Author: Rita Ring.
$ 5.00 plus postage
Blue Rosary Book
Rosaries From the Hearts of Jesus and Mary - Volume II
$ 12.00 plus postage
Messages From Jesus
Given by Jesus to His Messenger Author: Rita Ring. Discerned by: Fr. Edward J. Carter S.J.
This book is 8 1/2" by 11" and you can open it up and sit it on your lap.

$ 10.00 plus postage
Apostle's Manual
Shepherds of Christ Overview: Very carefully discerned by Fr. Edward J. Carter S. J.
$ 20.00

Songs From Jesus
Given by Jesus to His Messenger Author: Rita Ring. Discerned by: Fr. Edward J. Carter S.J.
$ 5.00
Books written by the founder of Shepherds of Christ Ministries
Tell My People
Messages from Jesus and Mary Author: Fr. Edward J. Carter S.J. Imprimi Potest
$ 10.00 plus postage
Spirituality Handbook
Shepherds of Christ Associates Spirituality Handbook - A Way of Spiritual Life
Author: Fr. Edward J. Carter S.J. Imprimi Potest
$ 3.00 plus postage
Get a canvas print of Mary's image
with a sliver of glass and
a little bottle of
Jesus and Mary water.

The glass will be fixed behind the
back of the picture.

Cost — $200.00

Also available

a cup with a Mary's image on it

Cost — $15

Call Doris


1-888-211-3041
or
1-727-725-9312

Rosaries with Mary's Image Available
Aurora Borealis Beads

6mm - $30.00
8mm - $40.00

Call Doris
1-888-211-3041
or
1-727-725-9312

Statues

| | | |
| --- | --- | --- |
| | | |
| Sacred Heart of Jesus w/glass - 18 | Our Lady-Guadalupe w/glass - 12 | Limpias - 8 |
| | | |
| Immaculate Heart w/glass - 18 | I Heart - Ivory w/glass - 18 | Our Lady of Grace w/glass - 18 |
| | | |
| Our Lady-Mt. Carmel w/glass - 18 | Our Lady of Lourdes w/glass - 18 | Infant of Prague w/glass - 24 |
| | | |
| Sacred Heart of Jesus w/glass - 24 | Sacred Heart -Blessing w/glass - 24 | Sorrowful Mother w/glass - 24 |
| | | |
| I Heart - Ivory w/glass - 24 | I Heart of Mary w/glass - 24 | Our Lady of Lourdes w/glass - 24 |
| | | |
| Our Lady-Guadalupe w/glass - 28 | Our Lady of Grace w/glass - 24 | Our Lady-Mt. Carmel w/glass - 24 |
| | | |

| | | |
| --- | --- | --- |
| St. Padre Pio | St. Joseph | St. Therese |
| | | |
| St. Francis | St. Anthony | St. Claire |
| | | |
| Limpias | St. Jude | Divine Mercy |
| | | |
| Holy Family | Angel | St. Philomena |
| | | |
| Pieta - Marble | Pieta - Color | Holy Family |
| | | |
| St. Anthony - 18 | St. Francis - 18 | St. Joseph - 18 |
| | | |
| St. Therese - 18 | St. Rita - 18 | St. Clare - 12 |
| | | |
| | | |

| | | | |
| --- | --- | --- | --- |
| St. Rita - 12 | St. Padre Pio - 12 | Divine Mercy - 12 | St. Michael - 11 |


Shepherds of Christ Ministries
P. O. Box 627
China, IN 47250

Toll free - 1-888-211-3041
Local - 1-812-273-8405
fax - 1-812-273-3182
web: www.sofc.org
e-mail: info@sofc.org


| | | | |
| --- | --- | --- | --- |
| | Size | Price | Quantity |
| Holy Family | 24" | $180 | |
| Limpias | 24" | $125 | |
| St. Anthony | 24" | $125 | |
| St. Claire | 24" | $125 | |
| St. Francis | 24" | $125 | |
| St. Joseph | 24" | $125 | |
| St. Jude | 24" | $125 | |
| St. Padre Pio | 24" | $125 | |
| St. Therese | 24" | $125 | |
| Divine Mercy | 22" | $125 | |
| Angel | 22" | $100 | |
| St. Philomena | 20" | $100 | |
| St. Philomena | 16" | $65 | |
| St. Joseph | 18" | $65 | |
| St. Francis | 18" | $65 | |
| St. Anthony | 18" | $65 | |
| St. Rita | 18" | $65 | |
| St. Therese | 18" | $65 | |
| Pieta - Color | 15" | $75 | |
| Pieta - Marble | 15" | $75 | |
| Holy Family | 12" | $60 | |
| St. Padre Pio - standing | 12" | $40 | |
| St. Padre Pio - sitting | 8" | $50 | |
| St. Michael | 11" | $40 | |
| St. Rita | 12" | $40 | |
| Divine Mercy | 12" | $40 | |
| St. Claire | 12" | $40 | |
| Limpias | 8" | $25 | |
| Our Lady of Guadalupe w/glass | 28" | $500 | |
| Our Lady of Mt. Carmel w/glass | 24" | $500 | |
| Immaculate Heart of Mary w/glass | 24" | $500 | |
| Immaculate Heart - Ivory w/glass | 24" | $500 | |
| Infant of Prague w/glass | 24" | $500 | |
| Our Lady of Grace w/glass | 24" | $500 | |
| Our Lady of Lourdes w/glass | 24" | $500 | |
| Sacred Heart of Jesus w/glass | 24" | $500 | |
| Sacred Heart -Blessing w/glass | 24" | $500 | |
| Sorrowful Mother w/glass | 24" | $500 | |
| Immaculate Heart of Mary w/glass | 18" | $300 | |
| Immaculate Heart - Ivory w/glass | 18" | $300 | |
| Sacred Heart of Jesus w/glass | 18" | $300 | |
| Our Lady of Lourdes w/glass | 18" | $300 | |
| Our Lady of Grace w/glass | 18" | $300 | |
| Our Lady of Mt. Carmel w/glass | 18" | $300 | |
| Our Lady of Guadalupe w/glass | 12" | $200 | |
| Fatima w/glass | 11" | $150 | |
| Fatima w/glass | 18" | $250 | |
| Pilgrim Virgin w/glass | 12" | $160 | |
| Pilgrim Virgin w/glass | 15" | $200 | |
| Pilgrim Virgin w/glass | 18" | $250 | |
| Pilgrim Virgin w/glass | 27" | $450 | |


Call for Shipping Price (1-888-211-3041)


Name

Sub-Total
Address

IN Tax (7%)
City

Shipping
State Zip

Donation
Telephone

Order Total
Call Doris
1-888-211-3041
or
1-727-725-9312



Immaculate Heart and Sacred Heart Pictures Available
with & without frames - different sizes available

Call Doris
1-888-211-3041
or
1-727-725-9312