We need funds for the mailing
of Fr. Joe's book
Our Lord wants out.
Call 1-888-211-3041

Please pray for Jimmy & Delores.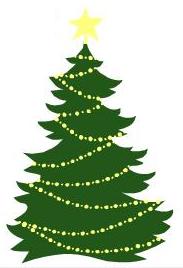 Give gifts that last.
Please remember us when buying
your Christmas gifts.
Can anyone please help us payoff
our loan on the building?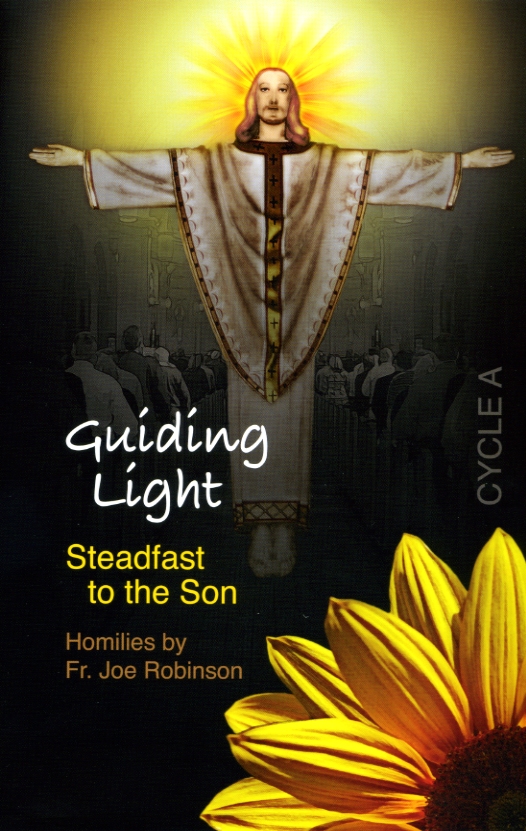 Homilies by Fr. Joe Robinson

Guiding Light - Cycle A

$10.00 plus shipping
We need donations for the postage to send it out.
Please help us.
Call Doris 1-888-211-3041
or Call 1-727-725-9312
November 16, 2010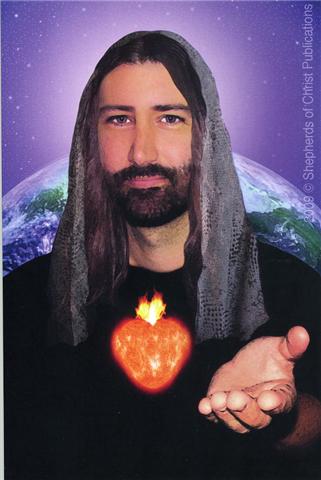 Song: In My Heart —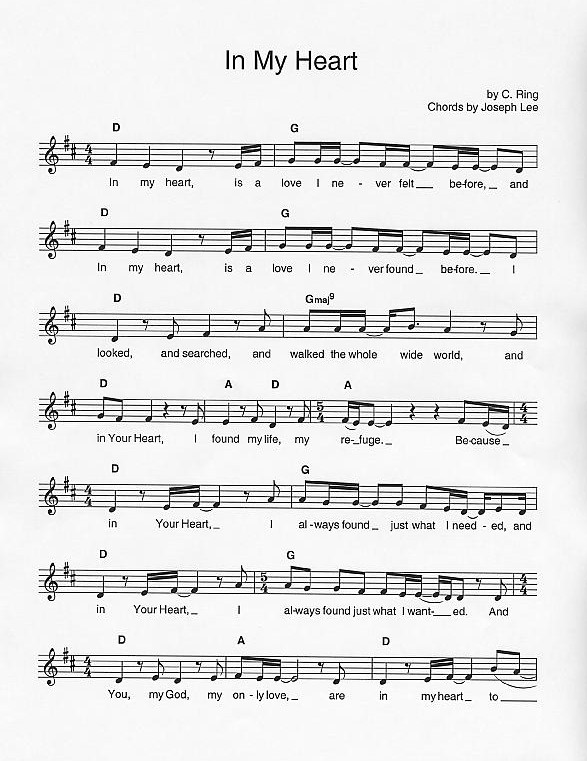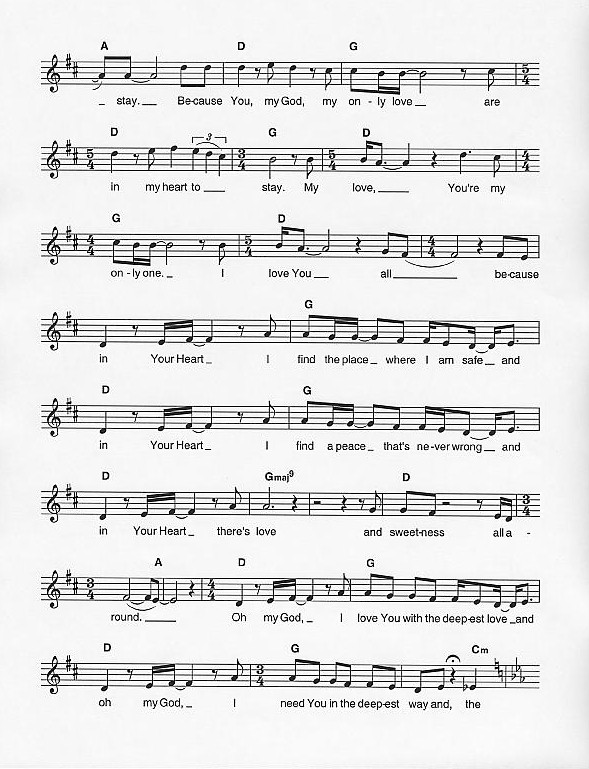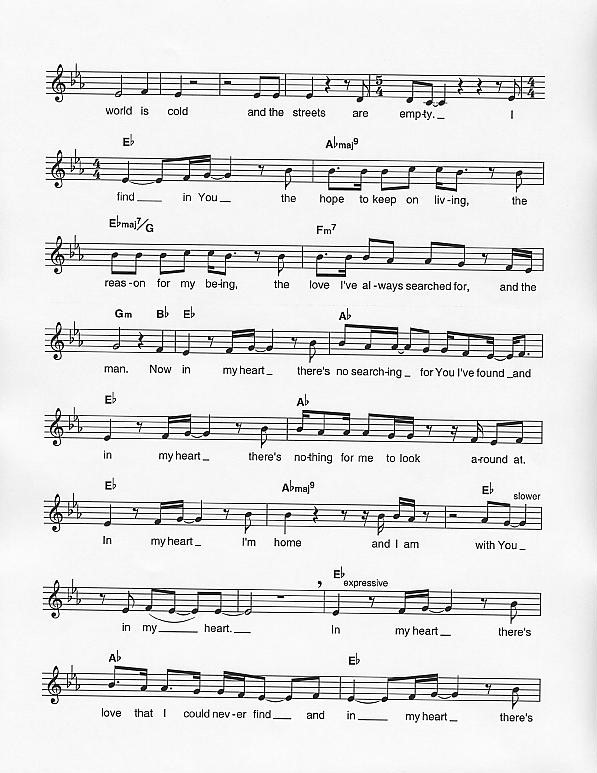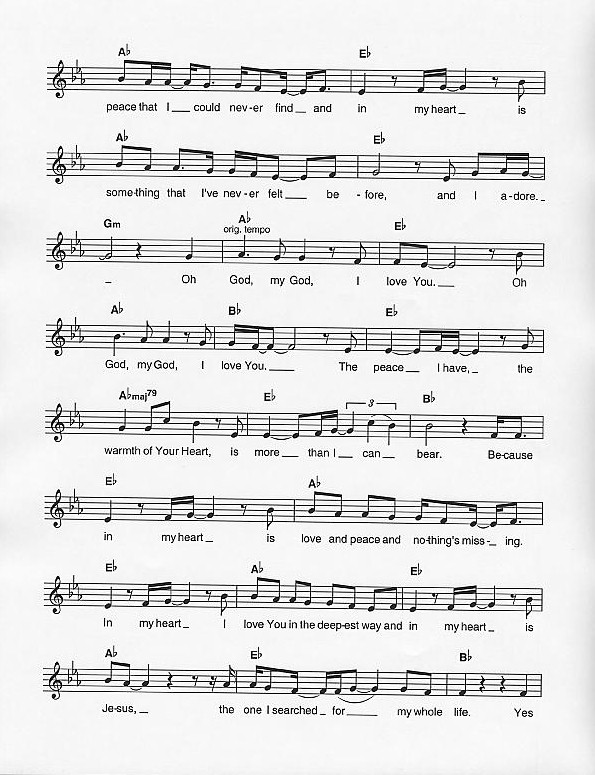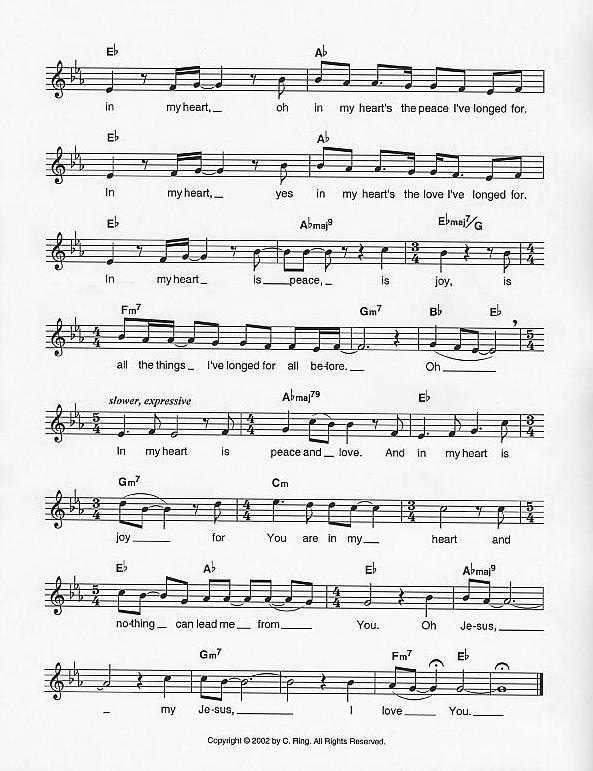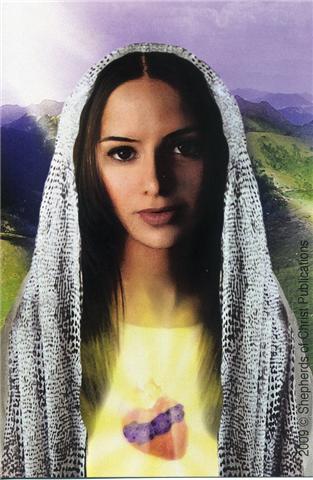 A Prayer for Intimacy with the Lamb, the Bridegroom of the Soul
Oh Lamb of God, Who take away the sins of the world, come and act on my soul most intimately. I surrender myself, as I ask for the grace to let go, to just be as I exist in You and You act most intimately on my soul. You are the Initiator. I am the soul waiting Your favors as You act in me. I love You. I adore You. I worship You. Come and possess my soul with Your Divine Grace, as I experience You most intimately.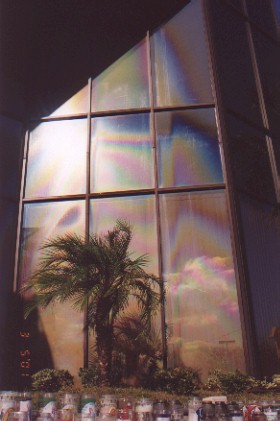 March 5, 2001
R. In Blue Book IV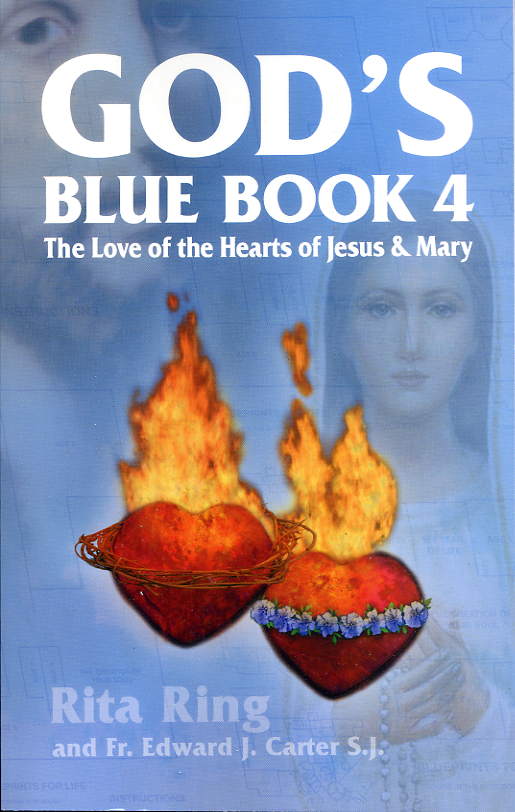 We see the love of Jesus' Heart for Mary
We see the love of Jesus for us
We see the love of Mary for Jesus
We see Mary's love for all of us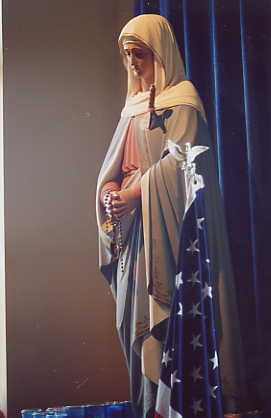 Mary's Message


from the Rosary of August 27, 1996

Mary: I stood beneath the cross of my Son, and my Heart was in such pain for I saw Him before my eyes. I saw Him covered with blood. I saw Him die. My Heart, my children, my Heart to watch my Son, but my Heart, my Heart, how I suffered for my little children of the world that give in to this world and give up the love of my Son. O my little children of light, I give you this message. Carry this light into the darkness for your Mother Mary, for I stood beneath the cross and I cried. I cried for the little ones. I cried for the young ones, the ones that do not care and will lose their souls. How do I make you see for you will not listen to me? What can I do? I come. I appear. I beg. I plead. I give you these gifts from my Son, and you reject me. I do not deliver messages very often anymore for I have been ignored. The message is the same. You do not read the messages I have given to you. Please help me. Help the little children. I appear. I appear. I appear, and I am ignored. I stood beneath the cross, and I cried. I cried, and my Heart was in such anguish for my little children, for I am searching for them this day as I searched for the Child Jesus. Please, please help me. I cannot hold back the hand of my Son any longer. I am Mary, your Mother. I ask you to help my children. You are my children of light.

end of Mary's Message
Mary is the Mother of Jesus —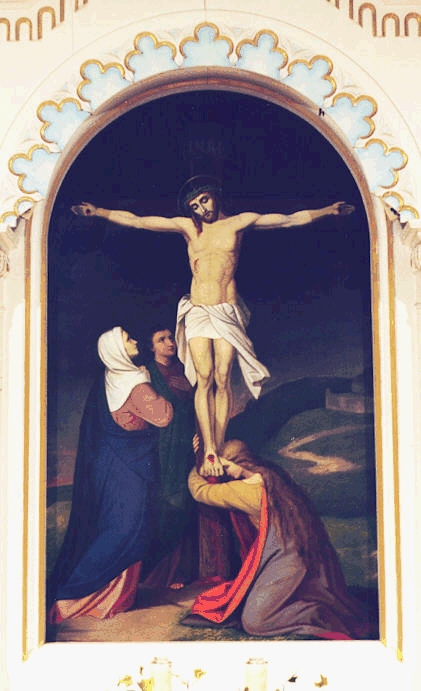 Mary is our Mother
John 19: 25-27

Near the cross of Jesus stood his mother and his mother's sister, Mary the wife of Clopas, and Mary of Magdala. Seeing his mother and the disciple whom he loved standing near her, Jesus said to his mother, 'Woman, this is your son.' Then to the disciple he said, 'This is your mother.' And from that hour the disciple took her into his home.
By the will of God — Mary was inseparably
joined to Christ —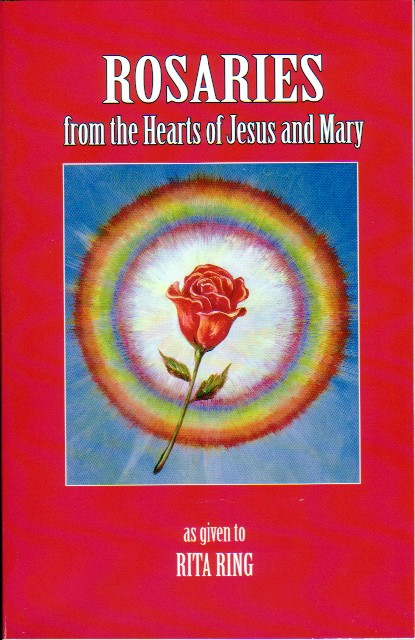 The Seven Sorrows of the Blessed Virgin Mary
February 22, 1995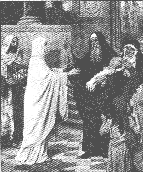 1. The Prophecy of Simeon
Mary, Joseph and the child Jesus went to the temple. Simeon, the prophet, inspired by the Holy Spirit, met them and told Joseph and Mary of the great sufferings of Jesus and Mary. He told Mary that a sword would pierce her heart. From that point on, Mary ever remembered the prophecy of Simeon whenever she beheld her child. When she looked at His little body, even as an infant, she knew He would suffer. Every time she clothed Him and watched Him at play, her heart was torn in her chest as she knew what He would suffer. And a sw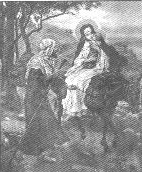 ord, too, shall pierce your Heart, O Mary!
2. The Flight into Egypt
Joseph was told by the angel to flee. Joseph, Mary and the child Jesus had to flee because of what might happen to Jesus. They had to pack for a long stay. The child Jesus was so small! They left on their journey, hearts full of fear, trying to protect Jesus. They were forced to flee into Egypt.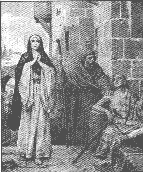 3. Jesus Is Lost, In the Temple
Imagine the sufferings in Mary's heart when she realized the child Jesus was not with them. Think of how it would be to lose your child and not know where he was or if anything happened to him. With sorrow in their hearts, Mary and Joseph returned to Jerusalem to look for the child Jesus. And a sword, too, shall pierce your heart, O Mary!
4. Jesus Carries His Cross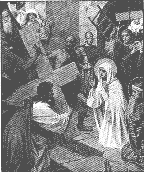 Song: See the eyes that look at Mary, her tender infant child. See the child's Heart beat so tenderly, the Savior of the world!
See the eyes of Jesus and Mary as they met on Calvary. Mary's Heart knew Jesus' Heart so well! From the first moment of conception and throughout His life, Mary was so connected with Jesus and now she peered into His eyes. The crown of thorns adorned His Head! Blood ran down His face! A heavy cross on His back! Wounded, His whole body covered with bleeding wounds! And her whole life flashed before her, the life that she had spent with Jesus. This was the beloved child that she had held in her arms when Simeon told Mary that 'a sword, too, shall pierce your Heart, O Mary!'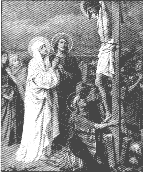 5. Jesus Dies on the Cross
Mary stood under Jesus' cross as He was put to death. The child that she had held in her arms as Simeon prophesied, And a sword, too, shall pierce your Heart, O Mary! Now Jesus is dead on the cross! He gave His flesh, He gave His blood so that we might be with Him forever in heaven. He held not back. He gave His all. He calls out to us this day to see through the eyes of His mother as she appears and calls out with a Heart of great love, "Return to the love of my Son! He is with you this day. He remains with you, no less present than the day that He hung on the cross, in the Eucharist. He longs for you to come and be with Him. He is in your brother. How can you not love your brother when Jesus died for your brother?"

Her Heart was pierced with a sword. His Heart was pierced with a lance. What came forth was blood and water, the sacramental life of the church. He lives with us this day in the Church. He gives to us His sacraments, the source of His life! He gives to us the Sacrament of Penance whereby any sin that we commit can be taken away through the priest. He wants us to be so close to Him! He gives us everything to be close to Him. But we see with such limited vision only those things that are right before our face, when the true reality is that which we don't see with our eyes, the reality of the invisible divinity of Jesus Christ, the Son of God, in the consecrated Host! This is reality! This is our life! This is our power! This is God! And a sword, too, shall pierce your Heart, O Mary!
6. Jesus Is Taken Down from the Cross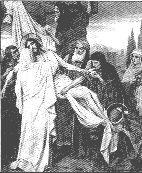 If we ever doubted for one second that we were loved, we could visualize the picture of Mary as she sat beneath the cross with the lifeless, battered, bruised and bloodied body of her Son in her arms, the same child that she held when Simeon prophesied her suffering. He gave His last breath. He gave the last beat of His Heart. He gave His all! This is the way He complied with the Will of the Father. He came to show us the way. He died in perfect peace. To His death He was in peace because He knew the Father's love. The Father loves us so much that He gave His only begotten Son for love of us! The Spirit descended upon the Virgin Mary and the Word was made flesh! The love of the Two Hearts! Such immense love beating for us!

In all love there is suffering. Her Heart was pierced with a sword. His Heart was pierced with a lance. And a sword, too, shall pierce your Heart, O Mary!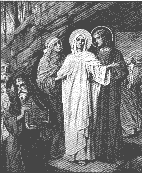 7. Jesus Is Locked in the Tomb
And now Jesus, His body lifeless, is locked in a tomb! What cold reality for Mary to realize that His body is now gone! A stone separated her from her Son!

He gave His last breath! He gave the last beat of His Heart for love of each one of us! And she comes to us this day with her sweet, beautiful voice and she asks us to go to her Son and love Him! How can we refuse Jesus who spread His arms and gave His life for each and every one of us? How can we not trust Him when He loved us so much that He allowed them to tear His flesh, to crown Him with piercing thorns and, lastly, to hang Him on a cross? He truly gave His life for us! He, truly God, is with us this day, the same as the day He died on the cross, in the tabernacle! And we take it so lightly! Death has no power over Him! Locked in the tomb for three days, He rose triumphant on the third day as He had foretold. He comes to give us life. He gives us the sacrament of Baptism that initiates us into His life, that makes us children of God and heirs of heaven if we remain in the state of grace. He asks two things: love of God and love of one another! He came to show us the way and His way is love. To His death on the cross He loved each one of us! He calls out to each one of us here today to be His soldiers, to march on a world that has forgotten God, that has forgotten what it is like to love! It is a battle to live in this world. But the battle is won with hearts that are filled with His love, empowered by the grace and might that He pours out in the Eucharist. He calls out for us to come to the Eucharist and to the tabernacle and be fed with His very flesh and blood. To feed on Divine Life, the greatest nourishment, the Body and Blood of Jesus Christ, the Son of God! This is the love He gives. This is the love He asks us to share.
end of seven sorrows
Mary is the heavenly Mother —
Mary is the Mother of the Savior
Mary was conceived without sin —
Mary is the perfect Handmaid of the Lord
I know the embrace of the love of Jesus —
My life lived to please Him — If I have deception
in my heart — it drives me away from that closeness to
Christ who is the way, the truth and the life —
I must live to follow Jesus, in that is my
happiness, Mary my Mother walks by my side —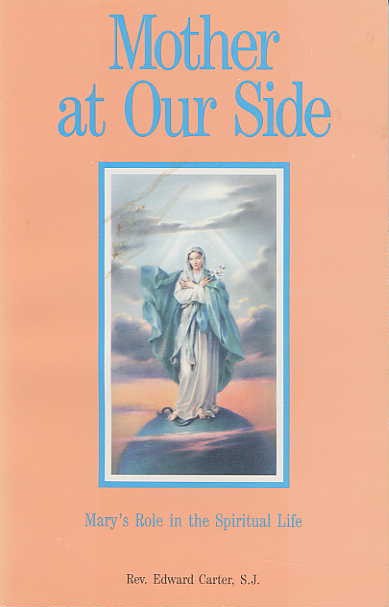 Mary and Jesus, the Hearts of Pure and Holy Love —
So how we are in our hearts, is how we will be
in the world —
Am I ready to admit my sins and ask God
for forgiveness to be reconciled to Him and others.
Do I walk humbly as Christ wants of me — telling the
truth and loving Him so much, knowing His love
for me — I don't want to offend Jesus who is so
good to me, who loves me so much, Jesus, who is so
worthy of my love.
Mary Mother of the Christian Virtues —
Satan wants us to have vices, bad habits
that are based in hate and selfishness —
Mary Mother of All Virtues — we pray through
your intercession to help us live a
virtuous life —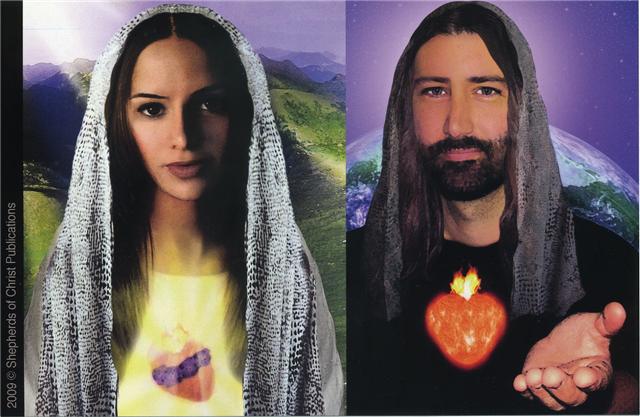 Act of consecration to the Sacred Heart of Jesus


and the Immaculate Heart of Mary.

"Lord Jesus, Chief Shepherd of the flock, I consecrate myself to Your most Sacred Heart. From Your pierced Heart the Church was born, the Church You have called me, as a member of Shepherds of Christ Associates, to serve in a most special way. You reveal Your Heart as a symbol of Your love in all its aspects, including Your most special love for me, whom You have chosen as Your companion in this most important work. Help me to always love You in return. Help me to give myself entirely to You. Help me always to pour out my life in love of God and neighbor! Heart of Jesus, I place my trust in You!

"Dear Blessed Virgin Mary, I consecrate myself to your maternal and Immaculate Heart, this Heart which is symbol of your life of love. You are the Mother of my Savior. You are also my Mother. You love me with a most special love as a member of Shepherds of Christ Associates, a movement created by your Son as a powerful instrument for the renewal of the Church and the world. In a return of love, I give myself entirely to your motherly love and protection. You followed Jesus perfectly. You are His first and perfect disciple. Teach me to imitate you in the putting on of Christ. Be my motherly intercessor so that, through your Immaculate Heart, I may be guided to an ever closer union with the pierced Heart of Jesus, Chief Shepherd of the flock."
Mary's heart is exposed as she appears in
images of her Immaculate Heart —
Her heart is a symbol of her entire
interior life — all her virtues, thoughts,
and affections. In showing us her heart —
her loving heart — Mary calls for our love,
confidence, veneration and reparation —
We see what the angel asked for at Fatima and
What Mary asked for at Fatima —
First the angel of Portugal appeared to the 3 children
in 1916 and gave these messages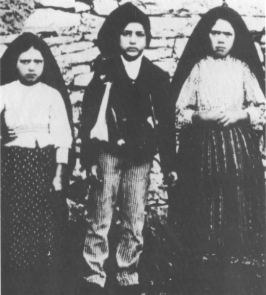 Excerpt from The Spirituality of Fatima
by Fr. Edward Carter, S.J.
Before receiving the six apparitions of Our Lady, May through October of 1917, the three Fatima visionaries were visited by an angel on three different occasions during the preceding year. He appeared to them in the spring, summer, and fall. Lucia (now Sr. Lucia) describes the springtime apparition of the angel:

"My God, I believe, I adore, I hope and I love You! I ask pardon of You for those who do not believe, do not adore, do not hope and do not love You."

Then, rising he said: "Pray thus. The Hearts of Jesus and Mary are attentive to the voice of your supplications."

His words engraved themselves so deeply on our minds that we could never forget them
(3)

During the summer of 1916, the angel again appeared to the three visionaries. He said to them:
Pray! Pray a great deal. The Hearts of Jesus and Mary have merciful designs on you. Offer prayers and sacrifices continually to the Most High. Make everything you do a sacrifice, and offer it as an act of reparation for the sins by which God is offended, and as a petition for the conversion of sinners. Bring peace to our country in this way.... I am the Guardian Angel of Portugal Accept and bear with submission all the sufferings the Lord will send you.
(4)

In the fall of the same year, the angel visited the visionaries a final time:
The angel came...bearing a golden chalice in one hand and a Host above it in the other. The amazed children noticed that drops of blood were falling from the Host into the chalice. Presently, the angel left both suspended in mid-air and prostrated himself on the ground, saying this beautiful prayer: "Most Holy Trinity, Father, Son and Holy Spirit, I adore You profoundly. I offer You the most precious Body, Blood, Soul and Divinity of Jesus Christ, present in all tabernacles of the world, in reparation for the outrages, sacrileges, and indifference by which He is offended. By the infinite merits of the Sacred Heart of Jesus and [the intercession of] the Immaculate Heart of Mary, I beg of Thee the conversion of poor sinners."
(5)

Sr. Lucia relates how the angel gave them Communion:
Then, rising, he took the chalice and the Host in his hand. He gave the Sacred Host to me and shared the Blood from the chalice between Jacinta and Francisco, saying as he did so:
"Take and drink the Body and Blood of Jesus Christ, horribly outraged by ungrateful men! Make reparation for their crimes and console your God."
(6)

Reflecting upon these messages of the angel, we see how much they contain for our spiritual instruction.
---
NOTES:
3. Louis Kondar, SVD, editor, Fatima in Lucia's Own Words (Fatima: Postulation Center, 1976), p.62. Distributed in the U.S.A. by the Ravengate Press, Cambridge, MA.
4. Our Lady's Peace Plan, op cit., pp.1-2.
5. Ibid., p.2 (The words in brackets are my own-added for clarification).
6. Fatima in Lucia's Own Words, op cit., pp.64-65.
Then Mary appeared to these 3 little children
6 times on the 13th
May 13, 1917; June 13, 1917; July 13, 1917;
August 13, 1917; September 13, 1917 and October 13, 1917.
Excerpts from The Spirituality of Fatima
by Fr. Edward Carter, S.J.
May 13, 1917

"Do not be afraid, I will do you no harm..... I am from Heaven.

"I have come to ask you to come here for six months in succession, on the 13th day, at the same hour. Later on, I will tell you who I am and what I want

"Are you willing to offer yourselves to God and bear all the sufferings He wills to send you, as an act of reparation for the sins by which He is offended, and in supplication for the conversion of sinners?

"Pray the Rosary every day in order to obtain peace for the world, and the end of the war." (8)

June 13, 1917

"God wishes you to remain in the world for some time because He wants to use you to establish in the world the devotion to my Immaculate Heart. I promise salvation to those who embrace it, and their souls will be loved by God as flowers placed by myself to adorn His throne." (10)

July 13, 1917

"During her appearance in July, Our Lady, in answer to Lucia's plea, promised that in October she would work a great miracle so that all might believe and know who she was. Again, the Mother of God told the children to sacrifice themselves for sinners and to say many times, especially when making a sacrifice, this prayer: "O my Jesus, I offer this for love of Thee, for the conversion of poor sinners, and in reparation for all the sins committed against the Immaculate Heart of Mary." (11)

"During this same July apparition, Mary showed the three children a vision of Hell. She told them:

"You have seen Hell, where the souls of poor sinners go. To save them, God wishes to establish, in the world, devotion to my Immaculate Heart. If people do what I tell you, many souls will be saved and there will be peace.

"The war (World War I, then raging) is going to end. But if people do not stop offending God, another and worse one will begin in the reign of Pius XI. When you shall see a night illuminated by an unknown light [January 2, 1938], know that this is the great sign that God gives you that He is going to punish the world for its many crimes by means of war, hunger, and persecution of the Church and the Holy Father. (12)

"To prevent this, I shall come to ask for the consecration of Russia to my Immaculate Heart and the Communion of Reparation on the five first Saturdays. If my requests are granted, Russia will be converted and there will be peace. If not, she will scatter her errors throughout the world, provoking wars and persecutions of the Church. The good will be martyred, the Holy Father will have much to suffer, and various nations will be destroyed....

"But in the end, my Immaculate Heart will triumph, the Holy Father will consecrate Russia to me, Russia will be converted, and a certain period of peace will be granted to the world." (13)

August 19, 1917

She told them she was greatly displeased by the action of the mayor. As a result, the miracle promised for October would not be as impressive as originally planned. (15)

September 13, 1917

More than 30,000 people were present in September, and saw a shower of mysterious white petals fall to within 10 feet of the ground before dissolving into the air. Many also saw the globe of light bearing the Lady come to rest atop the tree, and the branches bend as though someone were standing on them. Later, they saw the cloud depart into the east, from whence it had come.(16)

October 13, 1917

I am the Lady of the Rosary. I have come to warn the faithful to amend their lives and to ask pardon for their sins. They must not offend Our Lord any more, for He is already too grievously offended by the sins of men. People must say the Rosary. Let them continue saying it every day.(17)

While the people in attendance were beholding the great Miracle of the Sun, the three young visionaries, and they alone, were privileged to see striking visions in the heavens:

As Our Lady had promised, St. Joseph had come with the Holy Family and had blessed the world. Then, Our Lady appeared as the Mother of Sorrows, accompanied by her Divine Son, Who also blessed the world. Finally, Lucy had seen the Blessed Virgin, dressed in the brown robes of Our Lady of Mount Carmel, crowned as Queen of Heaven and Earth, holding a brown Scapular in her hand, with her infant Son upon her knee. However, in none of these visions had any of the figures spoken to the children. (18)

Besides the messages associated with the major Fatima apparitions, there were other revelations given by Our Lady. Before Jacinta died, she told of other messages given her (during her illness) by Mary:

More souls go to Hell because of sins of the flesh than for any other reason.

Certain fashions will be introduced that will offend Our Lord very much.

Many marriages are not good; they do not please Our Lord and are not of God.

Priests must be pure, very pure. They should not busy themselves with anything except what concerns the Church and souls. The disobedience of priests, to their superiors and to the Holy Father, is very displeasing to Our Lord.

I can no longer restrain the hand of my Divine Son from striking the world with just punishments for its many crimes.

If the government of a country leaves the Church in peace and gives liberty to our Holy Religion, it will be blessed by God.

Tell everybody that God gives graces through the Immaculate Heart of Mary. Tell them to ask grace from her, and that the Heart of Jesus wishes to be venerated together with the Immaculate Heart of Mary. Ask them to plead for peace from the Immaculate Heart of Mary, for the Lord has confided the peace of the world to her. (19)

---

NOTES:

8. Frere Michael de la Trinite', The Whole Truth about Fatima
(Buffalo: Immaculate Heart Publications, 1989), pp.112-114.
9. For background material on Fatima, I am particularly indebted to
Our Lady of Fatima's Peace Plan from Heaven (Rockford: TAN
Books and Publishers, Inc., 1983). p.30.
10. Ibid., p.3.
11. Ibid., pp.3-4.
12. Ibid., pp.4-5.
13. Ibid., p.5.
14. Rev. Edward Carter, S.J., Mother at Our Side: Mary's Role in
the Spiritual Life (1993: Faith Publishing Co., Milford, Ohio), p.21.
15. Our Lady's Peace Plan, op cit., p.6.
16. Ibid., p.6.
17. Ibid., p.7.
18. Ibid., p.8.
19. Ibid., pp.9-10.
In the Fatima apparitions Mary made a special
request of reparation to her heart —
Devotion to the Immaculate Heart is closely related to
Devotion to the Sacred Heart. Mary is our spiritual Mother —
Mary is espoused to the Holy Spirit. Mary is Mother of
the Church.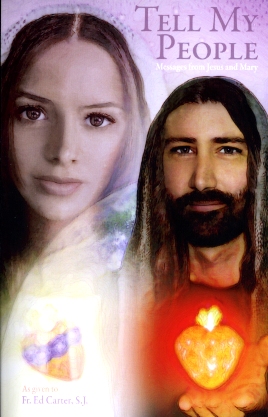 Messages of Jesus and Mary given to Fr. Carter

by Fr. Edward Carter, S.J.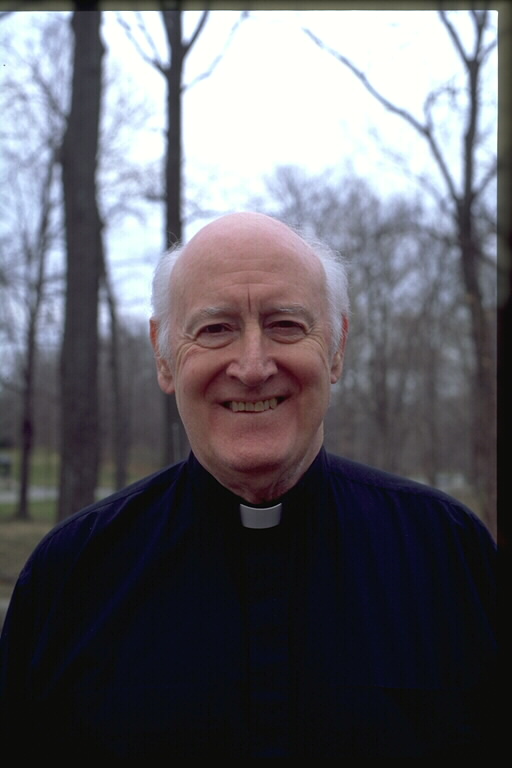 Fr. Carter Founder of Shepherds of Christ
Fr. Carter said Jesus told him

from Tell My People
The Holy Spirit
Jesus: "My beloved friend, tell My people to pray daily to the Holy Spirit. They are to pray for an increase in His gifts. My people must realize that the Holy Spirit comes to transform them. The Spirit desires to transform you more and more according to My image. Those who are docile to His touch become increasingly shaped in My likeness. He performs this marvel within Mary's Immaculate Heart. The more one dwells in My Mother's Heart, the more active are the workings of the Spirit. The Spirit leads Mary to place you within My own Heart. In both Our Hearts, then, your transformation continues. The more you are formed after My own Heart, the more I lead you to the bosom of My Father. Tell My people all this. Tell them to pray daily for a greater appreciation of these wondrous gifts. I am Lord and Master. All who come to My Heart will be on fire to receive the gifts of the Spirit in ever greater measure! I love and bless My people!"
Reflection: The Holy Spirit is given to us to fashion us ever more according to the likeness of Jesus. And the more we are like Jesus, the more Jesus leads us to the Father. Do we, each day, pray to the Holy Spirit to be more open to His transforming influence? Do we strive each day to grow in union with Mary? The greater our union with our Mother, the spouse of the Holy Spirit, the greater is the transforming action of the Holy Spirit within us.
end of excerpt
Mary can take us to the Heart of her Son, Jesus,
Mary can help us to know more and more
what it is to consecrate our hearts to
Jesus, the Sacred Heart —
to put on Christ, she has perfectly
put on Christ —
She models Christ's Heart most perfectly for
us people of the human race —
We should abandon our spiritual lives
to the maternal influence of Mary,
our spiritual Mother —
We should allow Mary to be Mother of
our Christ-life as Fr. Carter says.
The more we do this, the more we will
grow in this life.
Mary will help us to perfect our gift of
ourselves to Christ's Sacred Heart.

from Tell My People
Spiritual Childhood
Mary: "My beloved priest-son, how I love to enfold you in my arms as my little child! Enfolded in my arms in my maternal embrace, I press you against my Immaculate Heart. I draw you within my Heart. There, through my maternal intercession, I clothe you with Jesus' graces. As you dwell in my Heart, I place you ever more deeply within Jesus' Heart and there the Holy Spirit fashions you increasingly in the image of my Son. As you grow in the likeness of Jesus, He takes you ever closer to the Father.

"Thus, as you grow in the sense of your helplessness without God, the stronger you become in Jesus. Childlike thus becomes strength. The smaller you become in living out spiritual childhood, the taller you stand beside Jesus. Weakness becomes strength, your sense of helplessness becomes spiritual maturity!

"Tell all my children about the wonders of spiritual childhood! Tell them to come to me and I will school them in its ways. How I love all my children! Oh, how I love to exercise my motherhood toward them all!"

Reflection: In the Gospel, Jesus speaks emphatically to us about spiritual childhood: "At this time the disciples came to Jesus and said, 'Who is the greatest in the kingdom of heaven?' So he called a little child to him and set the child in front of them. Then he said, 'I tell you solemnly, unless you change and become like little children you will never enter the kingdom of heaven. And so, the one who makes himself as little as this little child is the greatest in the kingdom of heaven'" (Matthew 18:1-4).
Mary Our Mother
Jesus: "My beloved friend, tell My people to come to My Mother. From the cross, as I was suffering indescribable agony, I gave Mary as spiritual Mother to the world. My great love for My people prompted Me to do this. I am Lord and Master, and I want My people to come to My Mother and their Mother. If you wish to be close to Me, come to Mary. Consecrate yourselves to her. In this way you will grow into the closest union with Me. Through her Immaculate Heart, you will be drawn more and more into My own Heart. It is My desire that you allow My Mother to place you within My Heart which loves you with an unfathomable love! This is My wish—that you come to Me enfolded by Mary's mantle, cradled in her arms, pressed against her Heart."

Reflection: It is God's will that we approach Jesus in union with Mary. Enough said!

end of excerpts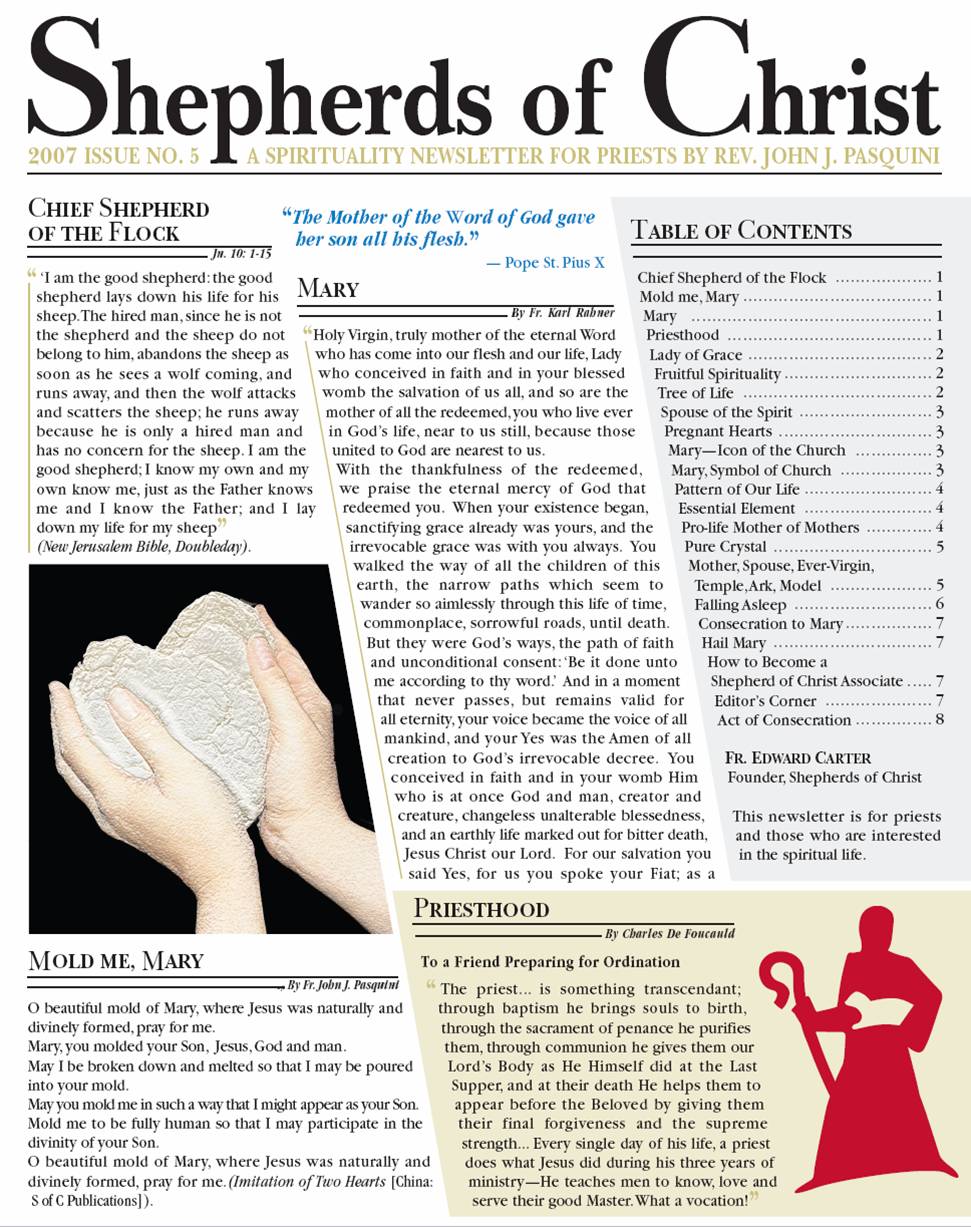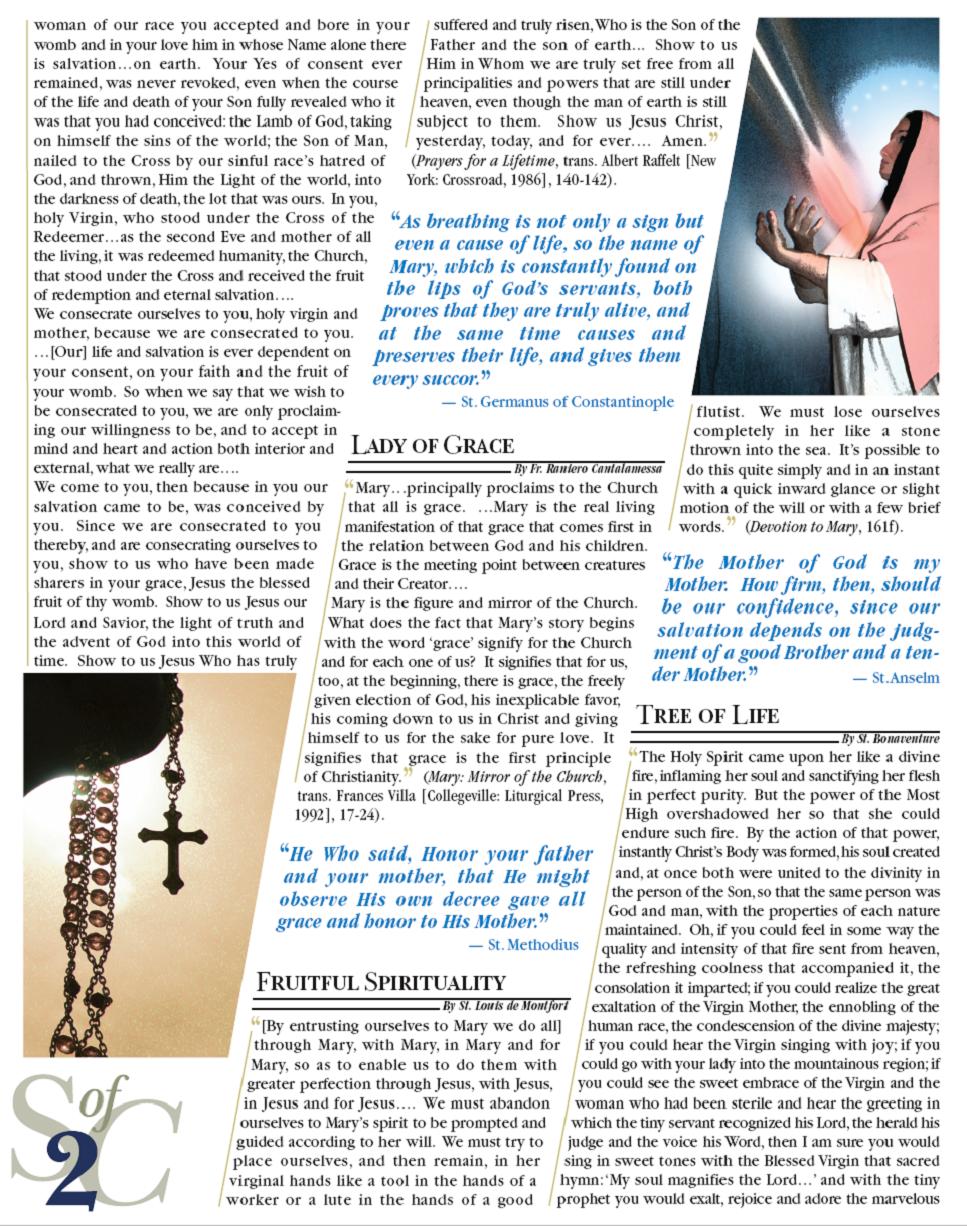 Order your Christmas
presents that last!
Please remember us when buying
your
Christmas gifts.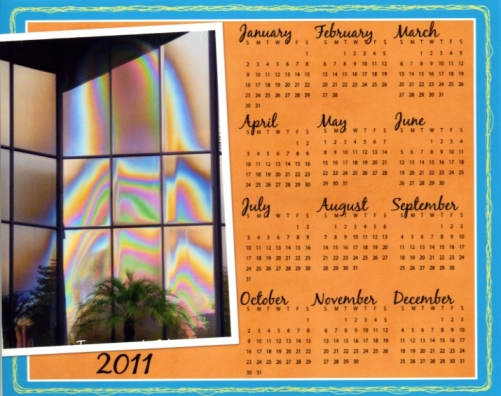 $1.00 plus shipping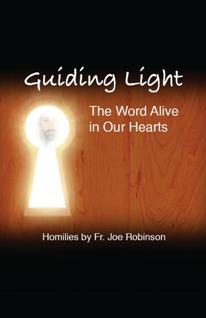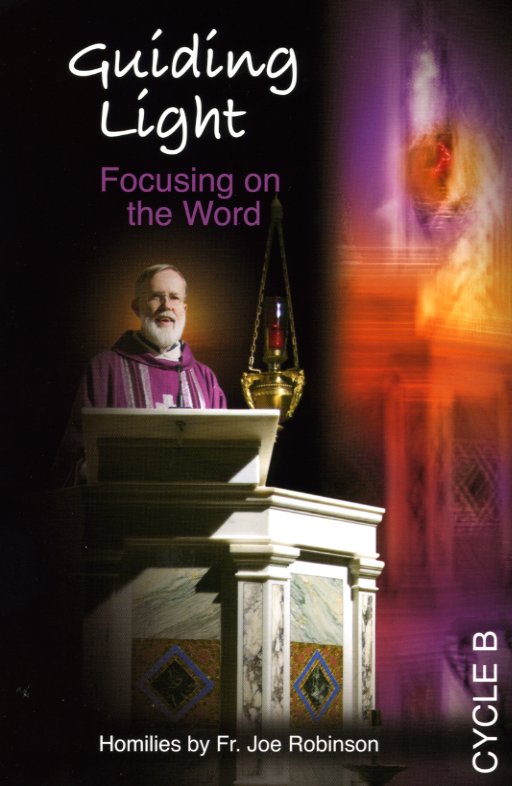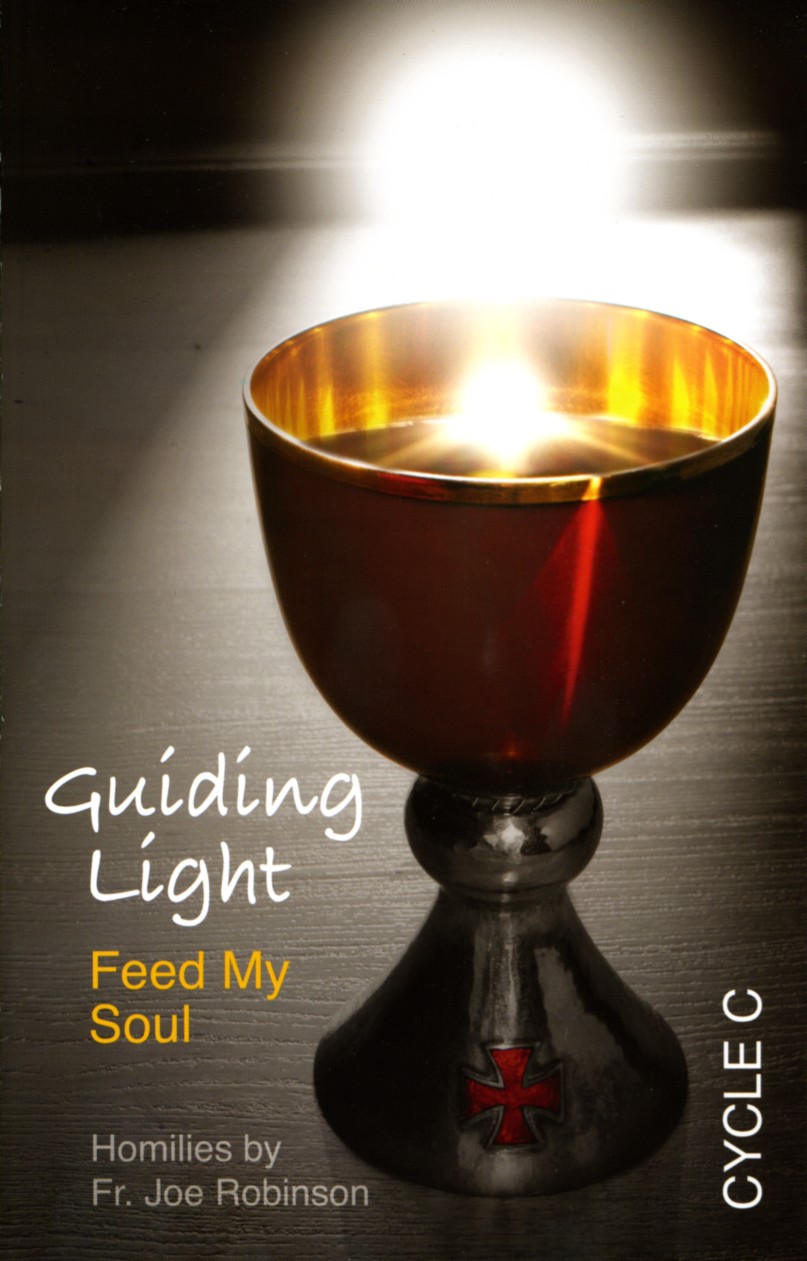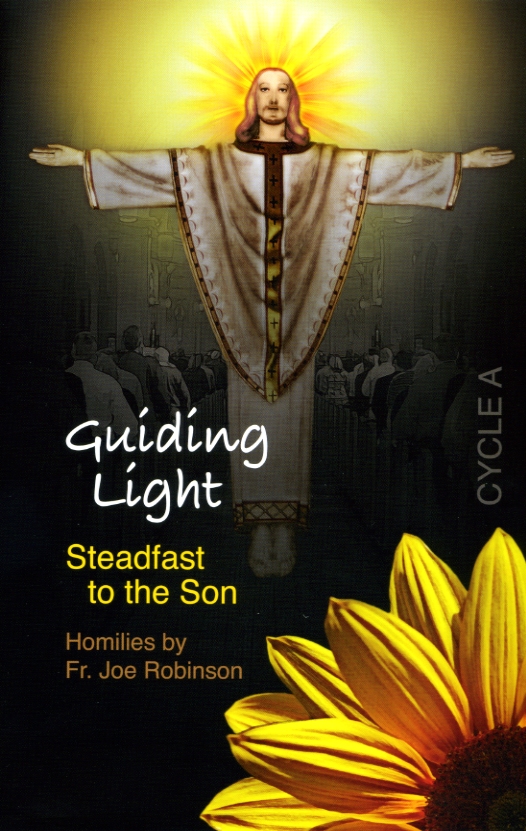 Homilies by Fr. Joe Robinson
$10.00 each plus shipping
Call Doris
1-888-211-3041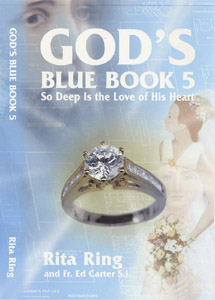 Books written by the cofounder of Shepherds of Christ Ministries

Writings by Rita Ring
Mass Book
A Journey Into the Heart of Jesus - Author: Rita Ring. Discerned by: Fr. Edward J. Carter S.J. Imprimatur
$ 12.00 plus postage
God's Blue Book I
Teachings to Lift You Up. Author: Rita Ring. Discerned by: Fr. Edward J. Carter S.J.
$ 10.00 plus postage
God's Blue Book II
The Fire of His Love. Author: Rita Ring. Discerned by Fr. Edward J. Carter S. J.
$ 10.00 plus postage
God's Blue Book III
Love God, Love One Another. Author: Rita Ring. Discerned by Fr. Edward J. Carter S.J.
$ 10.00 plus postage
God's Blue Book 4
The Love of the Hearts of Jesus and Mary Author: Rita Ring
$ 5.00 plus postage
God's Blue Book 5
So Deep Is the Love of His Heart. Author: Rita Ring.
$ 5.00 plus postage
Blue Rosary Book
Rosaries From the Hearts of Jesus and Mary - Volume II
$ 12.00 plus postage
Messages From Jesus
Given by Jesus to His Messenger Author: Rita Ring. Discerned by: Fr. Edward J. Carter S.J.
This book is 8 1/2" by 11" and you can open it up and sit it on your lap.

$ 10.00 plus postage
Apostle's Manual
Shepherds of Christ Overview: Very carefully discerned by Fr. Edward J. Carter S. J.
$ 20.00

Songs From Jesus
Given by Jesus to His Messenger Author: Rita Ring. Discerned by: Fr. Edward J. Carter S.J.
$ 5.00
Books written by the founder of Shepherds of Christ Ministries
Tell My People
Messages from Jesus and Mary Author: Fr. Edward J. Carter S.J. Imprimi Potest
$ 10.00 plus postage
Spirituality Handbook
Shepherds of Christ Associates Spirituality Handbook - A Way of Spiritual Life
Author: Fr. Edward J. Carter S.J. Imprimi Potest
$ 3.00 plus postage
Get a canvas print of Mary's image
with a sliver of glass and
a little bottle of
Jesus and Mary water.

The glass will be fixed behind the
back of the picture.

Cost — $200.00

Also available

a cup with a Mary's image on it

Cost — $15

Call Doris


1-888-211-3041
or
1-727-725-9312

Rosaries with Mary's Image Available
Aurora Borealis Beads

6mm - $30.00
8mm - $40.00

Call Doris
1-888-211-3041
or
1-727-725-9312

Statues

| | | |
| --- | --- | --- |
| | | |
| Sacred Heart of Jesus w/glass - 18 | Our Lady-Guadalupe w/glass - 12 | Limpias - 8 |
| | | |
| Immaculate Heart w/glass - 18 | I Heart - Ivory w/glass - 18 | Our Lady of Grace w/glass - 18 |
| | | |
| Our Lady-Mt. Carmel w/glass - 18 | Our Lady of Lourdes w/glass - 18 | Infant of Prague w/glass - 24 |
| | | |
| Sacred Heart of Jesus w/glass - 24 | Sacred Heart -Blessing w/glass - 24 | Sorrowful Mother w/glass - 24 |
| | | |
| I Heart - Ivory w/glass - 24 | I Heart of Mary w/glass - 24 | Our Lady of Lourdes w/glass - 24 |
| | | |
| Our Lady-Guadalupe w/glass - 28 | Our Lady of Grace w/glass - 24 | Our Lady-Mt. Carmel w/glass - 24 |
| | | |

| | | |
| --- | --- | --- |
| St. Padre Pio | St. Joseph | St. Therese |
| | | |
| St. Francis | St. Anthony | St. Claire |
| | | |
| Limpias | St. Jude | Divine Mercy |
| | | |
| Holy Family | Angel | St. Philomena |
| | | |
| Pieta - Marble | Pieta - Color | Holy Family |
| | | |
| St. Anthony - 18 | St. Francis - 18 | St. Joseph - 18 |
| | | |
| St. Therese - 18 | St. Rita - 18 | St. Clare - 12 |
| | | |
| | | |

| | | | |
| --- | --- | --- | --- |
| St. Rita - 12 | St. Padre Pio - 12 | Divine Mercy - 12 | St. Michael - 11 |


Shepherds of Christ Ministries
P. O. Box 627
China, IN 47250

Toll free - 1-888-211-3041
Local - 1-812-273-8405
fax - 1-812-273-3182
web: www.sofc.org
e-mail: info@sofc.org


| | | | |
| --- | --- | --- | --- |
| | Size | Price | Quantity |
| Holy Family | 24" | $180 | |
| Limpias | 24" | $125 | |
| St. Anthony | 24" | $125 | |
| St. Claire | 24" | $125 | |
| St. Francis | 24" | $125 | |
| St. Joseph | 24" | $125 | |
| St. Jude | 24" | $125 | |
| St. Padre Pio | 24" | $125 | |
| St. Therese | 24" | $125 | |
| Divine Mercy | 22" | $125 | |
| Angel | 22" | $100 | |
| St. Philomena | 20" | $100 | |
| St. Philomena | 16" | $65 | |
| St. Joseph | 18" | $65 | |
| St. Francis | 18" | $65 | |
| St. Anthony | 18" | $65 | |
| St. Rita | 18" | $65 | |
| St. Therese | 18" | $65 | |
| Pieta - Color | 15" | $75 | |
| Pieta - Marble | 15" | $75 | |
| Holy Family | 12" | $60 | |
| St. Padre Pio - standing | 12" | $40 | |
| St. Padre Pio - sitting | 8" | $50 | |
| St. Michael | 11" | $40 | |
| St. Rita | 12" | $40 | |
| Divine Mercy | 12" | $40 | |
| St. Claire | 12" | $40 | |
| Limpias | 8" | $25 | |
| Our Lady of Guadalupe w/glass | 28" | $500 | |
| Our Lady of Mt. Carmel w/glass | 24" | $500 | |
| Immaculate Heart of Mary w/glass | 24" | $500 | |
| Immaculate Heart - Ivory w/glass | 24" | $500 | |
| Infant of Prague w/glass | 24" | $500 | |
| Our Lady of Grace w/glass | 24" | $500 | |
| Our Lady of Lourdes w/glass | 24" | $500 | |
| Sacred Heart of Jesus w/glass | 24" | $500 | |
| Sacred Heart -Blessing w/glass | 24" | $500 | |
| Sorrowful Mother w/glass | 24" | $500 | |
| Immaculate Heart of Mary w/glass | 18" | $300 | |
| Immaculate Heart - Ivory w/glass | 18" | $300 | |
| Sacred Heart of Jesus w/glass | 18" | $300 | |
| Our Lady of Lourdes w/glass | 18" | $300 | |
| Our Lady of Grace w/glass | 18" | $300 | |
| Our Lady of Mt. Carmel w/glass | 18" | $300 | |
| Our Lady of Guadalupe w/glass | 12" | $200 | |
| Fatima w/glass | 11" | $150 | |
| Fatima w/glass | 18" | $250 | |
| Pilgrim Virgin w/glass | 12" | $160 | |
| Pilgrim Virgin w/glass | 15" | $200 | |
| Pilgrim Virgin w/glass | 18" | $250 | |
| Pilgrim Virgin w/glass | 27" | $450 | |


Call for Shipping Price (1-888-211-3041)


Name

Sub-Total
Address

IN Tax (7%)
City

Shipping
State Zip

Donation
Telephone

Order Total
Call Doris
1-888-211-3041
or
1-727-725-9312



Immaculate Heart and Sacred Heart Pictures Available
with & without frames - different sizes available

Call Doris
1-888-211-3041
or
1-727-725-9312